F1 2016 review
Finally, a Formula 1 game with a heart and a soul. Get ready to race your way into the history books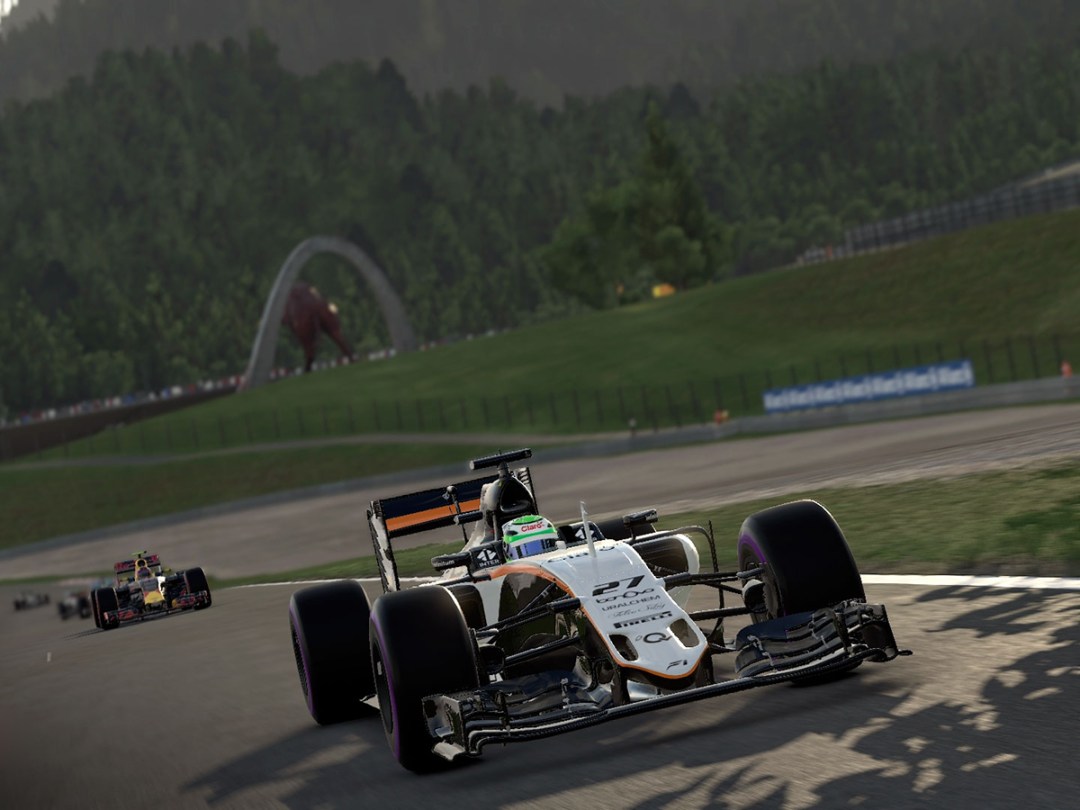 Formula 1 is to sport fans what Marmite has always been to the breakfast table – divisive.
The current generation of cars are slower and quieter than those Lewis Hamilton drove to his first world title in 2008. Even Bernie Ecclestone says watching a grands prix today is like turning up at a Rolling Stone concert and finding Mick Jagger has lost his voice.
But true F1 lovers are eternal optimists. In the end, it's still about petrifying speed and incredible driver reflexes, using car technology that puts your weekend runaround to shame.
If, like me, you love it whatever the flavour, then Codemasters' latest F1 game is as faithful a representation of the sport as you could hope for – much more so than its lightweight, stripped-back predecessor.
After going hardcore immersive with the ultra-realistic Dirt Rally, Codies has learned lessons and taken the brave step to come up with an intelligently deep, yet accessible F1 simulation.
WHEEL TO WHEEL RACING
Reigning in the aggressive AI means you can now run side-by-side with the computer with little fear of being ruthlessly driving into, as I did with Williams driver Valtteri Bottas through Barcelona's Turns 4, 5 and 6.
Even if you lose out, you come away feeling as if you've been 'raced', which is oddly fulfilling.
The on-track penalty system is vastly improved, with punishments that mirror the real-life ones like the five-second stop-and-go, so driving like you're in a bumper car will seriously tick off race control.
Once you get in the groove, F1 2016 delivers a hypnotic driving experience in that just-one-more-lap kind of a way. It helps that the new handling model builds confidence as you clock up the laps.
You'll need to deliver smooth power and braking, but persevere and you're rewarded with considerably more feedback – especially if you remove assists such as TC and ABS. With them on, too much input led to odd 4×4-style torque-steer slides.
A lot of serious gamers default to a racing wheel, but on a controller this consistent handling is sensitive enough to hit apexes easily – bringing Monaco's swimming pool complex or Silverstone's flat-out Copse corner to life.
Swapping the control pad for a Logitech racing wheel meant even more precise steering, especially now Codemasters has dropped the maximum lock down from 900 degrees to 540. That means less ferocious turning to avoid ditching into the gravel traps when taking tight corners.
POINTING THE SILVER ARROW
It lets you really feel the performance differences of the 11 cars on offer, too. The Mercedes smashes it in all areas, but look further down the field and you'll have to adapt to some engineering shortcomings.
The Sauber, for example, is nicely balanced but lacks aero. The Renault doesn't slide, but lacks traction, and the Red Bull has an amazing chassis but gets laughed at on the straights by Hamilton and Vettel…
You can get behind the wheel of the Haas, which is a new addition for 2016 along with the Azerbaijan street circuit. 217mph on its long straight feels like hyper speed, particularly as it ticks along at 60fps on the PS4 version.
CHARACTER BUILDING
It's the totally revised career mode where you'll find the biggest changes. It finally returns for 2016, with a depth of addictive immersion we've not seen before.
Creating your character, designing your crash helmet, picking your career race number… it all helps make it feel like you're part of the racing calendar. The personalisation doesn't go so far that you can don Hamilton-style tattoo and diamond piercings, but maybe that's a blessing…
You can join any of the 11 teams from the get-go, deciding which driver to replace. That's a bit of a downer: if you go to Ferrari, either Kimi Raikkonen or Sebastian Vettel vanish from the game until you switch teams.
Sign for one of the back markers and it's up to you to build your team's competitiveness. Go straight in at the top and you've got to maintain your winning streak. You can monitor all this progress in the team's motorhome, through a neat laptop menu screen packed with satisfying detail.
Mid-season engine improvements are unlocked with points, earned from every practice, qualifying and race session. Your engineer will set you targets and challenges in each one, so the more you tick off the faster you improve your car.
It puts a much bigger emphasis on areas like free practice, which used to be left down to players' imaginations.
RARE REWARDS
Race weekends are supposed to throw up crashes and technical issues for every driver on the track, which can lead to both virtual and actual Safety Car periods.
At least, that's what it says on the back of the box. They were so rare I was beginning to think they might be gaming's answer to the Loch Ness Monster.
Safety cars don't show up at the start of wet races, either, but having to manage the clutch after a warm-up lap to bring the car up to temperature is a great touch. It means you've actually got to work to defend your starting performance, rather than just holding down the throttle and gunning it.
There's more to think about once you get going, too. DRS zones, buttons to change your fuel mixture and brake balance, and pre-set questions you can throw to your race engineer mean you're kept pretty busy on the straights.
All this immersion comes at a real-time cost, though. You can easily lose a couple of hours just completing a grand prix weekend, even on the shortest settings.
F1 2016 Verdict
I loved the career but I found myself wishing for more: I want to control a team, FIFA-style. I want to sign Fernando Alonso as my team-mate.
Most of all, I want rival teams to compete for star drivers so that when you begin a new season, they may have switched allegiance. That would stop them disappearing from the game altogether. But for now, F1 2016's changes are all a big step forward.
F1 games struggle to keep us coming back for more the that way Gran Turismo and Forza's collectible career structures do. But for the first time in what feels like ages, Codemasters has got me wanting to push on until I'm world champion – in a Manor.
Stuff Says…
The deep and revised career structure takes the series to a new level. It's the F1 game you'll want to play, whether you're a fan or not
Good Stuff
Deep, immersive career mode
Incredible level of detail
Brilliant car handling and physics
Bad Stuff
Race weekends can take a long time
No split-screen multiplayer