Fitbit Charge 4 review
The compact GPS-packing fitness tracker with big ambitions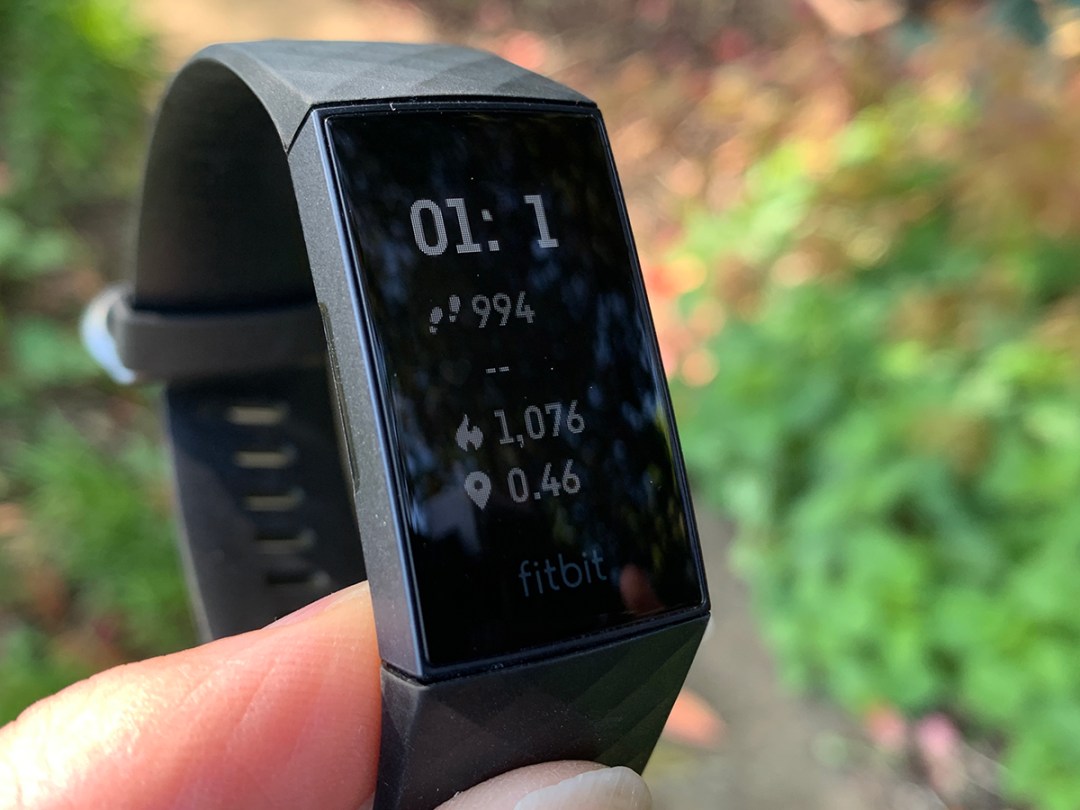 At a time when fitness-focussed smartwatches pack ever fancier screens, growing feature lists and increasingly affordable price tags, you'd be forgiven for thinking the humble band-style fitness tracker had lost its place. Fitbit clearly thinks otherwise. With built-in GPS for phone-free exercise tracking, 24/7 continuous optical heart rate, NFC contactless Fitbit Pay payments and a whole new motivational movement metric – Active Zone Minutes – the new Charge 4 is out to prove there's still a place on our wrists for a simpler tool that helps us be more active.
The Charge 4 might be small on the wrist and big on ambition, but at £129.99 it's not exactly cheap. And let's face it, plenty of other fitness trackers have long offered GPS. So is this latest upgrade the best in the activity tracking business or has the basic fitness band run its course?
Design and comfort: Light and likeable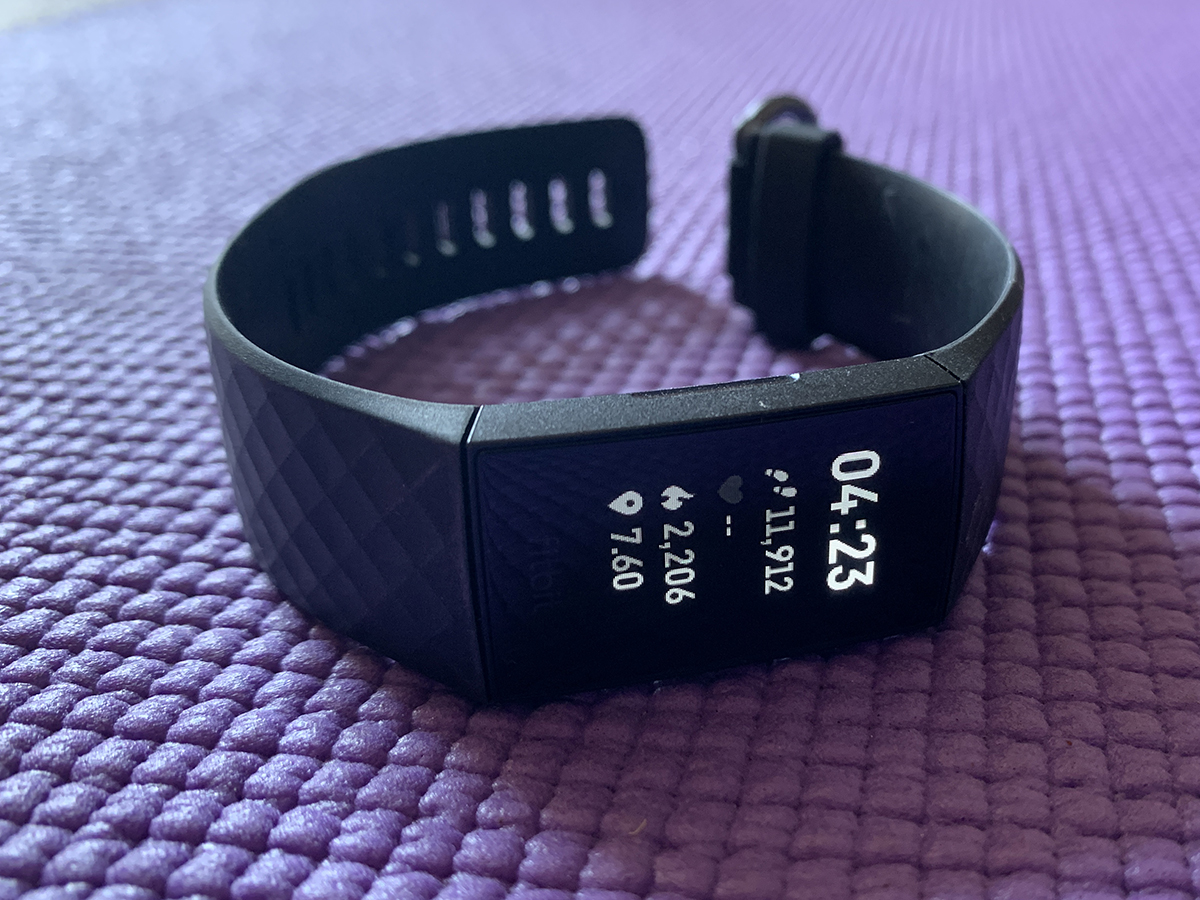 From afar, the new Charge 4 is almost indistinguishable from the old Charge 3 but stick them side by side and you'll notice the new tracker is marginally smaller than its predecessor. Though that makes little difference on the wrist.
You get two sizes of straps in the box that'll happily cater for most wrists. Swapping them out is pleasingly simple and you can purchase different straps. The straps are more rigid and less forgiving than some softer-silicone bands, though there's a trade off of overall comfort for decent durability.
With the large strap, the Charge 4 weighs an impressively light 28g – that's roughly the same as Garmin Vivosmart and the GPS-packing Vivosport. On the whole the ergonomic curves and lightweight feel mean it's easy enough to get a relatively comfortable fit for wearing it 24-7. Though on sweatier workouts we found it had a tendency to slip down our wrist, making it hard to wear it higher up, something Fitbit advises for better heart rate accuracy.
The Charge is controlled with a combination of a single inductive button on the left hand side of the device and a digital touchscreen display. Both are nicely responsive. Flip the Charge over and you'll see the optical heart rate sensor and the charging nodes that clip to a bespoke Fitbit charge.
There's no straight forward micro-USB C option, likely down to the fact the Charge 4 is water-resistant up to 50M so you can swim with it. The Charge comes in four colours, standard black, snazzy rosewood, blue and black and a more expensive special edition reflective granite woven band for £149.99.
Display: Blink and you'll miss it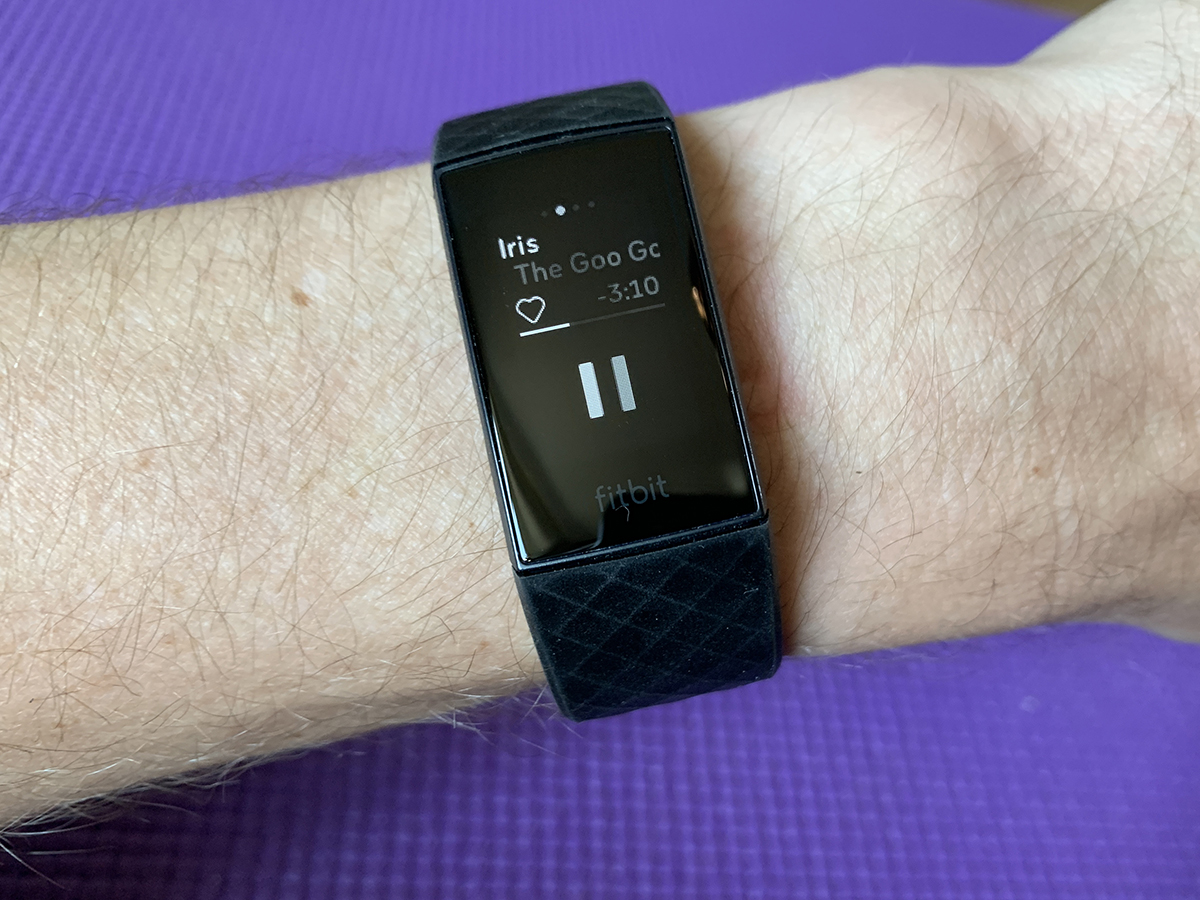 The Fitbit Charge 4 has a high-resolution 100 x 160 backlit greyscale OLED touchscreen display. It's less colourful and more basic than the Garmin Vivosport or a Samsung Gear Fit Pro 2 but is perfectly crisp and bright indoors.
However, perhaps the biggest single problem with the Fitbit Charge 4 is how that screen readability suffers the moment you head outside and step into any kind of sunlight. It automatically adjusts to different light but we found it very hard to read on a lot of our test runs in brighter direct light. The Fitbit Charge 3 has the same issue and it's sadly not been fixed here.
For a fitness tracker whose central feature is about getting you off the couch to do more vigorous activity – likely outdoors – this is baffling. It seriously hampers how useful the tracker is for running, cycling and walking and it not only affects things like looking at your real time pace and heart rate but it's also hard to make the most of those Spotify controls.
To add to the general frustration here, the Charge 4 also has a really aggressive auto hibernate, presumably to save battery life. You get around 5 seconds before it goes back to black and there's no option to override it.
In terms of the data displayed, you can choose from a small selection of watch faces and prioritise what's most important for you. There's just about enough screen real estate to present a decent selection of at-a-glance stats on the homescreen. However, if you want to dig deeper into your data you'll have to fire up the partner app, but there's a pleasing simplicity to the just-enough overview of your day that the Charge offers.
For beginners, the Fitbit app is by far the best at keeping fitness and health simple. There's a lot of detail but it never feels overwhelming. By comparison, the likes of Garmin Connect and Polar Flow can feel a bit daunting, tailored to more 'serious' users.
Fitness smarts: New moves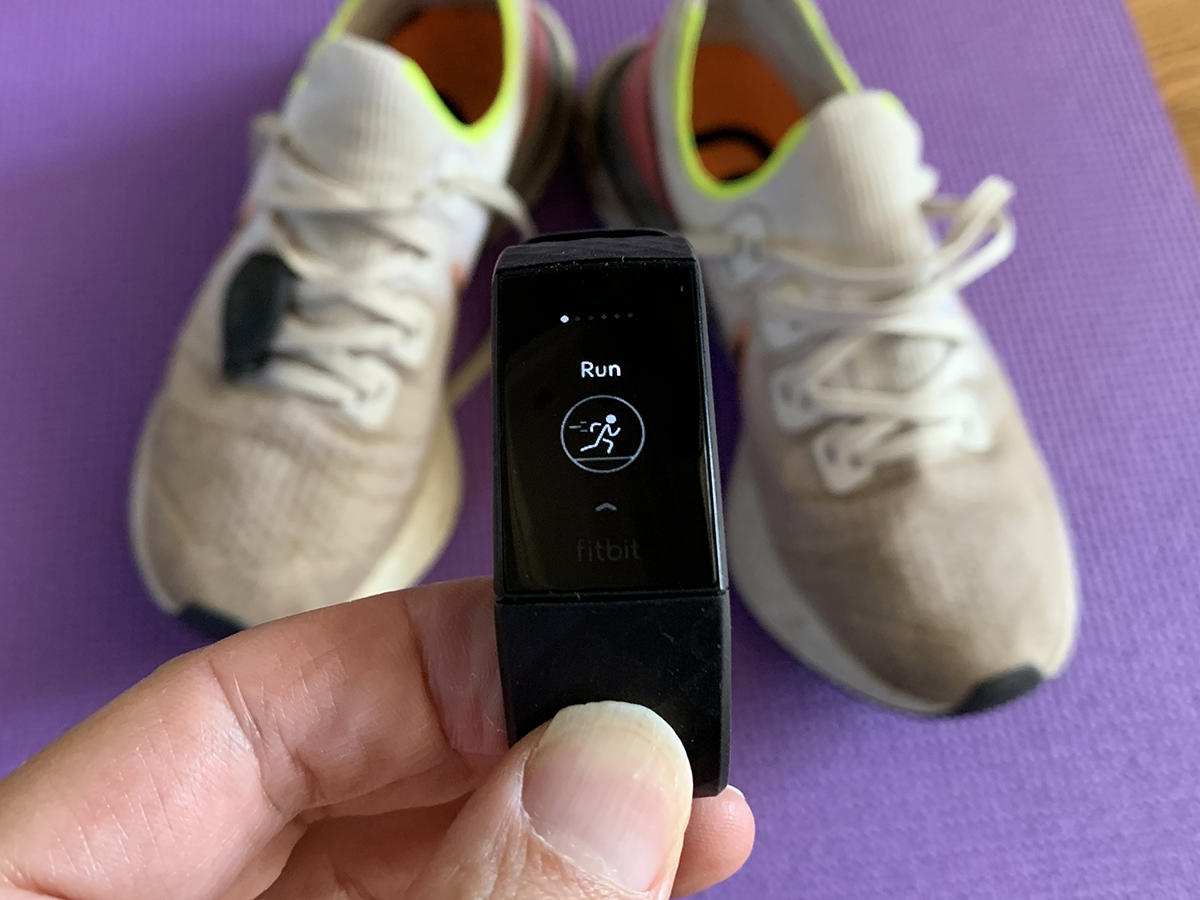 Aside from that new GPS, one of the biggest headline features is Active Zone Minutes (AZM). It's Fitbit's attempt to use heart rate data to inspire us to move with more intent and intensity and ditch the blunt instrument of chasing step counts.
You start earning AZM when your heart rate hits the fat burn zone and you get double the credit for the minutes you spend working higher up the heart rate scale in the cardio and peak zones. The zones are personalised to you, based on your age, resting heart rate and max heart rate and the Charge vibrates to let you know when you're moving between the zones.
The initial weekly targets are based on World Health Organisation recommendations that Earthlings should aim for 150 mins of moderate or 75 mins of vigorous weekly activity in order to reap health benefits like lower risk of heart disease, stroke and early check out.
If you're already more active, you can also set your own targets. One tiny frustration here is that upping your target is done one tap a time. Raising it to 60 minutes per day, for example, meant tapping a plus symbol 170 times.
Rewarding intensity isn't a new concept, Apple has been offering this for a long time as part of its addictive activity rings and Garmin also tracks intensity minutes on its fitness trackers. But Fitbit has a skill for presenting things with a simplicity that resonates and that's very much the case here. The Active Zone Minutes concept is infinitely more fun and engaging than step counting. For example, walking to the bus stop would only ever earn you a set number of steps, whereas with AZM you get rewarded not just for reaching the bus stop under your own steam, but how hard you work getting there. It's a powerful motivator for anyone at the start of a fitness journey.
Beyond Active Zone minutes, the Charge 4 has many of the fitness-tracking features you'd expect including reminders to move, step count, calories burned, floors climbed. There's also a SmartTrack Automatic workout detection feature that's supposed to automatically start tracking a run, ride or walk after you've been moving for a customisable period of time. Though we couldn't get this to work in any of our running or walking tests.
Beyond getting a sweat on, if you want to manage stress, there are two and five-minute guided breathing sessions you can access on your wrist.
For women, there's also female health tracking that lets you log your period, symptoms and get predictions for when your next period is due and your fertile window. You can also use the Fitbit Charge 4 to tap into a world supporting fitness and training content such as video guided workouts, training plans and challenges but most of this is locked behind a premium account paywall for a not-inconsiderable extra £7.99 a month or £79.99 a year.
Sleep tracking: Deep and meaningful
Fitbit has a great track record for sleep tracking and the Fitbit Charge 4 continues this legacy. You can dig deep into your nighttime patterns, clocking your drop off and waking times, total sleep duration and sleep stages (light, deep and REM, waking).
That's all wrapped up into a nightly sleep score. You also get your estimated blood-oxygen levels thanks to the SPO2 sensor, that's useful for spotting potential breathing issues.
In terms of accuracy, the fall asleep and wake up times felt relatively reliable apart from one night where the Charge had us asleep at 9.50pm when we were definitely up watching Money Heist until 11pm.
You can easily flip to sleep mode to avoid notifications, vibrations and screen-light interruptions during the night.
The Charge 4 also tracks restlessness and sleeping heart rate patterns but these extra insights are locked behind the premium paywall.
Accuracy: A little off track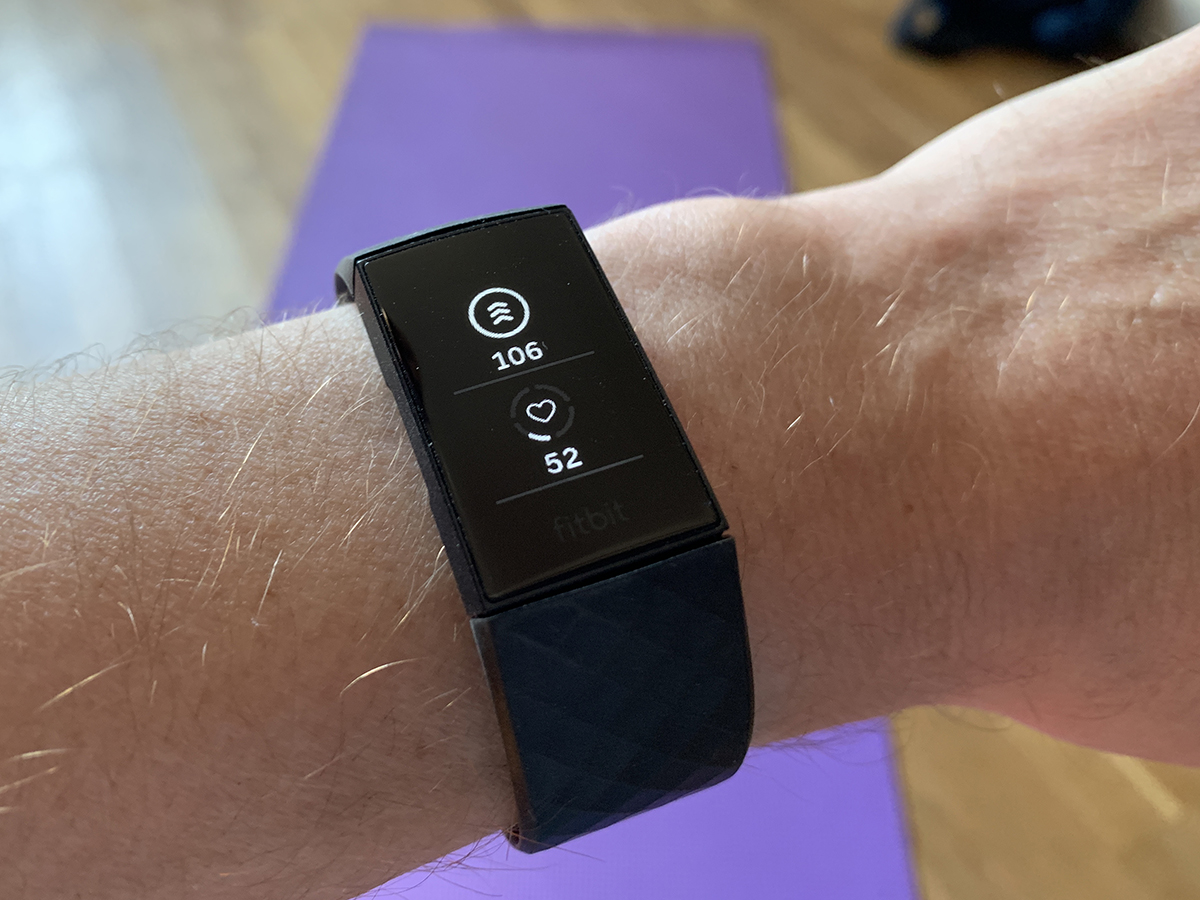 Let's talk heart rate first. For a tracker with a headline fitness feature that's tied to heart rate tracking, accuracy of the optical monitor is important. Though even on more expensive devices, optical heart rate can be questionable.
We tested the Charge 4 up against the gold-standard Polar H10 chest strap during runs, strength training sessions, trampolining, walks and even doing the housework. While it coped well with lower intensity, activities with less movement such as walking, when we upped the work rate – and the movement – the Fitbit tended to read much higher than the H10 in real time.
It also tended to take much longer to drop from higher BPMs during rest periods and at the end of our sessions, sometimes several minutes. We almost certainly earned Active Zone Minutes we didn't really deserve, with the Charge tracking in higher zones for longer periods.
The new built-in GPS was a little hit and miss too. We put in five runs from 5k up to 10 miles, along with a couple of walks, up against the Garmin Fenix 6, a Stryd footpod and our Strava smartphone app.
The Charge 4 consistently tracked up to 0.25 miles longer for the total distance and regular glances at the real-time pace also showed that on many occasions it ran much faster than the other devices.
Extra smarts: Music, payments and appointment prompts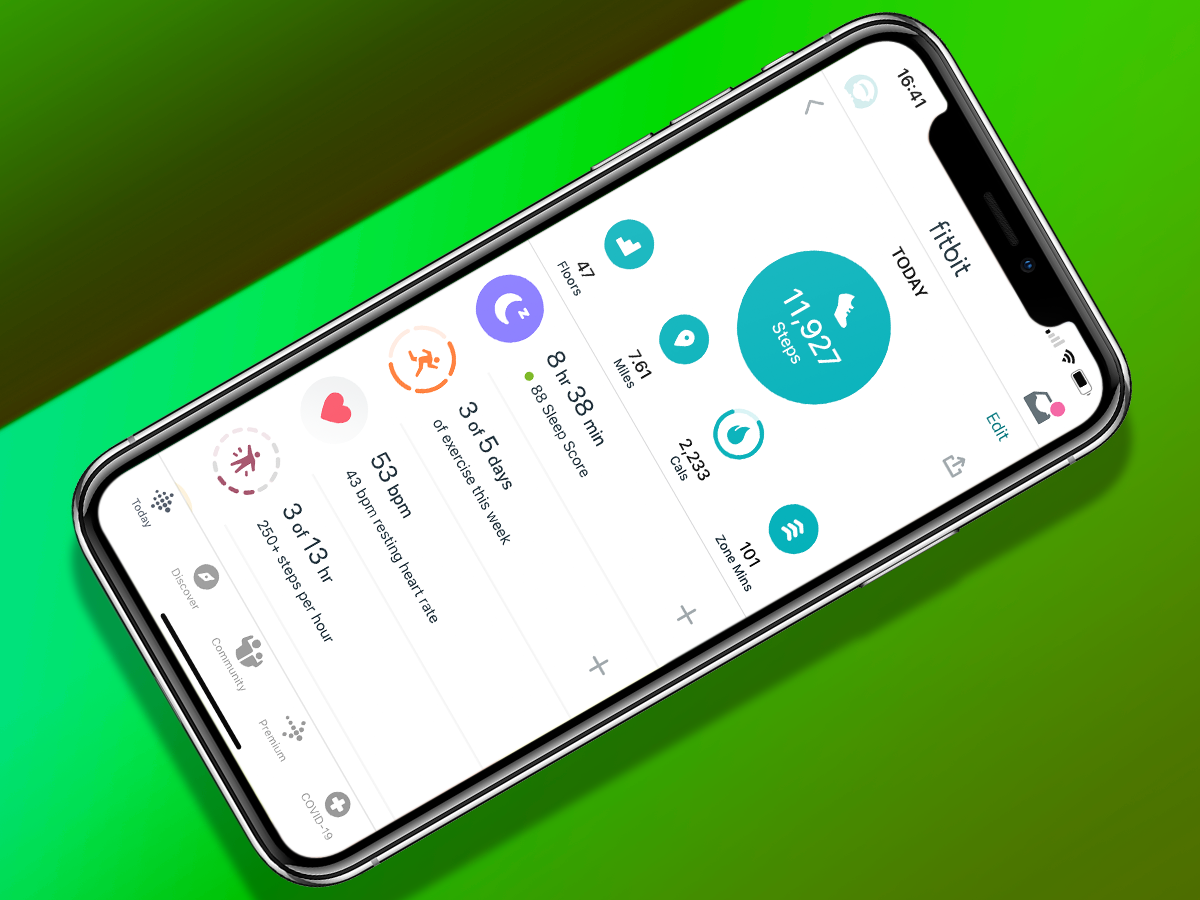 Beyond the central fitness skills, the Charge 4 is much more limited than the Ionic or the Versa but it does pack some smartwatch-esque features including smartphone notifications (with quick replies for Android users) and NFC-powered contactless payments via Fitbit Pay.
You also get Spotify music controls, though there's no offline Spotify. You'll need your phone and a Spotify Premium account. And in another baffling move, you can't actually control Spotify while you're also tracking a workout.
One other new addition that the Charge 3 doesn't have is Agenda – a calendar app that lets you sync your Apple or Google calendar to view your upcoming events, though you're limited to appointments for the current and next day only. Oh and you get weather.
Battery life: GPS drain vs gains
Fitbit claims you'll get up to 7 days of general non-GPS battery life on a single charge or up to 5 hours GPS battery life.
That's significantly less than something like the rival Garmin Vivosport with 7 days and 8 hours GPS battery life. And in our tests, we found the Charge 4 actually gave us closer to 3.5 hours while working out using GPS. And that definitely somewhat undermines having that additional GPS.
If you train daily with GPS, you'll be charging the Charge other every other day. It is also possible to switch off GPS and piggyback your smartphone GPS to extend battery life but this doesn't add a great deal more. Once you're out of juice, the Charge 4 takes two hours to fully charge.
Fitbit Charge 4 Verdict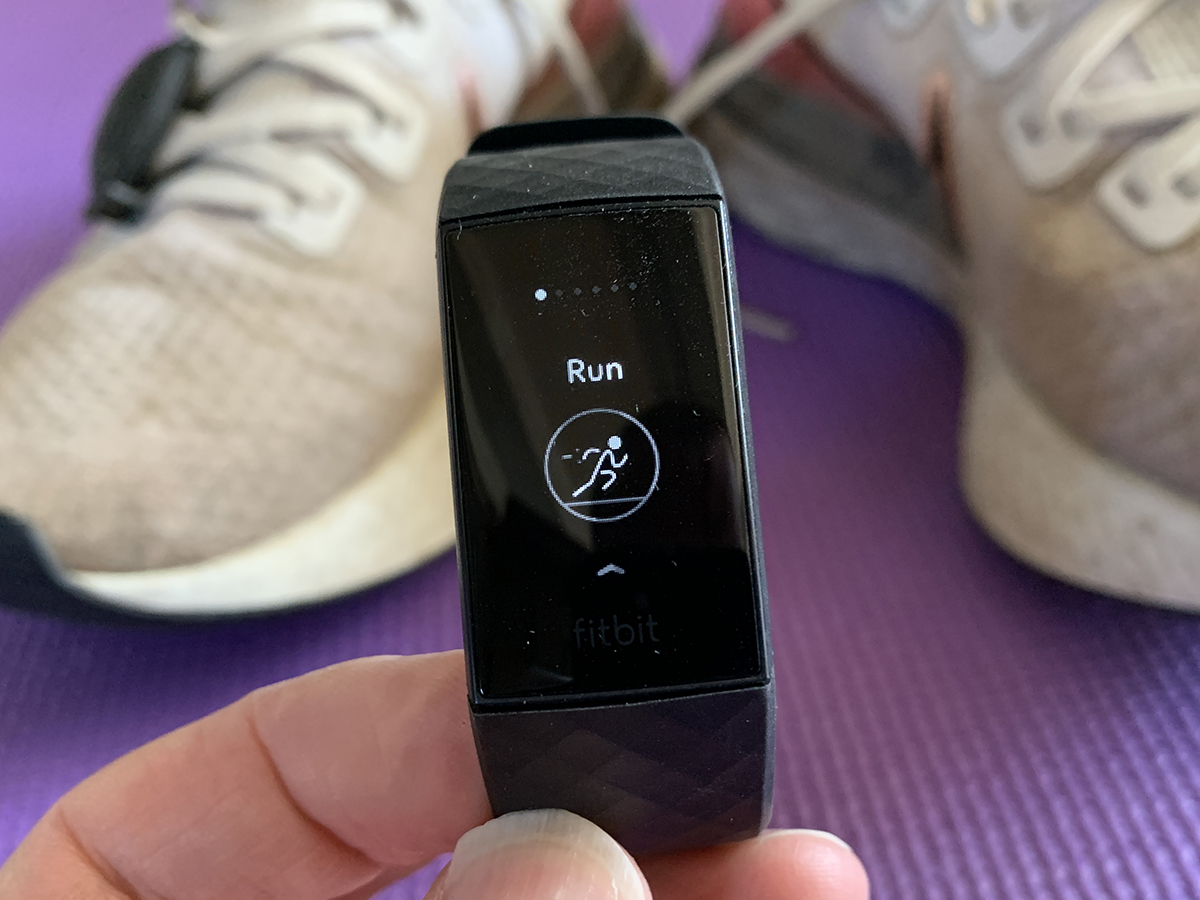 The Charge 4 is a clever, compact motivational fitness tool with plenty to offer anyone looking for some basic tracking and support. If you won't want a watch, it's among the best fitness trackers you can buy.
It offers a big range of insights and paints a digestible picture of your overall health and fitness. And the Active Zone Minutes concept is hugely addictive. It's incredibly easy to use and syncs seamlessly with the well-presented app.
However, it's let down badly by a sub-standard screen, some accuracy issues and a few own goals – like Spotify controls that don't work during a workout. And those undermine what otherwise is a pretty decent tracker.
Tech specs
| | |
| --- | --- |
| Screen | 1in, 160 x 100-pixel touchscreen |
| Battery life | 7 days/5 hours continuous GPS |
| Waterproofing | 50 meters |
| Contactless payment | Fitbit Pay |
| other specs | Heart rate sensor, GPS |
Stuff Says…
Close to being the complete fitness tracker for beginners but let down by a poor screen, hit and miss accuracy and a short GPS battery life
Good Stuff
Easy to use
Good for motivation
Built-in GPS
Best app for beginners
Bad Stuff
Poor screen
No mid-workout Spotify controls
Hit and miss accuracy
Short GPS battery life
Quite pricey