Fitbit Ionic review
The Ionic is a fine fitness tracker, just don't call it a smartwatch yet...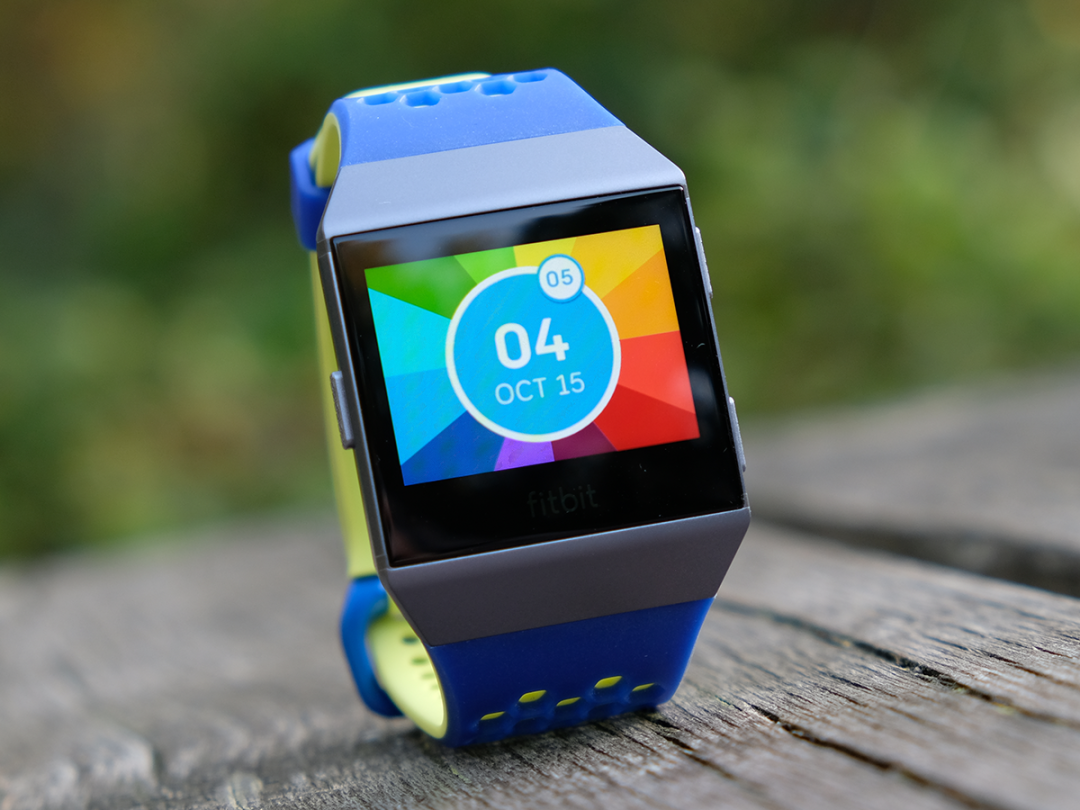 How smart do you like your fitness trackers?
If the answer is 'not very' then Fitbit has had you covered for a while with its merry band of clever, if not particularly connected, trackers.
But now it's gone the other way and made a proper frontman in the form of its first smartwatch, the Ionic.
It's a bold if somewhat belated move – rivals like the Apple Watch Series 3 and the forthcoming Samsung Gear Sport already boast powerful apps, mobile payments and, in Apple's case, phone-free calls.
The Ionic doesn't go quite that far. Sure, it has a new Fitbit OS, the promise of third party apps, and better phone notifications, but at its core it's still a 'wear and forget' fitness tracker. Albeit a more powerful one with GPS and waterproofing.
The good news is that it offers something new and different, particularly for Android fans.
The bad news is that, right now, it's pretty half-baked…
Update (December 5 2017): new apps incoming
Fitbit Ionic design: back to the future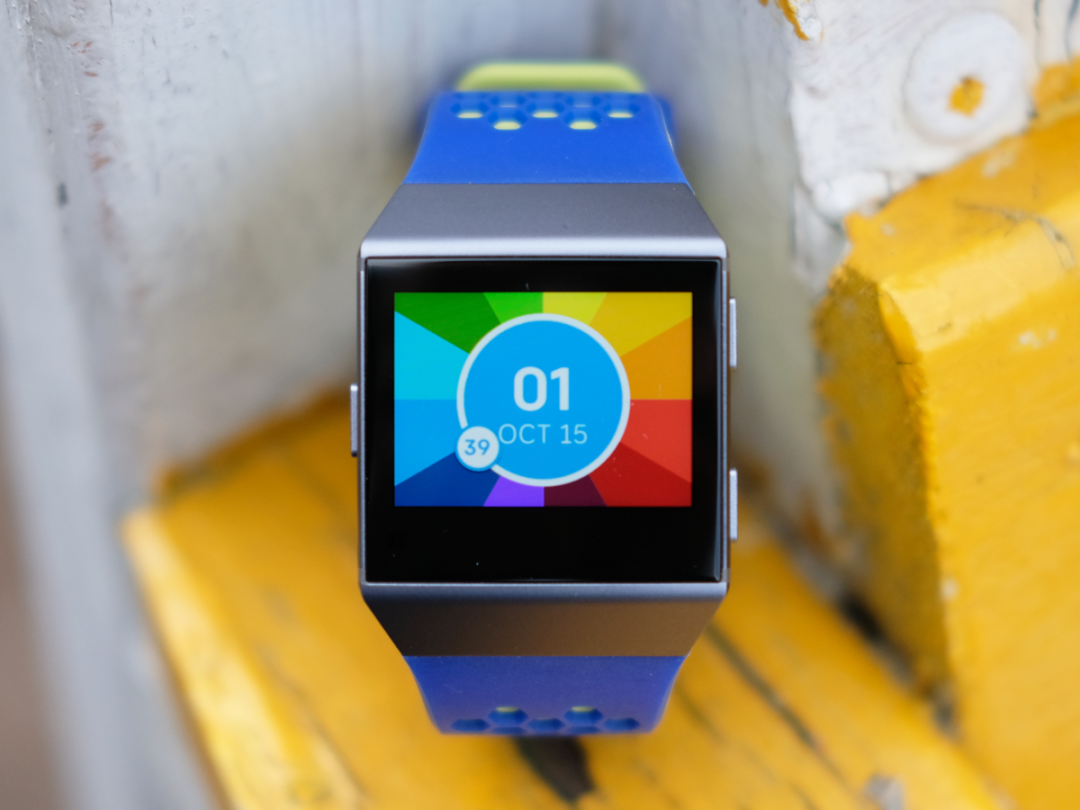 Unlike the Apple Watch, the Ionic actually looks better in the flesh than it does in photographs.
I was initially put off by the aluminium case's sharp corners and screen bezels. But stick an Ionic on your wrist and it's hard not to be won over by its 80s sci-fi charm. In a poll of eight people in the Stuff office, only one person didn't like the design.
A lot of this is to do with how well the Ionic fits on your wrist. Side-by-side with the Apple Watch, it looks to have the same girth. But when you wear the Ionic, it nicely curves around your wrist rather than sitting on top of it.
I'd say it's more comfortable to wear than the Apple Watch, though the latter has a more chameleon-like versatility thanks to its range of bands and different case sizes.
Not that the Ionic is completely lacking when it comes to band options. Right now, there are three types (classic, sport and leather), with seven variations in total. Nowhere near the size of the Apple Watch's wardrobe, of course, but a decent start.
Another big win is the display. It's crisp, sharp and has the same impressive brightness as the Apple Watch. You'll have absolutely no problem reading it in bright sunlight.
The touchscreen and interface aren't the zippiest, but you do get three hardware buttons to help you get around – and these are real boon when you're out exercising.
All in all, Fitbit deserves a lot of credit for not just making a 'me too' Apple Watch. The Ionic has personality, maybe even a divisive one, but I'll take that any day over another designed-by-committee blandwatch.
Health tracking: on home turf
The Ionic is the most powerful Fitbit so far, thanks to built-in GPS, 50m water resistance and some new Coach workouts (see 'Sports tracking' for more on those).
But what it really nails better than most smartwatches is the daily, background fitness tracking that's Fitbit's hallmark.
Yes, it logs steps, calories burned, flights of stairs climbed, distance moved and 'active minutes', all of which you can set goals for. That's been standard on economy class Fitbits for a few years now.
There are two big health-related wins over other smartwatches though: sleep-tracking and continuous heart-rate monitoring, both of which benefit hugely from the Ionic's impressive battery life.
The sleep-tracking, in particular, works superbly. Much like Fitbit's other trackers like the Alta HR, it requires zero interaction – you simply doze off, then wake to find that the app has miraculously picked out how long you spent in REM, light and deep sleep.
The app's 'Sleep Insights' seem to have matured too. For example, it recognised when I'd done a gym session a bit too close to sleepytime, and suggested that might be why I was feeling groggy the next day.
Another smartwatch rarity is continuous heart-rate monitoring. While most of its rivals tend to only switch this on during workouts, the Ionic does it all day – which means you get a diary of graphs to scroll through to see when fatigue or illness may have kicked in. Resting heart rate is also a handy marker of overall fitness.
Still, as great as these features are, they're all available on a £130 Fitbit Alta HR. You'd quite rightly expect more from a £300 smartwatch. And this is where the ride gets a little rockier…
Sports tracking: more fun runs than marathons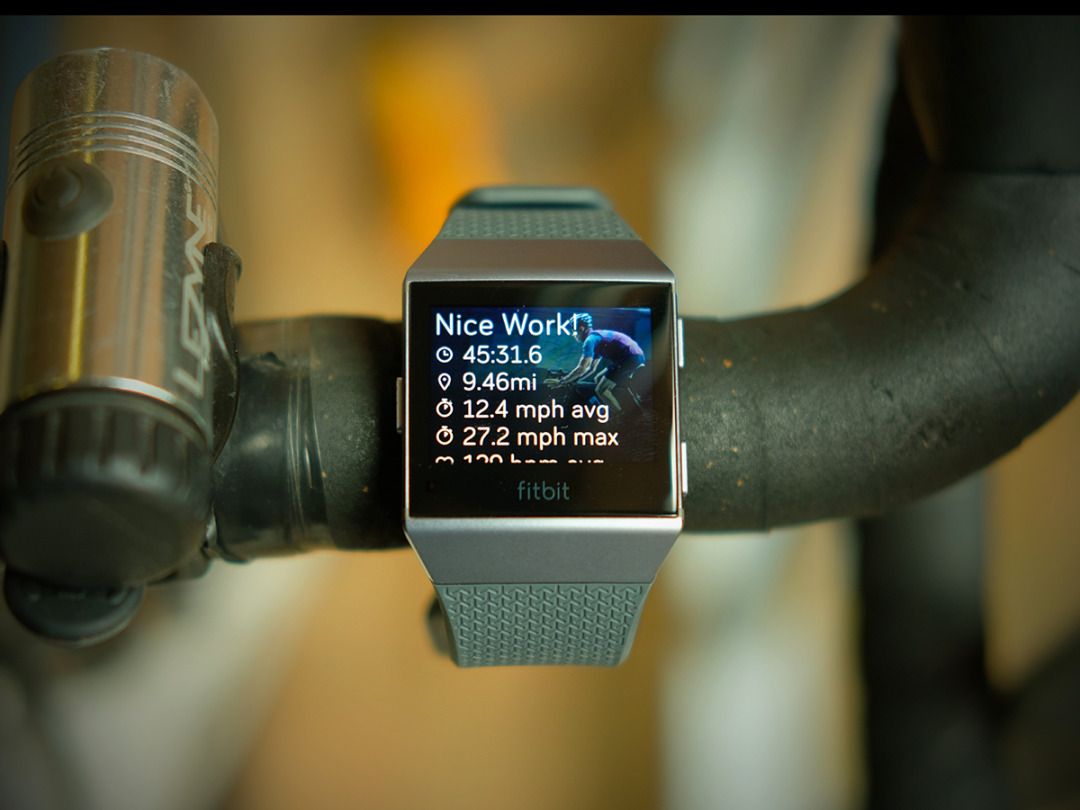 Every smartwatch has a slightly different approach to tracking workouts like runs and bike rides.
The Garmin Vivoactive 3 is the stat-loving triathlete. The Ionic is more like a couch-to-5km improver, focusing on overall fitness rather than split times. And the Apple Watch is one of those annoying natural athletes that can do a bit of everything.
There's no 'best' approach; it depends how and why you want to exercise.
If you aren't training for an event or chasing PBs, and just want to do a quick run to make up for polishing off that box of macaroons last night, then the Ionic's simple approach might well be for you. As long as you don't mind its smartwatch limitations (see the 'Smartwatch skills' section below).
Press its bottom right button and you'll get six sports to scroll through: run, bike, swim, treadmill, weights, interval timer and workout. You can change any of these in the app and pick from another 14 different activity types including yoga, spinning and hike, but these are really just labels – they track largely the same things, like distance and calories.
Once your body has decided it's had enough exercise, you just press a side button to pause or finish the workout – a much better system than swiping a screen with sweaty fingers, as you have to do on the Apple Watch.
This being a Fitbit, you don't actually have to press any buttons at all to track exercise, as long as you don't mind sacrificing some accuracy. Turn on 'Run Detect', and it'll auto-log a run (including GPS tracking) when it senses you're out for a jog, although there was quite a big delay when I tried this.
More useful is the excellent SmartTrack feature seen on other Fitbits, which means the Ionic automatically tracks other activities like cycling, gym workouts and swimming that last longer than ten minutes, albeit without GPS tracking.
And then there's the Ionic's potential star, Fitbit Coach. This replacement for Fitbit's Fitstar platform will have free and paid tiers that bring guided workouts to your wrist, including exercise, meditation and nutrition.
It's coming in autumn 2017, but right now the Ionic has just three home workouts, complete with little animated figures showing you how to do crunches and planks.
The Ionic's sport-tracking, then, is all about simplicity. You can log exercise without thinking about it. There are manual controls if you want them. And in my experience, the GPS tracking and heart-rate monitoring were very accurate.
But while a lack of third party fitness apps brings the Ionic a refreshingly clutter-free feel, it also means it lacks depth compared to rivals.
The swim-tracking, for example, doesn't record stroke types, split times or heart-rate data like the Apple Watch. There's no GPS-tracking for outdoor swims. And you can't actually see any of your completed workout data on the Ionic itself – you have to go to the Fitbit app.
The exception is the Ionic's Strava app, but this is very limited compared to the Apple Watch and Android Wear version. It's simply a viewer for your completed Strava sessions – you can't actually start a run or bike ride in the app, let alone see anything like Live Segments.
The Ionic and Fitbit app also currently offer nothing like Garmin Connect's running training plans or the Apple Watch's Runkeeper app, which lets you set target pacing or maximum heart-rates.
This might change when the Ionic's app store gets properly up and running. But right now, it's focused more on casual training and home workouts, rather than being a great watch for runners, cyclists or swimmers.
Smartwatch skills: a work in progress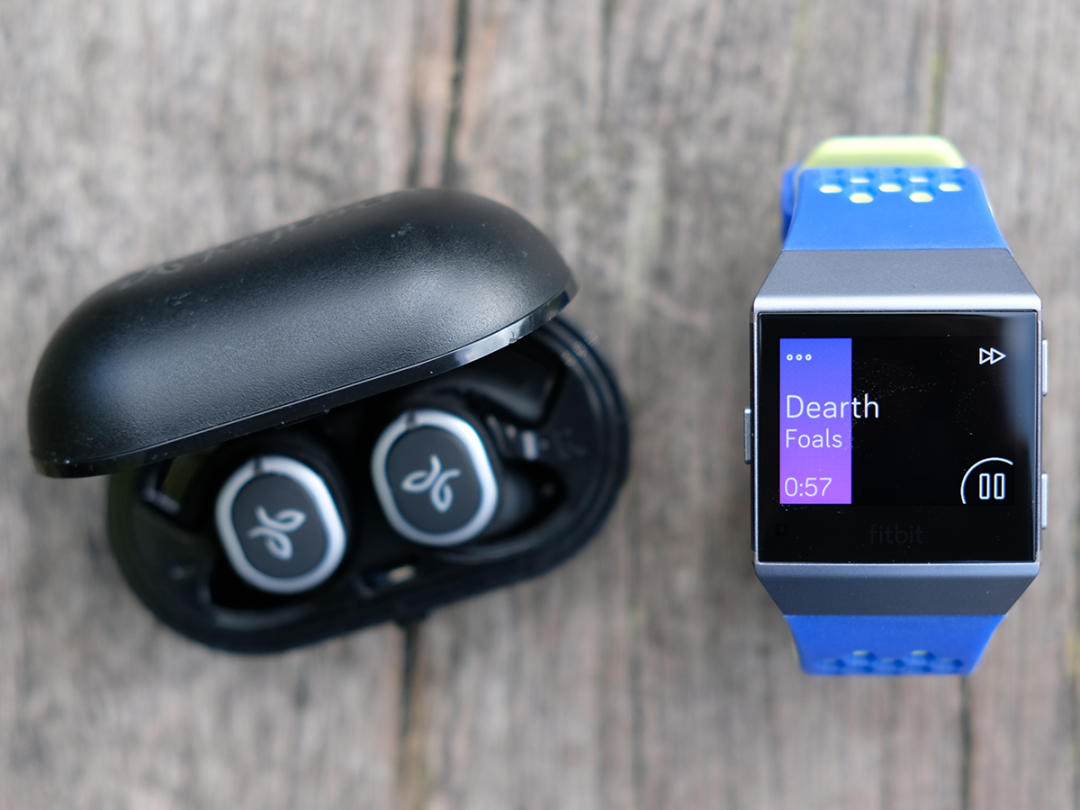 The Ionic is a bit like a rugby player who's just switched codes – it might come from a strong fitness tracking background, but it's out of its depth on the unfamiliar smartwatch field.
This is most obvious when it comes to apps. It's clear from the Ionic's interface (four icons per screen) that it's never going to embrace smartwatch apps in the same way as Android Wear and the Apple Watch – and that's fine, it suits Fitbit's simple approach.
But in the UK the Ionic currently has just two third party apps: Strava and Weather. And the US doesn't fair much better, with only Pandora and Starbucks on top of that. This will change soon with the imminent FitbitOS update (see 'New apps incoming boxout' above), but it still lags behind its rivals.
This is a result of developers only having had a month or so to create apps, and I've no doubt it'll change soon. But if you fancy reading news headlines, getting Dark Sky rain alerts, checking your security cam, glancing at train times from Citymapper, seeing your calendar schedule, or trying other fitness apps, you're out of luck right now. And there's no guarantee that the Ionic will get those powers in the future.
More certain is the eventual arrival of Fitbit Pay for buying a post-run milkshake with just your watch. Our demo card worked well at checkouts and on the tube, but it's not available in the UK yet and it isn't clear which banks will be supported.
Although the Ionic will be getting offline music from Deezer in the 'first half of 2018', it's missing other streaming apps like Spotify.
Sure, it has 2.5GB storage for music (enough for around 300 songs), but the process of getting them on there is iTunes painful. You have to install Fitbit's desktop software, then wait for it to inevitably lose connection with your Ionic, then wait at least ten minutes for it to transfer two playlists. Not what you need just as you're about to head out for a run.
Still, the Bluetooth connection to wireless headphones (be they Fitbit's Flyers, or the Jaybird Runs I tried) is solid enough, even if I had to reconnect them for each workout.
And then there are notifications. The Ionic does show texts, calendar events, missed calls, and WhatsApp messages when you swipe up from the bottom of the screen, but there's no way to interact with them due to the lack of a microphone or canned responses.
This wasn't a huge deal for me, as I hardly ever feel the need to brush someone off with an impersonal stock reply on the Apple Watch.
But it's just symptomatic of the Ionic's smartwatch game as a whole – limited and dated, rather than retro chic.
What about battery life?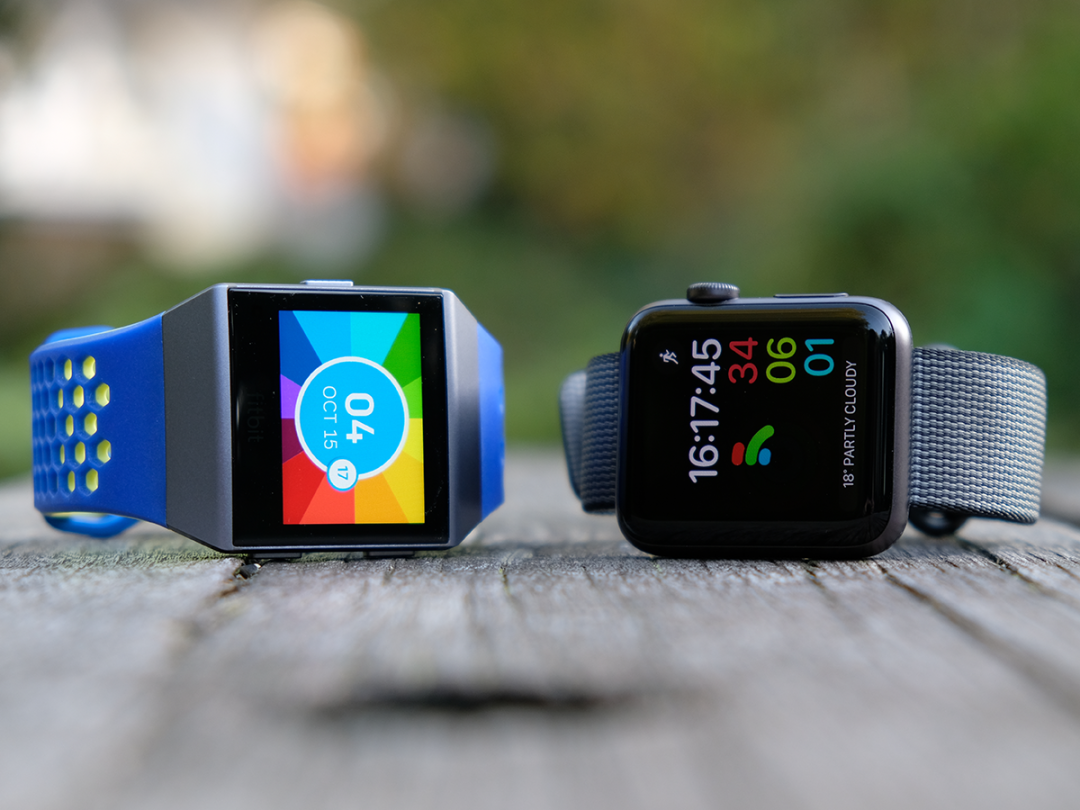 Fitbit quotes a four-day battery life for the Ionic, but you'll struggle to get this if you use GPS much.
In my test, which included an hour of GPS-tracked cycling, 30 minutes of running while listening to music on Bluetooth headphones, and 20 minutes of swimming, it only lasted 52 hours (or about two and a half days).
I was using it slightly more intensely than average though, so it's fair to say you can expect a few days between charges. And like the Apple Watch, you can recharge it fully in just a couple of hours.
This puts the Ionic a fair way ahead of the Apple Watch's 18-hour battery life, although that's based on more intense use because, well, it does a lot more.
But the Ionic is also slightly behind the Garmin Vivoactive 3, which can do 13 hours of GPS tracking (rather than the Ionic's 10) and lasts about a week without any GPS antics. Again, partly because of the Garmin's lower-res screen.
In short, the Ionic's battery life is impressive for a smartwatch with a screen this crisp and bright, but don't expect miracles if you mostly use GPS tracking and listen to lots of music.
Fitbit Ionic verdict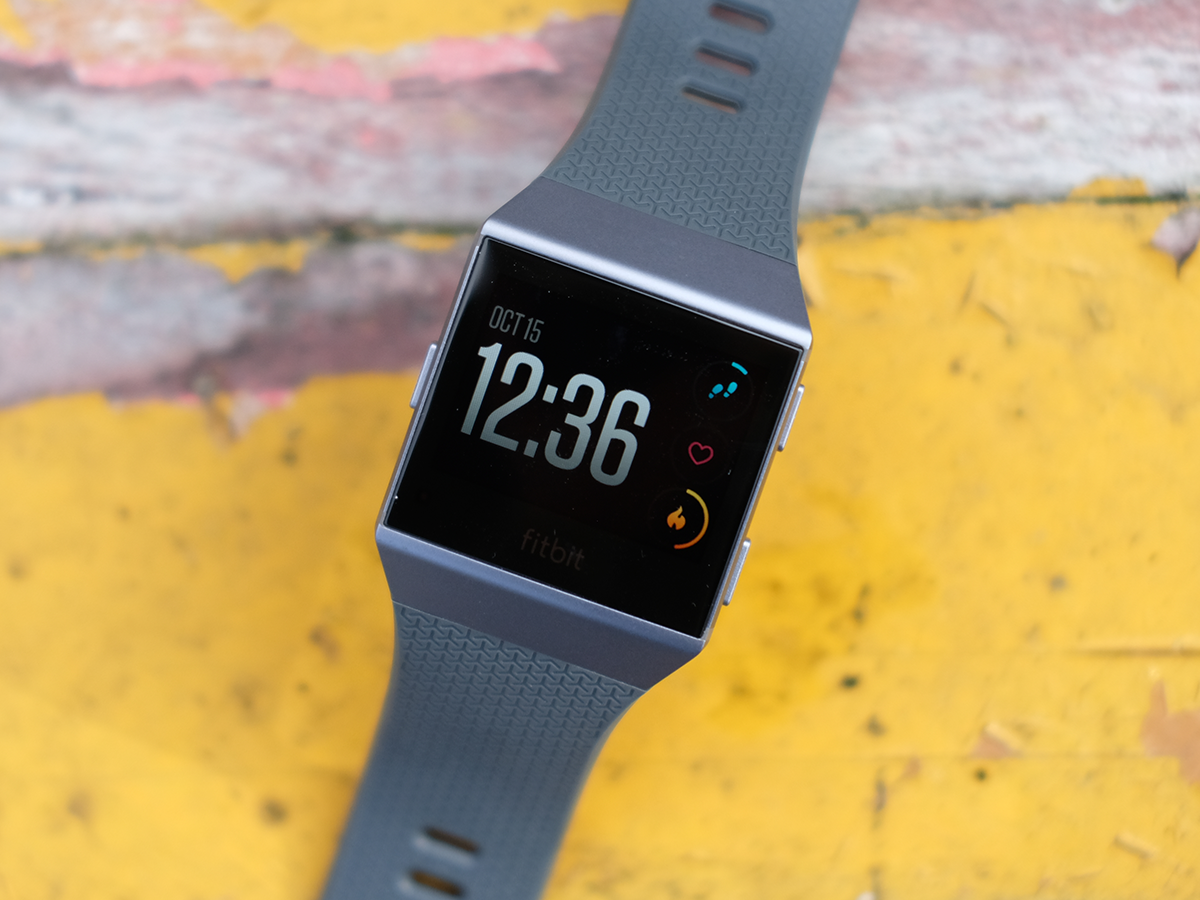 The Ionic is Fitbit's best all-round tracker so far.
The trouble is, it's a £300 fitness tracker with some smartwatch scaffolding around it.
That is way too expensive for what it currently offers. Many of its best features (the sleep tracking, SmartTrack, heart-rate sensor, long battery life, Fitbit app) can be found in the £130 Alta HR. Frankly, it only just scrapes four stars.
On the other hand, if you want a Fitbit that adds GPS tracking and swim-proofing to all of the usual goodies, it's the only model that can do it all. The Fitbit Coach feature is very promising too, if not available till late October 2017.
Still, the Ionic is far from the only option at this price. Apple iPhone owners are better off paying £30 more for the Watch Series 3 (GPS), unless daily recharges are a deal-breaker.
And Android-loving runners, cyclists and swimmers should check out the cheaper but more sport-focused Garmin Vivoactive 3.
This isn't to say that the Ionic isn't a good buy for more casual exercisers. It has huge potential with more apps, Fitbit Pay and Fitbit Coach on the horizon.
But you should just be aware that it's what commentators would call a 'raw talent' rather than a title contender.
Stuff Says…
Fitbit's best all-round fitness tracker, just don't call it a smartwatch yet
Good Stuff
Bold design
Excellent sleep tracking
GPS and heart-rate tracking work well
Strong battery life
Bad Stuff
Virtually no third party apps yet
Fitbit Coach not available till later in 2017
Fitbit Pay not ready in the UK yet
Expensive for what it can currently do