Fitbit Versa review
Bored of your fitness band? Welcome to the ideal smartwatch for casual health-tracking...
Like ice bucket challenges, Oscar selfies and lamentable England World Cup performances, fitness bands are starting to feel a bit 2014.
Not that we've turned on the likes of the excellent Alta HR – there's still very much a place for subtle health-trackers in our lives.
But if you've grown weary of your Fitbit's lack of built-in music, apps and notifications, then you'll have been pining for a smartwatch. And that's where the Versa comes in.
It's not Fitbit's first smartwatch, of course – that was the promising but slightly rough-edged Ionic. While that had its moments, its smart functionality was way too raw. 
The Versa is more like the fun-size chocolate selection box of smartwatches. You get some of the smarts of an Apple Watch, some of the fitness chops that make PB-mad triathletes admire Garmin's gear, plus battery life that sits somewhere between a smartwatch and a basic fitness tracker.
If you want it all, right now, you don't get it with the Fitbit Versa. What you do get is a bit of everything and there's enough here to satisfy those happy to bob along on the surface of a few different wearable worlds…
Additional words and photos by Andrew Williams
Design: a safe middle ground
If the key to successful smartwatch design is about offending as few people as possible, then the Versa is off to a good start.
Its rounded edges and square face are much more conventional than the wider and more angular Ionic, which wouldn't look out of place in a Star Trek spin-off. There's only one case size, but you get both small and large straps in the box.
Some might say the Versa is pleasantly inoffensive, others might snipe 'designed by committee'. But there's no doubt it has wider appeal than the Ionic and fits its unisex label.
That's helped by its bigger range of case colours and bands – three of these (grey/silver aluminium, peach-rose gold aluminium and black aluminium) are the standard £199 option, while two £219 special edition versions come with woven straps that you can't buy separately.
You won't be blown away by the build quality, but then the Versa is £130 less than an Apple Watch. And, like the Ionic, you do get three handy hardware buttons on the sides, which saves you prodding at the pleasantly bright touchscreen with your sweaty gym fingers.
As long as you don't buy one of the weighty metal bands to slot onto it, the Fitbit Versa is pleasantly light. Comfort is also good, if not outright great. You'll need a fairly tight fit to make the built-in heart rate sensor work properly and there's not much give to the rubber strap, so it can leave some pretty gnarly impressions on your wrist if you're not careful.
Okay, changing the straps isn't quite as fiddle-free as the Apple Watch's mechanism, but the process only takes a minute once you work out which bits slot in where.
Screen and controls: a slightly bumpy ride
Given the Fitbit Versa's face is fairly chunky you may expect a slightly larger screen than the 1.34in one it has.
The bezels here are big, but the display looks sharp and colourful. And despite being an LCD rather than the trendier OLED type, the screen blends into the black surround pretty well.
You control the Versa with a mix of touch control and buttons. There are two on the right side, one on the left, and no rotating bezel. Press the left one and the Versa switches to the watch face. The other two are a bit more involved.
To start with it seems like they launch the exercise app, which makes sense, and alarms, which doesn't. But they actually run whatever sits on the first top and bottom apps on the app page. And you have to fiddle with these in the Fitbit app on your phone. It's all a bit finicky, but feels fine once you've invested some time in setting it up.
Software: youthful inexperience
In fact, there's quite a lot you need to do in the phone app. Want to install new watch apps or change the face? That all happens in the Fitbit app. It's a sign of a young smartwatch system, which Fitbit OS definitely is.
There are a few more of these little signs. Sometimes the Versa doesn't feel all that quick to respond to your swipes and button presses, and your activity summary takes a beat to load. You get to this by swiping up on the watch face.
The Versa, just like the Ionic, doesn't have many apps either. There's Deezer, Strava, Starbucks, Philips Hue and some basic extra trackers for tennis how much water you drink. Fitbit told us there are over 700, but loads of these are watch faces.
We'll get more in the future, but there are some obvious missing ones. We'd rather have Spotify than Deezer, for example, but that's as much Spotify's fault as it is Fitbit's.
Features: getting smarter, but missing GPS
The Versa is a smaller version of the Ionic, minus one pretty big feature – built-in GPS.
How you'll feel about this depends on what kind of exercise you do. Keen runners or cyclists who want accurate pacing and distance tracking will want to look elsewhere.
Yes, the Versa does have 'connected GPS', which means it can piggyback your phone's signal, but anyone keen on shaving seconds off their PB is unlikely to want to carry their phone with them too.
Still, if you're just after a waterproof watch to log basic exercise stats, track your sleep, serve up phone notifications and generally act on autopilot, then the Versa is a strong new candidate.
The Fitbit Versa tracks steps just like any other Fitbit, including any stairs you climb. As standard it'll give you a nudge if you don't move enough each hour too.
There's a lot more "active" tracking too. You get seven different modes for various kinds of exercise, including running, swimming, treadmill runs and interval training. These monitor stats like your heart-rate and distance travelled, and can be set to auto-pause if you stop.
Anything missing? There's no mode for walking or hiking, and this kinda matters as the Versa uses Connected GPS to optimise your stride length, so you probably want to keep the run mode for actual running.
There are also a few bugs with heart-rate tracking. Running on a treadmill and comparing the stats to the machine's bar sensors, the Versa was almost dead-on 95% of the time. But looking in the app after the fact, all I got was a graph saying my heart rate was 106-107bpm the whole time. It definitely wasn't, reaching as high as 150bpm and bobbing up and down as I changed pace.
On another occasion I tracked a walk and the Versa seemed to think my heart-rate was 176bpm almost entire way. Sometimes the Versa's readings are great. Sometimes they really aren't.
Still, given the on-watch results were solid, this mostly seems the result of a software issue rather than HR hardware. Some tweaks are needed, but some of the basics are good.
The Fitbit app offers neat little motivation features like virtual hikes across scenic locations, mapped to your steps, and Fitbit Coach provides guided workouts. You can try a few for free, or unlock the lot for £6.30 a month or £31.55 a year.
Other aspects of the Versa are a work-in-progress too. You can see notifications from apps like WhatsApp, and the Versa screen makes reading them easy but you can't respond to them on the watch.
I'll admit, I've never done this outside of testing a watch, but Fitbit says the feature is coming soon. So what can it do right now? You can sync about 25-30 albums' worth of music, including Deezer playlists, and stream tunes to a pair of Bluetooth headphones.
You can also use it for wireless payments, if your bank supports Fitbit Pay. And then there's one of its great strengths, tracking your sleep including REM dream stages.
Still, while the Versa shows that Fitbit is definitely making progress, its strengths remain in health-tracking rather than acting like a mini wrist-phone.
Battery life: plenty of juice
The Versa claims to have over four days' battery life. The Ionic boasted the same when it launched, but in our tests actually lasted just under three days.
The good news is that, judging my use, the Versa does indeed last four days, perhaps only slightly less if you use it a lot. That's less than the Garmin Vivoactive 3, but far better than any Wear OS watch or the Apple Watch.
Of course, there's one main reason for this stamina: the lack of built-in GPS. GPS is a real battery drain and holds the Apple Watch back from going beyond 18 hours. If constantly daily recharges are putting you off smartwatches, the Versa might well be for you.
Trust us, having a watch you need to charge twice a week is a completely different experience to one you need to charge every day. To give it a juice-up, you plug the Versa into a surprisingly dumpy, but very solid dock. It's not going to slip off the thing like some wireless charge pads.
Fitbit Versa verdict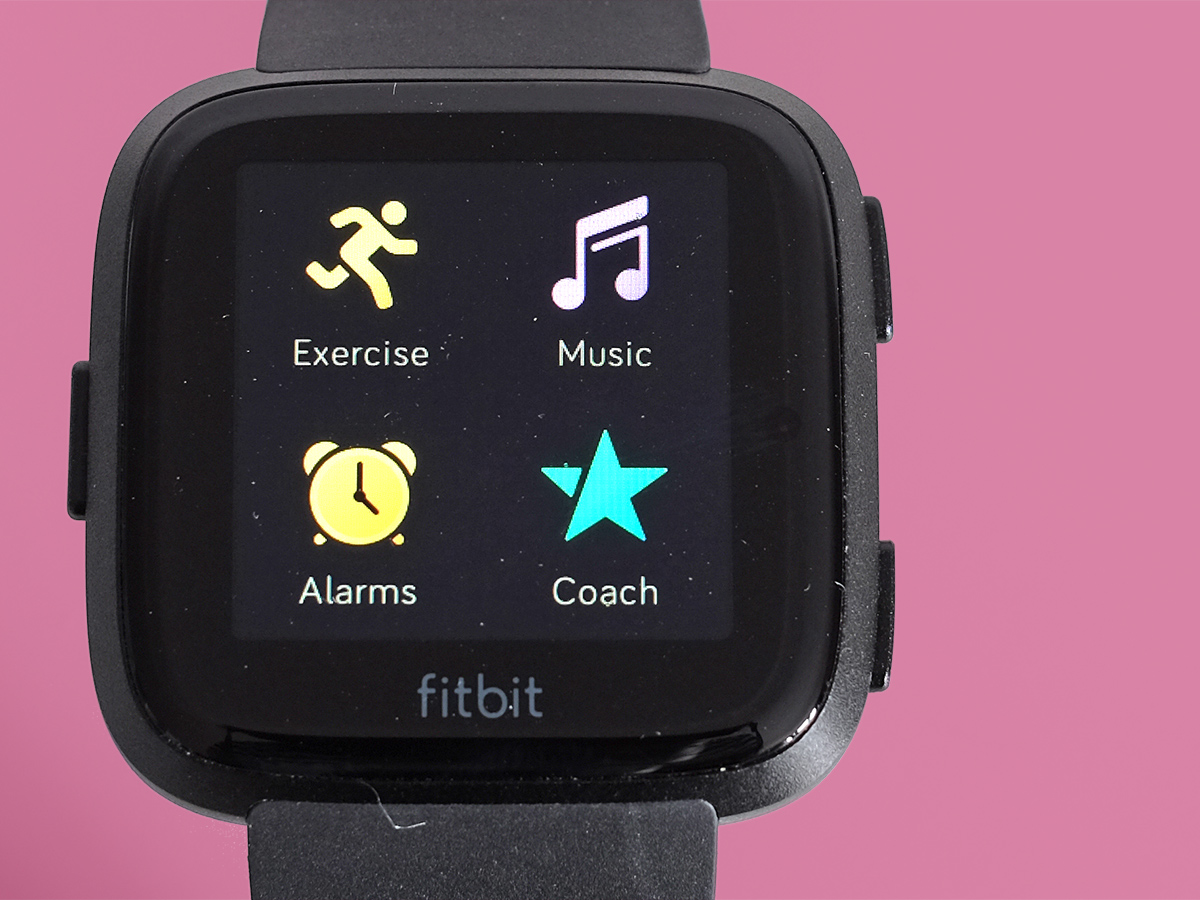 The Fitbit Versa is far from a perfect smartwatch. It doesn't have the apps of an Apple of Google watch or the fitness chops of a Garmin, and there are a few parts of the software that need some spit and polish.
But it is still a fine all-round fitness tracker that's a good compromise of features, looks and battery life.
If you're a Fitbit veteran with a fondness for its smartphone app, or just want to dip your toe into smartwatches, it could well be for you. The only other real contenders at this price are the Ticwatch E, Garmin Vivomove HR and an Apple Watch Series 1, and it's certainly decent value at only £30 more than a Nokia Steel HR.
For full sports-tracking, there are better options – the Apple Watch S3 or Garmin Vivoactive 3, for example, which both have built-in GPS. A comparative lack of apps and question marks over which UK banks will support Fitbit Pay are also slight stains on the Versa's smartwatch credentials.
But its versatile design and an improved Fitbit OS mean it's a fine, cheaper alternative to the Apple Watch.
Stuff Says…
Good looks, a decent battery life and a smattering of smarts make this an attractive, if not flawless, fitness tracker
Good Stuff
Solid four-day battery life
Design has wider appeal than Ionic
Good exercise- and health-tracking for casual users
Bad Stuff
Slightly erratic HR tracking and recording
Connected GPS rather than built-in GPS