Fujifilm GFX 50R review
Glorious medium-format made more affordable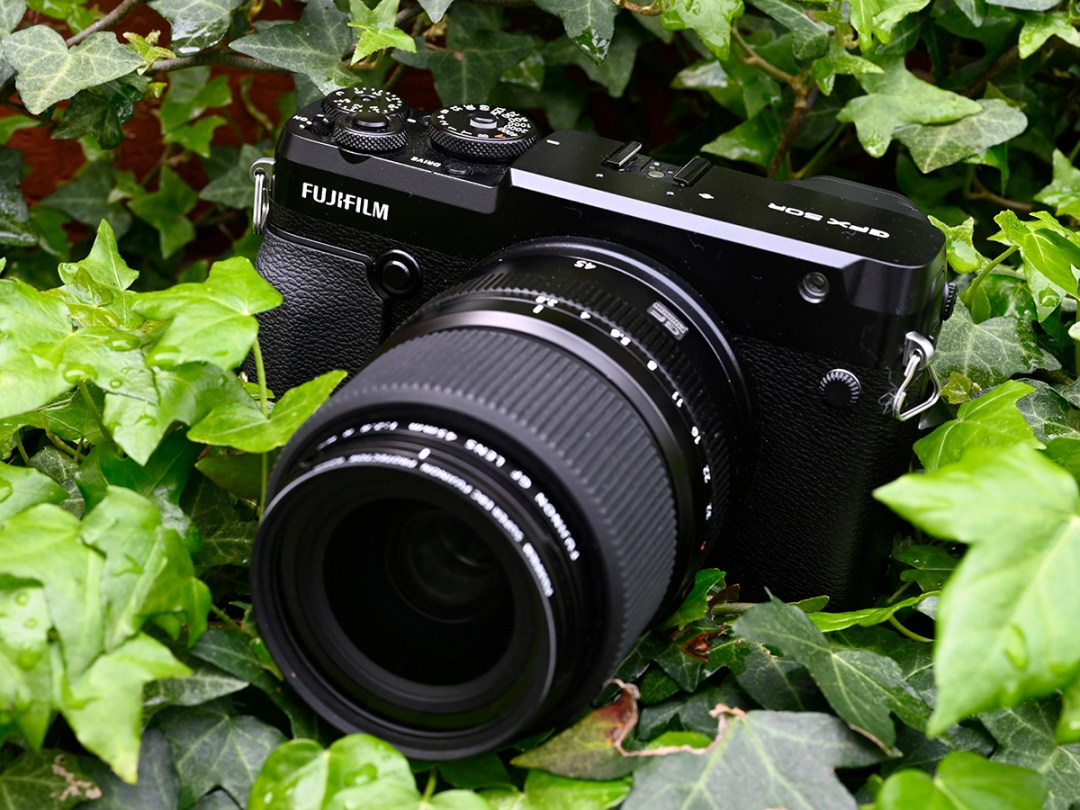 Fujifilm announced the GFX 50R at Photokina 2018, amid everybody else and their dog announcing full-frame models, it proudly proclaimed it had a new "super full frame" offering. To put it properly, that's medium format to me and you, and it's got a big old sensor.
But, and this is important, it's not quite as big as the GFX 50S which came two years before. That makes it much more portable, and more likely to be something you might actually want to take outside of the studio for a shoot. It packs the same sensor, processor and autofocusing system though, so image quality should be nigh-on the same (and it's bloody good from the GFX 50S, trust us).
Another important point is price – this latest offering is £4k (body only). Alright, that's still not cheap, but, by medium format standards it's a lot more within reach of normal photographers.
Design: Go big or go home – but still smaller than the GFX 50S
The trade off for schlepping around a medium format camera is that the camera is large by default. There's no getting around that.
And I'm not going to waste any time trying to convince you that this is a small camera by any means – because it's not – but crucially, it is smaller than the GFX 50S. It uses a fairly boxy, rangefinder type design – think a Fujifilm XPro type camera, but on steroids, and while you're obviously not going to fit this into your jeans pocket or a clutch bag, it's not really any bigger overall than a full-frame DSLR.
There are downsides to making the body smaller – first of all you have to live with a reduced grip. It's still, well, grippy enough, but if you pair the GFX 50R with some of the larger GF zoom lenses, it can feel a little unbalanced. Sticking with the small(er) primes makes a lot of sense for that reason. It also means that there aren't quite so many buttons and dials present here as we saw on the GFX 50S, plus there's also no top-plate LCD screen for quickly judging your camera settings. However, we'll happily take all this for a camera which is not quite such a monster but promises the same image quality as its beefier brother.
Speaking of those dials and buttons, there's still a fair few to get your mitts on. There's a shutter speed dial on the top plate, plus an exposure compensation dial. The ISO dial has been sacrificed to save space, but you can access ISO directly via one of the customisable buttons, so it's not that big a deal.
Other settings can be speedily reached via the quick menu accessed via the Q button on the rear thumb grip. This is something we're used to seeing across all Fuji X and GFX series cameras and can also be customised to meet your own personal tastes and preferences.
Unlike the GFX 50S, the 50R has a viewfinder directly built into the body – over on the left hand side as befits its rangefinder style. It's got the same resolution as the 50S' viewfinder which slotted into the hotshoe, but the magnification is not quite as good. You might notice a difference if you're shooting with the two cameras side by side, but that doesn't feel like a very common situation. Otherwise, it's a pretty nifty device that displays a bright and clear view of the scene.
There's also a tilting touch-sensitive 3.2-inch screen. It's the same in terms of size and resolution as the GFX 50S holds, but the third tilting mechanism (giving you better flexibility for portrait-format shooting) is a casualty of making this camera cheaper than the 50S – there needs to be reason to still purchase the more expensive model, after all.
Features: Medium format goodness for stills photographers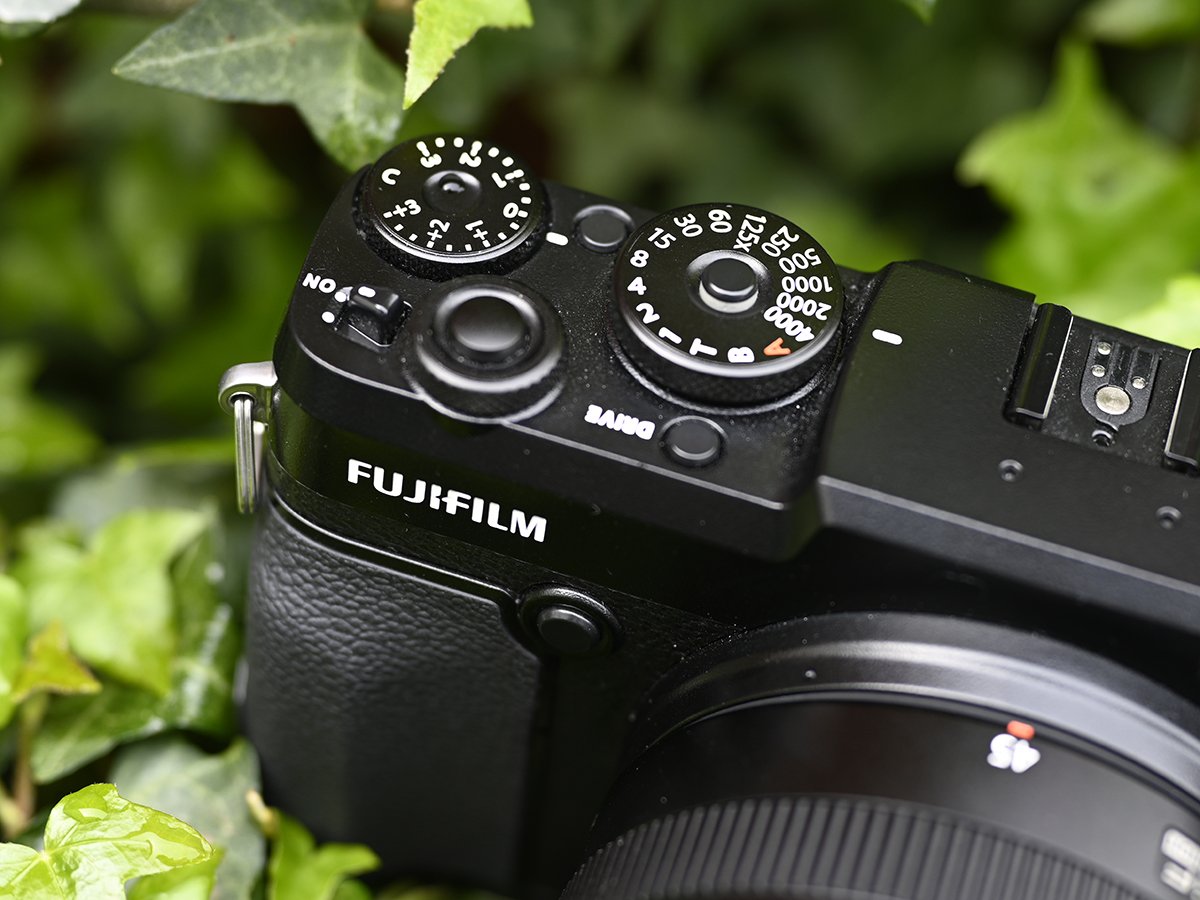 Of course the headline feature for this camera is its lovely medium format camera. If you read those words and don't have a clue what the eff is going on – it's bigger than full-frame. The fact that Fujifilm sometimes refers to it as "super full frame" is a nod to the plethora of full-frame mirrorless models now on the market. In other words, this sensor is not just big, but really big. It's also got 51.4 million pixels so you can expect bags of detail, too. This sensor is the same as the one found in the GFX 50S, and there's also the same X Processor Pro on board, so you can expect image quality to be on a par between the two models – it's all down to which you prefer, handling wise, in essence.
The focusing system is also shared between the GFX 50S and 50R, giving you up to 425-points in a contrast detect set-up. It's not as super swift as the speeds we see from some other mirrorless cameras on the market, but it's not really a camera designed for action photography so for most static (or nearly static) subjects you shouldn't have that big a problem so long as you've got a little bit of patience.
Every so often you might also see a false confirmation of focus – basically this is a camera where you should expect to take your time and work in a slower way and double check everything – but that's not necessarily a bad thing. If you do want to try catching some action with the GFX 50R, you can shoot at up to 3fps – a tortoise race might be the ideal match for it, but not much more.
Battery life is rated at 400 shots – which is actually pretty decent. We found it coped well with a full day's shooting – you can likely get more than 400 shots from it if you turn it off between shots and so on.
Dual SD card slots are included, with the option to use the secondary card either as back-up, overflow or for different kinds of files (i.e. raw format on one, JPEG on the other).
Videographers probably aren't seriously considering a medium format camera for their movies, but those who like to create the odd film or two can take advantage of Full HD shooting. There's no 4K, here, but considering it's not really aimed at video shooters, it'd probably be unnecessary expensive extra left unused by stills shooters.
Image Quality: Bigger is better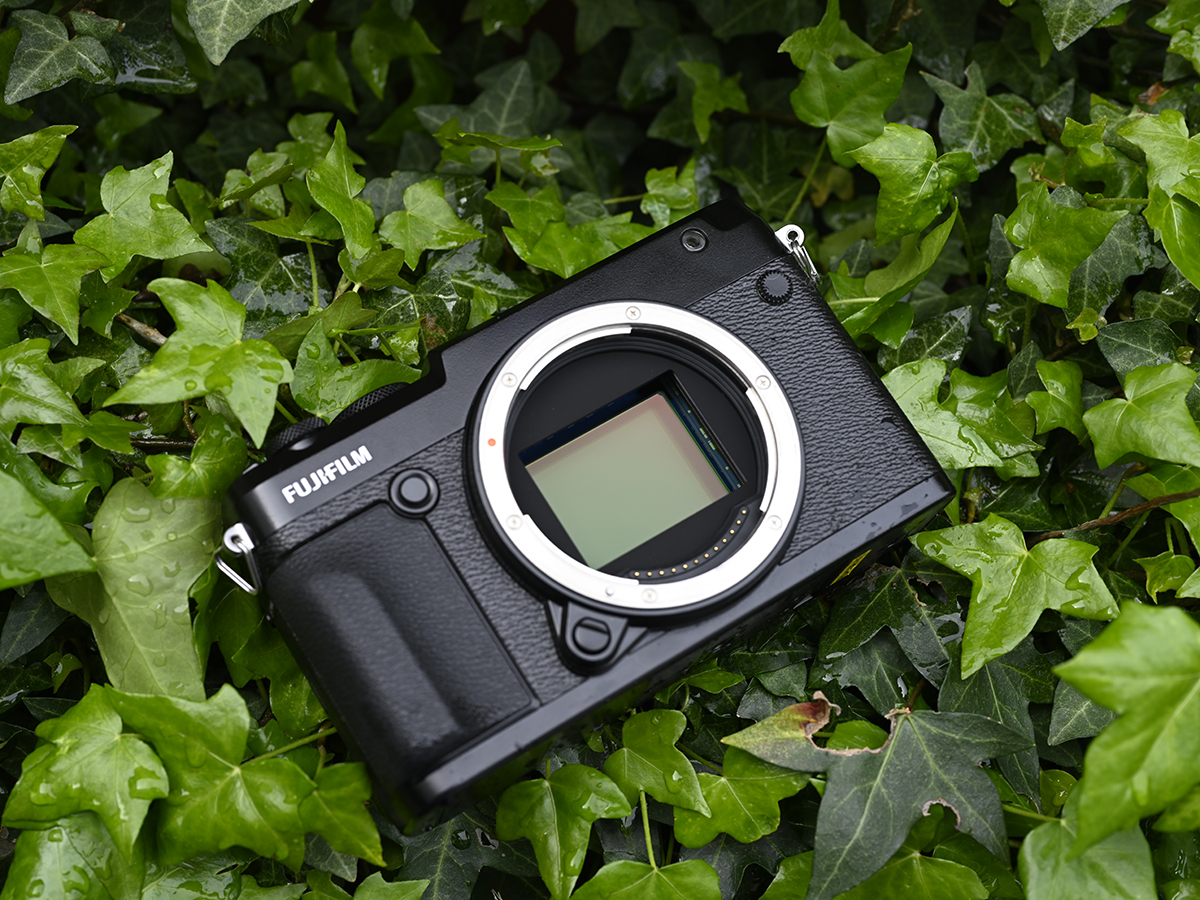 Once you've made the jump to medium format, it's pretty hard to deal with smaller sensors – even full-frame. Image quality is everything with this camera – it's what all the sacrifices for. The big bulky body, the heavy and awkward lenses, the slow focusing and of course the big price all seem worth it when gawping at the beautiful detail, gorgeous shallow depth of field effects and that unmistakable "Fujifilm" quality which is harder to define.
Making sure you absolutely nail your autofocus (or manual focus) is crucial. A huge sensor coupled with some wide aperture lenses doesn't leave much scope for getting it slightly wrong and throwing focus off completely. But, when you do get it spot on, wow are you rewarded.
What's more, the raw format files are incredibly versatile. You can push and pull these files in software such as Adobe Camera Raw to get the exact look you desire.
Dynamic range is huge, making it the perfect camera for considered landscape photography, and plenty of other subjects too. Portraits are captured in stunning detail, with out of focus areas rendered superbly – fashion and portrait photographers working on location and looking for something more portable than a studio camera will surely be tempted by the GFX 50R.
Low light shooting is also good, again thanks to that lovely big sensor being able to capture light so well. You can see a bit of noise at ISO 12800, but it's perfectly manageable at printing sizes of A4 or below.
As part of this review, I was working with the 32-64mm f/4 lens, which is a bit like a kit lens, the 110m f/2 lens and a 45mm f/2.8 lens. Bearing in mind the medium format crop factor of around 0.79x, these lenses work out to be 25-51mm, 86mm and 35mm equivalent focal lengths. All performed excellently, with the small(ish) size of the 45mm f/2.8 lens being particularly well suited to the GFX 50R.
Fujifilm GFX 50R Verdict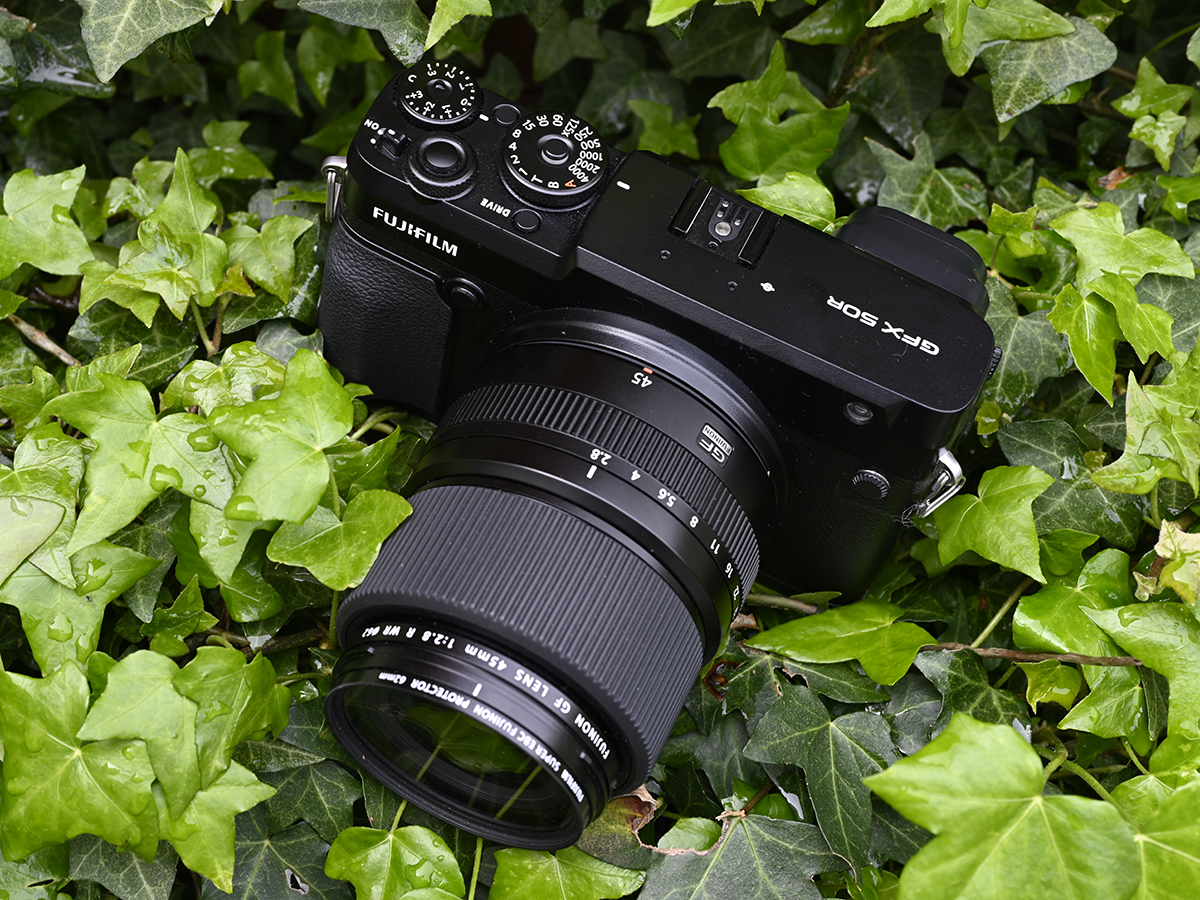 Medium format cameras have always been pretty much a niche offering.
When Fujifilm first announced its GFX series cameras at Photokina 2016 it marked a step towards making these behemoths available to the masses. At £6k, pretty rich masses, but it was still more affordable than ever before.
With the GFX 50R, announced another two years later, Fujifilm goes even further to democratise medium format. It's still not "cheap" by any means (current pricing stands at about £4k), but it's getting better and within the realms of the budgets of serious enthusiasts.
There's also a booming second hand market and camera hire companies to think of too – if you need a camera for a special shoot, it's worth thinking about those. Using the GFX 50R is not a breeze. There's difficult autofocusing, a big and slightly awkwardly designed body and massive lenses to contend with. But that image quality is enough to make all of those concerns vanish once you look at them on your computer – next time you look at anything with a smaller sensor you'll no doubt be left disappointed.
Overall – if you want the ultimate in image quality and are looking for something which is not too ridiculous to transport – the GFX 50R could well be the one for you.
Tech specs
| | |
| --- | --- |
| Sensor | 51.4 million pixel medium format sensor |
| Processor | X Processor Pro |
| ISO Range | 100-12800 (50-102400 extended) |
| Video | Full HD |
| Screen | 3.2in, tilting (two direction), 2,360k-dot LCD screen |
| Viewfinder | 0.5in, 3,69-million dot, 0.77x magnification built in viewfinder |
| Autofocus | Up to 425-point contrast detect system |
| Shutter speeds | 4sec-1/4000sec, bulb mode (mechanical shutter), 4sec1,16000sec, bulb mode (electronic shutter) |
| Burst rate | 3fps |
| Weight | 775g (including battery and memory card) |
| Dimensions | 160.7 x 96.5 x 66.4mm |
Stuff Says…
Medium format isn't suited to everybody – it's big, it's not cheap and it's cumbersome – but the files are bloody gorgeous. By reducing the price, Fujifilm brings medium format within the realms of mass affordability – we're hooked.
Good Stuff
Massive medium-format sensor
Tilting screen
Inbuilt viewfinder
Bad Stuff
Video restricted to Full HD
Big and heavy
Expensive