Garmin Vivoactive 3 review
This Vivoactive hits the sweet spot between sports and smarts...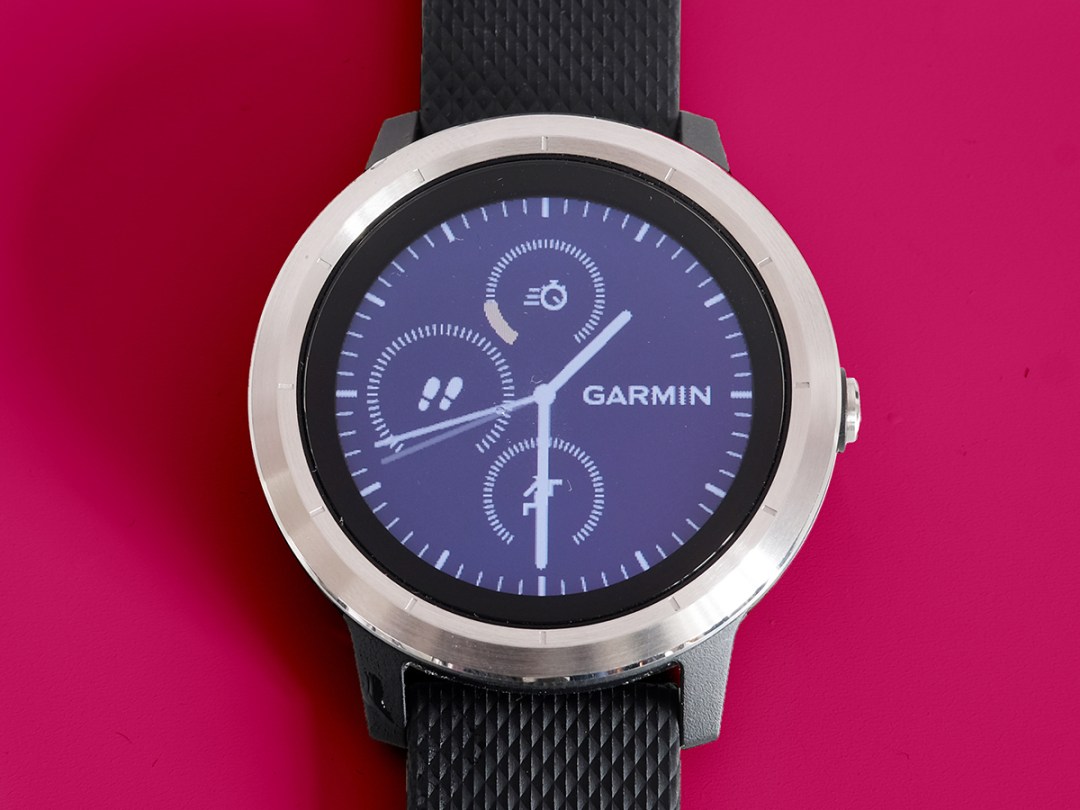 The Vivoactive series has given us some of the most interesting, and least appreciated, fitness watches going.
They match the GPS-tracking chops of the most expensive Garmins with a design that doesn't make you look like a wannabe Bear Grylls.
Why so little love? Traditionally, Vivoactives have been small, but kinda ugly. The Garmin Vivoactive 3 changes all that.
You get smartwatch looks with hardcore runner's watch features. It's an exciting combo for those who want their smartwatch to be fitness-focused with a side of smarts, rather than the other way round…
Design: sporty but slimline
The first thing fitness watch fans will notice is that the Vivoactive 3 isn't a wrist-hugging leviathan like the Fenix 5.
At 11.7mm thick it is, well, a normal size. The Fenix 5 is 15.5mm thick. That 4mm makes a big difference. There's a stainless steel ring around the screen, super-tough fibre-reinforced polymer on the sides and more metal on the back.
It's miles better looking than the original Vivoactive or Vivoactive HR. As much as we loved them, they were the watch equivalent of the kid who brought a briefcase to school. Thanks to its low 43g weight and a decent silicone strap, the Garmin Vivoactive 3 is comfy too.
Garmin doesn't make some of its watches ultra-chunky just to satisfy burly chaps with a bit too much to prove, though. The screen isn't recessed here, making it a bit more susceptible to damage if you do your 10km runs on mountains and fells rather than in the local park.
Gorilla Glass 3 sits over the screen, so you do get a decent level of scratch resistance. The flat-topped screen makes it a bit too easy to accidentally wake the watch or fire-up home screen apps, but you'll get used to this in time.
The Vivoactive 3 also has 5ATM water resistance, like the latest Apple Watch, which means you can take it swimming to depths of around 50m. The Fenix 5 has even better 10ATM resistance, but unless you're planning to go snorkeling regularly, the Vivoactive's waterproofing will be fine for most situations.
Screen: Sports over style
The Vivoactive 3's screen is very Fenix 5-like, with the 1.2in, 240×240 round colour display coming with memory-in-pixel transflective tech.
This means it uses barely any power to keep the clock on-screen and actually gets clearer the brighter the sun shines.
When you're indoors, a press of the side button or a brisk wrist flick turns the front light on, which means you can tell the time in the dark. This kind of screen tech is great for always-on use, and for seeing how far you've made it mid-run on a sunny day.
The flip side, though, is that the Vivoactive 3 doesn't make fancy chronograph style watch faces look as good as a fancy OLED. It's not as sharp as an Apple Watch, colour is a little muted and contrast isn't great.
Still, you can pick the look you want. There are digital watch faces, diver's watch designs packed with info and ultra-simple analogue ones. You can also download many more from the Connect IQ store.
Apps: Halfway smart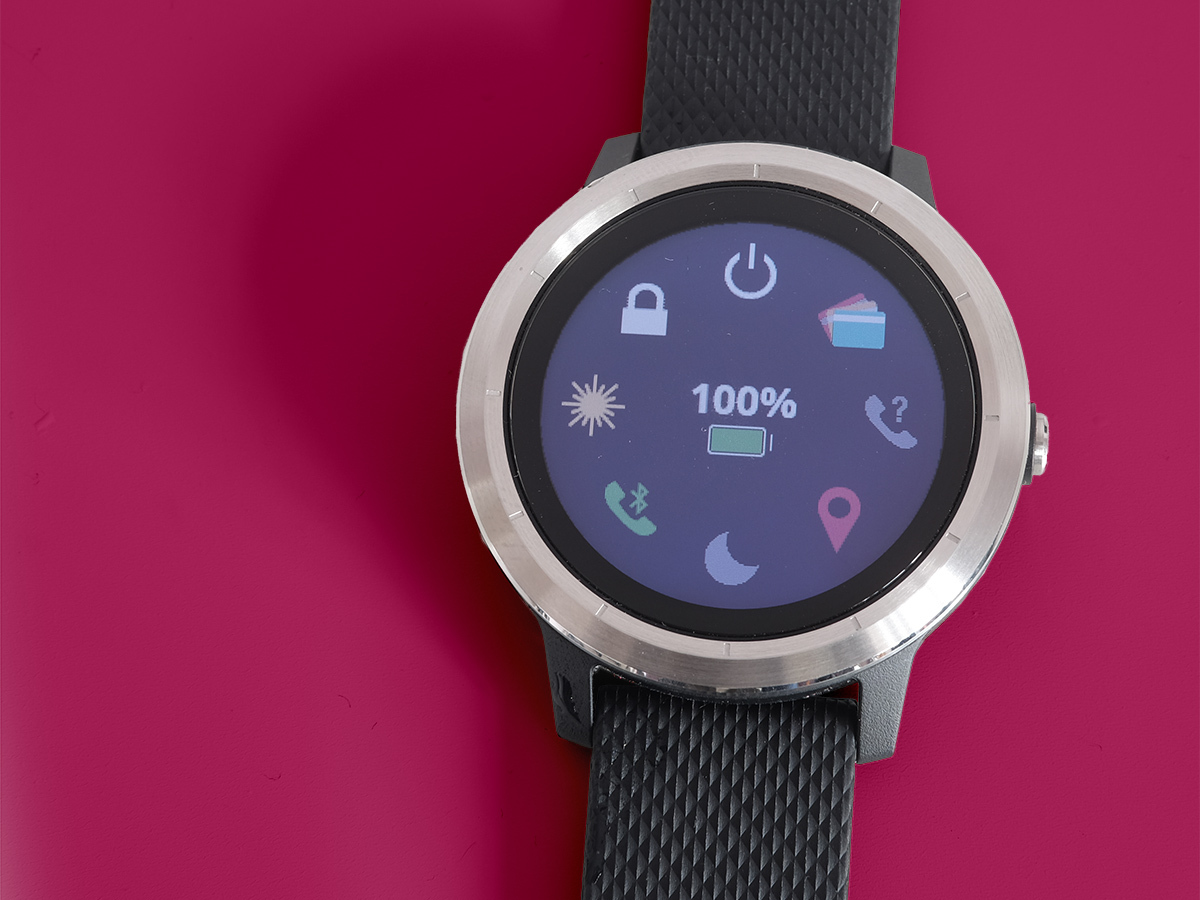 The ability to handle notifications and run third party apps is what makes the Vivoactive 3 a smartwatch, rather than just a fitness tracker.
You get access to same apps as Garmin's most expensive watches thanks to Connect IQ, which is nice, but don't expect a full smartwatch experience though. It's not what these watches are designed for.
Downloaded software turns up as either another info 'homescreen', accessed by flicking up and down on the touchscreen from the watch face. or as an 'activity'.
You get to a list of these by pressing the side button. There's a free Tetris clone for the Vivoactive 3, for example, but launching it from a menu next to run, cycle and gym tracking feels a bit weird. And it's not much cop either.
You're best off paring down the extra info screens and apps to a minimum, as flicking around the watch's interface isn't as responsive as, say, Android Wear. Well over 90 per cent of apps are exercise-related too.
The watch is perfectly good for phone notifications and a few basics, though. New for this model is the ability to make wireless payments using Garmin Pay. We'll have to take Garmin's word for it as the Garmin Connect app lists it as "coming soon" right now.
One other feature that would have been a real boon for the Vivoactive 3 is music storage. You can control tunes from your phone, but not play them natively. So you'll still need either your phone or another device like Mighty for that.
Fitness tracking and performance: sports supremo
Exercise tracking is the real reason to buy the Vivoactive 3 anyway, and for that it's fantastic.
You're only ever a button press and tap away from starting a session. Like other Garmin watches, GPS is built-in. The very first GPS connection took about a minute, but after that it only took a few seconds to hook up, max. You also get the same rock-solid GPS connection and decent tracking accuracy as Garmin's more hardcore models.
There are shedloads of exercise presets too, for activities like snowboarding as well as cycling and running. From the app store you can also download niche extras like Pomodoro technique timers.
The actual data you get includes 24/7 heart-rate monitoring, altimeter readings, VO2 max and all the usual speed and distance readings that come with full GPS tracking. It all ends up in the Garmin Connect app, which is made for the real exercise fiend.
It's less fluffy, friendly and accessible than Fitbit's platform, but is perfect if you actually want to monitor your performance over time. It's stat heaven. One of the homescreens also gives you a stress level reading, and you'll get regular pop-ups detailing your heart rate recovery times.
Want to ask your watch trivia or read out messages to send to friends? Buy an Apple Watch. The Vivoactive 3, though, is hard to beat for exercise tracking.
Battery life is another killer feature on this front. The Garmin Vivoactive 3 lasts for 13 hours of GPS tracking, a lot more than the five hours of the Apple Watch. Garmin says it'll last up to a week without any GPS antics.
With mixed use including plenty of notifications, a bit of daily walk and run tracking, we've found it lasts three days. That's only half the stamina of the Fenix 5, but it wipes the floor with smartwatches that look smug just because they have built-in GPS.
Garmin Vivoactive 3 verdict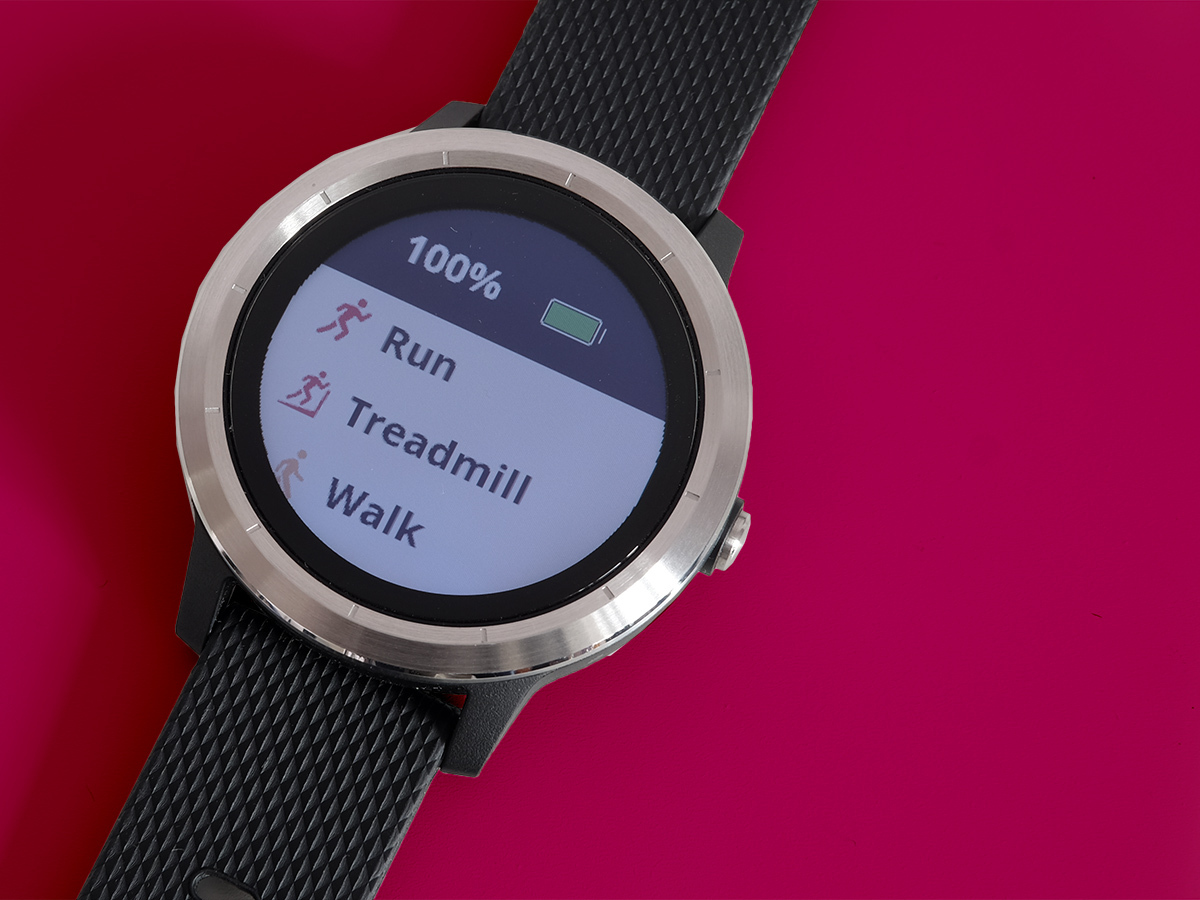 The Garmin Vivoactive 3 is one of the tastiest fitness watches we've seen so far.
It looks good, isn't a wrist-dominator, outlasts just about all normal smartwatches and gets you tracking similar to a Fenix 5 at almost half the price.
What's not to like? True offload warriors may want the extra ruggedness of the Fenix 5, and it's best not to expect too much from the Vivoactive 3's smartwatch side. It's also a shame that it doesn't store music for you to play during runs.
But for sport lovers, the Vivoactive 3's great fitness tracking and battery life will eclipse the lack of smartwatch fluff.
Stuff Says…
If you're into sports rather than all-round fitness tracking, then this is the smartwatch for you
Good Stuff
Great exercise tracking
Very good battery life
Contender for smartest Garmin watch yet
Bad Stuff
Software not as slick as Wear or Watch OS
Garmin Pay not ready yet
No standalone music playback