Gears of War 4 review
A bloody, fun Xbox One exclusive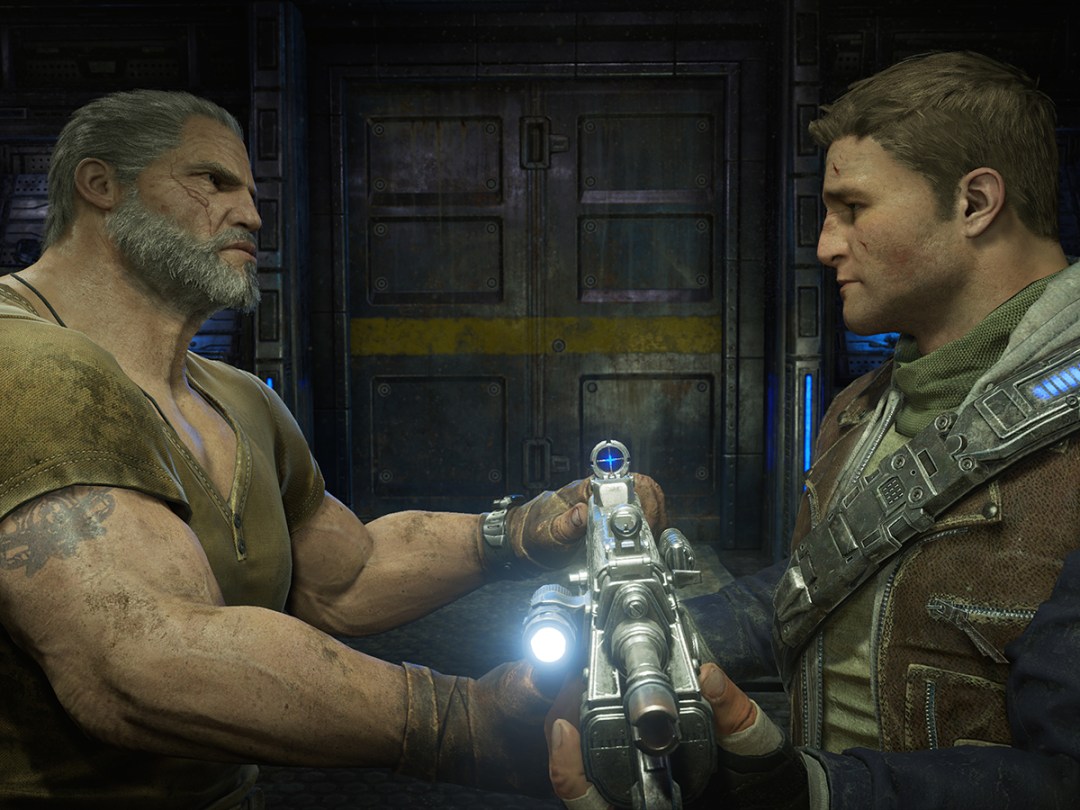 There were a lot of things I wanted to hate about Gear of War 4. Its heaving machismo, which sees burly men pummel away their woes with automatic rifles. Its relentless glorification of ultraviolence, which splatters your screen with red stuff at every given opportunity. And its adherence to a now decade-old cover-based combat formula that wasn't particularly innovative the first time around.
Then I spliced open an insect-alien thing with a chainsaw and forgot about all that. You see, Gears of War 4 is a game that knows what it's good for and delivers this with an almighty torrent of bloodshed. It ain't clever, but Xbox One's latest exclusive sure is big and stupid and fun.
And I am totally OK with that.
Playing with the boys
Let's be blunt for a moment, the only reason Gears of Wars games have a plot is to give you an excuse to blow shit up. For this reason you can't judge GoW4 too harshly for being nigh-on impenetrable to newcomers. Basically, when you first leap into things the world of Sera is at peace, and then it all kicks off. Dramatically.
Set 25 years after the Imulsion Countermeasure weapon was released in Gears of War 3, you get to play as J.D. Fenix – the son of series stalwarts Marcus Fenix and Anya Stroud. But fear not, long-time fans: young J.D. still has a neck that's as thick as a tree trunk and a winning way with snarky one-liners. Juvenile wit runs in the family it seems. That and a predilection for gargantuan firearms.
More so than any glorified grunt, it's these hulking chunks of lethal weaponry that are the stars of GoW4. It's no coincidence that the scene where everything clicks into place, where you think 'now we're in business', is set in an armoury. This game fetishises gunplay as though it's life's holy grail, and while you can rightly feel queasy about such a fawning worldview it's entirely necessary for such a reductive shooter.
All Fired Up
From Uncharted to Tomb Raider and Shadow of Mordor, most third-person games try to mix up combat by incorporating an element of stealth into proceedings. Otherwise you'd be running and gunning all the damned time. Being profoundly dumb at heart, GoW4 has no time for such namby-pamby nonsense.
Variety comes from the DeeBee robots and Swarm enemies you gun down, and the tools at your disposal to do this. Barely 15 mins will pass by without your being handed another emissary of destruction, and pretty much all of them are ridiculously entertaining.
As much as shotgunning a robot in the face isn't high art, developer The Coalition knows how to exact the maximum amount of gurn-inducing pleasure from this base activity. And then it'll fling a fighter jet that's just begging to be brought earthbound your way.
After stumbling over a relatively sedate first act, GoW4's Campaign Mode is blisteringly paced for the most part. The way waves of new foes are introduced forces you to constantly lunge forward from balcony to burnt-out car. Sitting back and hoping for the best is a sure-fire recipe for having your guts shot out in disgustingly graphic fashion.
Everything's better in HDR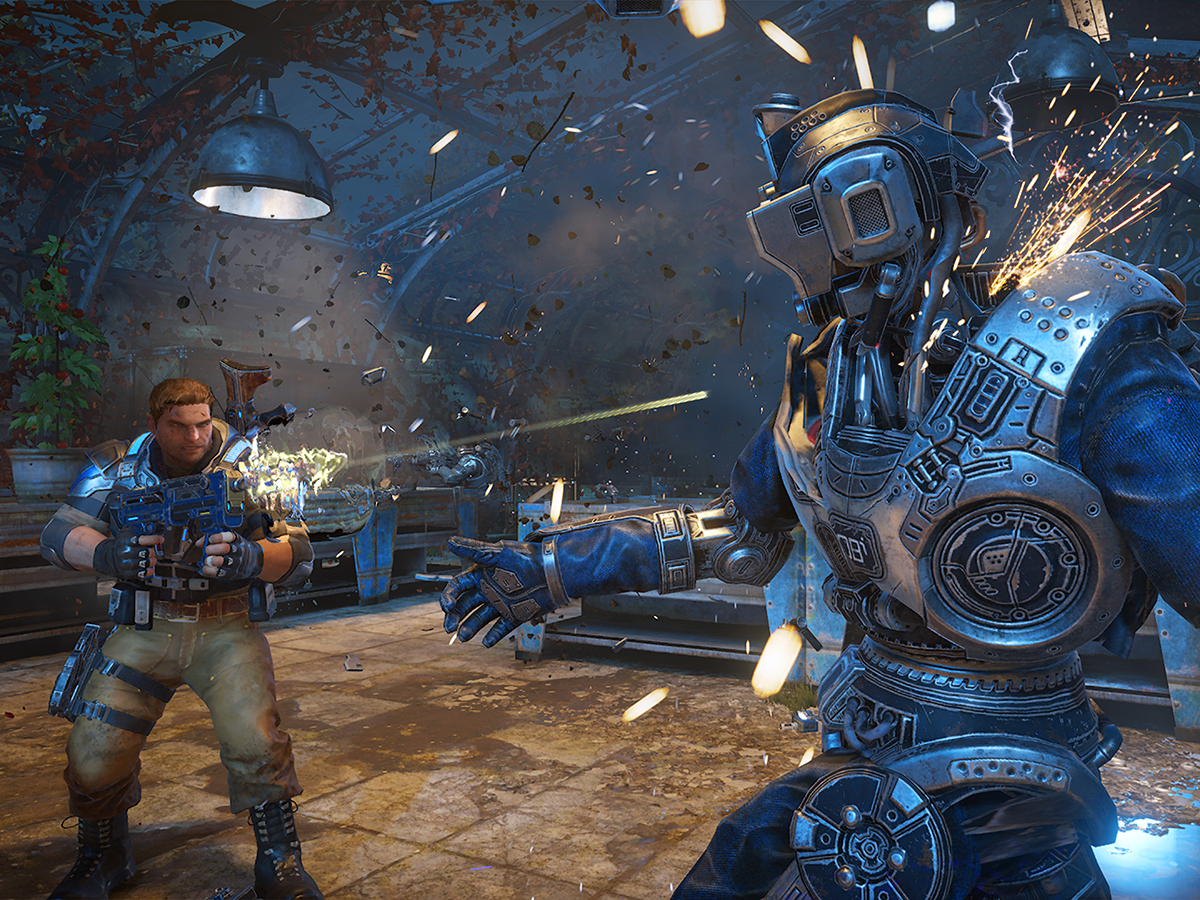 No amount of gore can distract from the fact Gears of War 4 doesn't really bring much that's new to the series. There are a couple of fresh moves, such as the ability to drag an enemy from the other side of cover then stab them senseless or to leap over an obstacle and kick them in the face, but that's about it.
Fortunately, next-gen graphics do a lot to obscure this flaw. Following on from the stunning Forza Horizon 3, it's another exclusive title that gets the absolute best from Microsoft's console. Especially if you're playing on the new Xbox One S with HDR enabled.
There's a visceral level of detail to swirling weather effects, while explosions scream out of your TV with unparalleled brightness and intensity. Although you'll rarely have a chance to take a breather and admire GoW4's graphical prowess, it's truly impressive. If you've already gone out and bought Microsoft's latest console, then this is an essential purchase. And for old-school Xbox One owners, it's a far superior franchise return than last year's Halo 5: Guardians.
eSports ahoy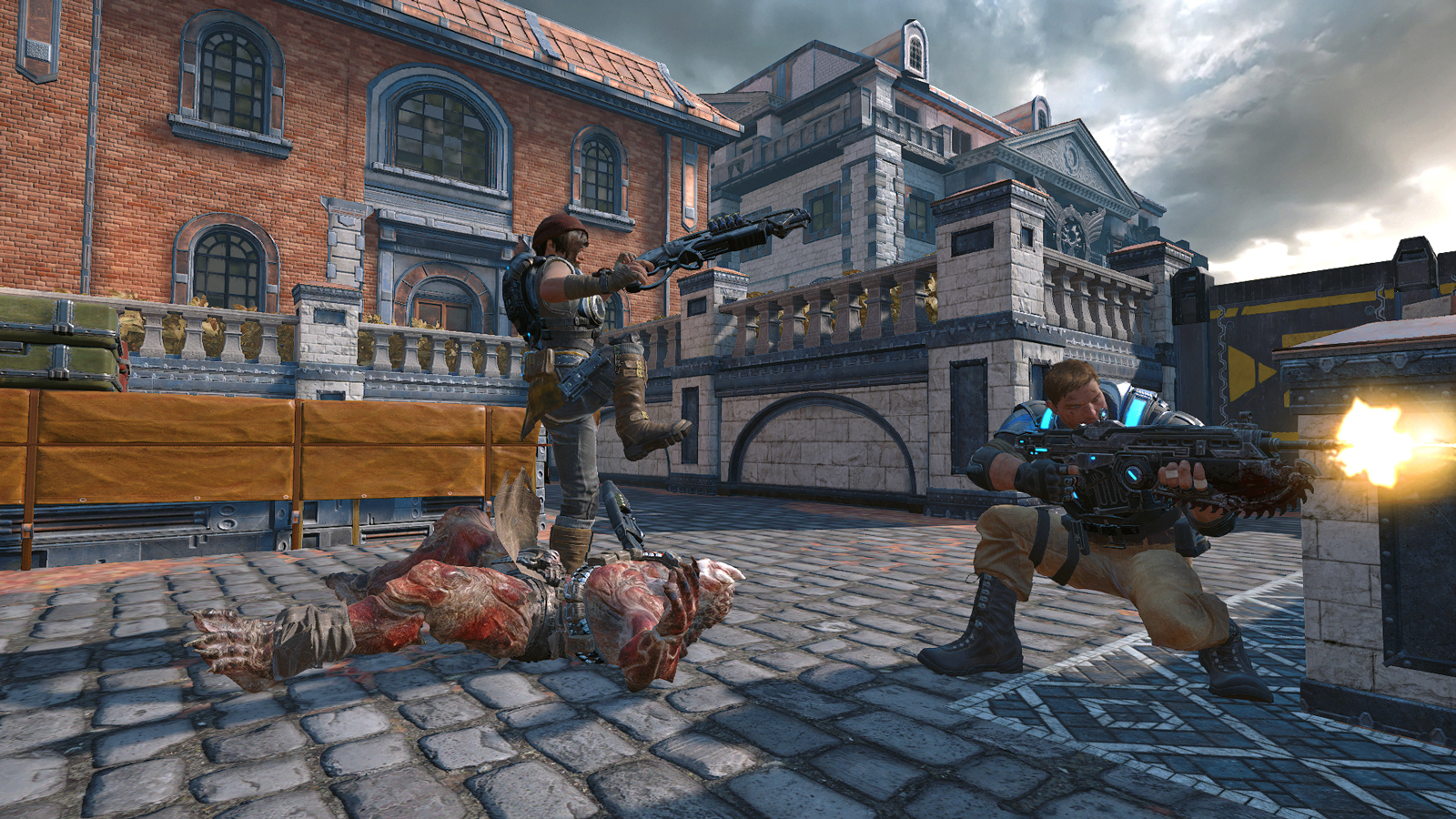 As with any shooter these days, Microsoft is making a big deal about GoW4's multiplayer. This extends well beyond a co-op campaign mode and into a slew of game modes and monthly DLC that's free to play in public matches. Overwatch may not be quaking in its boots, but what's on offer is satisfyingly frenetic nonetheless.
The first of the game's fresh modes, Escalation, is intended to be as esports-friendly as possible. Designed as the successor to Gears 3's popular Execution match-type, it sees teams engage in a multiple-round tournament of short-range combat, with both aiming for a majority win. What's added is a tournament-style structure and fiendish distribution of special weapons.
During each round hyper-powered weaponry is left at locations across the map that must be contested by both teams. The Dropshot – something I swear I've had at the dentist – is one such instrument of death: it launches forward an explosive drill when the trigger is held. Upon release the pointy bomb comes careering downward to deal enormous splash damage.
Return of the Horde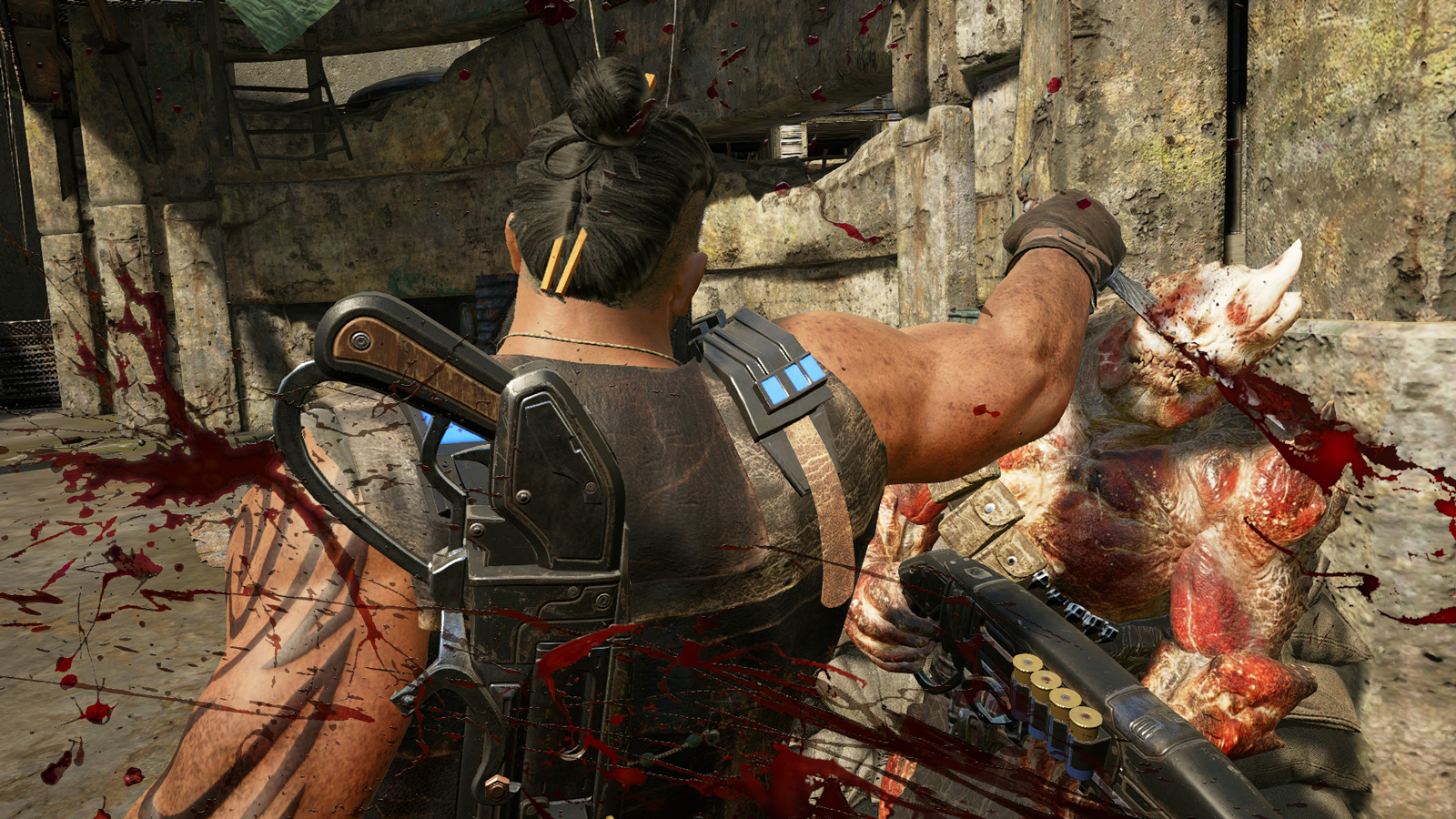 Another new mode in which you'll slay is called Dodgeball. As the name suggests, the rules are similar to the American high school game invented by Ben Stiller and Vince Vaughn.
Each team begins with five players. If a player is killed they're out of the match; the first team to be completely wiped out is the loser. It all sounds simple until the added complication: each time a team-member scores a kill, it revives a fallen ally. In other words, the opposing team has the irritating bouncebackability of an infestation of mice – fail to get rid of every last one of them and they'll come back in force to make your life a misery.
Fun though that is, we suspect most people diving into GoW4's multiplayer offerings will instead make a beeline for the Horde 3.0 mode. A five-player co-op affair that ramps up your adrenaline levels through 50 waves of Swarm, DeeBees and boss challenges, this classic mode has been updated with a new class-based system and the use of a Fabricator which allows you to scatter fortifications across the map. And as if that wasn't enough, there are also Gear Cards that'll add bonuses to your character.
Fear not, none of this stuff comes close to over-egging a relentlessly explosive pudding. It also does a fantastic job of getting to the essence of Gears of War: Space Invaders with a thermonuclear warhead up rammed up its arse. If I'm going to stick with any of these multiplayer modes over the coming months, it'll be Horde 3.0.
You and your mates against the world. What's not to like about that?
Gears of War 4 Verdict
What makes Gears of War 4 so riotously entertaining is that it knows its limits. It doesn't have any high falutin' ambitions towards added emotional nuance or drastically altered gameplay.
While that gore-soaked philosophy does show its age at times and won't be for everyone, I didn't care too much for these subtleties when knee deep in a cesspit of Swarm and jacked full of adrenaline. This is the logic of Die Hard, The Raid and pretty much any action blockbuster you can care to think of, and developers The Coalition do a great job of bringing it to Xbox once more.
If GoW4 is a game for idiots, then I guess I'm one of them.
PC performance: Is Gears of War 4 a good port?
As a PC gamer, I love Microsoft's recent "Play Anywhere" initiative. It means Xbox games like Forza Horizon 3 can be bought once through the Xbox Store and then also played on my Windows 10 PC. The only downside is a £50 price tag that's about £20 more costly than your average PC game.
Microsoft's PC ports have had a bit of a bad rep to date, since Quantum Break and Gears of War Ultimate Edition were frankly broken at launch. Thankfully, Microsoft has since got its act together; Gears of War 4 is a fantastic port, running well on PC, offering a host of tweaks and options, and including simple ways to benchmark performance.
I ran the game on a PC equipped with an Intel Core i5 6600K processor, an Nvidia GTX 1080 graphics card, and 16GB of RAM. Granted, that's a pretty high-end setup, but it offered a substantially improved Gears experience over the Xbox One version. At max settings, I was able to play the game at 1440p (2.5K) at about 70-90 frames per second. The GTX 1080 struggled to maintain 60 frames per second at 4K/Max Settings, but it was fine when I dropped the detail down to "high". It still looked stunning in motion.
Aside from the solid performance, I was impressed with just how much developer The Coalition had done to appease those who like to tweak their PC games. In Gears' graphics settings, each option has a red/amber/green light to indicate how much it will impact your CPU/graphics card/memory. You can lock the framerate at 30/60 frames to help create a smooth experience. And you can turn on in-game stats to show things like frame rate and memory usage as you play.
Your game progress is also saved across both versions, so you can move between them when trying to beat single player. I'll be finishing the game on PC, but it's good to know I can also play on my Xbox One in the living room if the mood takes me.
Stuff Says…
As stupid as it is entertaining, Gears of War 4 nails the series' formula without moving it forward.
Good Stuff
Breathless gameplay
Looks amazing in HDR
Horde multiplayer is good fun
Bad Stuff
More of the same, for better or worse
Campaign mode is slow to kick off