Genesis Electrified G80 review: battery-powered luxury
Packs power and posh-ness aplenty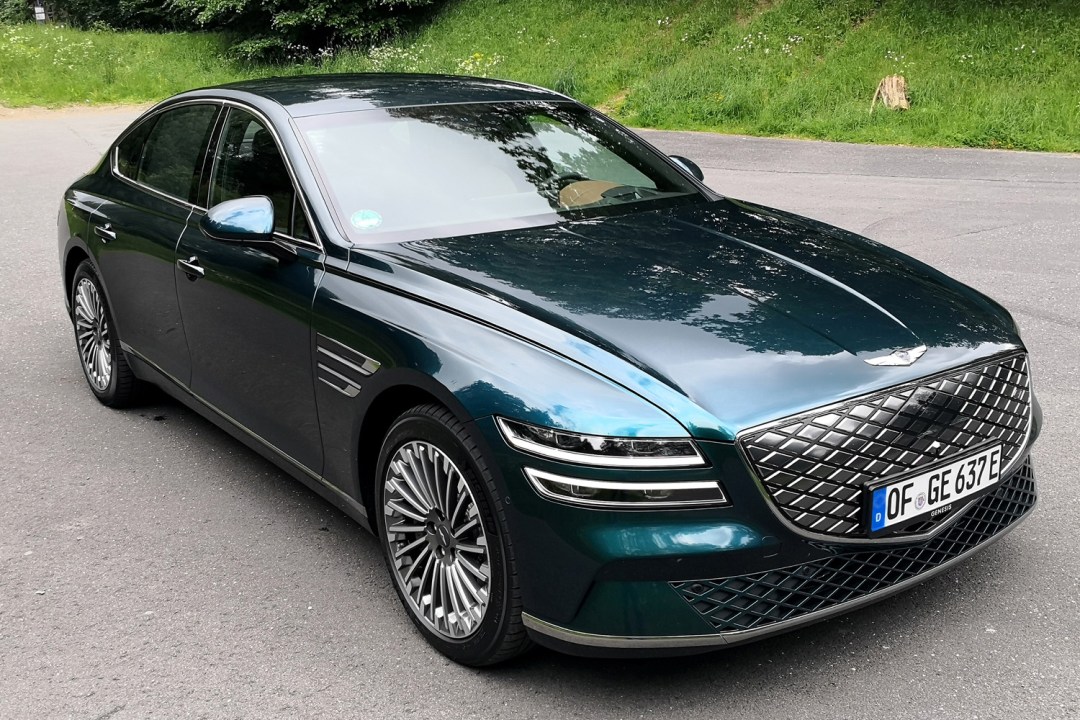 Premium brand Genesis continues to bulk out its impressive luxury line-up and, hot on the heels of the excellent electric GV60 comes this, the Genesis Electrified G80. Where the GV60 will probably appeal to families who want an innovative and potent all-rounder, the Electrified G80 will be of more interest to executive types who take regular road trips.
Yup, this is a quality highway cruiser, with lots of refinement, plenty of range and rapid charging abilities for minimal interruptions on a long run. Unlike the GV60 though, which is built on a dedicated electric platform, the Electrified G80 car also lives on as an ICE model. Given the spiralling cost of regular fuel though, we'd much rather have this 87.2kWh dual-motor variant over the turbocharged petrol edition.
If you're not fussed about following the crowd into something like a Mercedes-Benz EQE, the Electrified G80 has luxury appeal. It feels better made than a Tesla Model S, too – though you do pay a premium for that quality.
The styling
Cynics might see the Electrified G80 as something of a stop-gap model, given Genesis has plans to be all-electric by 2025. But to be fair to the brand, it has done a nice job on the styling so the EV stands out from the petrol-powered car.
We're talking small flourishes rather than anything head-turning, like the accents on the front wings. There are also fresh front and rear bumpers, and a deft use of chrome. The distinctive grille, which hides the charging port, is archetypal Genesis, as are the quad front and rear lights.
We got to see two colour variants: Matira Blue, complimented by a Havana tobacco-coloured interior trimmed beautifully in Nappa leather, and a fetching Uyuni White model. We also liked the 19-inch Turbine alloys on our test car, which helped to give the Electrified G80 an extra whiff of special-ness.
The drive
The Electrified G80 is a big car, and feels like one as soon as you set off. It's not an unwieldy beast though. It drives with all of the refinement you'd expect from the Genesis brand. Get the seats, mirrors and everything else set up to your liking and you swish off down the road with only some minor-league tyre noise to worry about.
Given there's an electric motor on each axle, plus a hefty battery adding up to 2325kg all-in, it's a chunky thing. And that's despite Genesis having shaved off weight wherever possible, with carefully selected materials replacing heavier panels and components found in the ICE edition. If you're barrelling down a hill and need to apply the brakes sharpish, the extra bulk is noticeable, though never in a troubling way.
There's fun to be had from the intelligent regenerative braking, which makes one-pedal driving a cinch, but this luxury saloon seems happiest hauling itself along motorways. We spent some quality time doing just that and each journey proved effortless. There's enough room in the back to ensure that rear occupants will enjoy much the same experience too.
What's really impressive is the confidence its battery and motor combination gives you. The official range estimate of 323 miles naturally slips in real world use, but given its size and weight that's still impressive for long highway runs. It's 139mph top speeds makes it suited to autobahn blitzes, while it'll zip from 0-62mph in a reasonably rapid 4.9 seconds.
Considering motorway service stations host some of the fastest chargers out there, you can also take advantage of the rapid 800V charging tech, which is just as impressive here as it was on the GV60. You're looking at a 10% to 80% charge in just over 20 minutes when hooked up to a 240kW source.
The technology
With Genesis being the luxury arm of Hyundai, there's every reason to expect solid levels of technology lurking inside that sumptuous brown interior. But before you get in there are party tricks on the outside as well. Vehicle-to-load abilities let you hook up household devices when you're away from home, or there's been a power cut – Genesis had a coffee machine wired in on the day we visited.
Inside, a lot of the infotainment screens will look familiar to anyone who's seen the GV60, as it shares the same setup. This includes the main 14.5in touchscreen system, and also the digital dashboard. Our model had a raft of options, including an Innovation pack that provided Remote Smart Parking and some neat Surround-View Monitor cameras. The latter proved very useful given the car's size.
Genesis also loaded our car with the comfort and Executive Pack, which costs no less than £4,600. If you've got designs on chauffeuring with your Electrified G80 this will be ideal: it includes rear-window blinds and laminated rear glass, while giving rear seat passengers dual screens fitted to the back of the front seats. Along with entertainment, these allow you to personalise your climate preferences in the rear.
Genesis Electrified G80 Verdict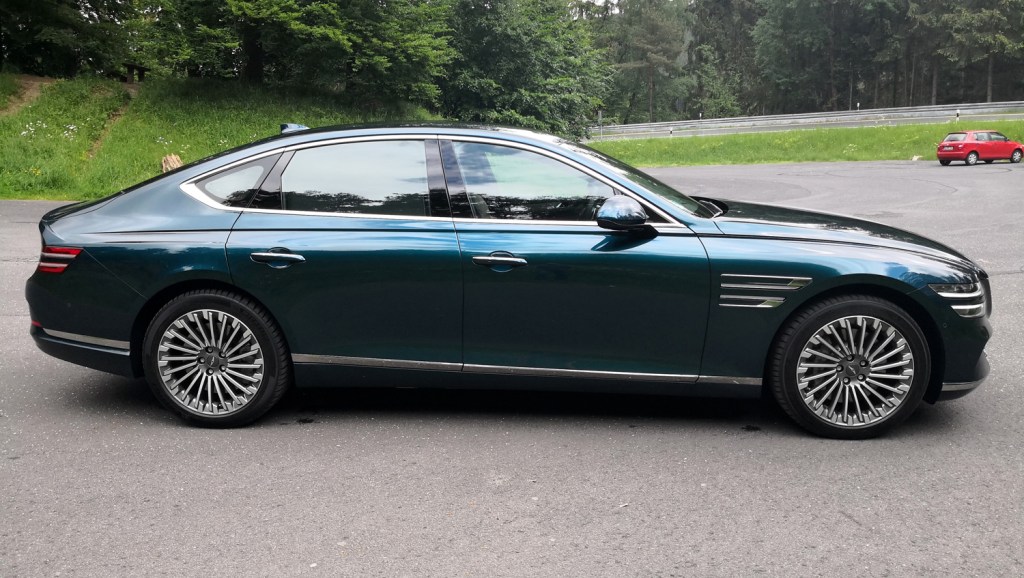 It didn't dazzle us quite as much as the superb GV60, but the Genesis Electrified G80 is a different kind of car. There's an awful lot to like about it, especially if you've got a penchant for a beefy highway cruiser and don't want to follow the crowd. You could do worse than shop for one of these – especially as Genesis does its luxury properly, with a personalised service to help you pick the right options and extras.
Prices for the Electrified G80 kick off at £65000, but add on lots of goodies and you'll be able to push that up by around £15000. A lot, for sure, but these cars are very well made, offer an alternative take on the luxury saloon and you don't currently see too many around either.
Stuff Says…
A quality build, lots of options to get stuck into and lively performance makes this sizeable all-electric saloon a hit.
Genesis Electrified G80 technical specifications
| | |
| --- | --- |
| Motor | 2x |
| Battery | 87.2kWh |
| Power | 364bhp |
| Torque | 516lb ft |
| 0-62mph | 4.9sec |
| Top speed | 139mph |
| Range | 323 miles |
| Charge rate | 240kW |
| Kerb weight | 2325kg |
| Cargo volume | 354 litres |