Gigabyte P37X v3 gaming laptop review
A serious gaming laptop without the chunk factor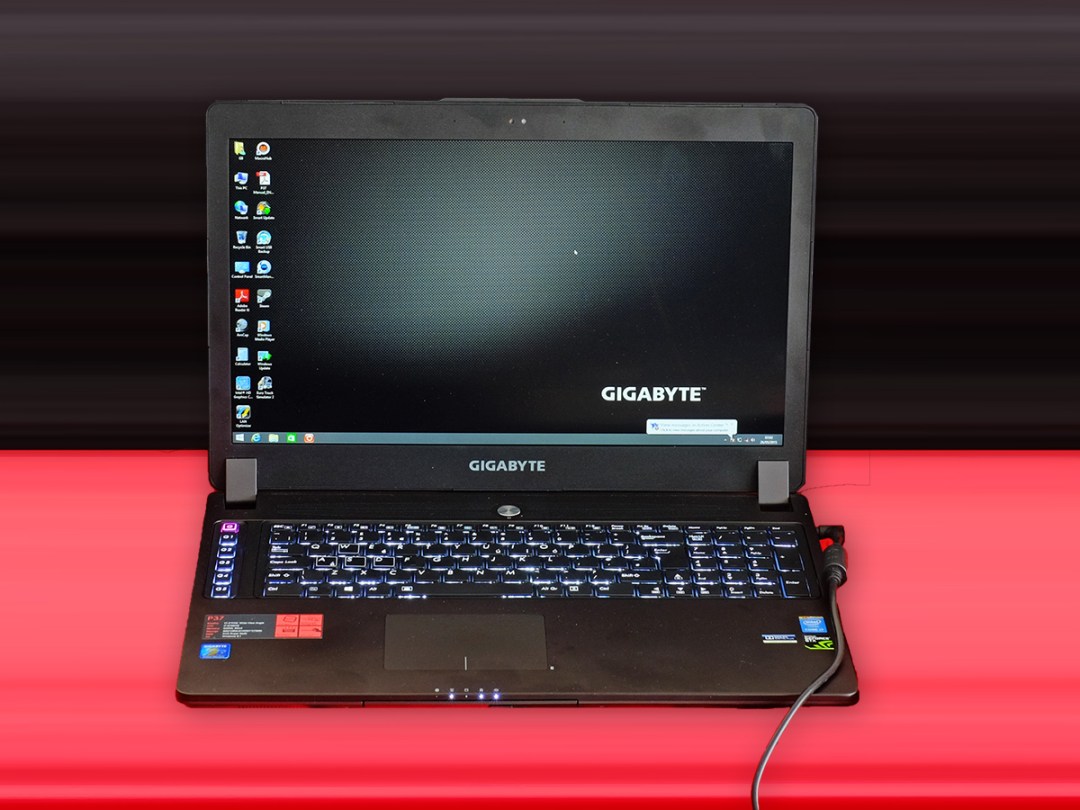 We all know where we stand with games consoles these days: they take pride of place in our living rooms, and big, gorgeous titles such as The Witcher 3 still make us salivate enough to warrant a doctor's appointment. But for the gaming at its most beautiful you're still better off with a high-end gaming PC.
But what if you want one that's portable and isn't covered in LEDs and vents that make it look like a boy racer's Vauxhall Nova? The Gigabyte P37X v3 could be just what you're after.
At £1749 for the variant I'm looking at it's not any cheaper than the real show-offs of the gaming laptop scene, but it makes all the right moves if you're after a lower-key rig.
The softly-spoken gamesmaster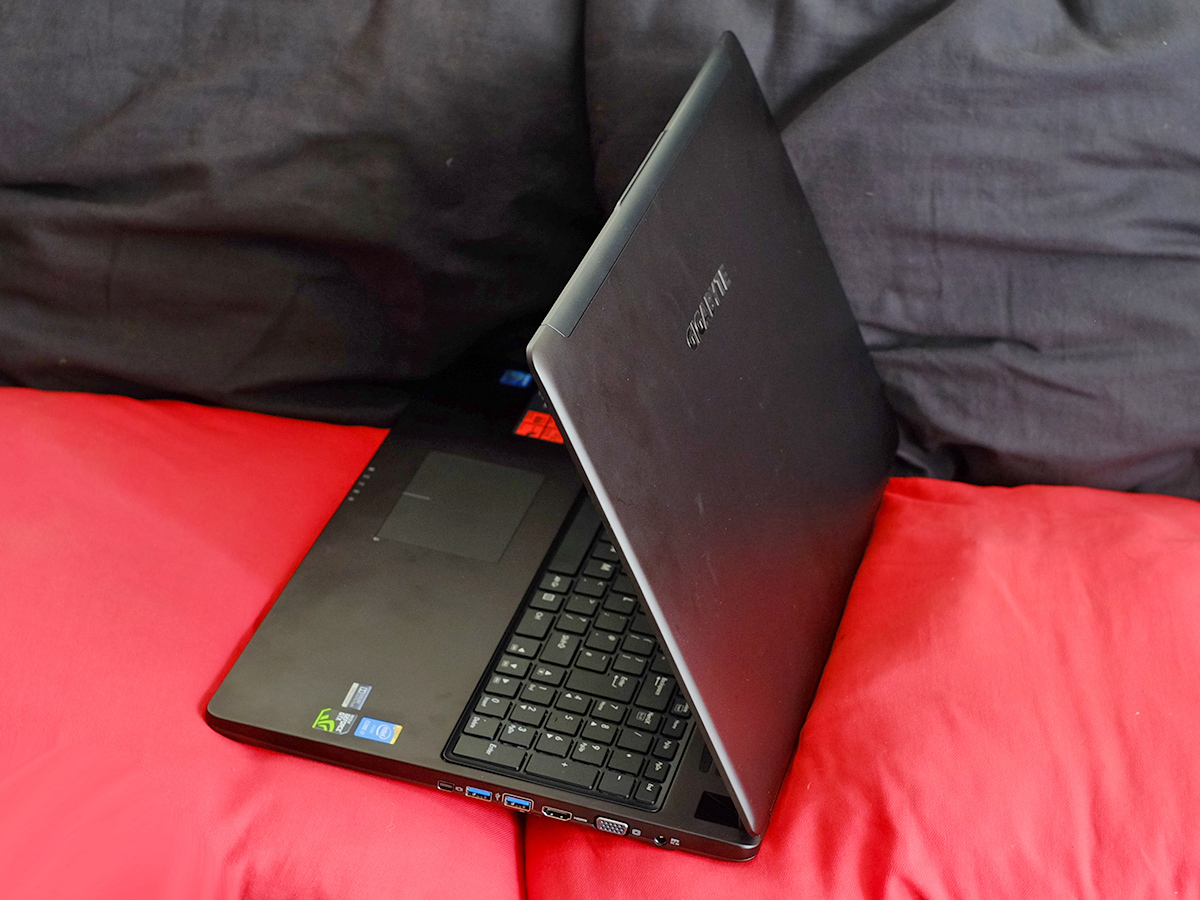 In the laptop world, there are two main ways to try and make your offering seem impressive, and worth spending £1500 or more on.
First, you can make it slim, light and metallic (or glassy, if that's your bag). Second, you can make its outside the embodiment of what's inside. Laptops such as the Alienware 17 or Asus ROG series are big and brash, and make no apologies about it.
Gaming laptops can only be so thin and light, because they're power machines by their very nature. You're not going to employ a wafer-thin model to work on a building site just as you probably don't want a stout, hairy bloke on the catwalk. The Gigabyte P37X subverts some of these preconceptions by being a gaming laptop that's still fairly slim and not all that heavy.
The details? It's 23mm thick and weighs 2.7kg. That's really not bad for a laptop with an optical drive, top-end GPU and a mammoth 17.3-inch screen.
Let's not get too excited, though. It's only dainty in its class. This isn't the sort of laptop you'd want to whap out at a coffee shop or carry around with you all day. Apart from moving it from room to room, the Gigabyte P37X stays more-or-less rooted, at least that's how I've been using it. It's simply way too big and heavy to be considered truly portable.
Return of the big screen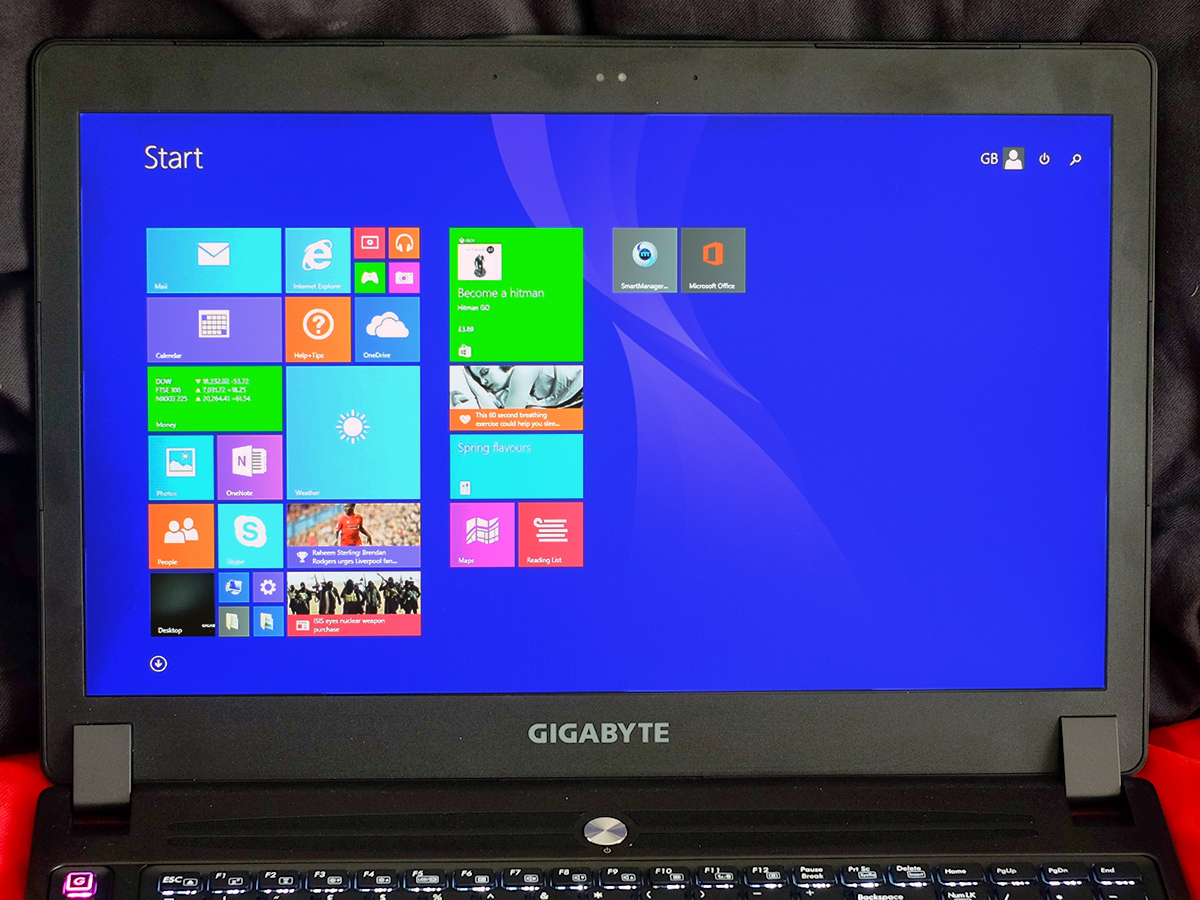 In return you get a 17.3in screen. Laptop displays this big are pretty much unheard-of outside gaming and big old business models these days. If you're going to be doing pretty much all your gaming on a laptop, though, it's what you want. It's way more immersive than a 13.3in or 15.6in screen, even though there are screens that size with better specs than those of the Gigabyte P37X.
One issue of 17in screens just not being that popular anymore is that they don't get the Retina-style QHD (or greater) tech that's now getting pretty cheap in 13-15in screens. As a result, the Gigabyte P37X only has a 1080p display.
When even 5.5in phones have more pixels on display that sounds mighty disappointing, but I've found the difference in resolution to be far more jarring when looking at text and the general interface than when playing games. Nothing quite shows up the Gigabyte P37X's 127ppi density like small, thin text.
There is an argument that 1080p is actually the best resolution for the Gigabyte P37X, as it means the system's power can be utilised to max-out beautifying game effects such as anti-aliasing without overloading the GPU. But I'd still bet £10 that if Gigabyte had access to good QHD 17.3in panels, it'd use them.
Aside from resolution (something common to all large-screen gaming laptops right now), the Gigabyte P37X's screen quality is great. It has a supremely practical matte finish, so reflections are no issue, and colours still look fantastic.
There's a very slightly blue-ishness to the blacks when you play indoors, but this is something we'll all just have to live with until someone comes up with an OLED gaming laptop. And I find the Gigabyte P37X's screen to be up there with the best in its class. Underneath the matte finish is an IPS panel too, giving you great viewing angles. It's not a touchscreen, but you just don't get one on gaming laptops like this.
Raw power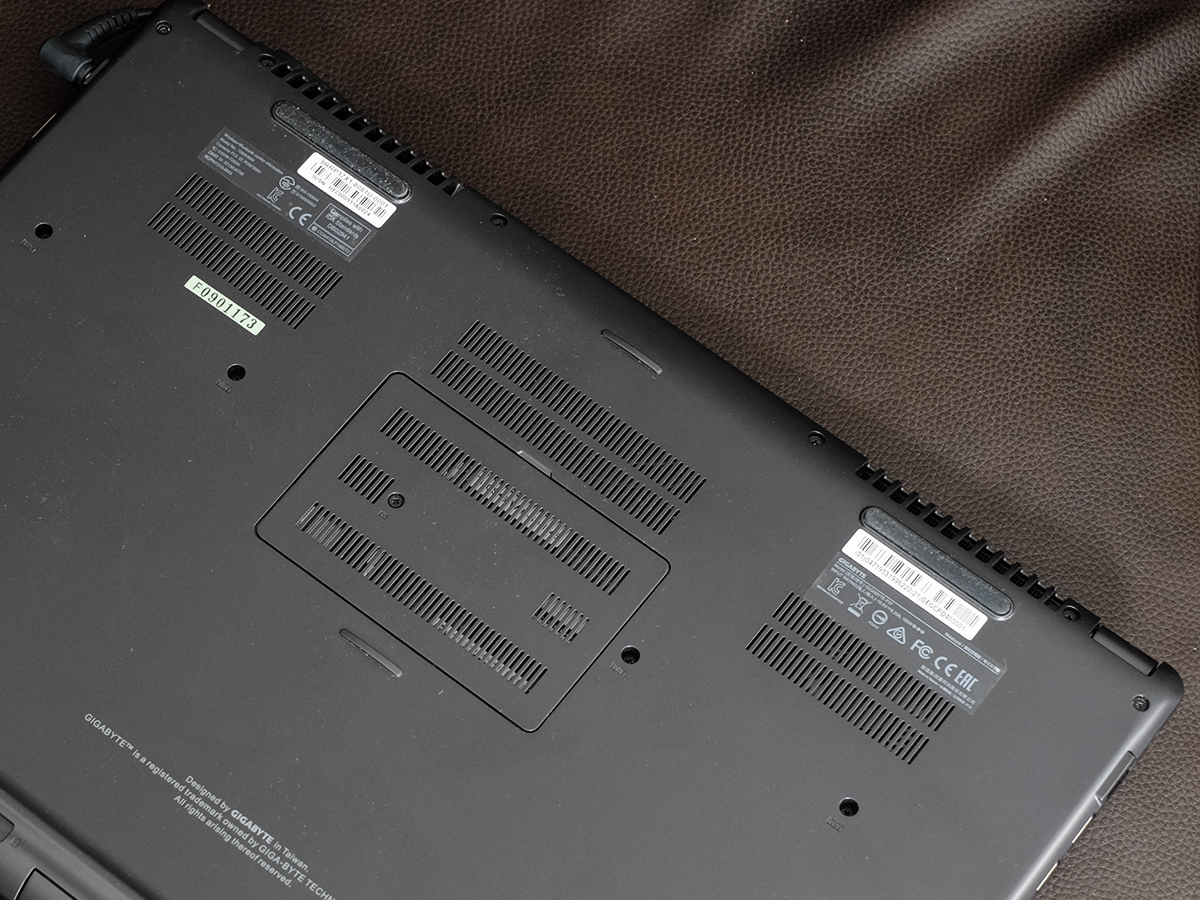 Now the really serious stuff: power. The most important element of the Gigabyte's internal workings is the GeForce GTX 980M 8GB GPU, which is just about the best laptop graphics card money can buy right now.
The Gigabyte P37X can play almost anything, with about as high-quality graphics settings as you like. Performance is pretty much flawless, which it wouldn't be if, somehow, Gigabyte had crammed a 4K screen into this thing. So while desktop GPUs still go much faster than the GTX 980M, thanks to the conservative 1080p resolution it doesn't seem anything less than a beast in use.
You also get loads of storage: a 256GB SSD for data you need to access quickly (your OS and game files), and 1TB hard drive for all of your less performance-critical stuff. There's a mighty 16GB of RAM and a top-end Intel Core i7-4720HQ processor, too, rounding off a pretty much unbeatable spec list. Of course, you'll see an almost identical list in other true top-end setups. This is the norm for a £1700-odd gaming laptop in 2015.
Special moves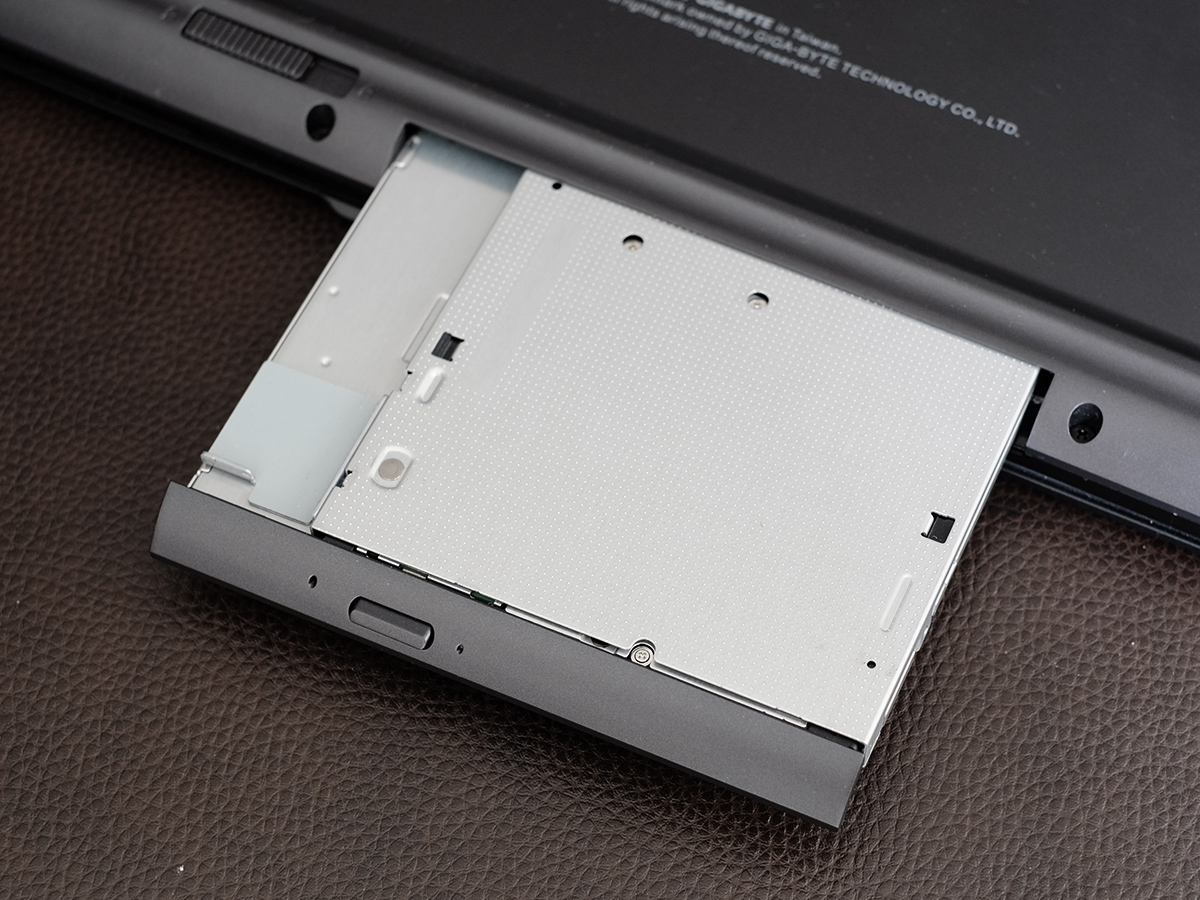 What matters more is what the Gigabyte P37X does a bit differently. For that we need to look underneath. It has a 2.5in bay on its underside that can be hot-swapped in just a few seconds and lets you fit in an additional SSD/HDD or optical drive. There's a switch on the bottom that locks/unlocks the tray, and when unlocked you can just get your nails in there and pull the drive right out.
The keyboard has been tweaked, too. Unlike some gaming rigs there's no rainbow backlight, at least not in the main part of the keyboard. The Gigabyte P37X has a pretty standard white backlight, apart from for the special gaming keys part to the left of the normal keyboard.
This team of keys can be used to fire up 25 different shortcuts or macros. There may only be six buttons, but the top one has a multi-colour disco LED light that splits the functions of the keys below into different groups. There's plenty of room to nerd out if you want to, and the software needed to specify these functions is preinstalled.
Pressing the right buttons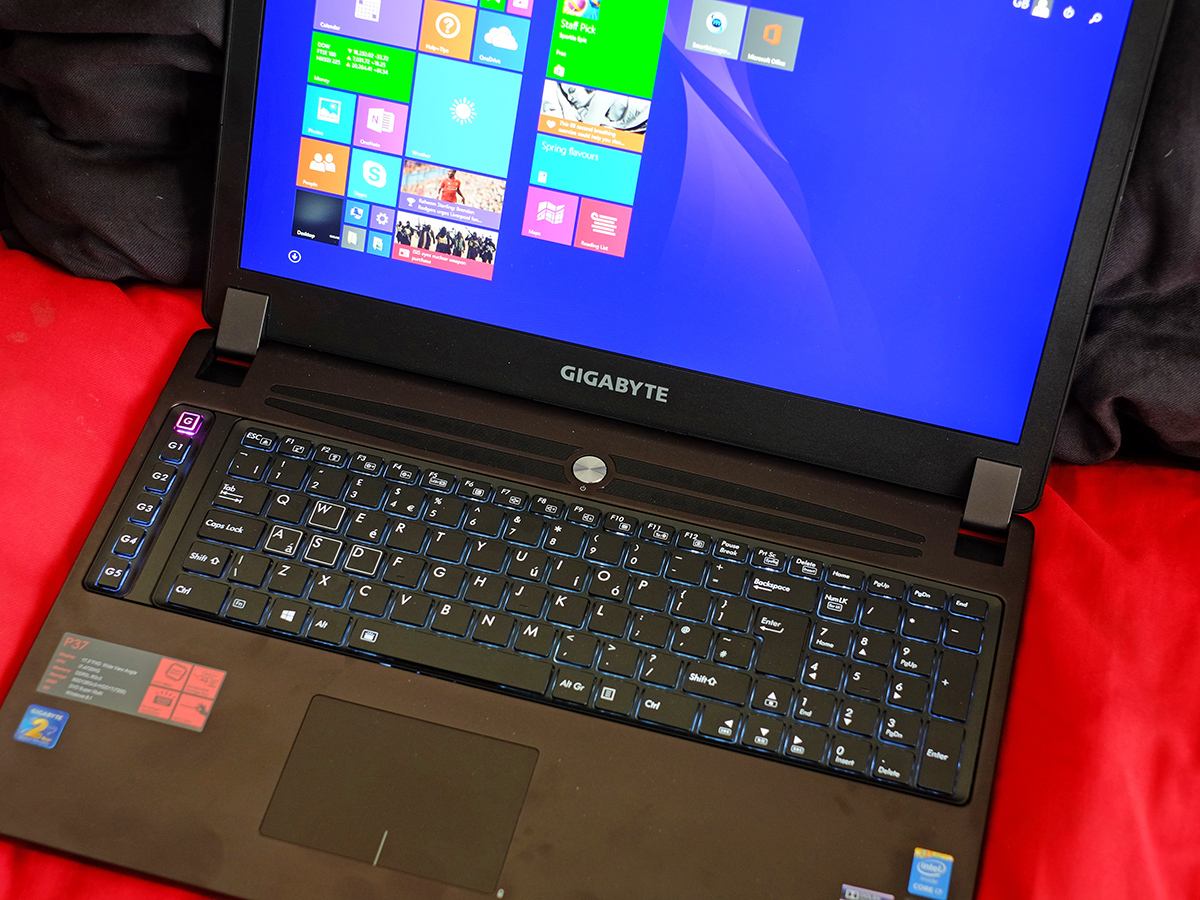 Aside from this, though, the keyboard and trackpad are pretty standard. The key action is fine, but ordinary, where laptops from Asus's ROG series have keys that feel almost mechanical. It's relatively shallow here.
It's only the trackpad that's actually a bit disappointing, mind. For all the space available below the keyboard, the Gigabyte P37X's pad is of a totally standard size, and has fiddly-feeling buttons that just don't make it seem as well-executed as the rest of the system. Perhaps Gigabyte assumes we're all going to plug a mouse into the laptop, meaning the trackpad is less relevant.
Gaming or working on your knees rather than a proper surface isn't really what the Gigabyte P37X is about. I've also found that the rubbery table rest on the bottom tends to dig into the spot just above your knees when used on your lap if you don't put something between you and the laptop. It's not that comfy.
In other words: think of the relatively light weight of the Gigabyte P37X as something that makes lugging it around and storing it easier, not something that makes it like a gaming Ultrabook.
There are some other payoffs for the weight loss, though. First, while most of the Gigabyte P37X is aluminium, the underside isn't – it's plastic. This isn't necessarily all about weight, but heat transference too. Bear it in mind, though.
The Gigabyte P37X is also pretty loud. Packing serious hardware into a pretty slim frame means it needs fast-blowing fans to make sure it doesn't melt through to the centre of the earth. I've found that the Gigabyte P37X usually revs up pretty hard when it finds itself heating up, not because it's already hot. It starts sounding a bit like a tiny Boeing 747 a few minutes after you start playing a game, before settling down a bit once it has found the level it actually needs.
There is a fan-calming mode, but it also throttles performance so the hardcore crowd will want to avoid it. Let's face it: the Gigabyte P37X isn't a laptop that should be tamed.
Finishing moves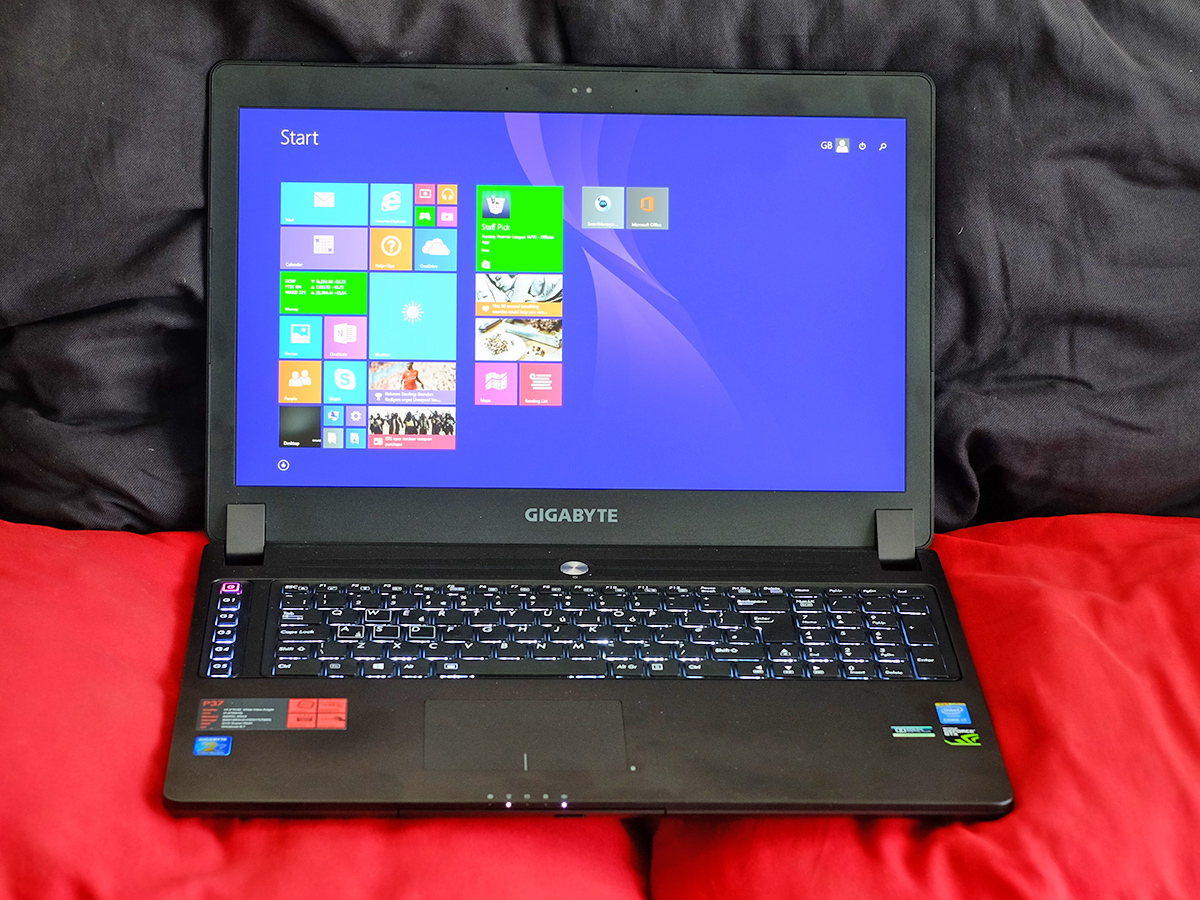 And like most laptops of a gaming persuasion, it doesn't fare too well away from the power socket. You'll get around three hours of normal use out of it, using the Wi-Fi connection and a good level of screen brightness. Start playing games and the Gigabyte P37X will last for around 90-120 minutes.
If you want something to keep you entertained on long train journeys where you'll have a table to perch on, you may actually be better off with a less powerful machine. Just to nail that point in: the charging brick is also pretty massive, and heavy to boot.
However, if you want something to keep at home and game away on without hogging the TV or needing a whole room-dominating setup, this is one of the best laptops you can get. The internal speakers are fairly robust-sounding, and the wired connectivity is top, too: 4 USBs and a whole bunch of video connectors including HDMI should be enough to satisfy 99% of people.
Gigabyte P37X v3 verdict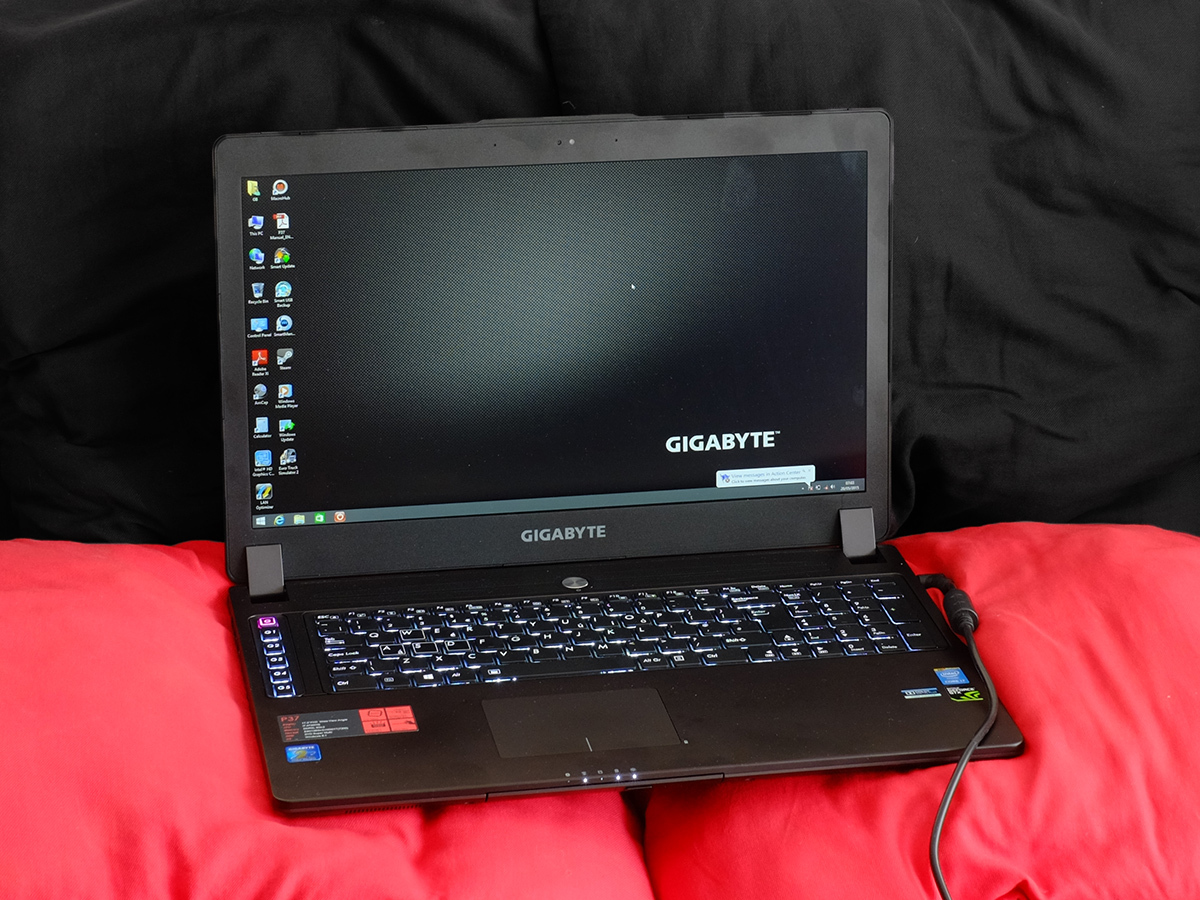 The Gigabyte P37X is a super-powered gaming laptop that's a lot slimmer and a bit lighter than the rest, while still offering the same grade specs as much larger machines. It doesn't have the juvenile style of the brasher gaming laptops, so if that's your bag, step right up.
However, the P37X is still far from truly portable and the slim body means it has to play it safe with fan speed, making it pretty noisy quite a lot of the time. For a machine costing almost £2000, the trackpad could also be a lot better.
It's not without niggles, then, but this is still a very serious machine for those who are serious about laptop gaming but don't necessarily want to broadcast that fact.
Tech specs
| | |
| --- | --- |
| Operating system | Windows 8.1 |
| Screen | 17.3in IPS LCD matte finish 1920 x 1080 |
| CPU | Intel Core i7-4720HQ |
| GPU | GeForce GTX 980M 8GB |
| RAM | 16GB |
| Storage | 1TB HDD, 256GB SSD |
| Optical drive | Optional |
| Connectivity | 802.11ac, Bluetooth 4.0, USB 3.0, SD, HDMI, VGA, Mini DisplayPort |
| Cameras | HD webcam |
| Dimensions | 417 x 287 x 22.5 mm |
| Weight | 2.7KG |
Stuff Says…
The P37X is proof that beefy performance doesn't have to equal a beefy body
Good Stuff
Low-key looks
Serious power
Good screen quality
Bad Stuff
Gets loud
Weak trackpad