Google Nexus 7 (2013) review
Google's second-gen Nexus 7 boasts the highest resolution screen ever seen on a tablet, but is that enough to beat the iPad Mini?
So impressive and popular was the original Nexus 7 that it's believed to be the gadget that finally persuaded Apple to build a smaller iPad.
For this 2013 version Google's really raised the bar, with Apple-matching attention to detail in design and an Apple-smashing screen resolution. If it's cooler than an iPad Mini, sharper than an iPad Mini, and more powerful than an iPad Mini, is it better than an iPad Mini? Let's see.
Looking (and feeling) good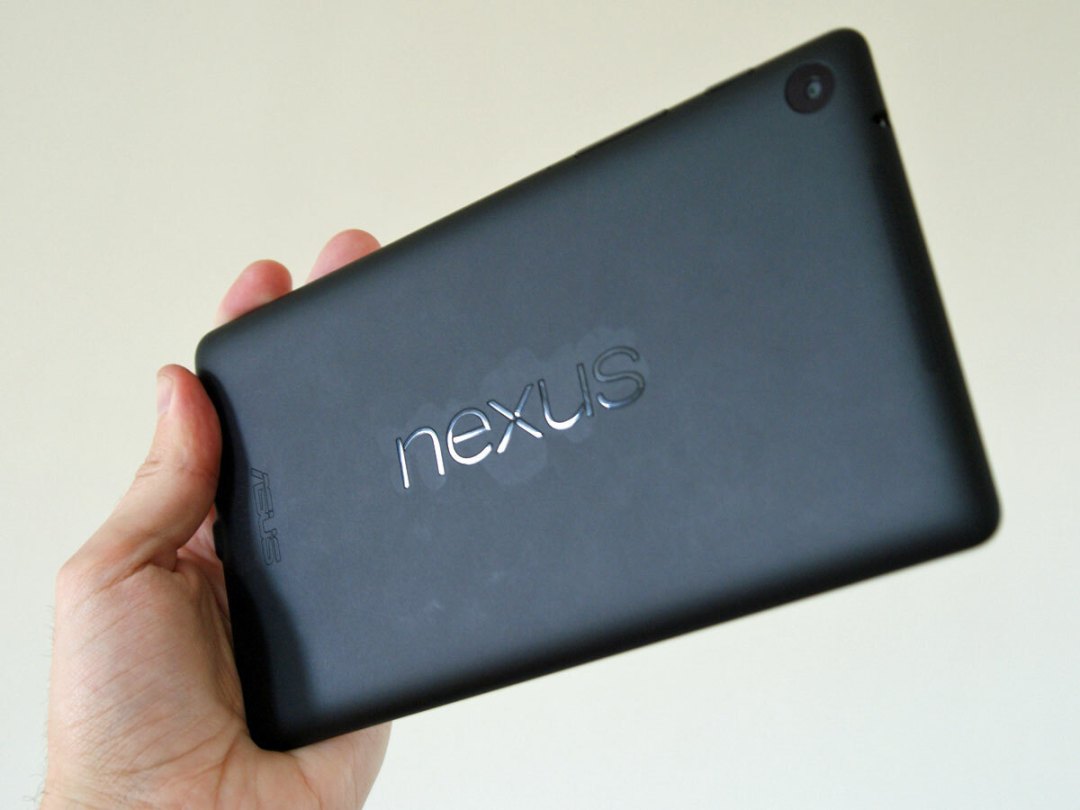 Google has shown, with the help of its partners, that it's getting better and better at hardware. With the new Nexus 7, built by Asus, it has finally reached par with Apple.
The team behind the Nexus has obviously spent a lot of time working on the 'feel' of the device, and it's superb. The rubberised back is solid, and while the little recesses are shallower than those of the previous version, it's just as grippy and you feel you can hold the device in one hand without fear of dropping it. The menu buttons, meanwhile, are responsive and solid.
It's still got a huge bezel on the top and bottom of the Gorilla Glass-clad screen, but overall this feels (and is, at 8.65mm) a slimmer tablet than it's predecssor. It's also very light, and passes the crucial lying in bed watching a film test without causing any arm ache.
What a stunning screen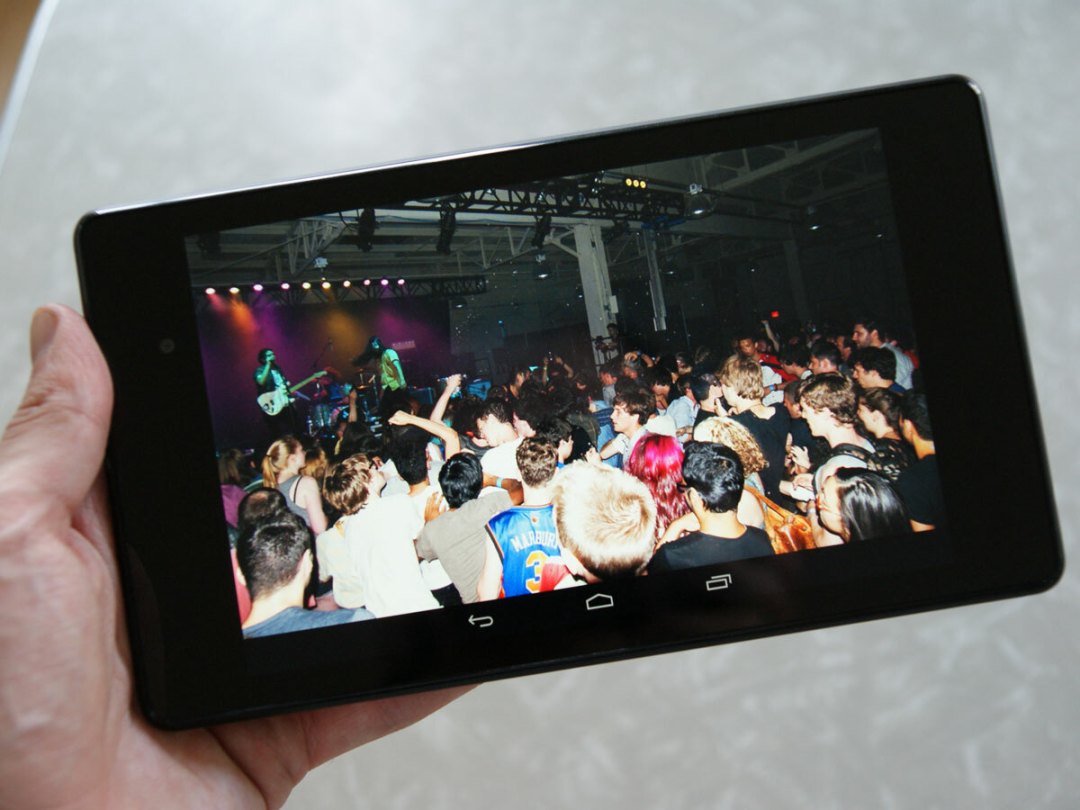 The new Nexus 7 is all about the screen. The resolution's been bumped to 1920×1200, giving the new Nexus a whopping pixel density of 323 pixels per iinch – the highest of any tablet, eclipsing the Retina iPad with its ppi of 264 and completely smashing the iPad Mini's 163ppi figure.
Numbers aren't everything, of course, but the Nexus 7's screen is razor sharp, brilliantly bright and altogether rather jaw-dropping, especially compared to the dinky iPad. It can show films in true 1080p HD, and they look superb – far better than any other tablet of this size.
Photos also look pretty spectacular, with detail and clarity you'd miss on any other tablet (with the possible exception of the bigger Retina iPad).
The question of whether 7in is the right size for a tablet remains, though. It's a great size for portable media consumption but a smidge too little for complex user interfaces. And then there's the issue of Android's tablet optimisation, which brings us neatly to…
Software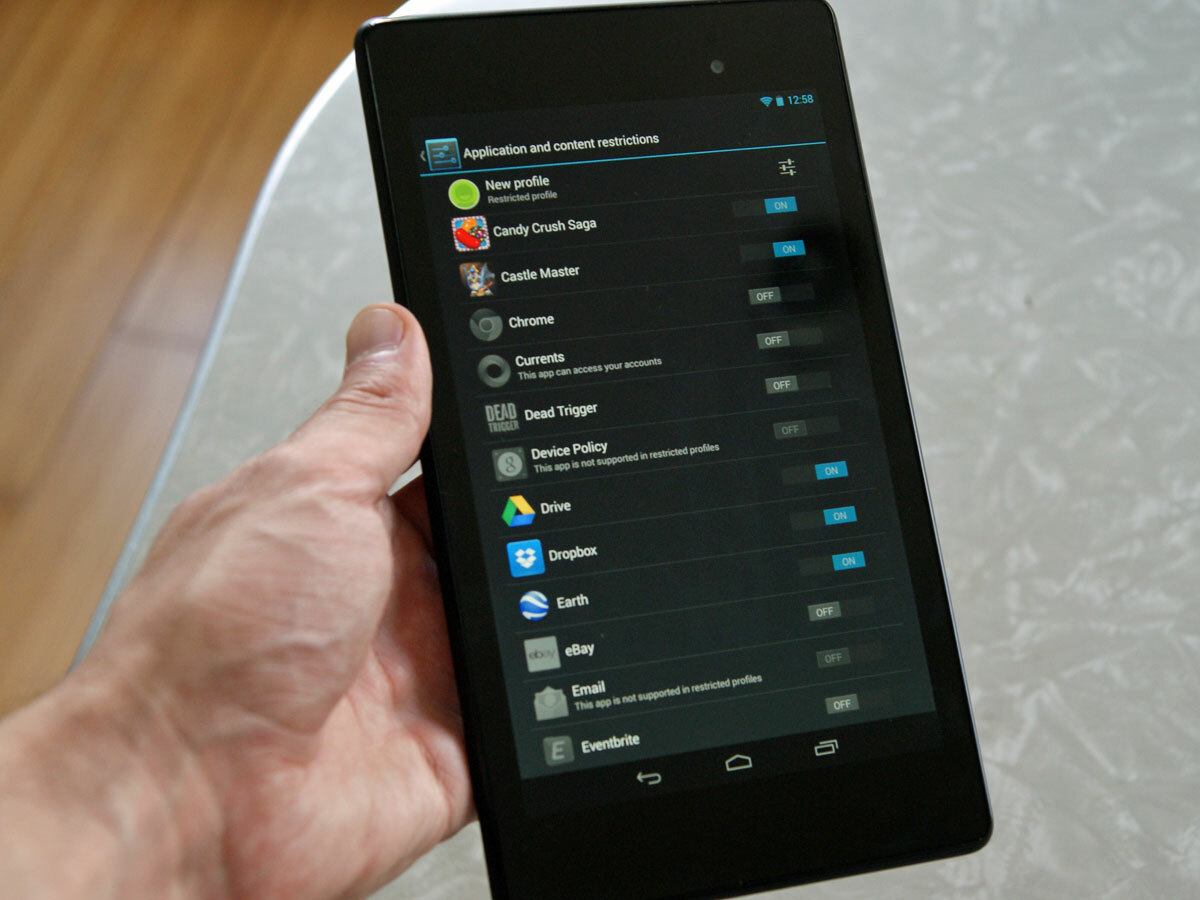 The 2013 Nexus 7 ushers with it the debut of Android 4.3, but if you were hoping that the latest version of Google's OS would take full advantage of all those pixels you're going to be a bit disappointed. There's long been an issue with Android apps lacking optimisation for tablet screens, and that's only heightened by the very high resolution of the new Nexus 7. Google really needs to be pushing developers to add greater support for larger, more pixel-tastic screens if it hopes to defeat Apple in the tablet battle.
But perhaps before that it needs to optimise the OS itself. At this point homescreen widgets have lots of space surrounding them and look a little 'wrong' on the Nexus 7's screen.
One neat introduction with Android 4.3 is user accounts, which makes sharing your tablet far easier. Especially useful for parents is the 'child mode', which can be customised to allow offspring access to only certain features. Don't want your kids downloading naughty apps or racking up a £100,000 bill for in-app purchases? You have the power to stop them while allowing them to enjoy the useful bits.
Workmanlike camera
The original Nexus 7 lacked a rear camera, but the new model has squeezed in a decent 5MP auto focus snapper to accompany the fixed focus 1.2MP front-facing camera.
While it doesn't match the capabilities of a high-end smartphone camera (it's got a broadly similar camera UI to the Nexus 4 but can't shoot HDR and lacks the LED that helps out in murky conditions), the rear camera will suffice for taking the odd snapshot or video clip. Colours are fairly muted and realistic, but high-contrast scenes are a bit of a struggle as the camera struggles to expose both light and dark areas properly.
For more snaps from the Nexus 7 check out our Flickr set here.
Sounding sweet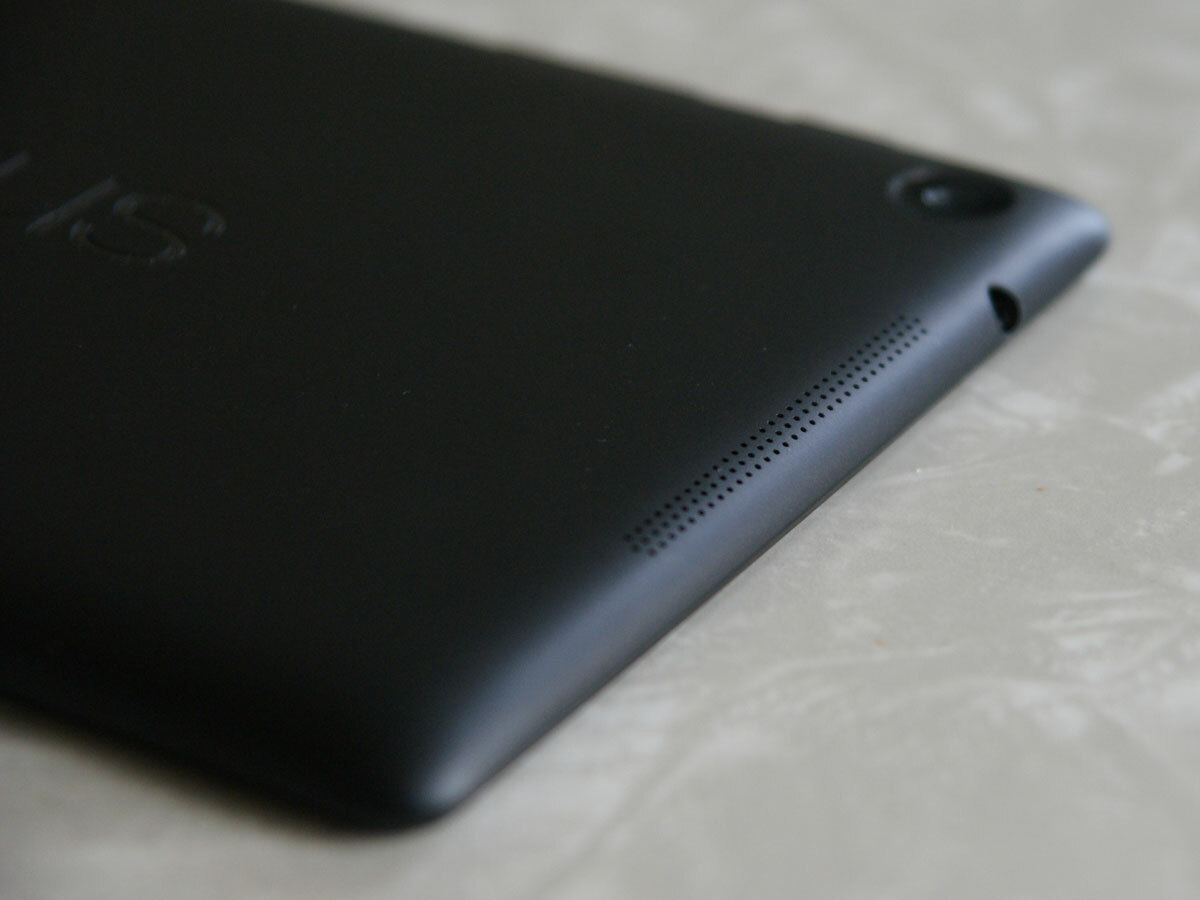 Google's making a big fuss about the Nexus 7 getting stereo speakers, and it really is a big deal. For tablet speakers they're really very good, and the placement (on the left and right edges if holding in landscape) is perfect for watching films – there's even a 'fake' surround sound, which is surprisingly effective, if not quite a substitute for the real thing.
For watching TV and films in bed, it's a great step forward, as only the Kindle had speakers in this position until now. With the Netflix app getting HD and the Play Store finally beginning to come with a fully stocked film and TV section, the Nexus 7 is an absolute master of movie consumption. Add those excellent speakers, great music playback via headphones and super crisp text via the Kindle app and this is an almost unbeatable all-round media maestro.
Beasting the benchmarks
Pushing all of the Nexus 7's pixels is a serious job, but there's plenty of power under the hood. Qualcomm's Snapdragon S4 Pro quad-core processor is partnered to 2GB RAM and it results in a blazingly fast performance.
The AnTuTu score of 19,948 absolutely smashes the original Nexus' 11,774, and in actual use the device feels incredibly fast and responsive no matter how much you multi-task or game. 1080p movie performance is equally smooth – there's a moment of lag to load, but after that we've not spotted a single judder in the playback of an entire season of Breaking Bad in HD. Scrolling through galleries and zooming into high-res pictures, meanwhile, is flawless.
Lengthy battery life
Despite the new Nexus 7's hi-res screen and more powerful innards, it boasts better battery performance than its predecessor. From our tests (a 720p HD video on loop, speakers and screen brightness set to halfway and push notifications switched on), you can expect around 11 hours of medium-level use out of it per charge. Not too shabby at all.
Verdict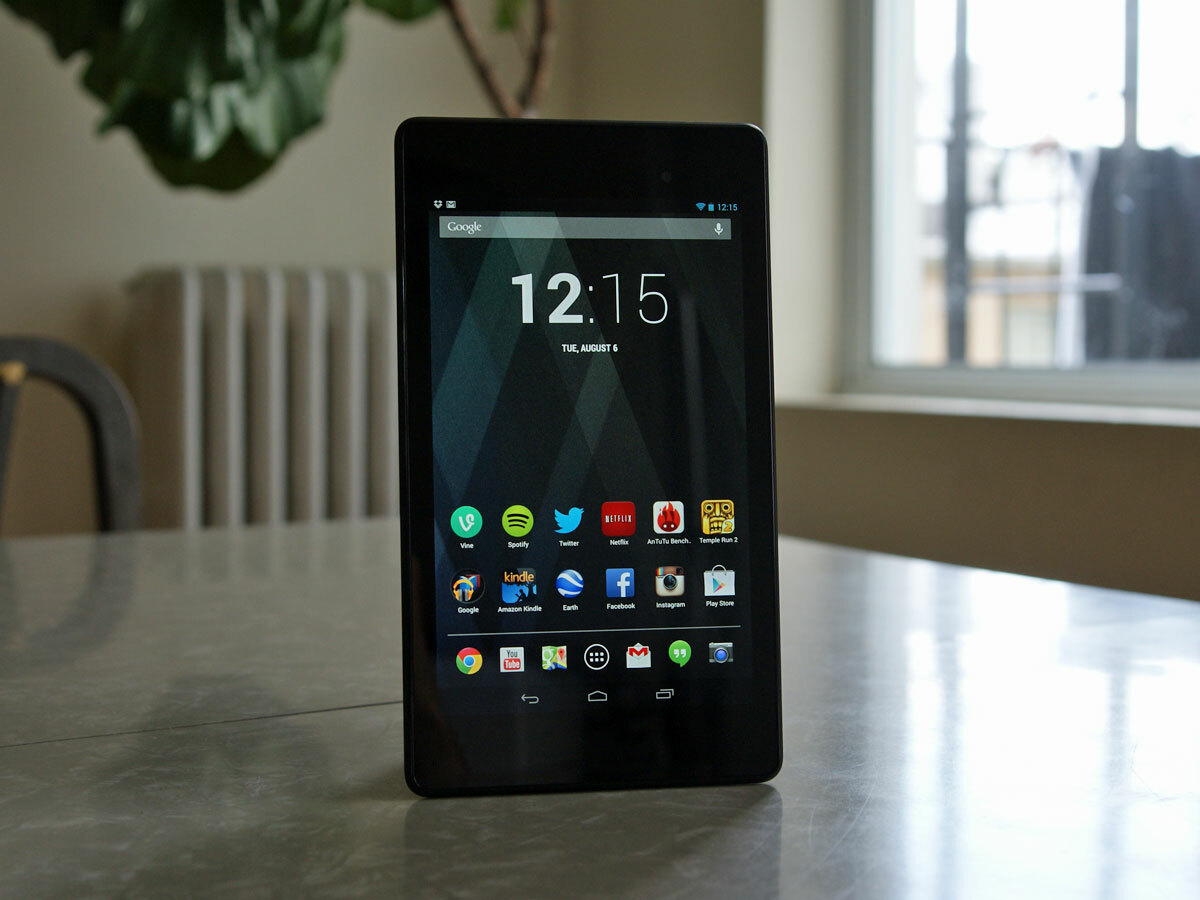 The somewhat half-hearted approach to tablet optimisation is a shame and a bit of an issue for the Google Nexus 7, and it's something that holds it back against the iPad Mini. Apple's little tab has endless apps tailored for its screen, and the squatter ratio and extra 0.9in make it more suitable for interaction and creating content.
But the Nexus 7 is more about consuming media than creating it, and it does an exceptional job of it. The widescreen ratio combined with a seriously high pixel density and impressive stereo speakers makes for a truly marvellous portable movie experience, and it's no slouch with music or books, either.
On top of that – and despite a price-hike over the previous model – the new Nexus 7 still comes in cheaper than the iPad Mini, yet gives nothing away in terms of styling and build quality.
By all means stick to the iPad Mini if you want your little tablet to be versatile enough for music and video editing, but we reckon that most people in the market are more interesting in consuming media than making it, and for that the new Nexus 7 is truly awesome. That's why it's jumping the iPad Mini in our Top 10 list of the best tablets in the world right now.
Stuff Says…
More power, more pixels and just as much style as an iPad Mini, the new Nexus 7 is a portable media marvel
Good Stuff
Simply gorgeous screen
Feels great in the hand
Lightning fast and responsive
Bad Stuff
OS isn't optimized for the screen
Still relatively few proper tablet apps