Google Pixel 2 XL review
Google ditches the bezels and makes its best phone yet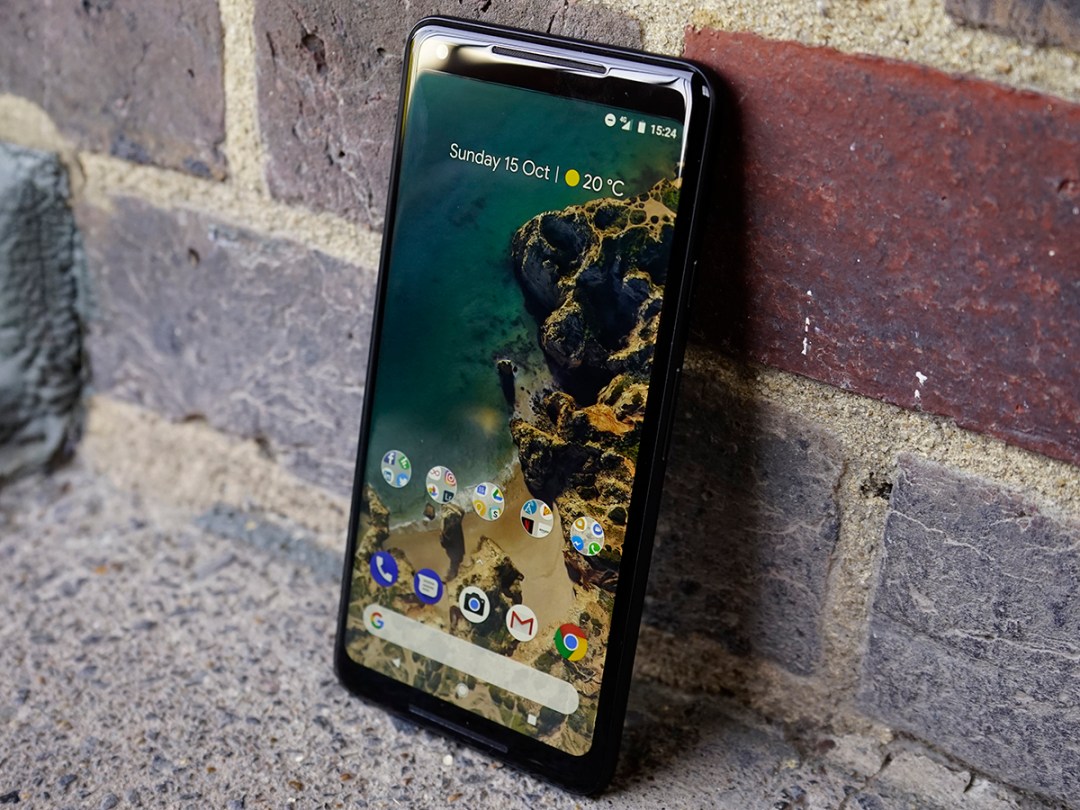 Design and a drool-worthy spec sheet weren't the original Pixel's strong points.
Google chose to focus on camera smarts and a streamlined Android experience – which resulted in a great phone, but one that wasn't much of a looker.
That all changes for 2017.
The Pixel 2 XL improves the formula with an even better camera, the latest version of Android, and all the other features you'd expect from a true blue flagship – including good looks.
Bezels are so 2016, guys. The XL ditches 'em, and looks all the better for it.
DESIGN & BUILD: LESS IS MORE
With bulging bezels and a 16:9 screen, the vanilla Pixel 2 feels like more of the same – not so with the XL.
Here, you get the same eye-catching, front-filling 18:9 aspect ratio screen as the rest of 2017's big hitters. The XL won't look out of place next to a Galaxy S8, LG V30 or iPhone X.
However, the Pixel also has to make room for a pair of front-firing stereo speakers at the top and bottom, and and Google's Active Edge touch panels on the sides. That makes it a bit of a chunky monkey.
It's really only 3mm larger than the original Pixel Xl, but feels sizeable once you get it in your mitts – more so than LG's V30, which uses the same size display. Sit it to the Galaxy S8's curved Infinity Display and the XL doesn't have quite the same wow factor.
I'm not saying it's ugly – just that Google seems to have prioritised practical features over a class-leading design.
It's a similar story around back: flip the XL over and you'll spot hard-wearing aluminium instead of shiny-but-brittle glass. The bare metal has a textured finish that's easier to grip, and does a great job of hiding fingerprints. It really makes the phone feel like a premium piece of kit, so I'm a big fan.
There is a small glass panel, but only at the very top, and it isn't offensively glossy. It holds the single, slightly protruding camera lens, and stealthily hides the phone antennas – leaving the rest of the rear looking minimal and uninterrupted.
The fingerprint sensor sits just below, and Google reckons it's the fastest you'll find on any smartphone. We're talking milliseconds here, so you'd need a seriously slo-mo camera to see any difference between this and the Huawei P10, which for my money is still incredibly quick at recognising your digits.
It's great to see Google add IP67 dust and water resistance, meaning you can give the phone a dunking without making an insurance claim. After being noticeably absent from the original Pixel, this puts the second-gen phone on par with other big-name handsets.
My one gripe is the lack of a headphone jack. Google has ditched it, so it's the dongle life from here on, or a switch to Bluetooth headphones.
SCREEN & SOUND: LARGE AND LOUD
Slightly larger bezels aside, the 6in screen is beautiful: you get an OLED panel with a 1440×2880 resolution, exceptional 100,000:1 contrast ratio and impeccable detail.
On the home screen, at least, things don't look quite as impactful as Samsung's OLED phones – colours are a bit more restrained, a little less vibrant. That might be down the polarising filter, which lets you read the screen perfectly when you've got sunglasses on – handy if you live in sunnier climes than we do here in rain-soaked London.
When you open a full-screen video, though, that all changes. Now colours have much more pop, while managing to stay on the right side of realistic. Dark scenes in particular look great, thanks to the impeccable black levels you get with OLED.
The wider colour space really helps your photos pop off the screen as well, easily putting the XL on par with the Galaxy S8 or iPhone 8. It's not flawless, though: there's noticeable discolouration when you tilt the phone at sharper angles, which can be distracting, and the adaptive brightness jumps between settings rather than fading slowly. These are small issues that you might not even notice, but not what you'd expect from a flagship phone.
Oddly, Google hasn't been shouting about HDR from the rooftops – despite the XL using the same panel as LG's V30, which supports both HDR 10 and Dolby Vision. At the time of writing, neither Netflix nor Amazon Prime showed any HDR content, but YouTube would happily play HDR videos at 1440p.
Brightness really ramps up when you play a compatible video, but seeing how Google also found a way to add HDR YouTube playback to the original Pixel, this might be done through software only – fingers crossed the company will clarify this soon.
As you'd expect, the stereo speakers are a great match to the screen, pumping out clear and loud audio. They easily out-shout the LG V30's single driver setup, and aren't as easily muffled by your hands like the iPhone 8.
Vocals are clear, acoustic tracks impress with their clarity, and even heavier songs have a clear bass presence, without any noticeable distortion. As far as phones go, only HTC's Boomsound setups come close.
CAMERA: THE BEST GETS BETTER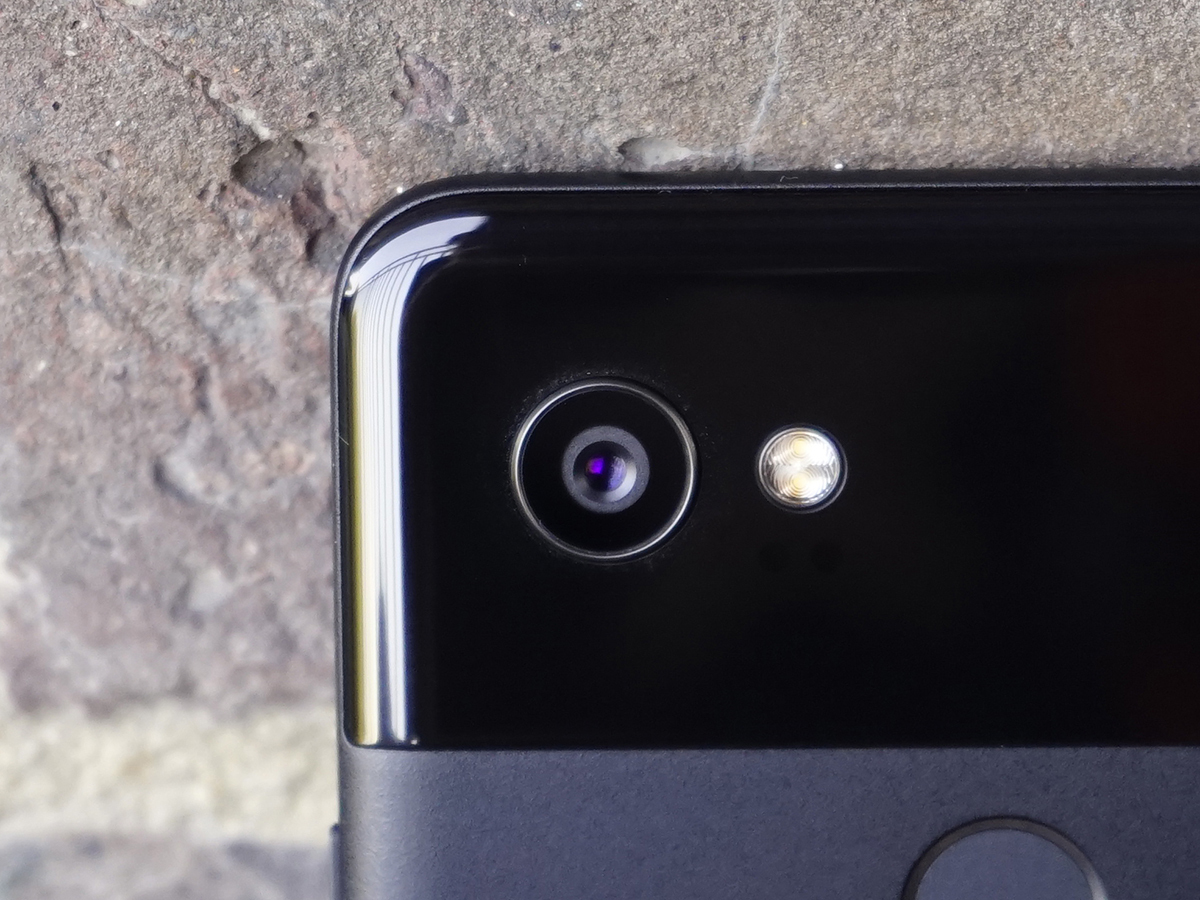 If there was one thing that elevated the original Pixel above its peers, it was the camera. It set the bar last year, with fantastic exposure, colour accuracy and image processing that few others came close to matching.
Well guess what? The Pixel 2 XL is somehow even better – without going for the same dual-sensor setup that the rest of the smartphone world is so hot for right now.
It sticks with a single 12MP sensor, but has a wider f/1.8 aperture (up from f/2.0 in the original), as well as phase-detect and laser-assisted autofocus. This would be a potent combination anywhere, but with Google's mighty processing algorithms, the results are truly impressive.
This is partly down to how the phone actually takes several shots whenever you press the shutter button, stitching them together with some seriously clever computing to create one great-looking image. Whether you're in perfectly bright daylight, indoors with artificial lamps, or out at night, this HDR+ setup squeezes a ridiculous amount of dynamic range into each snap.
The range has increased from last year, and it shows. Compared to an iPhone 8, skies look more defined, with fewer overexposed clouds, while shadows avoid becoming washed out. There's none of the aggressive sharpening you'll find in Huawei or LG's phones, and colours are more muted and realistic – not overly vibrant like the Sony Xperia XZ1.
Samsung and Apple have exceptional phone cameras this year, but right now I think Google has the edge.
It might not use two sensors, but that doesn't mean you miss out on fancy depth effects and bokeh blur here. The XL uses a dual pixel sensor, where every single pixel is actually made up of two smaller ones, and with some more fancy-pants algorithms, that offset can be used to calculate what should be blurred out and what should stay in sharp focus. The results are excellent, easily matching an iPhone 7 Plus for accuracy.
I'm a big fan of the new, Apple-inspired Motion Photos mode, which adds movement to your snaps using three seconds of video from before, during and after you press the shutter button.
Google reckons there's some machine learning trickery involved, so only certain parts of each shot are animated and your hand movements aren't captured. It really works, too, eliminating motion where there shouldn't be any, and quality is a step above Apple's Live Photos.
Machine learning does more than improve your photos – it recognises the objects in them and gives you handy background info, using Google Lens. It isn't quite ready for prime time just yet, so only arrives in beta form on the Pixel 2 and Pixel 2 XL
Lens is a bit buried, hidden within Google Photos and Google Assistant rather than the camera app, and there are only a few categories that work right now. My phone recognised books and film posters, but at the moment Samsung's Bixby has a wider knowledge base.
Finally, with both optical and electronic image stabilisation on-board now, video has been given a boost too. The two systems work together for even smoother handheld footage, without cropping into your shot. It's a shame recording is limited to 4K resolution at 30fps, though – Apple has managed to double the framerate to 60fps in the iPhone 8.
SOFTWARE & OS: PURE AND SIMPLE
Google's own phones have long been the best way to get a pure, uninterrupted Android experience, and that's still true here. The Pixel 2 XL really does show Android 8 Oreo in its best light.
There are no complex custom skins and no icon pack eyesores – just Google's OS as Google intended. In fact, this is the only way to get the unique Pixel launcher, which won't be coming to other vanilla Android phones.
It doesn't do anything too drastic, merely shutting the Google search bar down towards the bottom of the screen where it's easier to reach – that 18:9 screen is mighty tall, after all. In its place is a new, omnipresent reminder widget, which pulls info from your email, calendar and weather apps to keep your schedule just a glance away. If you like simple, you'll love this.
Ambient Display is a Pixel-specific upgrade, showing the time, date and any active notifications on the standby screen so they're available at a glance. The AMOLED display tech should stop this mode from sucking your battery dry.
Google's machine learning focus starts to shine here, too. Turn on the Now Playing function and the phone listens out for any music playing around you, before naming it at the bottom of the screen, Shazam-style. Only without actually uploading any data to the cloud.
It had a decent batting average with the Stuff office Spotify playlist, recognising Aretha Franklin, Fleetwood Mac and Paul Simon barely 30 seconds into each song – and all while the phone was in flight mode.
All of Android Oreo's other improvements are here, including more fine-grain notifications controls. You can now silence the less-useful messages, but still let an app give you a heads-up on the more crucial ones. Developers can inject a bit of colour here now, too – like how Spotify colour-matches its icons to the currently playing album art.
Picture-in-picture mode also makes its debut, but it's not perfect: Google Maps shrinks to the corner of your screen with a few taps, but YouTube can't without a YouTube Red subscription – which isn't available in the UK at all.
Active Edge is the other feature that'll divide options. Google's version of the HTC U11's Edge Sense side panels let you squeeze the phone to wake up Google Assistant, rather than shout a key phrase or tap onscreen.
It works like you'd expect, but I didn't find myself using it very much. There's no option to re-bind the gesture to something else, like taking a photo, and I've got a feeling its inclusion is the main reason the XL's screen bezels are on the portly side.
Considering how good the microphones are at picking up the "OK Google" keyword, too, I'll need to spend more time with the phone to see if Active Edge grows on me.
PERFORMANCE & BATTERY LIFE: A PURE POWERHOUSE
The good news is that none of these extras slow Android down a bit, although with a Snapdragon 835 and 4GB of RAM doing the heavy lifting, did you expect any less? There was no way the Pixel 2 XL was going to feel anything other than super-fast.
Apps open in the blink of an eye, 3D games run smoothly without any noticeable slowdown, and Google Assistant springs to life instantly, whenever you call on it. Google's Daydream VR is just as slick, with responsive games that work brilliantly with the bundled remote controller.
Multitasking works flawlessly, too, splitting the screen into two windows and accommodating the keyboard whenever you tap on a text box. I can't think of many Android phones with custom launchers that feel as smooth as this.
Depending on which model you buy, you'll either have 64GB of 128GB of on-board storage. There's no microSD card slot here for adding more capacity later, which means you'll have to pick and choose which apps, games and music you keep and which get the boot.
At least you won't have to worry about running out of room for your photos, though: every Pixel owner gets unlimited full-resolution uploads to Google Photos, for still pics and 4K videos.
I was worried the 3520mAh battery wouldn't be enough to keep that huge 6in screen juiced up for very long, but the XL easily manages an entire day from a full charge.
Even with games, YouTube videos and lots of photos, it still had a third remaining by bedtime. This puts it on par with the Galaxy S8+, and comfortably ahead of the OnePlus 5.
Android Oreo's optimisations appear to have worked wonders to standby times, too – it barely loses 5% charge when left overnight.
When it is time to refuel, the bundled fast charge adapter can get you back up to full in no time, or a quick 15 minute blitz will add about 30%. It's a shame there's no wireless charging here, though – Samsung and Apple are just that little more convenient for trouble-free top-ups.
THE COMPETITION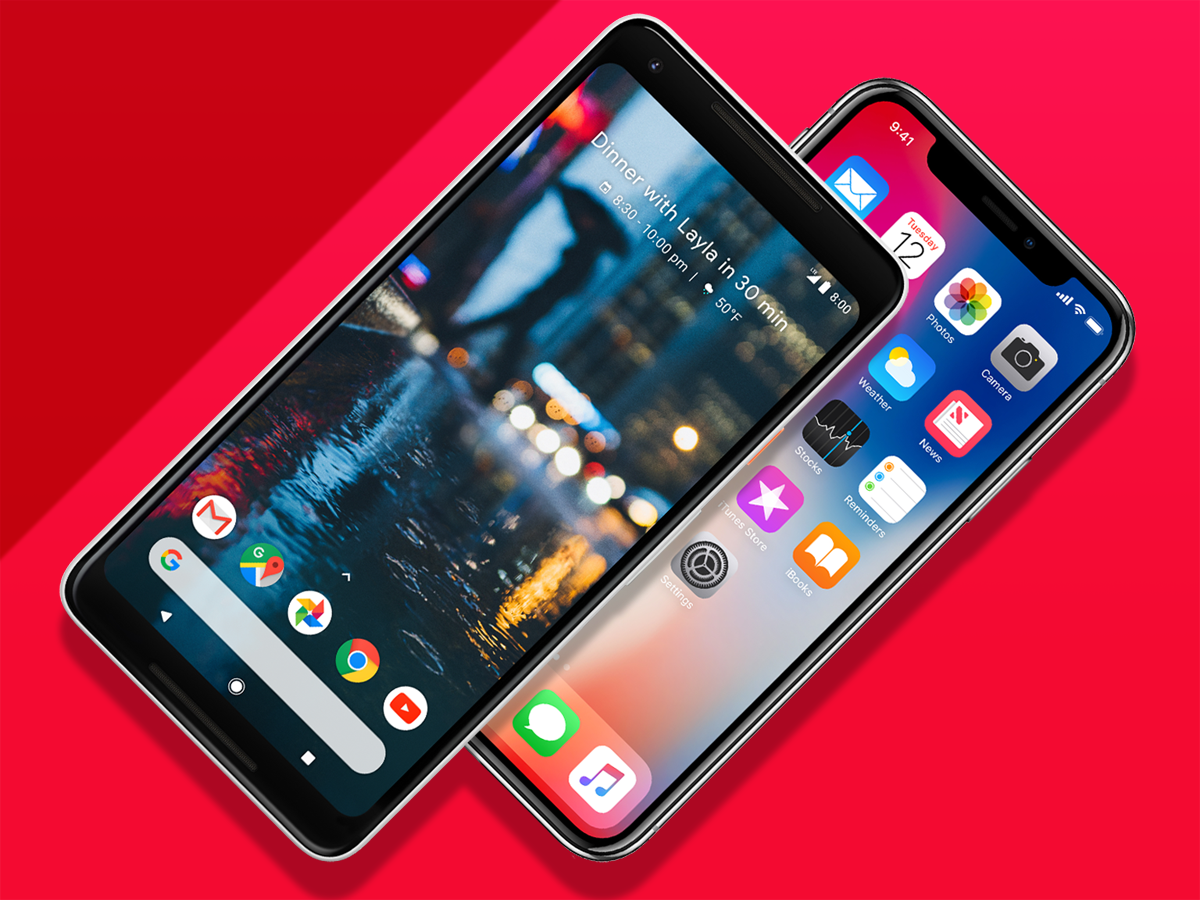 The Pixel 2 XL might be all-singing and all-dancing, but it's also all-expensive: £799 for the 64GB base model. That puts it at a disadvantage, price-wise, against the current crop of Android flagships that have been around since the Spring.
Samsung's Galaxy S8+ is now £630 SIM-free, has expandable storage and wireless charging, and arguably has the edge in terms of design thanks to that curved Infinity display. Bixby is slightly smarter than Google Lens right now, too, even if the XL has the superior camera.
The OnePlus 5 delivers a near-stock Android experience for significantly less cash, although the design is more mainstream and the camera is nowhere near as good. We haven't reviewed Huawei's Mate 10 yet, but it packs a bigger battery for the same money – it's getting used to EMUI that might prove a sticking point for Android die-hards.
Then there's the iPhone, of course. The XL has more in common with the upcoming iPhone X than the iPhone 8 Plus, but both Apple handsets have the advantage of iOS – which has some advantages over Android you just can't get here. Still, if it's a stock OS, incredible camera and great battery life that ticks your boxes, the XL is one of the best phones around right now.
GOOGLE PIXEL 2 XL VERDICT
There was never any doubt that the second Pixel phone would arrive with anything less than an amazing camera. It's really quick, of course, and has all of Google's top software features.
It was always the design that would make or break it – and in many ways, Google has delivered.
By going down the same 18:9 aspect ratio and skinny bezel route as Samsung, Apple, LG et al, Google has ensured the Pixel 2 XL feels as modern as its rivals – and that split glass-and-metal rear that was so divisive a year ago has aged better than a fine wine.
Sure, finding room for stereo speakers has made it a bit bulkier than the competition, but it sounds fantastic as a result.
If you don't mind the size, and spending the extra, the XL is absolutely the Pixel 2 to buy – the smaller version just feels plain in comparison. It's expensive, but then what flagship phone isn't these days?
Google didn't quite manage it last year, but with the best hardware powering the best version of Android you'll find on any phone, anywhere, the Pixel 2 XL finally feels like the full package.
Is it the best Android phone around? Not quite. The Galaxy S8 – and indeed the bigger S8+ – still just about pips it based on its sheer desirability, and comes a close second with camera quality. The XL easily slots in behind it, though. Google is properly in the game now, and other manufacturers are going to have to watch out.
Tech specs
| | |
| --- | --- |
| SCREEN | 6in POLED w/ curved glass, 18:9 aspect ratio, QHD+ resolution |
| CPU | Qualcomm Snapdragon 835 |
| MEMORY | 4GB RAM |
| STORAGE | 64GB / 128GB on-board |
| CAMERA | 12MP, f/1.8 rear w/ OIS, EIS, PDAF, laser AF & LED flash. 8MP, f/2.4 fixed focus front |
| OPERATING SYSTEM | Android 8.0 Oreo |
| BATTERY | 3520mAh non-removable |
| DIMENSIONS | 158x77x7.9mm, 175g |
Stuff Says…
The Pixel 2 XL puts practicality before panache but delivers where it counts with an incredible camera and the definitive Android experience
Good Stuff
Phenomenal camera
Beautiful display and matching audio
The best Android experience around
Bad Stuff
Bezels still a little on the chunky side
No wireless charging or expandable storage