GoPro Hero4 Session review
The biggest name in action cameras just got a whole lot smaller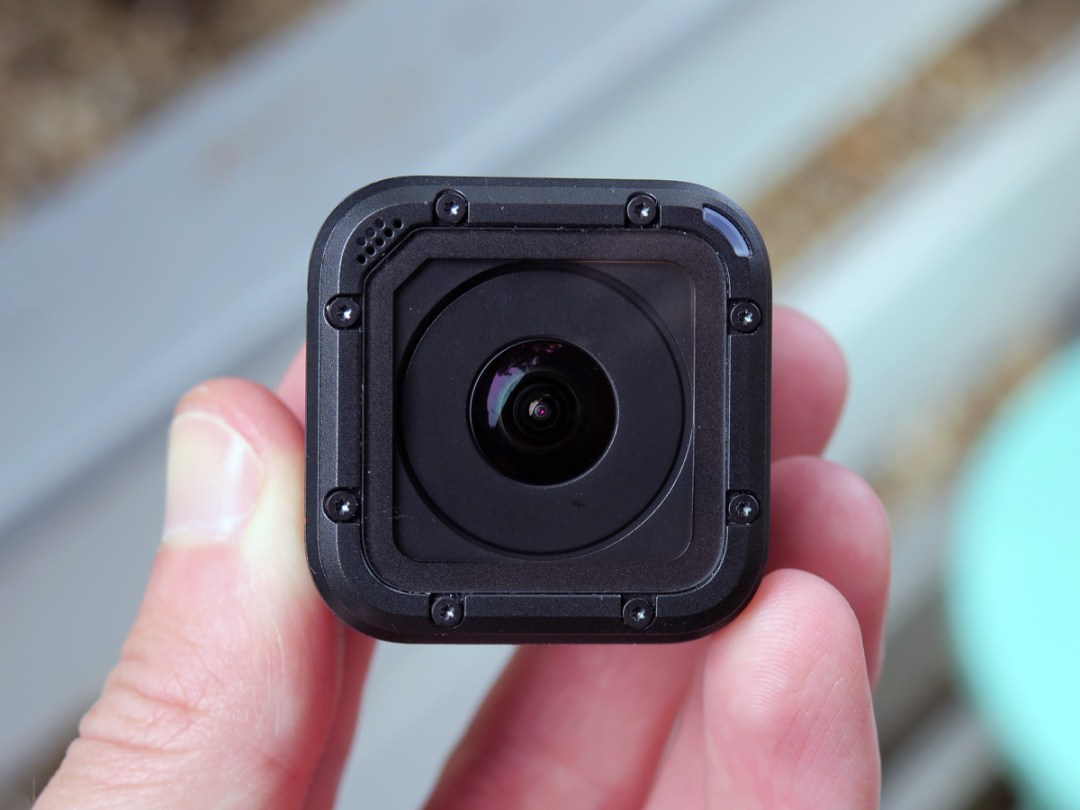 GoPro is the go-to name in action cameras. So much so that, as with Hoover and Kleenex, many people just say "GoPro" when they're talking about action cams, regardless of which company actually builds them.
That's probably really annoying for the likes of Sony and Garmin, but whether they like it or not, a new GoPro is A Big Deal – even when (or especially because) it's a really tiny camera.
That's the GoPro Hero4 Session for you – the smallest and lightest camera GoPro has ever made, and almost certainly the first of a whole new category of action-cam.
No 4K video, but a featherweight design
The GoPro Hero4 Session doesn't offer any improvements in performance over older GoPro models. The last GoPro we reviewed, the Hero4 Black, costs a little more than the Session (£410 as opposed to £330) but can shoot in 4K at 30fps or 1080p at super slo-mo 125fps, as well as take 12MP stills. The Session shoots 1440p at up to 30fps, 1080p at up to 60fps and 720p at up to 100fps, with 8MP stills.
So you're not going to buy this camera if it's pure image quality you're after. You're going to buy it because it weighs next to nothing (74g), is virtually impossible to destroy, and works with pretty much any existing GoPro mount while delivering the impressive all-round performance and simple operation GoPro fans have learned to love.
The tiny cube that can't be killed (at least not easily)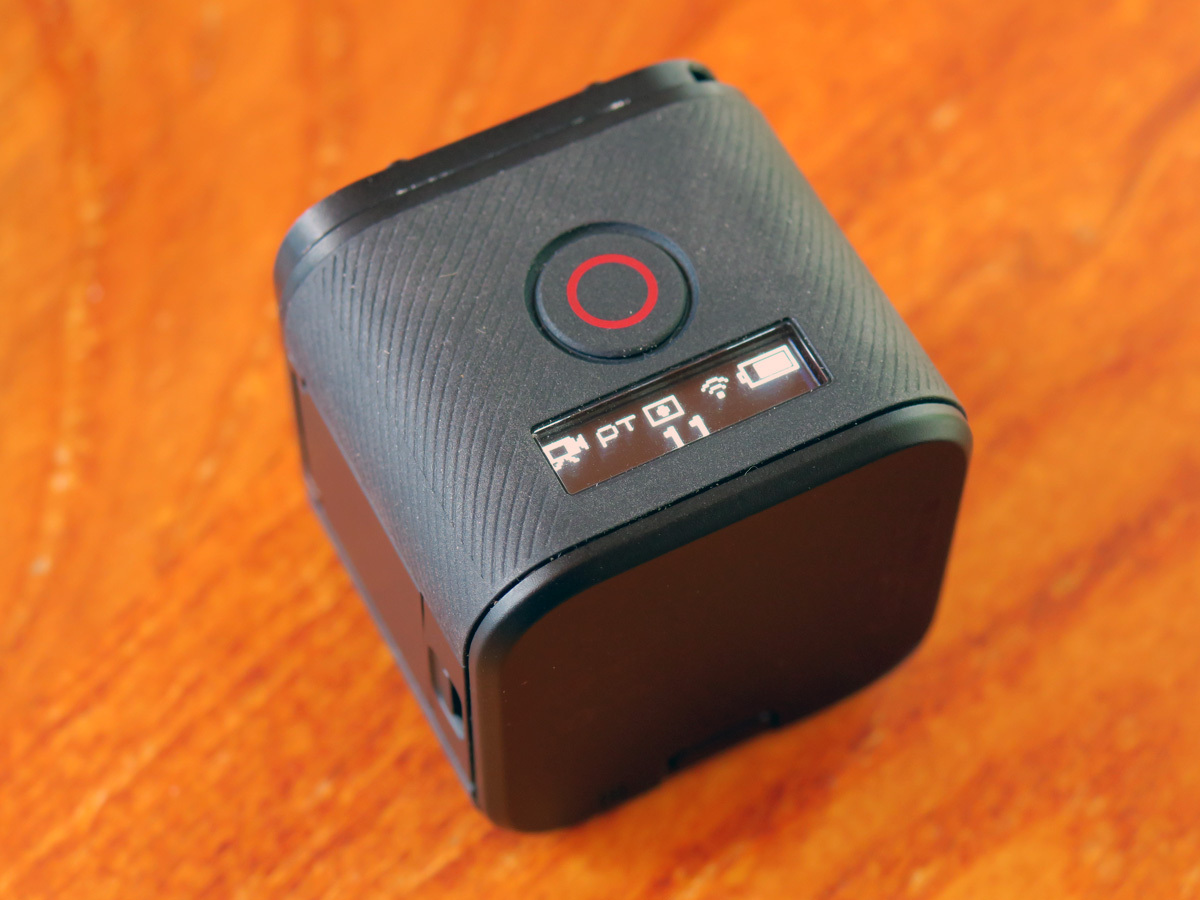 The Session is a cuboid roughly 35mm in width, depth and height. There's a rubberised, grippy texture around four sides, two buttons and a small, rectangular LCD panel that gives you some info about the current settings. A red light on the front blinks when the camera is recording, while a blue light tells you when the Session is connected to another device. You're going to want to use the free GoPro app (for iOS, Android or Windows Phone) to delve into the camera's settings, you see. A hatch on one side pops open to reveal a USB port for charging and data transfer, and a microSD card slot.
The camera is so light as to be essentially weightless if you're wearing it. While previous GoPros haven't exactly been back-breaking millstones, the Session is on a different level entirely. Strap it to your chest, head, arm or other appendage and you'll pretty much forget it's on. It's waterproof to a depth of 10m out of the box without the need for a separate housing. That brings the weight down even more.
Unlike some GoPro models, the Hero4 Session also features a built-in microphone that delivers passable, if unspectacular sound. You won't get great audio unless it's a sunny day with very little wind about – so almost never in the UK then.
I tried it with three mounts: a head mount ("Wow, I look ridiculous."), a chest mount ("OK, I look slightly less ridiculous.") and a QuickClip, which allows you to swiftly attach the camera to a backwards baseball cap, rucksack strap or similar. The QuickClip is tiny, so teamed up with the similarly tiny Session it makes for a very discreet way to film. Walking around town with the Session hooked up to my backpack's shoulder strap via the QuickClip, I got the impression that nobody I passed had a clue I was capturing every line of their face in pristine 1080p 60fps video quality. Is that creepy?
Easy app controls, as ever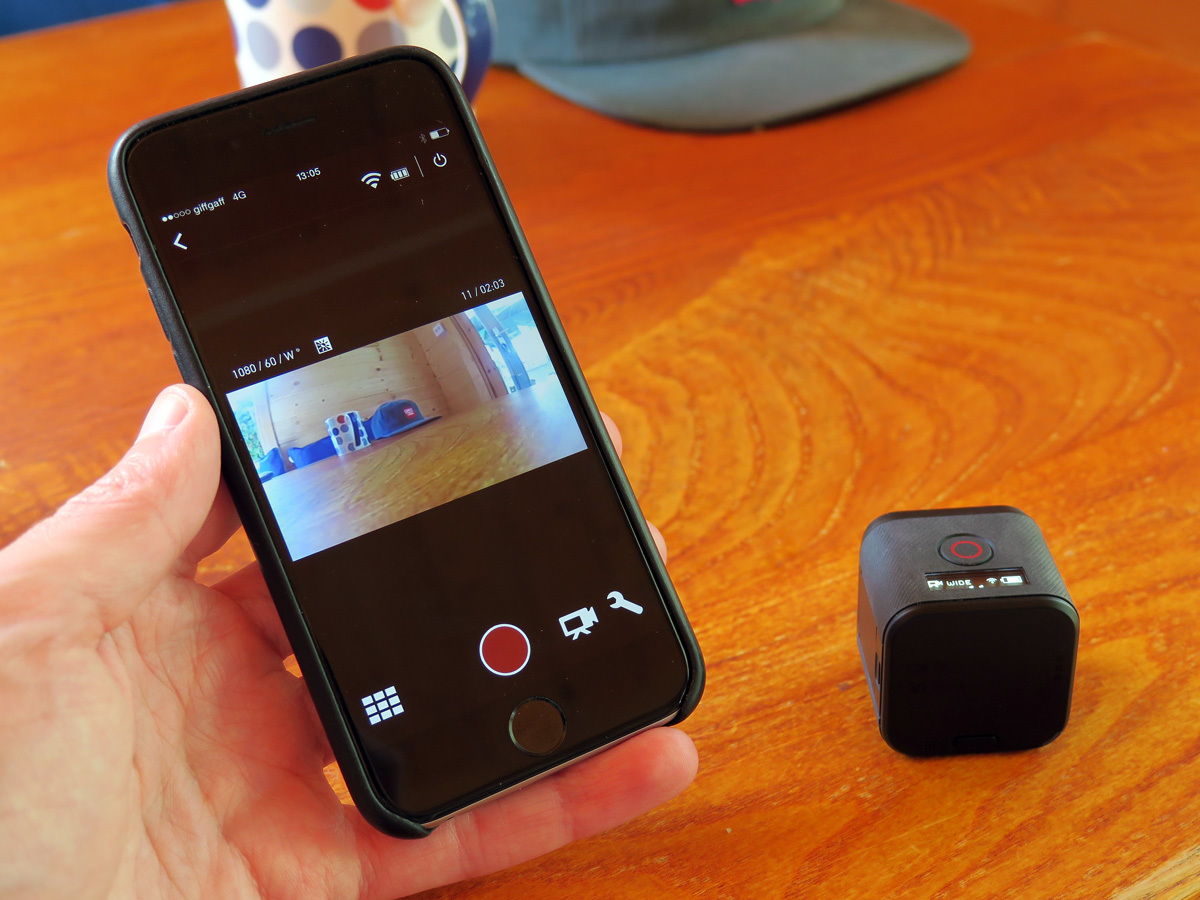 Operating the Session is simple. As with other GoPro Hero models, there's one-button control: by default, it's set up so that you tap the red button to start recording video and tap it again to stop. If you want to start a time-lapse, just hold the button down for three seconds. Beyond that, it's pretty much essential to use the app to tweak controls and settings, as well as preview the field-of-view when you're setting up a time-lapse or long recording.
The iOS version of the app is the same as you'll use with older GoPro cameras, and is straightforward to use once you've connected up the Session and your phone or tablet via Wi-Fi. You can use it to trigger the camera if you wish, as well as review images and videos stored on the camera's card, but I mostly used it to change up settings such as frame rate, video resolution and ISO.
There isn't a huge amount of tweaking you can do here. The ISO sensitivity, for instance, can either be set to 400 or 1600, with nothing else to choose from. But this is a GoPro, it's supposed to be easy to use. As well as time-lapse,which can be set up to take a shot every 0.5 to every 60 seconds, you can also choose to shoot single 8MP stills or a burst of 10 images.
Image quality does the job, and not much more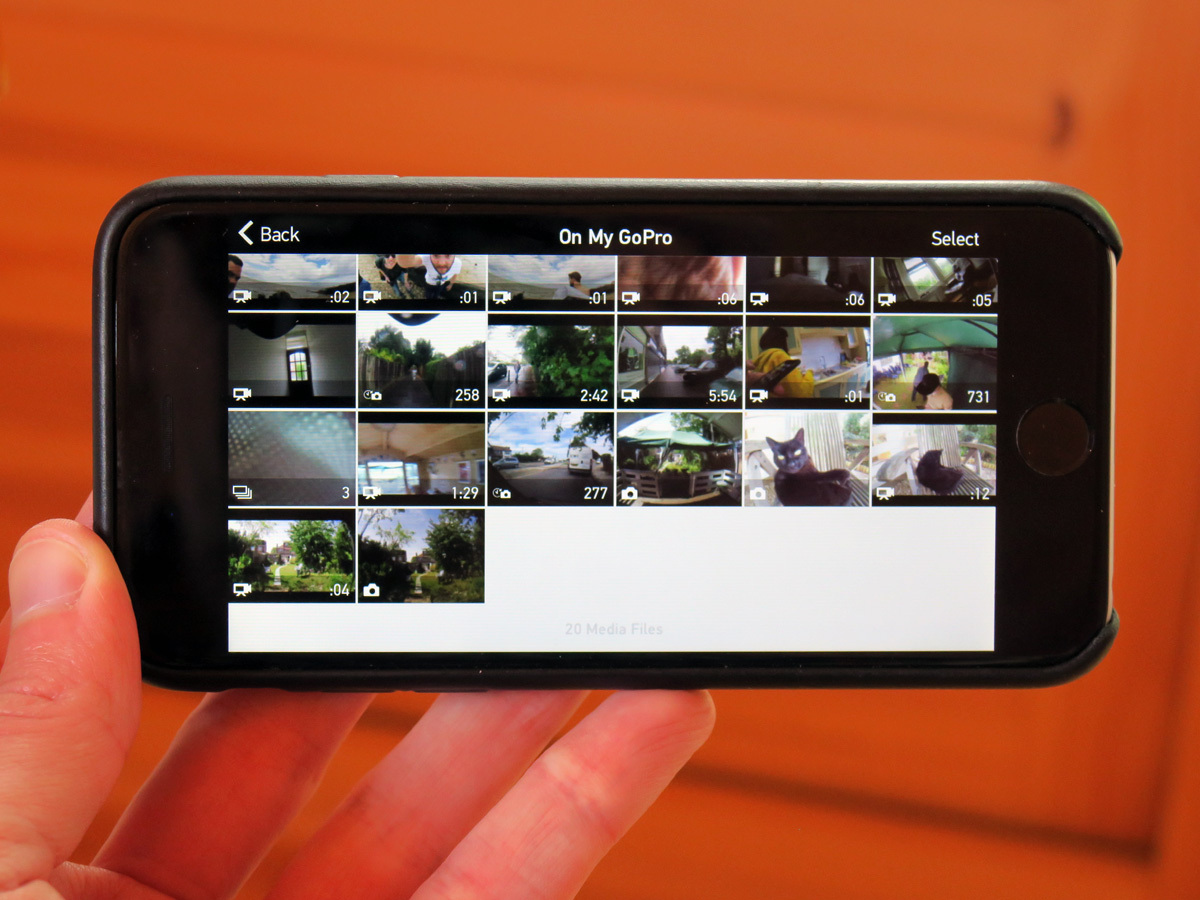 As for image quality, the Session is good enough. In decent lighting conditions, both videos and photos are sharp and rich, while the lens' wide field-of-view means a huge amount is captured. When it was mounted on the right shoulder strap of a backpack, the brim of my cap managed to poke into the upper left corner of the frame.
The video captured while running around the woods shows that, in lower light, things can get a bit iffy. This represents a tricky lighting condition for a simple camera like the Session, because it was fairly shady in the woods but clear and sunny outside, which is why I think the footage isn't as clear or sharp as I'd like. Also, this sequence was shot at ISO 400, but I feel it would look better had I set the camera to record at ISO 1600.
The time-lapse video shows that, in ideal conditions, the 8MP stills work nicely. Low noise, sharp edges, good colour reproduction – there's not really anything you can moan about here.
I also recorded – or attempted to – a spot of sea swimming with the Session head-mounted, but sadly must have pressed the button twice as the video failed to record. That's one of the problems you face when the camera is attached to your forehead and you can't actually see if the red LED is flashing. Still, if nothing else it demonstrated that the Session can survive ten minutes of being repeatedly dunked in salt water.
GoPro Hero4 Session verdict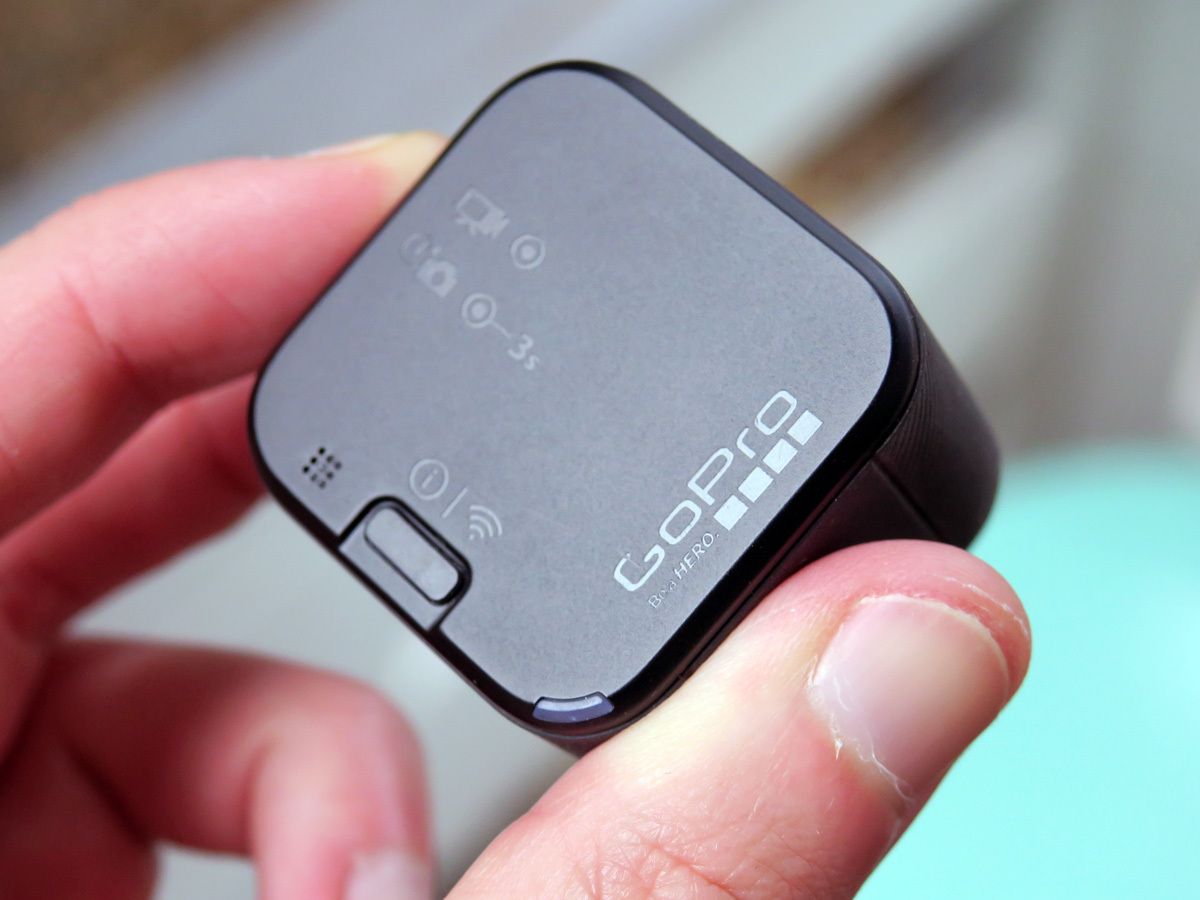 The video may not be absolutely mind-blowing, but it's as good as it needs to be – and the real selling point of the Session is its size and weight. Wearing a GoPro is now totally hassle-free.
It's not cheap at £330 (and that's without extra mounts – the head mount and QuickClip come together in a £20 set, and the chest harness is £35), but if you're familiar with GoPros then that should come as little surprise. The company's cameras have always been a little on the pricey side, but people have always been willing to pay because of the construction, the operation and the performance. This is all here, and it's in a brilliantly compact package.
Stuff Says…
The best tiny action cam? We think so
Good Stuff
Tiny, sturdy and waterproof
One-button operation
Good video and photo quality
Bad Stuff
Expensive
No screen