GoPro Hero8 Black review
The action camera to beat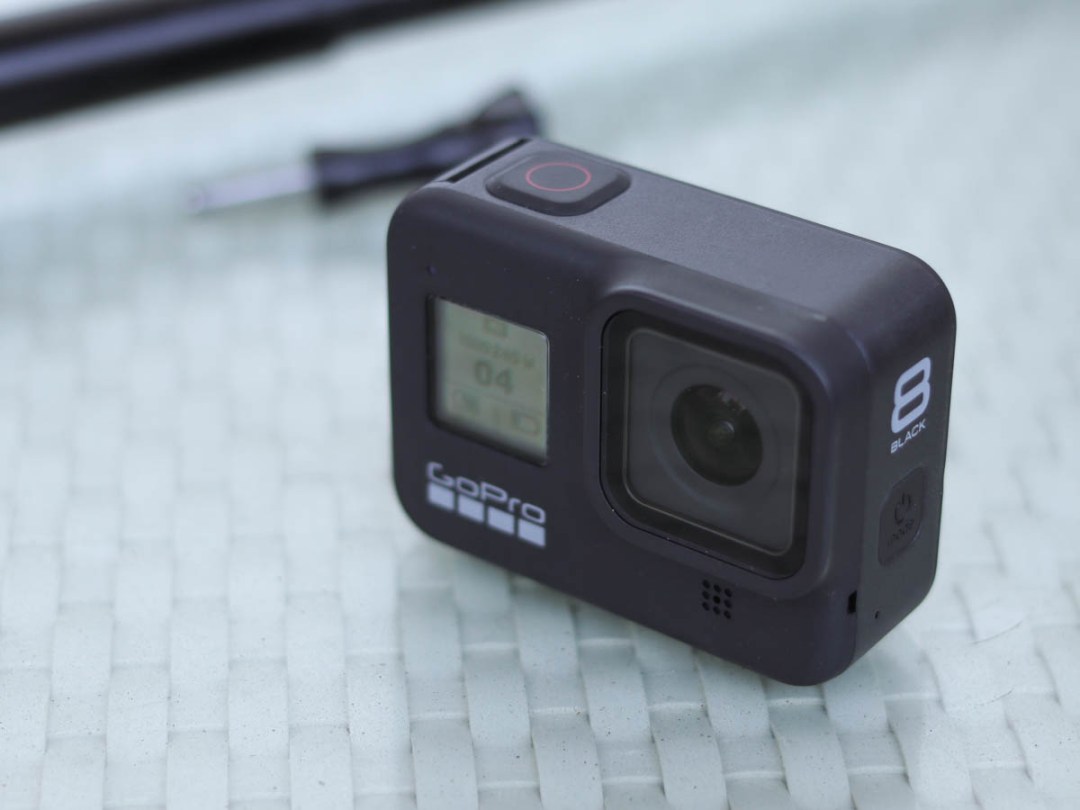 The Hero7 Black wowed us with its stabilisation, but hot on its heels was the fantastic DJI Osmo Action. It added a front screen and held things that bit steadier, but GoPro isn't going anywhere, having stepped things up with its Hypersmooth 2.0 Hero8 Black.
Combining 12MP resolution with a range of wide angles, waterproofing, next-gen stabilisation and the smartest timelapse recording we've ever used, it's a much-improved mini beast when compared the Hero7 Black. That said, does it have enough to take down the Osmo Action too and safeguard its GoPro's position going into 2020?
Design: happy feet
Our Hero8 highlight? Those folding feet. The camera's new mounting system means it doesn't need housing to securely clasp it onto a traditional GoPro mount. The feet pivot in to create a mount, and out of the bottom of the camera like butterfly wings, magnetically clicking back into place in a flash.
On first impression, they might seem fragile, GoPro assured us thay are tough to crack, and the fact ours survived a head/GoPro first fall off a bike, is a testament to that fact.
More than just a boon for camera mounting convenience, with no housing, you can swap out batteries and memory cards in moments without having to remove it from the mount. Unlike the GoPro Max, the Hero8 is waterproof up to 33ft or 10m, so it's good for a bit of snorkelling or wet conditions, and the water-sealed card slot is on the right side along with the battery.
The Hero8's rubberised finish doesn't feel super-premium, but it's solid. Given that this is an action cam, the fact ours cleaned off incredibly easily after being caked in mud will matter more to anyone who wants to strap one and pave the muddy way.
Screen: Sharp but small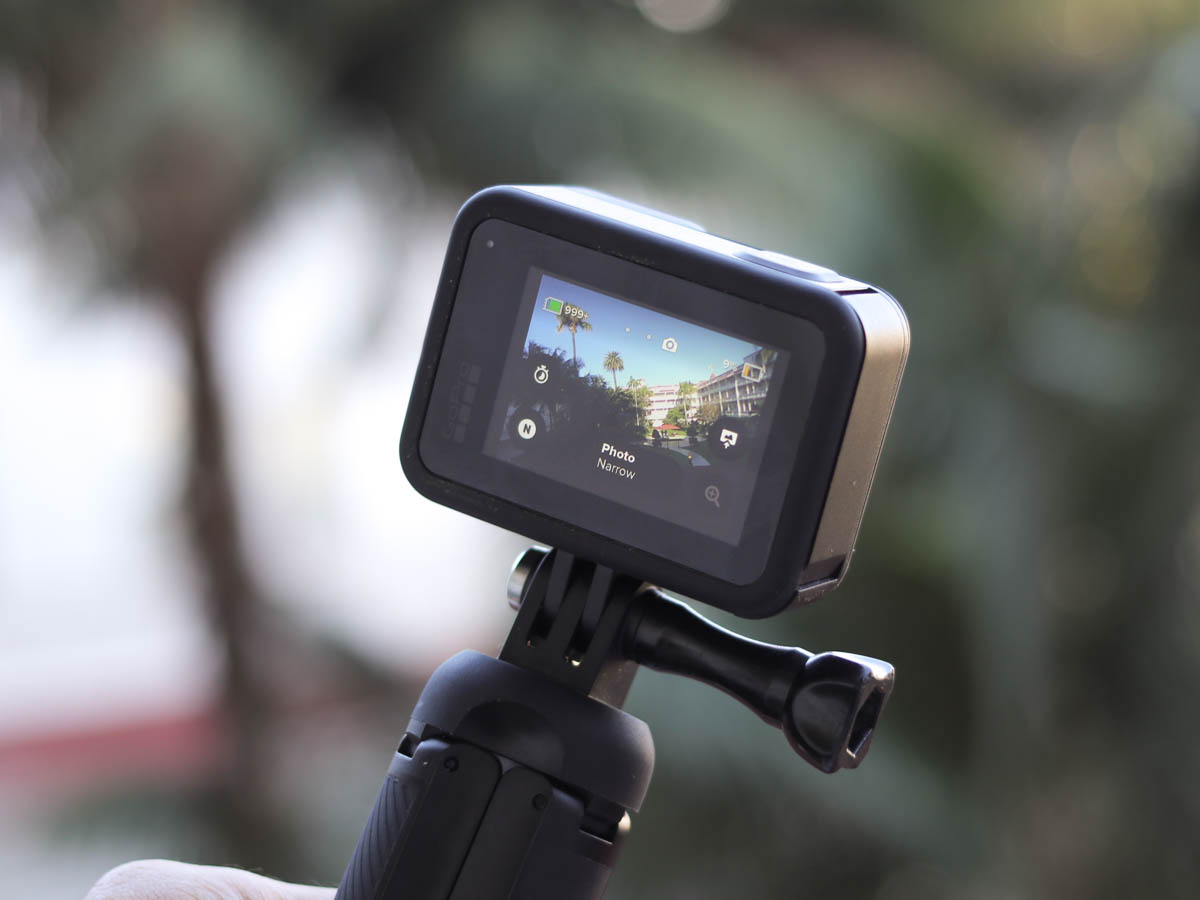 The Hero8 Black's screen is touch-sensitive and very responsive, but we wish it was bigger.
The DJI Osmo Action's is both larger and there's a second display on the front for selfie video and photos. On the plus, the Hero8 Black's viewing angles are decent and it's as sharp and bright as it needs to be.
Honestly, we didn't really miss having a front screen having come from the Osmo Action, plus, with GoPro's upcoming Media Mod, Light Mod and Display Mod, we'll be seeing an optional selfie screen hit the market shortly.
Video: Hypersmooth 2.0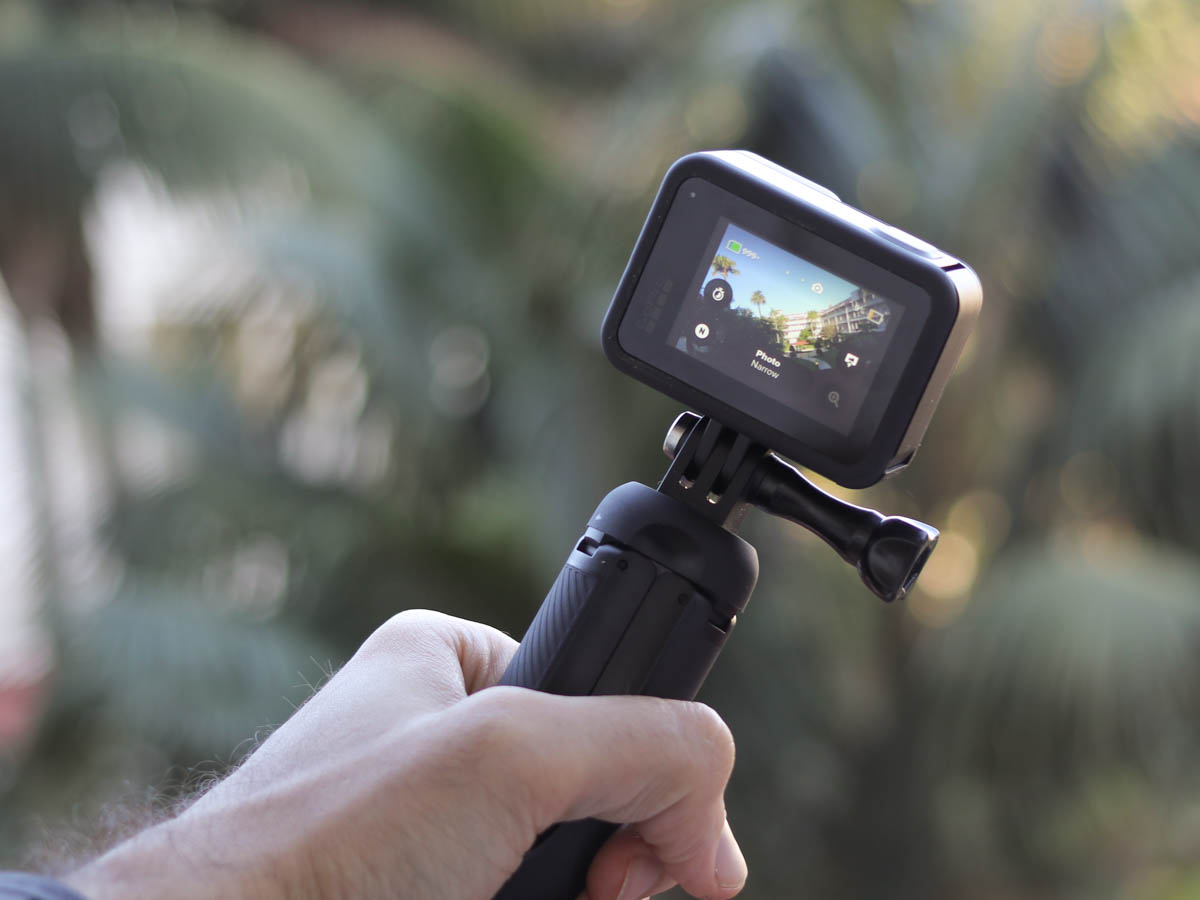 When you consider its size and, well, physics, the GoPro Hero8 Black is bonkers. You shake, it stays still and holds onto detail like a champion, but it isn't without some minor quirks.
Right up until dusk, results look detailed and smooth at up to 4K resolution 60fps, and its ultra-wide-angle gets everything in shot. In the dark though, use your phone.
The Hero8 Black features four artificial lenses – narrow, wide, wider and widest – despite the fact it has only one camera module, cropping into the super-wide optical focal length. Then there's HyperSmooth 2.0, which has three levels of stabilisation. Boost is the big dog, cropping into your shot for mind-bendingly smooth capture – the smoothest on any camera we've ever used. Clarity does suffer a bit as a result though, so we generally left it at standard or high.
If you're a fan of time-lapses, then TimeWarp 2.0 will tickle you pink. Why 2.0? It now has auto speed detection and GoPro's speed ramping means you can tap the screen when you want to slow down the timelapse effect, keeping frame rates consistent, then speed it up again. This slipping in and out of life on fast forward creates stunning footage.
GoPro's new capture presets mean anyone can get shooting with their Hero8 Black. They change frame rates, resolution and stabilisation presets to make sure you don't waste space on your memory card, but still prioritise the footage you're after.
It also streams live at 1080p, bettering the 720p resolution of the Hero7 Black, and there's a GPS inside too, so you can geotag your adventures. As for photos, quality is good and the Hero8 Black can grab huge, expansive landscapes. That said, your smartphone is better if you're not looking for ultrawide snaps.
What else?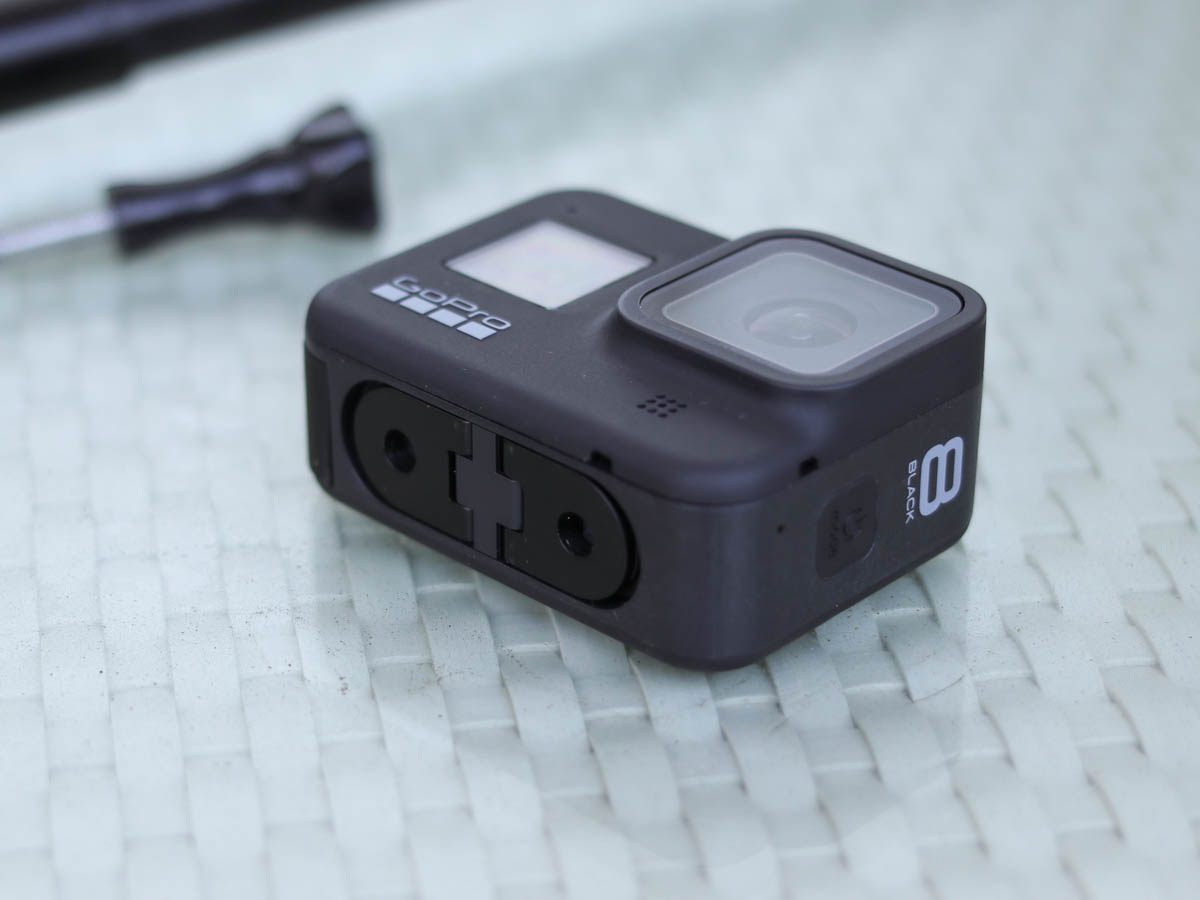 As with older models, the GoPro Hero8 connects with iOS and Android devices through the GoPro app, Photos and videos auto transfer to your phone, so you can easily share your Hero8 Black's footage and these can, in turn, be auto backed up to the cloud.
The GoPro app also gives you access to basic edits too, so you can set footage against music and apply themes to make shareable nuggets of joy.
As for the camera's battery life, it lasts around 50 mins, which is good for a day out sporadically shooting short clips on a single charge. If you plan on continuously shooting long clips, definitely get a spare or two. The Hero8 Black charges via USB-C, the battery door is removable, and you can shoot with it plugged into a power bank which is ace.
GoPro Hero8 Black verdict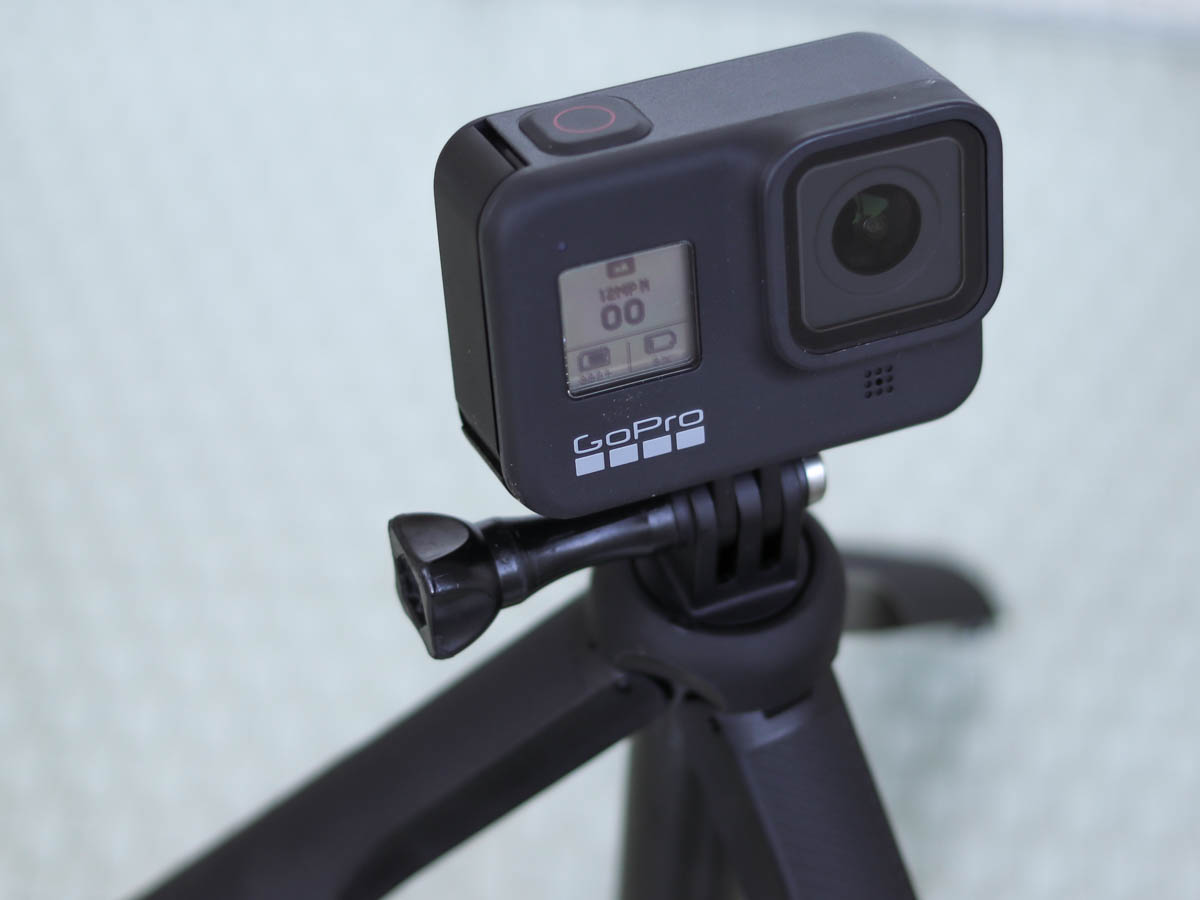 At £379, the GoPro Hero8 Black is anything but cheap, but the experience it delivers isn't cheap either.
There are a couple of things we would have liked to have seen – a bigger screen and better low light video capture. In addition, getting footage on and off the app was a bit fiddly when using an Android 10 phone.
That said, the nuts and bolts of using the Hero8 as an action camera are exactly where they need to be. The promise of the upcoming mods which look set to add improved sound recording and a vlogging display to the mix are whetting our appetites nicely too.
In turn, GoPro's Hero-line is very much still the action cam to beat, and we can't wait to see what's on the HyperSmooth horizon from the OG of action cams as we hurtle into 2020.
Stuff Says…
If you want the stablest action camera we've ever used, you want the Hero8 Black; it may not be cheap, but as with most GoPros, you get what you pay for.
Good Stuff
Convenient mounting
Incredibly stable footage
Timelapse videos look fantastic
Bad Stuff
Very good, not fantastic photos
Still poor lowlight performance
Small display