Hisense 55U7QF review
A bargain, some of the time
So you know exactly how much you're prepared to spend on a new television. Now what? Do you decide to spend it on a TV from your favourite brand? On the TV with the best reviews? On the one with the most impressive specification? Or on the biggest screen your money can buy?
Hisense is hoping you're thinking along the lines of the last two answers. After all, it's not many people's favourite TV brand, and it seldom receives the very best reviews. But where screen-inches-per-quid are concerned, it's one of the most successful brands around – and its TVs tend to be pretty well specified, too.
Which brings us, not especially coincidentally, to the Hisense 55U7QF. The screen size/price ratio is startlingly good, and the specification isn't too shabby either. Is the 55U7QF the screen that will turn Hisense into your favourite TV brand?
Design and build: (Slightly) hidden depths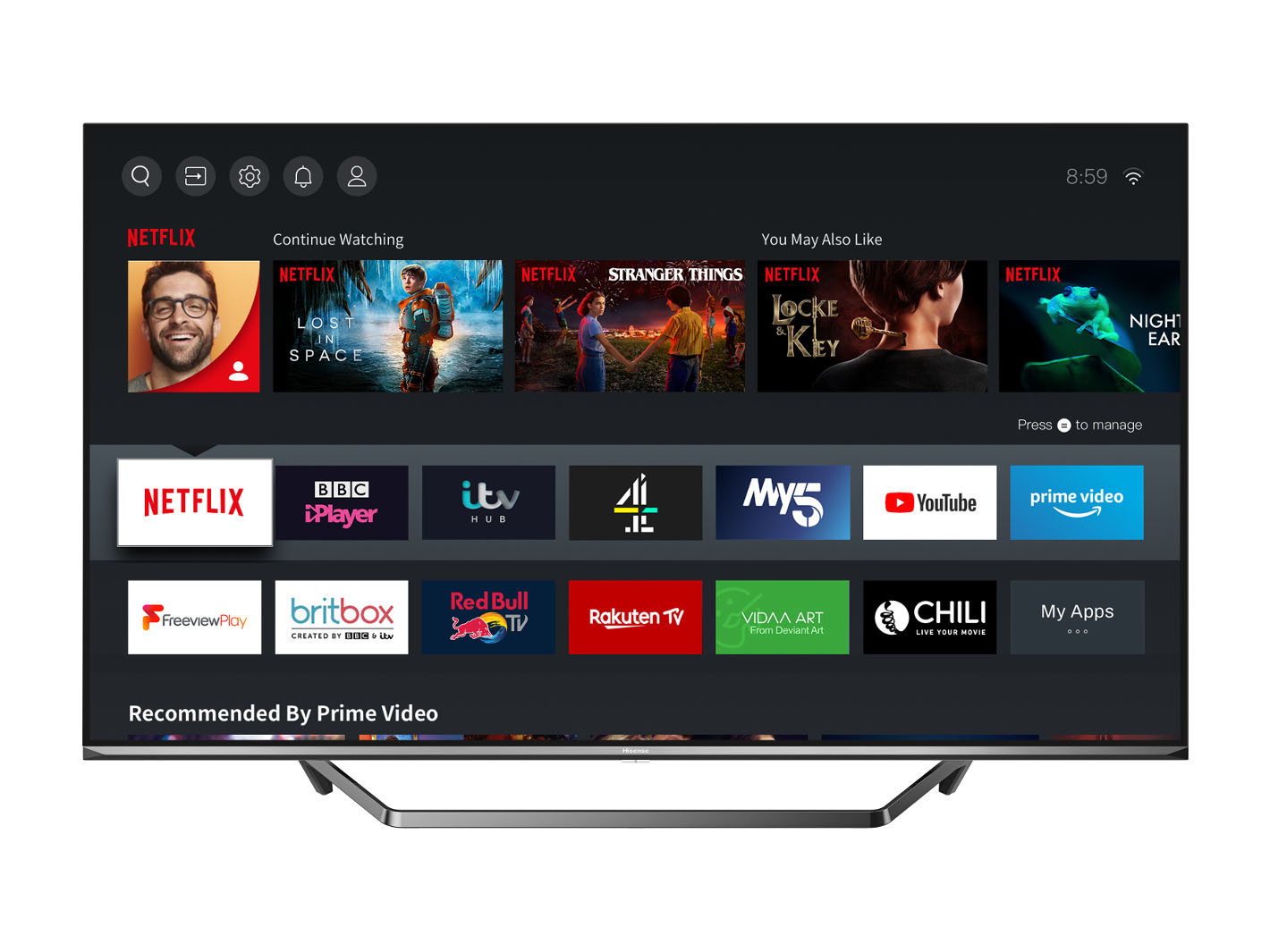 Unless you intend to wall-mount it, the 55U7QF is a nicely designed television – and actually quite decorative when it's not switched on. That big screen is surrounded by decently slim bezels, and its stand is pretty elegant too – it's a sort of wire-frame arrangement that doesn't look sturdy enough to support a TV this big but in fact proves more than up to the task.
The problem – such as it is – concerns the third dimension. The Hisense is a woefully unfashionable 8cm deep – which doesn't look all that much when it's written down but looks terribly antiquated when you clap eyes on it. This is why the 55U7QF is such a poor candidate for wall-hanging – that depth makes it protrude from the wall in a most unglamorous way. When it comes to the way the Hisense looks as an object, it's this relative tubbiness that betrays its bargain price more than anything else.
In terms of the way it's made and put together, though, it's much more difficult to be picky. Yes, some of the plastics feel pretty ordinary, but nothing groans or creaks – and nothing about the way the 55U7QF is made suggests a) it's so much more affordable than the alternatives from LG, Panasonic and all the rest, or b) it won't last until its specification is out of date.
Features: More HDR than most
And (fingers crossed) it'll be a while before the 55U7QF's specification is antiquated.
This is a 4K TV, one that's packing all HDR standards – including both HDR10+ and Dolby Vision dynamic metadata. Among the higher-profile (and much more expensive) mainstream brands, only Panasonic and Philips can claim similar compatibility – it's beyond LG, Samsung and Sony.
The 55U7QF is a ULED screen – which is basically Hisense's take on the quantum-dot LED theme popularised by Samsung with QLED. It also features full-array local dimming – which means 72 individual dimming zones behind the entirety of the screen, which in turn promises far greater backlighting control than the more common (and generally more affordable) edge-lit alternative. And so, suddenly, the reason for the 55U7QF's outmoded depth becomes clear.
In terms of connectivity, too, the Hisense isn't doing too badly at all. It has four HDMI 2.0 inputs (one ARC-enabled), a couple of USB inputs, a CI card slot and composite video inputs for your real legacy equipment. There's wi-fi on board, naturally, supplemented by an Ethernet socket, and both terrestrial and satellite TV tuners. Bluetooth connectivity completes a very decent set of options.
Interface: La Vidaa loca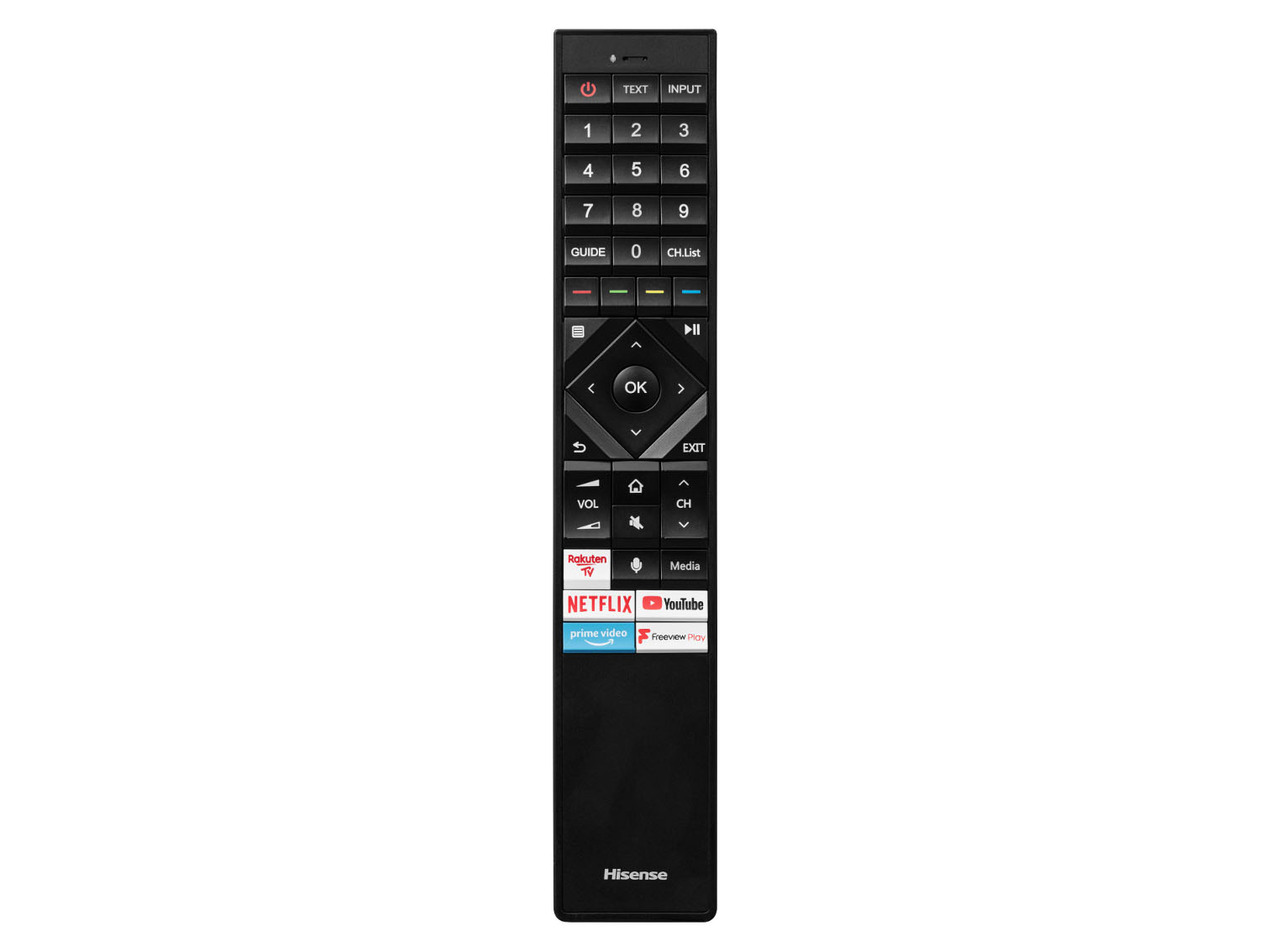 Hisense's VIDAA U4 operating system is really quite impressive, as far as it goes. It's just that in some ways it doesn't go quite far enough.
On the plus side, it's neat and tidy – unlike, say, Android TV, which thinks it's the most important part of your TV experience. VIDAA U4 doesn't hog the whole of the screen when in use, and it's stable and logical to navigate. The inclusion of Freeview Play means there's a coherent TV guide incorporated, too. But it's missing a few streaming services that are rapidly becoming compulsory: the lack of Apple TV+ and Disney+, for instance, could be enough to ruin the 55U7QF's chances with quite a few prospective customers.
If you're not among them, though, you'll be pleased to know navigating VIDAA U4 is a painless experience. There's some quite limited Amazon Alexa compatibility, but the remote control is a better bet. Like the screen itself, it feels a little bit plasticky – but, like the screen itself, it proves perfectly well put together. And it's sensibly laid out, doesn't have too many buttons and the buttons it does have are sensibly sized.
Picture quality: Movement improvement
Like almost every TV, the picture quality of the 55U7QF is dictated by the sort of content you're watching. Unlike almost every TV, though, the Hisense is not exactly at its best when displaying the highest-quality content available.
Fiddle with the set-up menus all you like (they're quite brief, and the remote control makes navigating them easy), but you won't be able to get smooth motion out of the Hisense when you're watching some 24fps material. Pretty much every movie ever made was filmed at 24 frames per second, and certainly any movie you stream from Netflix, Amazon or anywhere else will be 24fps. The 55U7QF just can't get along with it – with content like this, motion is mildly, but definitely, ragged.
And if this 24fps stuff has an HDR element to it as well, you can add a distinct lack of brightness to the list of the Hisense's shortcomings. The Dolby Vision (and Dolby Atmos) extravaganza The Irishman on Netflix is consequently quite dim, and when on-screen motion occurs it's not gripped with any certainty.
That's not to say the 55U7QF is a disaster. It has a real facility with colour, for example – the palette it draws from is wide-ranging and subtle, with a lovely amount of variation in skin-tones making the film's numerous old folk look natural and convincing. And while it is short of peak brightness, there's a very decent amount of detail retained in the both the brightest white tones and the deepest black the screen can deliver.
Contrasts may not be the most dynamic in all of TV-land, but they are at least informative. Despite the screen's difficulties with motion, it suppresses picture noise well too – images are clean, and edge definition is pretty accomplished too. If only on-screen movement could be organised with any conviction, the 55U7QF could be a real contender.
Offer the Hisense some higher frame-rate content to deal with – broadcast TV, probably – and it seems a lot more sure of itself. All the good work involving detail levels and colour fidelity is continued, but now the 55U7QF doesn't go to pieces whenever any on-screen movement takes place. Instead it knuckles down, grips motion much more convincingly and, consequently, is much more enjoyable and relaxing to watch. Even older content, which requires a lot of upscaling to fit this 4K panel, looks composed – only a hint of softness to the overall look of images gives the game away.
Sound quality: Quiet please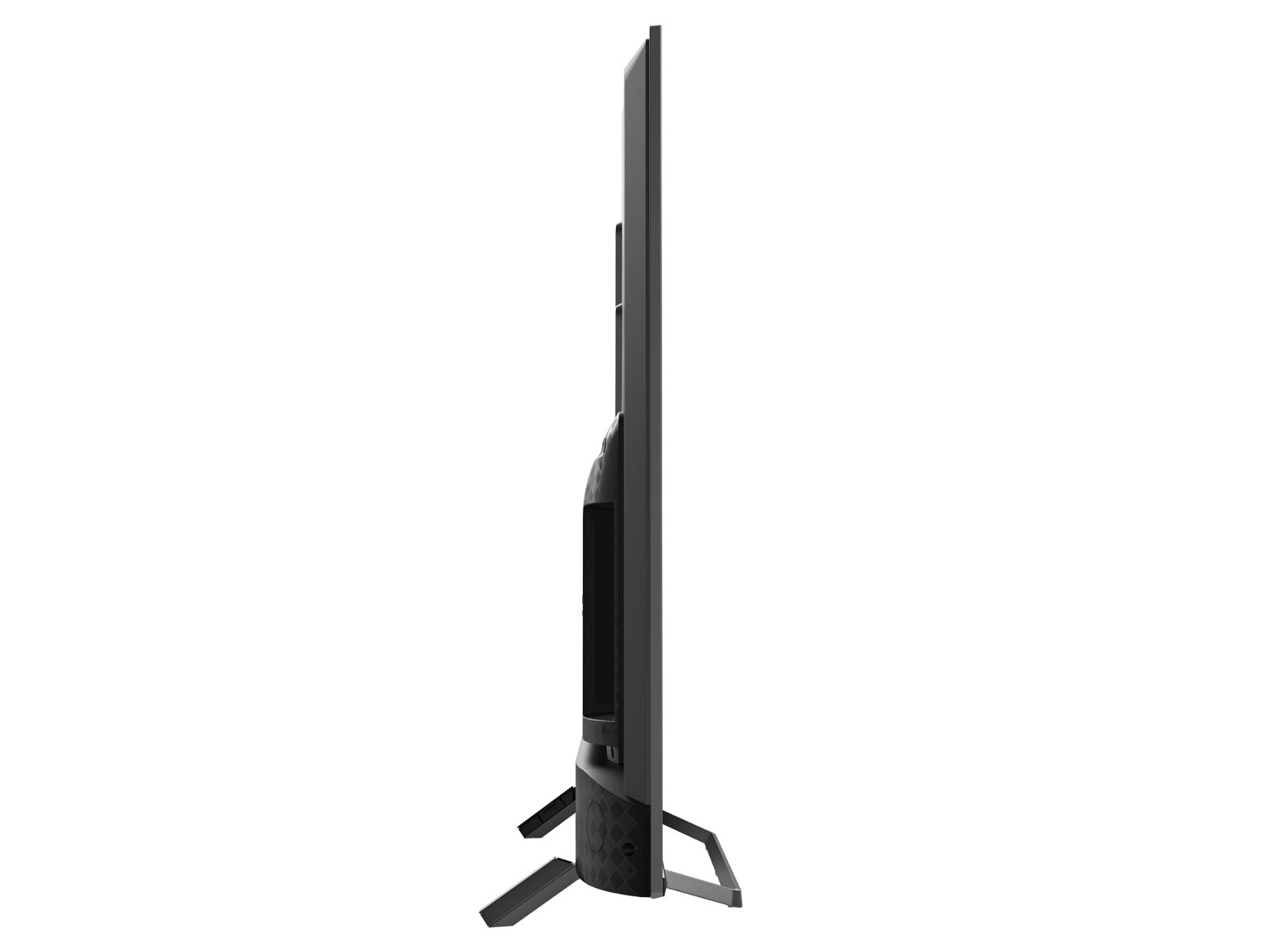 The Hisense can handle Dolby Atmos audio information – although that's not as exciting as it might at first sound, because the 55U7QF serves up sound via two full-range drivers driven by a total of 20 watts. So don't go expecting object based audio or any kind of impression of surround-sound.
Overall, the sound the Hisense makes is on the feeble side. It's at its best when you leave 'Dolby Atmos' switched on in the set-up menus – this way it is at least distinct, even if it sounds short of breath. Switching Atmos off robs the sound of much of its definition and any scale it previously had.
In any circumstances, though, it's best not to up the volume too recklessly. The higher the output, the harder and thinner the Hisense sounds.
Hisense 55U7QF verdict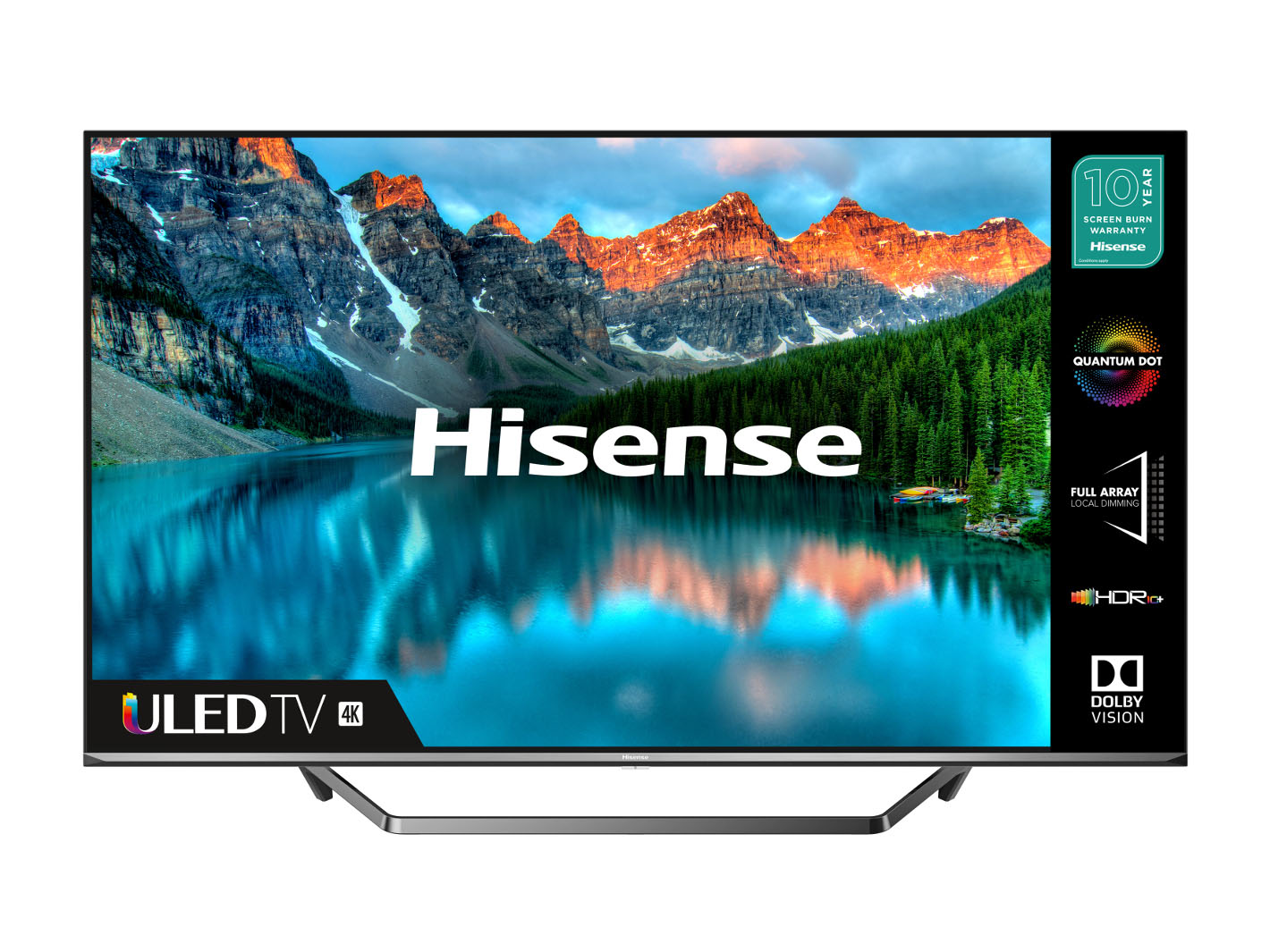 There's quite a lot that's good about the 55U7QF: its colour balance is good, its detail levels are high, it's got the full set of HDR standards and – let's not forget – this is an awful lot of screen for the money.
Its inability to deal convincingly with 24fps content means it has its work cut out, though.
Stuff Says…
All the spec and all the screen for not too much money – but the Hisense isn't perfect
Good Stuff
Big screen and big spec at the price
Capable of detailed, colourful pictures – especially via Freeview Play
Good remote and user interface
Bad Stuff
24fps content gives it panic attacks
Boneless sound
Hefty chassis