HP Omen 15-dc0029na review
Can the latest HP gaming laptop play games smoothly on its 144Hz screen?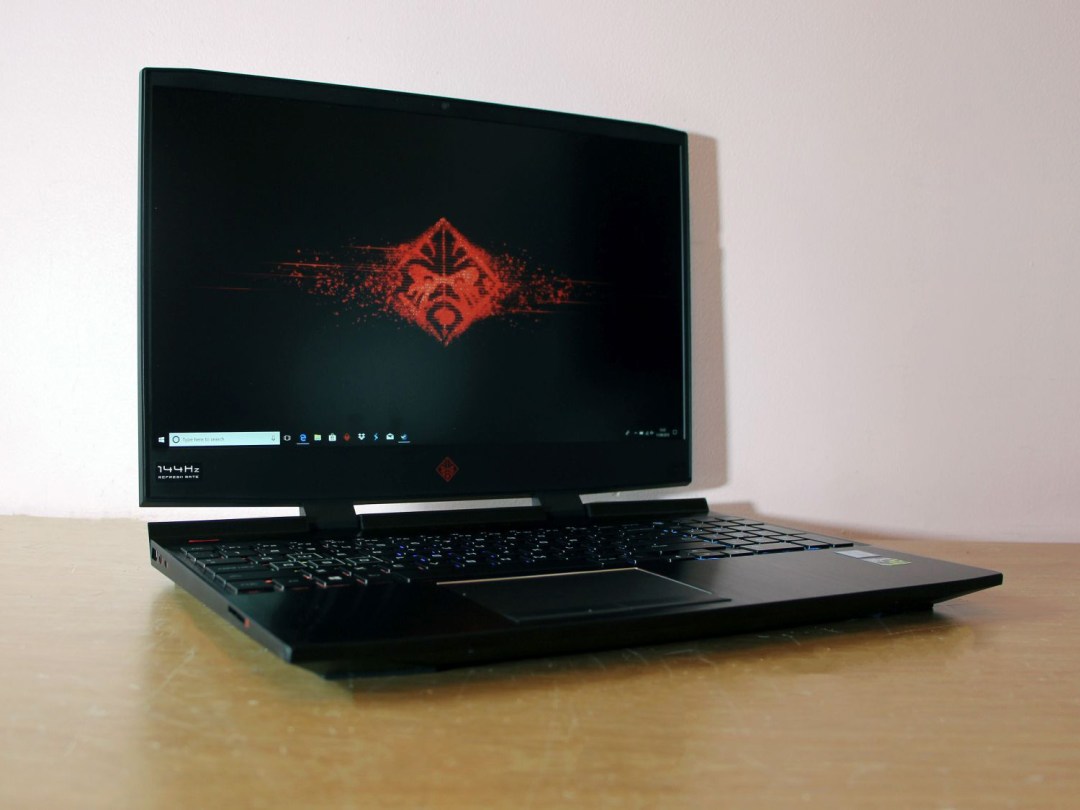 The latest gaming laptop from HP, the Omen by HP 15, has an undeniably awkward name.
However, get past that and you'll find a notebook that's packed with intriguing technology – and for a surprisingly low price. It's one of the only moderately-priced gaming laptops with an Nvidia G-Sync screen that ramps all the way up to 144Hz – so you'll get smoother gaming than on many of its rivals.
It's got one of Nvidia's more potent mobile chipsets, Bang & Olufsen speakers and a monster Intel processor.
It almost sounds too good to be true – which means that we're intrigued as to where HP has cut back its budget in order to afford all of those components.
Design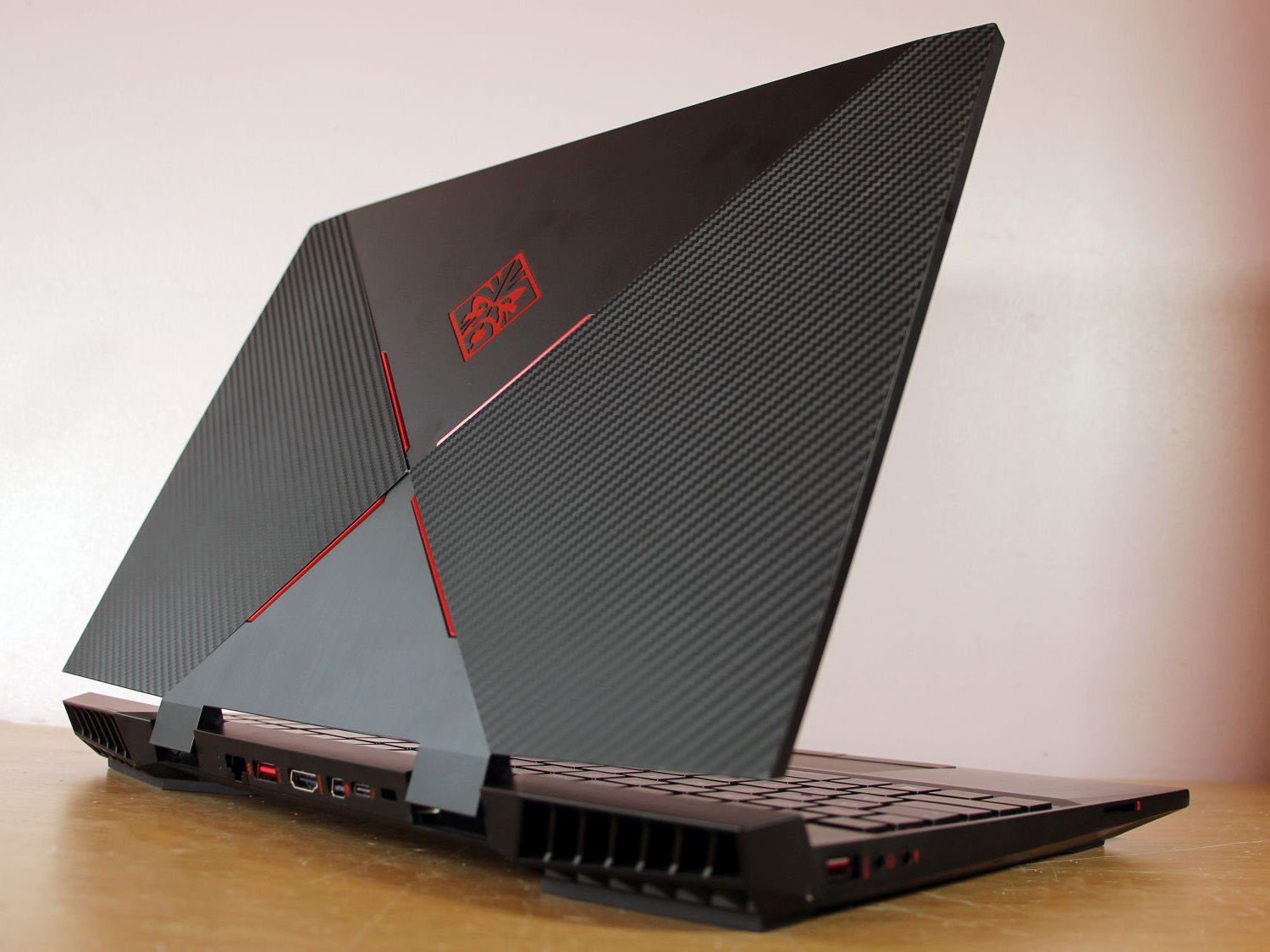 The Omen is made from a mix of metal and plastic and has several neat design touches. The wrist-rest has a subtle, brushed pattern, while the hinges are sharp and set the upper half apart from the base.
The screen folds down to leave a chunky area at the back of the rig for bigger heatsinks, and the lid shows off a large Omen logo, some dramatic red slashes and two different textures. It's not a subtle machine, with eye-catching physical design that looks almost industrial. It's not a particularly slim or light, either. The Omen weighs just over 2.5kg, and it's 25mm thick. If you're after a smaller, lighter or subtler laptop, then you'll have plenty of choice.
And, sadly, build quality isn't always great. There's a little give in the metal base, and the centralised hinges mean that the sides of the screen are flimsy. Taking this to tournaments? Protect it with a sleeve.
Around the Omen's edges you'll find three USB 3.1 ports, a Thunderbolt connector, and both HDMI and mini-DisplayPort outputs. Several of the ports are at the back, too, which will make your desk tidier.
The Omen may be a little chunky, but it does possess plenty of versatility. Tapping the Omen logo on the keyboard loads the Command Center, which gives you system and network monitoring, a tool for streaming to other screens, and lighting controls. Annoyingly, the keyboard's RGB LEDs can be changed in four distinct zones, but not individually, and not with different lighting patterns.
Screen and sound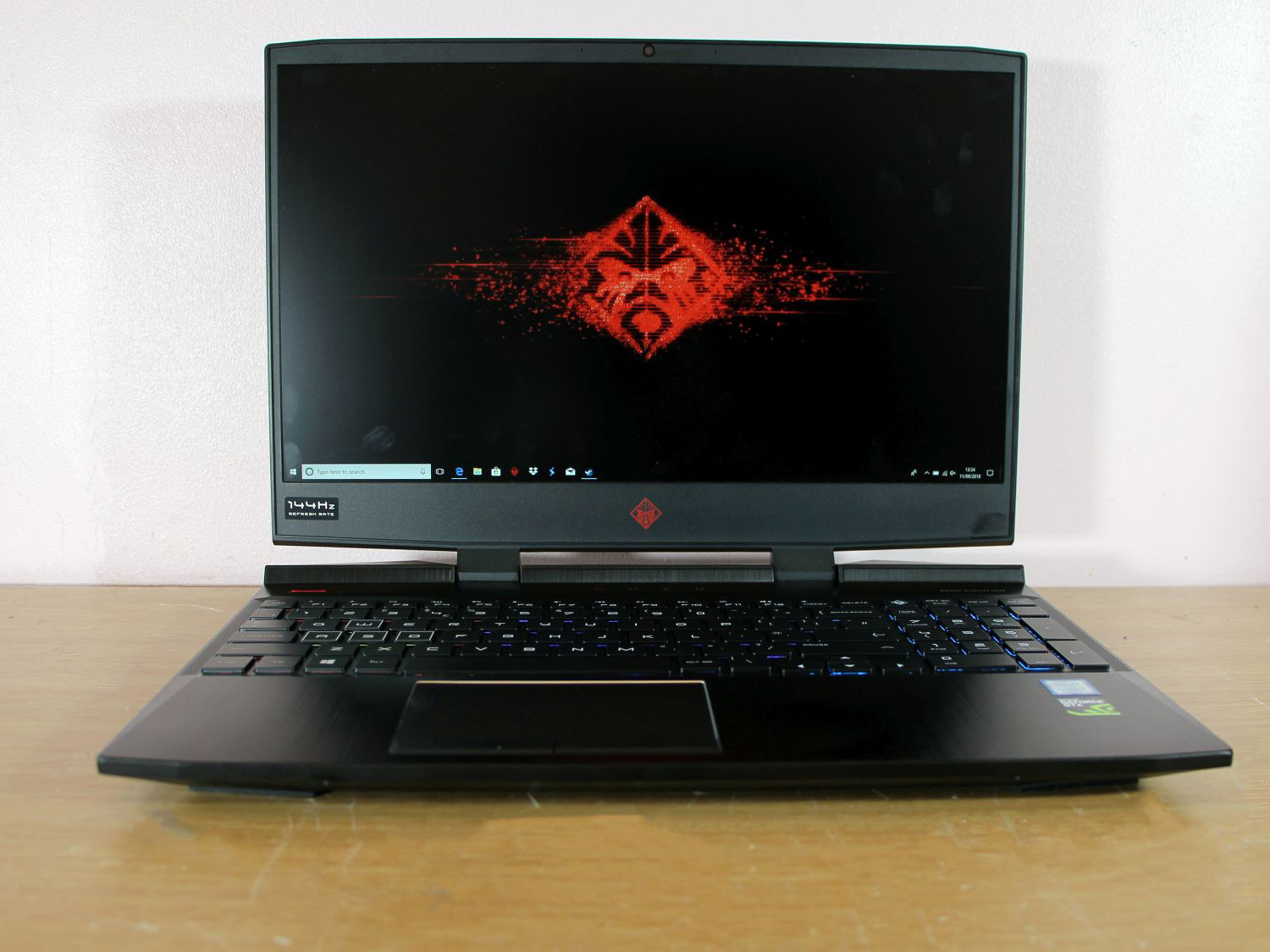 The HP Omen 15 comes with a Full HD IPS panel with Nvidia G-Sync that peaks at a stonking 144Hz. G-Sync is a big deal. This feature synchronises the graphics card's output with the screen's refresh rate, which means that gaming is smooth, with no chance of screen-tearing or juddering – and, on this screen, the 144Hz refresh rate supports games running at up to 144fps.
That's all well and good, but the HP won't always make best use of the huge 144Hz refresh rate. The GTX 1060 is a good chip that will handle today's games, but it'll only be able to get to 100fps or beyond if you're playing less demanding esports games – or if you reduce the graphics quality on more demanding titles.
Get beyond the vagaries of G-Sync and you'll find a reasonable screen. The colour temperature and Delta E levels of 6,523K and 2.26 ensure that colours are rendered accurately. The panel's backlight never veered by more than 10%, which means good consistency. The brightness measurement of 303cd/m2 is ample, but the black level of 0.33cd/m2 is too high.
They combine for a contrast ratio of 918:1. It's not bad, but many gaming laptops are better, with punchier colours and deeper black levels. The Bang & Olufsen speakers are excellent. They're loud enough to fill a room, with clear treble and a high-end that's detailed rather than tinny. Bass is a little weak, but that's to be expected from a laptop with no subwoofer. They're easily good enough for games and movies.
Performance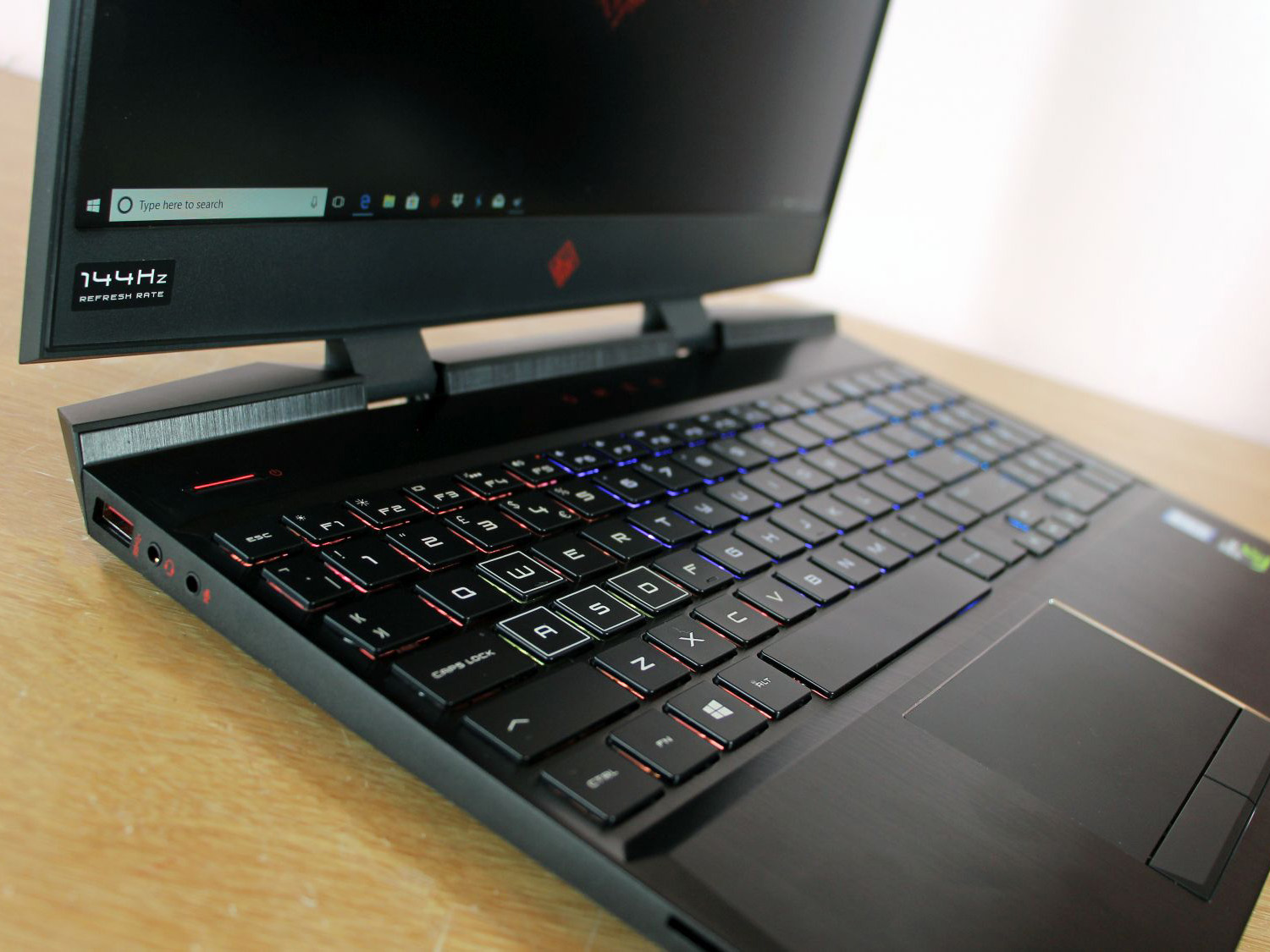 This Omen deploys Nvidia GTX 1060 graphics. It's a tweaked version of the mobile version of this chip with a higher clock speed, and it's got 6GB of memory. The GTX 1060 returned framerates of 85fps and 67fps in Middle Earth: Shadow of Mordor and Rise of the Tomb Raider, with both games running at 1080p and their maximum quality levels.
That's fast enough to play any of today's top titles without dialling down the graphics. It's also enough speed to handle every esports game, but remember that the 144Hz G-Sync tech isn't working with an unstoppable chip. If you want to take full advantage you'll sometimes have to tone down the quality, and this is an issue that will only be exacerbated as future releases become more demanding.
The graphics core is paired with an Intel Core i7-8750H processor. It's a monster mobile chip, with Intel's latest Coffee Lake architecture and six cores. It runs at 2.2GHz with a huge Turbo peak of 4.1GHz. Its single-core Geekbench result of 4,668 isn't noticeably different from top desktop chips, and its multi-core result of 17,011 isn't far behind eight-core desktop behemoths. In the real world, the CPU will never cause gaming bottlenecks. It'll handle every daily task, general-purpose multi-tasking, and the majority of hard-nosed productivity applications.
The Samsung SSD is solid, with a great read pace of 3,079MB/s and a middling write speed of 1,217MB/s. My only component qualm is the memory: while 8GB of DDR4 is ample, the Omen has it in single-channel mode – an odd decision that will hinder performance. The HP's thermal performance isn't the best, either. During a gaming test it produced noticeable fan noise and its CPU and GPU temperatures almost hit 80°C – and this barrier was smashed in a full-system stress-test. The noise was louder here, too, and the keyboard was too hot in both tests.
The HP isn't the loudest or hottest laptop, but you'll definitely notice those fans unless you're wearing a headset. If you're concerned about heat or noise, other machines are quieter. Battery life isn't particularly good, either. In an application test the HP lasted for two and a half hours, but it could only manage 90 minutes when pushed in tough games. If you're itching for a long gaming session, make sure you're plugged in.
Several other specifications are available if this particular Omen model doesn't take your fancy. A system with GTX 1070 graphics costs £1,499 and will do a better job of maxing out the G-Sync screen. If you want to go the other way, then the £1,099 version drops G-Sync, halves the SSD and deploys a weaker GTX 1060. A £999 model keeps the Core i7 chip and 144Hz screen but uses a GTX 1050 Ti graphics core, while the entry-level £799 laptop has the GTX 1050 GPU and a Core i5 CPU alongside the 144Hz screen. T
They're undeniably odd specifications. These machines would still be fine with a Core i5 processor, and deploying those cheaper chips would free up more budget for beefier graphics chips that would make better use of the 144Hz panel.
Keyboard & Touchpad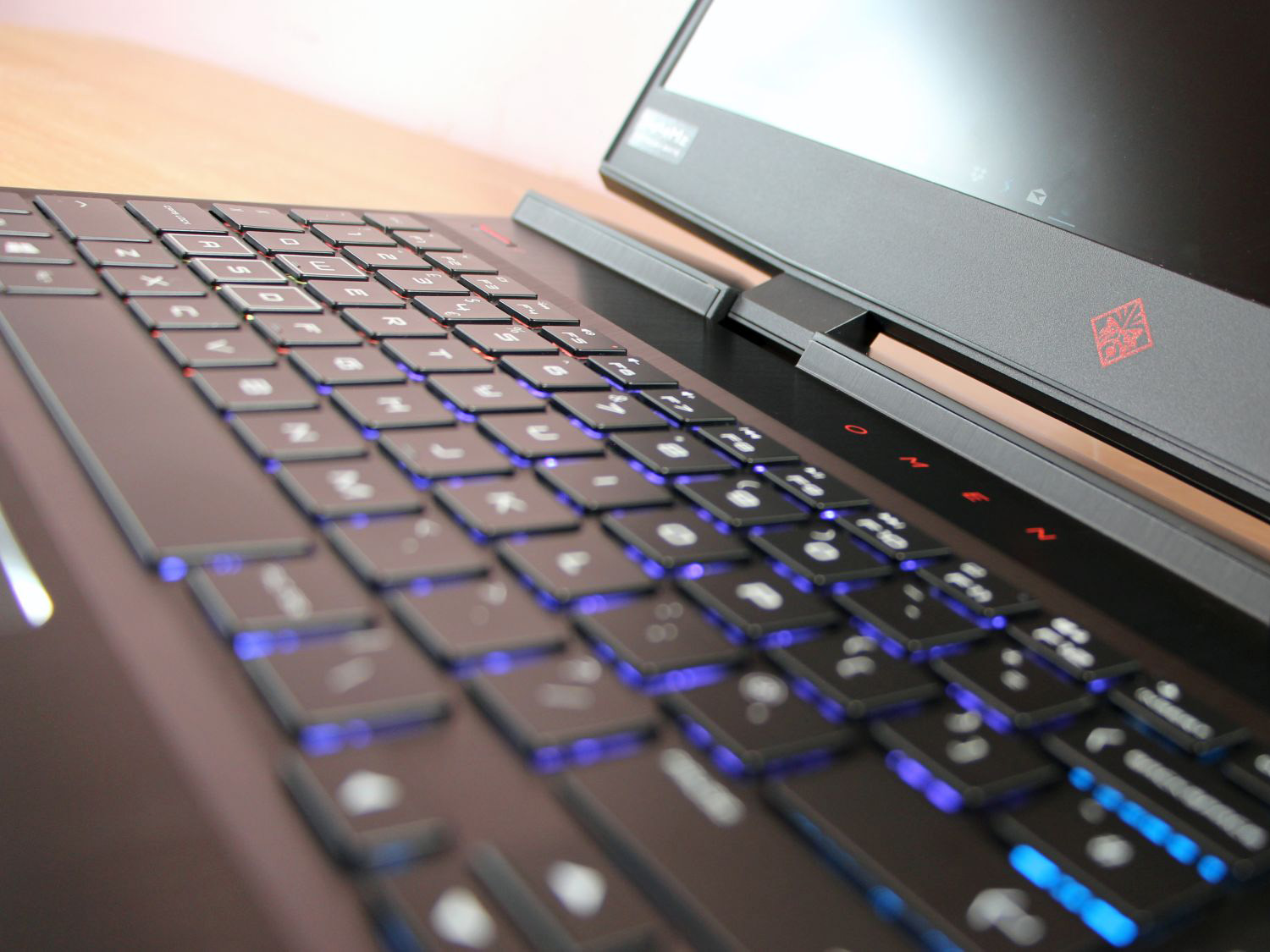 The Omen's keyboard uses a conventional gaming laptop design. It's a chiclet unit with a solid base and a fast, consistent action. That bodes well for typing and casual gaming, but it's not great for frantic, full-on games – the buttons bottom-out with a firm, responsive snap, but they can't compete with mechanical units.
If you're serious about gaming, we'd connect one of those instead. The same is true of the trackpad. It's fine for general-purpose computing, but the buttons aren't quite shallow or snappy enough for gaming – so use a USB mouse instead.
HP Omen 15 verdict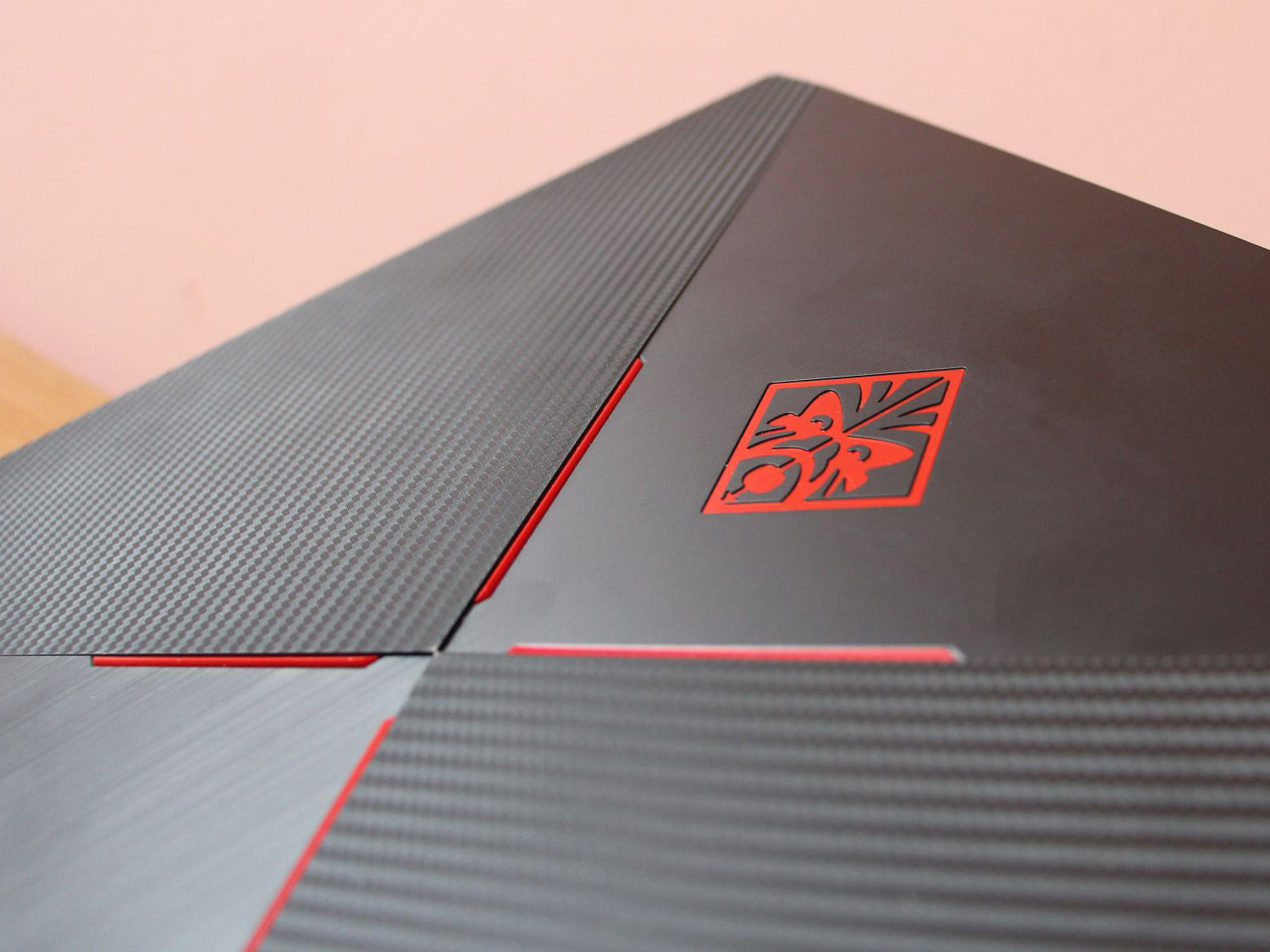 The Omen by HP 15 is an odd laptop with several redeeming qualities. The graphics card is fast enough for top games, and the 144Hz screen is useful – although only certain titles will truly benefit.
The processor is good, and the screen is reasonable. Thermal performance and battery life aren't great, but that's par for the course at this area of the market – and, while some may not like the chunky, industrial looks, the HP is certainly versatile.
The HP Omen 15 is a good laptop that offers solid power for a decent price, but small issues mean I can't give it a wholehearted recommendation. It'll do the job, but it's worth shopping around elsewhere before you take the plunge.
Stuff Says…
The HP Omen 15 is fast in games and applications, and it has a reasonable screen and solid design – but the 144Hz screen may not always be used to its full potential
Good Stuff
Impressive gaming speed
Very fast processor
Decent, versatile exterior design
144Hz screen has reasonable quality
Bad Stuff
Battery life is unsurprisingly poor
Thermal performance is middling
144Hz screen may be wasted
Low-profile keyboard