HP Omen 17 review
Hardcore gaming in a go-anywhere shell: can HP's Omen deliver?
Some laptops achieve glory through staying small. Y'know, cramming stacks of power into a svelte aluminium shell that'll easily slip in your satchel.
HP's Omen 17-w106na is not one of those laptops.
Where ultrabooks aim for slim and surprise you with their power, this Omen machine aims for power and surprises you with just how ruddy massive it is.
Then again, it is a hugely powerful, VR-ready gaming laptop that'll play just about anything.
Is it worth the back pain and the empty wallet, though? We got the Omen's fans whirring to see if it can truly justify the £1600 price.
HP Omen 17 build quality: Monster Machine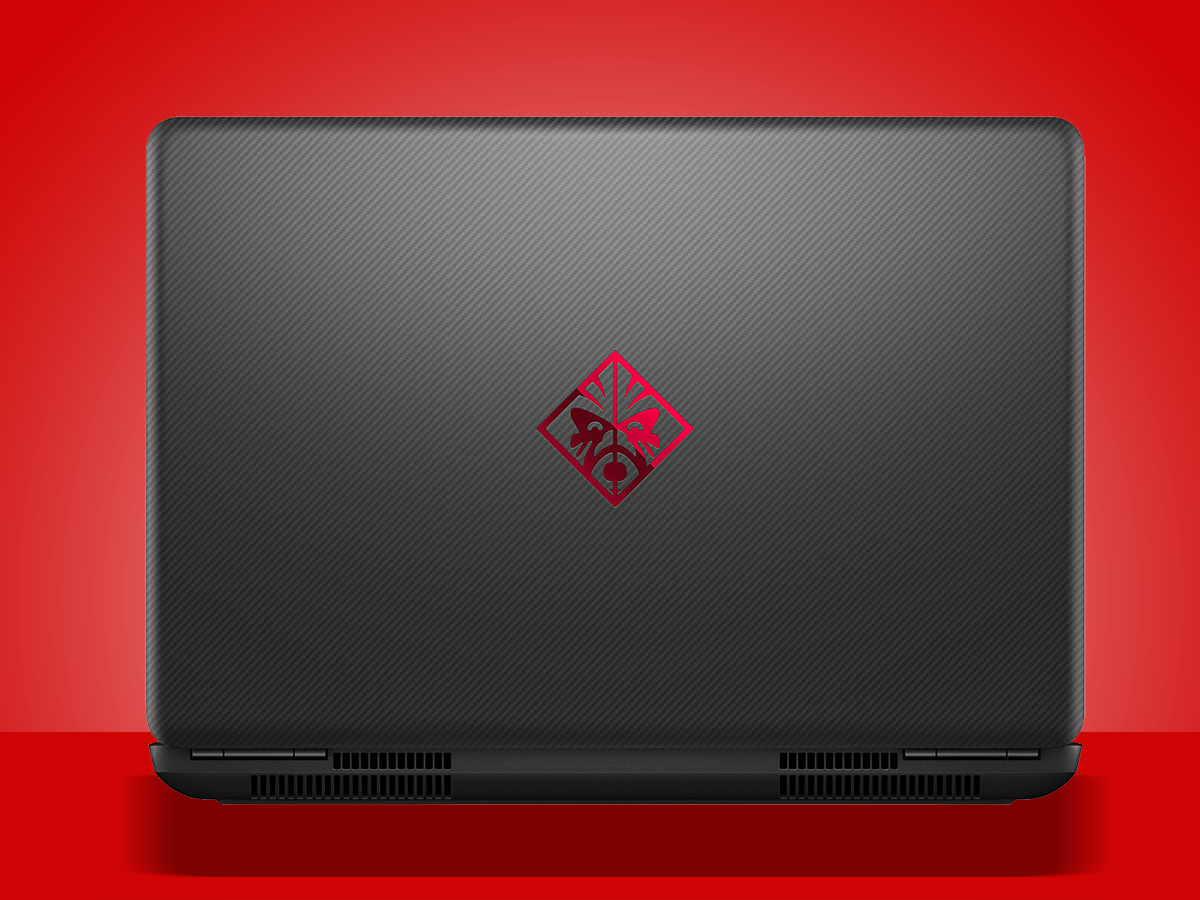 The Omen 17 should come with one of those health and safety videos that tells you to lift with your knees: this thing is an absolute beast.
With a 17.3-inch screen, it was never likely to slip easily into a backpack, but, at 3.35kg, lugging it around genuinely feels like a workout. In fact, you'll probably struggle to find a sack capable of carrying the Omen – and, at 3.29cm-deep, it's not slipping into a subtle sleeve any time soon.
So it's not exactly portable; rather, it's the sort of laptop you'll stick in your car to take round your mate's house for a good VR session. At least it feels as if you're getting a lot of laptop for your £1600.
Less, though, can be said for the build quality. Despite a carbon fibre effect on the lid and keyboard surround, this is a flipper that feels particularly plasticky.
What's more, there's a good deal of flex in the screen, and the hinges barely seem able to support it. It's all a bit strange, really, given the level of the hardware inside, and makes me wonder whether HP built the 17-w106na almost entirely as a transportable VR machine.
HP Omen 17 Screen: Not so cinematic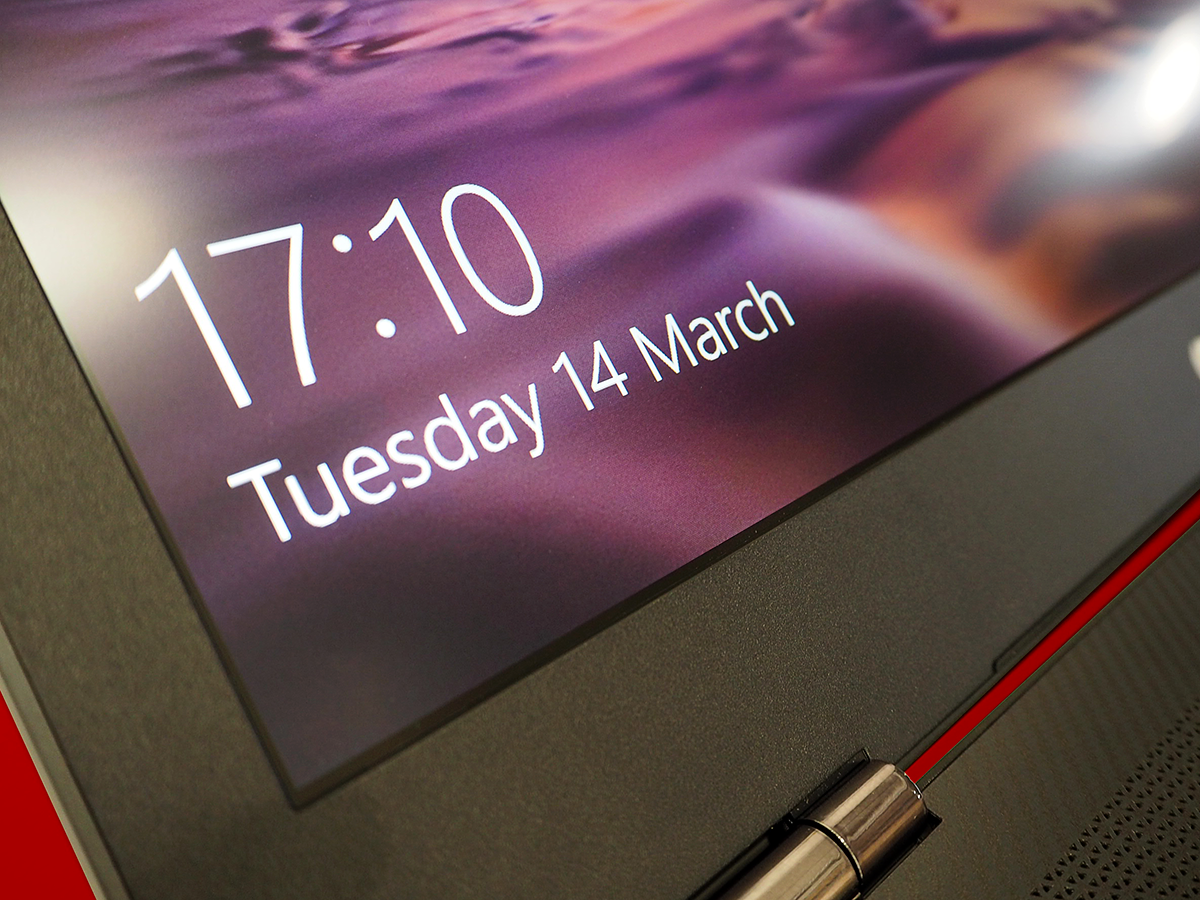 The same, unfortunately, goes for the screen. This is not a great thing to look at. While the anti-glare matte finish is mercifully less reflective than many gloss screens, and viewing angles are excellent, the panel itself is simply sub-par.
It's too dim, for starters, which meant that I often found myself squinting – despite the 17.3 inches of screen on offer – even at full brightness. Worse, still, it's pretty washed out, in part because of the matte finish, making even colourful games appear bland.
Perhaps its biggest sin, though, is the low resolution. For your many, many pennies, you only get a Full HD screen. That's 1920 by 1080 pixels. There's no 4K. Heck, there's not even 2K. It's got fewer pixels than the phone sat in my pocket as I write this. Across 17.3 inches, that's a pixels-per-inch count of less than 130.
Admittedly, the display delivers no noticeable motion blur and, in a darker room, colours can look decent enough – but there's no escaping the fact that, after three or so hours playing Grid 2, I was left craving the bright clarity of the 15-inch MacBook Pro's Retina display, with its 220 ppi.
It's not like a higher resolution would be asking too much of the GPU, either – the GTX 1070 has plenty of power.
HP Omen 17 usability: Games first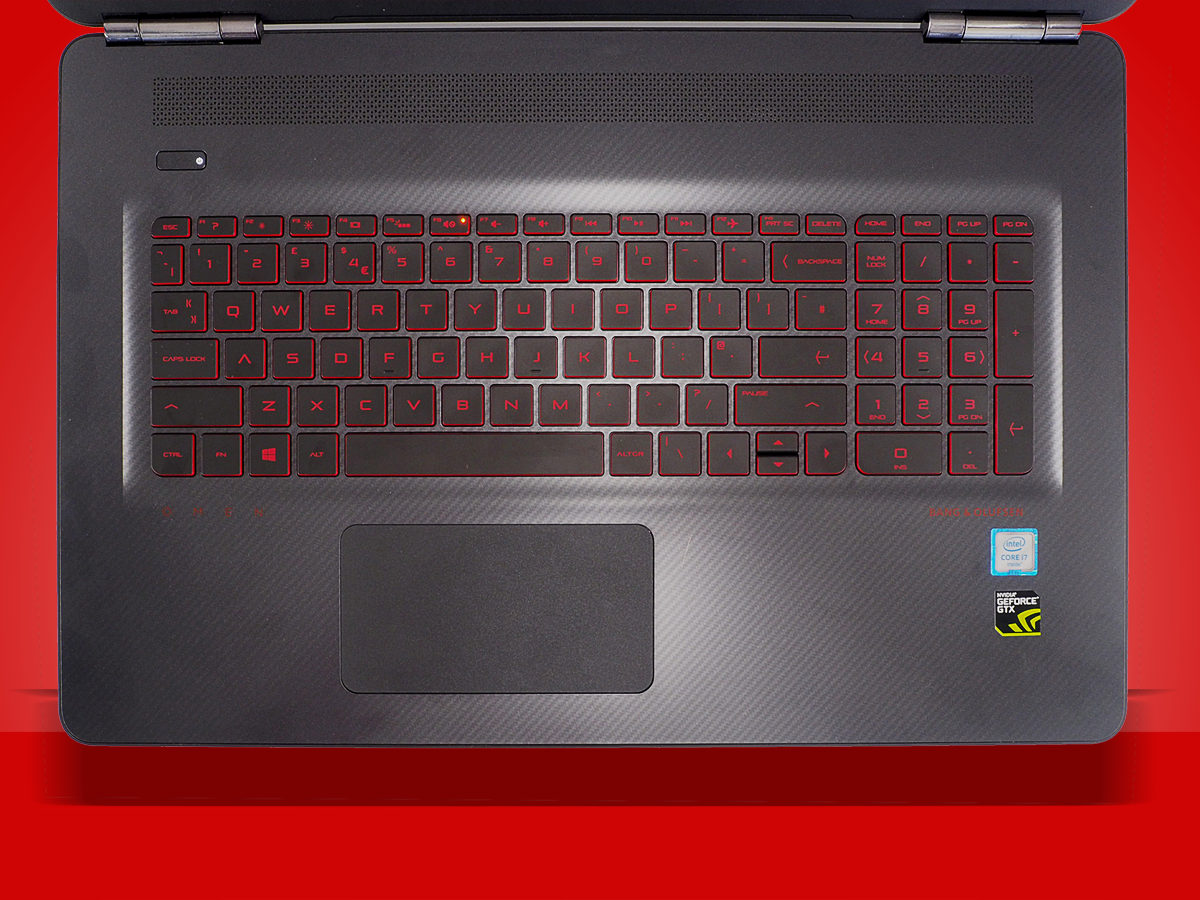 The Omen 17 feels like a machine made either to be hooked up to an external monitor, or run with a VR headset.
Sure, it's stacked with space – it pairs a 1TB HDD with a 256GB SSD for the best possible combination of speed and capacity – and carries the requisite ports for most VR systems (namely three USB 3.1 ports and an HDMI port), but, beyond that, it offers little more than a gaming PC besides semi-portability and a sub-par screen.
The trackpad is hardly a dream to use, for example, with a clunky click action, while the Bang & Olufsen speaker tech on-board sounds good, but not amazing. Use it for long enough and it soon becomes clear why HP added a Mini DisplayPort to the 17-w106na: it's basically a box built to play nice with 4K screens.
That goes for the battery life, too. I wasn't expecting a triumph of longevity over power-hungry kit but, given the sheer heftiness of the Omen, I had hoped for some semblance of on-the-go playability to say for all that weight.
As it was, on standard settings, I managed 3.5 hours of video streaming from a full charge to flat. What about gaming? Running Grid 2, a relatively graphics-heavy – though not overly demanding – title, I managed to go for a little more than 90 minutes. I'm sure if you switched to conservative settings and killed all background tasks you could squeeze two hours out of it – but that's probably your lot.
HP Omen 17 performance: Speed machine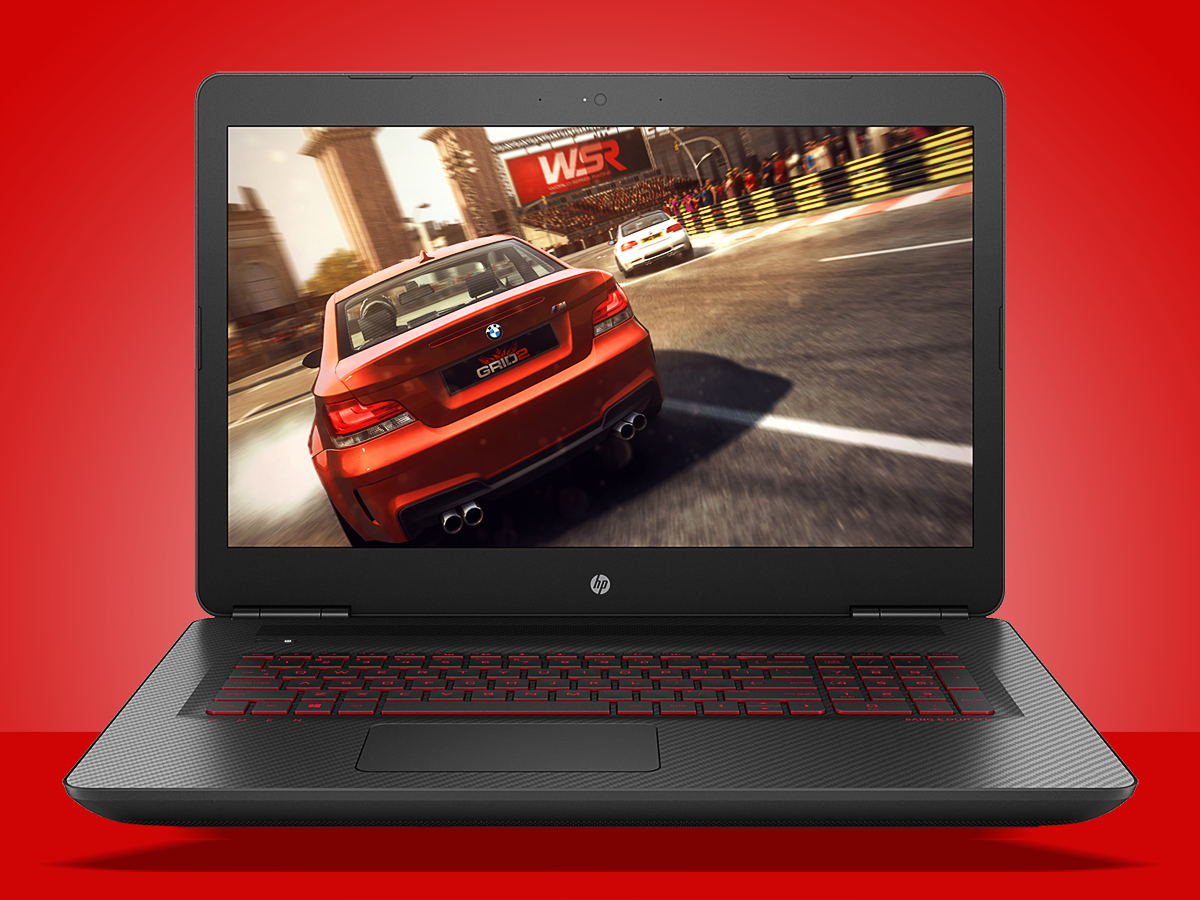 Still, that's probably to be expected given the hardware specs. This machine is properly packing.
On paper, it's got enough power to launch a rocket, with a quad-core i7 chip that runs at up to 3.5GHz, paired with 16GB DDR4 RAM – not to mention 8GB of dedicated GDDR5 RAM on the Nvidia GeForce GTX 1070 graphics chip.
In essence, it's a laptop rig that'll run almost anything. From boot-up to web-browsing, it handles day-to-day tasks on Windows 10 with less effort than it takes to blink – though, really, that's like saying Usain Bolt finds walking to the corner shop easy.
More usefully, it'll handle photo and video editing software with ease, with famously resource-thirsty programs such as Photoshop posing no problem for the Omen's graphics power and stacks of RAM.
Somewhat predictably, games pose no problem, either. This machine will load them (even the big ones) quickly – and play them quickly, too. In fact, of all the games we played, big and small, we experienced barely any lag, stutter or stalling.
Whether running render-heavy Planet Coaster or FPS online multiplayer CS:GO, the Omen almost always felt like it had more in the tank. Using an Xbox controller with Grid 2, there was very little lag, with graphics motion generally fluid even at the highest settings.
Outputting to a monitor won't upset anything, either. I found the Omen could happily throw games to a 2K display without any complaint and, for those who need the added real estate, a dual-screen setup worked breezily, too.
HP Omen 17 VR performance: Virtual powerhouse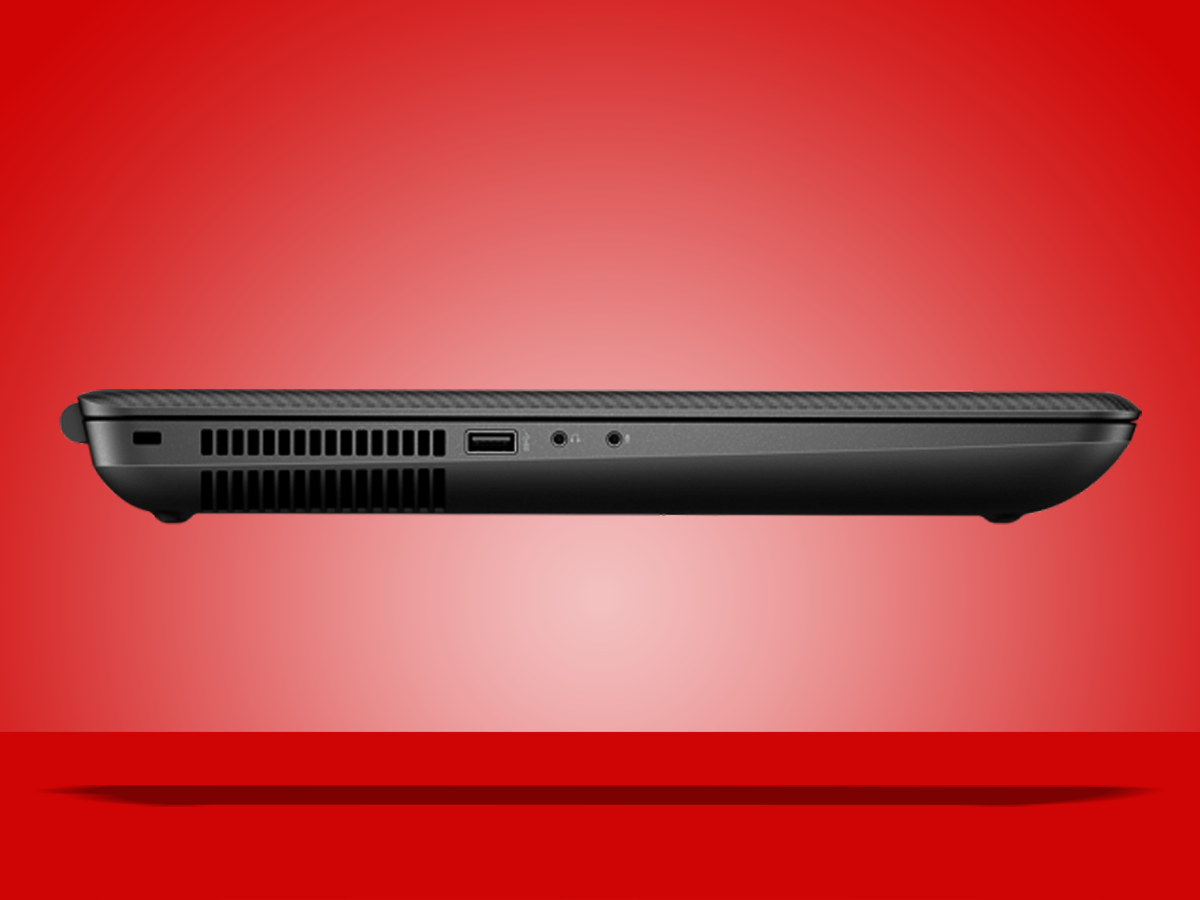 With all of that established, then, it should perhaps be no surprise that the Omen 17 is VR-ready.
Having downloaded the requisite software, I stuck an Oculus Rift into HP's mean machine and it was set up in a jiffy – with new Oculus Touch-enabled title Robo Recall running a treat in minutes.
Yes, the Omen got a bit toasty, and its fans were working hard as I battled with futuristic bots in virtual reality, but more than an hour of VR posed no performance problems. Even during hectic moments there were no noticeable drops in performance, with the Rift's own sensors more likely to get confused than the Omen is to struggle with speed.
With all of the Rift's hardware recognised near-instantly, the whole experience of using VR with the 17-w106na felt easy. With the headset on, it was easy to forget where I was as I tossed virtual kit around with aplomb – much of which was down to the Omen's abilities as a VR machine.
It might not be pretty, light or perfect, then, but it's certainly future-proof. Given that running the Rift means powering two sensors, as well as sending hi-res video to a headset and mirroring that footage on its own screen, it's no small achievement that the Omen found VR a cinch.
HP Omen 17 Verdict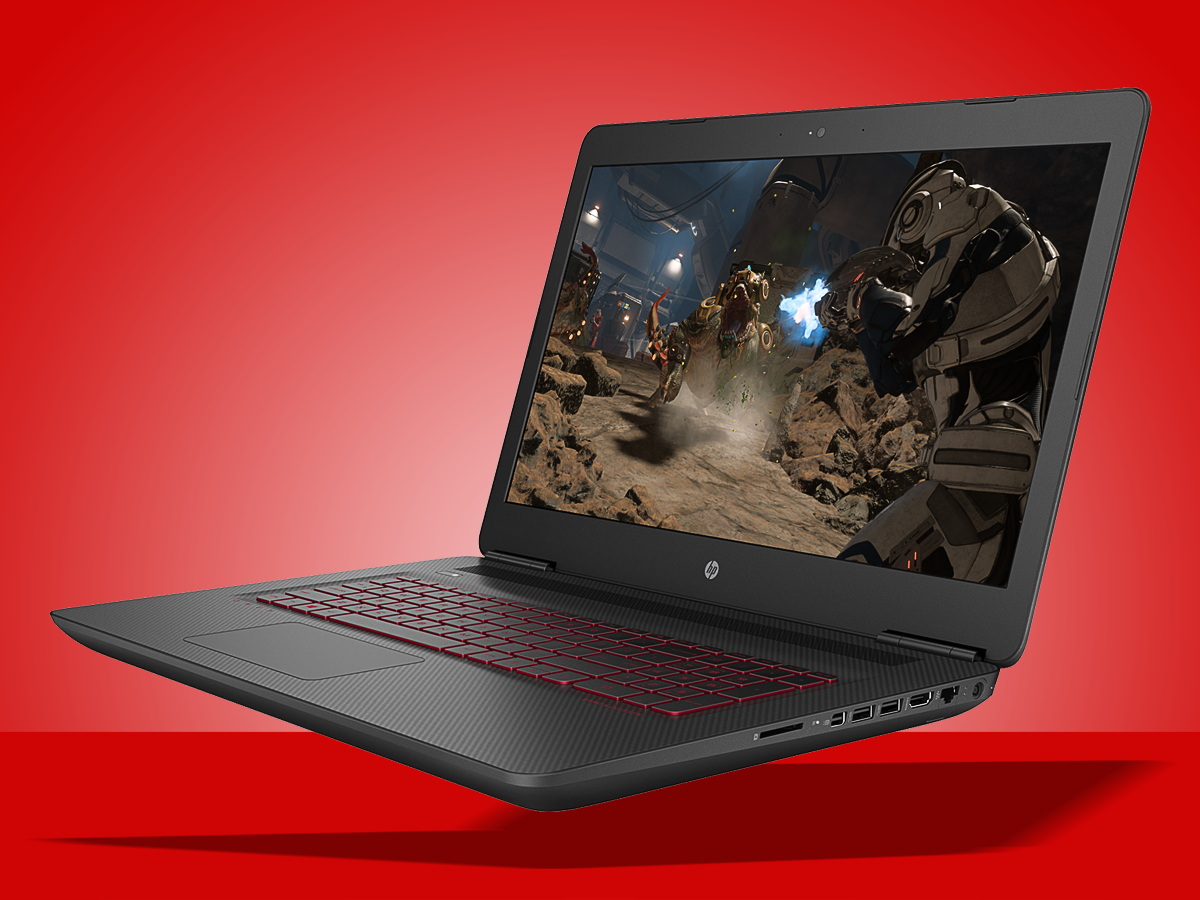 HP's Omen 17-w106na remains, though, a strange beast. There's no questioning its abilities as a VR-ready gaming powerhouse. It'll handle almost any task thrown at it – whether that's a media editor or a next-gen game.
As a laptop you'd want to use for anything other than gaming, though? Massively big and heavy, its plastic build simply has too many creaks (and its hinges too much give) for a notebook that costs £1600 – however powerful it may be.
Throw in a dull, 1080p screen and a mediocre battery life, and it's clear that HP's laptop beast is not, truly, a go-anywhere games machine.
Rather, it's a foldable monster that's best when attached to an external monitor or VR headset. Whether that solution really makes more sense over a dedicated PC tower – such as the Asus G20CB – depends on whether you're actually likely to stick it in your (large) backpack and take it on the road. Even then, you're probably better off with something like the Dock-equipped Razer Blade Stealth.
Tech specs
| | |
| --- | --- |
| SCREEN | 17.3in 1920×1080 LCD |
| CPU | 2.6GHz Intel Core i7-6700HQ |
| MEMORY | 16GB RAM |
| GPU | Nvidia GeForce GTX 1070 |
| STORAGE | 256GB PCI-E M.2 SSD, 1TB hard disk |
| CONNECTIVITY | HDMI, 3x USB 3, 2x 3.5mm, Mini DisplayPort, Ethernet, multi-format card reader |
| DIMENSIONS | 416x279x33mm, 3.35kg |
Stuff Says…
A consummate gaming machine with a shoddy build, there are cheaper, prettier ways to enjoy VR
Good Stuff
Stacks of power to deal with almost anything at Full HD resolutions
Handles VR surprisingly well
Outputs to monitors without complaint
Bad Stuff
Build feels plasticky and creaky
Screen is washed-out
Ridiculously bulky and heavy
90-minute gaming battery life on average