HP Spectre Folio review
HP's leather-clad hybrid laptop is a stunner, but can it succeed in practice?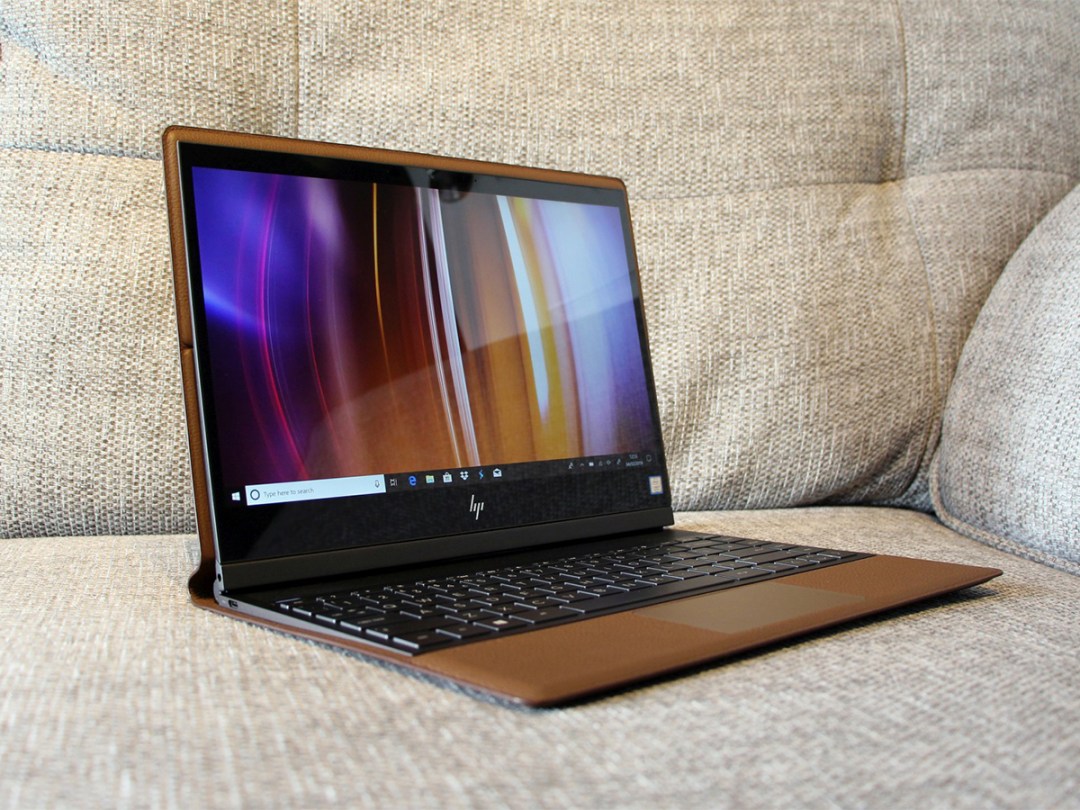 There isn't a laptop around that looks or works quite like the HP Spectre Folio.
It's got the usual screen, keyboard and trackpad, of course, but its movement is innovative and it's built using new, surprising materials.
The fruits of HP's labours can be seen as soon as the Folio is unpacked. Instead of using aluminium or plastic, this £1,499 machine is made from leather.
The luxurious material is available in three colours – the brown seen here, and lighter gold and burgundy versions – and wraps around the entire machine.
HP has gone to town on the little details, too, and has also designed new ways of movement to try and make the Folio easier to live with.
Design & Build: Leather-clad luxury
The leather looks fantastic and feels just as good – supple yet sturdy, with enough grip on the bottom to anchor the Folio to any desk. Neat stitching secures every edge, there's a subtle embossed HP logo at the rear, and the premium feel extends to the rest of the machine.
The 1920 x 1090 touch screen is strong, with a glossy finish and HP's metallic logo. The slim slab of metal that houses the keyboard has a smart speaker grille and a subtle power button.
The HP looks slick – bring it to the office and no-one will know that you've got your laptop rather than a folder full of important documents.
The leather exterior isn't the only area where HP has taken inspiration from literature. The Folio's hinge – hidden beneath the leather – is curved, and looks like the spine of a book. This main hinge allows the HP to function as a normal laptop, and it's not the only bit of moving hardware on this machine.
Another hinge half-way up the screen allows the panel to pitch forward to a 60° angle and settle into a ridge between the keyboard and the trackpad – so it can be used for movies, games or productivity. In this media mode the keyboard is obscured but the trackpad remains accessible.
Removing the screen from that ridge allows it to pitch further forward into its full tablet mode.
No matter the mode, the Folio's movement is smooth and its hinges feel strong. It's easy and reliable when moving between modes, and build quality is excellent across the whole device, with no give in any of the metal panels.
The Folio easily has the build quality of its rivals, like the Dell XPS 13 laptop and the Dell XPS 15 2-in-1 hybrid. It's better-looking than those competitors, too.
It's not going to weigh you down, either. The Folio tips the scales at 1.49kg and is 15.2mm thick – half a kilo thicker and a little slimmer than the expensive Dell XPS 15.
The XPS 13 is slimmer and lighter, but that laptop doesn't have to house extra hybrid hardware.
The Folio has two Thunderbolt 3 ports and one USB 3.1 connector, which means the former are quicker for data transfer. All three can power the machine, and HP has braided the power cable in attractive grey fabric. There's a USB Type-C to full-size USB adapter in the box, too.
And then, finally, there's 4G support, which adds versatility when you're on the road.
Screen & Sound: playing it safe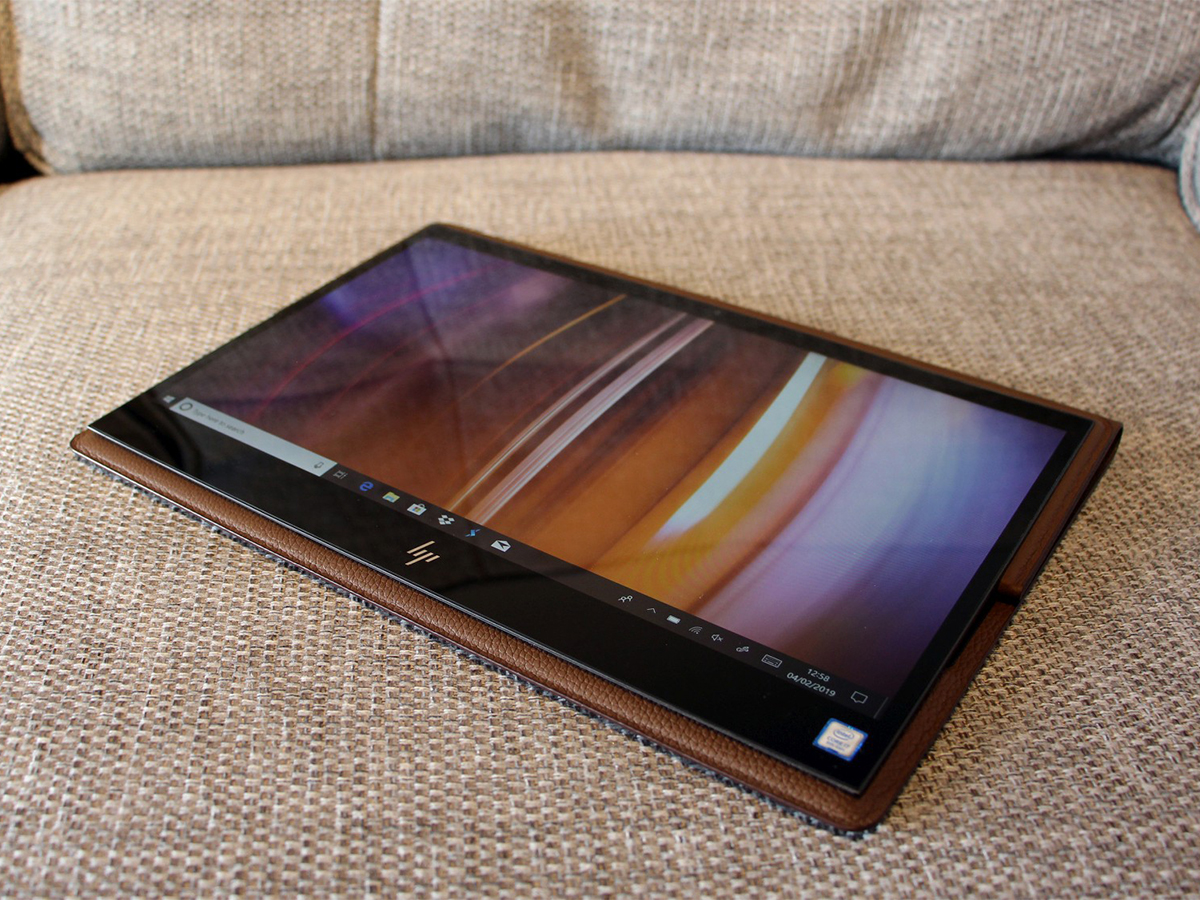 HP has fitted the Folio with a 13.3in Full HD screen with Gorilla Glass. It's kitted out with a stylus that worked with great precision and sensitivity in all our tests.
On one hand, the Folio's screen ticks the right boxes. The 1920 x 1080 resolution and 13.3in diagonal means that images, icons and text are crisp, and it's an ample resolution for watching movies, browsing the web and handling most work tasks.
On the other hand, though, HP could have been more ambitious. The Folio's thick bezels make us wonder if this machine could have included a 14in screen.
It's also possible to get more pixels by spending a couple of hundred pounds more on Dell XPS 13 or 15 models with 4K panels.
Get beyond those quibbles and you'll find a fantastic screen. The brightness measurement of 382cd/m2 is high enough to handle office lights and sunny days, and the black point of 0.2cd/m2 is deep enough to handle darker areas with depth and subtlety.
Those figures create a real-world contrast ratio of 1,910 – a fantastic result that delivers punchy, vibrant colours in every scenario.
The stonking contrast is paired with superb colours. The average Delta E of 1.57 is beyond the point where the human eye can detect wayward shades, and the colour temperature of 6,662K barely deviates from the 6,500K ideal.
The former figure means that colours will be rendered almost perfectly, while the latter means those colours don't look chilly or over-saturated.
The HP has the best backlight uniformity that we've ever seen on a laptop, and the Folio handled 98.2% of the sRGB gamut.
You're only going to want more gamut range if you need a screen that adheres to the Adobe RGB or the HDR-friendly DCI P3 specifications. And you're only going to get that if you spend more on a bulky workstation.
The screen impresses beyond its benchmarks. The 1,024-point stylus is smooth and precise, and the fabric loop included for stylus storage can be removed.
The speakers, though, are not good. They suffer from the same issue as almost every other slim portable – they're loud enough and have reasonable high-end quality, but there's no bass.
They're good enough for background music and casual media, but that's it.
Performance: Office aficionado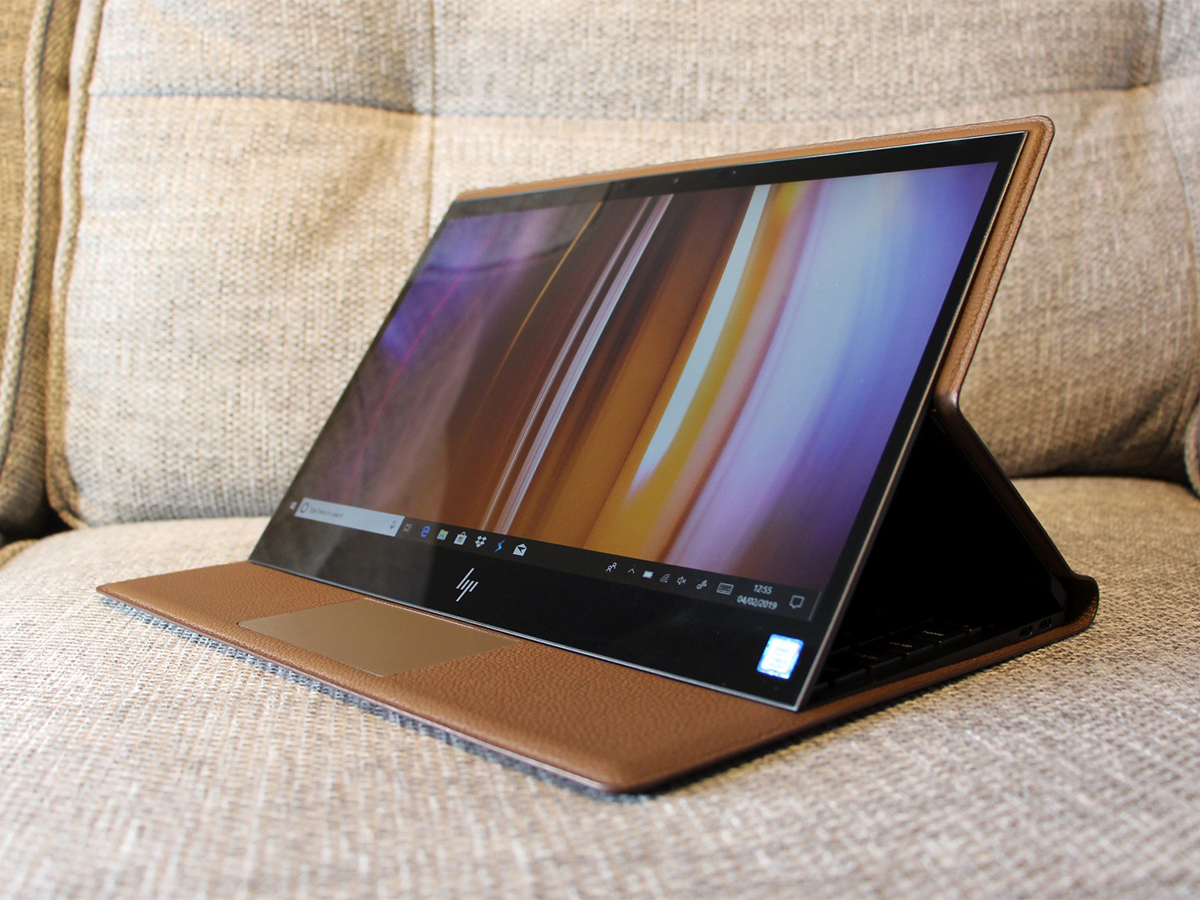 The Folio is powered by an Intel Core i7-8500Y processor. It's paired with a solid 8GB of memory and a 256GB SSD that delivered excellent read and write speeds of 3,015MB/s and 1,222MB/s.
The chip is one of the most efficient Core i7 parts that Intel produces, which is an ideal for a slim machine like the Folio.
Its base speed of 1.5GHz is low enough to keep heat and power consumption down, but its Turbo peak of 4.2GHz delivers a solid burst of speed when needed. However, the power-friendly specification does mean that the CPU only has two cores that can address four threads.
When it comes to benchmark performance, the low-power CPU is mixed. Its Turbo speed saw it return a single-core Geekbench score of 4,304 points – barely any different to the Dell's quad-core, eight-thread chip.
However, it only scored 5,311 points in the multi-core test. Dell's machine raced past 15,000 points in the same test.
Those benchmarks are reflected by the Folio's real-world performance. The HP boots quickly and is always responsive when navigating Windows, and it performed well when handling office tasks – whether it's word-processing or spreadsheets, it was never slow. It handled web browsing with loads of tabs open, too.
Try to edit photos, work with video or do anything else strenuous on this machine, though, and you're going to struggle.
It's the same story when it comes to graphics. The Intel UHD Graphics 615 core can handle media playback, but you won't be able to play games unless they're old or undemanding.
The low-power chip does mean that the Folio is always cool and quiet, and it also contributes to excellent battery life.
If you're browsing the web or running Office applications with the screen brightness at a sensible level then the Folio will last for more than ten hours – so it should easily handle a day in the office. That's better than almost anything else at this size.
Keyboard & Touchpad: Slim and shallow
The Folio's slim design means a slim keyboard, too. The buttons only have 1.3mm of travel, which is less than most laptops and hybrids.
The buttons are full-size, and there's plenty of space between them – but hands-on time makes the lack of travel obvious. The keys have plenty of snap and speed, and a solid base, but they're not particularly tactile or responsive.
If you're just typing the odd document and don't mind a relatively flat experience, that's fine. It's certainly good enough for casual use, and there's no shortage of speed.
However, those who spend their working days writing may want to look for a keyboard with more physical travel and response.
The trackpad, meanwhile, is excellent, with a smooth, responsive surface and a pair of fast, light buttons.
HP Spectre Folio Verdict
The HP Spectre Folio is stunning. It looks and feels superb thanks to its leather exterior and careful attention to detail, and its double-hinged mechanism makes it easy to use. It's light and sturdy, too. When it comes to aesthetics and ergonomics, there isn't a better hybrid.
The screen is fantastic too, and there's enough power to handle day-to-day computing. Battery life is also excellent.
However, there are some inevitable compromises. The shallow keyboard won't be to everyone's taste, and the low-power processor won't handle more intensive, specialist work applications. These are minor problems that won't affect most people, though.
Indeed, for most people the HP will be the best-looking and slickest hybrid on the market – and it'll have enough power for all of their computing needs.
It's expensive, sure, but it's a stunning machine that justifies the cost in many important ways.
Stuff Says…
Stunning design, great ergonomics and a stonking screen, but not a huge amount of power for the price
Good Stuff
Luxurious leather-clad design
Smooth, intuitive movement options
Fantastic 1080p touchscreen
Responsive in day-to-day computing tasks
Bad Stuff
Low-power processor can't handle complex work
Shallow keyboard won't suit everyone