HTC RE hands-on review
HTC's first non-smartphone in years is a cuddlier, more family-friendly take on action cameras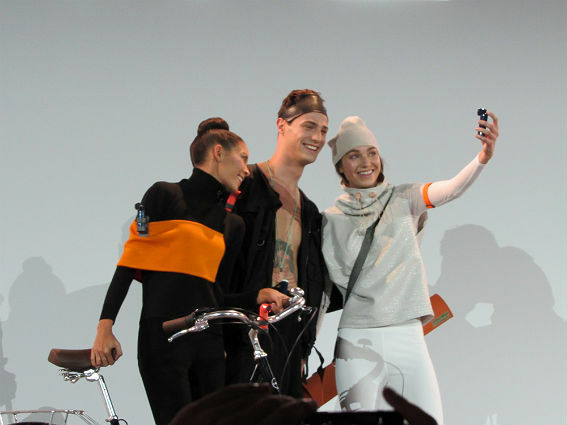 It's small, lightweight and looks somewhat like an inverted asthma inhaler. But regardless of its quirky exterior, HTC's new RE action camera is something that many will be taking about.
For one, it'll be going up against the pioneer of action cameras: the GoPro. That's no simple challenge, especially within the niche action camera market. But more importantly, this is a departure for the Taiwanese firm's usual staple of smartphones (and the one tablet that shall not be named).
Yet, it's undeniable that HTC has placed a lot of focus and development effort on smartphone imaging. Think about it – there's the HTC Desire Eye, which was announced alongside the RE action camera, that packs a 13MP sensor for both its front and rear cameras. It's definitely an industry first. Plus, there's the earlier HTC One (M8), which re-imagined the way we capture images with a dual-sensor camera.
So, does it make sense for HTC to move into the imaging market with an action camera? Yes. Does it make sense for the general user? That's where we come in.
Get a grip
You know how you've got to turn on/off a device whenever you want to use it? You don't have to do that with the HTC RE – it's got a grip sensor that automatically turns the camera on when touched and turns it off when put down. Don't be puzzled by the absence of an on/off button – it's not meant to exist. Which also makes it more natural for you to grip and use the camera almost immediately.
It's also small enough to be used with just one hand, so you can be a part of the scene you're capturing. Kind of makes sense, since you'll spend less time performing a balancing act with your smartphone while you grab that fleeting moment.
And… action camera!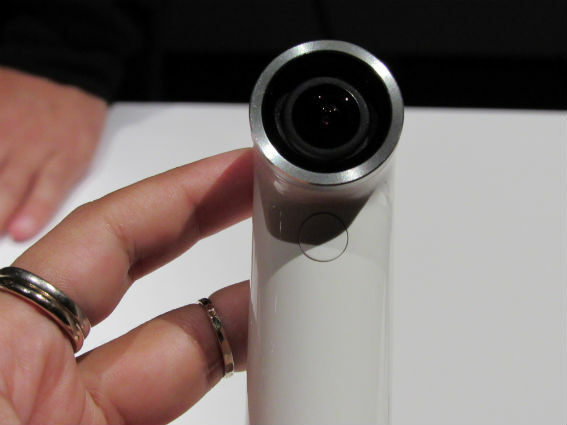 The RE has a 16MP CMOS sensor and f/2.8 ultra wide-angle lens, and can capture 1080p footage at 30fps as well as time-lapse and 720p 120fps slow motion. Too many numbers to absorb? Here's the gist – this means you might have a better chance at capturing Usain Bolt as he crosses the finishing line.
Time-lapse? That's basically capturing hours of footage and squeezing them into mere minutes. Much like those videos of growing plants that you see, except now you're the one filming it.
Taking a picture is as easy as just tapping a button, and if you want to take a video, you just press and hold that same button. This activates an LED light that tells you what mode you're on. Wouldn't it be easier to control all these options via a screen, you ask? Thing is, there's no screen on the RE camera.
What, no screen? How…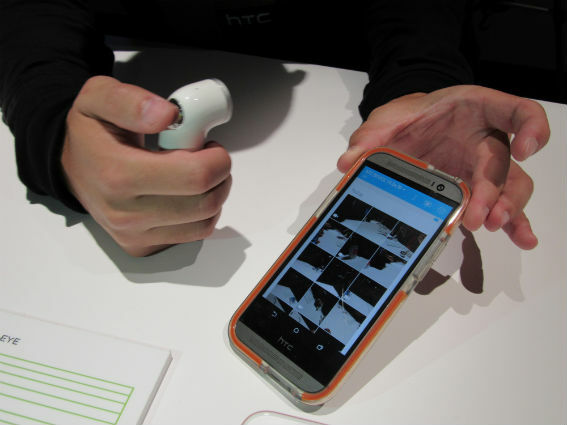 That was our initial reaction. And then we remembered: this is an action camera. Much like GoPro's and Sony's portfolio, these cameras are meant to capture sequential shots and videos, based on your random movement rather than a well-scripted choreography.
But still, how do you even review what you've captured, without actually seeing it? Then, a HTC smartphone came into the picture during the demo session, along with an Android app. Oh, and HTC plays nice too with its competitors too, because there's also an iOS version of the app.
The app is the connection between your smartphone and the RE camera, showing you the images or videos you've taken via the action cam. In essence, your phone has become a viewfinder, allowing you to instantly see if you've got the perfect shot. You can also enable the Remote Viewfinder, that will allow users to livestream footage direct to YouTube in a future update.
In one hand, you'll be gripping the RE action cam, and the other would be preoccupied with the smartphone. Which is okay, considering the size and structure of the RE camera. Its buttons are strategically positioned at the front and at the back, so there will be no chance of you accidentally pushing them while you're on the smartphone.
Waterproof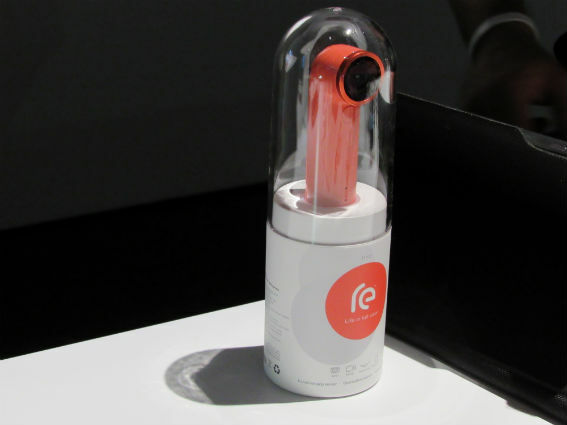 Another of RE's merits is its rugged nature. It comes waterproof out of the box; we didn't really have much time with the RE action cam to see it at work, but apparently it can be safely submerged up to 1 metre for up to 30 minutes. That means you don't have to worry about it malfunctioning in the beach, rain, or if it falls into a sink.
There's also a cap you can purchase separately that lets you take it another 3m into water for up to two hours. Presumably, that's great for shallow dives, and you can capture the aquatic world without worrying about a short circuit in the camera.
As for reviewing the videos and photos you've taken? Do it later when you're next to a smartphone. And trust us, finding one that can accompany the RE action camera on those deeper swims? Almost impossible, and you won't really need to constantly check the captures while you enjoy the view.
Instant connection
The brilliance of the RE camera is that it's platform agnostic, supporting both iOS and Android devices. Furthermore, it automatically transfers captures images to the adjoining smartphone – much like most compact cameras with Wi-Fi capabilities.
You can also choose to upload it to the cloud, or just leave it stored on your smart devices, in addition to having a choice of which if you want to keep the photos on the camera itself.
Battery life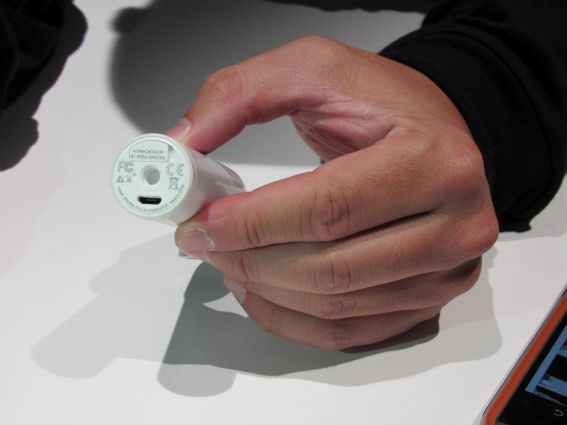 The battery life itself is said to last about 1000 pictures (or about 2 hours in terms of video life) which is pretty remarkable for a tool of this size.
HTC claims it'll charge from dead to full in a matter of two hours too. Of course, these are numbers based on papers. Take it with a pinch of salt, and wait for our final verdict when we push a review unit to the limit.
There's also a battery extender, which screws on to the RE Camera (it looks like an extension to the RE action cam) and gives the unit a boost (approximately double) to its battery life.
HTC RE initial verdict
By all accounts, the RE action camera is a fresh approach by HTC, and one that should get you excited with how you capture videos and images on-the-go.
In truth, there are some mixed reactions. Try strapping a smartphone to yourself while you roam the streets and capture those crazy action shots. The user experience is somewhat of a question mark, and that's where the RE camera comes in – a standalone camera that lets you focus on the things around you, while it does its imaging job automatically.
But on the flipside, while most smartphone makers try to bring the experience together, HTC chose to add another layer. Does it complicate things? Perhaps, but like all gadgets, conquer the learning curve, and you'll be amazed at the possibilities it brings.
With or without a smartphone, the RE has a lot of potential, what with its dust- and waterproof features that'll protect it during action sequences. But for the initial phase, it feels like you're thrown back to the days when you act on pure blind faith, hoping that the shots you've captured turn out fine.
The RE is expected to hit retail shelves sometime in early November. Pricing hasn't been confirmed, but we're crossing our fingers that it'll be close to or even lower than the standard wedge you're paying for a GoPro action camera.