Huawei Ascend P7 review
Can Huawei tempt you away from the usual smartphone suspects with the slim and pretty P7?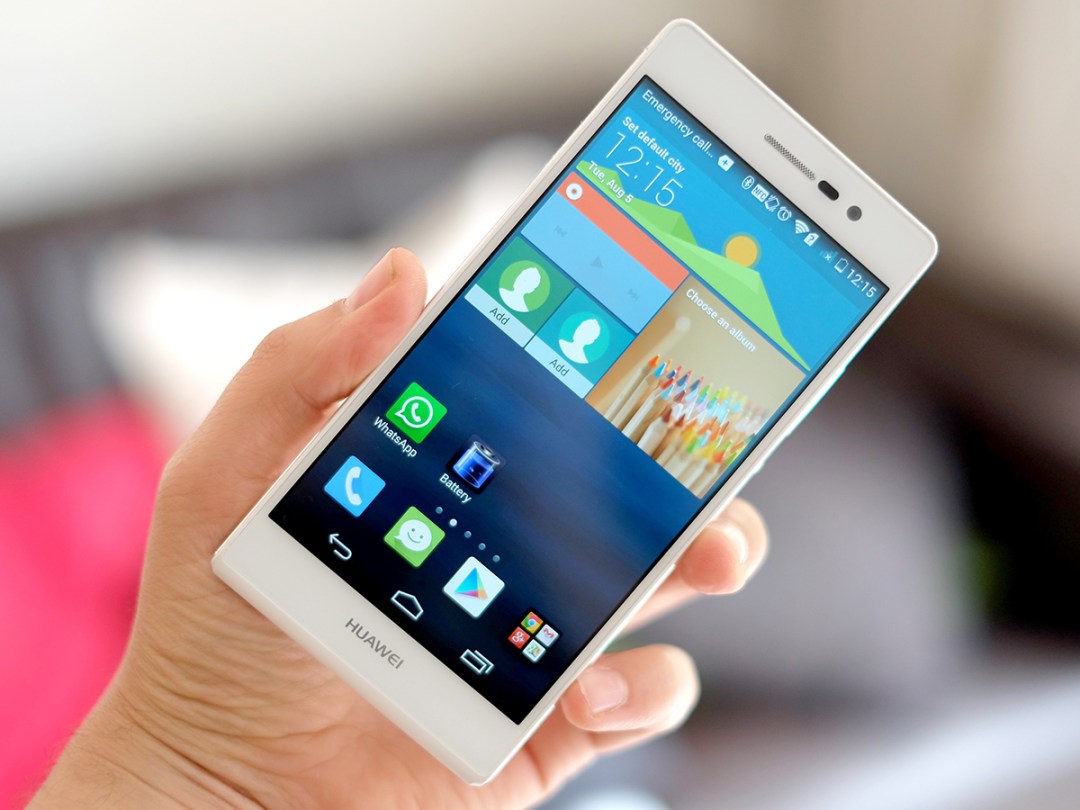 'Thin' is important. If you're not a size zero, you are a zero, folks. It's the sort of ideology you see in creepy movies about ballet dancers, but it could almost be the credo of the Huawei Ascend P7.
It's one of the thinnest phones ever made, and along with having 4G as fast as 4G gets – at present – this is the Huawei Ascend P7's calling card. Among plastic Android phones it makes a bit of a splash.
But beauty is only half the battle, so what's the P7 got to offer if you're not as obsessed with looks as a Vogue magazine staffer desperate to climb the greasy pole?
The style's in the substance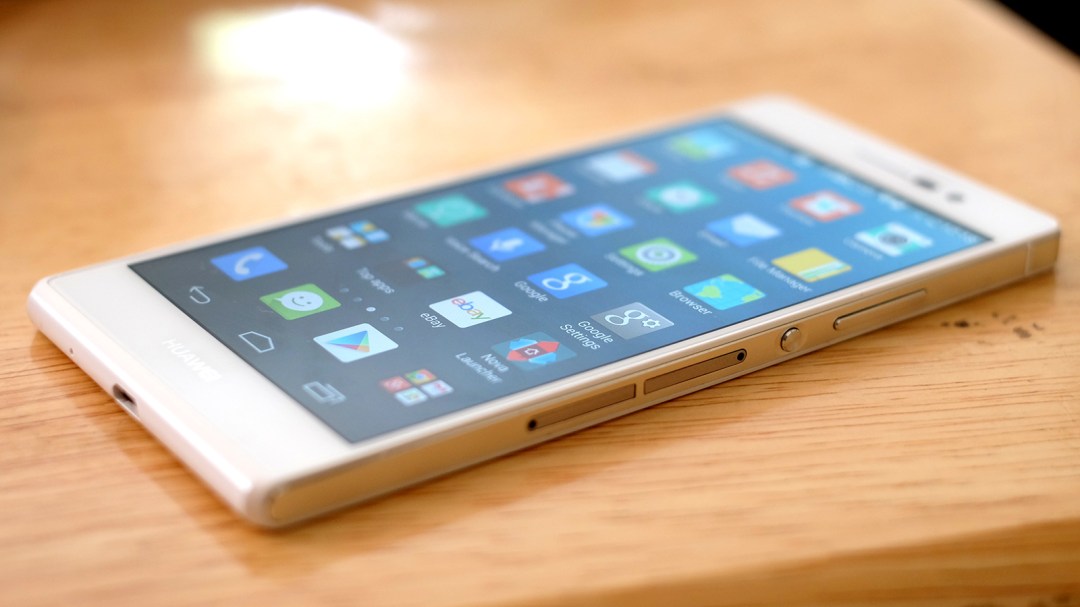 Huawei clearly wants to make a statement with the Ascend P7. After years of making chubby plastic phones that often cost less than a round of drinks in a London nightclub, it wants to play with the big boys.
It has tried to do this with a super-slim metal and glass design, producing one of the most compact 5-inch phones ever crafted in the 6.5mm-slim Huawei Ascend P7. But will anyone notice?
That's not a dig at Huawei's struggles to get people to recognise – let alone pronounce – its name. It's just that once you get to a certain level of thinness, the difference between a milimetre or two becomes far less obvious, especially when the phone has such a severe, boxy design. In real life the P7 just feels about as thin as an iPhone 5S.
The look is very much iPhone-like, too. The Huawei Ascend P7's sides are aluminium in iPhone 5S-like style and the front and back and super-flat panels of glass – did anyone say iPhone 4S?
100 per cent original it may not be, but the Ascend P7 feels and looks reasonably expensive. Thanks to all that glass and metal, it doesn't flex under pressure at all (a Galaxy S5 does), and rather than having a pop-off back it uses metal trays for its SIM and microSD cards. You only get 16GB of storage, so Huawei couldn't really get away without adding a card slot.
Not every part of the Huawei Ascend P7 design is an outright smash – the aluminium is that bit too shiny, there's a fair old bit of bezel above and below the display and some of the seams could be subtler. But it's certainly Huawei's fanciest phone to date, adding an extra layer of glass to last year's Ascend P6, which was actually even thinner.
Compared to some of the latest Androids it's also pretty easy to handle. Huawei hasn't gone overboard with the screen size.
And for sound the Huawei Ascend P7's internal speaker is remarkably OK given all you see of it is a 2mm thick strip of silver on the back. It's mono and it's not as loud as the LG G3 or Xperia Z2, but it has the extra bit of mid-range beefiness to stop it from sounding as thin as one of those whistles made from a blade of grass. It's not too bad at all.
READ MORE: Samsung Galaxy S5 review
Screen daze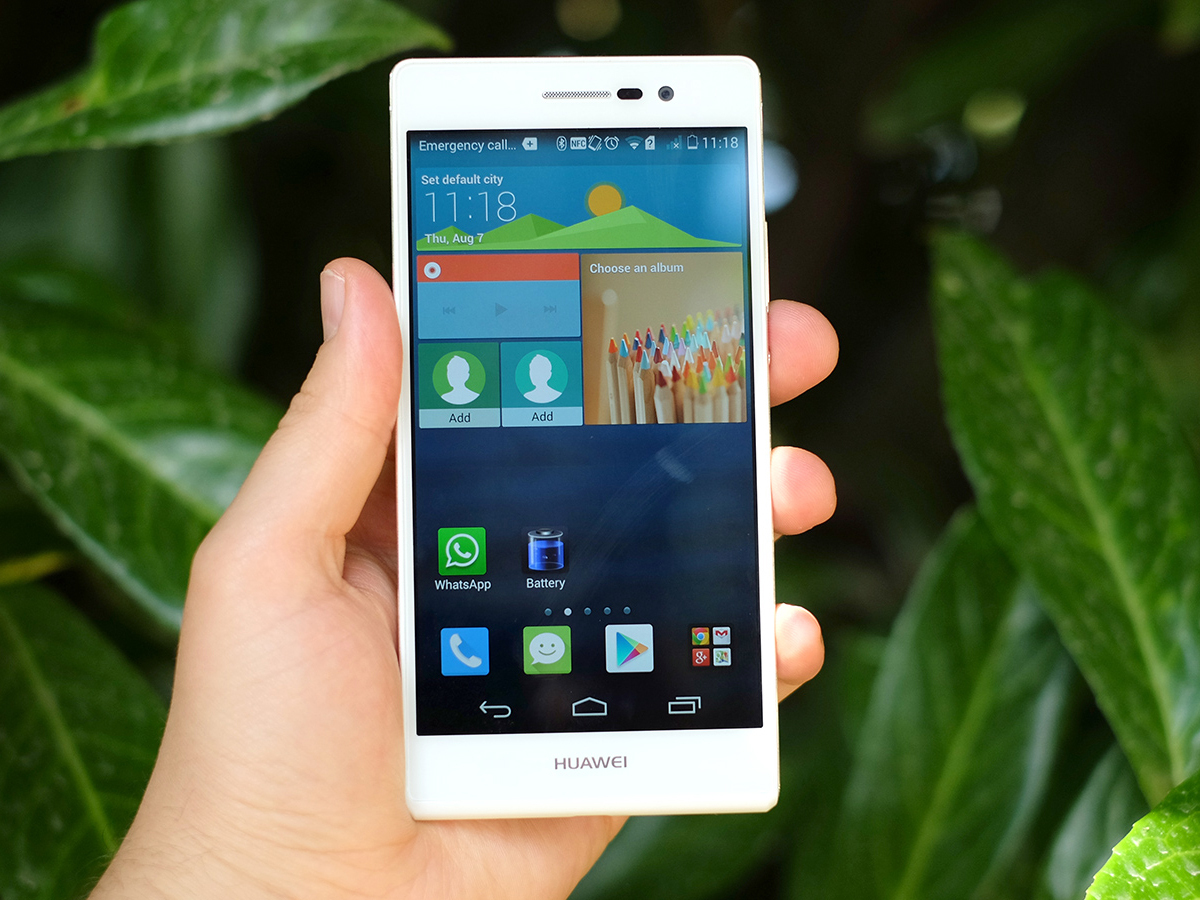 The Huawei Ascend P7 has a 5-inch screen, where the Samsung Galaxy S5, Sony Xperia Z2 and LG G3 have all felt the need to edge over that size. Unfortunately for Huawei, that's made a 5-inch 1080p screen such as this feel 'a bit 2013′ in a top-end phone.
If you care more about actual experience than mobile phone Top Trumps, the Ascend P7 screen is pretty great. It's sharp, bright and offers similar natural-but-bold colours to those you'd see in something like the LG G3.
Games, movies, browsing – the Huawei Ascend P7 display is great at them all. If you're a true screen nerd who has seen the other top-end phones of 2014, though, you will notice that the Galaxy S5 and Xperia Z2 offer better contrast and black levels, though.
That's a fairly minor niggle, though – in terms of screen quality the Huawei P7 is absolutely playing in the same ballpark as the very best in class.
Soft-core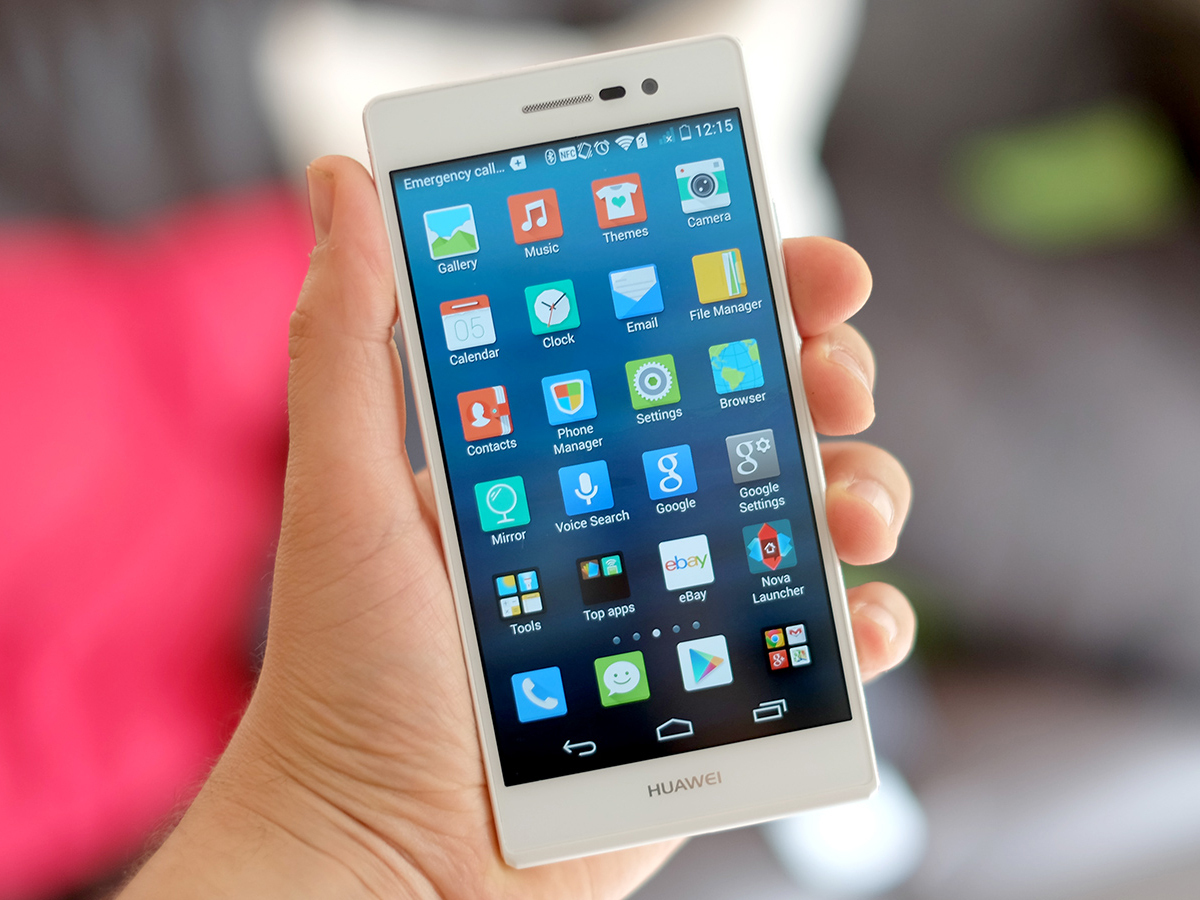 Screen quality is important, but how a phone's software looks in-use is almost as key. Here's where the Huawei Ascend P7 comes a bit of a cropper.
While Huawei has clearly put a huge amount of effort into making the Ascend P7 thinner than a non-ghost written biography of a Premiership footballer, that seems to have come at the expense of software design.
First of all the EmotionUI gets rid of the apps menu. Every app you have has a place on the home screens. As a result, a bit more admin is required to keep the phone in check than with other Android phones. Having no separate apps/home screens works with iOS 7, but there's a reason why Google hasn't chopped the divide out of Android L.
The Huawei Ascend P7 interface's look is a bit quirky, too. You get a bunch of different themes that change icons, home screens and more, but most of them look a bit off, a bit naff or as if they were designed for people who might buy Hello Kitty bedspreads. There's nothing with quite the class and simplicity of the latest standard version of Android, or the HTC One M8's Sense UI.
READ MORE: Android L preview
0.5 horse power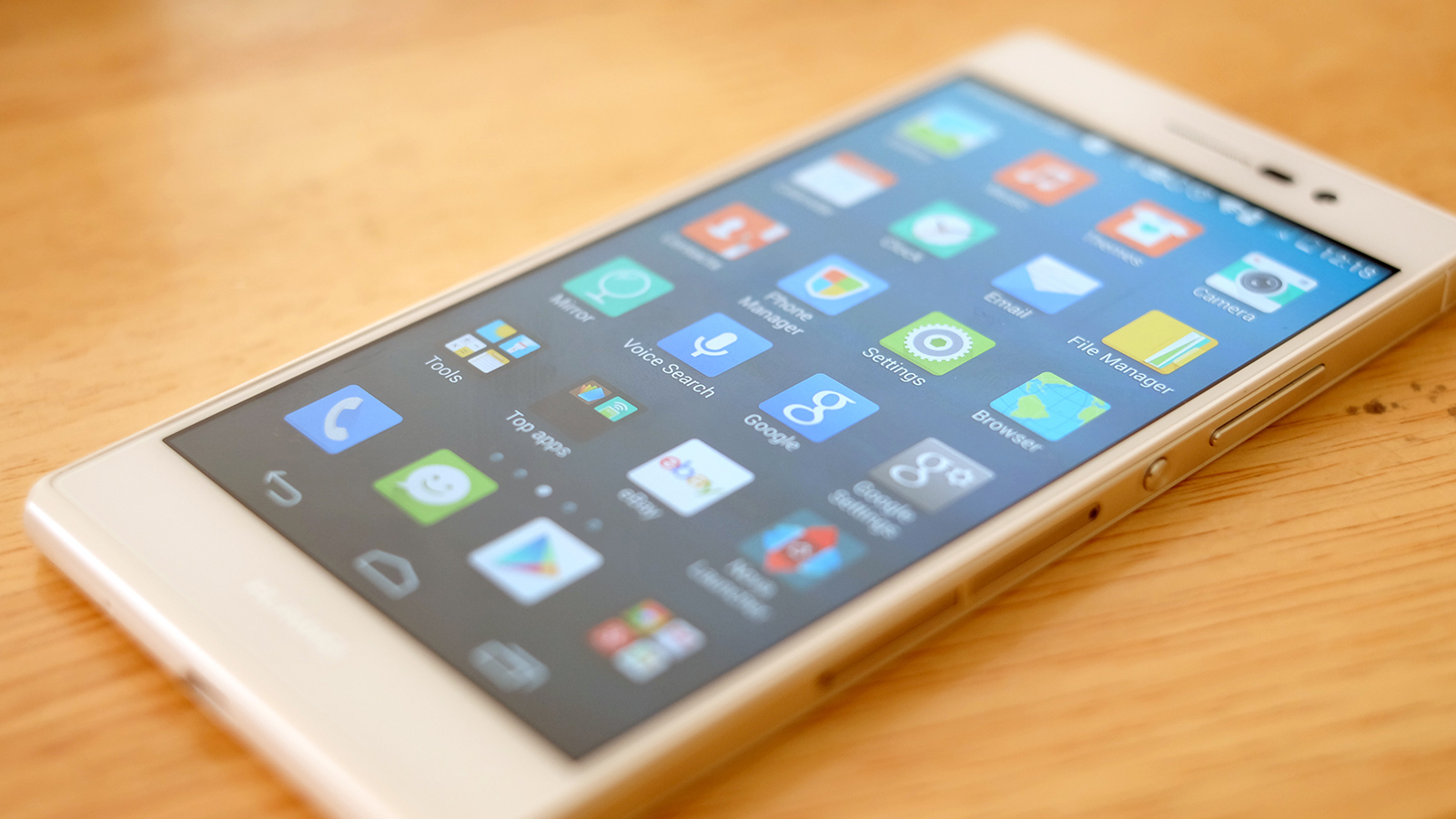 Of course, with a bit of know-how you can change the Ascend P7's interface – with the Google Now app you can give it the Nexus 5 look without so much as a single hack. However, performance is harder to patch up.
For a more-or-less top-end Android phone, the Ascend P7's performance is surprisingly weak. The phone uses a Hisilicon Kirin CPU rather than the Qualcomm kind often used in better-known phones. Why Hisilicon? It's a Huawei sub-brand, that's why.
A quad-core 1.8GHz CPU like this sounds powerful enough, but it's not a patch on the Snapdragon 800 and 801 processors you can now get at this price, or for even less in some cases. To give you some idea, in the Geekbench 3 benchmark the Ascend P7 comes out with 1803 points. With a Snapdragon 800-801 phone you'd be looking at a score of 2800-3000 points. That's a massive gulf.
Just talking about benchmarks in isolation can be as useful as talking about sub-prime mortgages to a five-year-old, but the power gap bleeds into real life too.
When we first got hold of the Ascend P7 it was painfully laggy. You could grab a cup of tea while its keyboard caught up with your typing at times. This has improved with a few successive updates, but it's still far from the snappiest phone around – it's slower than the Nexus 5, and even the Motorola Moto G on occasion. It would be a bit harsh to say we're getting shafted by Huawei here, but it's slower than other phones at the price and some that cost less.
You also lose out on some of the fanciest graphical effects in a few top games compared to phones such as the now-slightly-cheaper LG G2 – and more or less anything pricier. It's an unexpected cost of siding with Huawei, whose chipset uses a less popular GPU than the Adrenos in most top-end phones these days. Think about that when you're boasting about how slim your phone is.
Huawei Ascend P7 tech specs
Camera shy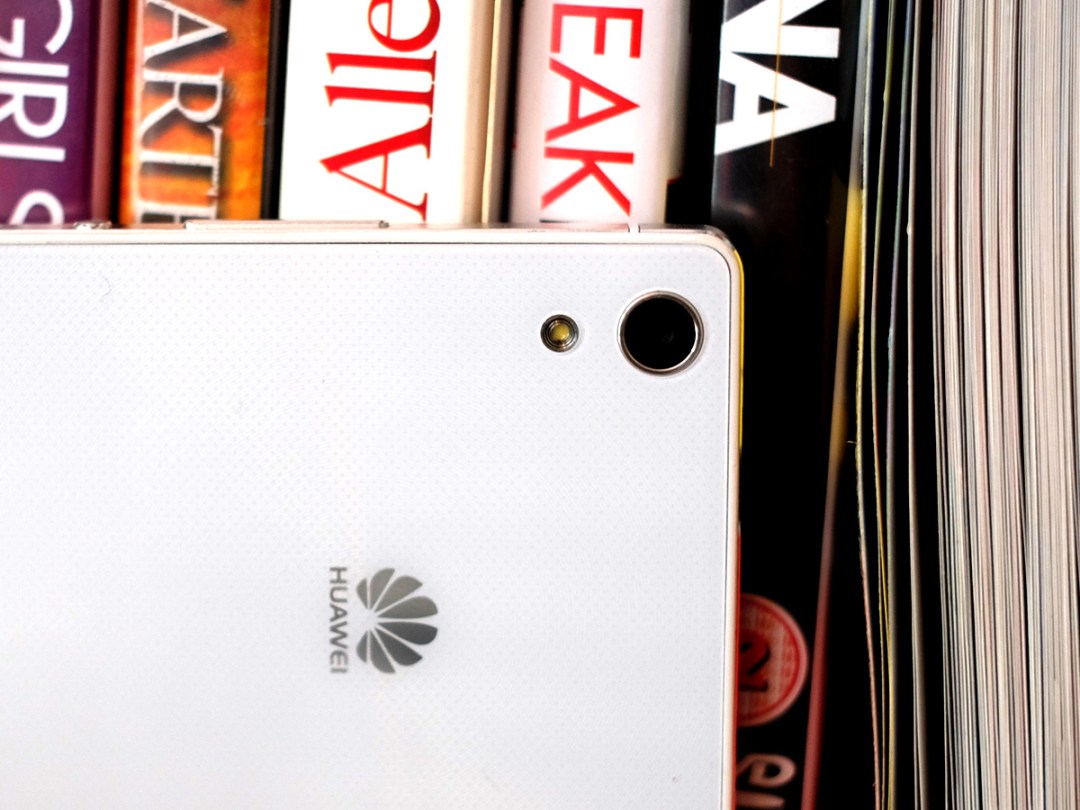 The Huawei Ascend P7 doesn't lose out so much when it comes to the camera, though. It has a 13-megapixel main camera, using the Sony IMX 214 sensor. That's the same one used in the OnePlus One.
In good lighting you can get some seriously detailed photos. Colours are fairly well-saturated and exposure is pretty decent. There's a bit more graininess in photos than you'll get from something such as the Galaxy S5 – in all sorts of conditions – but it only really becomes too apparent when the lights go down a bit. A bit of super-fine grain is perfectly acceptable when the actual level of detail you're getting is great. Dynamic range could be better, though, and the inbuilt HDR mode isn't a patch on that of the Galaxy S5.
For low-light conditions, the Ascend P7's auto mode has a reasonable stab at making everything appear coherent, and there's also a single LED flash on the back to help out if necessary. Flashes are particularly useful for those late-night party shots of people's faces, although the P7 doesn't intelligently balance colours the way the likes of the iPhone 5s and LG G3 do.
There's no optical stabilisation or fancy focusing to the Ascend P7, but it's a solid camera. Better than the Google Nexus 5's for example.
The real song and dance of the phone's photo side, though, is the front camera. It has a 5-megapixel selfie camera. That's much higher-res than that of most other phones, bar the HTC One M8.
It'll render all your craggy bits with mid-life-crisis-inducing clarity, and there's even a selfie panorama that lets you get even wider-angle shots than the standard wide-angle lens. Huawei calls it a "groufie" shot, but that's even more tragic than exclaiming hashtags at the end of every other sentence in real-life conversations, so you won't catch us using the word again.
All-in-all, though, if front cameras are your thing, the P7's is great.
All night long (just not all day too)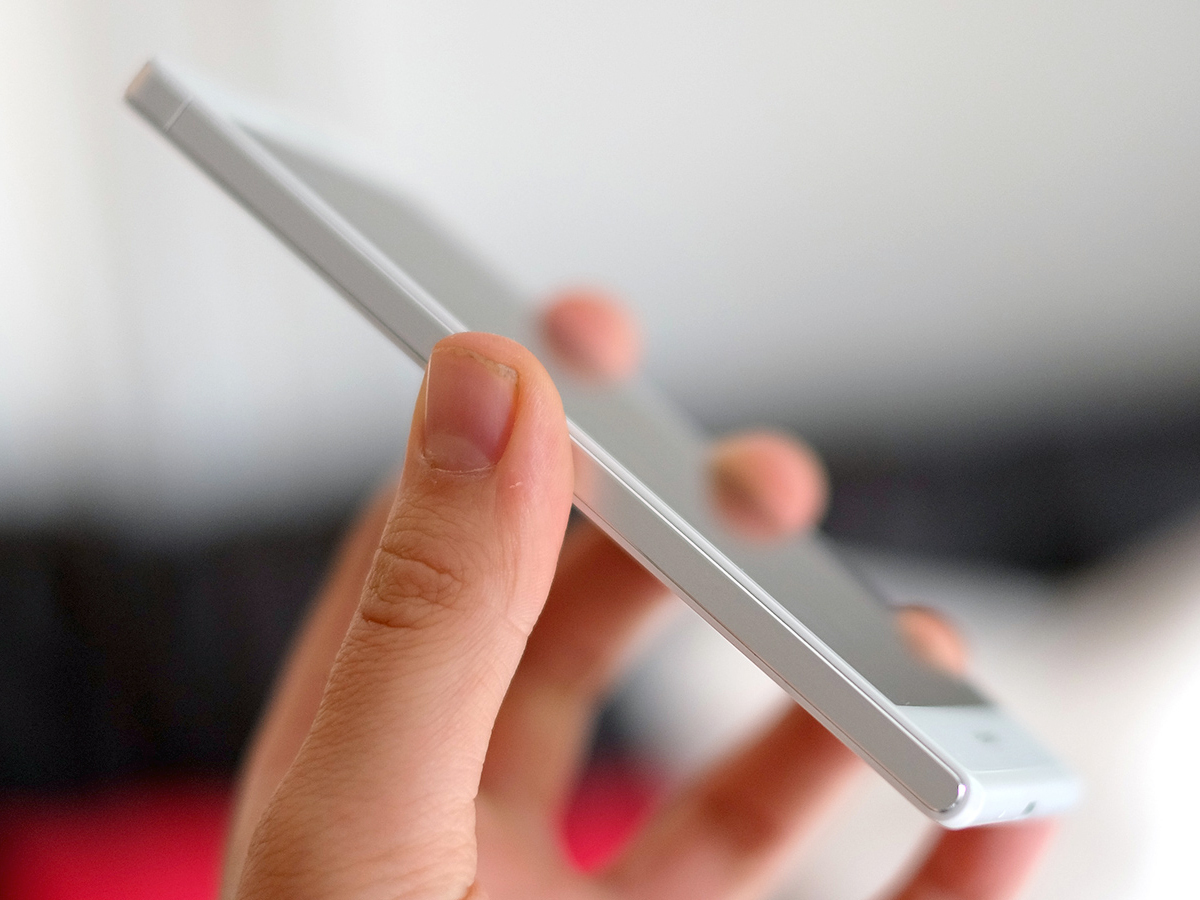 The Huawei Ascend P7 is a patchwork of good and not-so-good bits, and one of the negative elements we found hardest to live with was battery life.
Not only does a super-slim largely-metal body tend to heat up quite a bit when doing tasks as easy as browsing over 3G, it also doesn't last as long as much of the competition. Want the stats? It has a 2500mAh battery that you, predictably enough, have no access to.
While smaller than most other phones bar the 2300mAh Nexus 5, we'd guess the blame probably lies with the the HiSilicon processor as well as the slightly smaller battery size. It just doesn't seem to have the same efficiency chops as the Snapdragon 800/801 brigade.
It'll last for 8.5 hours when playing back video, while picking up emails in the background. That's fair enough, but a way below the 11-14 hours we've squeezed out of phones such as the Sony Xperia Z2 and LG G2. In real life – because most of us can't sit around watching re-runs of Keeping Up Appearances all day – we found that the battery drained to around 30 per cent by about eight in the evening.
Unless you ride the Ascend P7 harder than a drunk Texan on a bucking bronco, you will get a full day out of the phone. But compared with the best you really miss out on that second-day battery buffer. And that is something we've grown to rely on having used all of the other top-end 2014 Android candidates.
Huawei does offer some power-saving modes to help out, but they perform the usual tricks of CPU throttling and stopping apps from doing anything when the screen's off. The Ascend P7 also constantly nags you when it thinks any apps are misbehaving, often with the informant culture of a fascist regime. We want to know when an app's doing something it shouldn't, but not be told off for receiving a few Whatsapp messages.
It's easy to blame the slim-ness of the phone for the Ascend P7's battery life. But you can do some great things with a slim phone – you don't need to compromise everything.
Huawei Ascend P7 verdict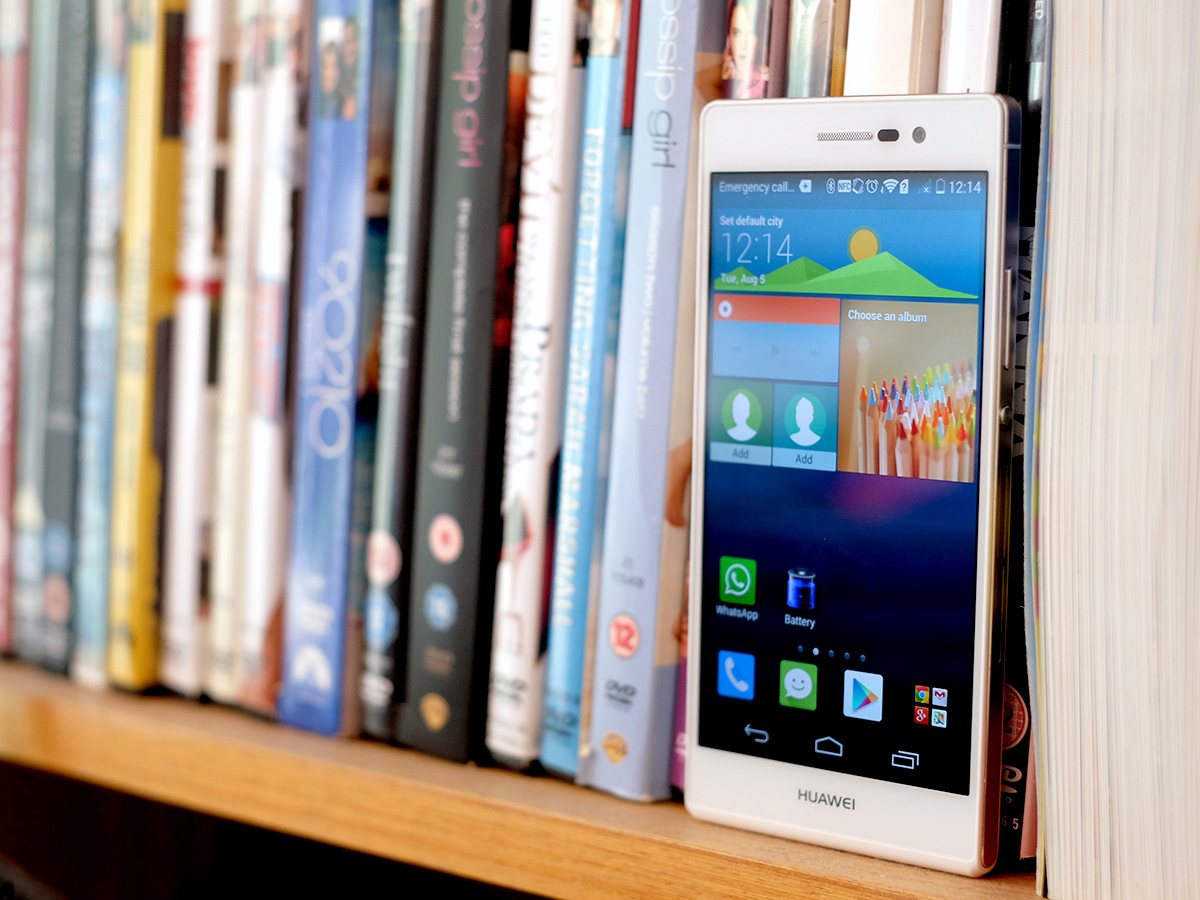 The Huawei Ascend P7 is something a little different from a company known more for its ultra-cheap phones. It has a high-end look and a nice, sharp, bright screen. Huawei is stepping up its game.
But look at it in direct competition with phones such as the LG G3 and Samsung Galaxy S5, or even the older/cheaper LG G2 and Nexus 5, and it doesn't quite stack up. Performance isn't great, the CPU seems aged right out of the gate and the quirky Huawei EmotionUI certainly won't be to everyone's taste.
At this price it's certainly not a bad buy, and its camera is actually pretty good. But Huawei isn't up there with the big boys' flagships just yet.
Stuff Says…
The Huawei Ascend P7 looks and feels sharp, but a few issues and quirks mean it's not up there with the best Android phones of 2014
Good Stuff
Sharp and bright 5in screen
Super slim and fairly sexy
Decent camera
Bad Stuff
Weak processor for the price
Quirky software doesn't hit the mark
Some performance issues