Huawei Mate Xs hands-on review
How can you bend a broken smart?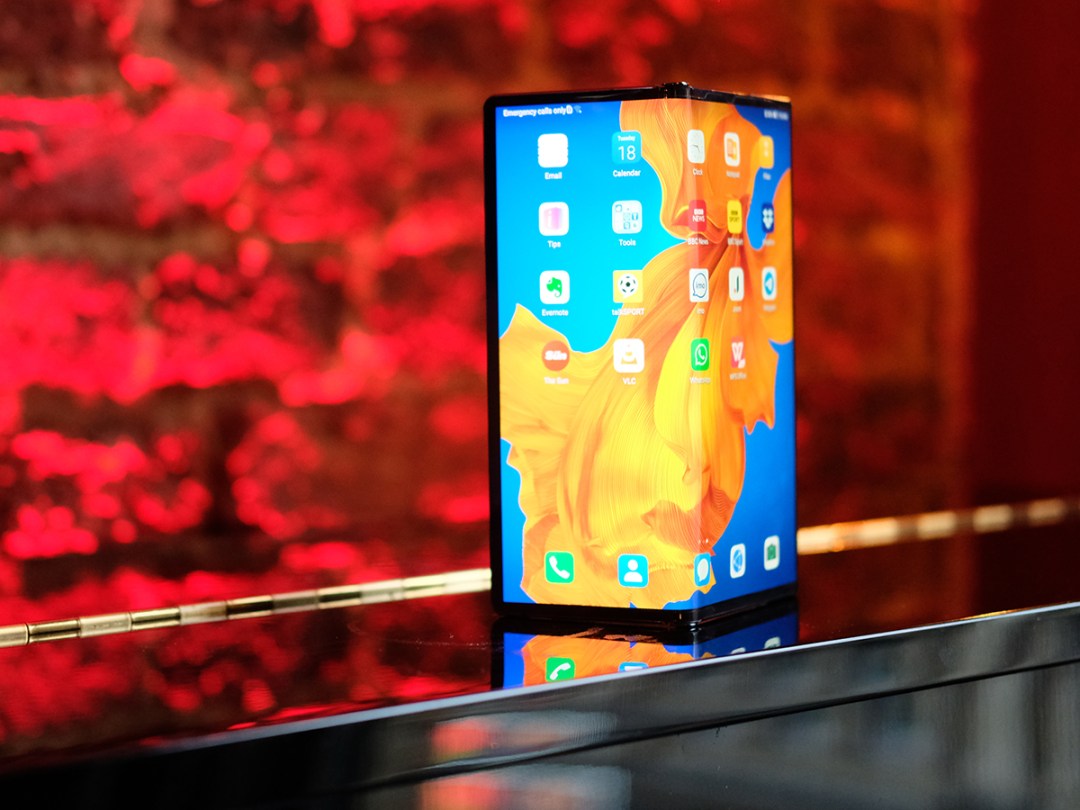 Bendy tablets, folding smartphones, however you want to look at it – it's not a fad, it's a new form factor and these multi-faceted, multi-winged devices are only getting more robust, and more desirable.
The main players? There's the Samsung Galaxy Fold, now the Samsung Z Flip, Motorola's revamped Razr, and the Huawei Mate X that was only available in China. It's a little like the 5G story: promising the universe, but overpriced and failing to deliver. 
The Huawei Mate Xs is a double-shot-espresso of folding phone tech with 5G creds. It's sturdier than its predecessor, and Huawei execs have no qualms with it being bent repeatedly (which wasn't the case last year). There's a Kirin 990 chip at its core, plus a 40MP Leica quad cam, and 55W SuperCharge.
Let's get it out the way now – there won't be any Google apps coming to any Huawei products for the forseeable future, and that includes the Huawei Mate Xs. That's a minor obstacle to some, and a catastrophic nightmare for others – but if you fall into the former, the Mate Xs might just welcome you into the fold.
Design and build: Find love on hinge
The durability of the Xs screen is largely unknown, but it can take more bends than the original because Huawei has added a two-layer polymer structure for extra strength.
The polymide film and OCA optically clear adhesive sounds like some messy Blue Peter experiment on paper, but rest-assured it's not oozing glue from the sides. It looks great, if a touch plasticky.
The hinge has had a complete makeover too, now sporting over 100 components for true back-to-back bendability. It's 11mm thin when folded, which beats the Samsung Galaxy Fold at a significantly chunkier 17mm.
With a hefty processor, you'd be right to worry about this warm, but with Huawei's patented 'Fly Fish Fin Cooling Structure', there's flexible graphene to keep the device cool.
Size specs are as follows: 6.6in front, 6.38in back, and it opens to show off a gorgeous 8in display that's ideal for long reads. When open you'll notice the significant camera cluster, which houses some serious Leica tech.
To fold the Xs into a neat smartphone size, there's a very satisfying clip mechanism. To open it up again, you simply press this button to unleash the wing. We folded it constantly, and every time you fold it back on itself, the Xs still raises hairs on the back of your neck. It still feels wrong, but in a daring kind of way.
Screen and other features: Dark side of the boon
With a Kirin 990 processor at its heart, performance is going to satisfy the most dedicated of task masters. It was introduced on the Mate 30 Pro in September, and we're confident it packs the ample muscle necessary for gaming and running multiple apps.
It also supports up to 2.3 Gbps downloads and up to 1.25 Gbps uploads. The chipset integrates a 5G modem, and it's a more compact device as a result.
Running Huawei's EMUI 10 OS, which adds a few enhancements in its latest update, its best and often overlooked feature is Dark Mode, which doesn't simply turn whites to blacks, but tweaks colours in text and images with the aim of it being a lot easier on the eyes.
The coolest new feature is the ability to run three apps simultaneously on the same screen when in tablet mode. A slow swipe from the right will pull in another page next to your current one and then another drag of your app of choice will allow you to have a floating app on top.
So now you can watch a video on YouTube, read the latest news, and have Slack open, at the same time – some tasks will really benefit from this.
Performance needs power and that's where the 4500mAh battery comes in. With its superfast 55w charge, Huawei claims it'll take just 35 minutes to go from 0 – 85%.
Camera: Me, my selfie and I
There's a big focus on cameras, and if there's one thing Huawei excels at it's smartphone photography, with help from its Leica compadres of course.
In the quad-camera array you'll find a main 40MP wide angle lens with f/1.8 from the P30 Pro and Mate 30 Pro, an 8MP telephoto lens with OIS, and a 16MP ultra-wide lens. Making up the quartet is a ToF sensor for those now obligatory bokeh portraits that fool Instagram followers in thinking you're Rankin.
Now you get the option for close-up macro photography too, which should be taken with a pinch of salt, but we were able to get at least 3cm closer to a coin and lock onto it.
One advantage of this form factor is the selfie camera utilises all the lenses as it's in the same set up, just flipped around, so that means it can take some of the best selfies known to man/woman/jellyfish. On specs alone, nothing beats it.
Colours are well balanced and being able to open into tablet form allows you to really get a good look at your overall composition, which works well for editing too.
Huawei Mate Xs initial verdict
The Mate Xs is a 5G foldable with insane power, a super camera set-up, and if Huawei's claims are true, enough juice to last over a day.
Arguably there's no better way to futureproof your pocket, problem is, with no word on pricing or availability will it burn a hole in it?
Watch this space for a full drive around the bend.