Huawei MatePad Pro 11 review: compact and creative
The best of both worlds?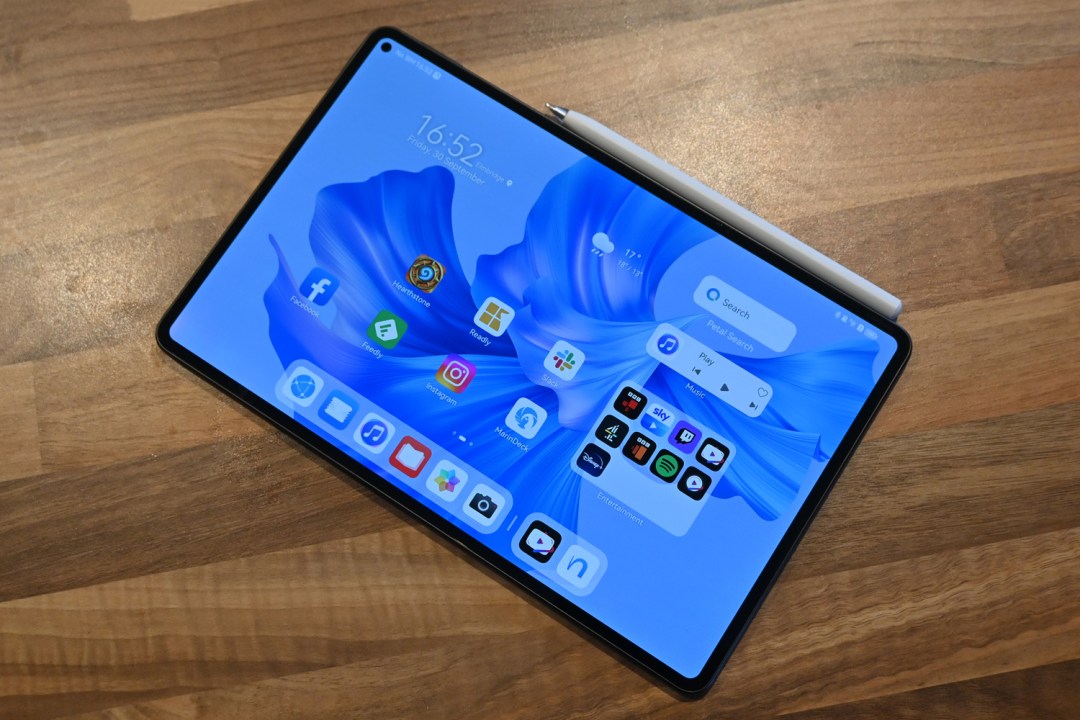 Are you a workaholic, or more of an entertainment addict? The MatePad Pro 11 wants to please both camps. Huawei's latest has the multitasking chops and productive peripherals to get serious work done, as well as a premium screen and speaker six-pack for when it's play time.
This skinny and svelte 11-incher is also as easy on the eye as any top-tier tab, and doesn't come with the Apple Tax that applies to every iPad. But it's not all plain sailing. Huawei's access to next-gen silicon is still being throttled by the US government, and the Google Play Store remains off limits.
The firm has stepped up its own software efforts to compensate, though. And quality hardware goes a long way. Is the total package as compelling as any other high-end Android tablet?
Design & build: size zero slate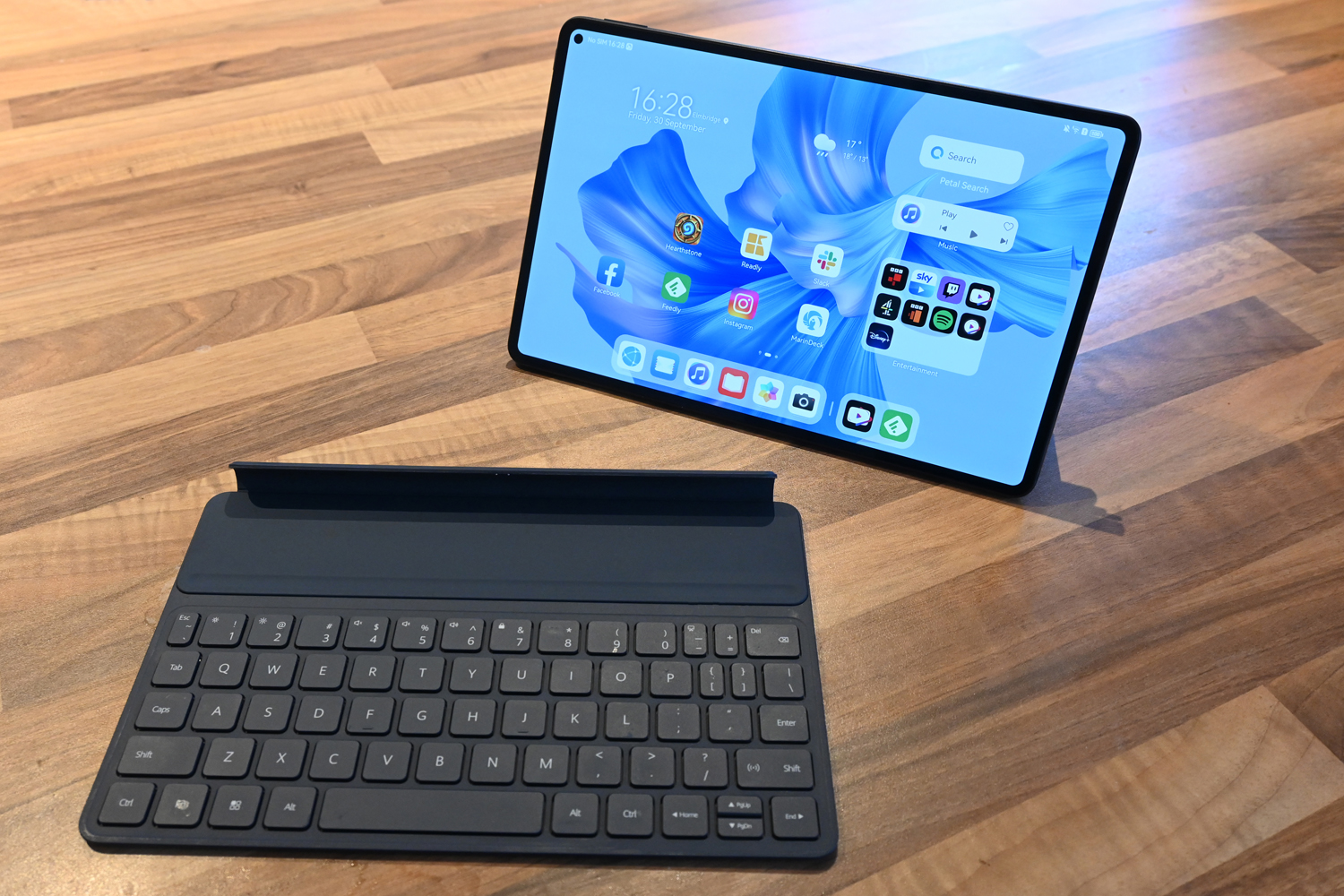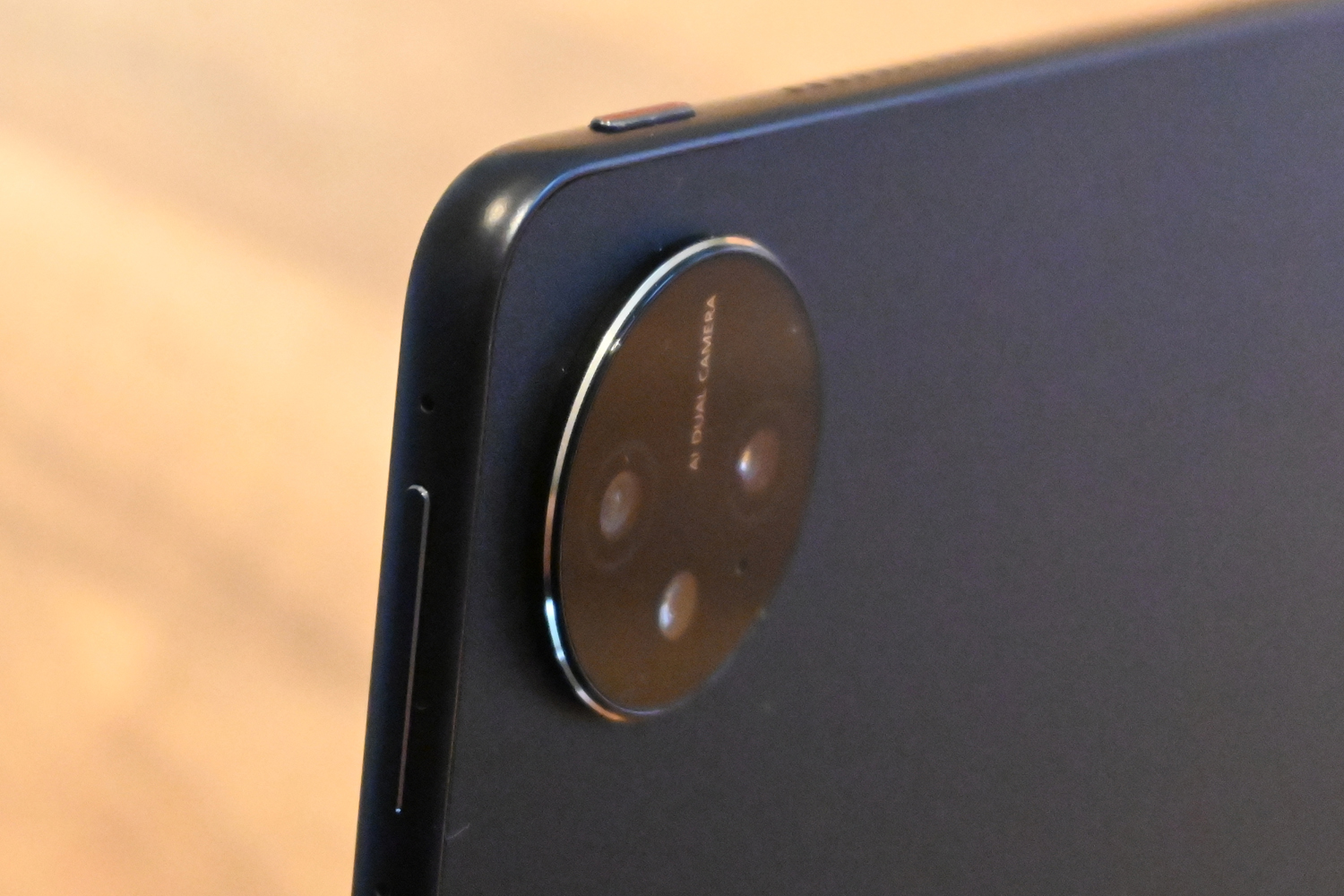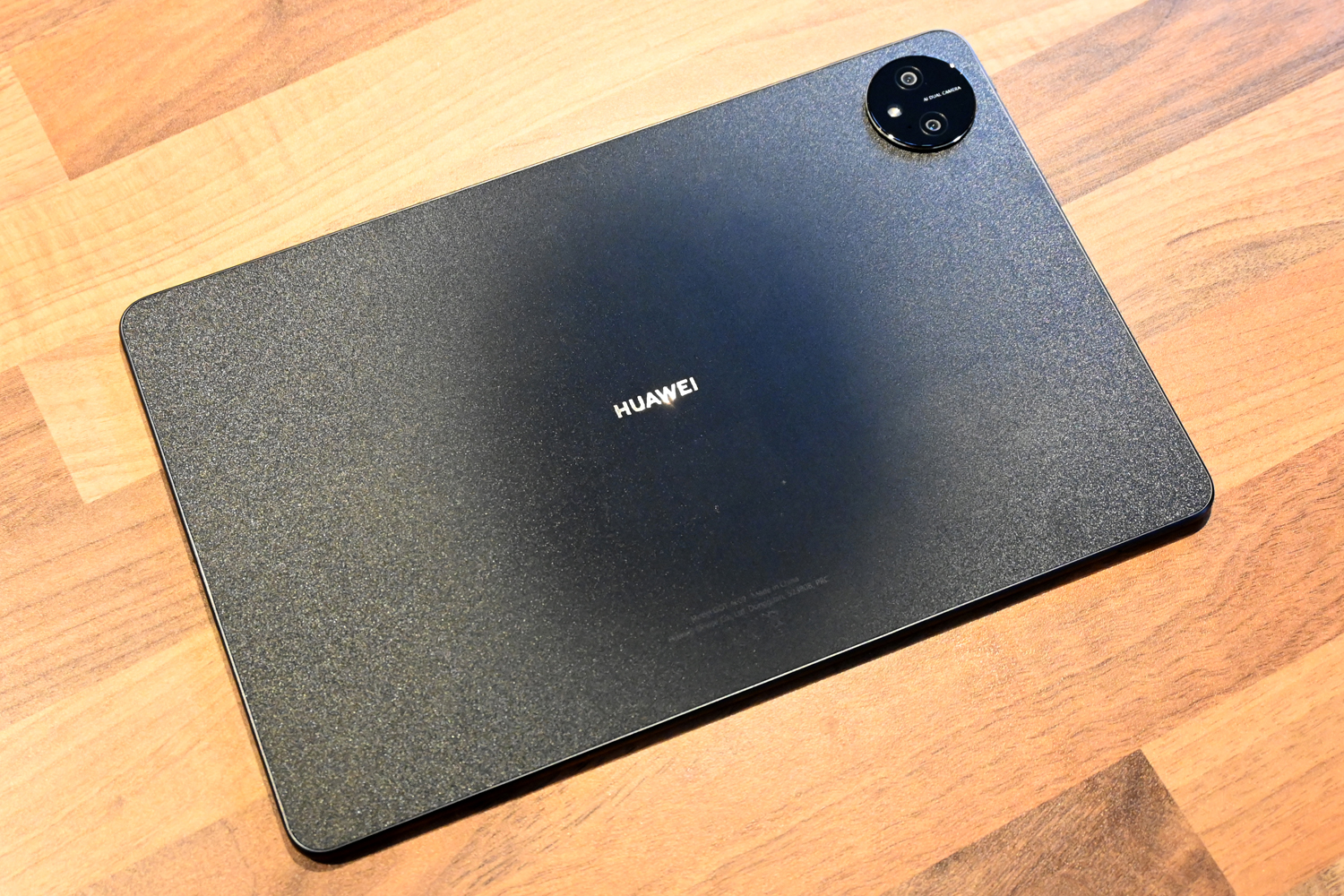 At a mere 449g, the MatePad Pro 11 is one of the lightest tablets you'll find with a screen of its stature. Reading ebooks in portrait mode shouldn't give your wrists any reason to complain, although the 16:10 aspect ratio demands both hands for landscape content. The magnesium alloy frame keeps weight down, with neatly rounded edges that don't dig into your palms.
It's reassuringly sturdy, despite being a barely-there 5.9mm at its thinnest point. The only exception is around the rear camera bump, which borrows its circular styling from the Huawei P50 Pro smartphone – and only protrudes out a little bit further. It's more to give the optional magnetic keyboard cover something to grip on to.
A splash of red on the power button and some gold trim around the rear camera lens and Huawei logo are the only hints of colour, although the frosted effect on the rear panel looks suitably premium. It glints in the light like metal, but is smooth to the touch and does a great job of hiding fingerprints.
Speaking of, there's no fingerprint sensor here – just a front-facing webcam that can be set up for facial recognition if you're not a fan of tapping in passwords. It's sensibly placed in the top right corner, so will have a decent view of your face in both portrait and landscape, and is fairly quick to recognise you even in fairly low light.
There's little of note at the sides apart from the four speaker grilles (two up top, two at the bottom) and SIM tray. 4G networks only need apply – 5G remains off-limits for Huawei hardware. There's no 3.5mm headphone port for private listening, and no expandable storage.
Screen & sound: all the pretty pixels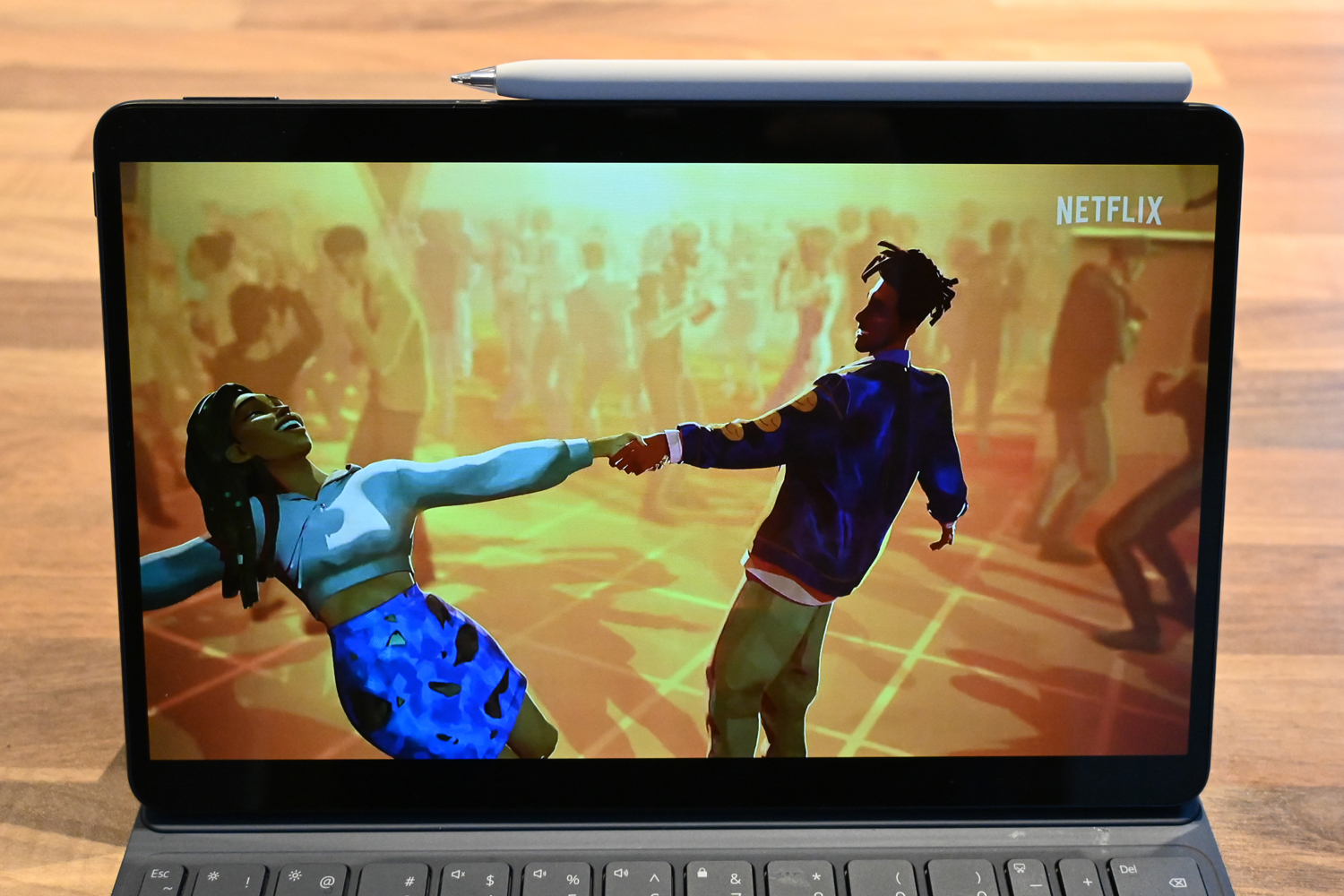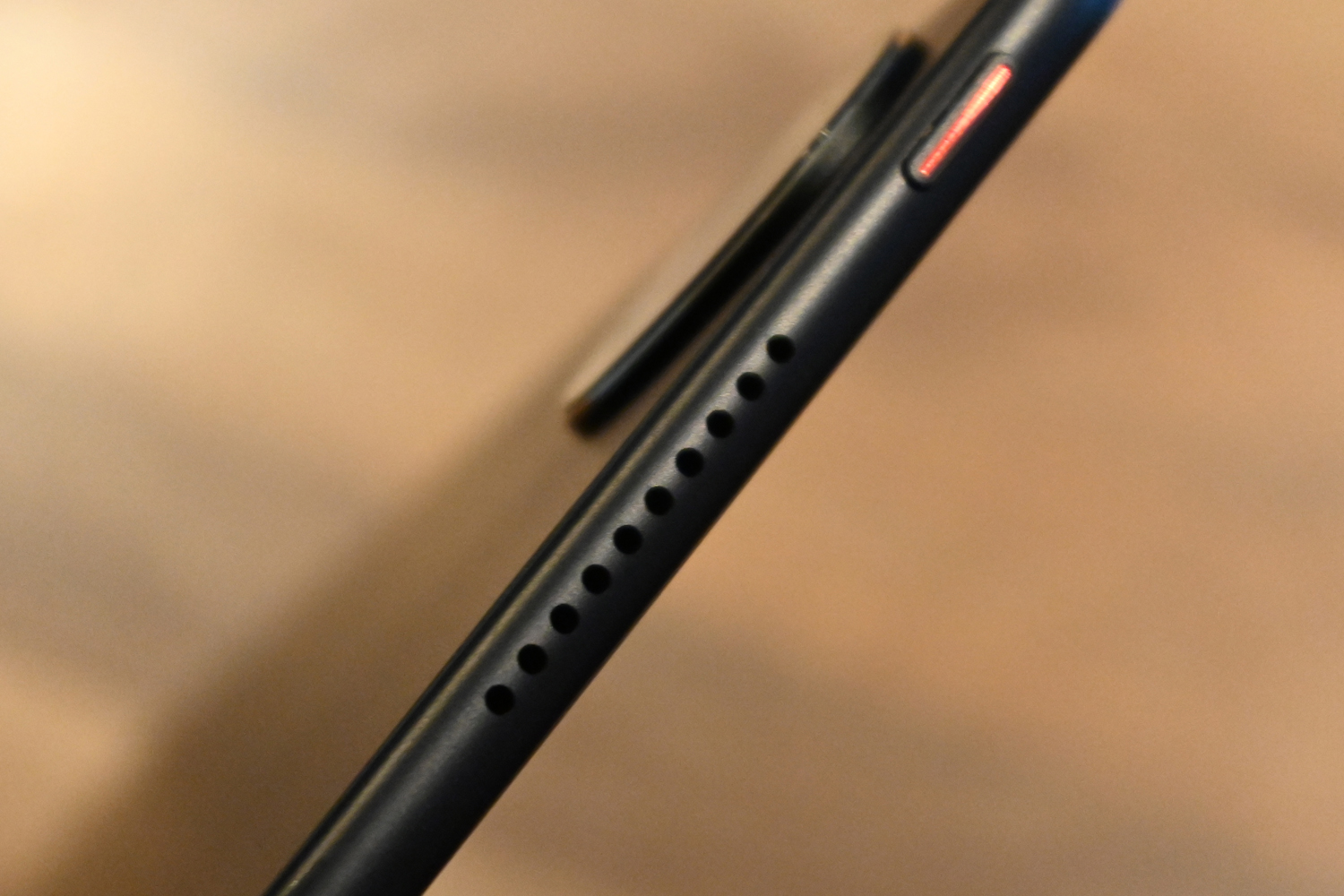 An impressive 92% display-to-body ratio means almost the entire front face of the MatePad Pro 11 is screen. The punch-hole selfie cam is also nicely tucked away in the corner, so doesn't distract from the pleasingly punchy OLED panel.
With a 2560×1600 resolution and high refresh rate, it ticks most of the boxes a top-end tablet should. Text and icons look pin-sharp, and images are plenty detailed. There's the option of dynamic refresh to save a bit of battery, but we found it didn't always kick in for certain apps, so stuck with forced 120Hz for consistently creamy motion.
The peak 600 nits brightness helps deliver great visibility when you step into direct sunlight, even if Huawei makes no claims for HDR support. Viewing angles are excellent, and colour accuracy is on point too. A natural tone mode, which tweaks colour temperature on the fly based on ambient lighting, can usually be relied on for convincing hues – or there's a comprehensive colour wheel for manual adjustment.
It has all the right software handshakes needed to get Netflix and the like going in Full HD, which will be music to the ears of anyone looking to catch up on the latest streaming services – as will the built-in speakers. There's six, split between four woofers and two tweeters, and they all get plenty loud. Vocal-led music is always clear, there's lots of detail at the high end, and a decent amount of bass for such a skinny machine. Apple still superior sound overall, but it's a close-run thing.
Software & accessories: taken to task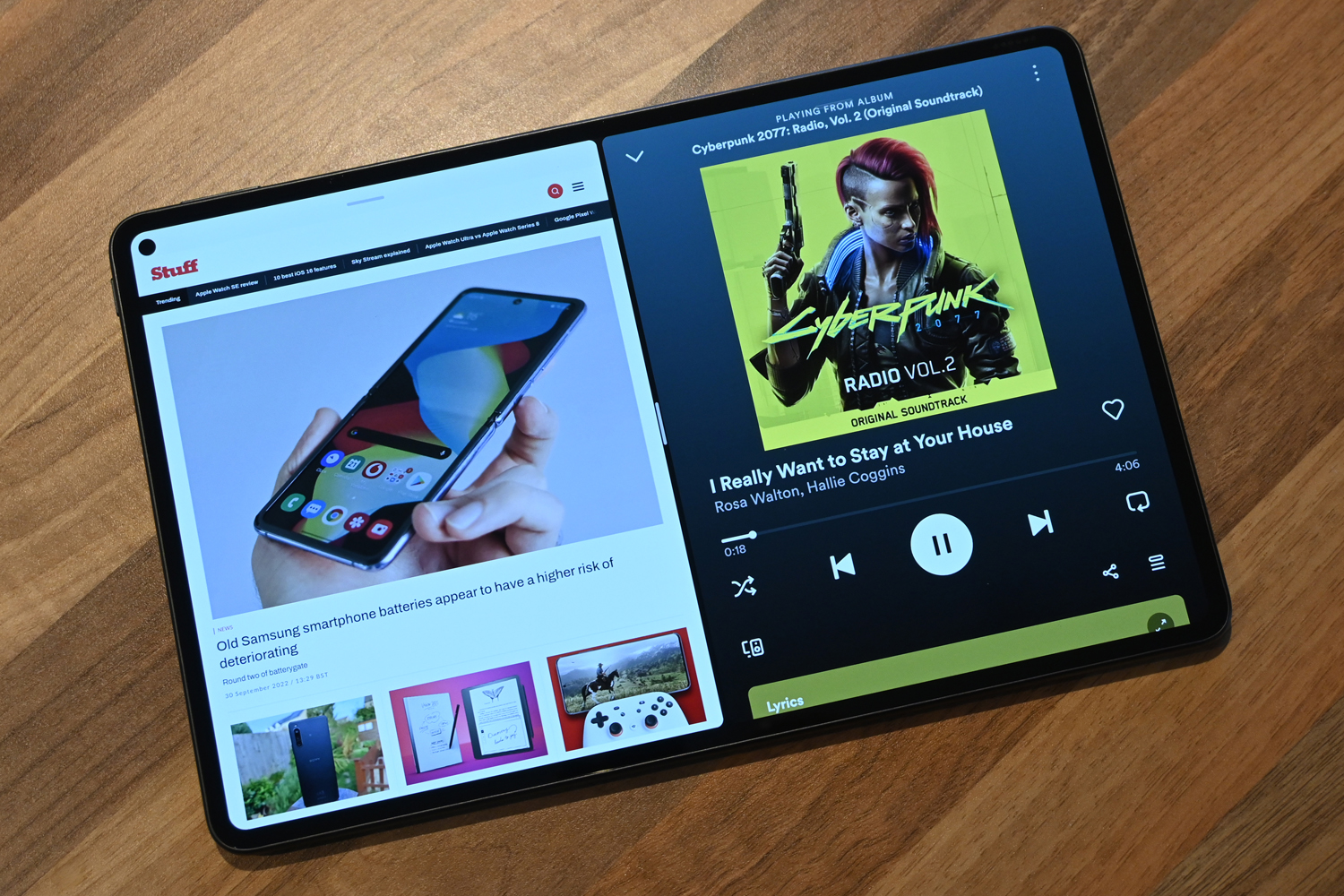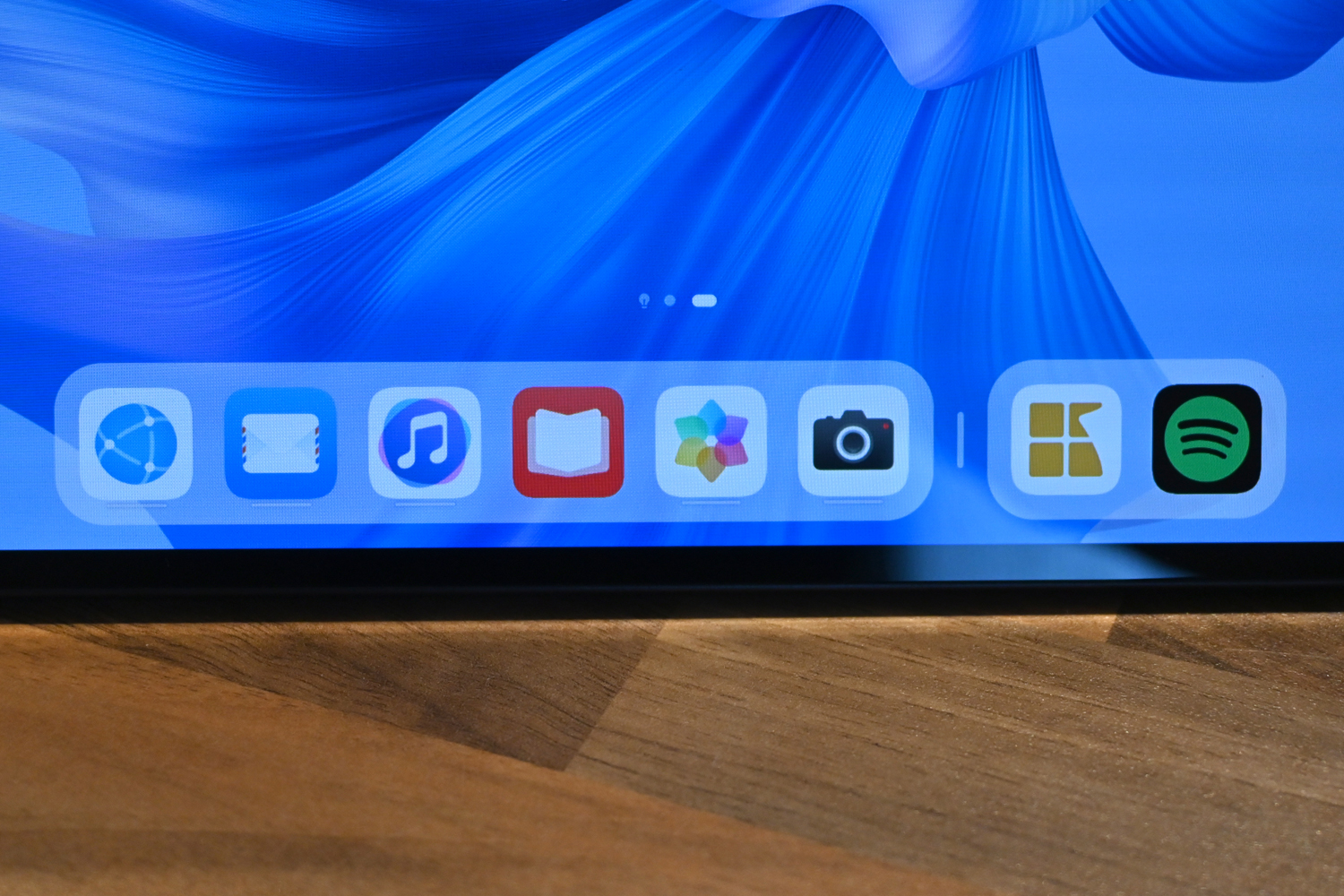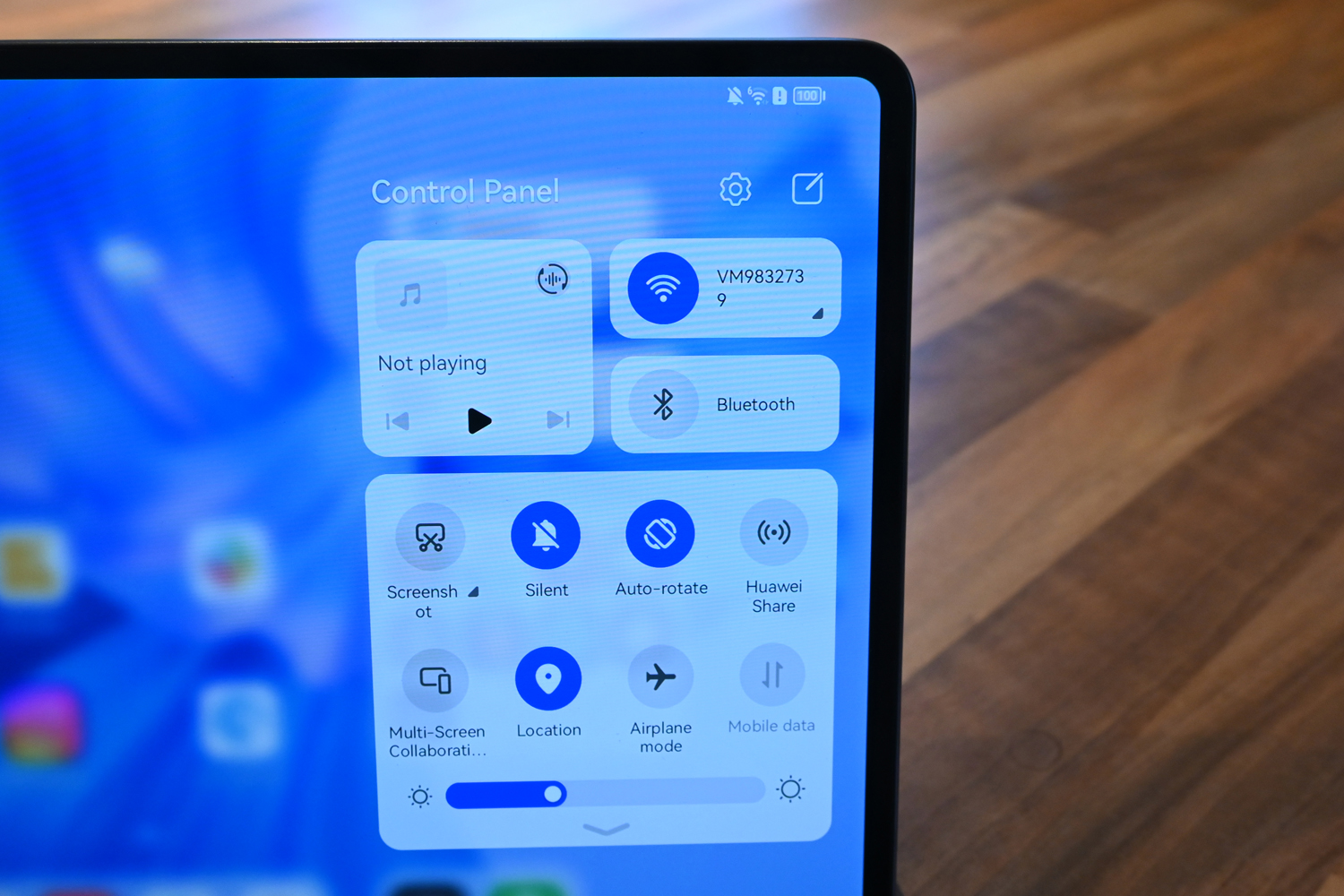 Productivity is a big part of HarmonyOS 3, Huawei's bespoke version of Android, although it feels less polished than either iPadOS or Samsung's recently-updated OneUI. Take the iPad-like app dock, with space for both favourite apps and recently-opened ones: it only appears on the homescreen, being inaccessible while in an app. An entirely separate vertical menu is used to launch a second app side-by-side. There's no way to save specific pairs of apps to it for easy access, either.
It'll handle a further two apps in floating windows, though, with drag and drop support allowing for some serious multitasking. Huawei's Super Device cross-collaboration is equally slick, for sharing between own-brand laptops and phones.
Elsewhere, the interface will feel familiar to Huawei fans, with simple icons and a full gamut of home-grown apps. Beyond the basics (music and video players, an image gallery, email client, web browser, calendar) there's also a comprehensive health app, ebook reader and maps.
There's a reason for that, of course. We can't ignore the missing Google Play Store, even if Huawei's App Gallery is a decent alternative. If it doesn't have exactly what you're looking for, it'll instead point you towards trustworthy APK hosting sites. It's a bit of a hassle, and even then some apps that rely on Google's back-end software will refuse to function. Huawei's alternatives aren't always winners, either. The on-screen keyboard didn't want to stay hidden when using the official Bluetooth keyboard, and insisted on overwriting our words with suggestions.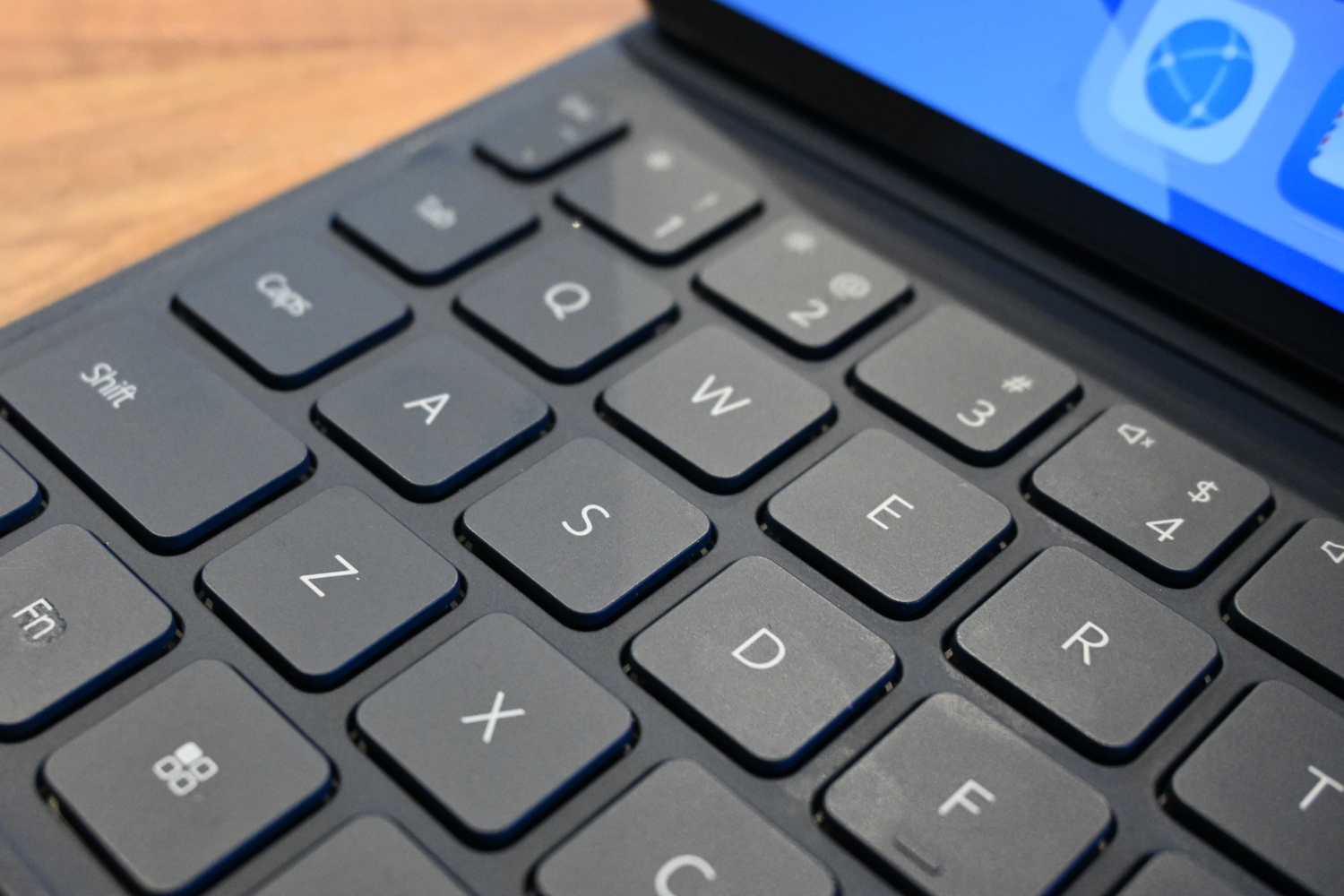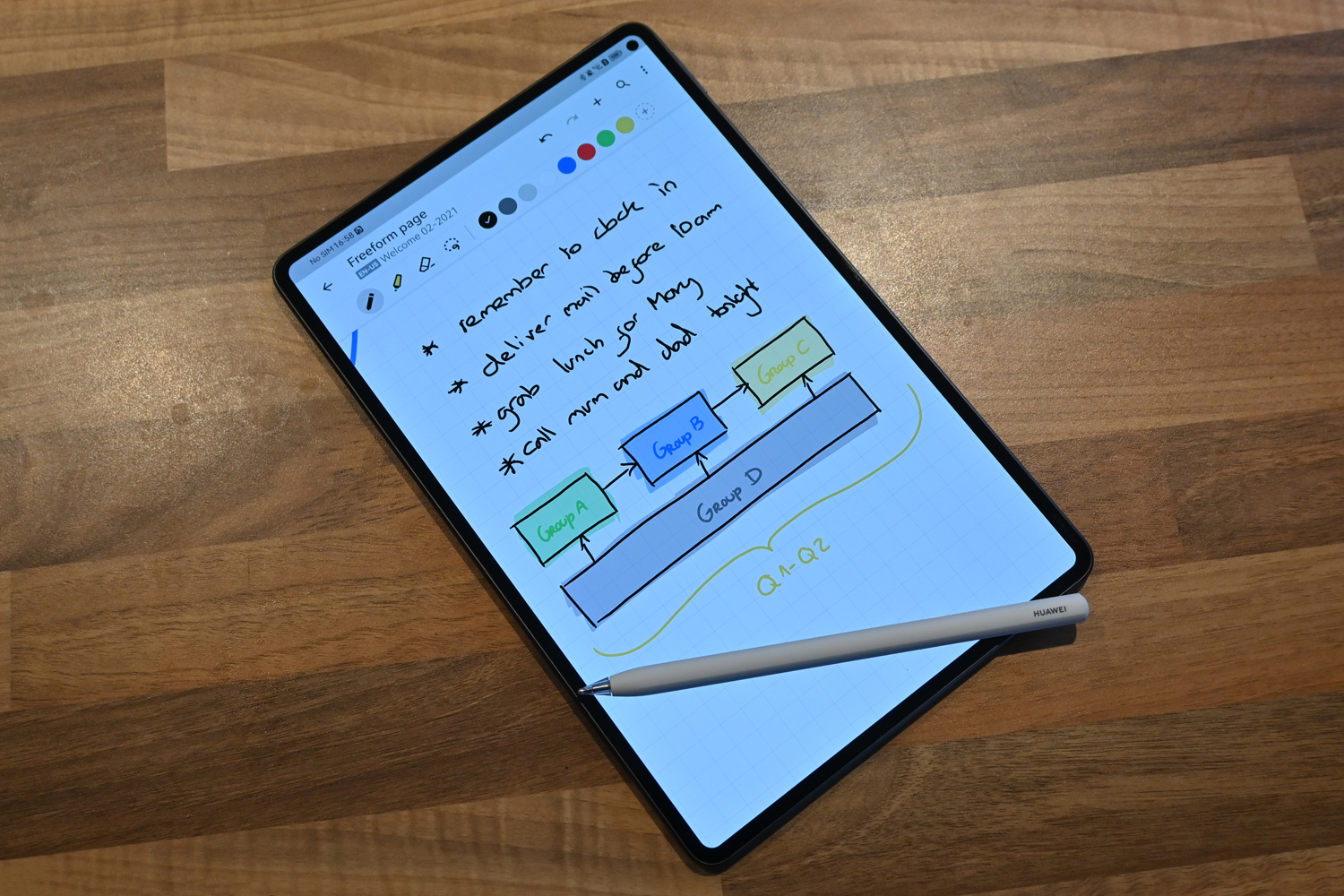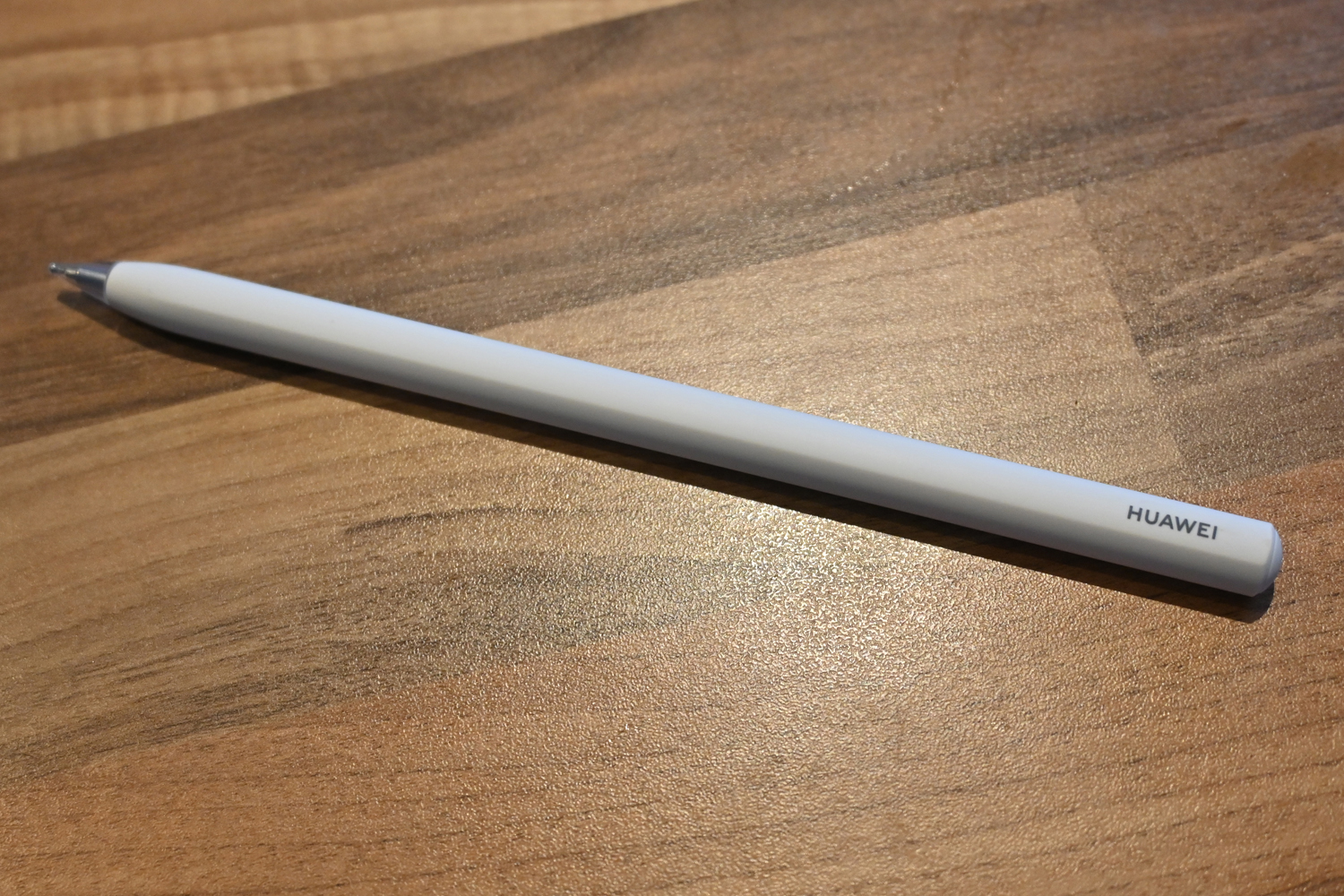 Get past the software quirks and the detachable magnetic keyboard is great for getting work done. Each key has a generous 1.5mm of travel, and is satisfyingly springy. The two-piece design lets you prop the tablet up and move the keyboard around (handy for tight spaces, like a plane seat), with the back half acting as a kickstand. The tablet charges the keyboard when combined, too.
Our device also game with the optional 2nd-gen M Pencil stylus, which hugs the tablet magnetically to charge itself. It's super-responsive, is no heavier than a regular pencil, and feels pretty natural when doodling on the glass. Just keep in mind adding both it and the tablet will likely bump the price of the tablet by £200.
Performance & battery life: one night is alright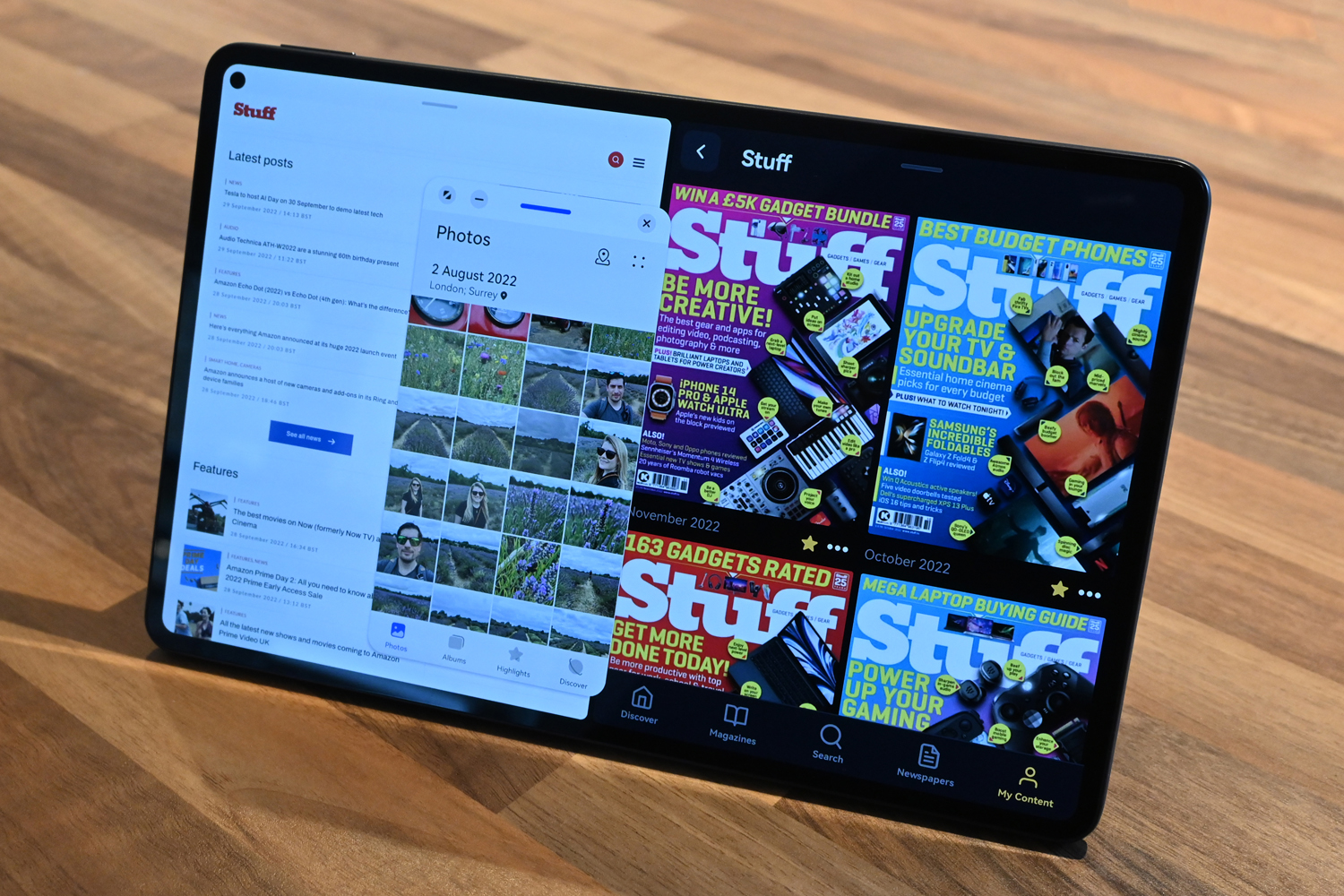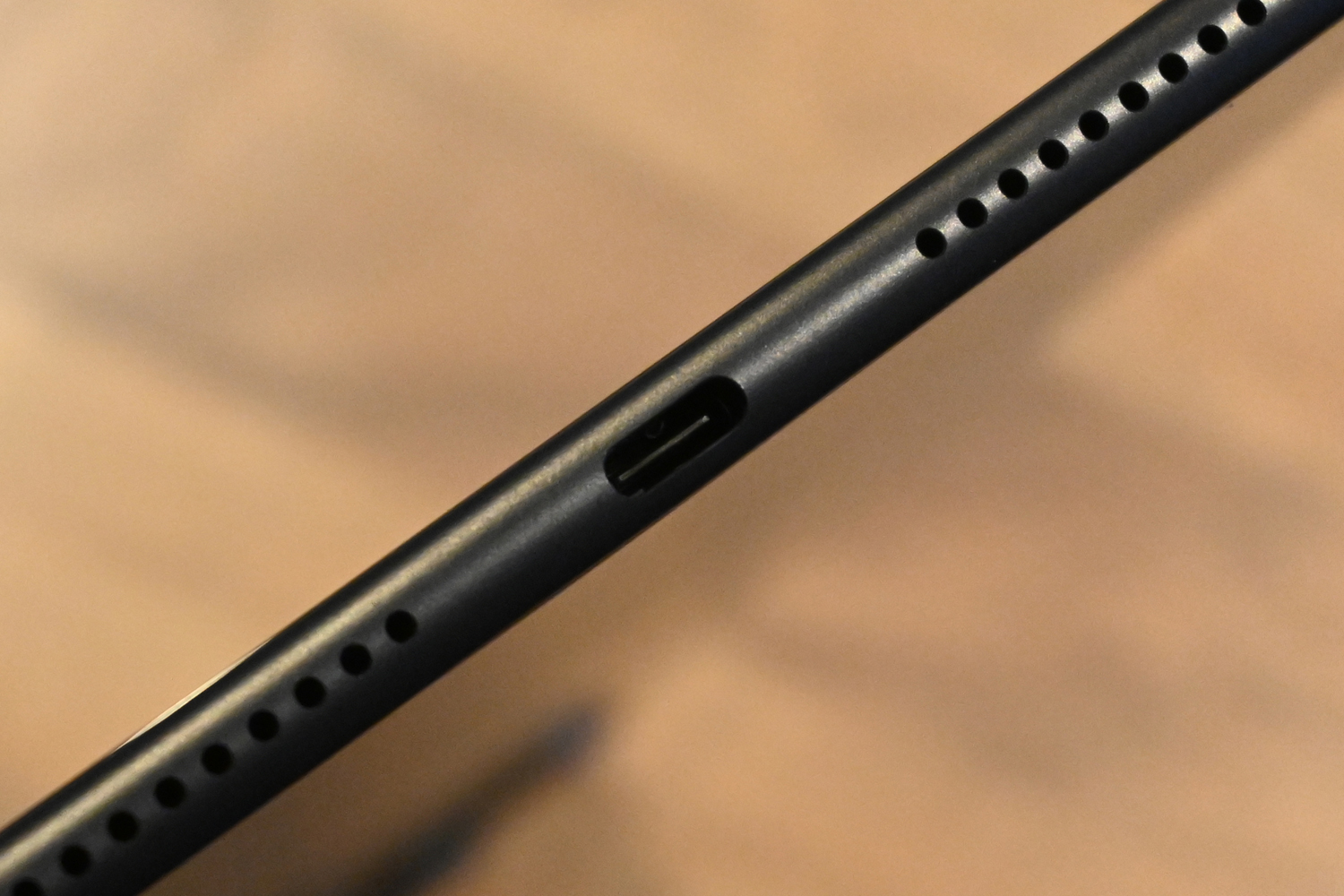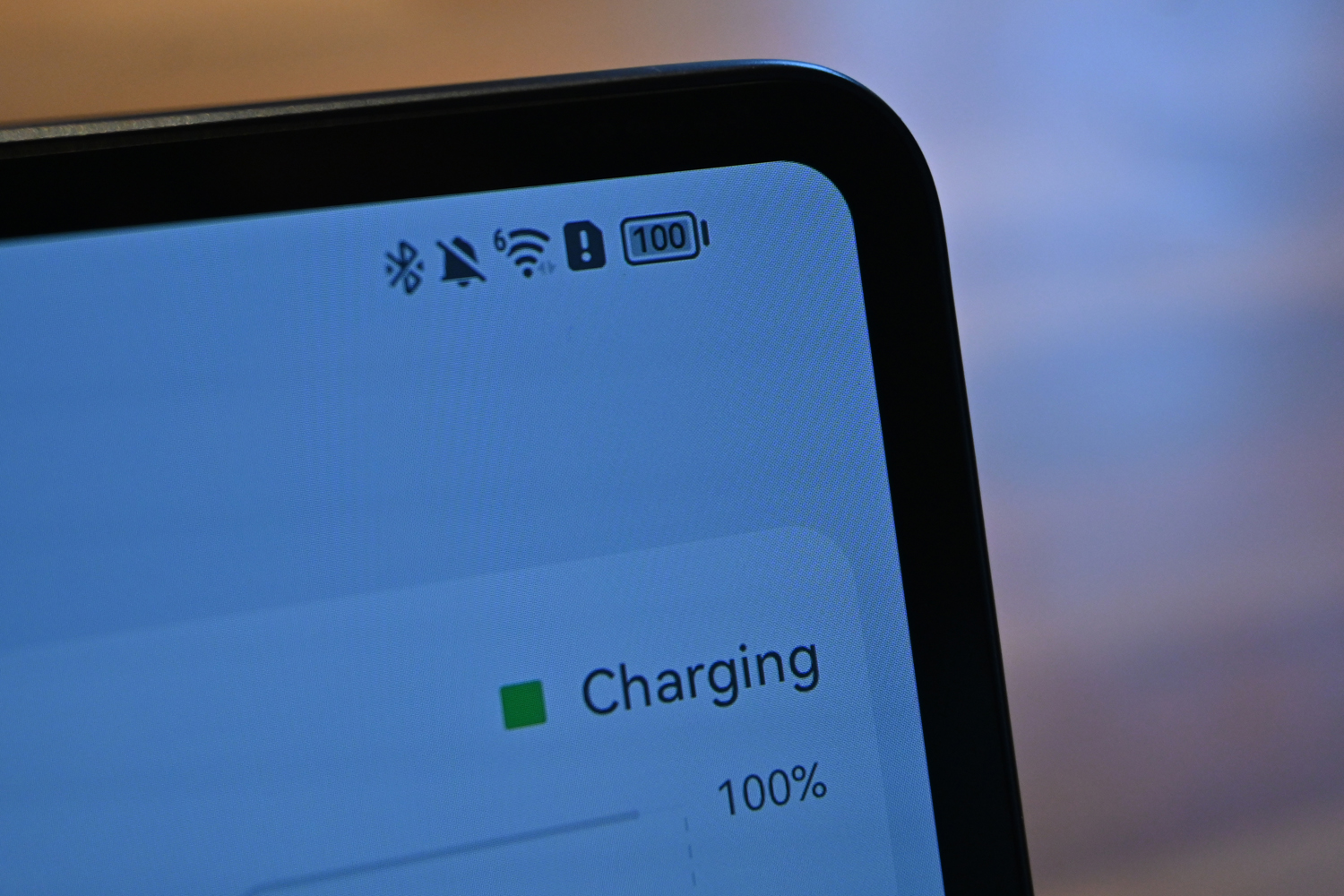 The MatePad 11 Pro comes equipped with a Qualcomm Snapdragon 888 CPU, 8GB of RAM and 256GB of on-board storage, which puts it towards the top tier of Android tablets. There's enough grunt here to deliver a consistently snappy performance, even when running two apps side-by-side. Everything stayed responsive, with no noticeable stuttering or twiddling of thumbs while waiting for things to load.
It's no slouch on the gaming front, either. The QHD resolution asks a fair bit from the silicon, but you can still crank the settings on most titles and get playable frame rates. Especially demanding titles aren't going to hit the maximum refresh rate, and the whole thing is forced to throttle a bit once temperatures start to climb, but you won't spot any sudden spikes or dips – Genshin Impact stays smooth even during more hectic sequences.
Gaming sessions are the biggest decider as to how long the MatePad Pro 11 will last away from the mains. With constant play, you could be looking at under eight hours before it's time to top up, but stick to simpler tasks and it'll last much longer. We saw 11 hours with a mix of document editing, web browsing and music streaming, which is a close match for the current 11in iPad Pro, and more than enough for a full work day followed up with an hour or two of Netflix or Prime Video.
It'll handle up to 66W fast charging, which is a healthy step up from Apple's best efforts. A full refuel takes less than two hours.
Cameras: does the job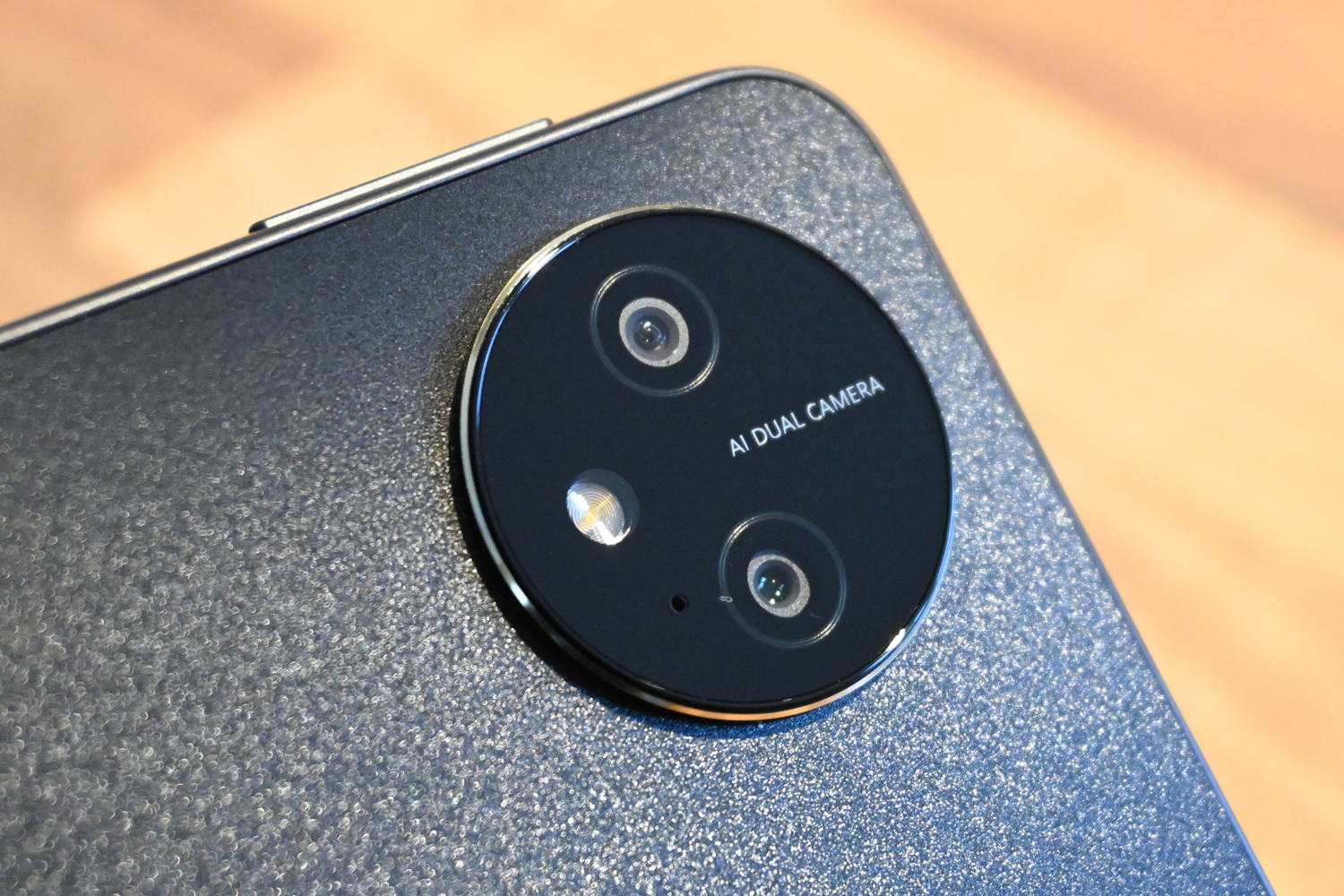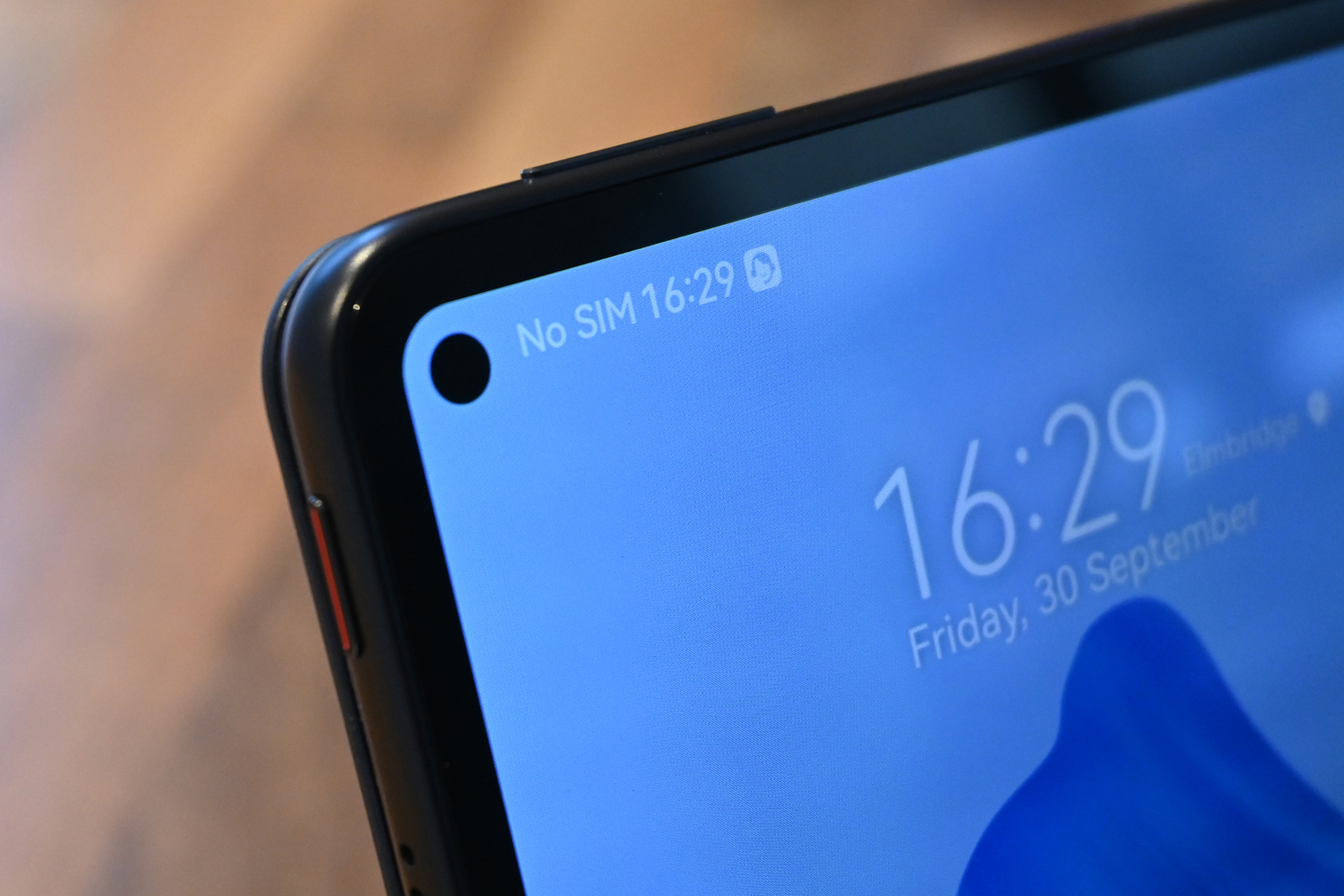 The MatePad Pro 11 can't stop you looking like a wally for using a tablet to take photos, but at least the hardware puts in a decent showing. You get a 13MP, f/1.8 main camera with phase-detect autofocus, paired to an 8MP, f/2.2 ultrawide on the back, plus a 16MP sensor up front for video calls. The rear cameras can manage 4K video recording at 30fps, while the front one is limited to 1080p.
Feed it good light and images are fairly crisp, with a reasonable amount of detail and natural-looking colours. Some shots could perhaps use a little more sharpening, and there's a bit of noise once you start zooming in on darker areas, but not enough to distract from the rest of the shot.
The ultrawide is a step down on the detail front, but colours are consistent with the main camera, and dynamic range is mostly on par as well. Things drop off quickly in low light, though, and the fixed focal length is no help for close-ups. Performance is a step from "it'll do in a pinch" overall, but not so much that you shouldn't still reach for your smartphone in most situations.
Huawei MatePad Pro 11 verdict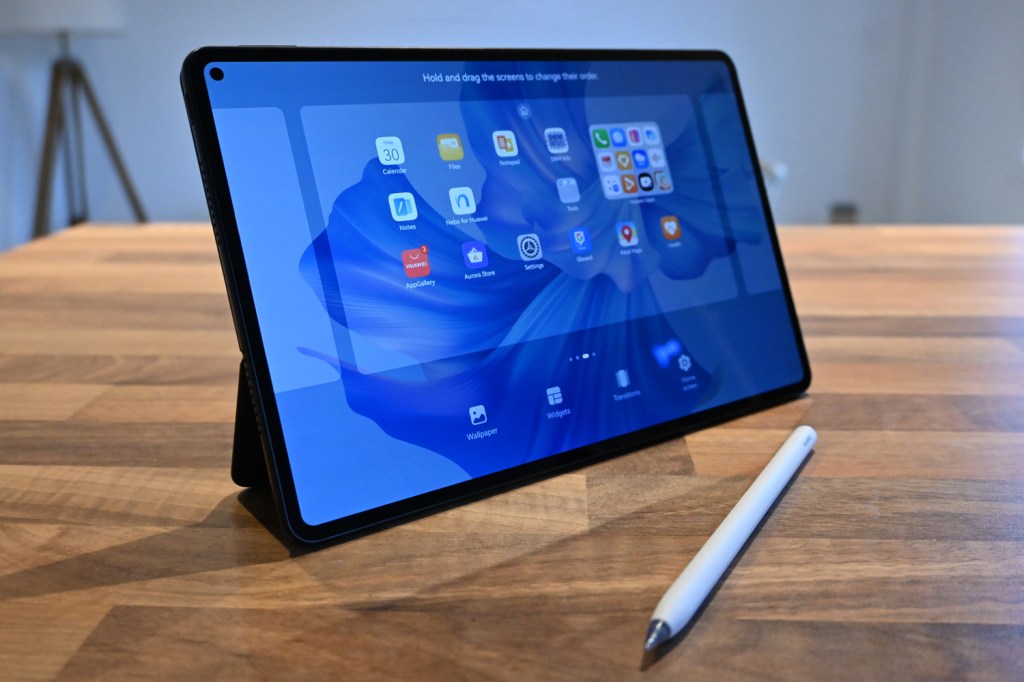 The MatePad Pro 11 gets plenty right on the hardware front: a beautiful screen, stellar sound, and dependable battery life. It takes a decent photo, too – not always a given when it comes to tablets, even pricey ones.
There are some rough edges on the software side, though. As multitasking-friendly as HarmonyOS 3 is, rival tabs have set a higher bar, and there's still the the extra hoops to jump through because of the lack of Google services. We don't either are a total dealbreaker, but shouldn't be overlooked by anyone not at least a familiar with APKs.
It's a whole lot more wallet-friendly than an iPad Pro, though, and also undercuts the Samsung Galaxy Tab S8. That alone could make it worth a look for anyone after a do-it-all slate.
Stuff Says…
Plenty powerful and built with productivity in mind, the MatePad Pro 11 is great for getting things done. If you can live with the usual Huawei caveats, it's a well-rounded alternative to the iPad establishment
Good Stuff
Slim dimensions and stellar screen
Excellent battery life
OS is multitasking-friendly
Bad Stuff
No Google services
Keyboard accessory highlights software quirks
Huawei MatePad Pro 11 technical specifications
Screen
11in, 2560×1600 OLED w/ 120Hz refresh rate
CPU
Qualcomm Snapdragon 888 4G
Memory
8GB RAM
Cameras
13MP, f/1.8 main + 8MP, f/2.2 ultrawide rear
16MP, f/2.2 front
Storage
128/256GB
Operating system
HarmonyOS 3
Battery
8300mAh
Dimensions
160x249x5.9mm, 449g