Huawei MatePad Pro review
An impressive, imperfect iPad Pro-a-like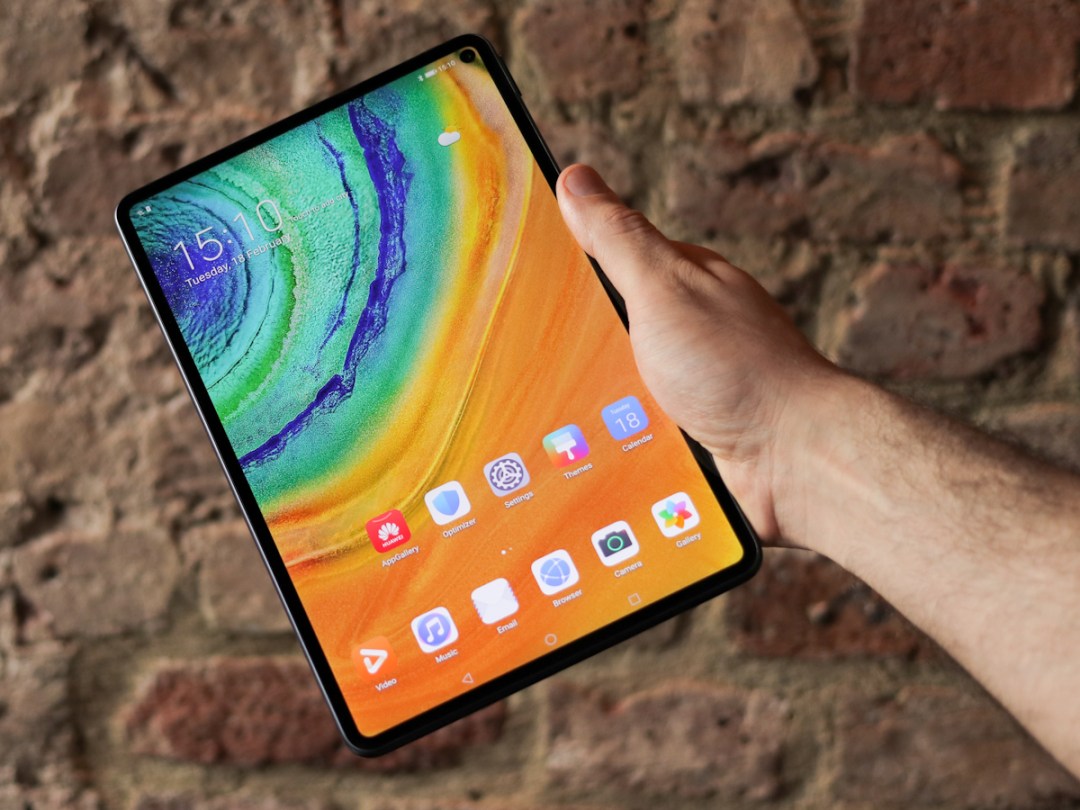 Apple dominates the tablet world, so who better to emulate when launching a feature-packed, premium slate vying for iPad and Samsung's market share?
Meet the Huawei MatePad Pro; a thin tab with teeny bezels and a barrel of party tricks up its vegan leather sleeve. Samsung may be doing reasonably well with its tabs, but Android tablets in general have been falling behind Apple's iPad line for a few years now.
Huawei nailed it with the affordable MediaPad M5, but its newly announced iPad Pro-a-like, the MediaPad Pro has an extra challenge to contend with – no Google Services. Huawei has kept the price below £500, kitted out its new flagship tablet with everything from, wireless and reverse wireless charging to pen input support, desktop-style features, Huawei smartphone integration and much, much more.
With the iPad Pro starting at £769, and the Samsung Galaxy Tab S6 costing £619, does Huawei's sub £499 slate undercut the competition enough to compensate for its inevitable software stumbling blocks?
Design: A slice of Apple
Sitting alongside Huawei's MateBook X PCs and Mate 30 Pro smartphones, the MatePad Pro's styling is all about beautifully finished metal, glass, and yes, a bit of plastic (or vegan leather – read: pleather) too. The low-on-bezel front is an iPad-beating 90% screen (the iPad is about 83%), with a punch-hole camera being the only interruption to the 10.8-inch IPS display.
Unlike the comparatively squat iPad, the MatePad Pro is long, with a 16:10 aspect ratio screen. Loaded up with palm rejection to fend accidental presses owing to those teeny bezels, we tried it, and it works a treat when drawing, swiping and typing.
The tab's magnesium alloy frame feels very sturdy, and the curved sides make it seem softer in-hand when compared to Apple's flat-sided slate. It's also pretty, with no visible antenna lines to speak of.
As for colours, Forest Green or Afterglow (oioi) Orange are both available in Vegan Leather. Additionally, you can get a more traditional, matte plastic back in Midnight Grey or Pearl White. Ultimately, despite said plastic, Huawei's latest tab feels nothing short of great, and it looks it too.
Screen: Go wide or go home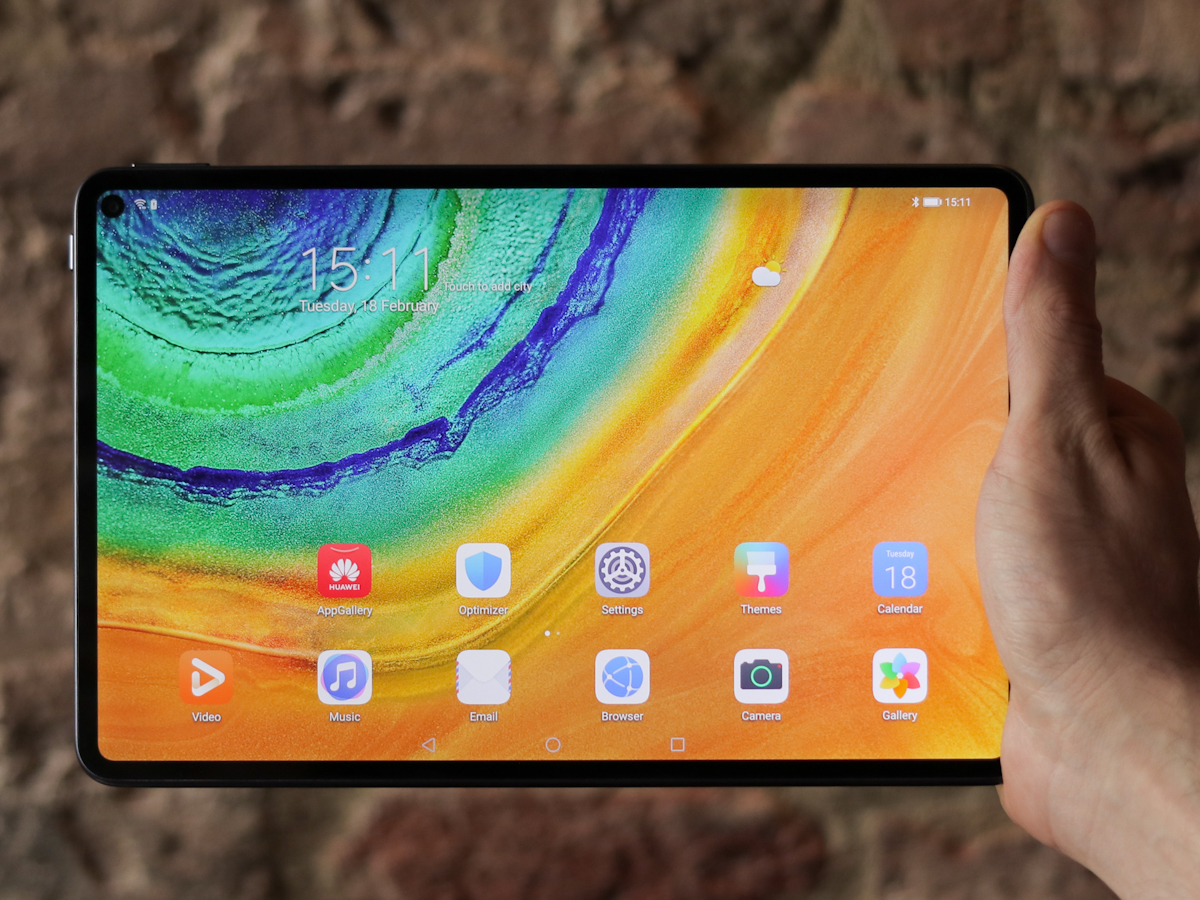 With a 16:10 Wide QuadHD 2560 x 1600 LCD screen, the MatePad Pro's dimensions are more like a big smartphone than a tablet when compared to iPad Pros 12.9:9 screens. It's also a smidgen sharper than the iPad Pro too.
The MatePad gets bright, climbing up to 540 nits. and with a 1500:1 contrast ratio, while it doesn't quite claim the coveted HDR certification Huawei's flagship phones do, it still looks zingy. We powered through the whole first season of Mandalorian on one with a pair of Sony WH-1000X M3s, and it was beautiful.
Also worth noting, it's Huawei's first DCIP3 Color graded tablet panel to date, which, coupled with the tabs aspect ratio, even makes it a handy photo editing tool with apps like Lightroom.
Specs: Power, party tricks, but no Play store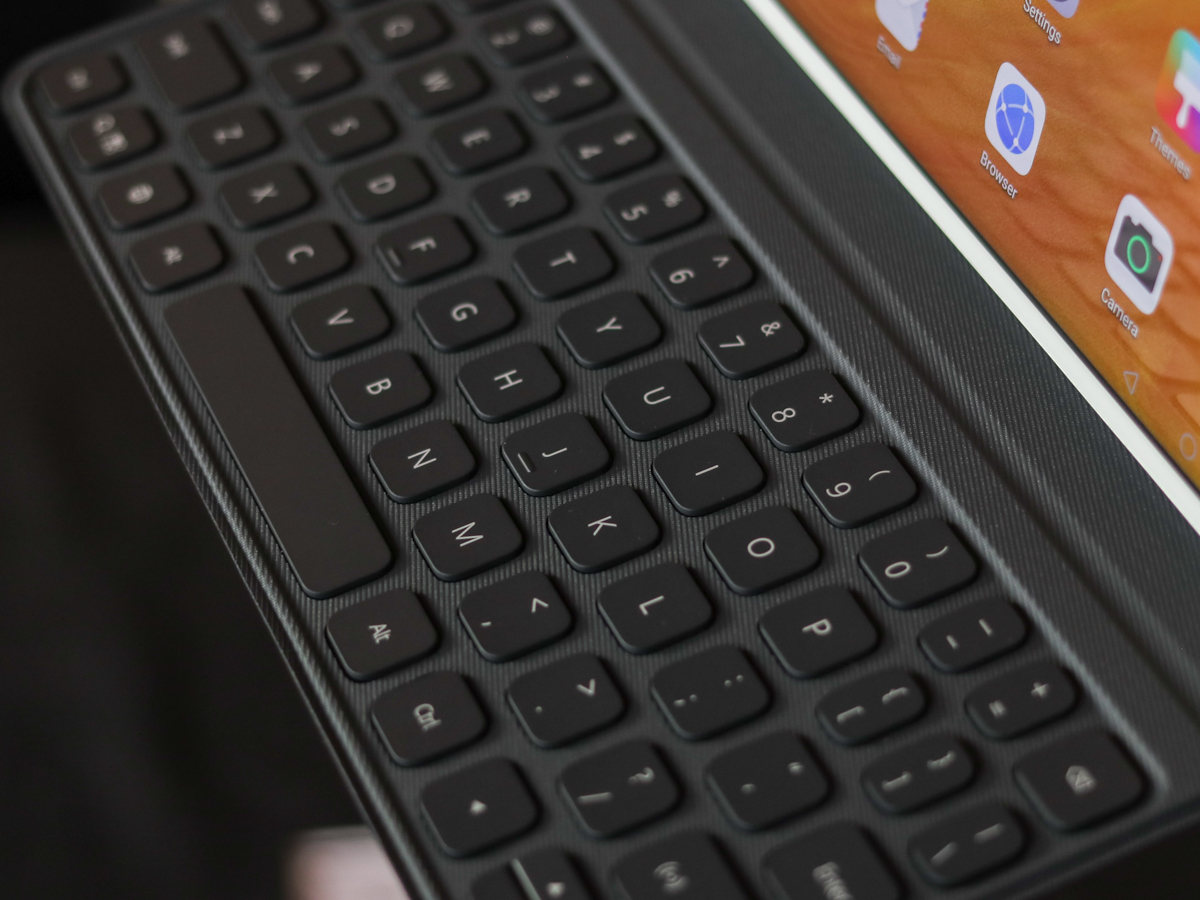 The MatePad Pro has a Kirin 990 chipset keeping it chugging along with future-proofed power, as well as 27W wired and 15W wireless charging. Better still, the ample 7250mAh battery supports reverse wireless charging too at 7.5W, so the hefty cell inside can power up your Qi iPhone or Android device wire-free if you're in a pinch.
As with the last generation of Huawei MediaPad, the MatePad Pro packs a quad-speaker tuned by Harman Kardon, so it sounds loud and round for something so thin. We'll briefly touch on the camera – it's a 13MP sensor f/1.8 lens combo, and it's good by tablet standards, but if you've got a flagship smartphone, definitely give it a miss.
As for the front camera, clocking in at 8MP, it's capable of Full HD video conferencing and can grab a decent selfie if the light's right.
Interface: Androidish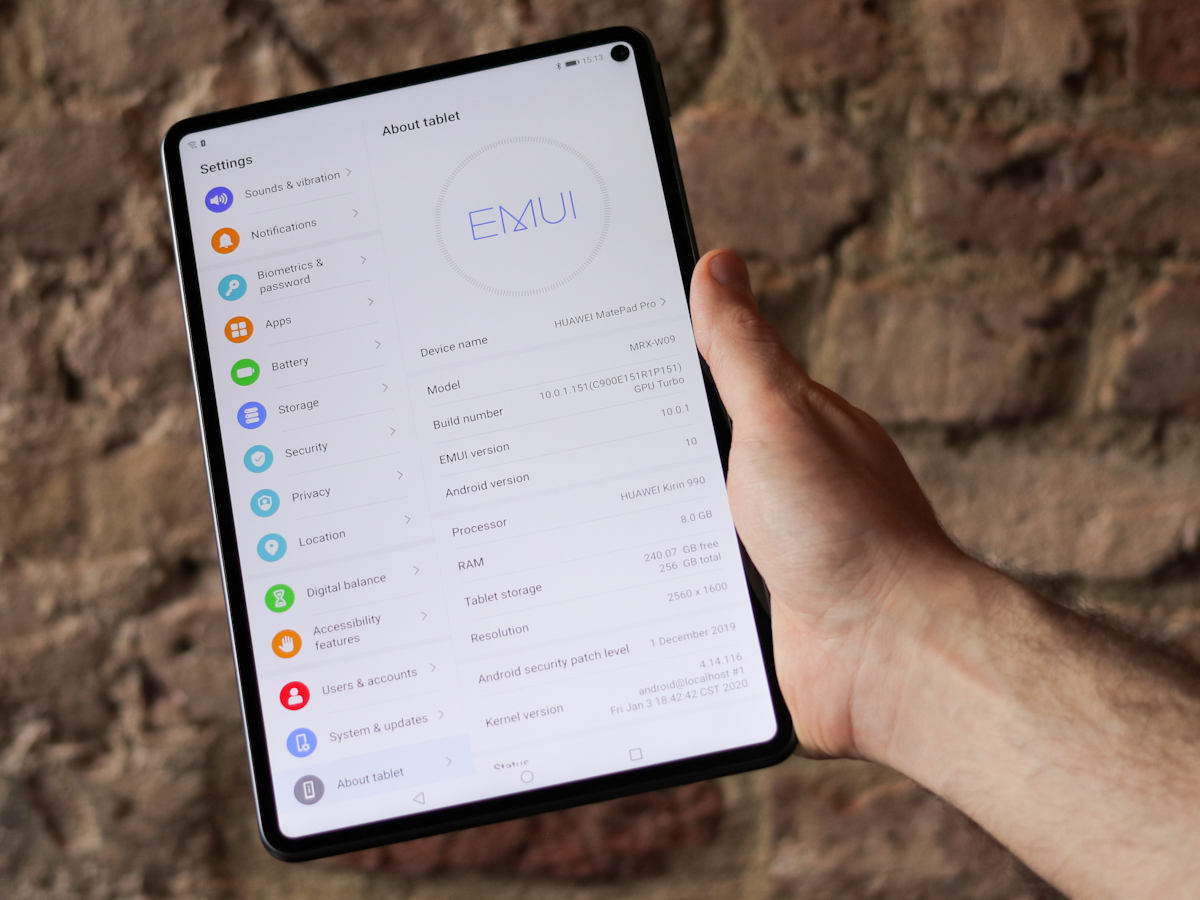 Running Android 10, but a pared back version – at least from a Google point of view, you'll want to do a bit of homework before picking up a MatePad Pro.
As with the Huawei P40, most Google apps don't work on it, and some third party apps won't either until Huawei, or app developers plug a few holes. This isn't Huawei's 'fault' per se, but it's the situation. No Google is less of an issue on tablets than on phones though.
Take Google Docs; hook up a Bluetooth keyboard or plonk it on the dock, and you can use Docs through a browser on your MatePad Pro – this isn't easy to do on a phone. What about Gmail and Google Calendar? Exactly the same. If you think of the MatePad as something of a tablet meets Chromebook, things start to seem less daunting.
As for apps, if you use Huawei's Phone Clone, it will transfer most over from your old phone or tab. Download a third party app store like APK Pure, and you should find most, if not all the apps you need are easy to access.
Sticking with apps – just a few weeks ago, there were some that wouldn't work on Huawei phones unless you hacked Google's services on there (which you can do on the MatePad Pro at your own risk). These included Marvel Unlimited and Netflix. Now, both run just fine when downloaded from a third party store, illustrating Huawei is working behind the scenes, as are app developers.
A new split-screen mode is also baked into the tablet, so working across two apps on the MatePad is a treat. There's a handy floating app option too, and even a desktop UI with floating windows for good measure – Huawei's going all out with added value. Huawei phone owners with EMUI 10 handsets can also project their phone's UI to the tablet, so you needn't flit between devices – and it works wirelessly, and beautifully.
Ultimately, while no Google is still a bust on the MatePad Pro, it's less of a compromise than on a smartphone, and Huawei's crammed enough flourishes in its flagship tab to still keep the software experience enjoyable, albeit imperfect.
M Pen and accessories: Double vision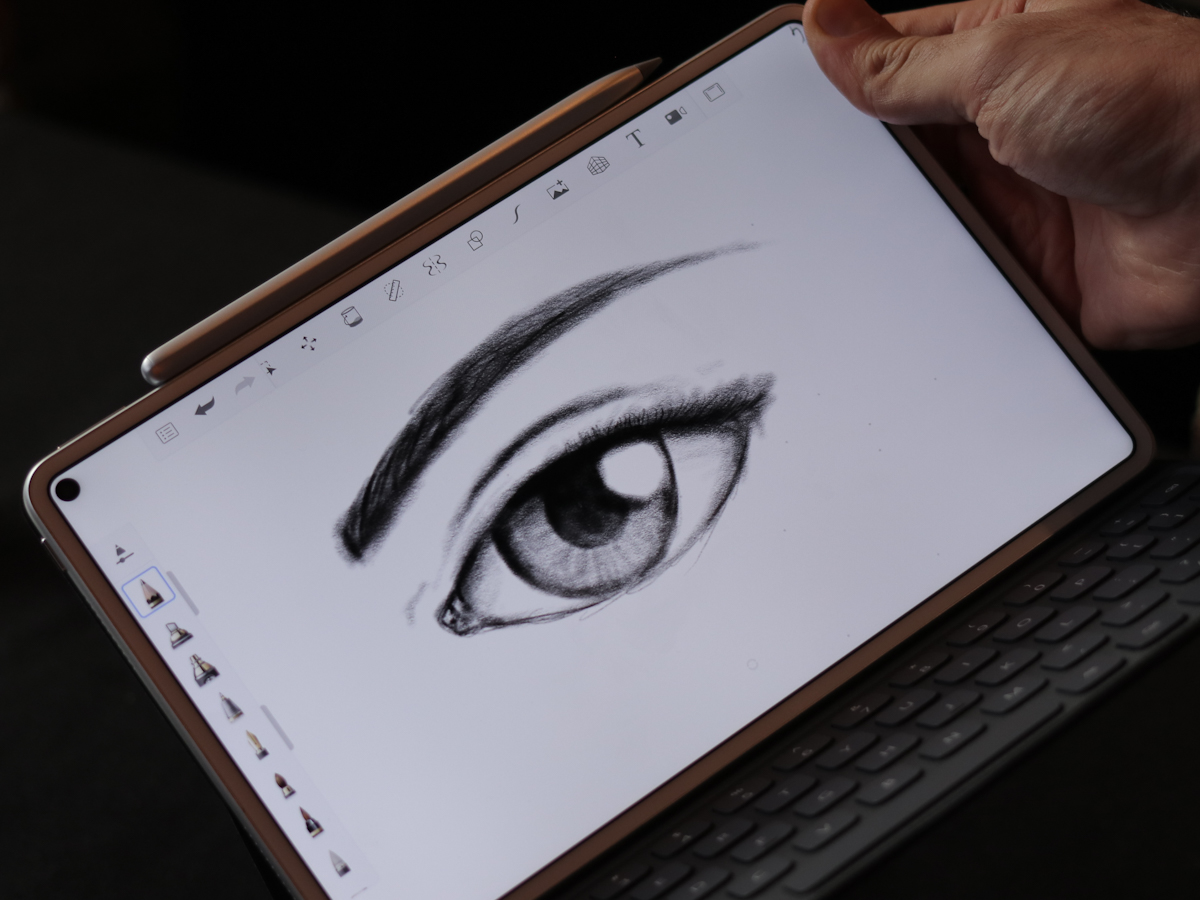 Until Huawei sorts its app store story out, we can't be anything but sceptical as to how great its Android phones or tabs will be in the real world (unless you're happy to hack Google Play Services on them like we did with our Mate 30 Pro).
We used the Mate 30 Pro without Google Mobile Services for a week, and it was massively impeded, even when performing basic tasks like receiving WhatsApp messages in a timely fashion, or calling an Uber.
That said, the specs and functionality of the MatePad Pro are top-tier, and the design is stellar too. Given the fact tablets are less integral to day to day life than phones, the MatePad could come off better than the Mate 30 Pro. Kindle Fires have been Play Store free for generations and are still going, after all.
A lot will also come down to price, which is yet to be confirmed, so check back for availability information and a full review in the coming weeks.
Huawei MatePad Pro verdict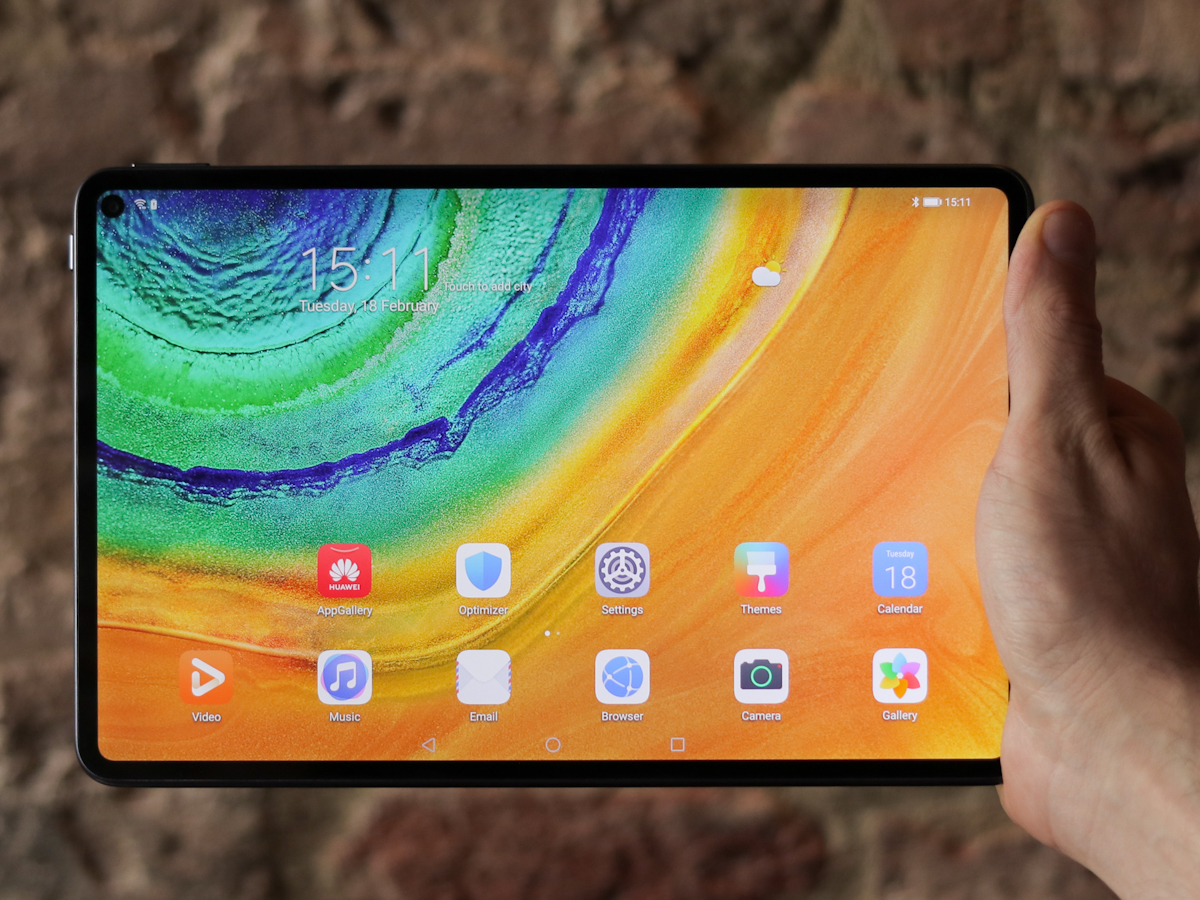 Until Huawei sorts out all things Google-related, how great its Android phones and tablets will be in the real world is going to massively come down to each individual user.
Its tablets, however, can get away with no Google better than phones, given the fact web apps are altogether bigger, better experiences on them. The specs and functionality of the MatePad Pro are top-tier, for a tablet, the camera is decent, and we actually used the wireless charging daily in our time with it.
Additionally, the optional keyboard cover and pen are handy, though integration isn't quite as slick as that of the iPad Apple Pencil or keyboard cover.
There are still some gremlins that need workarounds, and if your company is on Google Apps, for example, then you'll want to steer clear, but ultimately, for £499, you could do a lot worse than the MatePad Pro. It undercuts the Galaxy Tab S6 by around £120, and offers competitive features paired with premium design.
Tech specs
| | |
| --- | --- |
| Screen | 10.8-inch 2560 x 1600 LCD |
| RAM | 8GB |
| Storage | 128/256GB |
| Processor | Kirin 990 |
| Camera | 13MP rear camera + 8MP front camera |
| Dimensions | 246 x 159 x 7.2 mm |
| Weight | 460g |
Stuff Says…
Specs, a smart interface and a fair price join forces to compensate for the MatePad Pro's software limitations.
Good Stuff
Only tab with wireless charging
Thin, light, stylish
Powerful
Bad Stuff
Google software limitations
Plastic back
Occasional UI gremlins