Huawei MediaPad M5 review
Looking for an Android-flavoured iPad Mini? This tablet is a tasty alternative...
Remember when it felt like tablets were set to take over everything? We'd use 'em for work instead of laptops. We'd scroll through shopping lists on 'em in the supermarket. They'd do everything.
Things didn't quite work out that way. Most people who wanted a tablet bought one, and then stuck with it. Sales slowed, and so did progress.
That means today's box-fresh Huawei MediaPad M5 8.4 feels every bit the iPad Mini 4 rival – even if Apple's smallest slate is now creeping up on its third birthday.
As long as you don't go in expecting killer cameras, fancy eye-tracking tech and fireworks, though? Whether you're after Wi-Fi or an always-connected 4G model, this is one of the best smaller tablets you can buy.
Huawei MediaPad M5 design & build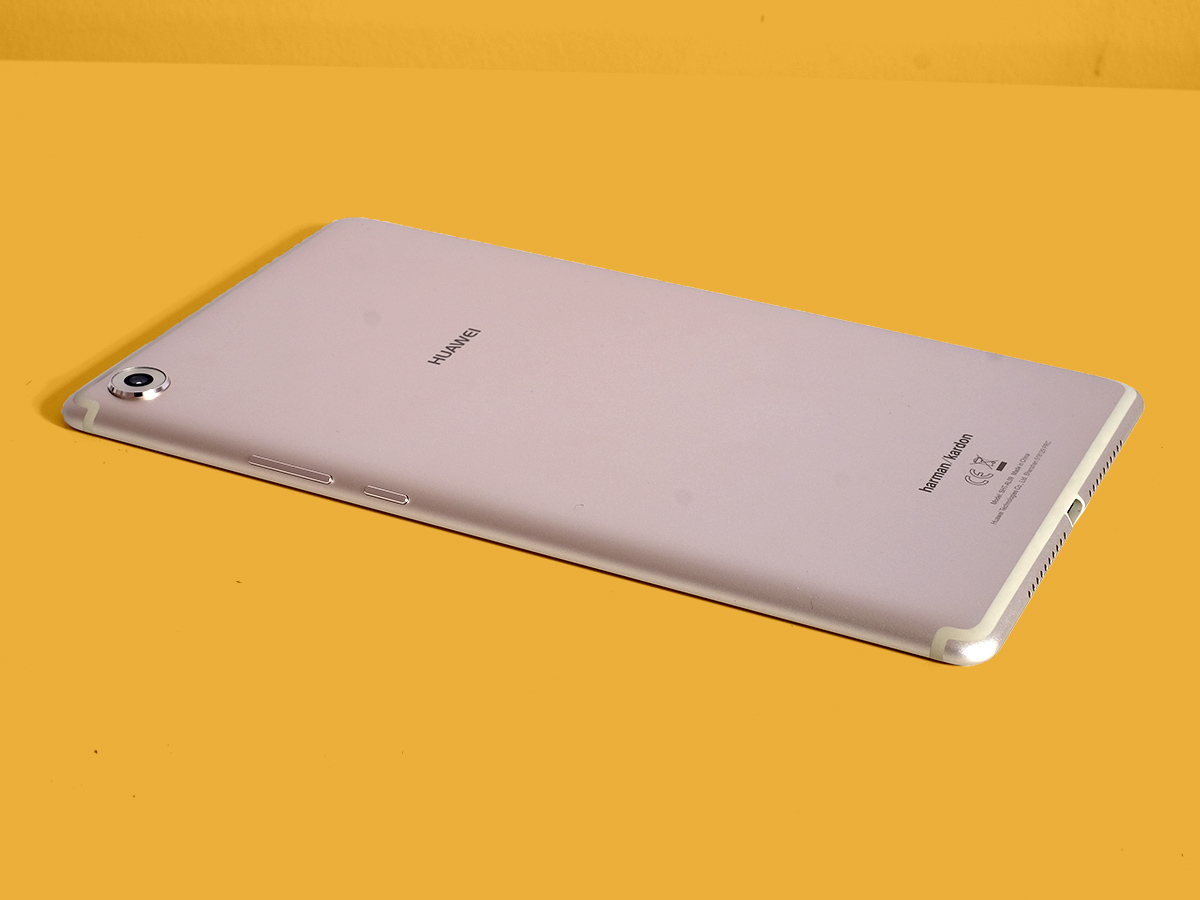 The MediaPad M5 looks and feels great. It's a lot like the iPad mini 4, just with a "longer" screen. The smooth piece of aluminium on the back is only interrupted by a few lines that let the antennas breathe, and the whole thing is light at only 316g: about twice the weight of a phone.
Huawei has done its best to make the M5 feel smooth, too. The back is curved, and so are the edges of the screen glass. For something made of glass and metal, this tablet feels kinda soft. In a good way.
The empty area around the display is minimal too. It's not the surround-blasting style of the Samsung Galaxy S9, but tablet designs are simply less aggressive than those of phones. It's our fault for not upgrading our tablets every year and turbo-charging progress.
The most obvious bit of "progress" is something bad, actually. There's no headphone jack. The MediaPad M5 comes with an adapter that plugs into the USB-C port on the bottom. If you have wireless headphones or use your tablet at home, no problem, but it's worth bearing in mind if you want something to make your way to work more bearable. We can imagine losing the adapter on day three.
There's no water resistance, which is standard for tablets, but there is a fingerprint scanner below the screen. It's reasonably fast, and you can use it to lock certain apps in case your kids might get their hands on the thing.
The M5 is pretty enough, if not desperately exciting. It's very similar to the older MediaPad M3, but gets rid of the plastic bar by the rear camera for a slicker look.
Huawei MediaPad M5 Screen & Sound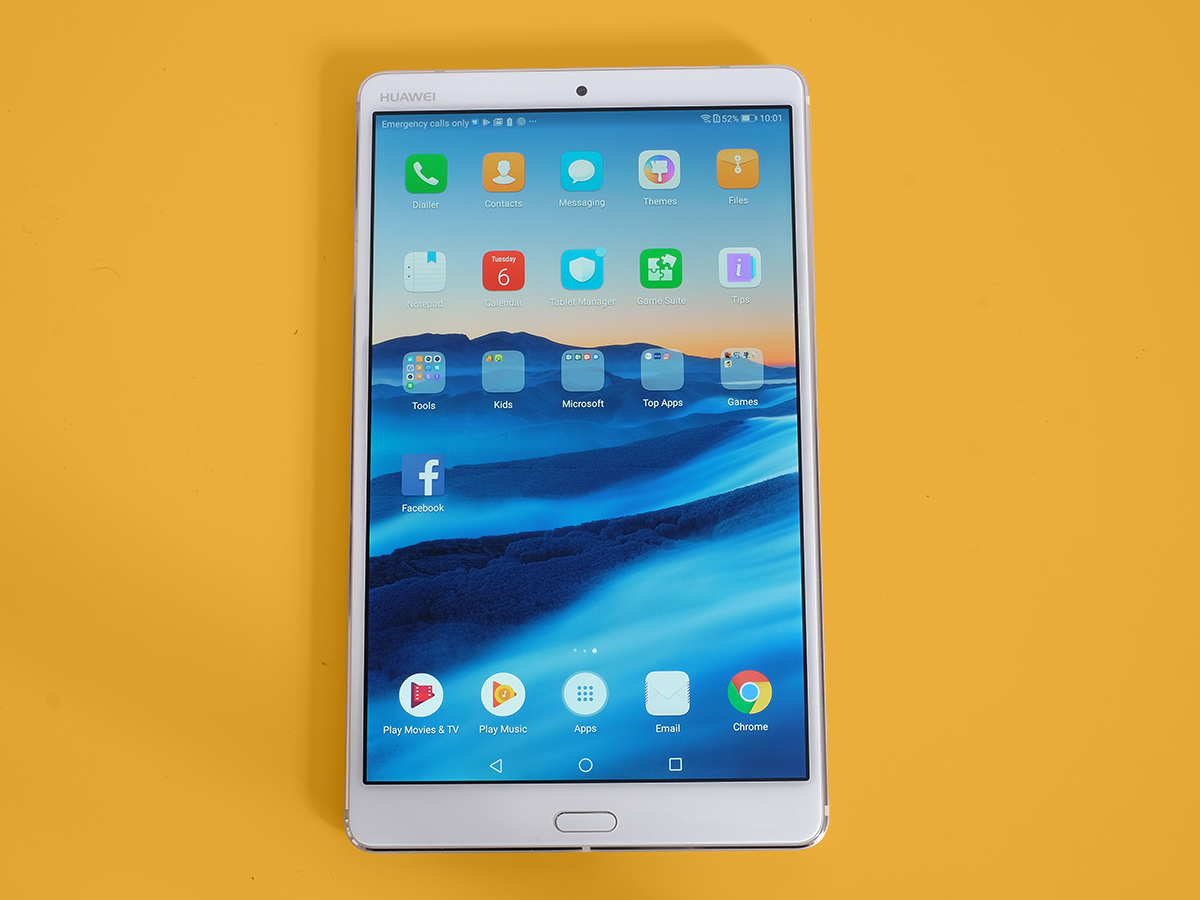 As the name suggests, the M5 8.4 has an 8.4-inch screen, stretching 2560×1600 pixels across a 16:10 aspect LCD panel.
Its biggest rivals, the Samsung Galaxy Tab S2 8.0 and iPad Mini 4, have squatter 4:3 displays. Samsung's tablet might now be a generation old, but the newer Galaxy Tab S3 is only available in 9.7in guise, making the older model the main competitor here.
Which is better? For movies, the Huawei's longer style wins. But 4:3 beats it for web browsing and most kinds of apps.
Phones might be going the other way, with narrower aspect ratios, but that's because you want as much screen as possible in a device that fits in your hand. Tablets don't have to fit between your thumb and fingertips. The MediaPad M5 can (just) – but it's not how you'll use the tablet.
This is a decent screen, although it can't quite match the iPad mini 4 or Galaxy Tab S2. Partly due to black levels, and partly colour accuracy, the MediaPad's screen doesn't quite have the impact of the world's best tablets. It is not miles off, though.
Unlike the bigger Pro version of the MediaPad M5, there's no stylus. This is a tablet for messing about, having fun and wasting time rather than designing your graphic novel. It's a media machine.
To earn those extra media points, there are speakers on its top and bottom, playing in stereo when you watch a film. They're powerful speakers, with good maximum volume and even a hint of bass – but at high volumes the mids become a bit hard on the ear.
Huawei MediaPad M5 software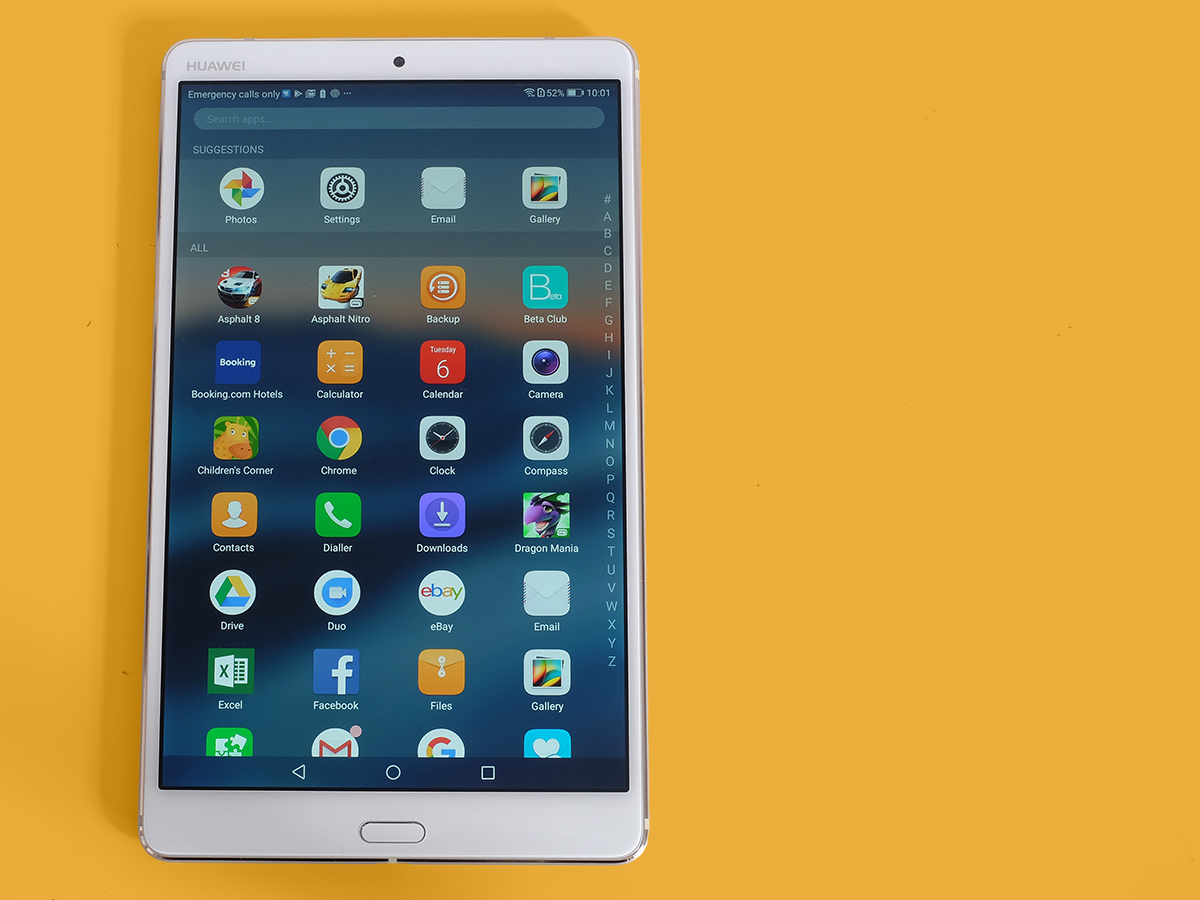 Dig into the M5's settings menu and it'll tell you it runs Android 5.1. This is, thankfully, a fib – chalk it up to pre-release software on our review model. It actually has Android 8.0 Oreo, with Huawei's EMUI software on top. This makes it one of the most up-to-date Android tablets you can buy right now.
EMUI doesn't look exactly like standard Android, with a different apps menu design, custom icons and a rearranged notification tray. However, the general feel is familiar. You can keep the apps menu in place to make it more like normal Android, or get rid of it entirely for a more iOS-like approach. And there are themes, for a one-button MediaPad makeover.
Like many Huawei phones, the M5 comes with a bunch of apps pre-installed, most of which you probably don't want. A handful of dated Gameloft games isn't our idea of a solid gold freebie.
An app called Children's corner also offers some bits for young kids to play about with, and the fingerprint lock stops them from being able to zip back into the main interface to play gory, in-app purchase-loaded game X.
Think that's rubbish too? You can uninstall it.
Huawei MediaPad M5 Performance & Battery life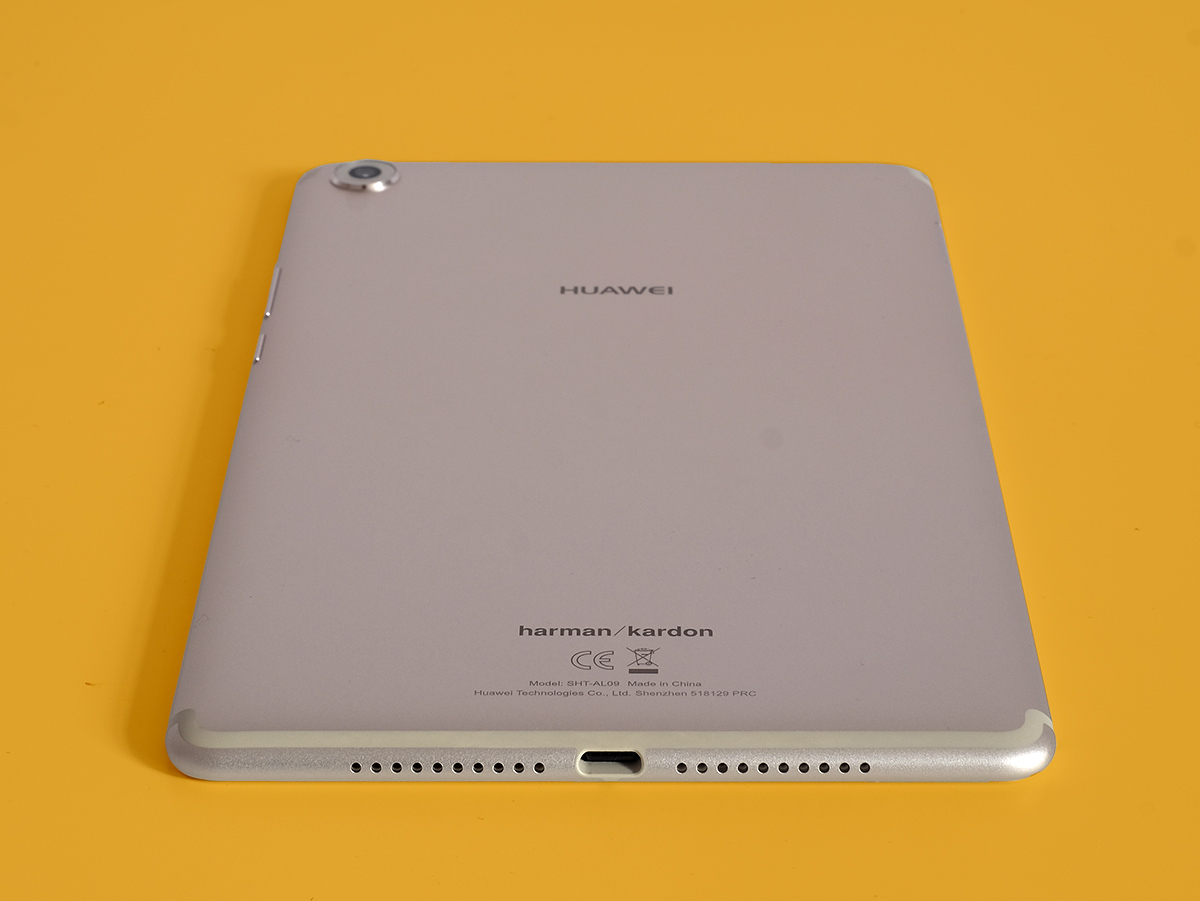 The Kirin 960 CPU inside the M5 isn't brand new, but Huawei has used it in some of its older top-end phones like the Mate 9. It's plenty punchy.
One of the few issues with the older MediaPad M3 was obvious frame rate stumbles in games like Asphalt 8, but that's not a problem here. This is a genuinely powerful CPU, with beefier insides than, say, the Snapdragon 650 you might see in affordable phones.
The GPU is a Mali G71, and there are eight CPU cores, four of which are punchy Cortex-A73s. If this all sounds like product codes from an industrial supplies catalogue, it just means the M5 doesn't have budget insides.
In Futuremark's 3DMark Sling Shot Extreme test, which makes a tablet render a bunch of Star Wars-a-like scenes, the Huawei MediaPad M5 8.4 scores 2064 points. That's far better than the 878 of the Galaxy Tab S2, and a chunk better than the 1695 of the iPad mini 4. This may not be a dynamic tablet, but newer hardware has its benefits.
You might expect that comes at the expense of battery life, sacrificed at the altar of slim design to keep the MediaPad's dimensions under 8mm thick. But not so. Huawei has found room inside for a 5100mAh battery, which is very similar to the iPad mini 4's 5124mAh, and significantly better than the Galaxy Tab S2's 4000mAh.
Give it a light task light playing a 720p video at 50% brightness, and the M5 lasts a pretty mega 15 hours. This little thing's processor seems good at scaling back its power when not much grunt is needed.
Three hours of Real Racing 3 takes 51 per cent off the battery. Six hours of gaming off a charge? We'll take that.
Huawei MediaPad M5 Camera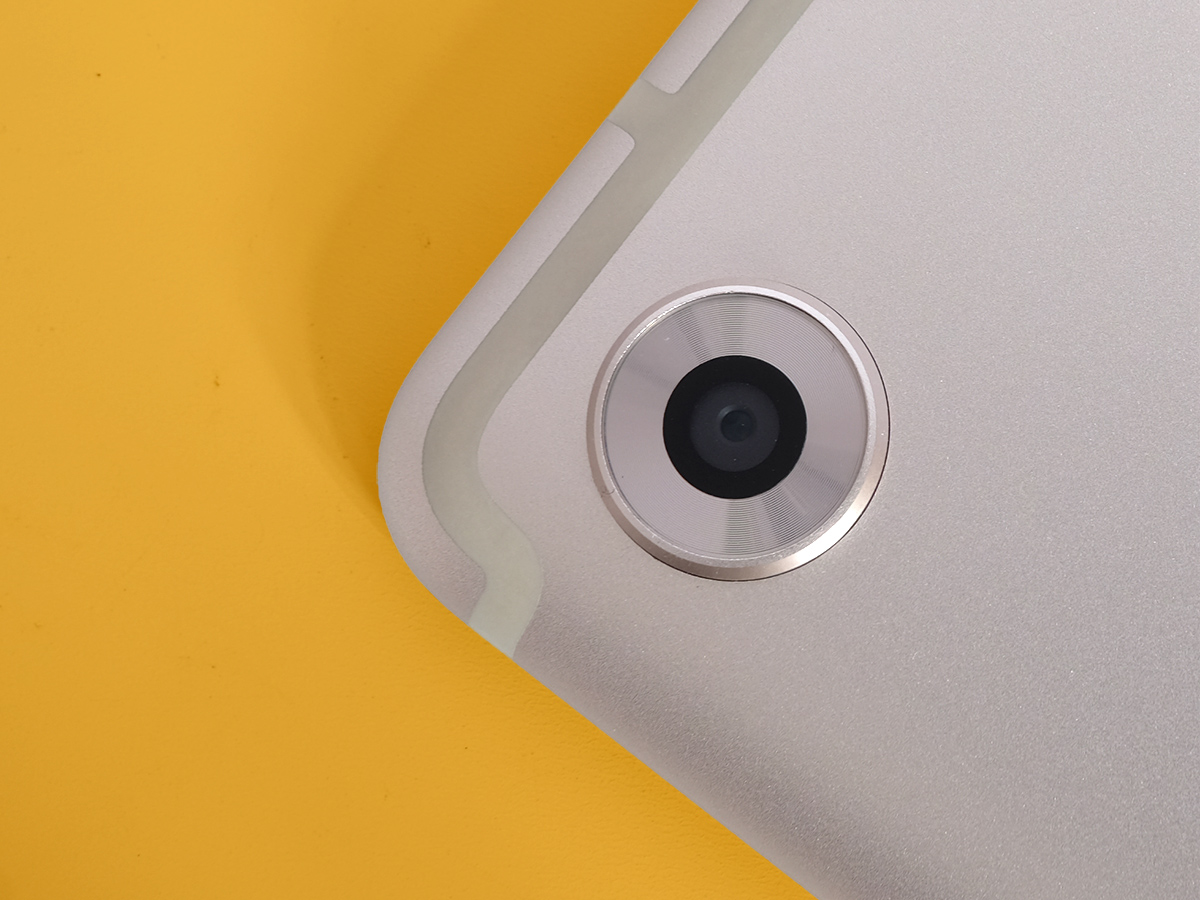 There's a 13MP camera on the back of the M5, complete with autofocus, but no flash. Which tells us it's there for fun, but nothing more serious.
Thanks to the tablet's relatively small size, the camera isn't an instant embarrassment to use out in public, and you get higher resolution snaps than either the iPad mini 4 or Samsung Galaxy Tab S2 (they both have 8-megapixel cameras) – but if you have a high end phone, it'll take better snaps.
Still, for a tablet this is pretty good. There's no major shutter lag, Huawei's camera processing makes some useful dynamic range tweaks, and tends to make even dim indoors shots look bright enough.
The M5 is no low-light camera hero, but then no tablet cameras are. You also get a moving picture mode, which takes little video clips to go along with each shot.
The front camera uses an 8-megapixel sensor which, again, won't match those of Huawei's top phones – particularly as the company often splashes out on pretty lavish front cameras.
However, selfies look pretty good, with enough finesse to stop facial hair and other fine detail from devolving into porridge-like mush.
Huawei MediaPad M5 Verdict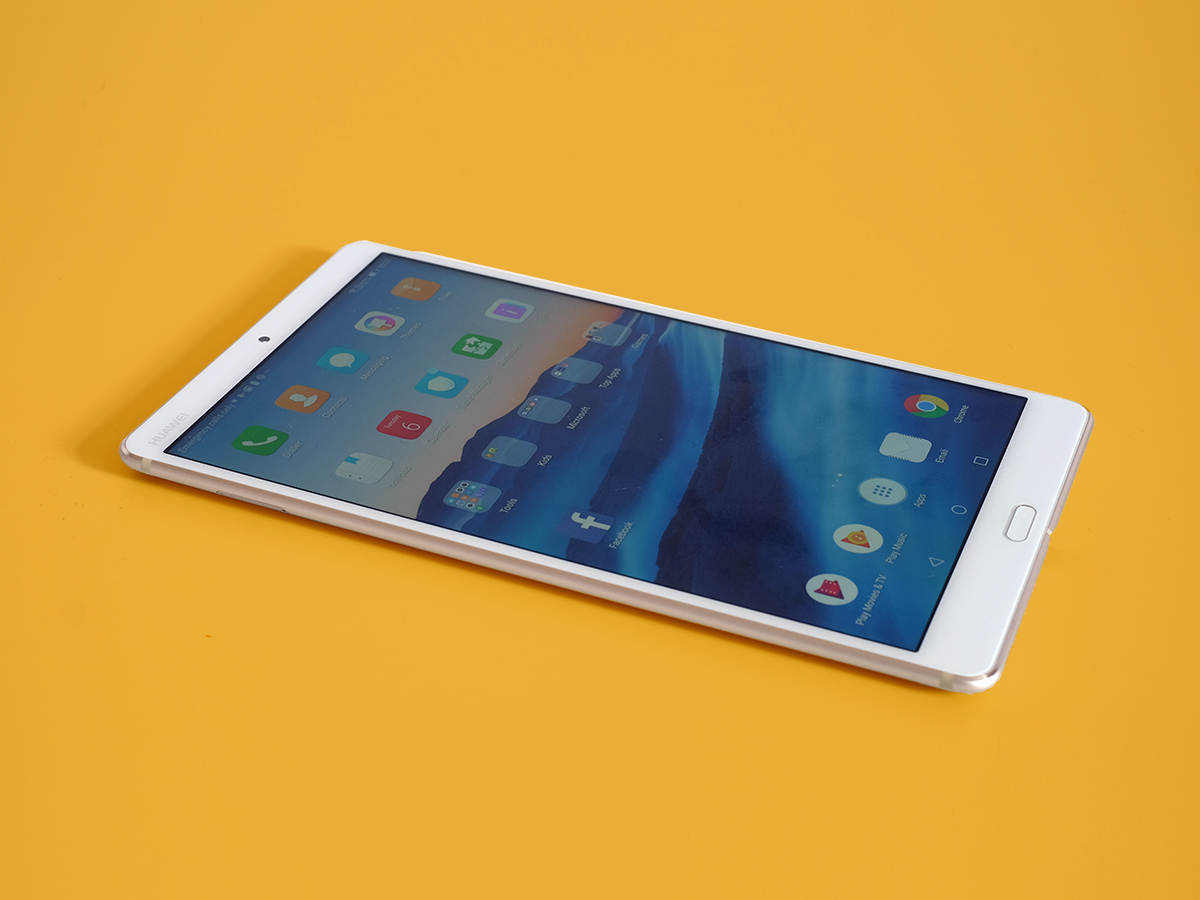 The MediaPad M5 8.4 is not a groundbreaking tablet that'll make you throw your iPad mini in the bin, along with your laptop and TV.
But let's be honest: we just don't see that many new tablets these days. Particularly semi-affordable ones like this. Huawei has nailed the design and battery life, making the M5 a great little slate for games and movie streaming.
We just have one question. Did you really have to rip out the headphone jack?
Tech specs
| | |
| --- | --- |
| SCREEN | 8.4in, 2560×1600 LCD |
| CPU | HiSilicon Kirin 960 octa-core |
| MEMORY | 4GB RAM |
| CAMERA | 13MP rear w/ autofocus, 8MP front |
| STORAGE | 32GB on-board, microSD expansion |
| OPERATING SYSTEM | Android 8.1 Oreo w/ EMUI |
| BATTERY | 5100mAh non-removable |
| DIMENSIONS | |
Stuff Says…
Tablets aren't red-hot tech anymore, but the MediaPad M5 is one of the best small models around – if you don't fancy an iPad mini, anyway
Good Stuff
Very good battery life
Slim and smart-looking
Decent performance
Bad Stuff
Nothing that new or exciting
Screen doesn't quite match the very best
No headphone jack