Huawei P Smart (2019) review
With plenty of great smartphones at the same price point, how does the latest P Smart hold up?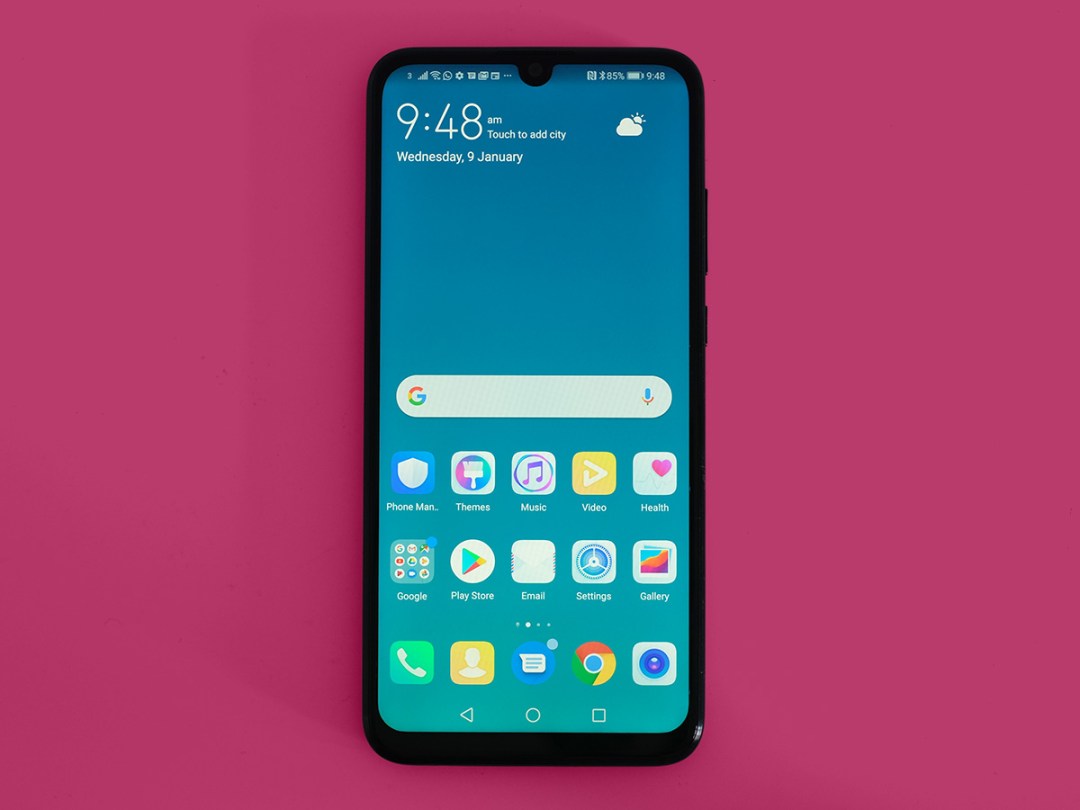 These days your phone can go from looking "current" to "old" in about six months.
18:9 screens booted 16:9 phones into the past, notches are the new normal. And, in 2019, punch hole displays will make even notched phones seem last-gen.
The Huawei P Smart 2019 should only be a minor tweak of the 2018 P Smart. But as it adds a notch and a new design style, it manages to make the older version seem past-it without any groundbreaking changes in the tech.
As with many Honor and Huawei models, bar the Honor 7A dregs, the Huawei P Smart 2019 is a great mid-price buy. It works well, and the lower-end parts are enhanced with smart software.
However, unless you find it selling at a great price, the even better value Xiaomi Mi 8 Lite and Honor 8X are worth considering instead. Xiaomi's is the new kid in school who, annoyingly, becomes more successful and popular than you in their first week in town.
Design: Pretty Plastic
The Huawei P Smart 2019 is a better-looking phone than the 2018 version. It looks like a cousin of the OnePlus 6T: smoothly curved back, moody style and a teardrop notch.
However, you could argue this is actually a downgrade from the last P Smart in terms of build.
Huawei is one of the masters of making cheap phones that feel pricey, but the P Smart's rear is plastic rather than glass. We should have known: you rarely get a true curved glass back for this sort of money.
If you like to put a case on your phone, it doesn't matter. Leave it bare, though, and the P Smart does feel distinctly like plastic rather than glass. And, sure enough, after a week or so of life in a pocket, the plastic has taken on a smattering of tiny nicks, visible when they catch the light.
It's no disaster, and this phone still leaves an altogether classier impression than the old P Smart. But it's technically outclassed by the Moto G6 and Xiaomi Mi 8 Lite. They have real glass backs. If you use a case, you might as well just judge the hardware by the one you like the look of most.
Other parts are a mix of hits and misses compared to the very best rivals. The Huawei P Smart 2019 has a microUSB charging socket. Boo. But it also has a 3.5mm headphone jack. Yay.
The internal speaker isn't as good as the Xiami Mi 8 Lite's, and sounds harsh at top volume. Boo, hiss. But the finger scanner on the back is fairly quick and reliable. Whoop.
You get 64GB storage too, which is now bang on what we expect at the price from a high-value brand like Huawei.
Screen: a teardrop in the smartphone ocean
The Huawei P Smart 2019 also shows that from a distance at least it's hard to tell a £200-odd phone from a £500-odd one. It has a teardrop notch and fairly slim screen surrounds.
A teardrop design like this tells you there aren't not too many techy sensors above the screen: no IR cameras or proximity sensors. There's no room for the things.
It doesn't make a huge deal of difference unless you're a bedroom tech critic, though. The Huawei P Smart still has a face unlock mode, and it works very quickly in most lighting conditions.
It also has the kind of screen that will leave you scratching your head as to why you'd pay more any more for a phone. It's 6.21 niches across, that notch gives it an ultra-long 19.5:9 aspect, and the resolution of 2340 x 1080 pixels makes it sharper even than an iPhone XR.
There's enough brightness on tap for bright days, and some control over the screen style. 'Normal' mode is there for the purists, 'vivid' for those out for as much colour as they can get.
The latter is far cooler, or bluer, looking than the natural mode even after you tweak the colour temperature. But there's a good amount of scope for making this screen look as you want.
The Moto G6, Xiaomi Mi 8 Lite, Huawei P Smart, Honor 8 and Nokia 7.1: all these phones have screens that won't be embarrassed by any phone, at any price.
Sure, most don't have HDR or 1000-nit brightness. But the majority of us just don't need those shiny baubles anyway.
For all the notch haters out there, yes, you can block off the Huawei P Smart's one with a black bar. But that teardrop is an important part of the phone's design personality.
Software and Performance: Middle ground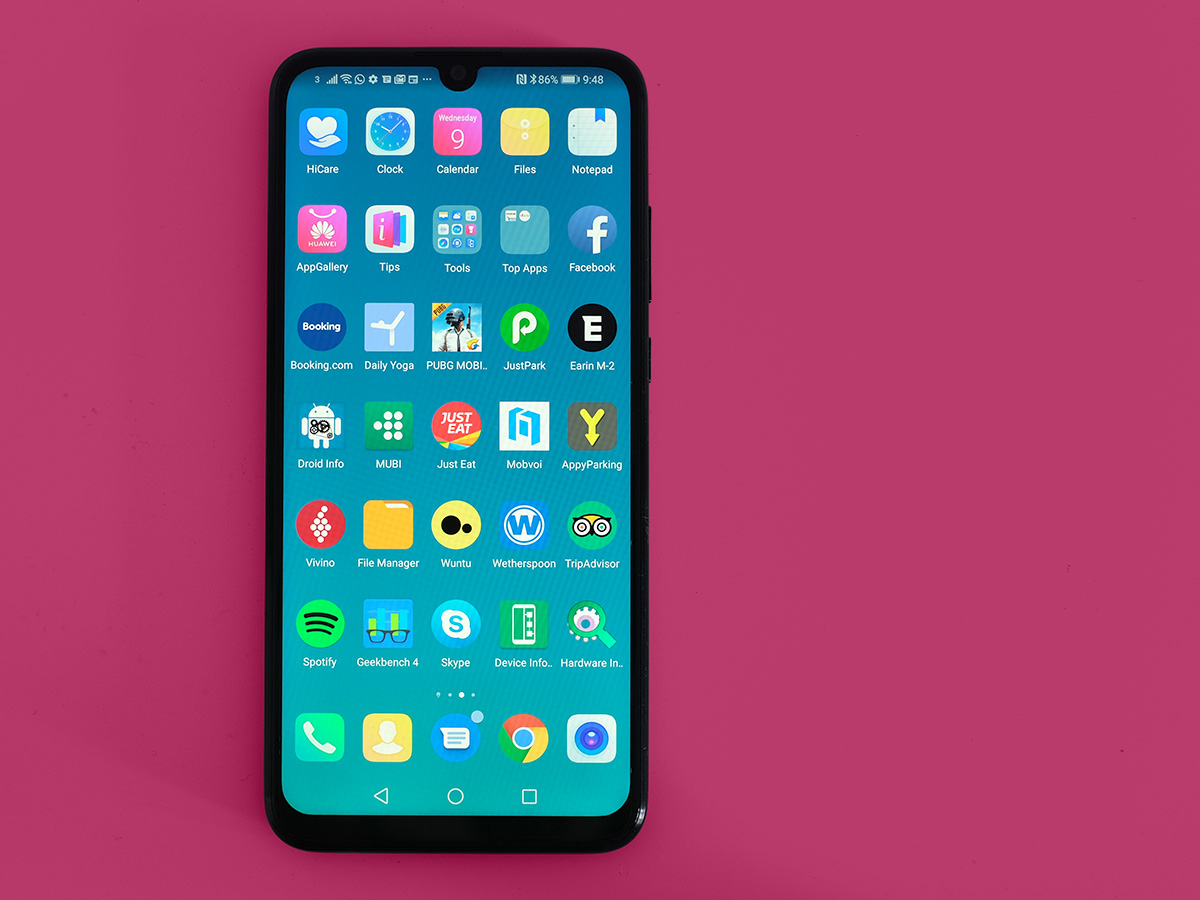 So is the software. Like almost every Honor and Huawei phone, the P Smart runs EMUI, Huawei's custom Android skin.
Some people still hate EMUI, but this opinion is becoming almost as outdated as trotting out "one world cup and two world wars" whenever you meet a person from Germany.
There's nothing wrong with EMUI, particularly if you take a trip to the menu system to bring back the apps drawer. It's pretty snappy, there's more customisation than in vanilla Android and themes let you alter the look easily.
Rummaging through the theme store is a little like rifling through a particularly dilapidated TK Maxx, but there are a few gems in there if you dig deep enough.
This phone has the Kirin 710 processor, the same used in the Honor 8X and Mate 20 Lite. And this places it squarely in the middle of the pack of the best phones at the price. It scores 5368 in Geekbench 4, sailing serenely past the now-ageing Moto G6 Plus. That phone scores around 4000 points.
Its CPU side is more powerful than the Moto One's or Nokia 7.1's. However, the Honor Play and Xiaomi Mi 8 Lite are a further step up. And, unexpectedly, there is a noticeable difference in use between the P Smart and Honor 8X, even though they use the same CPU.
This phone has 3GB RAM, the Honor 8X has 4GB. A few times we noticed apps seem to be booted out of their multi-tasking "parked" mode a bit earlier than expected. This isn't necessarily because 3GB isn't enough, more that Huawei phones are so often over-stuffed with RAM that the software may assume there's an excess of the stuff.
There's also the odd pause before the keyboard appears on-screen, a performance niggle that really shouldn't happen in a phone this powerful.
For whatever reason, the Huawei P Smart feels ever-so-slightly less nippy than a Moto G6 Plus or Xiaomi Mi 8 Lite. It doesn't truly irritate, but you have a wealth of great choices for this amount of cash. Every little niggle matters.
Camera: Software savvy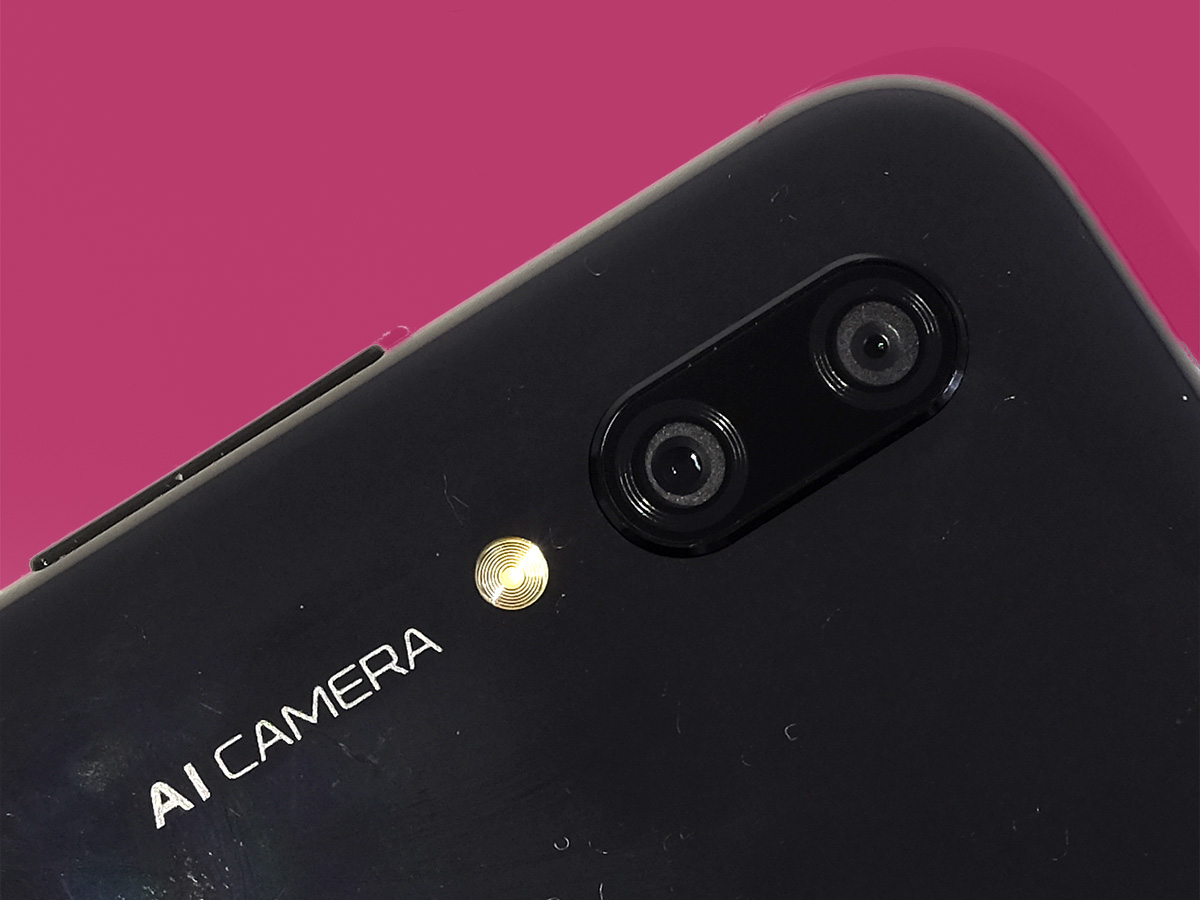 The Huawei P Smart has a 13-megapixel rear camera with a 2-megapixel buddy around the back to let you take shallow depth of field shots. Like the build and the processor, this is not the most impressive hardware you'll find at the price.
It can't take 4K video, just 1080p, and while it makes even some of the darkest scenes look bright, most of them won't look that good. In a technical sense the Huawei P Smart is no better than we'd expect for the price.
However, Huawei has done a solid job of squeezing more out of the camera with software.
The first is something we've already mentioned, night photography. Sure, those night images may not be worth hanging on the wall, but making them as bright as the P Smart does isn't to be sniffed at.
Well, not completely. The dynamic range tweaking also does a great job, letting you shoot right into the sun without the rest of the image becoming a glum shadow.
This is a good surface-level camera. Day-lit photos look decent and shooting speed is excellent. But you can see it's not a killer when you look real close. Night images and general clarity lag a bit behind the Xiaomi Mi 8 Lite and Honor 8X.
Huawei seems to know the sensor is a compromise, because when you switch on the "AI" mode, it shoots 8-megapixel photos rather than the full resolution. Cameras usually lower resolution to make images look cleaner when you zoom in, hiding the deficiencies of the actual hardware.
The 8-megapixel selfie camera isn't too hot either. In lower light dark chroma noise starts to invade your images, where rainbow splotches appear because the camera can't quite render the real-life tones properly.
Huawei deserves props for making the P smart 2019 camera a blast to use, but finding its limits doesn't take much effort.
Battery Life: Time to cut the MircroUSB cord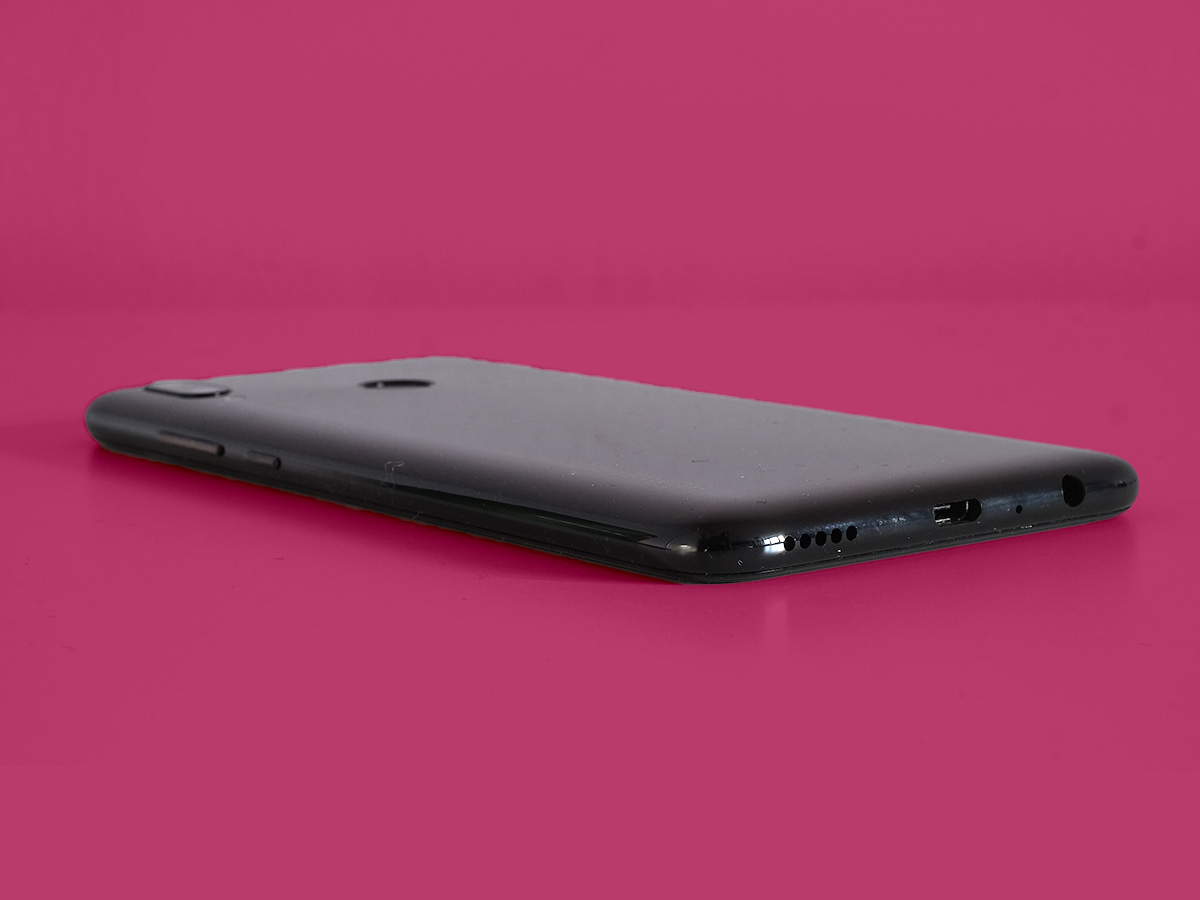 The Huawei P Smart has a 3400mAh battery. That sounds about right for a phone with a 6.21-inch screen. And it's similar capacity to the arch-rival Xiaomi Mi 8 Lite.
Oddly enough, though, the P Smart seems to last longer than the Xiaomi. It's likely down to Huawei's famously controlling power optimisation. This may also be one extra reason the phone seems to boot apps out of their parked multi-tasking modes quicker than some.
Here's a classic trade off for you. Without a truly giant battery to lean on, phone makers have a choice of gunning for longer battery life or slightly better off-the-grid response times day-to-day. The Huawei P Smart favours, just slightly, battery life.
You can expect to see 30 percent or slightly more charge after a solid day of Smart-bashing. And there hasn't been a single day we've needed to give it a top up before heading out for the evening.
Not every part of this area is quite so strong, though. The Huawei P Smart has a microUSB charger rather than a USB-C one. It's a "last-gen" connector, and really seems it in 2019. In a truly cheap phone this wouldn't be an issue, but it seems out of place in what is a higher-end budget phone.
Huawei's riding out microUSB for as long as it can. Time's up, Huawei.
Huawei P Smart (2019) Verdict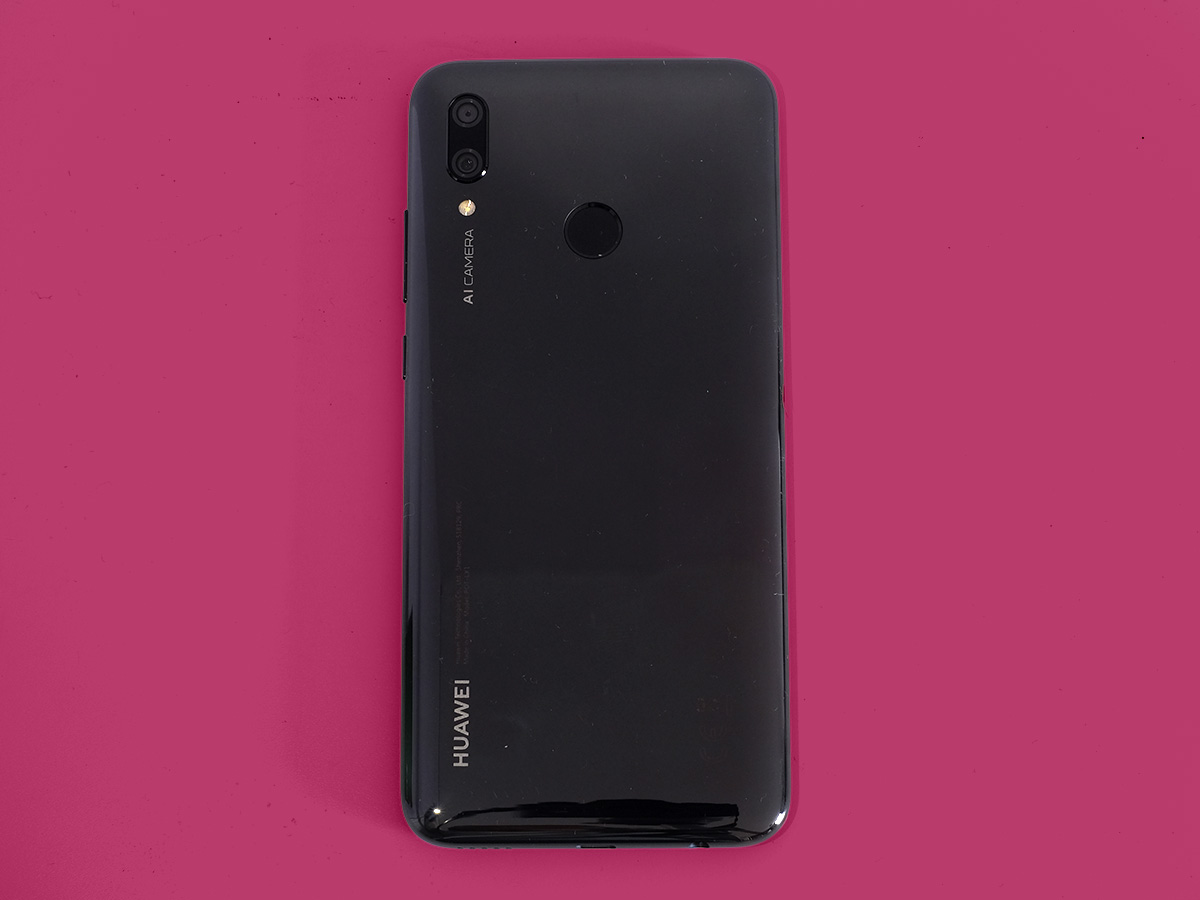 The Huawei P Smart is classier-looking than last year's phone of the same name. There's an awful lot of good choices at around this price.
You could even say this is the ultimate smartphone sweet spot, if you want some high-end gloss without too high cost.
The rub: some other brands offer more of it without any more investment. And we're not even really talking about the Moto G6 Plus.
Great as it is, the P Smart's notchy screen as a more "current" look. It's Huawei sister brand Honor and newcomer (to the UK) Xiaomi do not mess about in this price band.
Honor's Play and 8X are, well, kinda brilliant. And Xiaomi's Mi 8 Lite is similarly desperate to get you a good deal. Huawei is too, but these challenger brands try even harder.
Stuff Says…
A solid affordable phone, but the competition at the price is incredibly strong
Good Stuff
Smart looks
Good battery life
Large, sharp screen
Bad Stuff
Some minor performance quirks
microUSB charging
Not the best camera in its class
Plastic back looks better than it feels