Huawei Watch Fit 2 review: function meets fitness
A value-minded wearable that looks the part, while staying big on sports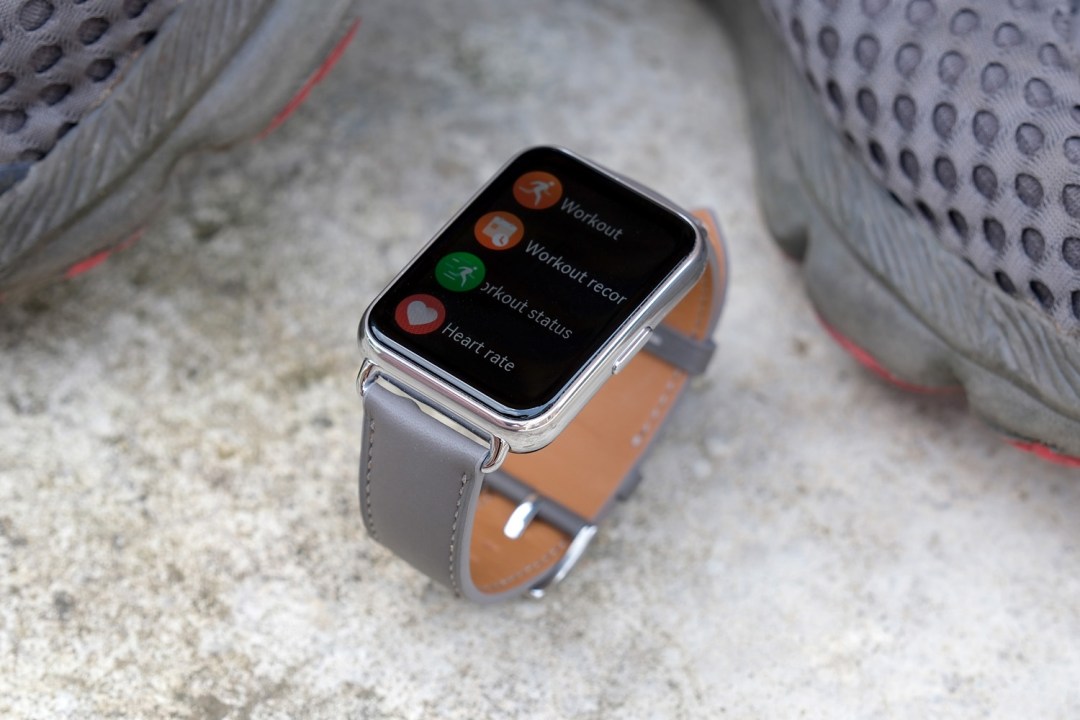 Fitness tracker? Smartwatch? Or something in between? The Huawei Watch Fit 2 is trying to be all things to all people. Or at least all people that want something subtle strapped to their wrist.
Huawei's latest wearable is barely any bigger than the average fitness band, but has the styling and features of something considerably more expensive. For the second generation, Huawei has overhauled the UI, and added a built-in speaker so you can take calls from your wrist mid-run without having to reach for your phone.
With prices starting at £130, it's a fair bit cheaper than the firm's smartwatch line-up, and competes directly with the best Fitbit has to offer. Does that make it a slam-dunk for fashion-focused fitness fans?
Huawei Watch Fit 2 design & build: sized just right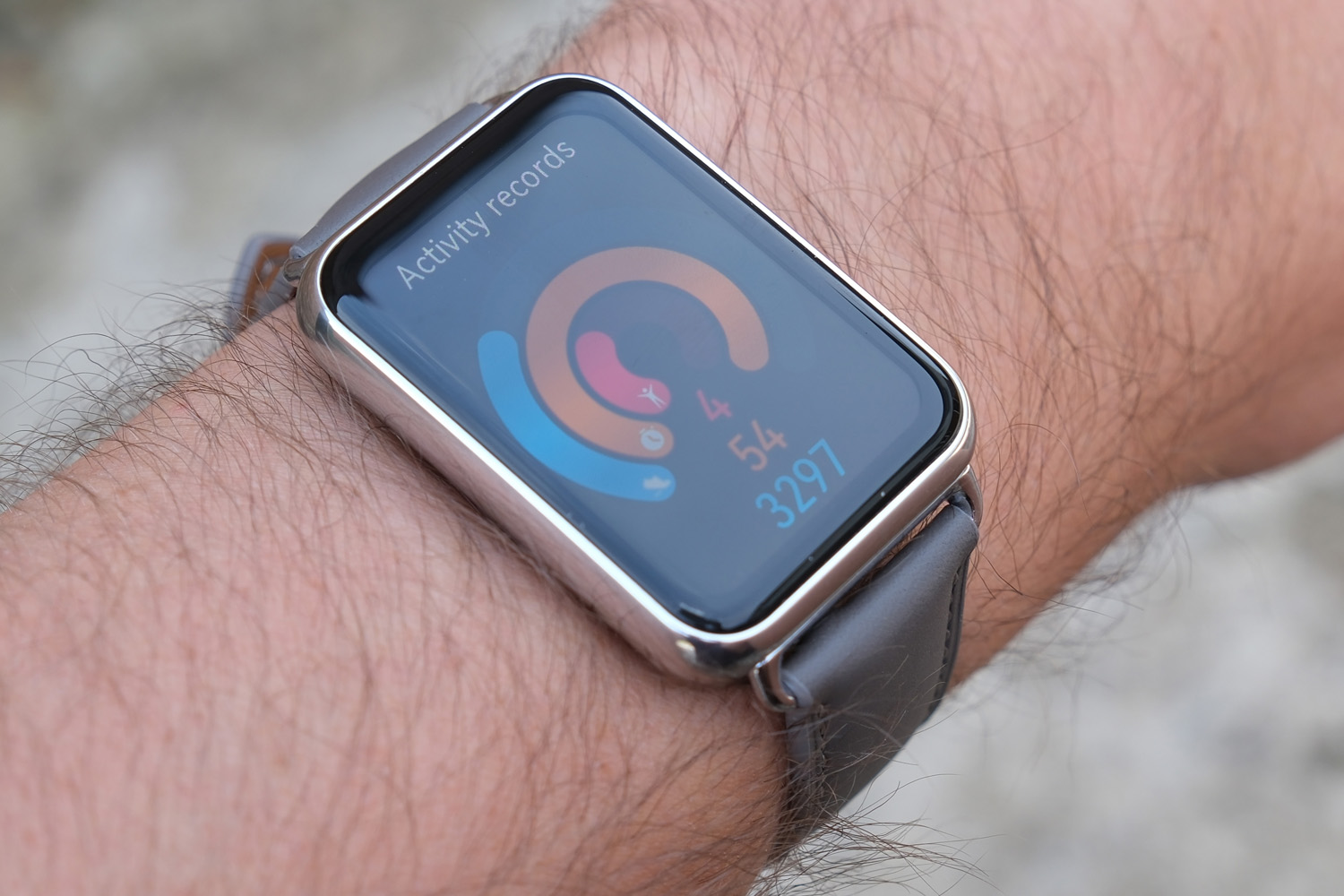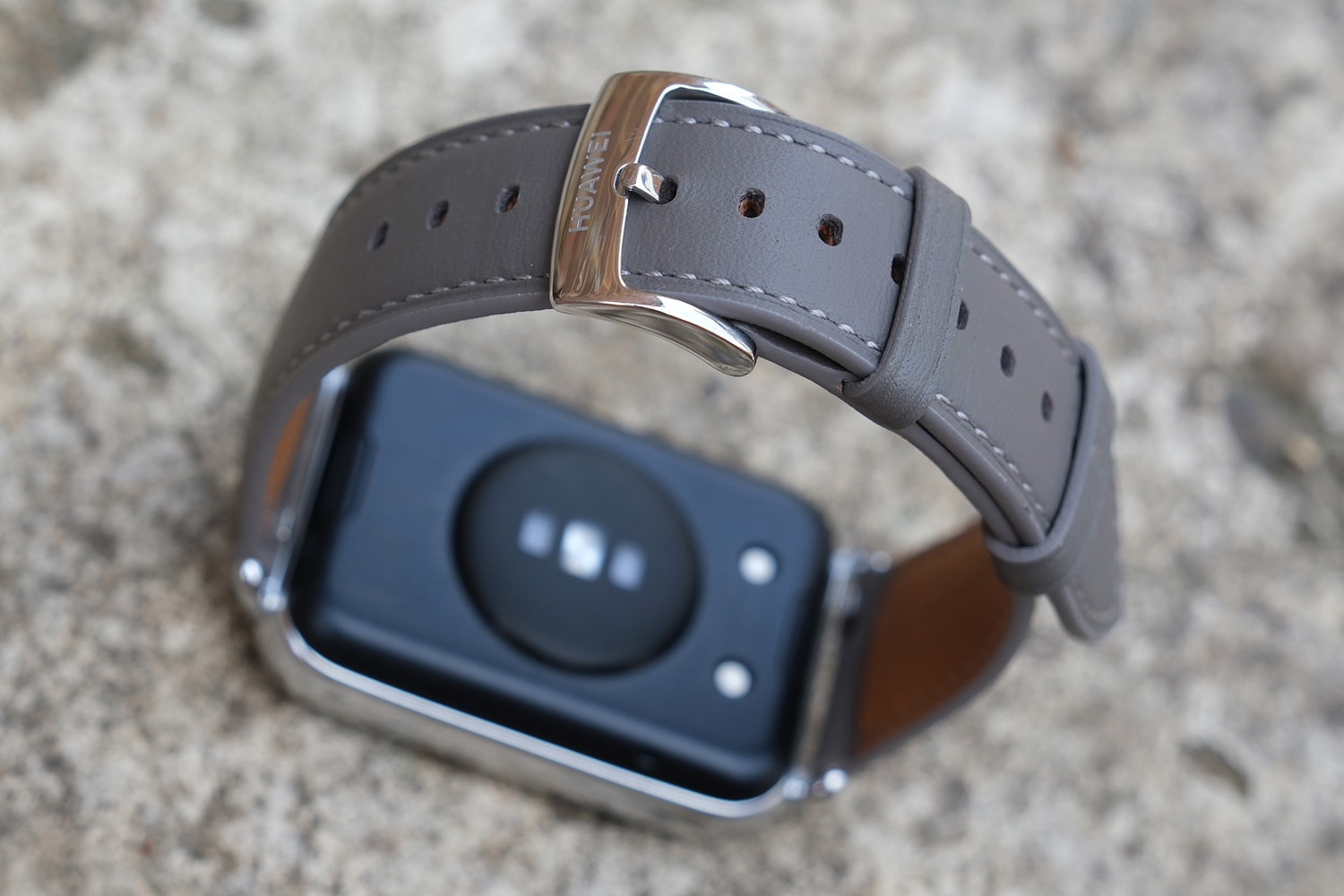 Yeah, we're getting a bit of an Apple Watch vibe too – but don't go thinking the Watch Fit 2 is just a simple knock-off. The diminutive dimensions are much closer to fitness trackers like Fitbit, with a rectangular display that's barely any thicker than the watch strap that keeps it snug on your wrist. It has grown versus the original Watch Fit, but only slightly.
There are three variants: Active, Classic and Elegant, with the latter two getting an aluminium front case instead of plastic, and built-in NFC. It's only for transferring photos from your phone, though – there's no contactless payment option here, at least in the UK.
Our Classic review unit felt well-built, with the leather strap holding up well to daily use and the metal casing staying free from scratches. The £30 premium seems justified. It doesn't look lost on larger wrists, and isn't too big for small ones either – Huawei has Goldilocks'd it on the size front.
The whole thing stays 5ATM water resistant, which is good for shallow water swimming and taking to the pool. Quick-release straps also make a return, so you can swap between silicone, leather and Milanese-style options depending on your mood (and budget).
There's just one button on the right side, with everything else handled by the touchscreen.
Huawei Watch Fit 2 screen: small yet mighty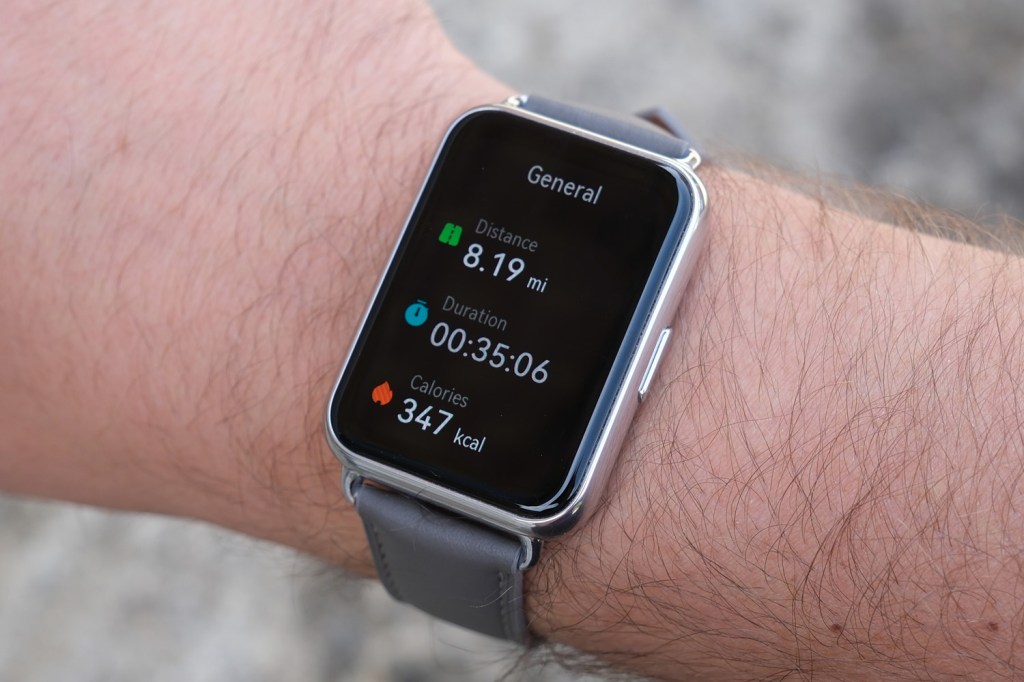 Having grown to 1.74in, the Watch Fit 2's AMOLED display has edged ever-so-slightly closer to smartwatch territory from its fitness band beginnings. It's 18% larger than the first-gen Watch fit, with a higher 72% screen to body ratio. We're not complaining, though: it means there's more space to cram in useful info, which cuts down on swiping.
At 480×336, everything looks wonderfully sharp, and the OLED tech delivers contrast-heavy colours that make each watchface really stand out on your wrist. Darker hues are properly dark, and viewing angles are superb.
There's an always-on mode, if you don't mind using a bit more battery to run it, and the raise-to-wake function is responsive enough if you do.
The bezels aren't super-skinny, which isn't a shock given the affordable price. Stick a dark watchface on, though, and it looks like a much pricier device.
Huawei Watch Fit 2 interface: sweet harmony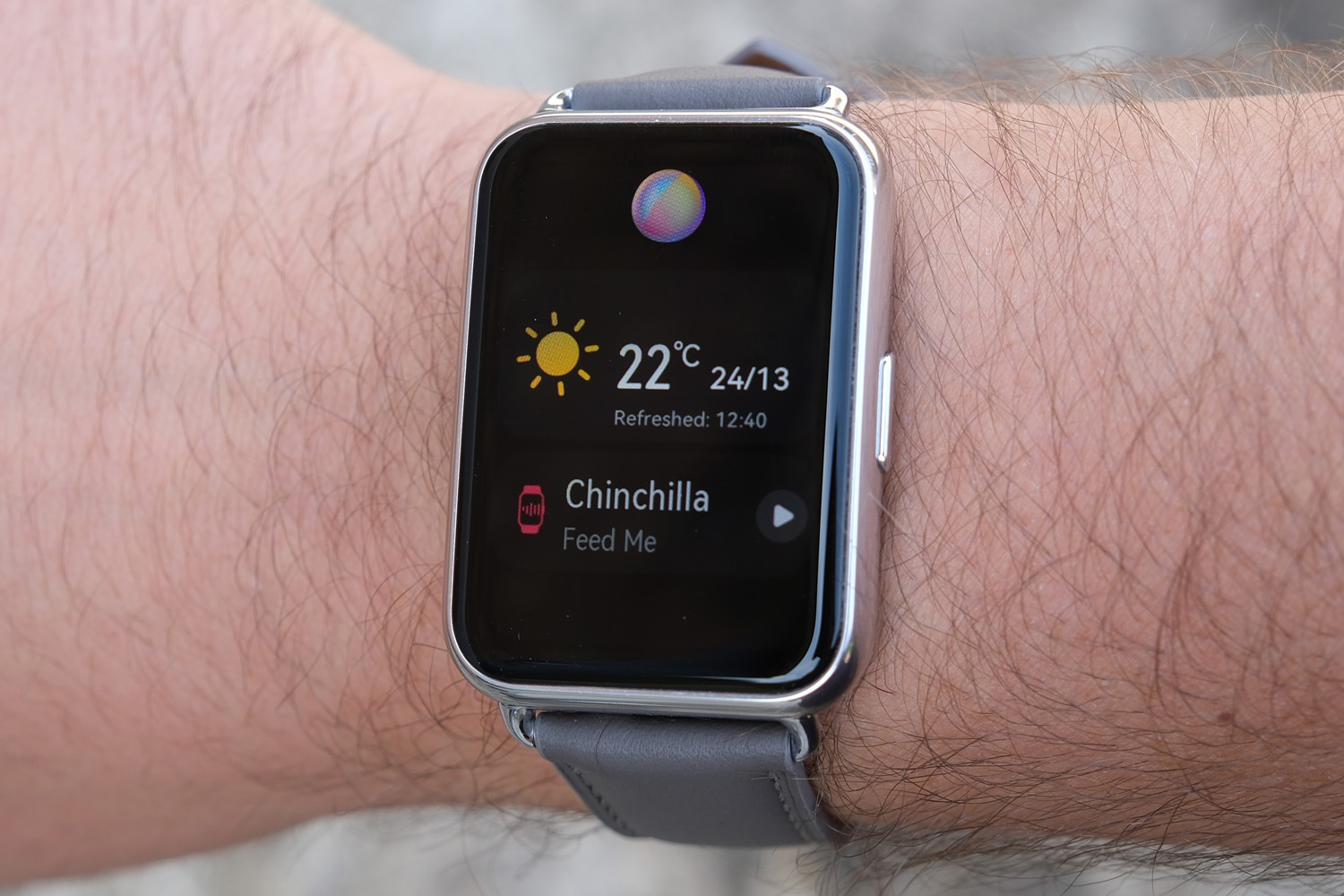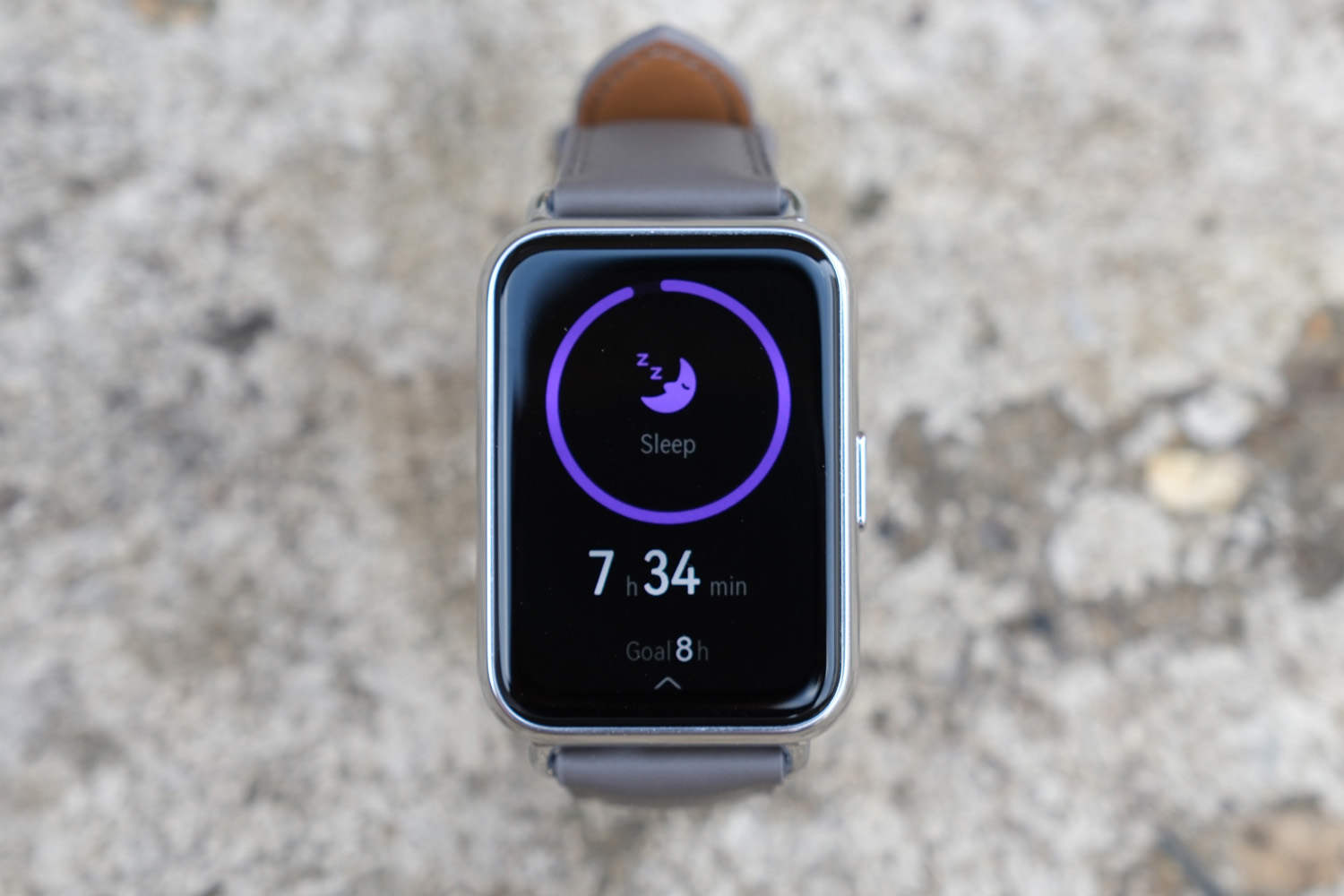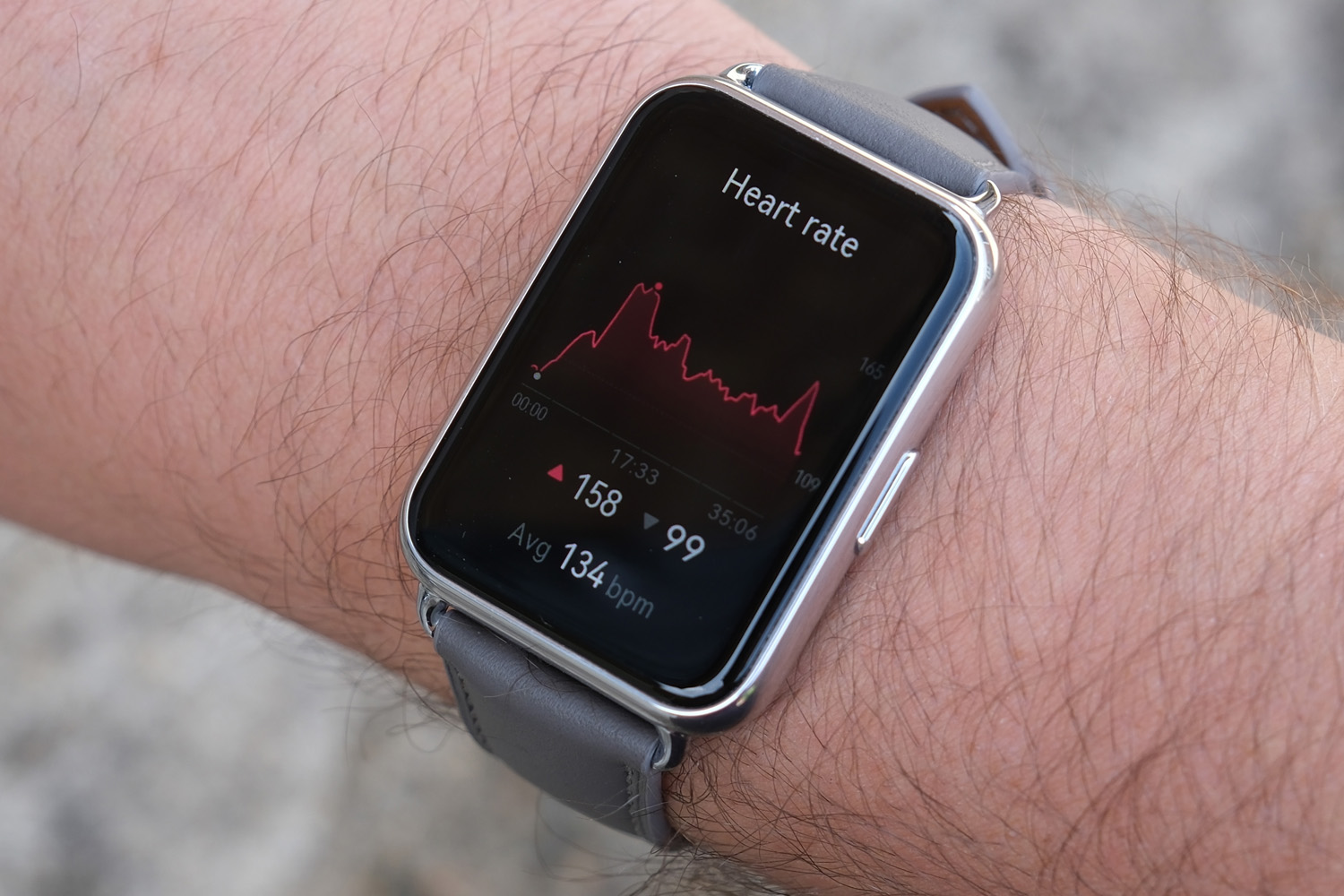 There are plenty of watch designs to choose from, and they're all well-optimised for the rectangular display – as is the rest of Huawei's custom UI.
Quick cards put heart rate, weather, call records and other info a swipe away from the main watch face, and the crown button opens a grid containing all your other apps. The icon-only layout can be confusing, but you can swap it to a list (with text descriptions) to make getting around a bit easier.
There's a big selection, including features not often found on wearables at this price. Canned message responses save you having to fish out your phone when a text comes through while you're exercising, and music control lets you pair some Bluetooth buds directly to the watch.
The interface isn't quite as responsive as the pricier Huawei Watch GT 3, taking just that little bit longer to register your taps, but is otherwise smooth enough to navigate.
iOS support still lags behind Android a bit, but things are getting better. One of our device's four back-to-back firmware updates added music control for iPhones, but not local playback on the watch itself. The Petal maps app won't work when paired to an iOS device either. The Celia voice assistant won't work on any non-Huawei smartphone, and there doesn't seem to be a way to remove the icon from the quick menu.
Third-party support is also limited, with just a handful of extra apps available to download through Huawei's smartphone companion app (which is still downloaded from the firm's website, rather than the Google Play Store). You won't find any apps from the big-name brands available on Wear OS or WatchOS.
Fitness and health tracking: powerful, plentiful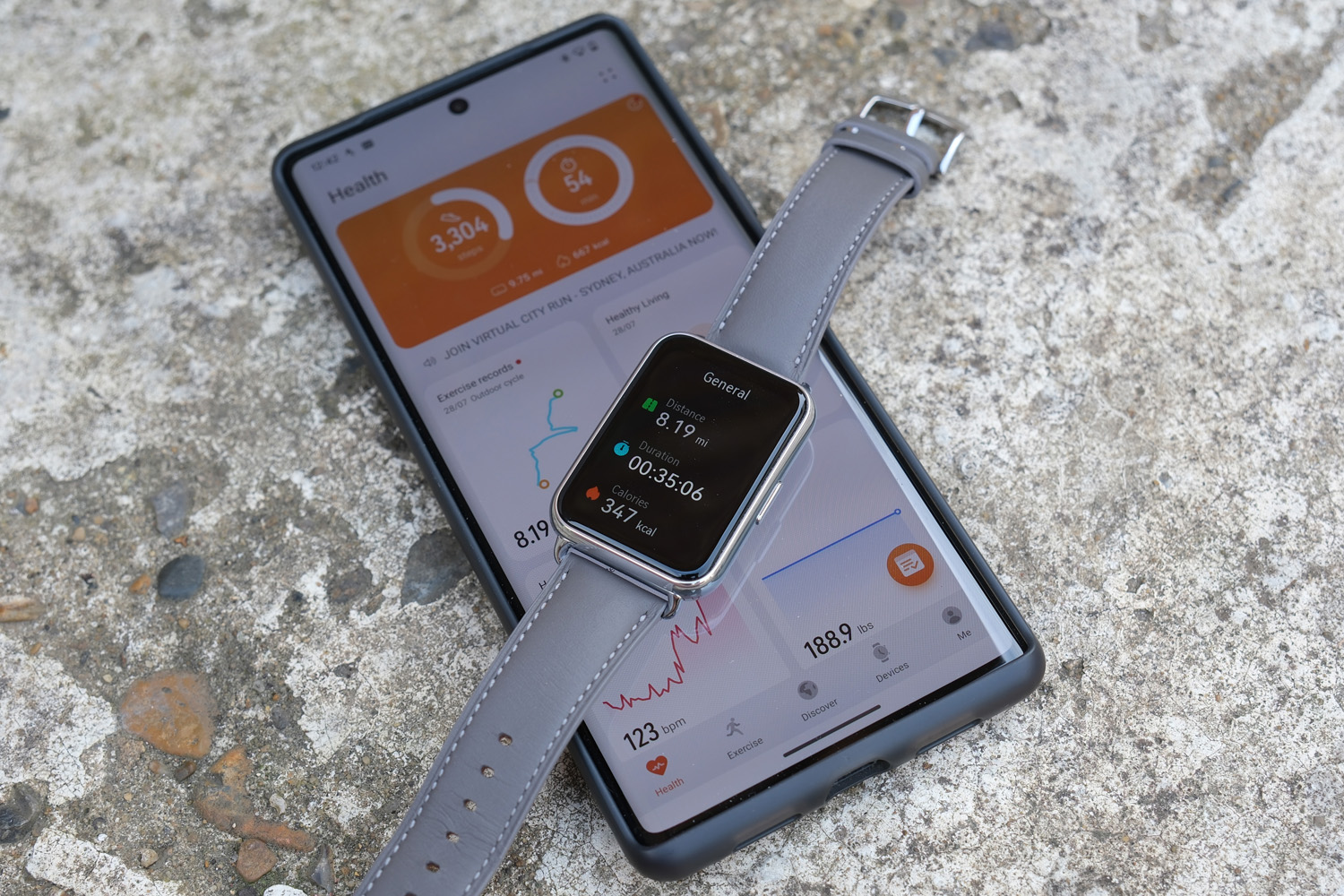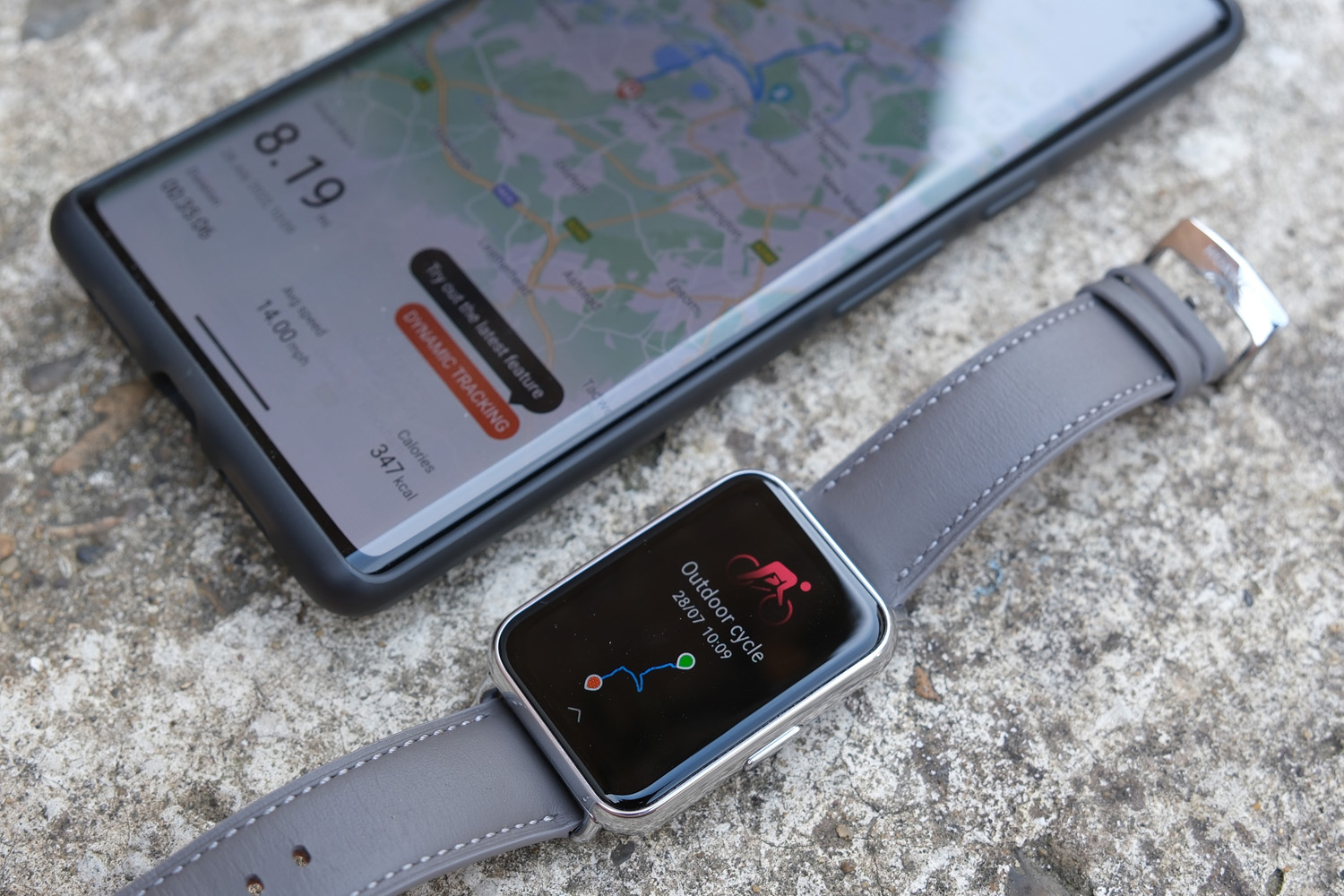 Naturally the Watch Fit 2 will record your heart rate and sleep patterns, but it can also do continuous SpO2 monitoring and stress measurement. The built-in GPS tracked our exercise routes well, even under dense tree cover, and heart rate accuracy is reasonable – not up there with the best fitness watches, but perfectly usable for amateur athletes.
There are 97 different workout modes, which cover the basics like running, bike riding, swimming and gym-based exercises. We're not quite sure motor racing, bungee jumping and darts deserve their own category, though – and there are quite a few esoteric entries, like Sepak Takraw (yeah, we had to look it up too).
Running is catered for the best, with animated warmup and post-run stretches, training plans and heart rate zone targets. Voiceover instruction saves you from staring at your wrist while working out, and you can import running routes through the app. It's more basic than what you'll find in other, pricier sports watches, but should stop you getting lost on a long course.
If you're happy to keep your workout data in one place, the Watch Fit 2 has got you covered. Huawei Health does a great job of recording and presenting your workouts in easy-to-digest chunks, but with the option to dive deeper into cadence, heart rate recovery and more. Exporting it to apps like Strava takes a bit more effort, requiring a third-party tool.
Battery life: No flash in the pan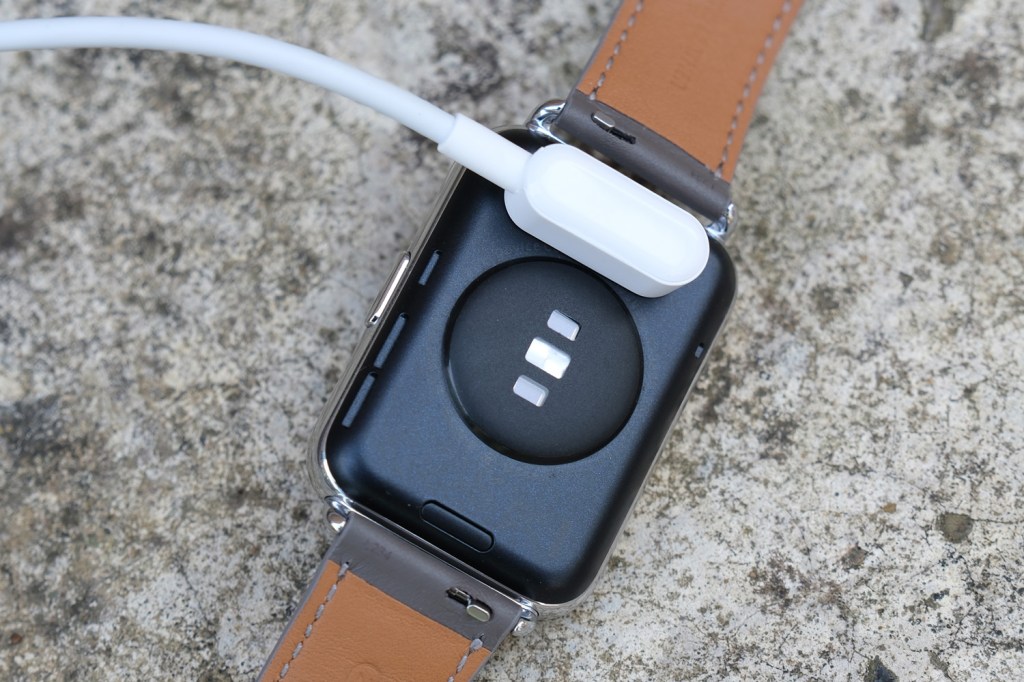 Huawei wearables have a knack for eking weeks of charge from relatively tiny batteries, and the Watch Fit 2 is no different. It may only have a 292mAh cell, but it'll keep on ticking for up to ten days between top-ups.
Realistically you won't often hit that figure, which is based on just 30 minutes of exercise tracking a week. Anyone running more than once, making lots of Bluetooth calls or using the advanced sleep tracking is going to fall short.
GPS tracking makes the biggest impact, so marathon runners might want to look elsewhere. But for everyone else, you should still be looking at close to a full week between trips to the plug socket. That's comfortably on par with the Fitbit Charge 5.
Charging is by proprietary cable, which is held firmly enough in place by magnets, and takes less than an hour for a complete refuel. A five-minute blitz while you're having a shower is usually enough to get through a full day, too.
Huawei Watch Fit 2 verdict
The Watch Fit 2 does everything we'd want from a fitness tracker, plus it looks the part for when you leave the gym and head to the office. Huawei has managed to cram many of the features found in its smartwatches into an even more wrist-friendly wearable here.
It's largely accurate, can track loads of different sports and activities, and does the basics like step counting and sleep tracking well too. The smart additions like Bluetooth calling and music playback are a welcome bonus.
We'd like the software to play nicer with third-party apps, and iPhone owners miss out in some areas compared to Android, but for the price it gets plenty right.
Stuff Says…
A clever, compact smartwatch/fitness tracker hybrid with effective activity tracking and week-long battery life. Huawei's software is a bit of a walled garden, but the Watch Fit 2 is still a stylish alternative to established rivals like Fitbit.
Good Stuff
Fashion-friendly styling and sharp screen
Week-long battery life with 24/7 use
Extensive sport and fitness tracking
Bad Stuff
Missing features that would push it further into smartwatch territory
Tricky to share fitness data with third party apps
iOS experience more limited
Huawei Watch Fit 2 technical specifications
| | |
| --- | --- |
| Screen | 1.74in, 480×336 AMOLED |
| Operating System | Harmony OS 2.0 |
| Battery | 292mAh, up to 10 days (typical usage) |
| Connectivity | Bluetooth 5.2, BLE |
| Durability | 5ATM water-resistant |
| Dimensions | 46x34x10.8mm, 26-30g |