Huawei Watch GT 2e review
A strong independent smartwatch that don't need no charging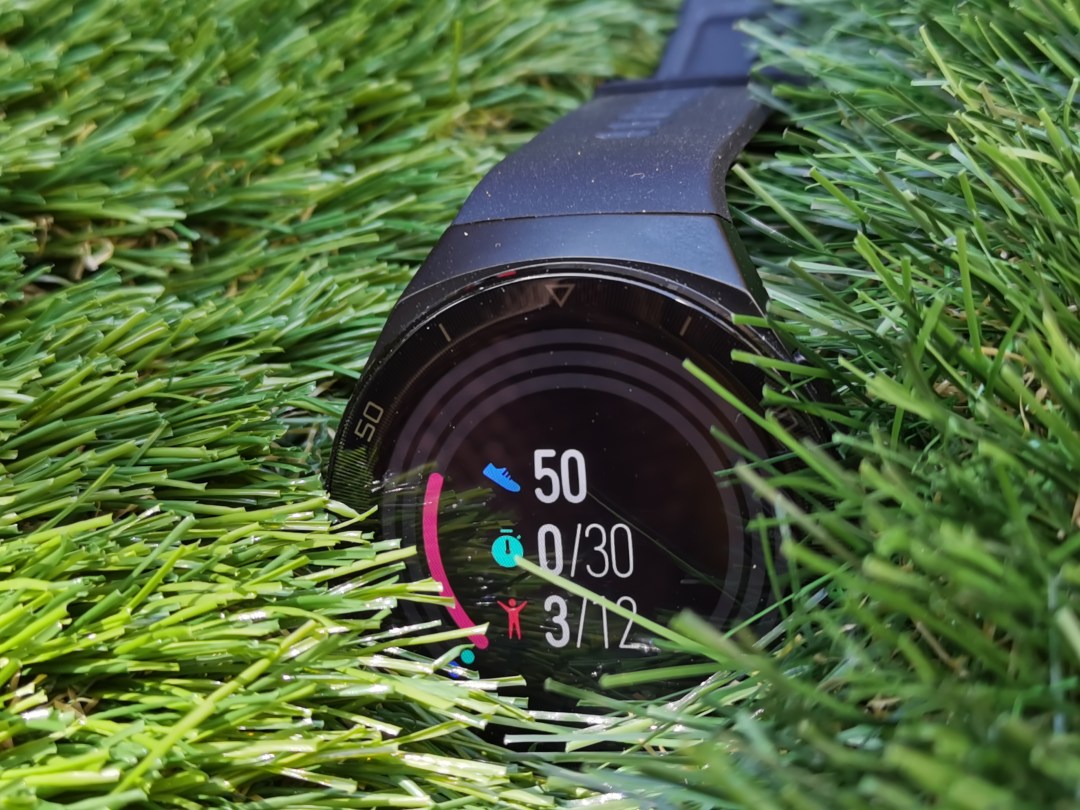 Sorting out the recycling. Remembering to floss. Measuring out the right amount of pasta. We've all got more than enough on our plates at the moment, so the last thing you need is another piece of tech that you need to remember to charge.
Enter the Huawei GT 2e, a fitness-tracking smartwatch that promises up to two weeks of use on a single charge.
It's a bold claim, and one we put to the test over the past few weeks. How did it fare? Let's find out
Design: minimal, comfortable
Our black GT 2e review sample is about as plain and inoffensive as a smartwatch can get – there are no chunky bezels or outlandish design features here, and even the two physical buttons on the side are thin and flat, in keeping with the minimal design.
This simplicity isn't a bad thing, mind, but if you're a fan of chunkier, bolder designs, or want something that looks more like a traditional watch, then you might find the GT 2e a little too plain. It's comfortable and light on the wrist though, and we even found it pleasant enough to wear in bed to track our sleep, which is a rarity for us.
Its thin profile and light weight also means that it won't get in your way if you're doing activities like lifting weights, which is a problem we've found with other, chunkier smartwatches.
Screen: bright, sharp, vibrant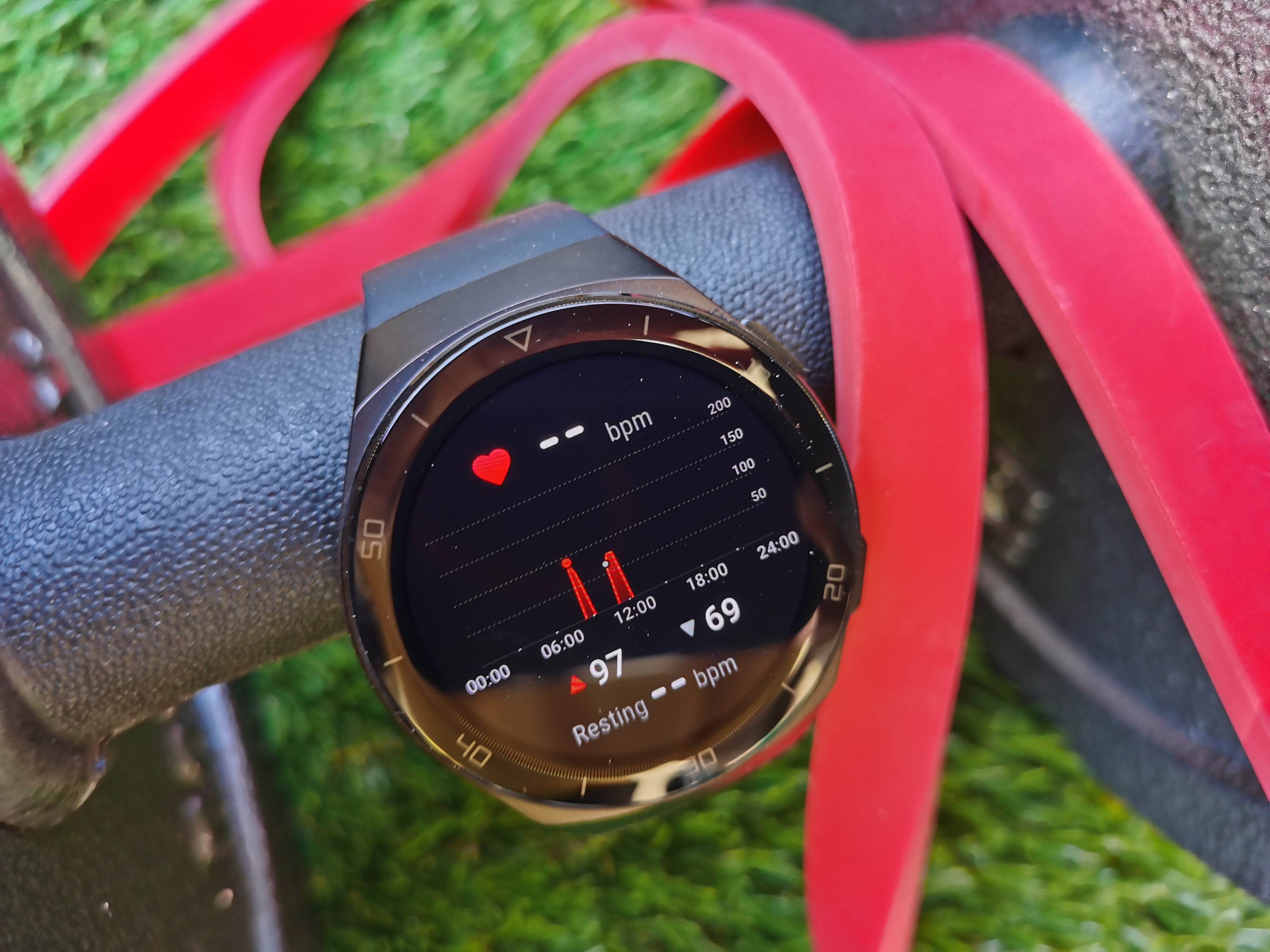 The GT 2e's 1.39in 454 x 454 AMOLED display is everything we want to see in a smartwatch.
It packs the same resolution as the Suunto 7, which means it's just as crisp, while serving up the same punchy colours and deep blacks.
We have no complaints on the brightness front either. We've been using the GT 2e with the automatic brightness setting, and haven't had any trouble reading the screen, even during the sunniest of isolation walks.
While the screen is also surrounded by the usual unavoidable bezel that plagues all smartwatches, Huawei has opted to fill the space with dive watch-like markers, which effectively reduces the feeling of wasted space.
Performance and health smarts: simple, yet substantial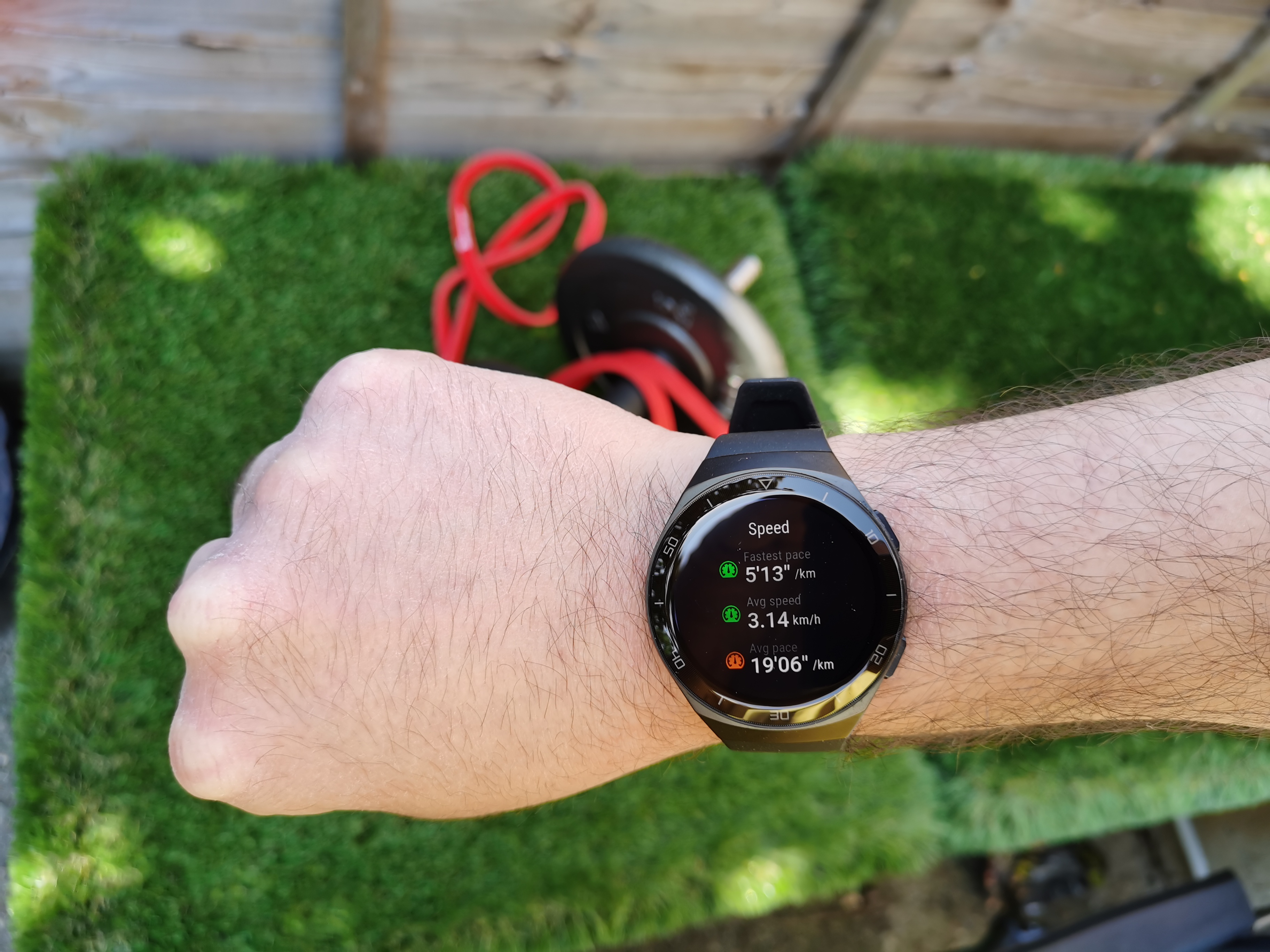 There's not much we can say for the GT 2e's performance, apart from the fact that it's slick and fast. We found no instances of stutter or lag at any point during our time with it, which suggests that Huawei's Kirin A1 chip is more than fit for purpose. Its dual button controls are simple enough to use too, and you can customise the bottom one as a shortcut to any feature you fancy.
In terms of functionality and apps though, you'll find the GT 2e lacking on quite a few fronts.
It's not running Android Wear OS, which means there's no access to apps like Maps, Citymapper and Spotify, and you can't make or receive phone calls either. You can, however, load up to 500 songs and listen to music via Bluetooth headphones, or use Huawei's own music streaming service.
The lack of apps sounds bleak at first, but it really depends what you're after. This is a £160 device that's primarily focused on tracking your fitness and health. For a lot of people, that's all they're looking for, and that's totally fine. With that in mind, the health features here are substantial.
The basics like step/sleep/heart rate tracking are all present and accounted for, and work well. In addition, you can also track up to 100 different activities which, apart from the usual running, swimming, cycling and walking, also include outliers like parkour, street dancing, and skateboarding, to name but a few.
The GT 2e's built-in GPS and heart rate monitor work together to provide all the workout stats you're likely to need, although the lack of apps means you can't connect your sessions to services like Strava.
Huawei's Health app is decent too, breaking down each recorded session into all the details you'd ever need, from how your heart range changes throughout a session, to calories burned and how much recovery time you'll need after. It also breaks down how much time you've spent in the fat-burning zone in any particular workout, to help ensure you're pushing yourself hard enough.
Additional health features include a built-in stress test, based on your resting heart rate. According to our stats, we're either completely relaxed, or at normal levels, having never reached medium or high. Given the crazy times we're living in, that's some pretty impressive level of zen, if we say so ourselves.
Battery life: very impressive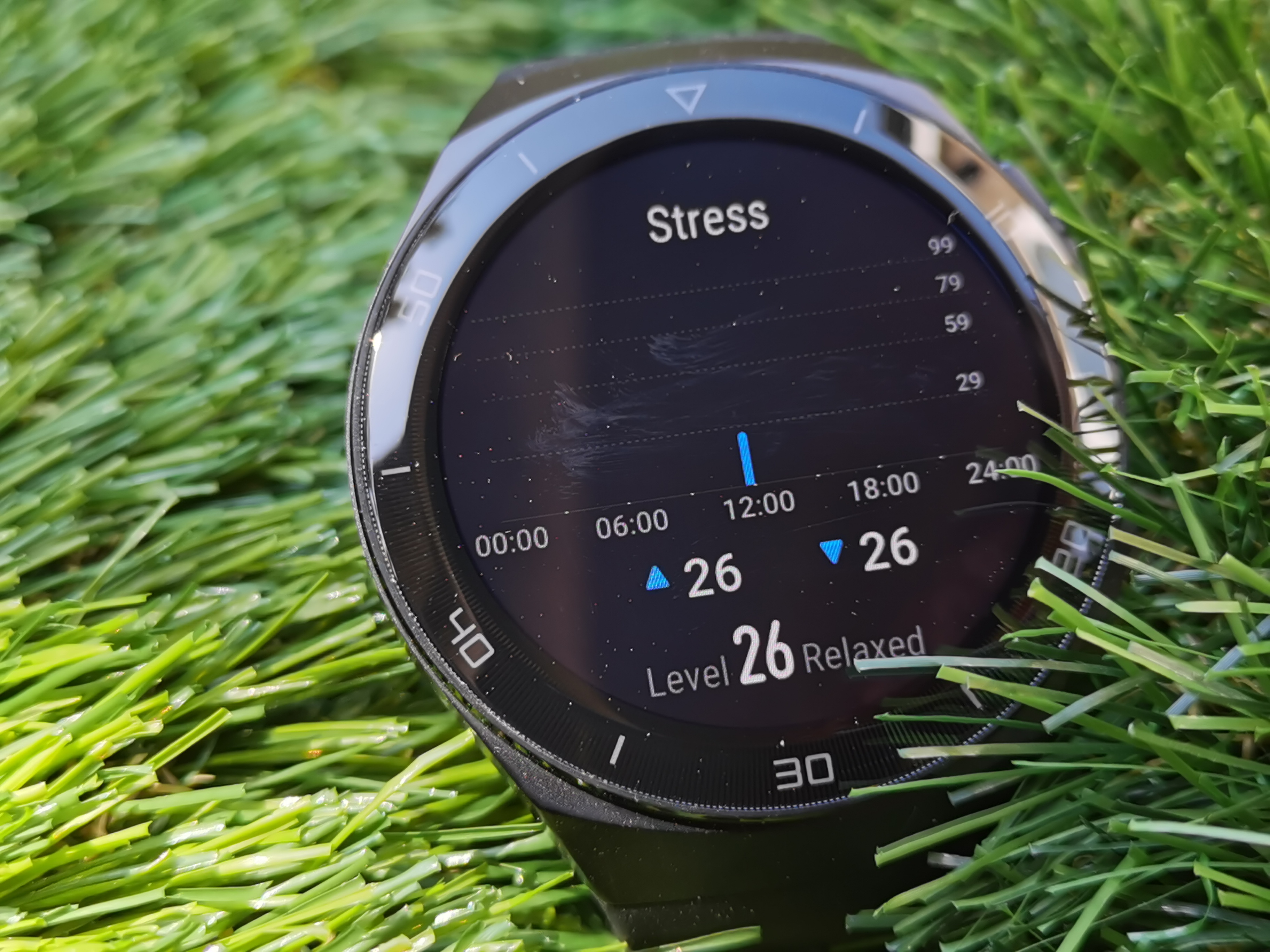 The GT 2e's battery life is, quite simply, outstanding.
Huawei states that you can expect up to two weeks of use from a single charge, based on 90 minutes of GPS-enabled tracking a week. Our real-world test saw the battery die after nine days. This might seem far off the two week mark at first, but considering we've been tracking 30-45 minute walks a day and 90 minute weight sessions three times a week, the GT 2e's battery life is extremely impressive, to say the least.
Huawei Watch GT 2e verdict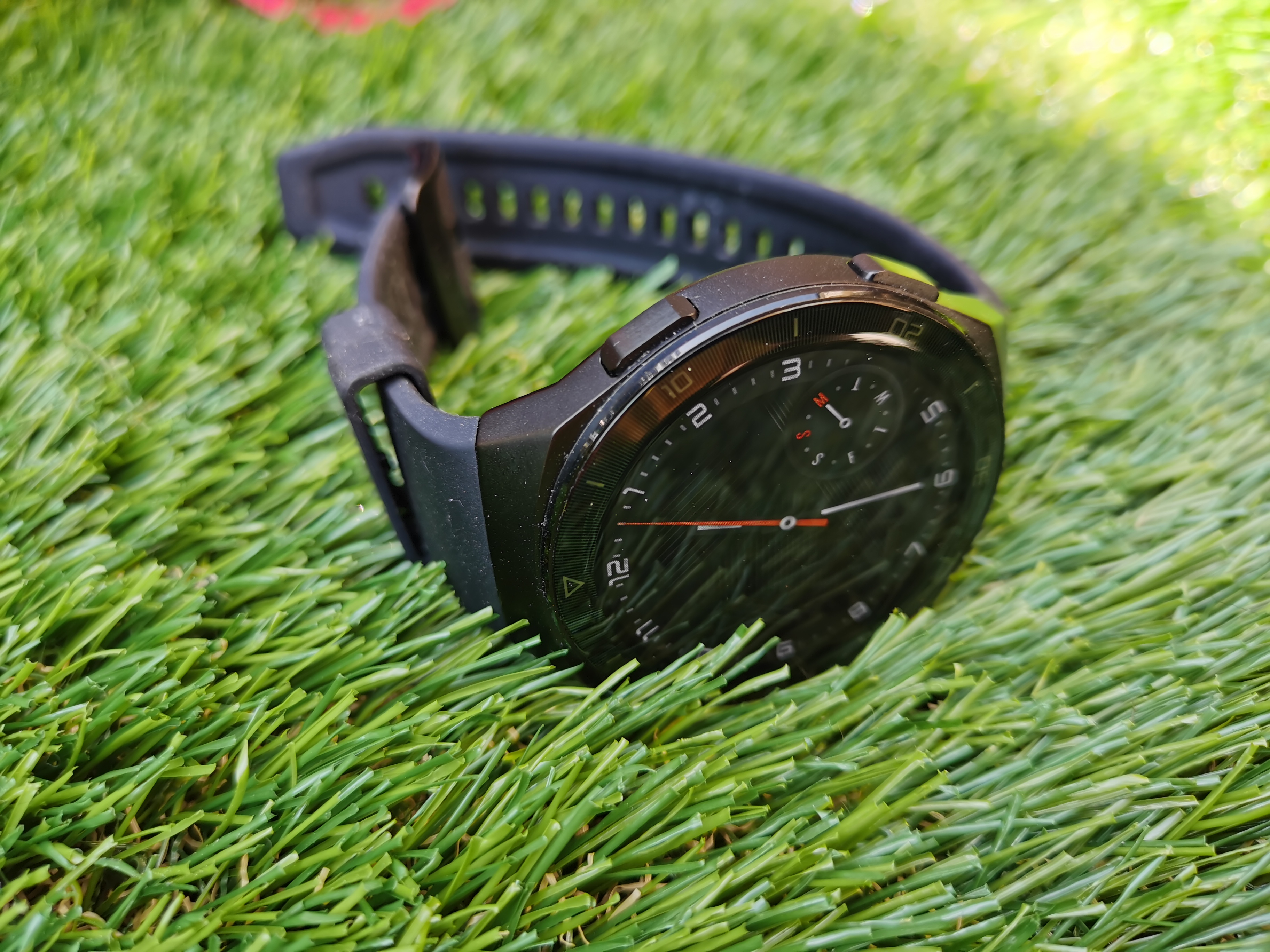 In essence, the GT 2e is more of a fitness tracker disguised as a smartwatch.
It doesn't have a selection of third-party apps, and only supports the most basic of notifications, without letting you reply to messages. And that's okay.
If you want a bonafide smartwatch, there are plenty of other options out there. Instead, the GT 2e serves up impressive health and fitness tracking smarts, in a basic smartwatch package – all at a price that won't destroy your wallet.
Throw in the fact that you barely have to worry about charging it, and you've got yourself a very strong contender for your next fitness tracker.
Tech specs
| | |
| --- | --- |
| Screen | 1.39 inch AMOLED 454 x 454 HD |
| Weight | 43g |
| Dimensions | 53 x 46.8 x 10.8 mm |
| Battery life | Up to two weeks |
| GPS | Yes |
| Memory | 4GB |
| Water Resistance | 5ATM water-resistant |
Stuff Says…
A sporty smartwatch that makes up for its lack of apps with an incredible battery life
Good Stuff
Amazing battery life
Bright, sharp, punchy screen
Light and comfortable
Comprehensive sports/health tracking
Bad Stuff
Design may be bland for some
Lack of third party apps