Hyundai Ioniq 5 review: one of the best EVs around
Appearances can be deceptive, especially in the case of the Ioniq 5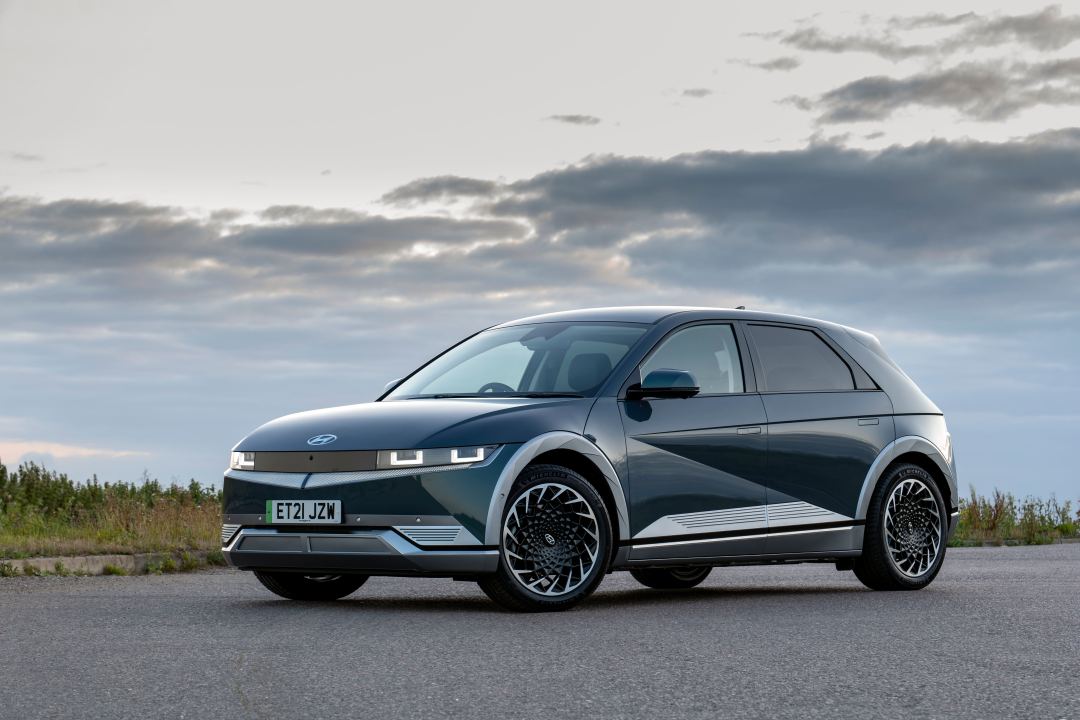 The Hyundai Ioniq 5 is a revelation, especially if you're of the opinion that electric cars are dull. Alongside the fab-to-look-at Kia EV6, the Korean car industry is doing an impressive job in convincing sceptics that there is life after the demise of the petrol engine.
Better looking than, say, the Tesla Model 3 or the Volkswagen ID.4 this EV, which is built on the same dedicated E-GMP platform as the Kia EV6 is brilliant in just about every department. In fact, the only annoying thing about it is the lack of a rear windscreen wiper. If that's all there is to moan about, the Hyundai Ioniq 5 is off to a pretty impressive start, right?
Why the ridiculously high levels of fizzy praise? Well, the Hyundai Ioniq 5 manages to tick all the right boxes when it comes to EV ownership. Top of the pile has to be the way it makes electric-powered motoring easy. The charging system is one of the best and most straightforward out there. On paper there's up to 300 miles of range, depending on the battery you choose though real world use will deliver less, of course.
However, the Hyundai Ioniq 5 offers space, comfort and tech… lots of tech. All the clever stuff adds practicality too, rather than delivering fart noises to keep the kids entertained momentarily. It's a smart car, on so many levels.
Styling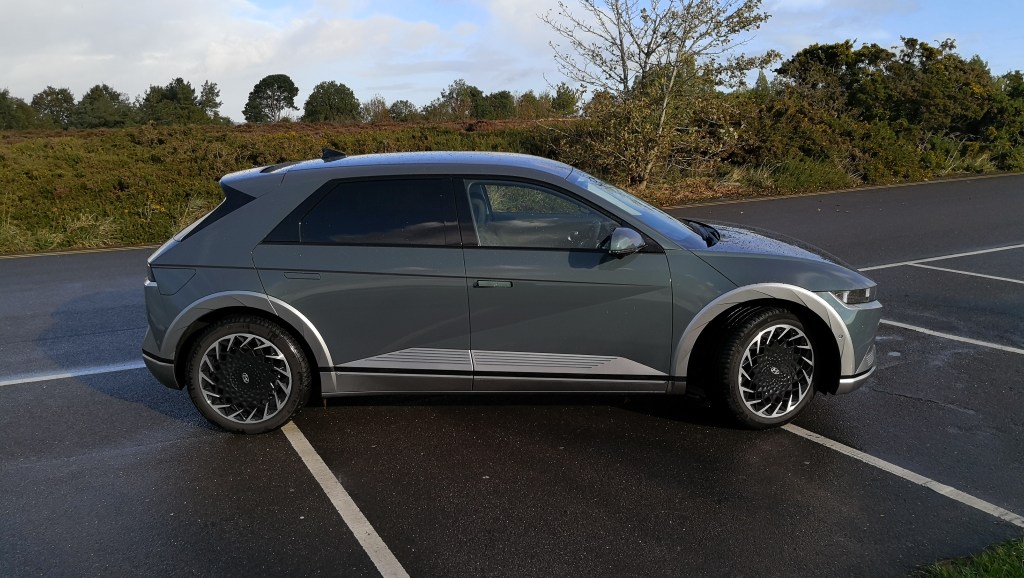 The days of Korean cars being described as dull are largely gone. Full marks should go to Hyundai for really pushing the boat out with the design of the Ioniq 5. The styling isn't wild in a mad way. Rather, it's edgy and there's genuine head-turning appeal in much the say way as Kia's new EV6. Hardly surprising seeing as the two cars are built on that same E-GMP platform.
What that means is this is an EV purposely designed around all-electric foundations, so you don't get any of the silliness that can happen when a manufacturer tries to produce an EV based on an existing ICE format. In the case of the Hyundai Ioniq 5 that delivers all sorts of stylish goodness, combined with plenty of space too.
In fact, the Hyundai Ioniq 5 fools you on first inspection. From a distance it appears to be a saloon-type creation, though infinitely more appealing than something like the good though less inspiring to look at Skoda Enyaq EV or Ford Mustang Mach-E. Walk up to it though and, at 4.6 metres long and 1.6 metres high, it's big… kind of chunky but in an appealing way. Open the door, get in and the inside is similarly surprising with oodles of space and an open, airy ambience. Thanks to the EV powertrain layout there's no central console, so you have open space from one side of the car to the other.
Unless you want to slide the central binnacle forwards that is – it's just one of many natty little party tricks inside this thing. The other thing that immediately strikes you with design and build of the Hyundai Ioniq 5 is that the fit and finish is second to none. Sure, it's all a bit plasticy but everything feels built to last, in much the same way as a German car does.
Trim options are just as flexible too with three different tiers, Premium, Connect and Ultimate allowing you to tweak the features and functionality to match your taste and wallet capabilities. The fun starts from around £37k, mind.
The drive
Hyundai offers the Ioniq 5 in two different battery sizes along with front or all-wheel drive options. Those on a budget should check out the entry-level 54kWh battery option, with its 168bhp motor and rear-wheel drive. The 70kWh model with its 215bhp electric motor offers more performance, but if you've got the cash head for the AWD 305 model, which boasts the same 70kWh battery, but delivers power via twin electric motors and drive to all four wheels.
The 302bhp can propel the thing from 0-62 mph in 5.2 seconds. That's fast enough for most and beefier than the 8.5 seconds 0-60 mph of the base level car or 7.0 seconds 0-60 mph of the middle model. However, even though the Hyundai Ioniq 5 is quite a bulky thing, the lesser specced cars feel sprightly, thanks to the instant supply of torque you get from an EV.
We got to drive a top-of-the-range Ioniq 5 Ultimate edition armed with both the Eco and Tech pack options featuring a single motor and rear-wheel drive setup. Our car also came with chunky 20-inch wheels, though 19's are available and might be the better bet to counteract the occasionally spongy driving feel when you're pushing the car through country lanes. To drive though, the Ioniq 5 is, overall, simple but effective.
Sitting behind the wheel for the first time the Ioniq 5 looks and feels that little bit different. Driving the car turns out to be a doddle. There are three drive modes, Eco, Normal and Sport, which can be selected from a push button to the left of the steering wheel. In that respect, the controls are slightly different to look at and use, especially if you're used to an old-school manual ICE car.
Settle in, set the comfy seat and driving mode to suit your mood though and simply press and go. It's that easy, with a stop/go brake and accelerator setup that requires minimal effort. The car is, as you'd expect, nippy and quite good fun though the bulkiness and those big wheels can make it a bit of a handful if you get over excited out in the sticks. Around town it's smooth and effortless. There's plenty of tech on hand to help when you're parking its sizeable silhouette too.
The technology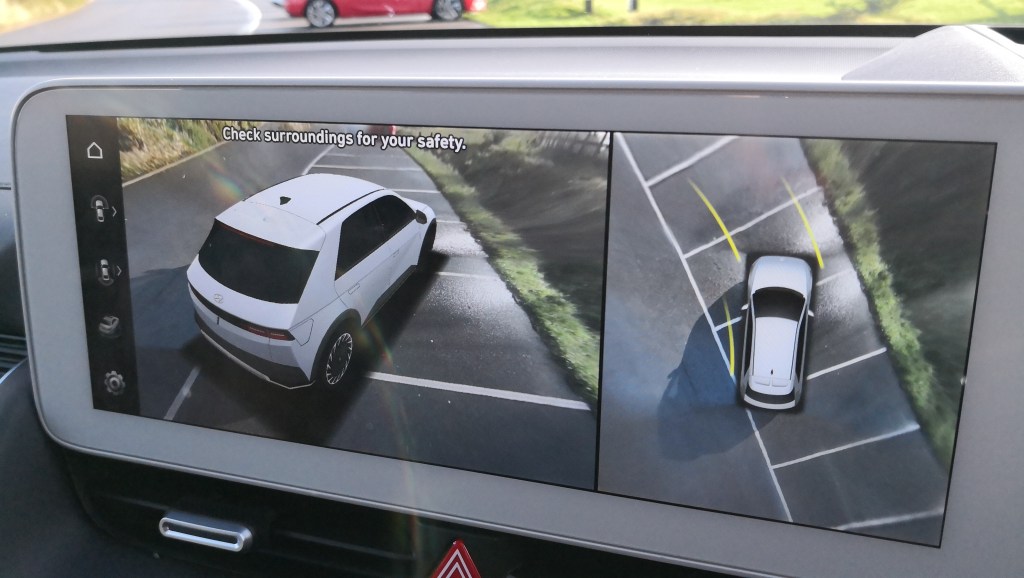 As you'd expect, Hyundai hasn't skimped on the tech front, with plenty on offer to keep you entertained and make your drive that little less stressful. This being an EV, your thoughts soon move towards charging. How, where, when… Hyundai's done a great job at alleviating much of the misery involved with using public chargers with plenty of options for managing available power via the infotainment area.
Central to all this is a pair of 12.3-inch screens, one in the middle of the dash and the other behind the steering wheel. Being square, unlike dials that you can normally see through the wheel means that it's easy to miss some information on the latter. That's a minor gripe though as the infotainment system is largely excellent. Luddites will also love the physical shortcut buttons under the central screen for easy access to everyday options.
The voice control works to great effect, the sat-nav is very serviceable and can help you find those all-important charging points while conserving energy when you need to. There's even a rear-view camera that displays on-screen views when you're parking. It makes up for the lack of a rear wiper when conditions are grim outside. The crisp porthole-style blind spot views you get on the driver's screen are great too and these get activated when indicating. It's a neat safety feature.
Add in Apple Car Play and Android Auto, wireless phone charging and a decent level of USB charging ports front and rear and the Ioniq 5 delivers all the tech you need. Owners who've opted for the Ultimate trim package get a head-up display and a beefy Bose sound system. Special mention should go to the fab front Relaxation Seats in our model too, which are heated, cooled, have numerous memory options and electric lumber supports. Take a roadside break in the Ioniq 5 and, yes, you really can put your feet up.
Verdict
The Hyundai Ioniq 5 is an easy car to like and an even easier one to live with. Some EVs deliver endless amounts of stress when it comes to charging. The clever and dedicated EV tech within the E-GMP platform means you can enjoy quick and easy charging. There's very decent range too.
It's got acres of interior space too, with generous levels of comfort both front and back. The boot can handle several suitcases without fuss, although the storage compartment under the bonnet is limited.
No matter, it'll carry a family or bunch of mates from A to B in comfort, delivers a very decent driving experience and looks very cool into the bargain. Not too many cars turn heads these days, even more so when it comes to larger-than-life saloons, but the Ioniq 5 gets its fair share of admiring glances. Fair play to Hyundai for making it happen.
Stuff Says…
A big saloon or small SUV? Who cares, it's one of the best buy EVs of the moment.
Good Stuff
Looks good
Decent range
Spacious
Bad Stuff
Bit chunky
Under-bonnet storage is small