Ikea Trådfri smart lighting review
Update 23/5/17: Voice control from the likes of Google Home and Amazon Echo is officially coming to Ikea's smart lights later this year...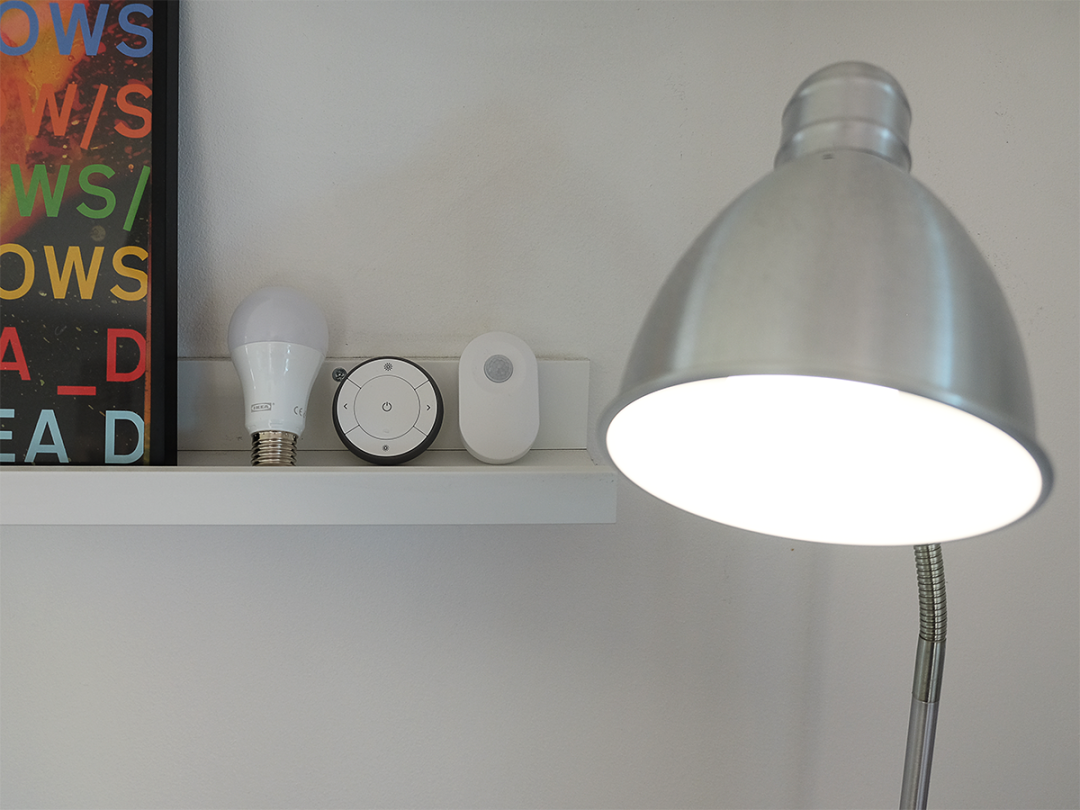 Update 23/5/17: Ikea has clearly been busy chatting to voice assistants in between making furniture, as it's just announced that the Trådfri range will work with Google Assistant, Amazon Alexa and Apple's HomeKit from 'summer and early autumn'. Nothing like ticking off all of the big A.I assistants at the same time.
We'll update this review once we've had a chance to see how well they all work with Ikea's lights, but this is the main limitation of the Trådfri range solved. Unless you desperately want colour bulbs or IFTTT support, there's now very little to choose between Ikea's bulbs and Philips Hue… 
Ikea's furniture has already colonised the world, so surely it's the perfect company to bring smart lighting to the masses?
I love a Marketplace sweep as much as the next Ikea addict, but the answer is, perhaps surprisingly, yes and no.
Its new Trådfri range, which includes everything from wireless bulbs to furniture panels, has all the hallmarks of its addictive homeware: affordable prices, clean design and user-friendliness. Even better, the instruction manual is only three pages long.
But Ikea-land is also surrounded by an immaculate walled garden. If you want smart lights that can talk to IFTTT, Alexa and Google Home, move onto the aisle marked 'Philips Hue'. But if you want something simpler and cheaper, it's time to grab a blue basket.
Ikea Trådfri design: shades of white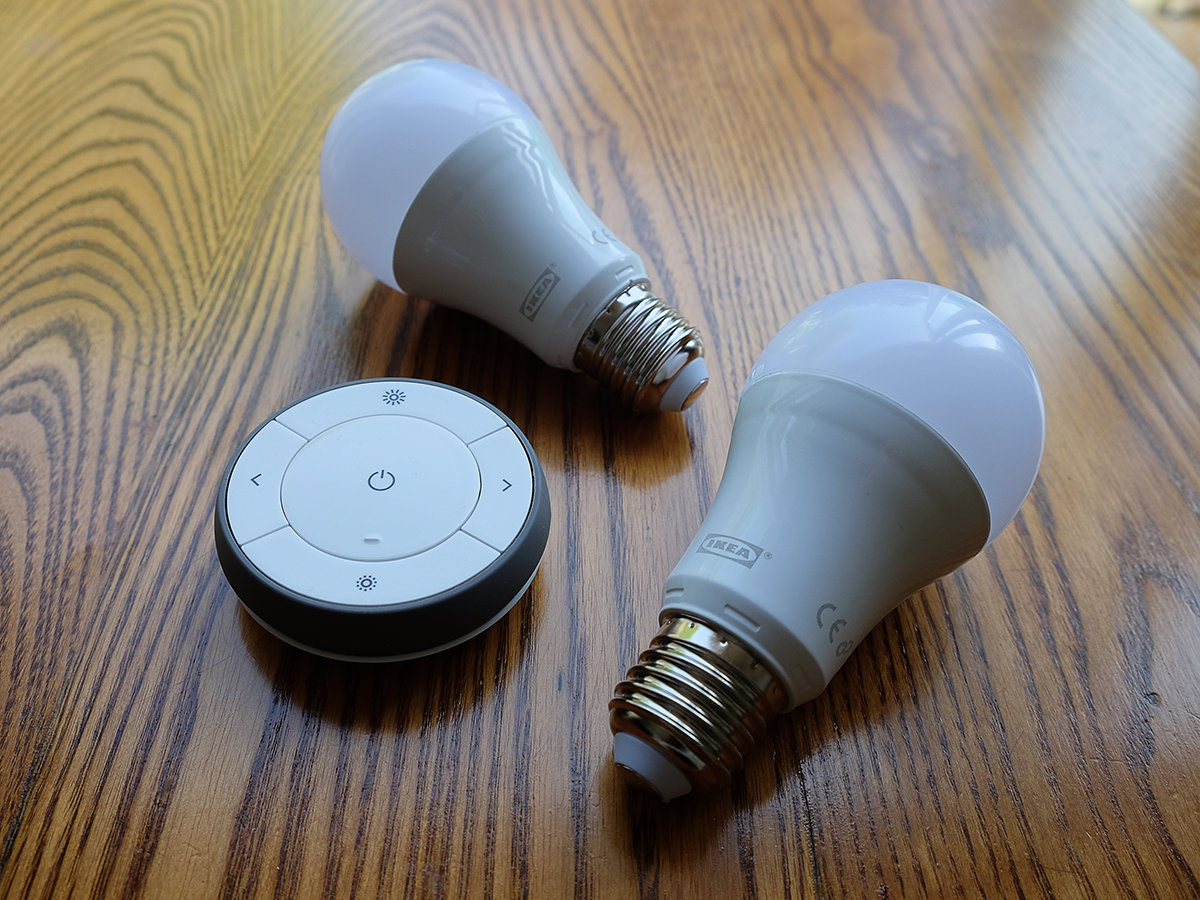 Ikea almost single-handedly introduced the UK to the concept of tasteful colour schemes, but guess which big feature its smart bulbs don't have? Colour.
In some ways this is a sign of Ikea's good taste, as I suspect that getting your lights to flash red when your football team scores isn't one of Sarah Beeny's top home makeover tips.
Instead, its bulbs come in two flavours: dimmable white ones, and slightly fancier 'white spectrum' bulbs. Like their equivalents from Philips and British Gas Hive, the latter are able to move between cooler light and a more soporific, warm glow. Considering they only cost £6 more than the white versions, it's well worth going for these.
Beyond the bulbs, the Trådfri system consists of a gateway hub (which you only need if you want to use Ikea's iOS and Android app), five illuminating cabinet panels, and a range of controllers, including dimmers and a motion sensor.
It's an impressive, well-priced range that could pull a flatwoven rug from under the feet of Philips Hue. Whether it will depends on how much control you want over your smart lights…
Let's talk about bulbs
Brace yourself: we're about to enter lightbulb codename territory. Right now, Ikea's smart lighting is slightly behind Philips Hue in the range of bulbs it supports – its range has E14, E27 and GU10 varieties, whereas Hue supports extra bayonet types like B22 and BR30, as well as candle variety of E14. Of course, unlike Ikea, it also offers these in colour varieties. But Ikea does sell bayonet-to-screwbulb adaptors for £1, so assuming you're happy with variations on white light, there's not actually a huge difference between the two in terms of compatibility.
Ikea Trådfri controllers: something for everyone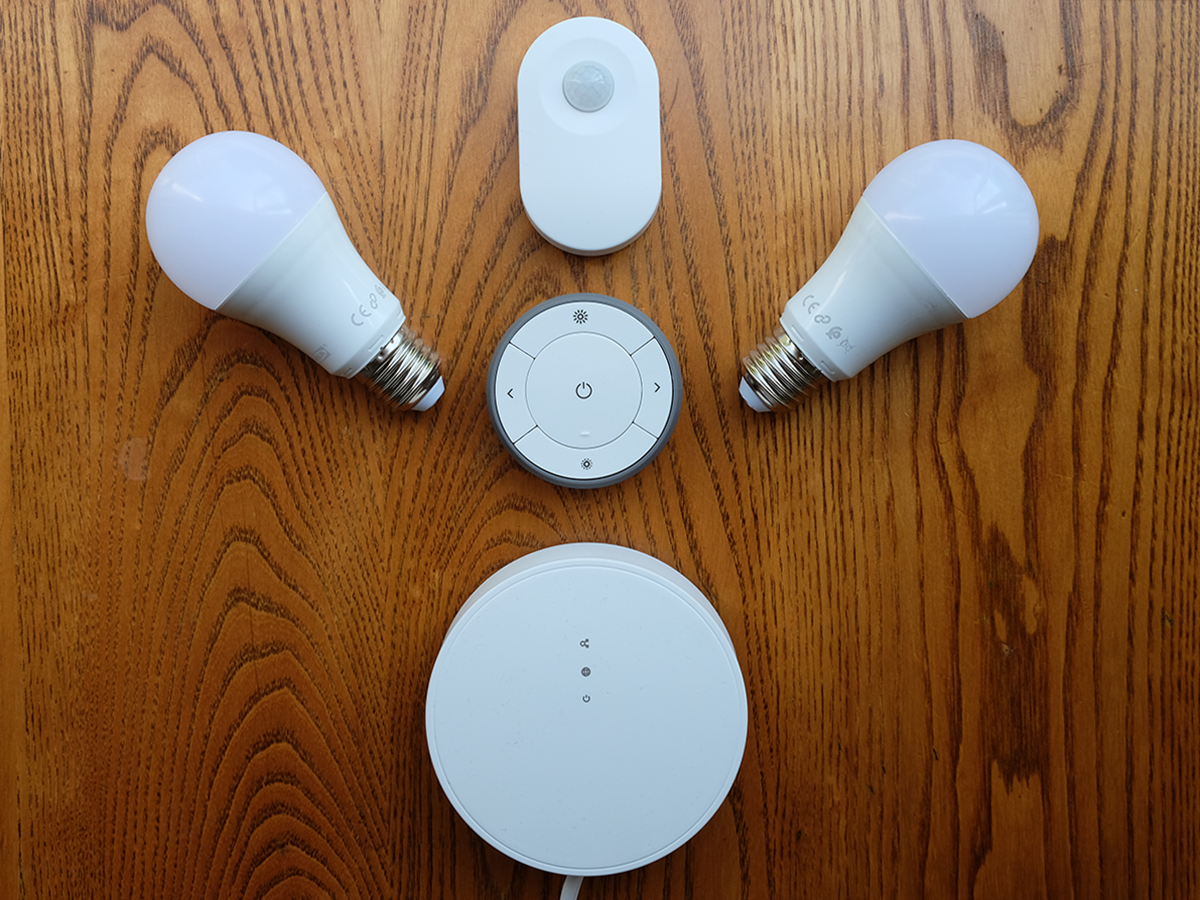 How do smart lights improve on the humble light switch? Systems like Trådfri are less about saving time, and more about getting loads more control over your lights without any rewiring, plus saving some money too.
You can control Ikea's smart lights in one of three ways: with a little puck controller that attaches magnetically to your wall, via the Trådfri smartphone app (iOS and Android), or using a motion sensor.
If you want the many extra features that come with the app (and as a Stuff reader, you almost certainly will) you'll need the gateway that comes with the £69 Starter Kit. No gateway means no app, and no ability to set timers or manage groups of lights.
On the other hand, the gateway also takes up yet one of your router's precious Ethernet ports and goes a bit against Ikea's plug-and-play simplicity.
That's why Ikea lets you build a system using just its puck-shaped controller and some bulbs, for a stripped down intro to smart lighting. This controller comes bundled in the £29 Dimming kit.
The controller itself – which Ikea strangely calls a 'steering device', in case you want to feel like you're captain of your smart lighting ship – is simpler than Philips' dimmer switch. It doesn't let you switch between groups of lights, or trigger 'scenes', but it is a much quicker way to control your lights than fishing around for your smartphone.
A word of warning though: the controller is strangely an essential part of the Trådfri system. You can't just buy a gateway and some bulbs, then rely on the app.
An even more hands-free way to turn on your lights is the motion sensor. The big downer here is that it isn't weatherproof, so can't be used to trigger your outdoor porch light.
But I found it to be a handy thing to stick in the hallway to help save energy. You can set the sensor to turn off automatically after one, five or ten minutes, and there's also a night mode that means it'll only motion-trigger lights in the evening.
Ikea Trådfri usability: smart lights for dummies
The Trådfri system works as well as anything else you've bought from Ikea – it's a solid, no-frills approach to smart lighting.
Pairing bulbs to the controller is a 30-second process of holding them next to each other while holding a button. Installing the gateway is a little more involved, as it needs to plug into your router. But I was set up in two rooms within ten minutes, and all without hurling an Allen key out of the window.
The control puck lets you do three things: turns lights on or off, cycle through five levels of brightness and, if you have a white spectrum bulb, choose from three lighting temperatures (from cold to warm).
It's very responsive (more so than the app) with a decent range of 10m. And there's something refreshingly simple about using the system without the app: outside of the hassle of software updates and the cloud, you're left with a setup that'll last for yonks (both the bulbs and controller battery will last around two years) and keep chugging along whether Ikea decides to keep supporting it or not.
But then you get the nagging feeling that you want to do clever things like set timers, which means diving into the app…
Ikea Trådfri app: won't make Hue cry
Considering Ikea still loves the pencil-and-paper shopping list, I was a little nervous about trying its smartphone app.
But luckily the Tradfri experience on iOS and Android is classic Ikea – so clean and simple, it's easy to forget the extra flourishes you're missing (and compared to Hue, there are many).
Unlike the physical controller, the app lets you choose 'moods' (Ikea's equivalent of Philips' 'scenes'), create moods and tinker with the brightness of individual bulbs.
Even better, it now has some handy timer functions. These include 'rise and shine' for being gently awoken by a gradually brightening light, a burglar-deterring 'away from home' mode for getting certain lights to switch on and off at different times, and a simple timer function.
Compared to the likes of Hue, there are limitations though. The 'away from home' function is simply a timer – you can't actually control your lights from outside your house if, say, you forgot to turn one off. And there's no geolocation for triggering lights as you come home, or smartwatch support.
Because the Tradfri system isn't yet compatible with the likes of Apple HomeKit, IFTTT, Amazon Echo or Google Home, there's no voice control yet either.
Ikea did tell us that "being compatible with other products on the market is something that we are working towards", so some compatibility is likely to be in the pipeline. But when you're building a new lighting system for your house, it's always nice to know for sure that you're not permanently blocking future gadget extensions.
Another slight niggle is that there's a slight delay every time you open the app, while it connects to your gateway. Altogether it adds up to an app that can do the basics, but feels a little dated.
Ikea Trådfri pricing: cheaper by design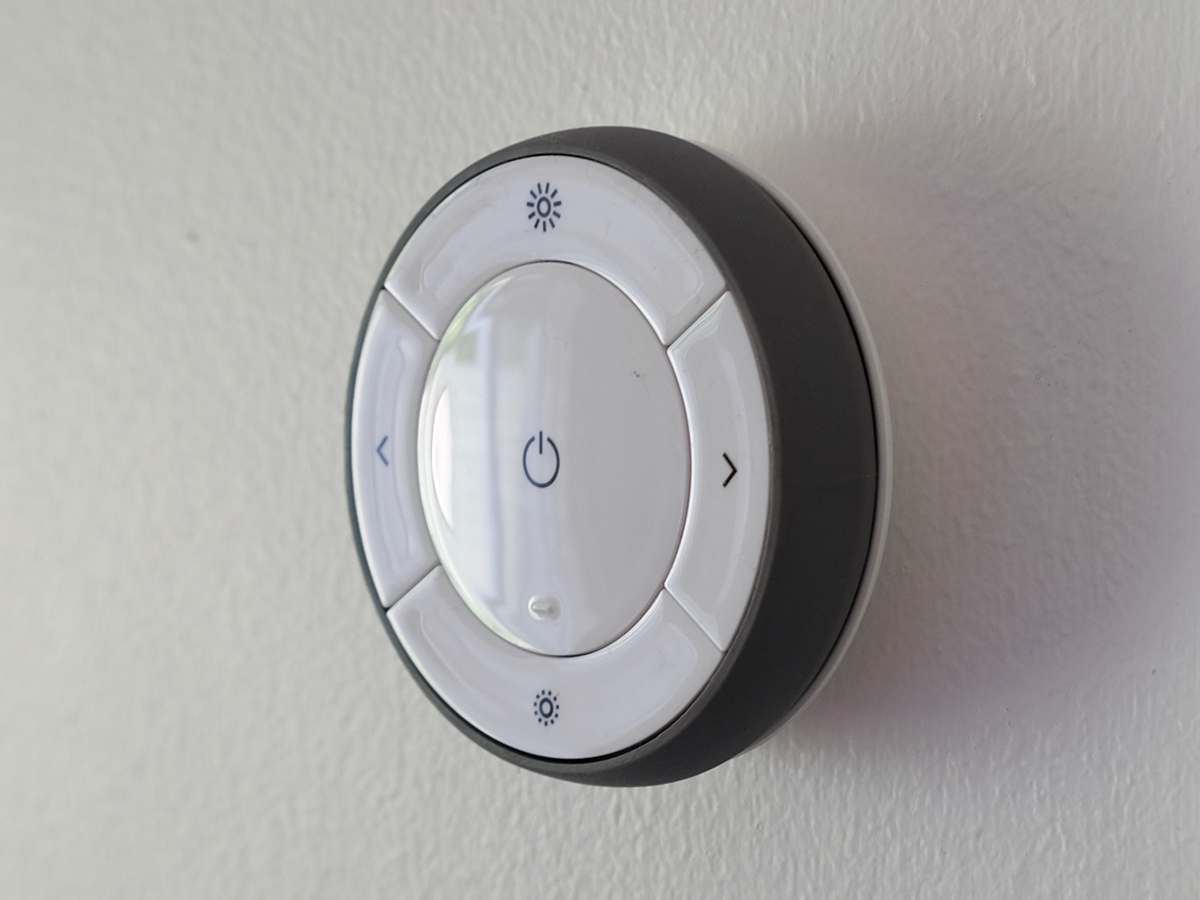 The Trådfri range isn't exactly cheap – the illuminating panels go up to £100 – but it is the most affordable way to get into smart lighting.
The main difference from the likes of Philips Hue and British Gas' Hive Active Lights is that you don't need a hub to get started: pick up the £29 Tradfri dimming kit and you're ready to go, albeit without any of the app's extra tricks.
The other difference is that extra bulbs for Ikea's system are quite a bit cheaper: it's £15 for an ambient 'white spectrum' bulb, compared to £25 and £29 respectively for Philips Hue and Hive.
Once you start throwing app control and hubs into the mix, then there's not a huge amount between the systems. Ikea's £69 Gateway Kit is effectively a Philips Hue Starter Kit plus a dimmer switch, which comes to £79.
In short, if you just want a taster of smart lighting, or want to get your gadget-loving uncle a new toy, Ikea's range is a great place to start. There's a reason why its Marketplace section is so addictive…
Ikea Trådfri verdict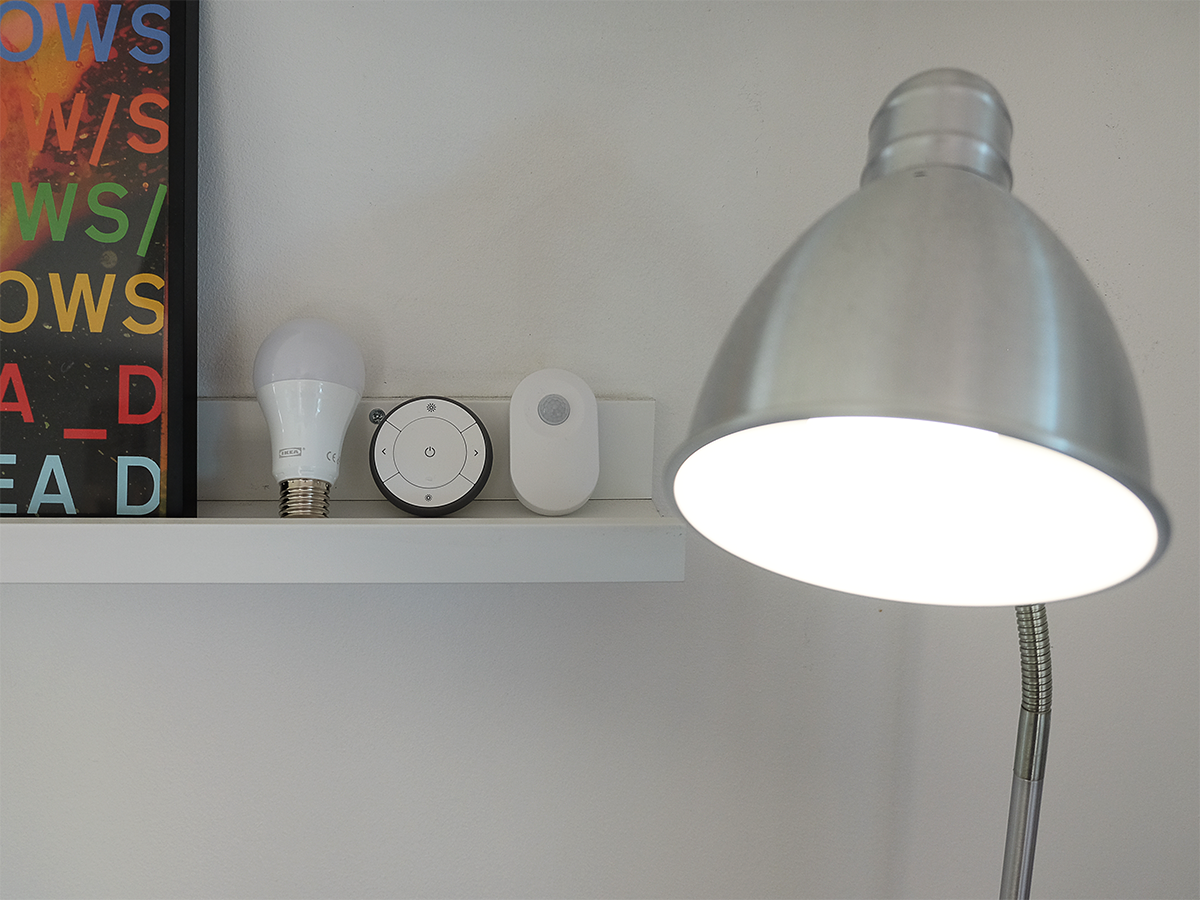 The Trådfri range is classic Ikea: simple, good value and strangely addictive. If you pick up some bulbs with your armful of Marketplace goodies and meatballs lunch, you won't be disappointed.
That said, it's far from the smartest lighting out there, and it's not currently clear whether or not it'll embrace colour and open itself up to the likes of Apple HomeKit, IFTTT, Alexa or Google Home (update 23/5/17: Ikea's smart lights will support Apple HomeKit, Alexa and Google Home from the summer or autumn of 2017).
If you just want a taster of smart lighting without the faff of hubs and smartphone apps, its basic controller-bulb kit is a great starting point. But for true smart lighting nerdery like voice control and recreating the northern lights in your lounge, Philips Hue is still the lord of light.
Stuff Says…
The Swedes have made the perfect smart lights for beginners, and imminent voice control could yet see them trouble Philips Hue
Good Stuff
One of the cheapest routes into smart lighting
Simple to use and set up
Doesn't need a hub or app to work
Has unique illuminating furniture panels
Bad Stuff
No colour bulbs
No voice control
Not compatible with IFTTT or Apple HomeKit
Motion sensor is indoor-only