Insta360 One R review
R you ready for this 3-in-1 action cam's flexibility?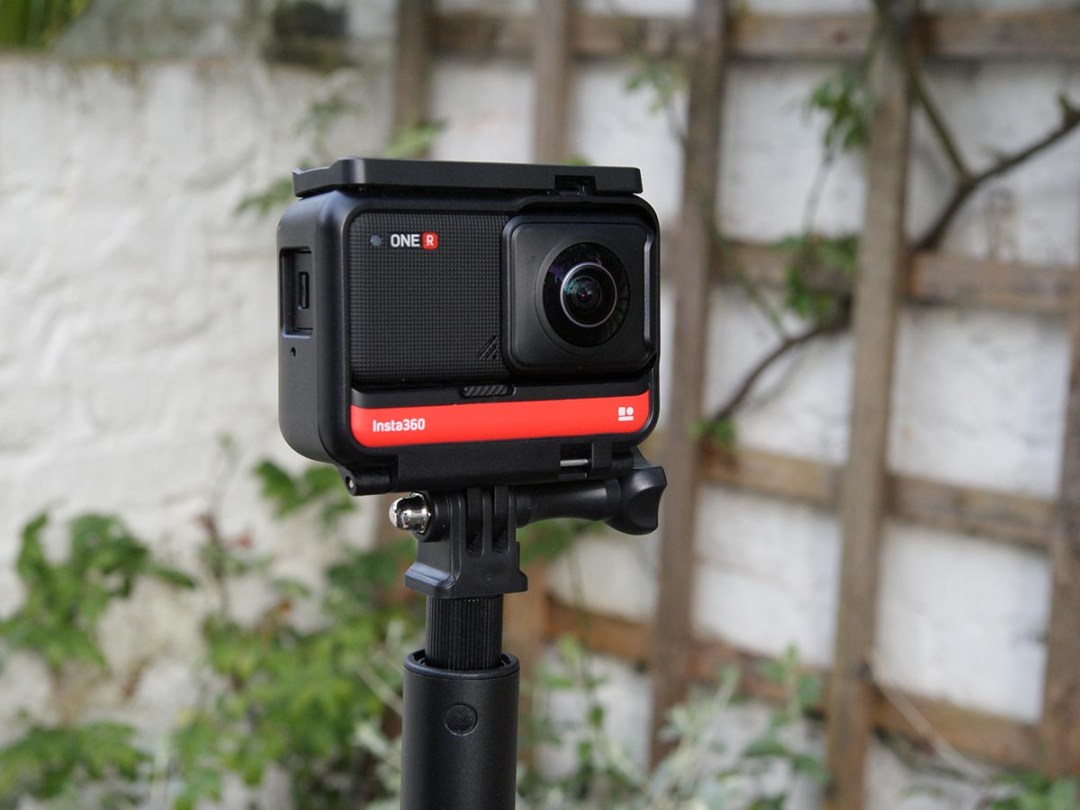 Watch out, GoPro – the world of action cameras is moving fast, and you're no longer the only company making big moves, or [modular models].
The Insta360 One R is a perfect example: a tiny camera with clever software, great image stabilisation and, depending on how much you're willing to spend, up to three modules that drastically change the way it shoots videos and photos. How does this flexitarian approach work out in practice? We've braved the winds of winter down on the coast to find out.
Design: Three times a camera
The modular three-section design is key to the One R's appeal. The camera consists of a core (this section features a touch display, card slot and USB-C port for charging), a camera module (there are three potential mods to choose from here, which we'll go into below) and a battery base, all of which push and snap together with ease.
No matter which mod you've got fitted, the One R is small, lightweight and eminently pocket friendly. It's supplied with a cage and mount adapter allowing you to fit it to the exact same type of harnesses and mounts as a GoPro – a very smart choice given the sheer number of GoPro mounts out there. You can also buy an optional adapter allowing you to bolt the camera to your DJI Mavic 2 or Mavic Pro drone and lift it to entirely new heights.
The small, boxy and sturdy design means you don't have to treat this thing with kid gloves. Two of the camera modules have built-in scratch-proof lens covers, while the other comes supplied with a tough rubber lens can that slips over it when it's not in use. Insta360 also supplied us with an accessory that does the same but with transparent lenses replacing the rubber bits, the idea being that you can leave this cover on at all times and shoot through it – but at present it degrades the image quality so much that we wouldn't advise using it.
The camera is waterproof to a depth of 5m in each of its various guises, so you can strap this thing to your head and go white water rafting, snorkelling or engaging in whatever wet activity you choose, safe in the knowledge that it won't conk out on you and junk all that precious Insta content.
Features: A bit of everything
A quick look at the One R's features list is nigh-on disorienting; there's so much you can do here that we felt a bit assailed by the choices on offer.
A lot of the shooting modes revolve around AI, where the mobile app basically takes the editing reins and hands them over to a robot. As long as you shoot within certain parameters, you can achieve some very cool-looking clips using these using very little effort. We particularly like the stop motion effect, as shown below.
Other quality of life features include limited voice controls, 5G Wi-Fi (which is best used to link the camera up to your phone running the app), a microSD slot (able to accommodate cards up to 256GB) and a USB Type-C connector for charging and transfer. The battery, meanwhile, will last you about an hour when filming at the top resolution.
Image quality: Sharp and stable
The three available camera units are as follows: a dual-lens 360 camera that captures everything around you; a 4K wide angle camera that offers better image quality from a single forward-facing camera; and a wide angle camera with a 1in sensor (made in partnership with Leica) that offers the best image quality of the lot, particularly in low light situations.
Our review package didn't include the latter of the three, so we can't speak to the performance of that particular module (which costs £519.99 when purchased with the core and battery units). We did manage to try both of the other modules however, in a package sold for £439.99 as the Twin Edition.
You can shoot in a wide range of resolutions and frame rates, which differ depending on the module you're shooting with. With the 360 camera, the highest resolution is 5.7K (this sounds high but in practice you're usually only viewing a small part of the image – so it's not particularly sharp) and the highest available frame rate is 100fps, but you'll need to downgrade the resolution to shoot at that speed.
slow-mo footage
For the 4K wide angle camera, you're able to shoot in up to 4K (well, duh), which looks sharper than the 360's 5.7K footage due to it pointing in just one direction with a narrower field-of-view; the top frame rate is 200fps (but again, you'll have to dial the resolution down to achieve that).
Excellent image stabilisation, decent auto-stitching (as long as you don't try and film things too close to the 360 camera) and the brilliant "invisible selfie stick" feature make shooting compelling clips a doddle. You don't need to do a lot except point the camera where you want it – and in fact, with the 360 module you don't even really need to do that.
Actual image quality is decent rather than stunning, with the sort of detail levels and colours we'd expect to see out-of-the-box from a small action camera. There are HDR and Night Mode alternatives to regular shooting, which add some processing jiggery pokery to proceedings in order to improve clarity in tricky conditions.
NIGHT MODE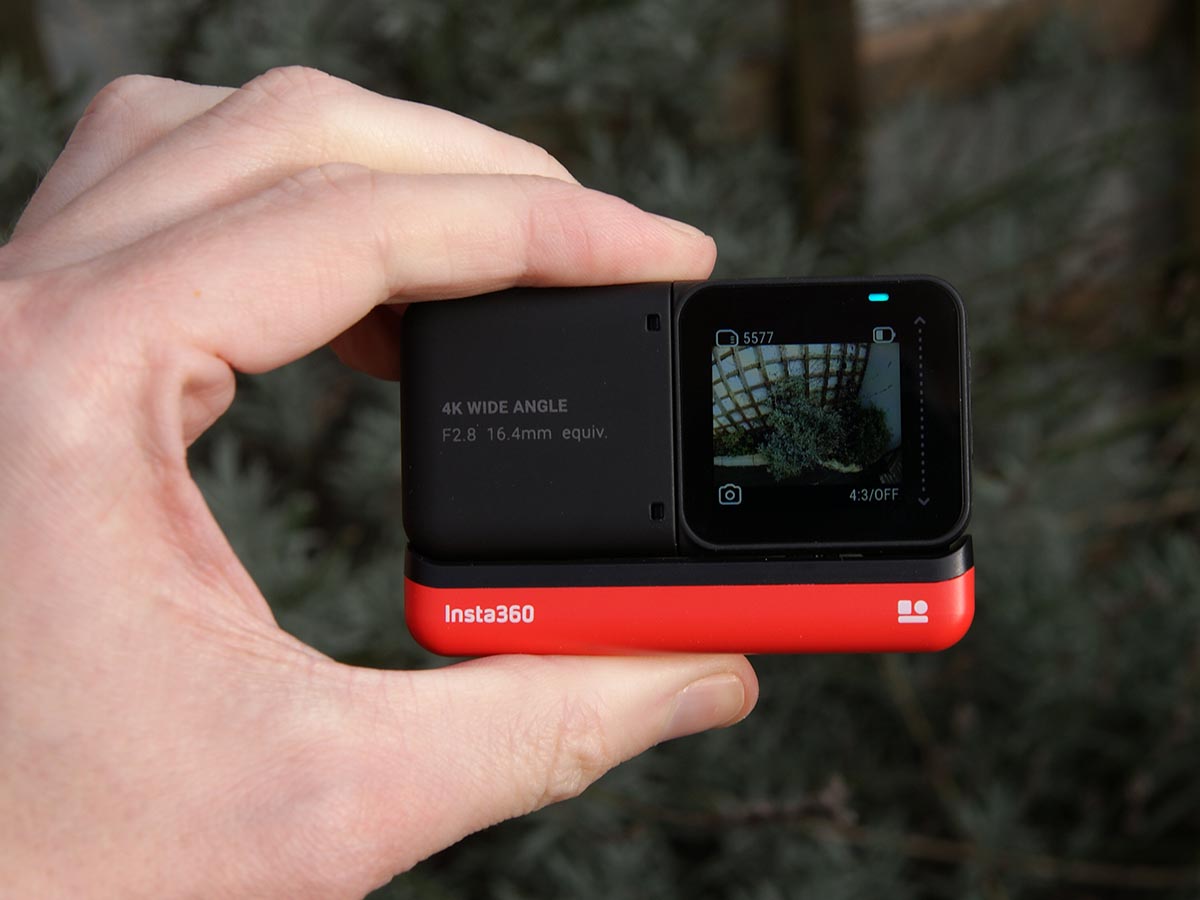 We suspect the 1-inch module provides a sharper, cleaner image than either of the ones we've used here (that's kind of its whole deal), but for an action cam we think the 360 and 4K modules are absolutely fine. You can of course edit the files yourself if you're that way inclined, with RAW stills and flat log videos available.
One thing to note: we did experience some issues with the app crashing or the camera failing to make a recording via the app. We were using a pre-release version of the app at the time, so we can only hope that Insta360 continues to improve the software and firmware throughout the One R's life cycle.
Insta360 One R verdict
There's a lot to be said for versatility and user friendliness in an action camera, and the One R delivers on both fronts. It'd take us a month or two to really explore everything this camera can do – and with the firmware and app being frequently updated, even more features and shooting modes could be added in the near future.
As an alternative to a GoPro Hero, the One R is definitely a strong shout – particularly if you see yourself shooting a lot of 360 videos or photos. We suspect GoPro's reputation for reliability and all-round performance will keep it as the go-to choice for action cam buyers, but if Insta360 continues to support and improve upon its products, it may overtake its closest rival very soon.
Stuff Says…
A versatile and powerful action cam stuffed with features
Good Stuff
Tons of features
Decent image quality
Powerful mobile app
Bad Stuff
Some (pre-release) app issues