Insta360 One review
Shoot everything and edit later with this 360-degree 4K camera...
Smartphones have had 360-degree camera companions for a couple of years now, so what can a new contender possibly bring to the party?
Like GoPro's upcoming Fusion, the big deal with Insta360's One is software trickery that lets you shoot everywhere before cutting together a standard 'flat' movie.
Theoretically, this means an end to worrying about how to frame your action video, so you can get on with the serious business of being extreme (or just moderately gnarly).
Of course, the Insta360 One also shoots 360-degree videos for VR headsets too. And after spending a couple of weeks with it, we can say it's among the best on the market – mostly because of how easy it makes shooting 360 stills and video clips, but also the range of smart software features it brings to the table.
Design and build: take the black pill
Popping out of its packaging like an oversized, all-black paracetamol, the One is lightweight and compact enough to mount directly on your iPhone or iPad, fixed only via the Lightning port (an Android edition is on the way, Insta360 promises).
The two wide-angle lenses form small bulges on each side, but otherwise it's a fairly smooth outer shell with no major protrusions (the aforementioned Lightning connector folds down, popping out only when required).
That makes it extra easy to slip in your pocket, or inside the provided hard plastic protective case. The case, which has a non-slip matte surface, also doubles as a tabletop stand and a hand grip for times when you're using the One solo (i.e. not mounted on your phone).
While not rugged per se, the camera is IP68 rated, making it sealed against water and dust. So you can use this outdoors in any kind of weather with childlike abandon – just try not to drop it on the floor while you do so.
There's a standard tripod mount on one end of the camera, meaning you can bolt it onto all sorts of things including selfie sticks, bikes, helmets and even drones. And just next to that, a microSD slot, which supports cards up to 128GB in capacity.
App and features: lots to play with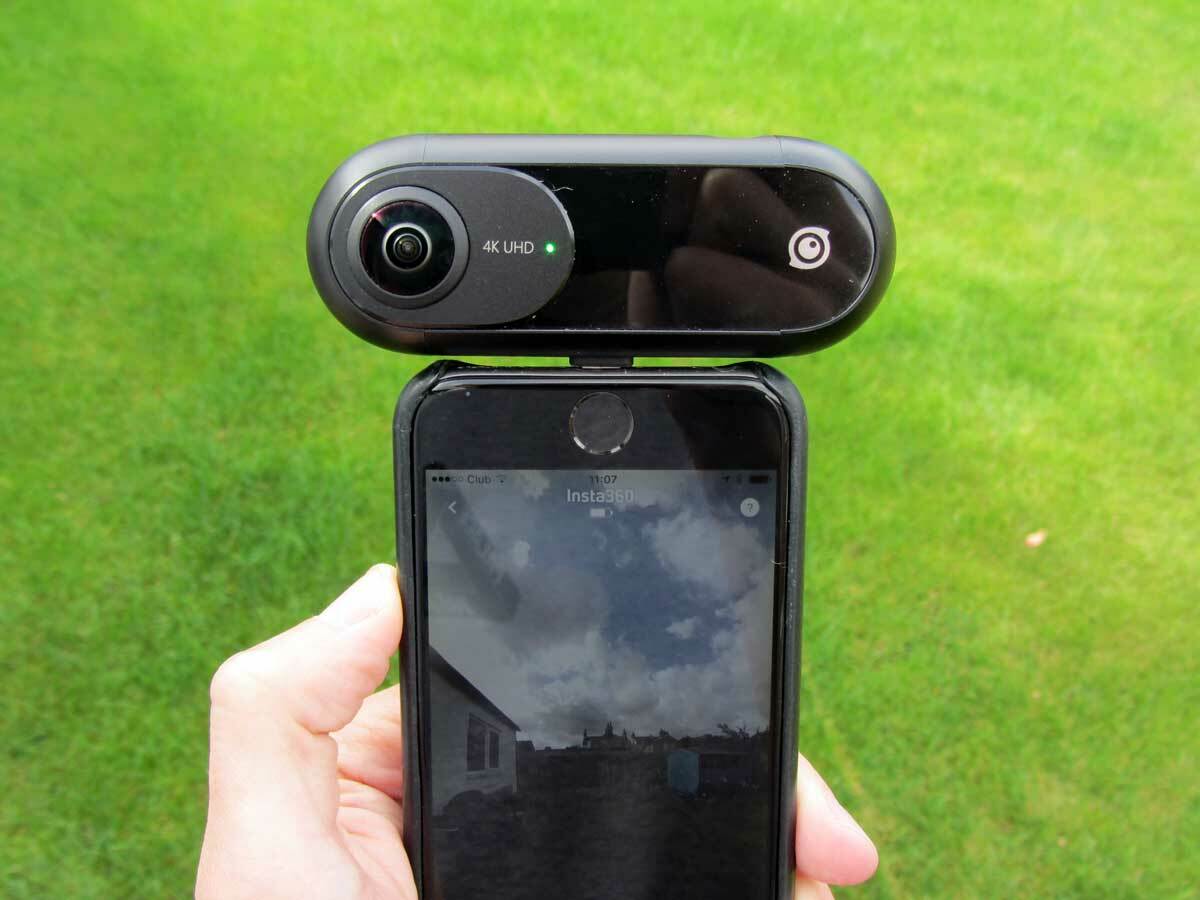 You can use the One unattached to (and even unpaired with) a smartphone or tablet; when it's switched on, just tap the power button once to take a still 360-degree photo, twice to start recording a video, or three times to record a slo-mo video.
Still, it's far easier to use when teamed up with a companion device and Insta360's app, because you can see what the camera's pointed at, as well as tweak settings, edit images and clips, and delve into the camera's more interesting features – primarily FreeCapture.
With a bunch of simple touchscreen and motion-based controls, FreeCapture allows you to select and "extract" a 1080p window from the One's 4K 360-degree footage. The idea is that you shoot first – and shoot everything – then "point" the camera the best bits later. You can even add an appropriate soundtrack from the range of included ditties.
It's a clever idea, and executed well here. And once you've made your FreeCapture video, you compile it and save it to your iPhone's camera roll – to be shared however you like. Here's an example of an edited FreeCapture video:
And below is the original 360-degree video that the above video was cut from using FreeCapture.
As you can see, the frames have been punched out pretty seamlessly and it's an impressive effect, leaving you to worry less about where you're shooting and more on what you're doing.
Other features: I know camera fu
The Insta360 One has two other particularly cool software features. Within FreeCapture there's SmartTrack, which lets you draw a box around a specific object and have the FreeCapture frame automatically follow it around.
It's a feature that sounds great on paper but doesn't work quite as effectively as we'd like – we found it lost the moving object far too often; we suspect the tracking requires very good lighting to work properly, with slightly cloud early autumn days here in the UK providing simply too little of the stuff.
One feature you can't use while phone-mounted is the "bullet time" recording mode, which has you attach the camera to a (supplied) piece of string and whirl it around your head like some kind of early noughties nightclub entertainer.