iPhone XR review
All things bright and beautiful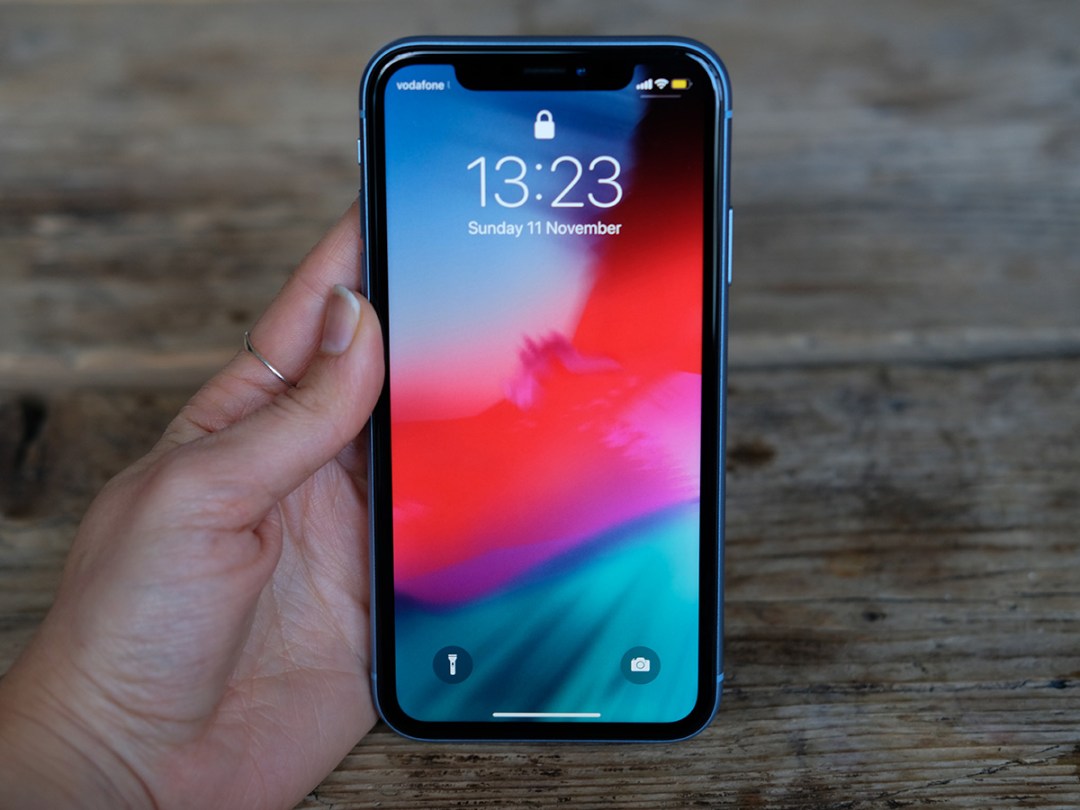 Launched a little later than the iPhone XS and and XS Max, this colourful powerhouse is the youngest and most fun member in the X family. Think Jack-jack in Incredibles 2, but far more reliable.
While it might not have specs to match the XS duo, it certainly has many of the same perks.
Apple has slashed the price, switched out OLED for LED and scrapped a camera sensor on the rear to bring us this 'affordable' iPhone in an array of glorious colours, and with a battery life that'll withstand a whole day of heavy tapping. 
If you're in the market for a brilliant new iPhone or a new smartphone for that matter, then read on…
Design and build: Hard candy
From the front it looks familiar to the X and XS with all-screen plus notch, yet it's a touch wider, taller and bulkier – 150.9 x 75.7 x 8.33mm. The XS is 143.6mm tall for comparison.
For those used to an iPhone 8 or 7, it might feel a bit wide in the hand at first. But it's just about manageable.
The iconic Ive-ian rounded edges feel great to touch and the metallic colour around the perimeter is rather attractive. It's almost reminiscent of the colourful troupe of iPods and shuffles. Plus, the candy colours (it's available in blue, coral, yellow, white, black, gold and (product) RED) bring to mind those wicked Apple iPod tv adverts, of dancing silhouettes against block colour backdrops.
Over on the back it rocks just one camera and looks similar to the iPhone 8. However, it's finished in aluminium and glass, rather than steel on the iPhone XS duo. It feels premium and the shiny glass is a lovely contrast to the metallic edges.
The glass on the front is apparently among the strongest on any phone, and that seems to stand true. I'm a little, er, heavy handed and usually manage to get a couple of scratches after a few weeks with a new phone. Not the case with the XR, and admittedly I've dropped it more than one ought to. It's came up as good as new.
It really feels sturdier than any iPhone I've had. It's not going to boing back up from the ground if you drop it, but it's a lot harder to cause any cosmetic damage – and for that, I am glad.
Similar to the iPhone X and XS, there's the slender lock/Siri button where the power key once was, with the volume buttons and the mute switch on the left. It's no surprise that this phone is devoid of a headphone jack and every iPhone going forward will be too.
What is a pain though, is that Apple don't include the adapter in the box as was supplied with 2017's iPhone X. So you'll need to get yourself a headphone jack to lightning dongle for your wired cans.
Not out of choice, or journalistic integrity, but we've tried and tested the XR in torrential downpour riding a bike and its IP67 water-proofing meant it was up to the challenge. So I can only imagine it would be fine in most everyday water-based threats. Think of all £s saved on your basmati.
Display and sound: LCD sound system
So, why is the XR substantially cheaper than its siblings? In short – because it's not got that lovely OLED screen adorned by its XS elders, and even 2017's iPhone X.
What you do get is 6.1in Liquid Retina LCD. Well off course Apple had to come up with a sexy name for its less than premium screen. These screens have been custom made to allow for the fully rounded edges of the phone. And although that screen is enough to put off some, it was surprisingly great delivering crisp lines and vibrant colours.
In fact, it was only when placed side by side with the XS, we were able to tell the difference. And who, other than the likes of Stuff is going to partake in such screen comparison hijinks? When analysed side-by-side, I noticed that where the whites looked iridescently bright on a video of crashing waves, they didn't quite render as bright on the XR.
Scrutinising the same images on Instagram on both the XR and XS, although the colour reproduction looked a little different, there was no loss in detail.
However, I did notice some of the text on Whatsapp rendered a touch pixelated. Though, I'm not sure that's really much of an issue. The screen isn't going to be as sharp as there simply aren't as many pixels packed in there, only 326 pixels per inch as opposed to 458 on the XS.
If you're upgrading from an iPhone 8 or anything older, what you will notice is that notch. Something we've come accostomed to nowadays.
Yes, it's annoying having a chunk taken out of the screen when watching films or playing games, but it contains lots of important tech hidden in there: the remarkable Face ID, the front-facing camera and various other sensors. Alas, there is method to this notchness.
In 2018, bezels are the enemy of the smartphone, so no one is that pleased to see the thick black border around the screen. Thing is, it's not really edge-to-edge as promised and it's especially noticeable on the black version, whereas the blue model and all the colour options do offer a distraction to the bezelephant in the room.
The speakers emit stereo sound and when testing them out, they seemed to do the trick, as good as one might require from their smartphone, but nowhere near as loud as the iPhone XS or as dynamic as the sound on the Pixel 3 and 3XL for that matter.
Performance: Chip off the XS block
The iPhone XR is on a par with the XS on Geekbench as it houses A12 bionic chip. And when it's over £200 cheaper – Apple has somehow convinced me that it's a good deal. And looking at performance alone, it most certainly is.
The XR is a delight to use, carrying out everything I demanded of it, which includes heavy photo editing/sorting, occasional gaming and voracious social media consumption.
And it takes it all in its slide, whipping under the finger gracefully and swiftly.
There was the occasion bug when taking a photo and the screen would go black and I'd have to re-launch the camera. This only happened a few times over the 10 days testing, but it's infuriating when you've got subjects waiting for you to take the bloody photo. There's only so long once can force a smile.
If you demand extra grunt, then perhaps the 3GB of RAM won't cut the mustard for you, so it's worth considering forking out for the XS. But for most general users, the XR does everything required.
OS and software: Oh 'appy days
iOS 12 is so much more than puppeteering talking unicorns.
As default on the XR, you'll be able to set App limits which is probably the best update from Apple in a very long time. There's also Siri shortcuts and you can now add a second Face ID Mug.
Face ID is slick and it's great to see that it hasn't been omitted here given it's the 'budget' X.
AR is baked into lots of the apps, and testing it out on the mesmerising Euclidean Skies was fun, but also not a perfect experience. The perspective jolts about a little and I can't really see an everyday use for AR yet.
What the iPhone is unmatched for is apps. There's simply not enough time in the day to chomp through them all. But the productivity ones, such as Forest, Streaks, Evernote and so on make a life-coach out of the thing.
Plus, you'll be able to see what's eating into your precious time in a terrifying graph built into settings under 'screen time'. This is single-handedly the best thing about the new iOS, as smartphone addiction is a thing. Apple got us in this mess, but at least it's making an effort to get us out. Even though lots on androids such as the Pixel 3 have followed suite with its 'Digital Wellbeing' initiative, it's nice to see it here as default.
BATTERY LIFE: it's been a long time comin'
So long battery woes! Apple claim it's the best battery life on any iPhone. And we're inclined to say it's true.
A whole day, with some quite heavy usage and I still had plenty juice to catch up on Little Drummer Girl on iPlayer on the commute home.
You'll also have the power saving mode to keep anxiety at bay.
If you're interested in battery life, beyond the basic – how long will it last, you can delve into the battery health and see which apps are munching all your energy: I'm looking at you WhatsApp and Google Maps.
The extra chunkiness and more energy efficient screen allow the XR to have the stamina I'd always wished for in my iPhone. And if that comes at the cost of a tiny bit extra bulk and a slightly worse screen – I'm okay with that.
As expected, wireless charging is supported here too, if you do need a top-up throughout the day.
Camera: Handle with software
With a lesser price tag, comes one less camera. That's right – there's no dual-set up like you'll see on the X, XS and XS Max. This is a little upsetting if you're used to the X.
Where the struggle is real is in portrait mode. Without the hardware, the XR must rely on software algorithms to discern subjects and it can be a little bit hit and miss. It also means, without the 2X telephoto lens, you'll have to get closer to the person.
I emphasise person, as portrait mode won't work on any other object. That's bad news for phoDOGraphers like me. But most probably won't mind too much.
Moving on from secondary sensor blues, the iPhone XR camera has the same main sensor as the XS; a 12MP wide-angle lens with an f1.8 aperture and optical image stabilisation. And what a sensor it is.
In daylight, colours are realistic with great dynamic range, helped out by the Smart HDR mode. I actually prefer them to the more saturated and harder edged photos you get from the likes of the Huawei Mate 20 Pro and Pixel 3 XL. There's no denying, pictures from the XR are stunning.
The camera fares well in low-light too, this is because it's using the main lens (the only one it has) with its wider aperture letting in more light.
Both the XR and XS duo rock a 7MP front-facing shooter using the same TrueDepth camera system with full support for Portrait Mode, Depth Control, Memoji and Animoji of course.
That's almost enough to salve the secondary back lens upset.
iPhone XR image gallery:
iPhone XR verdict
The XR is the perfect antidote to the ludicrously expensive XS duo and it's refreshing to see Apple isn't scrimping on the important stuff to push down that price.
In the flesh, the LCD screen is far better than we could've ever imagined after Apple's announcement in September.
The camera is as good as many other flagships, and although you might not get the wow-factor on portrait mode, pictures are still worthy of a 100 insta likes.
If you're nestled in the Apple eco-system and haven't upgraded in a year or so, the XR is a no brainer. If you made the jump to iPhone X in 2017, you probably won't be that impressed and should opt for the iPhone XS.
Tech specs
| | |
| --- | --- |
| Dimensions | 150.9 x 75.7 x 8.3mm |
| OS | iOS 12 |
| Screen size | 6.1in LCD |
| Resolution | 1792 x 828 |
| CPU | A12 Bionic |
| Storage | 64 128 256 |
| Rear camera | 12MP |
| Front camera | 7MP |
Stuff Says…
While it misses out on a few luxuries, the iPhone XR is the toughest, cheapest and sweetest iPhone you can buy
Good Stuff
excellent battery life
speedy
multiple colour options
reasonable price
Bad Stuff
LCD screen not as good as OLED
No portrait mode for dogs, cats and bearded dragons