Jabra Elite 45h review
There's 'stamina' and then there's these Jabras
Anyone who's fancied an affordable pair of true wireless headphones in the last year or two can't have failed to encounter Jabra. The company has turned out any number of great-value wireless earbuds, to the point that the rest of Jabra's product catalogue has been a bit overshadowed.
Obviously, worse things have happened to companies than to have become known for doing just one thing really, really well. But Jabra wants to broaden its appeal, and so here are the Elite 45h wireless over-ear headphones – they want to open up a whole new section of the market to Jabra's particular talents. And on paper, at least, they seem to have a fighting chance. After all, the specification and, especially, the price is right.
But no one ever bought a pair of headphones because of their 'on paper' charms, did they? So are the Elite 45h actually any good in practice?
Design and build: Skinny but strong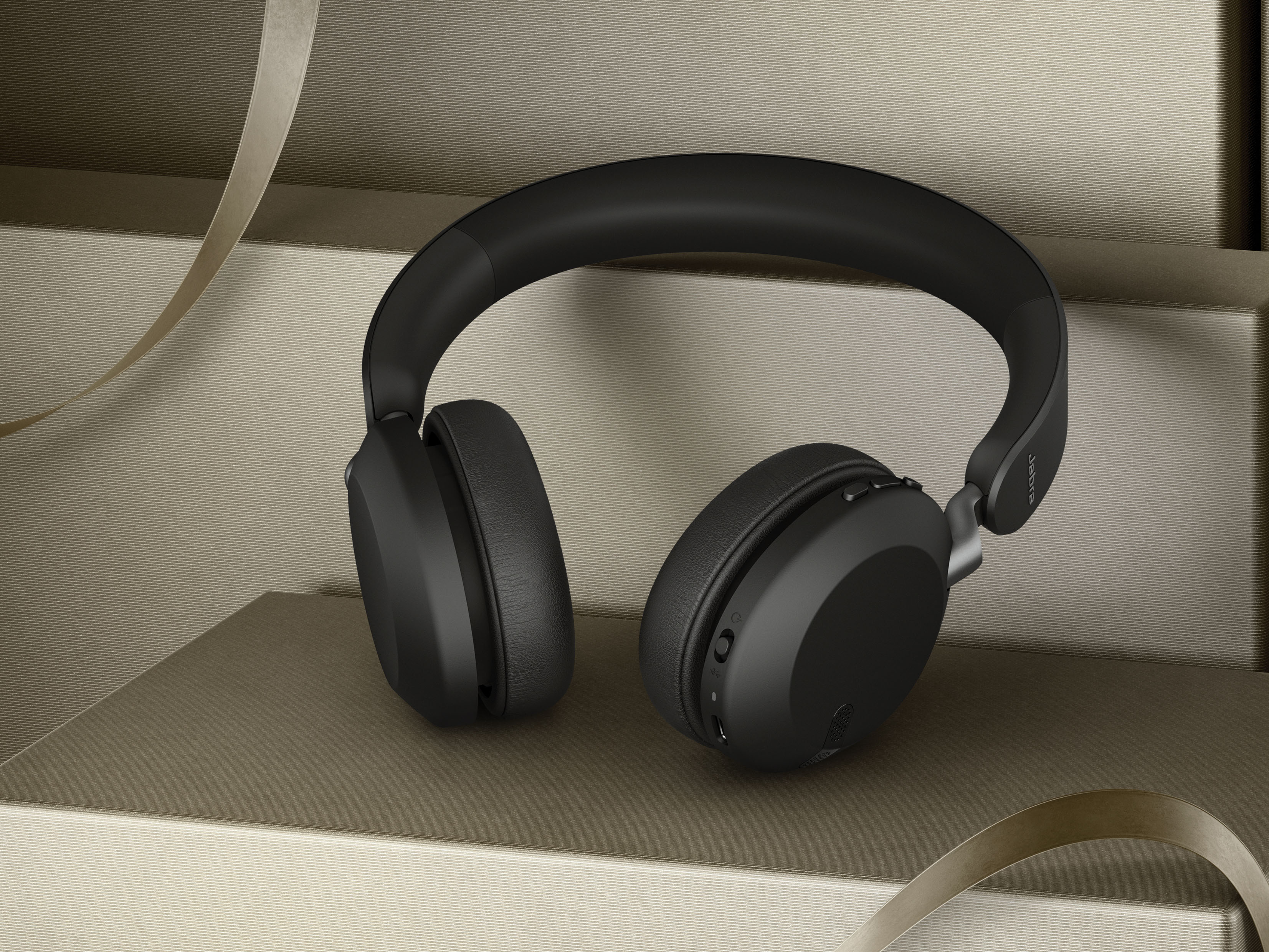 There's not a lot of scope for flights of design fancy when it comes to over-ear headphones, especially not when you're trying to keep the price down. So it's really no surprise to find the Elite 45h are probably best described as 'practical' in the way they look.
Keeping costs down has allowed Jabra to keep the weight down too, though, and at just 160g the Elite 45h aren't going to be a burden even if you wear them for hours on end. The plastics are thin, sure, but they don't feel flimsy – and it's not as if the Elite 45h creak or groan when you adjust the headband or once they're on your head. Everything feels properly put together and really quite robust – there doesn't seem to be any reason they won't stand up to some everyday carelessness.
Getting the earcups to sit flat against your ears isn't as straightforward as it really should be, though, and the approximate nature of the fit means the Elite 45h leak more sound than their closed-back configuration might suggest they will. The earpads themselves don't take long to absorb the heat of your ears, either, and they're more than happy to give it straight back. But even though the headband feels as if it's hardly padded at all, it turns out to be perfectly comfortable for hours at a stretch.
Features: Long-distance runners
There's one headline here, and it's battery life: the Jabra Elite 45h will go 50 hours between charges. And that's a completely achievable figure, too – you don't have to play at miniscule volume or anything like that. 50 hours from a single charge when listening at decent volume. Anyone want to argue with that? No, we didn't think so.
And even if you're negligent enough to let Elite 45h run flat, a 15-minute burst of charging is good for another 10 hours of playback. There's a USB-C socket on the right earcup, but we doubt you'll need it all that often – there's 'stamina', and then there's the Jabra Elite 45h.
Wireless connectivity is via Bluetooth 5, which may not be at the cutting edge these days but is still more than enough to allow you to listen to hi-res digital audio files. And once the information is on board, it's turned into music by a couple of 40mm dynamic drivers
Interface: The appy place
Despite the price, Jabra hasn't scrimped where control of the Elite 45h is concerned. On the right earcup there's quite a comprehensive interface: a slider for 'power off/on/Bluetooth pairing', a three-button strip for 'volume up/down', 'skip forwards/backwards' and 'play/pause', and a button to summon your favourite voice assistant. Google Assistant, Siri and Alexa are all available – there's a two-mic array in the right earcup for issuing instructions or handling phone-calls.
There's even a control app, Jabra's proprietary 'Sound+' – as long as you're running Android 7.0 (or later) or iOS 11.2 (or later), you're good to go. The app features some EQ presets, some custom EQ adjustment and even a listening test to help establish the EQ levels you should be listening at. There are some other, less compelling, options to make your Jabra experience as personal as you like, too – by the standards of control apps for products like this, Sound+ is both useful and stable.
Performance: Loud louder loudest
A lot of this is going to depend on what the word 'lively' means to you. If it has only positive connotations, you'll get on with Elite 45h like a house on fire. But if it sounds a bit tiring, you might want to sit down for this next bit.
'Lively' is almost too weak a word for the way the Elite 45h sound. 'Relentless' is probably too harsh. But if there's a position between 'lively' and 'relentless' then these Jabras are it, all day long.
Once through a Tidal stream of Tame Impala's Borderline makes it obvious. As far as enthusiasm goes, the Elite 45h have nothing to learn – they sink their teeth into a tune and don't let go for an instant, pushing it forwards with something approaching impatience. They're an up-front and front-foot listen, getting more animated the more the tempo of the music increases.
The tonal balance is skewed in this direction, too. At the top end the 45h are never less than edgy, and with unsympathetic content that can get pretty close to being aggressive. The louder you like to listen, the more this trait is emphasised – and while the Sound+ app allows you to back off the treble response just a little, it's not enough to round off the sharp edges of the Jabra attack.
Down at the bottom of the frequency range the 45h are equally lively – but there's a rather detached sensation to the way the Jabras serve up the bass stuff. There's no arguing with how hard they hit or how deep they can dig – but they aren't the most adept at getting the bottom end to join in with the midrange in an especially natural manner. Like the treble reproduction, bass is nicely detailed and quite believable – it's just that it sometimes sounds like it's from a different pair of headphones.
In between, though, this vigorous sonic characteristic really comes into its own. The Jabras tend to make a singer sound like they're giving it everything they've got, so if you want to be moved by a vocalist the 45h will be right up your street. The midrange here is just as detailed as the rest of the frequency range, but there's a bit more subtlety and nuanced to the way it's delivered than there is on either side. There's enough space on the soundstage for a singer to properly stretch out, too, which helps the Jabras sound a little more poised and a little less frenzied than they otherwise would.
Consequently there's quite a lot of dynamic variation available here – the Jabras start at '10′ and take it from there – they're basically coming from an 'everything louder than everything else' position. Which means they're brilliantly exciting (if you like that sort of approach) or absolutely exhausting (if you don't).
Jabra Elite 45h verdict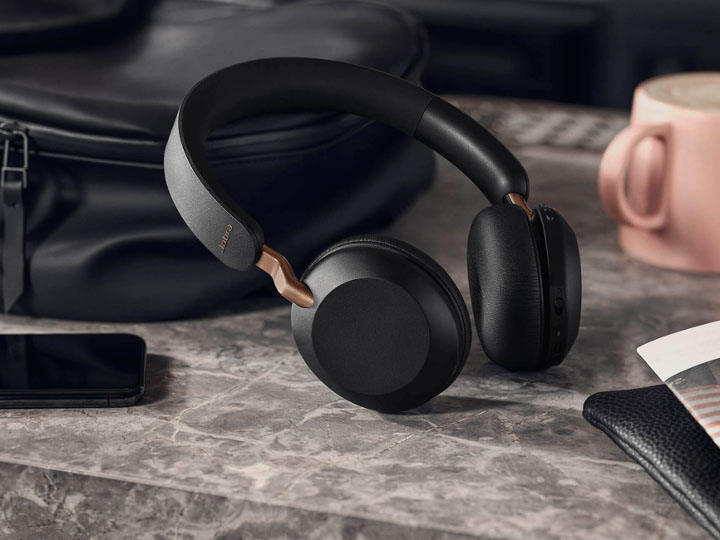 In some ways the Elite 45h are a no-brainer. They've got ample battery life, they're affordable, they're comfortable and they are a doddle to operate. And as far as the way they sound, it's just as the woman said: "people who like this sort of thing will find this the sort of thing they like".
Stuff Says…
Not only do these Jabras sound very, very perky, but they sound very, very perky for hours and hours and hours at a time
Good Stuff
Endlessly upbeat sound
Truly epic battery
Good control options, especially their app
Bad Stuff
Endlessly upbeat sound
Leak sound quite readily
Will heat your ears sooner rather than later