Jabra Elite Active 75t review
Jabra's latest excellent value AirPods rivals come with a sportier credentials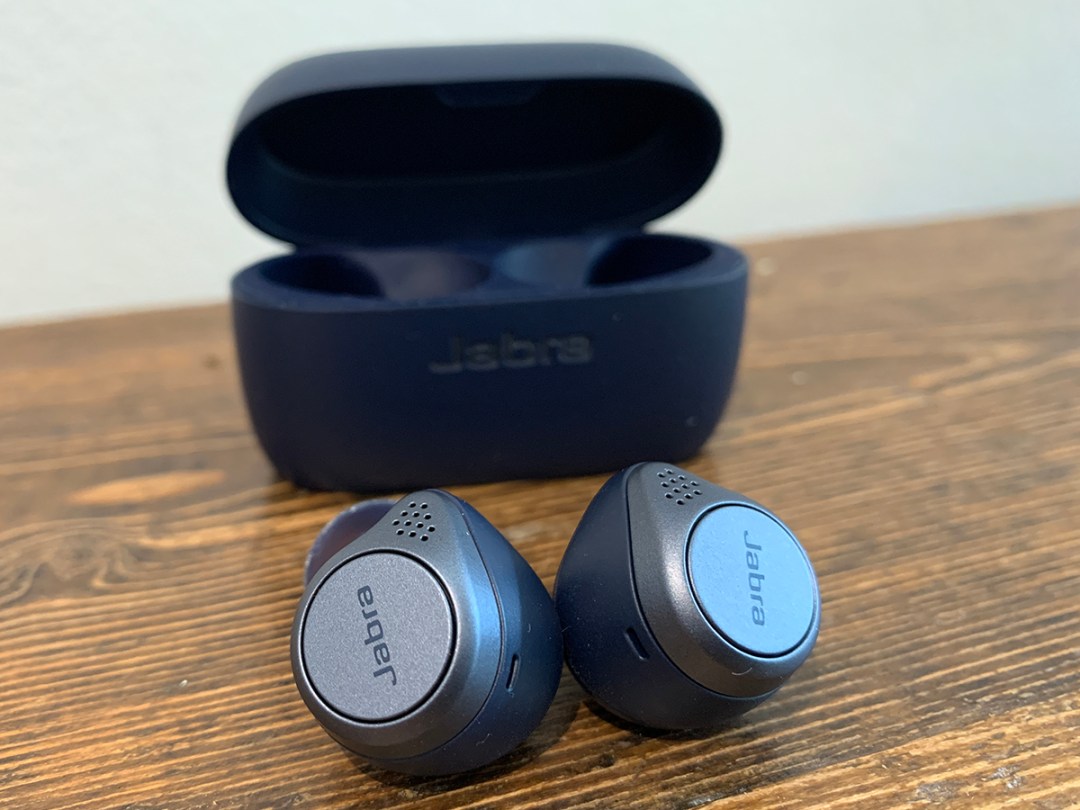 Jabra's range of AirPods-rivalling Elite wireless headphones has a sporty new addition, the Jabra Elite Active 75t.
We say new, but the latest true wireless buds off the Jabra line are 99 per cent the same headphones as their slightly older siblings, the Jabra Elite 75t. Same size, same weight, same battery life, same Bluethooth 5.0, same 6mm drivers, same controls and features, same charging case.
The major upgrades are an attempt at a sportier fit, thanks to a soft, grippy coating added to help the Actives sit more securely in your ears and an improved IP rating for added durability. Oh, and a £20 bump in price.
So is it a case of small changes making a big difference? Is that added sporty robustness worth the extra dollars? And are the Actives even more of a match for the likes of the Apple AirPods Pro, the Powerbeats Pro and the Jaybird Vista?
Here's our take on whether it's time for you to get more Active.
Design: Smaller, mightier and sportier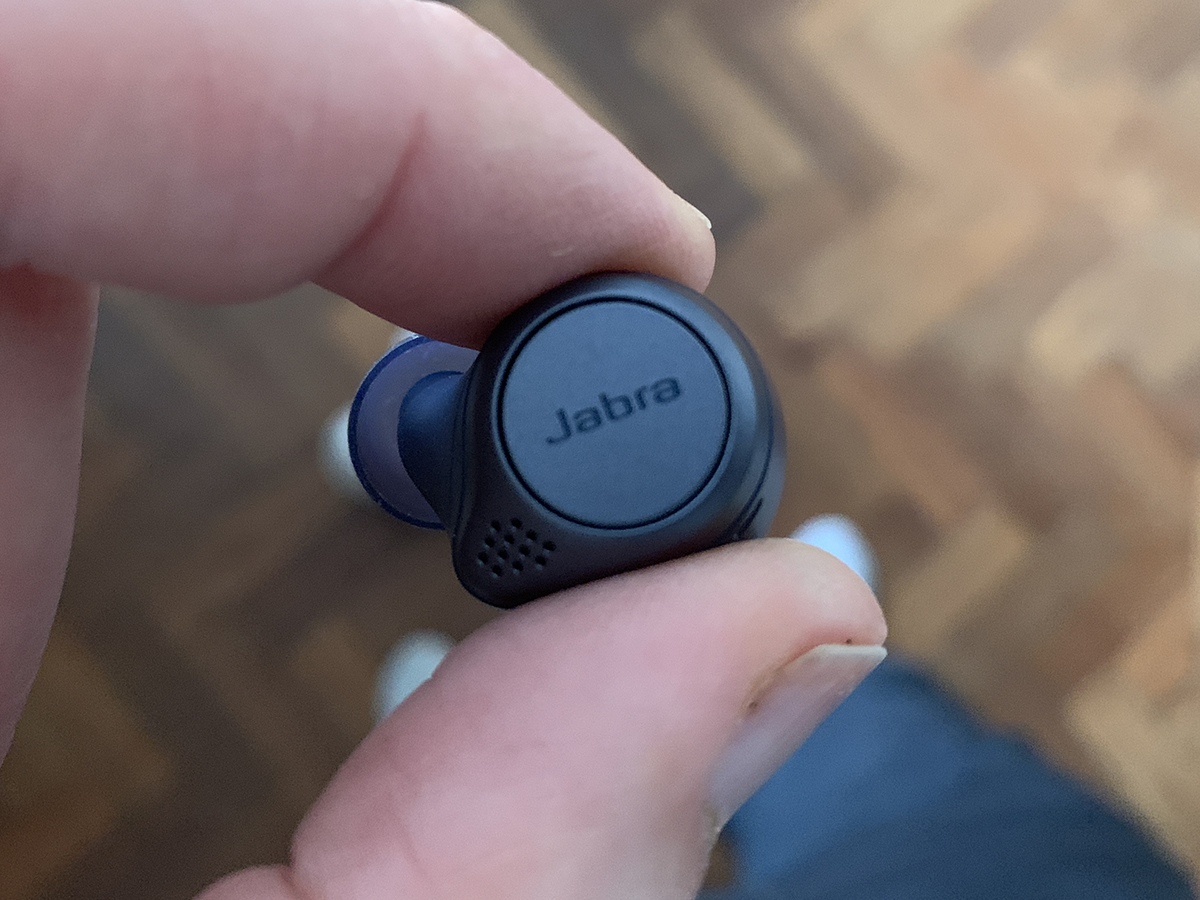 If you were familiar with the Elite 65t, you'll spot straight away that the Jabra Elite Active 75t are more compact and significantly slicker.
At just 5g, the streamlined buds are lighter, less bulky and more ergonomic. Like the Elite 75t, Jabra claims they've made the Actives 20 per cent smaller than the 65t. And it shows. The distinctive protruding microphone arms on each bud has been rounded down to a much smaller bump that houses two microphones. That four-microphone combination makes for improved outbound audio on calls against the 65t.
Overall, the refined buds are more comfortable than the Elite 65t and though not quite as streamlined and sophisticated as the Apple AirPods Pro, they're definitely an improvement on the bulkiness of sets like the Amazon Echo Buds, Bose Soundsport Free or the Sony WF-SP700N.
Setting the Actives up is pretty much idiot-proof and took less than 5 minutes. Like the standard 75t, you can pair to more than one phone and accept calls from either. After the initial pairing, the buds then auto-power up and auto-connect when you take them out of the case so there's no Bluetooth faff between you and your music. We also had no connectivity issues at all with these.
Fit: Improved stay-put powers?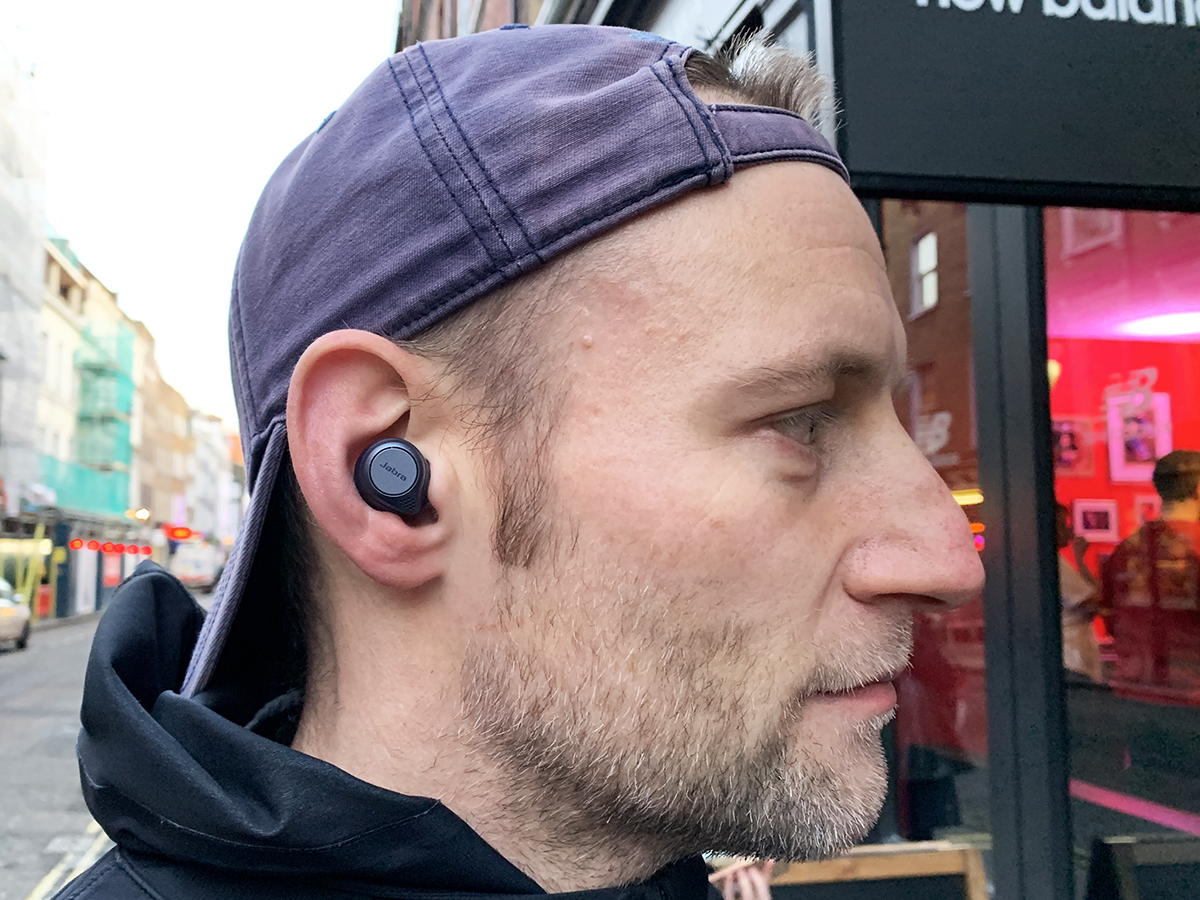 Let's talk about the all-important fit. You get the pretty standard three sizes (S,M and L) of gels in the box that should accommodate most ears. One criticism of the Elite 65t and the Elite Active 65t was that they didn't quite feel fully secure, and though that was improved with the Elite 75t, the Actives go one step further with a special dry film soft touch grip coating that's there to keep them locked in place while you're leaping around in your HIIT session.
In truth this new coating makes only a very slight difference and as with the Elite 75t, unless you push them in quite deep, we were never 100% confident they wouldn't fall out while running or doing more hectic HIIT gym drills like box jumps. Basically for the sports version we would have liked the option of wing tips for added confidence they won't dislodge. That said in our tests we were generally impressed with the seal, comfort and stay put, and they never actually came out.
Durability: More robust?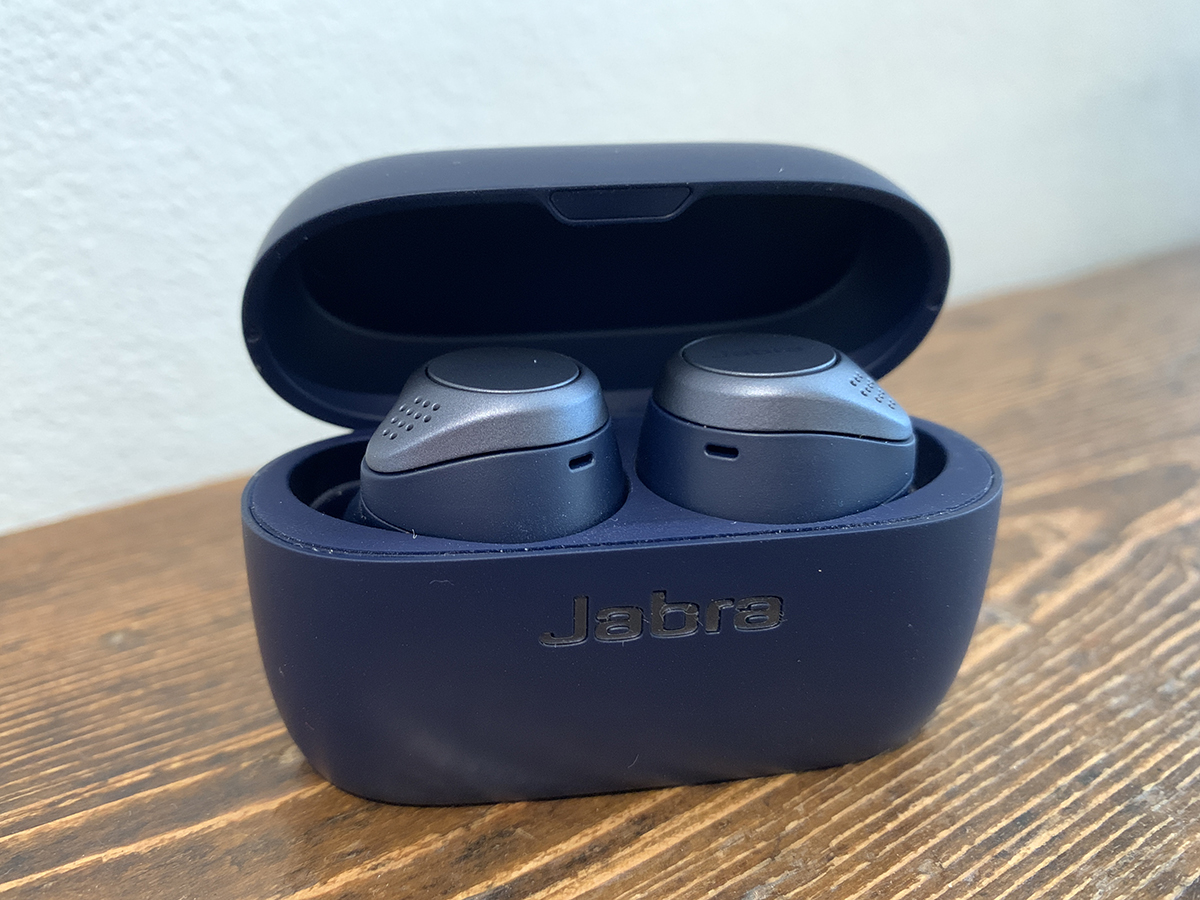 On durability, the Elite Active 75t are IP57 rated – that means they're fully waterproof and sweatproof and can withstand being submerged for 15 minutes up to 1m. We put them through several decent drenchings on sweat or rain soaked runs and they held up just fine. By contrast, the Elite 75t are only IP55 rated. They're dust resistant and can withstand a sustained, low-pressure water jet spray but they can't be submerged. So though rain and sweat is covered, if you accidentally drop the cheaper Elite 75t down the loo they might not survive.
Portability remains the same. At 35g and 62.4 x 36.6 x 27.0mm, the matchbox-sized charging case is slightly smaller than the AirPods Pro case and is brilliantly lightweight and stashable, so it's easy to make the most of that impressive extendable battery life.
The matte-look soft coating carries over onto the case to give it a little extra grip in the hand when you're taking it in and out of your pockets on the move. Another small thing we like about the Elites: the case is flat-bottomed too so it'll stand up – something other cases – we're looking at you AirPods – don't do.
However, a bigger deal for some might be the lack of wireless charging and if we're really picking holes, we missed having a clip on the charging case, like you get on the Jaybird Vista, that lets you anchor your charging case to your bag so you're less likely to lose them. If you're concerned about colour matching with your gym kit, the Actives come in three flavours – navy, copper black and titanium black. While the Elite 75t only come in one colour – metallic grey with black gels.
Features: Lasting the distance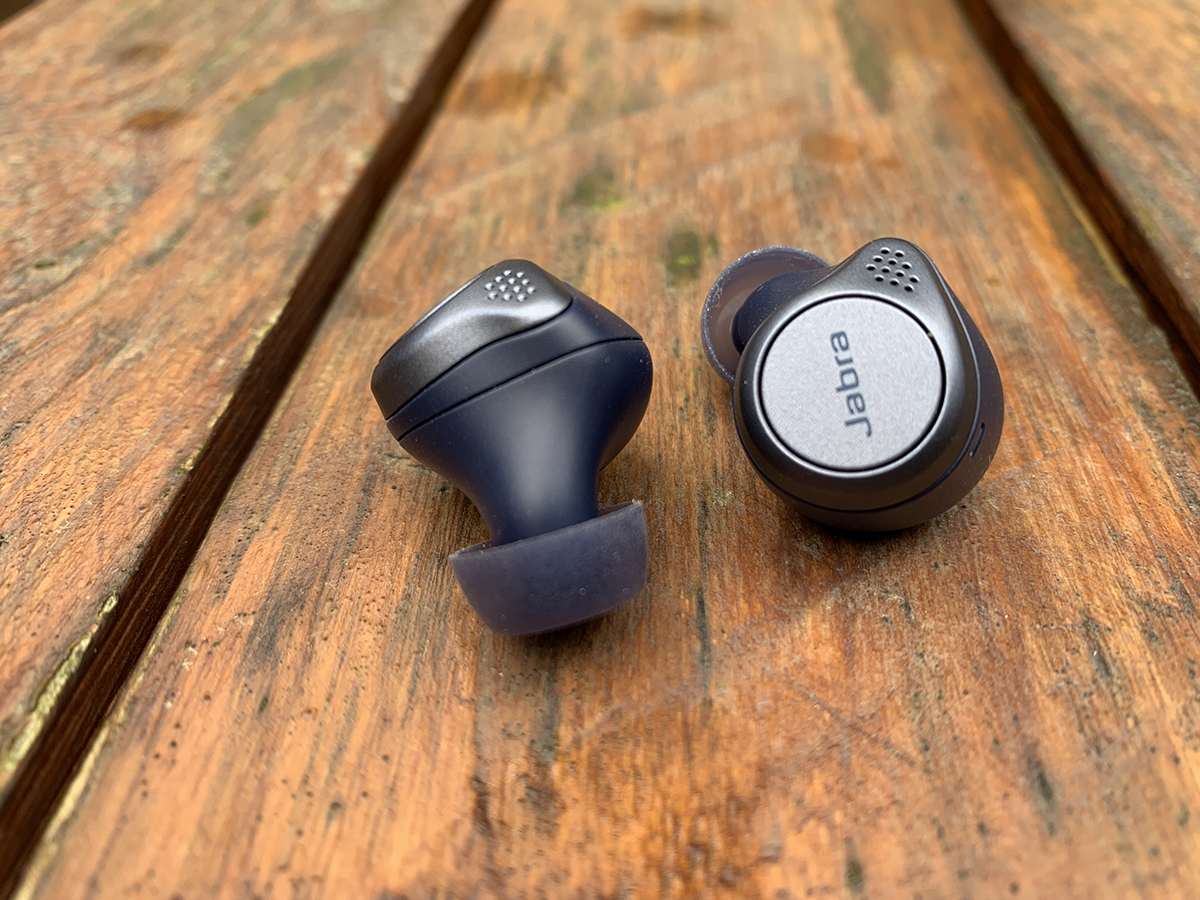 Beyond comfort, sound and durability, the feature that matters most when it comes to true wireless buds is battery life. A single charge on the Elite Active 75t offers 7.5 hours. There's another 20.5 hours in the charging case for a total play time of 28 hours. That's almost double the 15 hours on the 65t and about the best you can get right now in true wireless territory.
A full charge takes 2 hours and 20 mins and that happily saw us through a week of average usage, commuting and sweating in the pain cave, or whatever you call working out these days. For any last-minute low power emergencies, fast charge provides an hour's battery from just 15 minutes of charging. There are quicker fast-charging headphones out there but that's still solid.
One big difference to the likes of the AirPods Pro is the lack of active noise cancellation but the seal in the ear creates pretty decent passive noise cancellation. As with the 75t's we were happy with the Actives' ability to block out the grunting lifters in our local gym. You do get HearThrough transparency mode. In theory, this allows you to hear more of your surroundings for improved situational awareness, dead useful if you run or ride on busy streets. You can handily fire up this mode from the buds but on the pair we tested while music was playing, we couldn't tell the difference. It's certainly not as distinct and impressive as the transparency mode on the AirPods.
Calls are made much clearer by those 4-microphones we mentioned that provide ambient noise reduction on outgoing calls. Even on London's biggest, busiest roads, callers could hear us with decent clarity. We enjoyed the fact that removing either bud from your ear auto pauses the music, and returning it kicks it off again. You can also listen with just one ear bud but unlike some true wireless, you can only use the right bud for mono sound and some of the music controls aren't available.
Another fairly standard feature we've come to expect is auto power off. The Elite Active 75t not only shut down after 15 mins without connection or 60 mins without activity but you can also customise those times in the app too. For the voice assistant addicts out there, there's one touch access to Alexa, Siri and Google Assistant. And if you misplace your buds, there's a handy Find My Jabra feature in the app to help you track them down.
Interface: A few control freaks
The Active 75t has single button controls with one button on each bud. That's pretty standard and with all true wireless buds and it means there's a little learning curve before you master how many taps and presses control the key actions.
The volume controls are split across the two buds which is a little odd and they do feel a little more complicated than some. That said, the physical button on the buds makes it easy to switch tracks and cancel incoming calls from your boss while you're out running or being screamed at in a spin class.
Performance: A punch in the bass
The audio on the Elite 65t was just 'ok' and the Active 75t have the same drivers. But one major criticism has been corrected – the lack of bass.
There's now much more boom from these tiny buds. Beyond that there's generally well-balanced, rich, full sound with plenty of oomph. You can also use the customisable equaliser in the Jabra Sound+ app to boost the bass, turn up the treble and get your levels just how you like them.
There are five presets (bass boost, treble boost, smooth, energise and speech) or you can use the slider to find your own levels. That's something the Apple AirPods Pro doesn't offer.
Jabra Elite 75t Verdict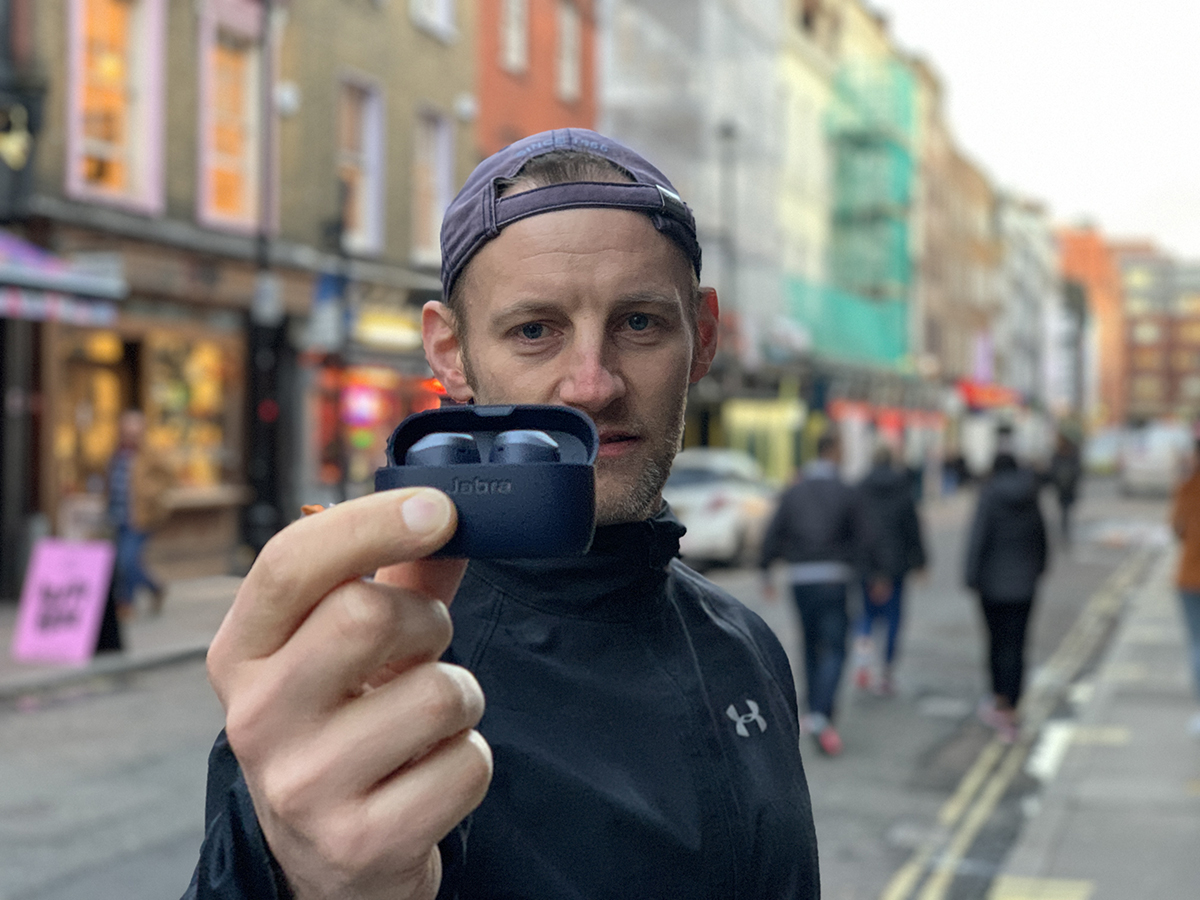 Like the Jabra Elite 75t, the sportier Active 75T doesn't have all the bells and whistles of some leading true wireless buds – there's no active noise cancellation for a kick off. They're nice looking though still not quite as stylish and simple to use as the AirPods Pro. And though they're marginally more durable than the Elite 75T, you're probably just as well saving the extra £20 and buying the Elite 75T.
That said, if you're the kind of person who might drop them down the loo and you want a bit of security they'd survive the trip, even at £189.99, you'll be hard pressed to find a pair of earbuds that pack in so much for the price.
Stuff Says…
Perfect portability, big, strong solid sound and a brilliant battery life in a slick little package that's enticingly wallet friendly. Though the Elite 75T would still be our pick.
Good Stuff
Good battery life
Pocket-friendly
Customisable audio
Bad Stuff
Rapid charge is slower than most
No active noise cancellation