Jam Voice review
This Alexa-packing wireless speaker needs some singing lessons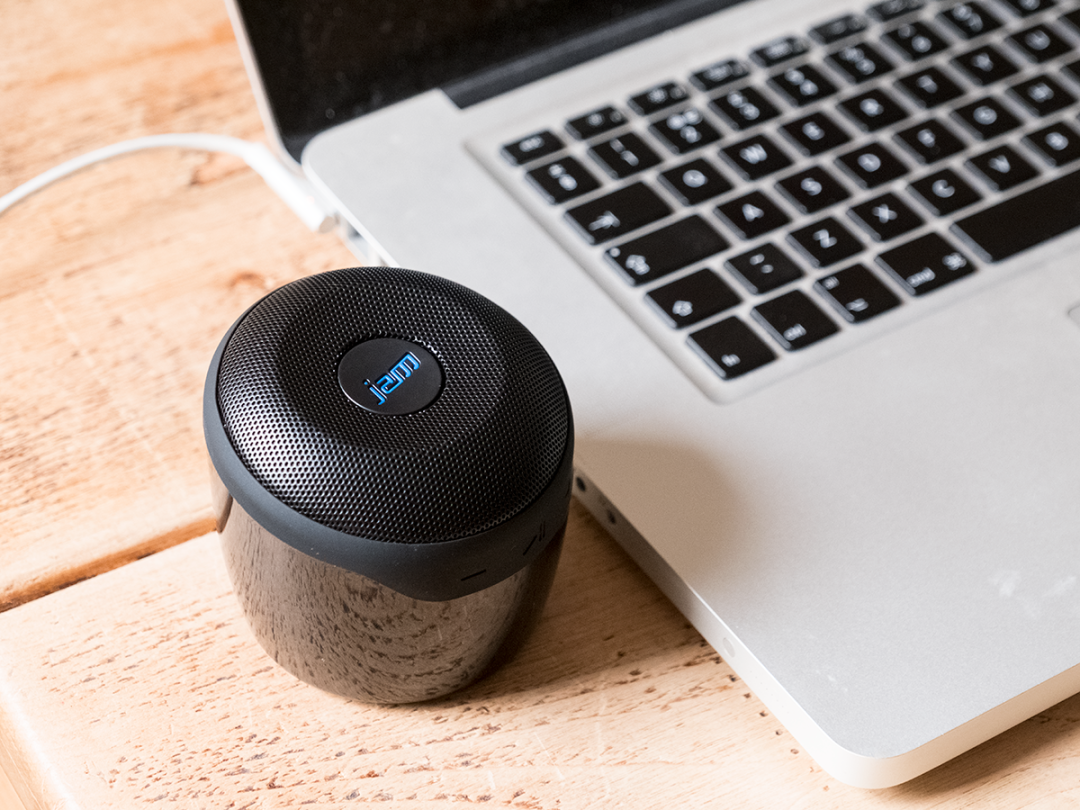 It's the usual story: you wait years for third-party Alexa speakers, then about a dozen arrive all at once.
A week or so ago I tested the mostly excellent Fabriq speaker, we'll have a review of the Vaux speaker soon and all over the place new ones are being announced, such as those made by Kitsound, Sandman and AC Worldwide.
This time round it's the turn of the £50 Jam Voice, a clear Echo Dot alternative with added portability.
Design and build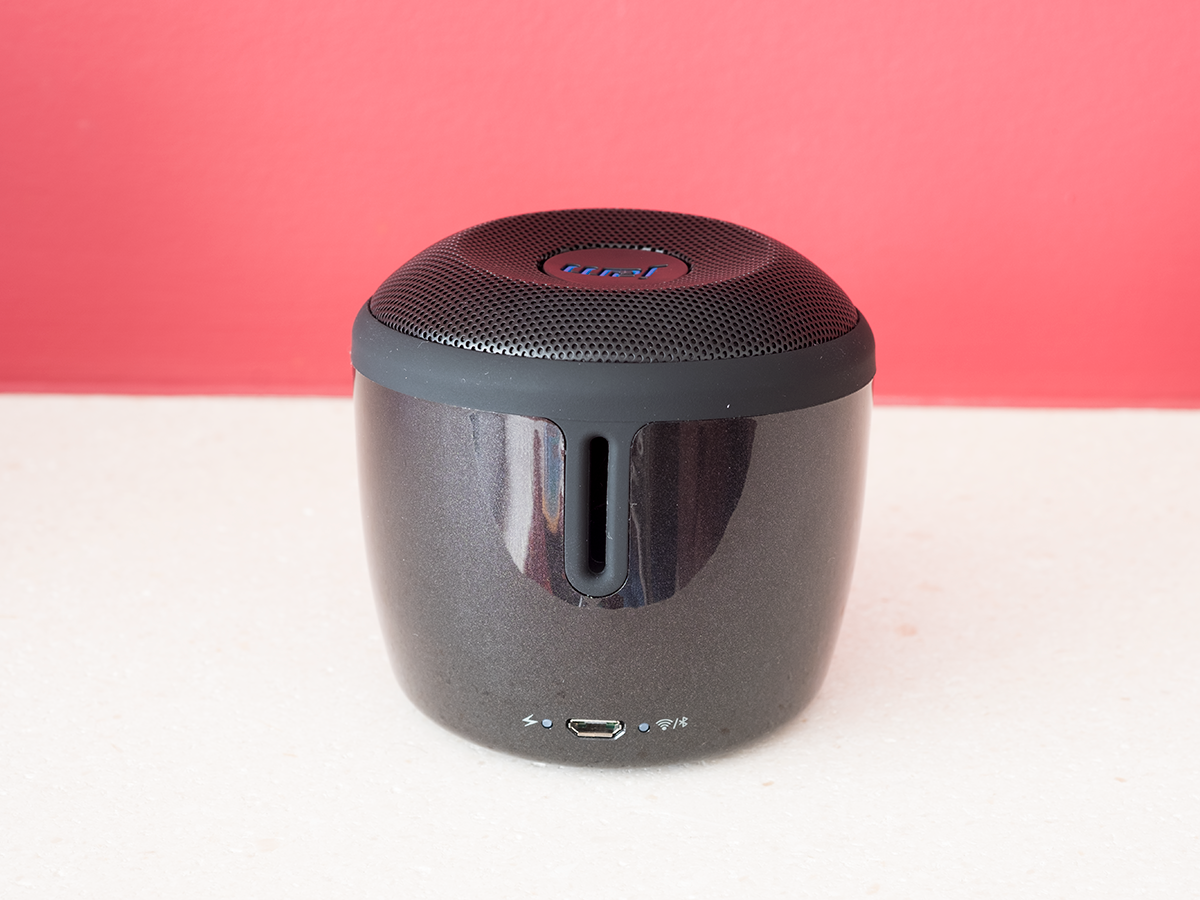 Not heard of Jam before? It makes some really good, affordable Bluetooth speakers, such as the excellent Jam Heavy Metal, and has just announced some Airpod-aping wireless headphones. It also makes proper cheapo Bluetooth speakers with kerrazzy designs such as the ones that look like emoji characters and the ones with loads of flashing lights on.
The Jam Voice has none of those gimmicks, thankfully, and in fact looks pretty restrained in comparison to many other Bluetooth speakers. It's an all-black affair, mostly shiny plastic but with a rubber bit where the buttons are and a grille covering the top half.
The button in the middle with the big Jam logo on it is your means of summoning Alexa, and elsewhere there are controls for play/pause and volume. On the base you'll find the on/off and Bluetooth pairing buttons, and round the back there's a microUSB port for charging. For everything else, you'll need the Jam WiFi app.
It's nicely built, feels solid, and is pretty small – about twice the size of the Amazon Echo Dot. It's not waterproof – but then neither is the Dot – and unlike Amazon's own mini-speaker it most certainly is portable. Jam reckons its battery is good for about 4hrs of play time, and that's at the upper limit of what I managed to get from it.
Sound quality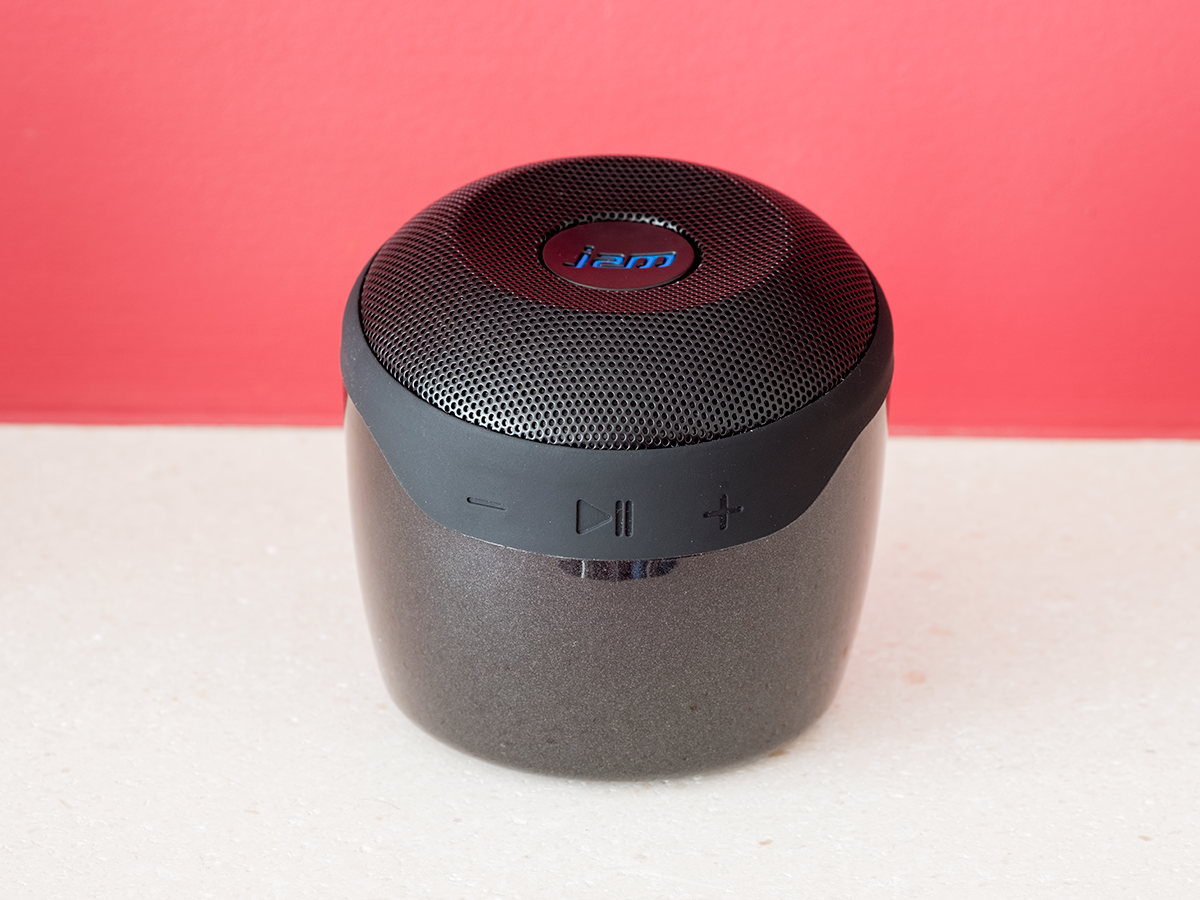 Unfortunately, sound quality just isn't as impressive as that of the other Echo Dot alternative I recently tested, the currently US-only Fabriq, let alone more expensive budget speakers such as the £65 UE Roll 2 or indeed Jam's own £70 Heavy Metal.
The problem is mostly one of refinement. The Jam Voice's soundscape is all rather flat, with a real lack of contrast between the bass and treble. There is an onboard equalizer in the Jam WiFi app, but I could barely hear any difference even with the bass turned right up to max and treble right down. It struggles for bass in general, and the whole thing just sounds a bit muffled.
I don't want to be too hard on it, though, because that's all in comparison to the Fabriq, which isn't currently available here, or to other speakers which don't have the Jam Voice's Alexa skills. Compared to the Echo Dot it's still way better – that device isn't really intended to be a music player and sounds so tinny it should star in a Belgian cartoon with sidekicks Snowy the dog and Captain Haddock.
So the Jam Voice sits in the middle when it comes to sound: better than the Echo Dot, not as good as the Fabriq.
Features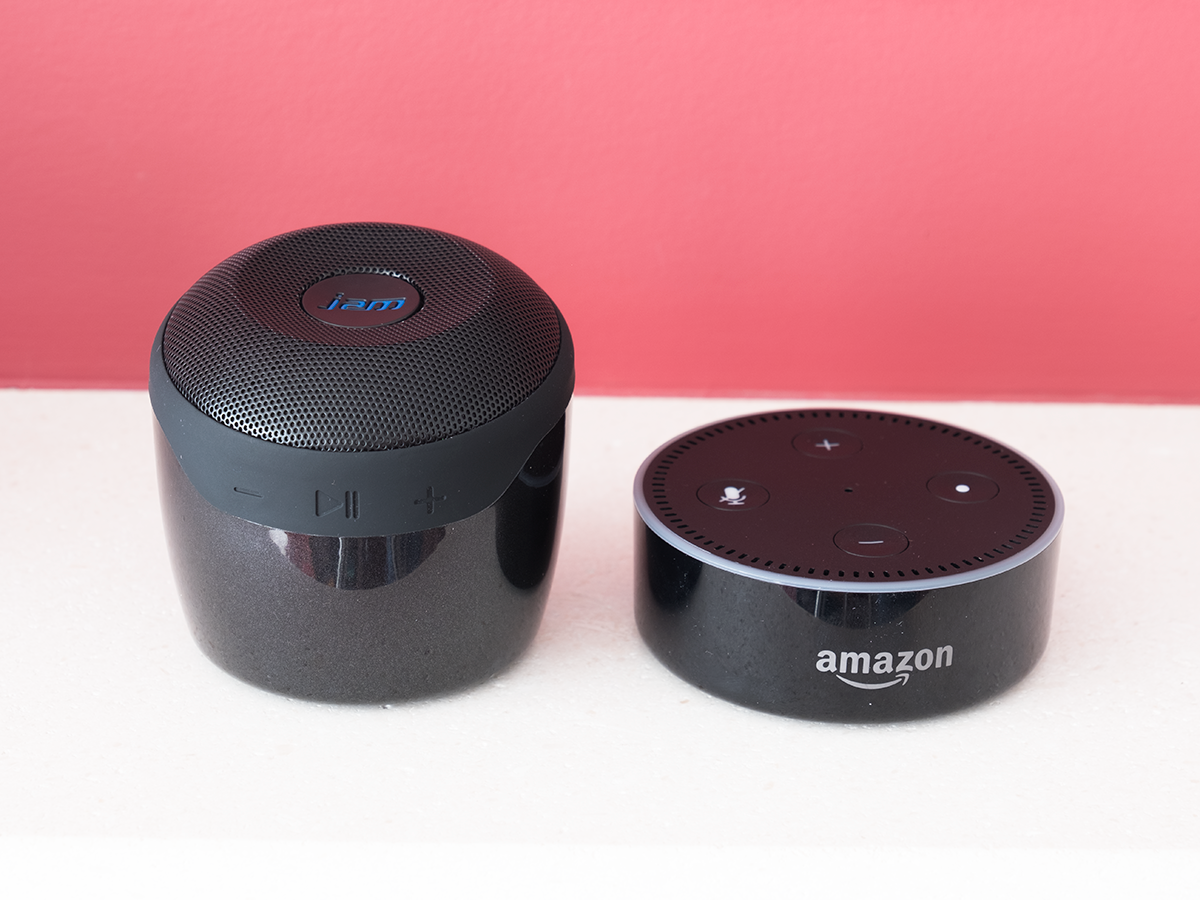 As with the Fabriq, the Jam Voice's Alexa skills are somewhat limited compared to what you get on an Amazon device. For starters, you have to tap that big button on the top to chat to Alexa at all – there's no across-the-room voice-activation here.
Still, it does kick into action pretty much instantly once you've tapped, and can do almost everything an Echo can. Got smart lights from Philips Hue or Hive? Then you can use the Jam Voice to turn them on or off. Want to know what the weather's doing later? Just ask. Want to set an alarm? You got it.
The one thing Alexa can't do here – and wait for it, because it's a bit of a big one for a Bluetooth speaker – is play music from third-party services such as Spotify. Yeah, we know – that's just stoopid. But it's the case with all of the third-party Alexa speakers we've tried so far, so at least the Jam Voice isn't any worse off than the others.
How much of a problem this is depends on whether or not your main music service is Amazon Music Unlimited. If it is, you'll be fine, because Alexa will happily play anything you ask her to play from that catalogue. If you're more of a Spotify, Tidal or Apple Music person, though, you'll have to use their own apps then connect directly, rather than speaking to it. TuneIn Radio does work, however, meaning that you can ask Alexa to put on BBC 6Music and to NEVER, EVER PUT ON Heart.
The Jam WiFi app is fairly slick but not exactly full featured. You can control your music from it, ineffectively tweak the equaliser or hook up several Jam Voices into a multiroom system. But I don't think it's worth doing that; you'd be better off just spending £100 on a really good Bluetooth speaker.
Oh, and its one other party trick is that you can use the app to send your voice to the speaker. Which could be handy if you were in another room and wanted to freak out/annoy someone else, but which is an otherwise pointless feature to have.
Jam Voice Bluetooth speaker with Alexa Verdict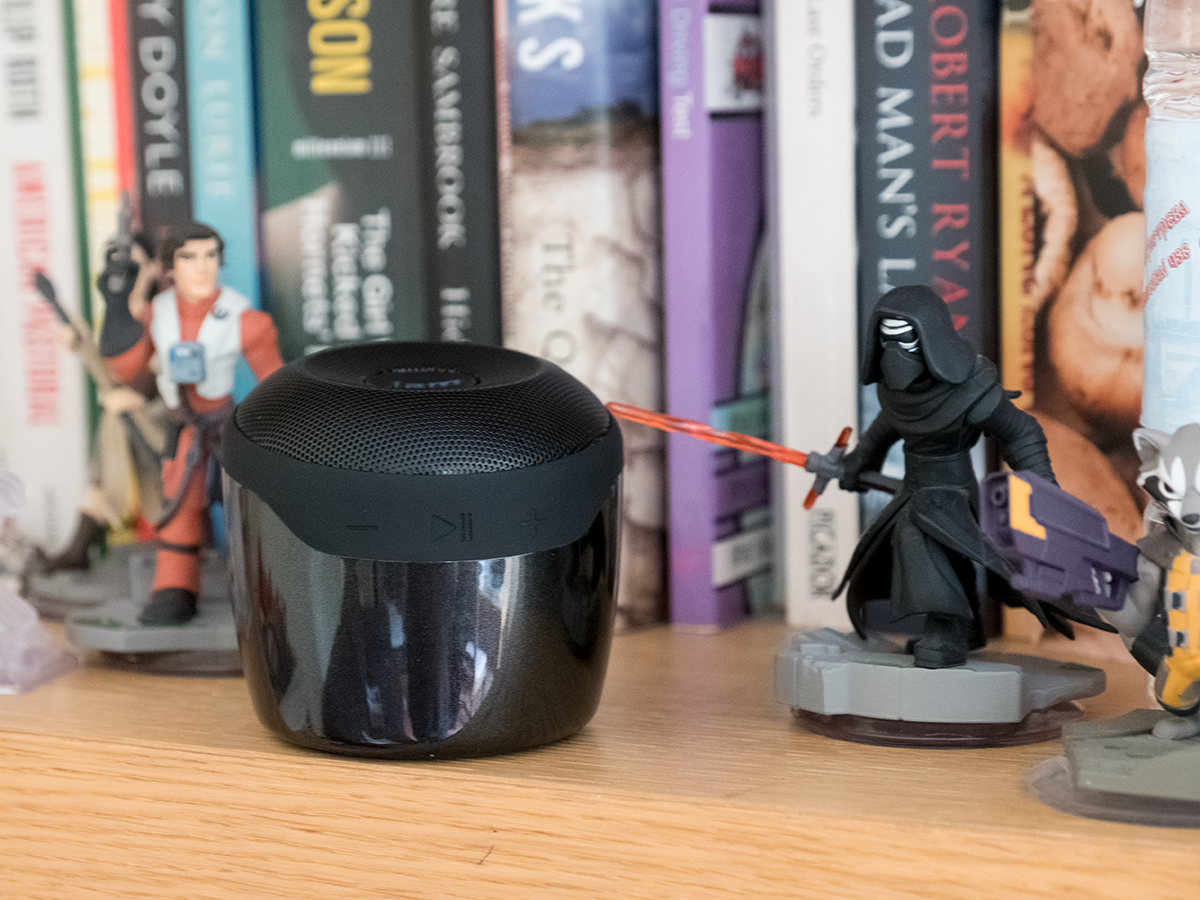 Outside of its sound quality, the Jam Voice is a nice little Bluetooth speaker. It looks alright, works well and is really quite cheap at just £50. As an Amazon Echo Dot alternative it offers portability and much better audio – but at the expense of full voice control and with some limitations.
However, it just doesn't sound good enough that I can recommend it. Not over the Fabriq – which is essentially the same thing but better, and which will hopefully be available in the UK soon – but also not over countless other Bluetooth speakers which will do a much better job with your tunes. You're better doing without Alexa than compromising on the sound.
If getting Alexa on the go is an absolute must, and you can't wait until better alternatives arrive, then by all means go for it – but don't expect much from its sound.
Stuff Says…
The Jam Voice does the mobile Alexa thing pretty well, but other speakers sound better
Good Stuff
Compact and well built
Alexa integration mostly works well
Cheap
Bad Stuff
Sound quality lacks depth
Alexa not as smart as on Echo devices