JBL Under Armour Sport Wireless Heart Rate review
In-ear buds that'll take your pulse - but can they keep pace?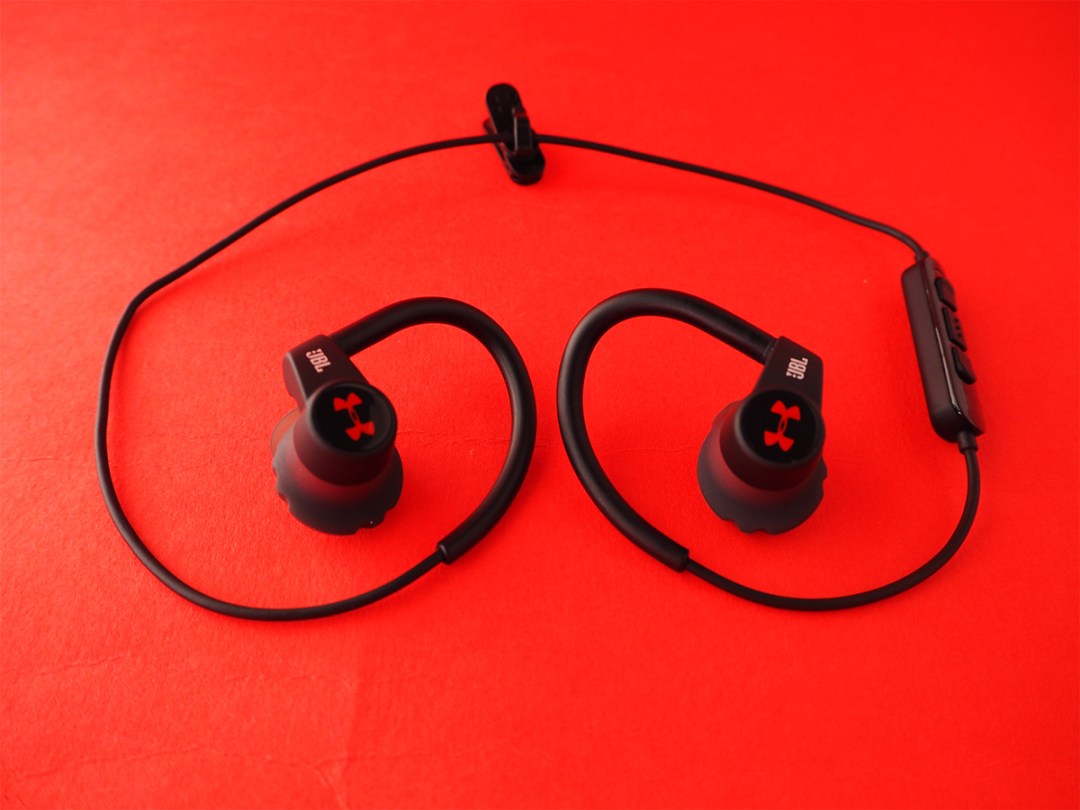 For many gym-goers, heart rate tracking means a choice between a chest strap or a fitness tracker on the wrist.
Wrap a sensor around your midriff and you'll get high accuracy – but also the faff of another thing to lug around. Opt for a wrist-wrapper and you get comfort and convenience, at the cost of accuracy.
What's the answer? Well, if you're Under Armour you enlist the help of audio experts JBL and build a set of Bluetooth headphones with a heart rate monitor built-in.
Which is exactly what UA has done: meet the Under Armour Sport Wireless Heart Rate headphones. And, while the name might be oddly descriptive, there's no question that this gear is built to get properly sweaty.
But how do these Bluetooth 'buds fare when things get full-on? I got sweaty with the Sport Wireless Heart Rates to find out.
JBL Under Armour Sport Wireless Heart Rate design: Tougher than a dumbbell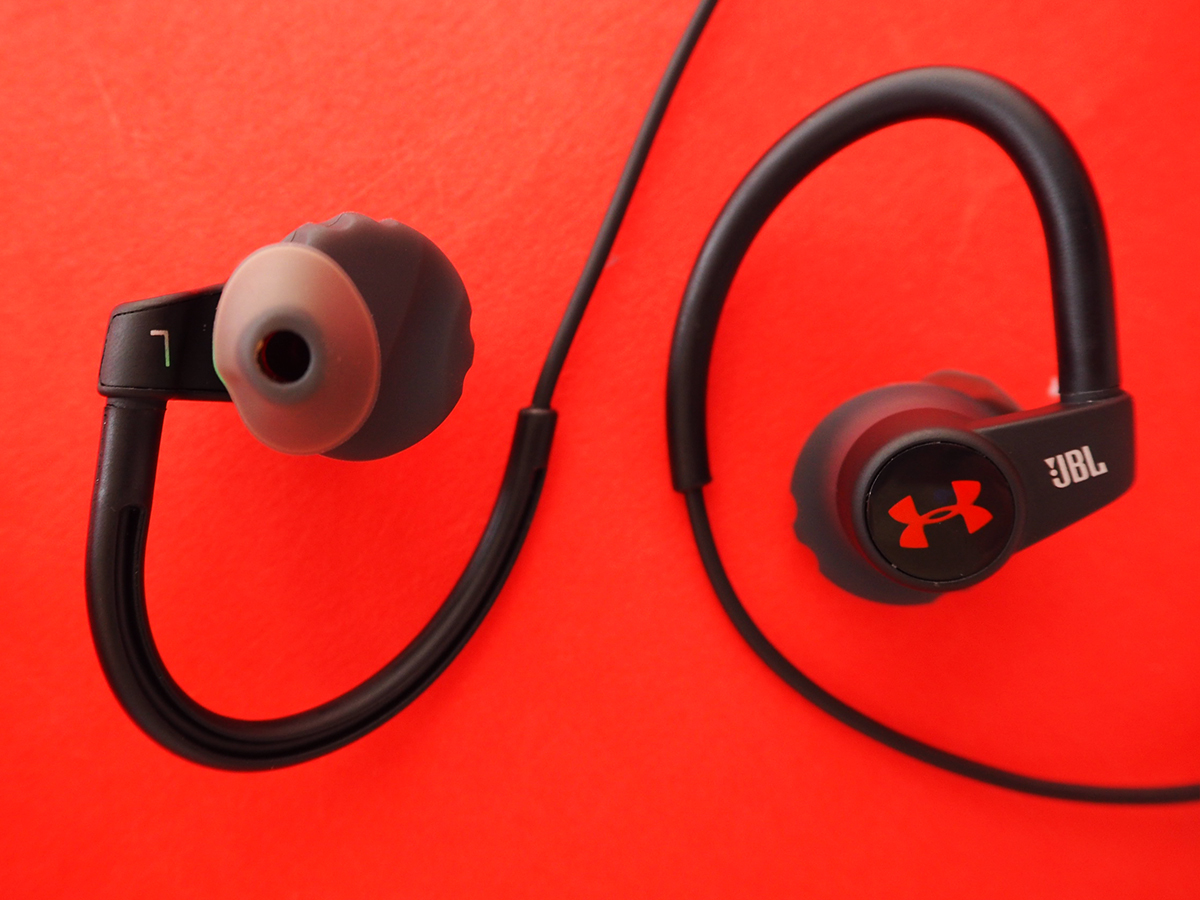 Straight out of the packaging, these Under Armour earphones feel like they could go the whole marathon. With an IPX5 rating they'll handle sweat and rain showers with no trouble, while the build itself, though largely plastic, gave me plenty of confidence in the quality of these 'phones.
The cable, too, feels strong and, more importantly, a collar clip eliminates that pesky cable noise so common with sports headphones – even when I was leaping around doing star jumps and burpees.
In fact, the whole JBL/Under Armour package is reassuringly well put together. There's a neat little carrying pouch bundled with the 'buds and I had no qualms about coiling up the cables and stuffing them in.
They also feel seriously secure in the ear, too, largely thanks to the 'Twistlock' system. Rather than staying snug with a tight-fitting earbud and hook, the UA 'phones rely on large rubber ear discs which, I imagine, has something to do with the heart rate sensor sitting inside one of them.
These discs come in four sizes and are designed to sit snugly in the larger, outer area of your ear. Unfortunately, this is where things get a bit divisive.
JBL Under Armour Sport Wireless Heart Rate: No pain, no gain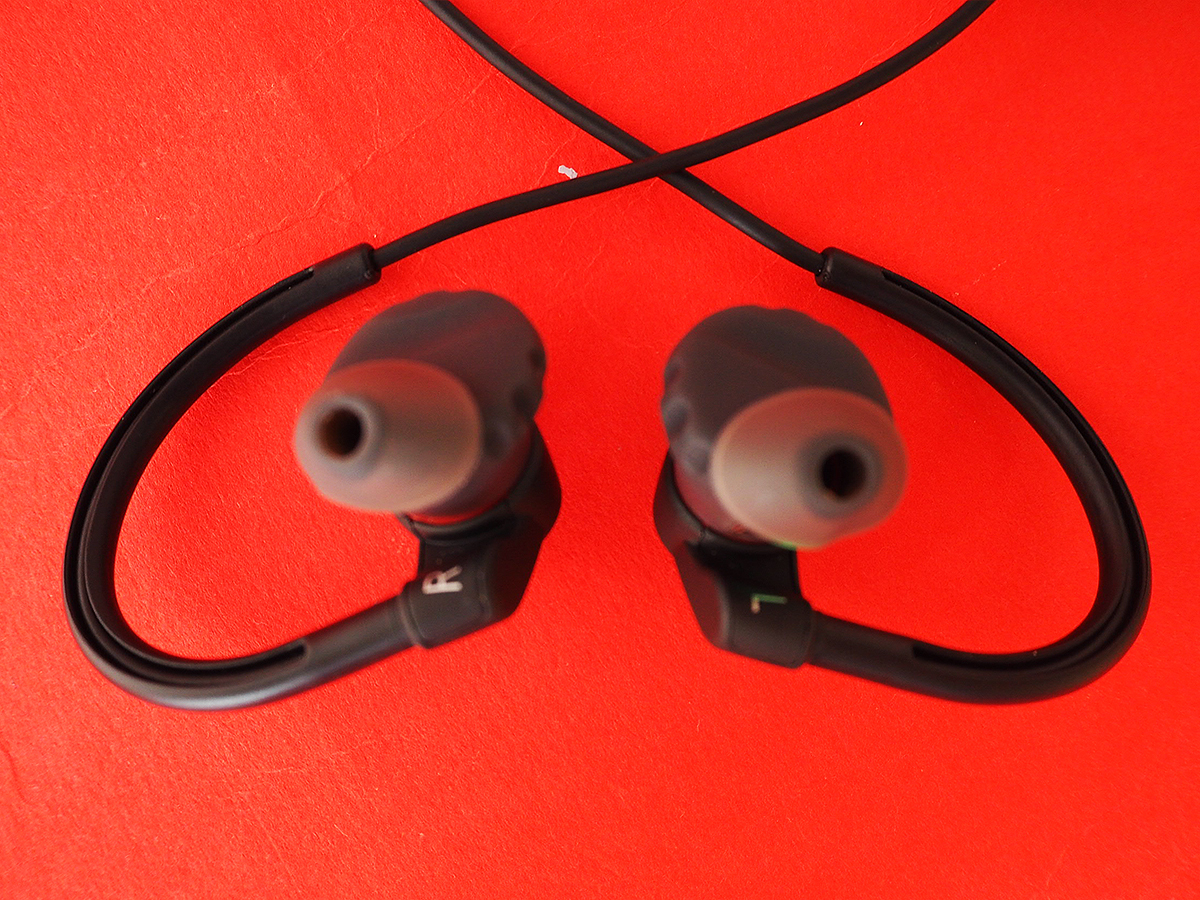 See, those ear discs are far from perfect. Even after trying several sizes, my left ear suffered from some proper chafing and discomfort.
Part of the problem is the 'Twistlock' mechanism itself, which requires you to insert the rubber bit and twist it to keep it locked in place, causing inevitable friction. Even having tried three of the four sizes of disc that the headphones ship with, I couldn't find one that perfectly fitted in my ear.
What makes this worse is the fact that, while the disc sizes vary, the earbuds – the bits that actually go in your ear hole – are all the same size. As a result, it was tricky to achieve the tight seal necessary to get the best sound. Without this, things sounded pretty tinny.
Eventually, after a lot of fiddling and several dozen attempts at inserting them, I found a position where they felt both secure and sounded good – but this process had to be repeated every time.
Yes, the system meant the headphones never felt like they'd fall out, but the faff of trying to find the perfect fit every single time I wanted to use them became quite frustrating.
JBL Under Armour Sport Wireless Heart Rate sound quality: Sweet, sweaty sounds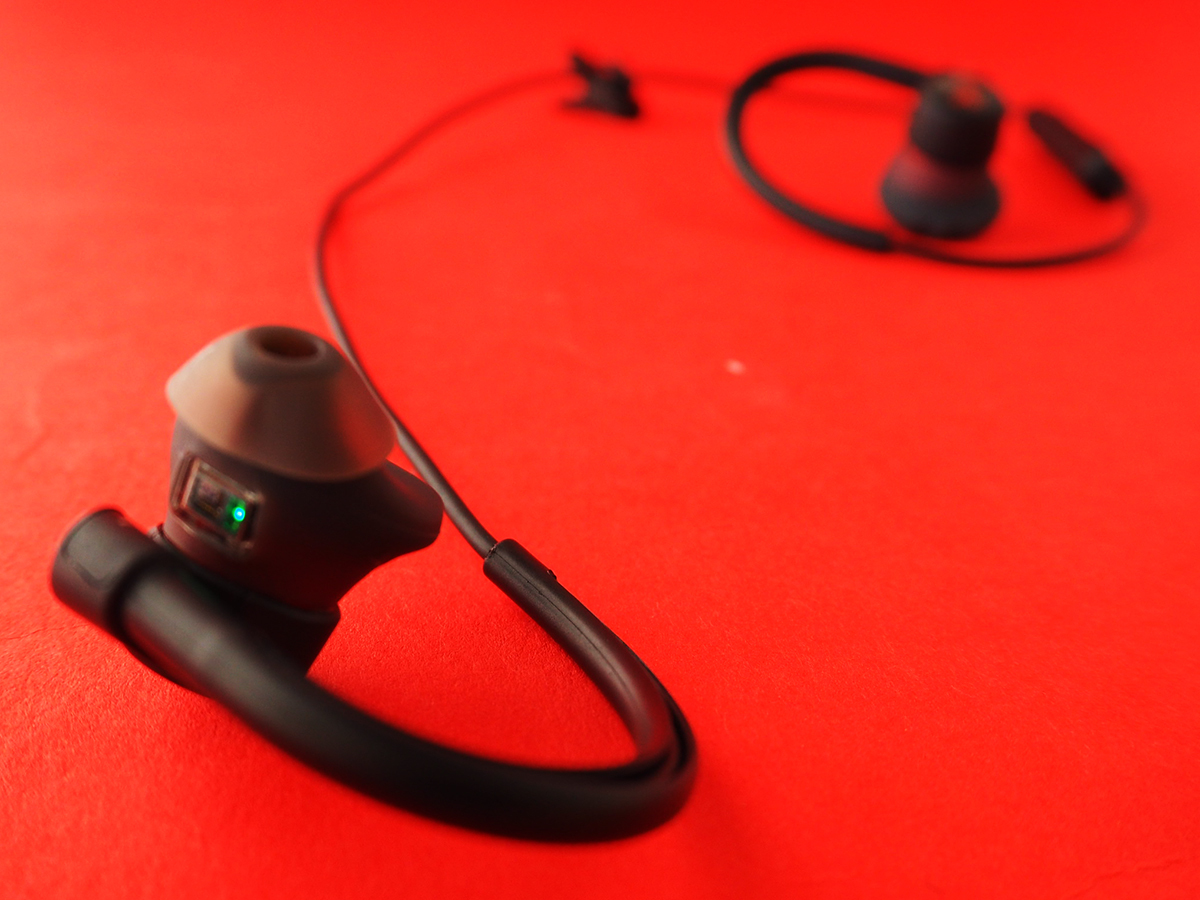 Still, at least they sound good. Provided you've achieved that hallowed fit, you'll get a wonderful balance of bass and treble, with plenty of details that many sports headphones don't bother with – and surprisingly punchy bass.
Noise isolation is passive, but it's the right amount of effective, without completely blocking out the outside world, and that's reassuring: audio is the focus, but you'll also be able to hear louder sounds, such as station announcements or those all important car horns.
While this inevitably means you don't get the same experience as listening through high-end, noise-cancelling cans, there is still a really surprising amount of fidelity to the audio – and you feel that little bit safer when on the street.
From bass-heavy tracks by the Prodigy to gentle warm-down music by Ed Sheeran, the JBL sound tech inside these Under Armour 'buds seems to have done the trick, and there's no noticeable Bluetooth noise, either.
The low end has an unexpected weight, without losing the crisp clarity of the mid-tones, while tone generally is far better than it has any right to be in a set of sports-first earphones. If they weren't so uncomfortable to wear for long periods, these could well put your everyday 'buds out of business.
JBL Under Armour Sport Wireless Heart Rate: Keeping pace with your pulse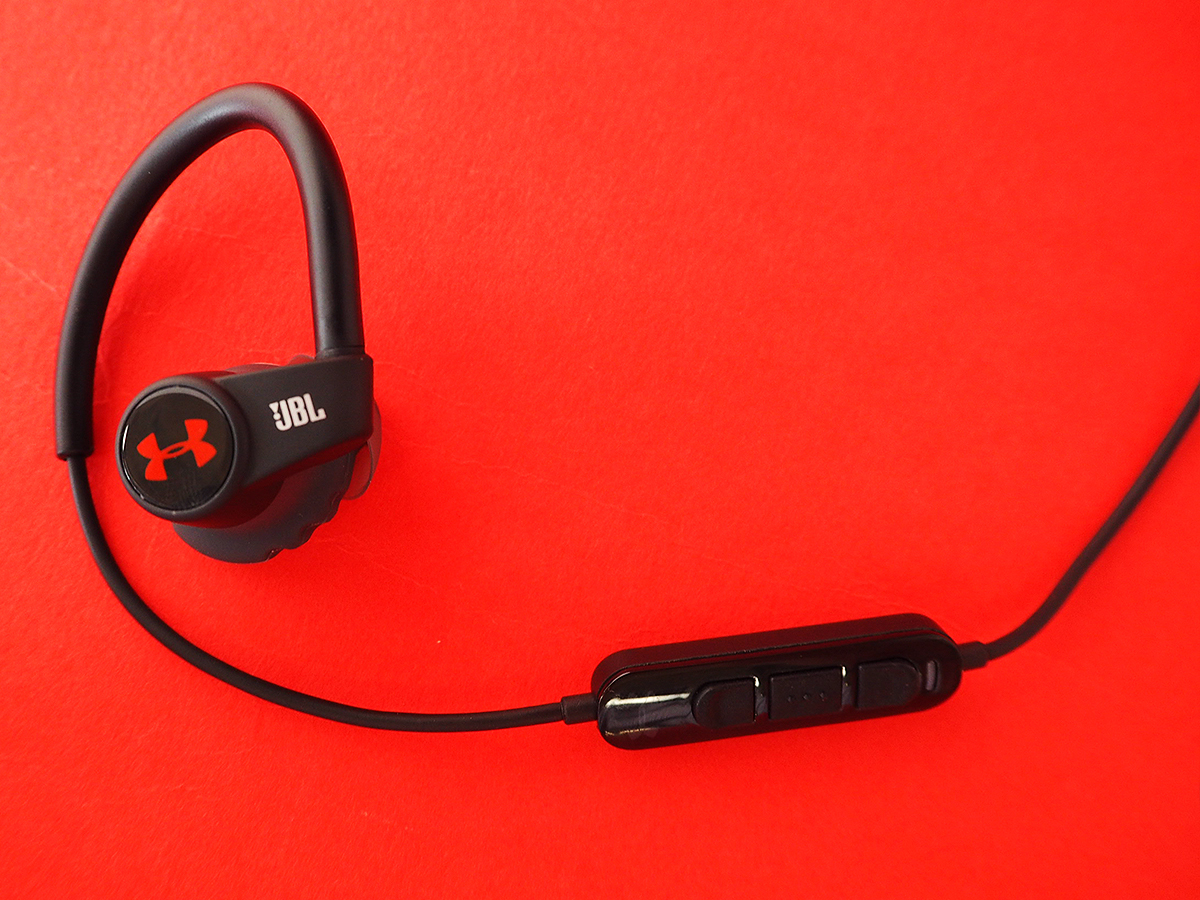 Talking of sport, the Under Armour Sport Wireless Heart Rate headphones do sport very, very well. The heart rate monitor is built into the left earbud, which does tend to make it sit a little further from your ear, but also means you get much more accurate tracking.
Readings are generally accurate and responsive, with stats never jumping or delivering unexpected readings – unless you readjust the earphone. Comparing them to the MyZone MZ-3 chest strap, heart rate results were almost spot on, if slightly less responsive to minute changes – and that feels like a fair price to pay for practicality.
Touch the right earphone's back and it'll announce your present pulse, which is very useful when you're mid-workout and much less hassle than having to keep your phone handy at all times. Outside of a workout, if you press and hold the right 'bud for a few seconds it'll take an on-the-spot reading, too.
It's all fairly straightforward and, in all honesty, it's easy to forget just how nice it is to have reliable heart rate data without a chest strap: the process is seamless, with the headphones generally finding a pulse within 10 seconds and not dropping it thereafter.
JBL Under Armour Sport Wireless Heart Rate: Proper fitness 'phones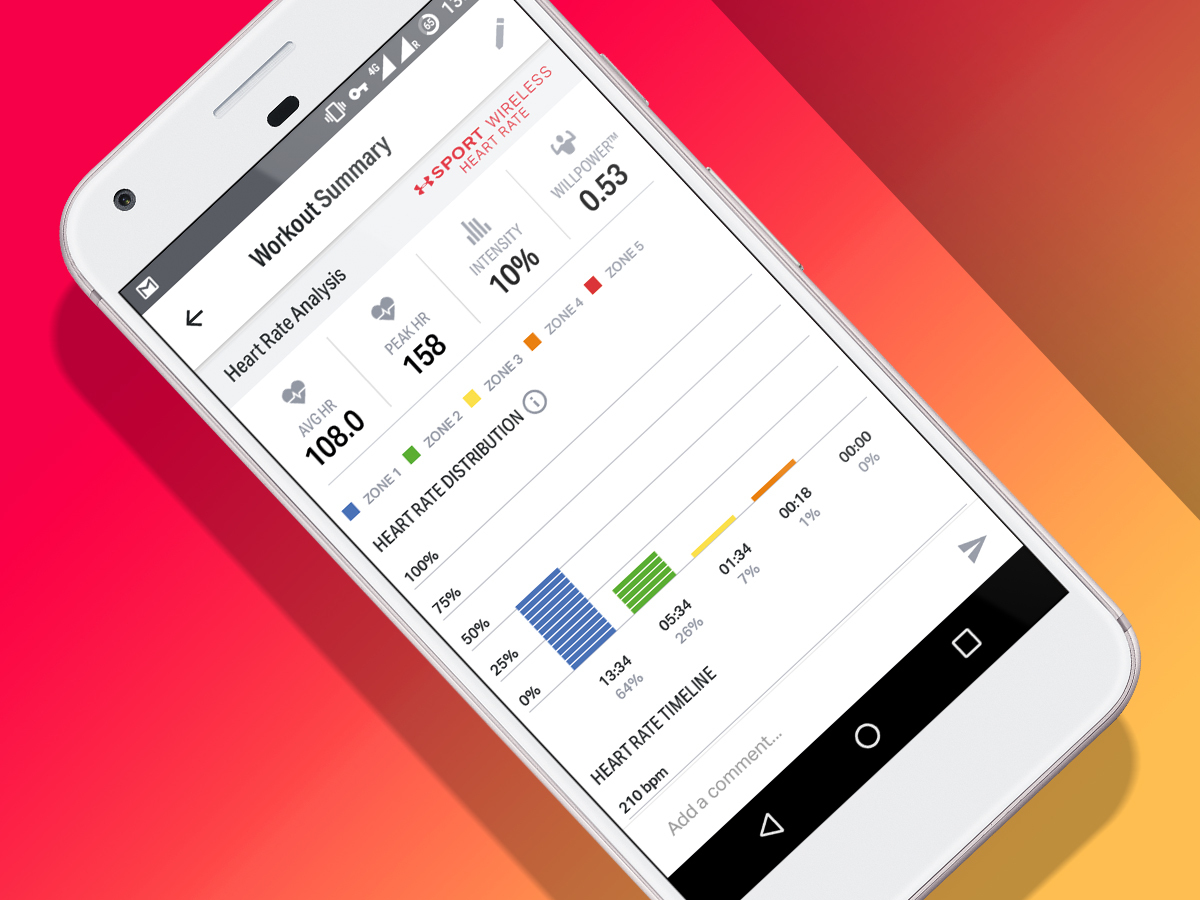 As for what you can do with that data, there's a fully featured Under Armour Record app that's designed to work with the 'phones. It's relatively par for the course in what it delivers, with workout modes for recording your activity, as well as feedback on your heart rate – from peak pulse to intensity to calorie burn.
There are social elements too, including a friends feed, though I naturally found myself sticking to apps I already use, such as Moov. Thankfully, the Under Armour earphones play nice with a host of third party apps, acting as a heart rate monitor. For runners, there's even a 12-month premium MapMyRun membership bundled in with the headphones.
Syncing was straightforward via Bluetooth, with the three-button in-line mic making interaction simple and straightforward. It all feels solidly built and the buttons themselves are tactile, making them easy to find even when things get sweaty. That mic means you'll be able to take calls, too. I tried it briefly and it works well, though the mic placement means you'll have to speak up.
What's more, with a strong Bluetooth range – I managed to walk a good 30ft from my phone without dropping audio – these feel like semi-standalone 'phones. Yes, you'll need your smartphone, but it'll work fine stuffed in your bag or back pocket, which makes your workout feel a whole lot more independent.
What of battery life? Well, we generally found the Under Armour Sport Wireless Heart Rate headphones to live up to the promised 5-hour duration from a full charge. Wearing them for most of the day (taking in a workout, a phone call and a few hours of music streamed from a MacBook Air), we squeezed a little more than 4 hours out of them – which felt good enough.
Activating the heart rate monitor will sap more juice, but there's certainly enough in there to see them survive five or six workouts, with a rest in your rucksack in-between.
JBL Under Armour Sport Wireless Heart Rate verdict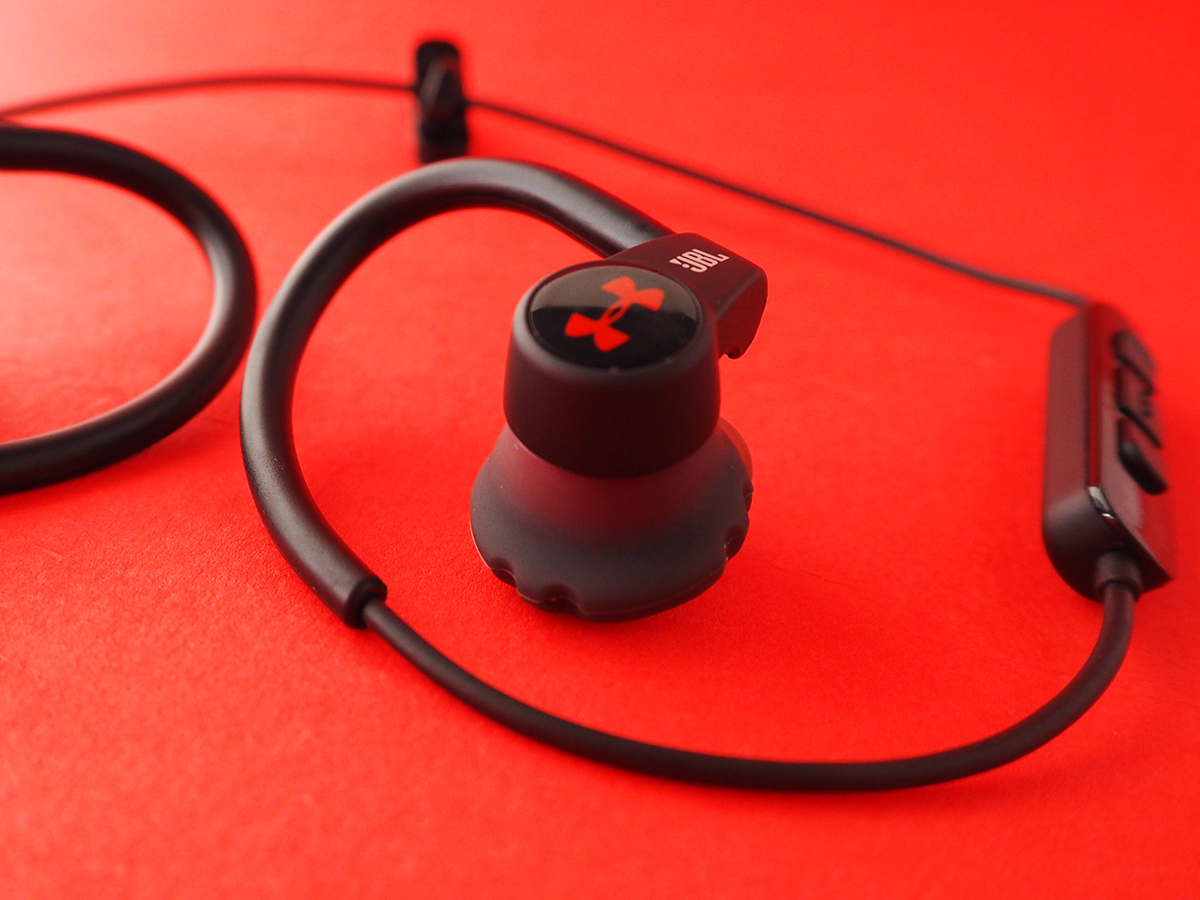 After working out with Under Armour's Sport Wireless Heart Rate headphones, listening to them and living with them for a week, then, it's clear that these 'buds have all the ingredients to make it as stellar sports stars.
A decent battery life, paired with a solid build and reliable heart rate data, means they're all set to perform as an in-ear gym-buddy.
There's no escaping the frustration, though, of that fit mechanism. It's a palaver to get sorted, especially if you care about getting the best audio you can. I'm not joking when I say that I spent a good five minutes every time I donned the UAs attempting to achieve good sound and a comfortable fit.
Yes, sound is excellent when you do get them in the right place, but it's a pain – both physical and timely – getting there.
As sports headphones, then, this JBL/Under Armour crossover definitely delivers. As day-to-day companions? Well, that depends on your endurance – and your patience.
Buy the Under Armour Sport Wireless Heart Rate headphones here from JBL
Stuff Says…
Proper fitness 'phones that track your heart and sound superb – but are too much of a faff to use
Good Stuff
Sound great (in the right position)
Fully secure, even during exercise
Heart rate readings are accurate
Bad Stuff
Can be painful after long periods
Difficult to position correctly
Earbud sizes don't suit all ears