Kobo Aura One review
The best replacement yet for your tired old paperbacks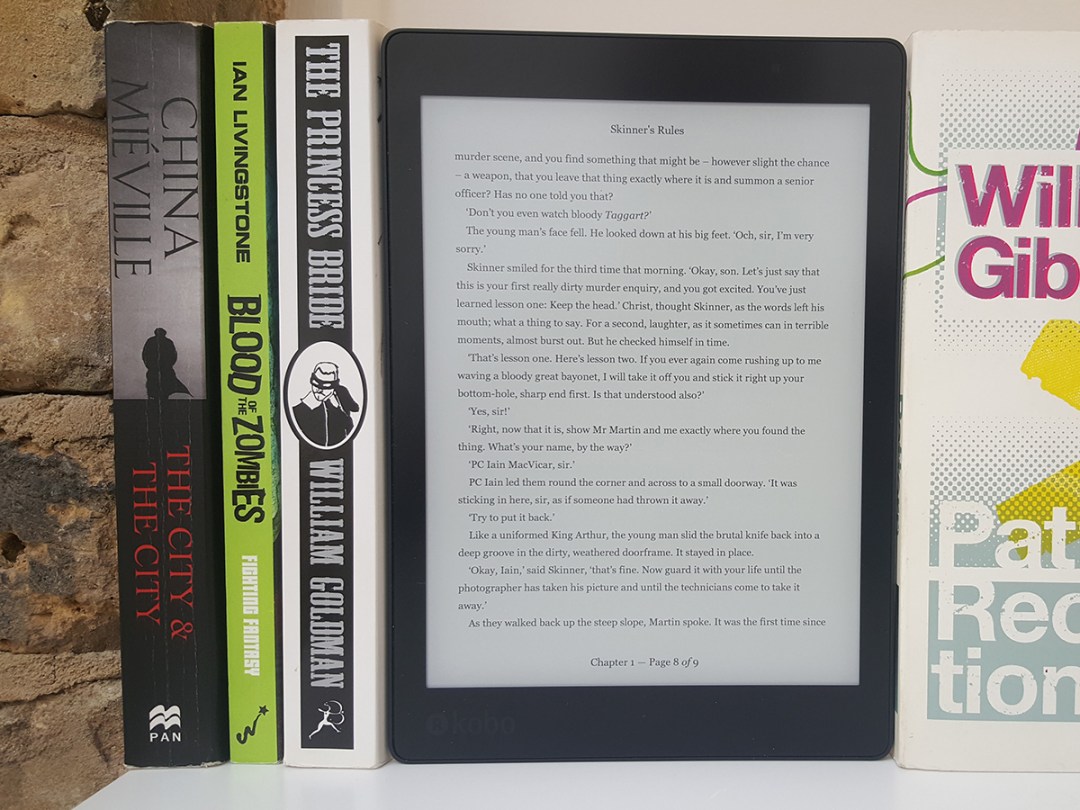 Go shopping for a smartphone recently? You've got about a hundred different screen sizes to choose from.
Kind of odd, then, that almost every ereader out there (including all of Amazon's current Kindles) have the same boring 6in screen size. It's not like 6 inches even matches your typical paperback book: those are usually at least a couple of inches larger than any digital alternative.
That strange tradition has finally gone out of the window with Kobo's Aura One – a book-sized ereader that proves bigger really is better.
In fact, screen size is really just book one of a trilogy of fantastic features.
Trade paperback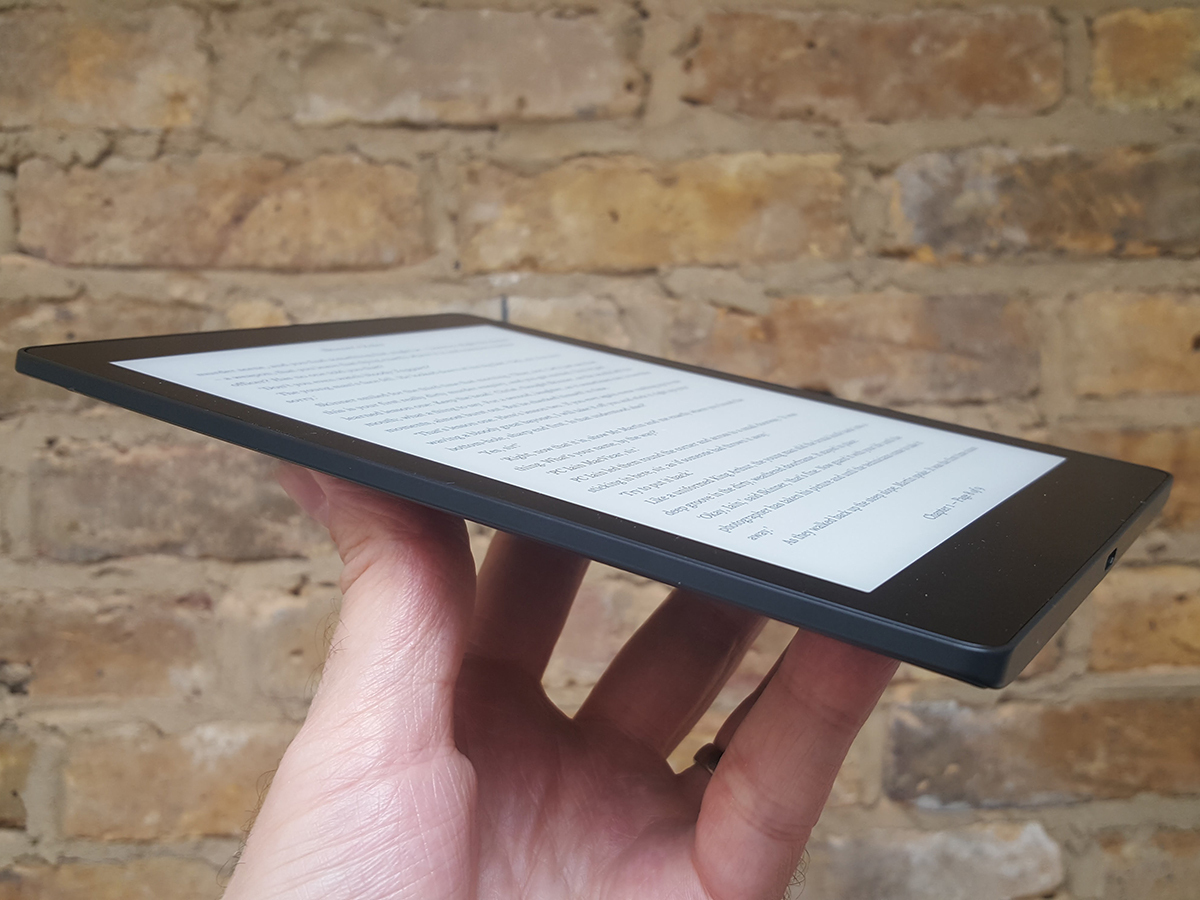 That screen feels instantly expansive once you start reading.
Each page looks and reads like a page from a paperback, so you get the same kind of rhythm while you're reading. It finally brings meaning back to phrases like, 'just three more pages to the end of the chapter.'
Kobo always went with a more book-like layout in terms of spacing, numbering and page furniture. Now it's got the space to make all that feel natural, rather than taking up valuable screen space.
You can adjust it all, of course – Kobo's settings are pretty comprehensive. Margin size, line spacing, justification and font are all open for tweaking. Adobe's eBook format adds different fonts for each publisher, which gives books a lot more individuality than Amazon's handul of built-in choices.
The larger screen doesn't sacrifice anything in terms of detail, with the same 300ppi pixel density as any top-end Kindle. It uses the same E Ink Carta display too, so there's no difference in terms of contrast.
This really is the closest digital reading has come to the trusty old paperback.
THE LIGHT FANTASTIC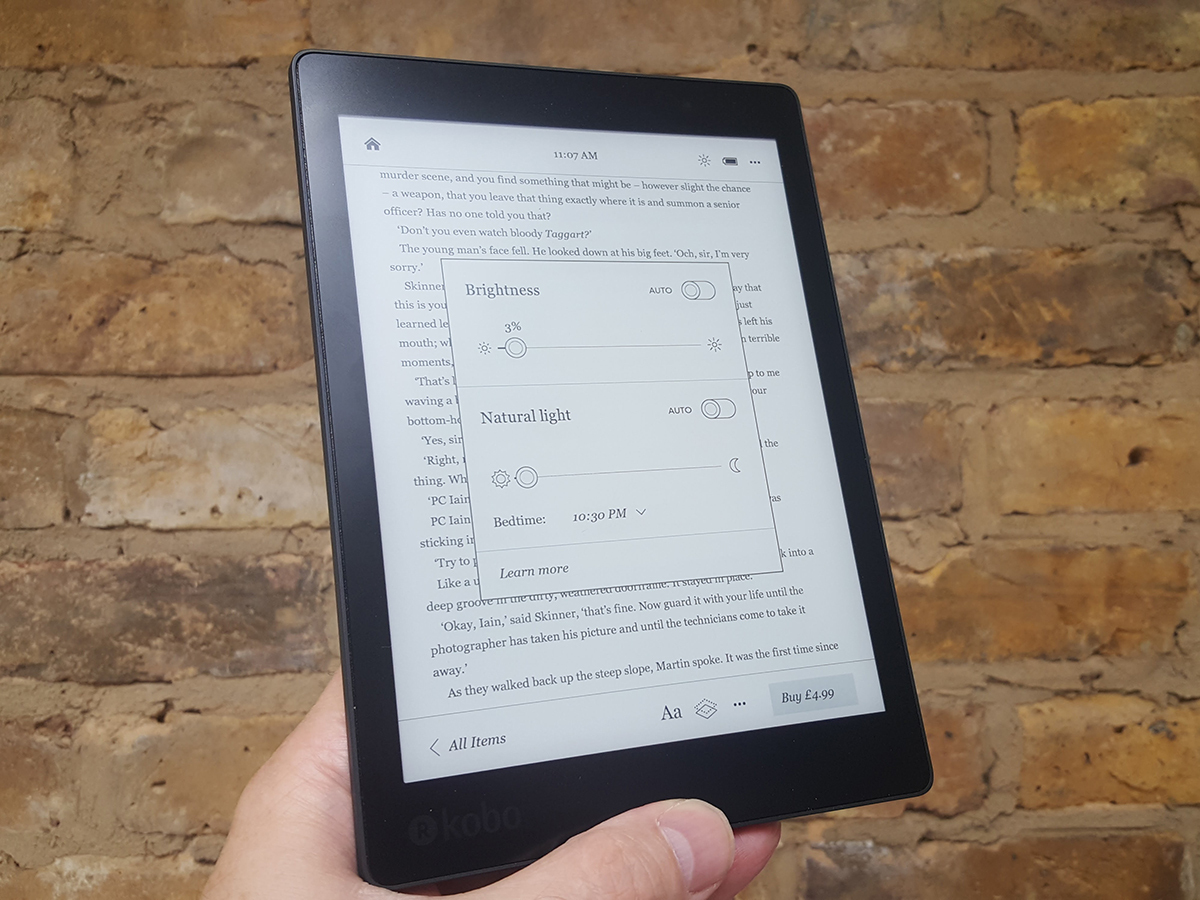 The front-lit screens on all but Amazon's cheapest ereaders might be great for a spot of bedtime reading, but Kobo has gone the extra mile with the Aura One.
First off, it's got an ambient light sensor. These are common as muck on smartphones and tablets, but for whatever reason they're a lot harder to find on an ereader.
Here, it saves you from manually tweaking the screen every time you fire it up, but that's only half the story. It also varies the level of blue light the screen pumps out depending on the time of day.
Blue light has been linked to sleep problems, so having your ereader switch to a warmer hue as bedtime approaches could save you a restless night. I certainly wasn't left counting sheep after a nighttime read.
Night owls don't need to worry about the Aura One dictating their sleep patterns like a strict parent, either: you can set your own bedtime manually.
Take a dip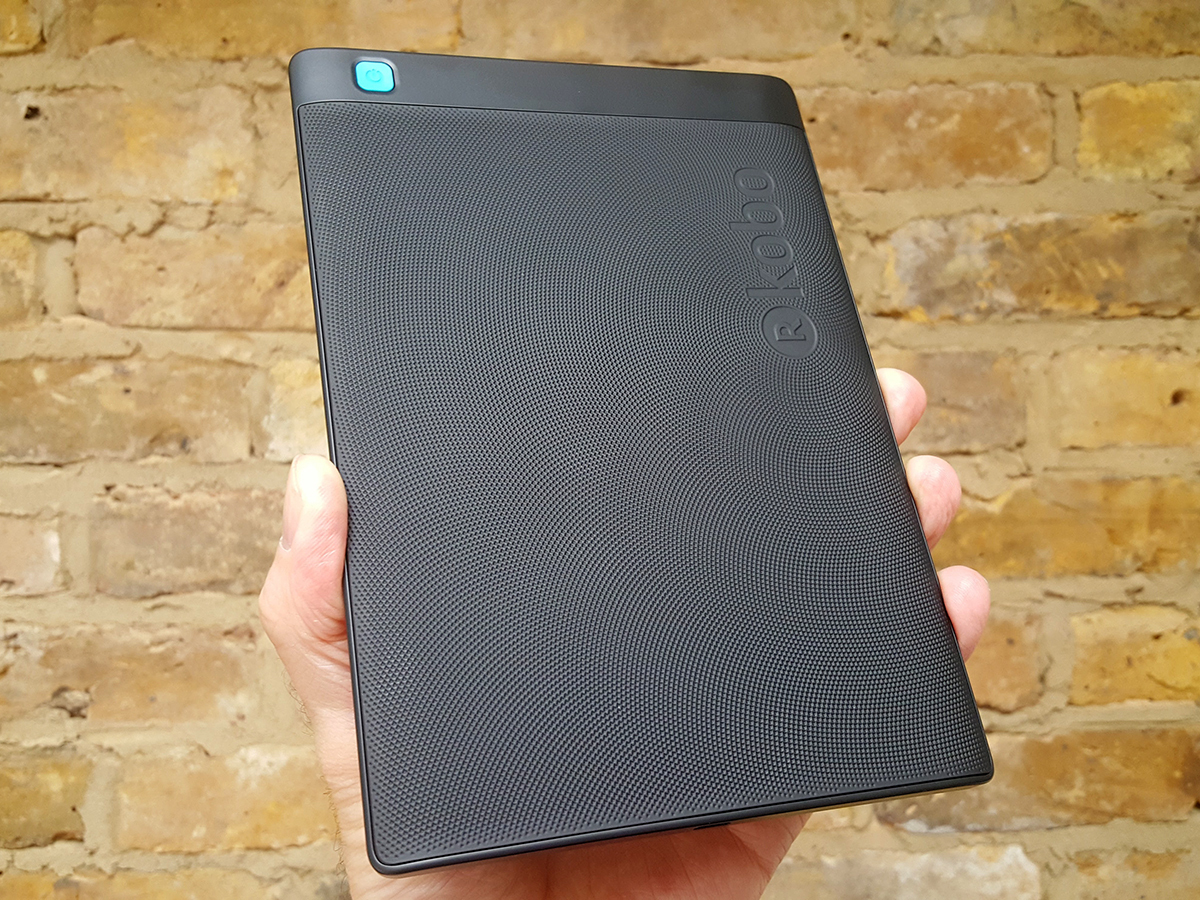 Fancy reading by the pool while you're on holiday? How about in the pool? Either way, Kobo's got you covered.
The Aura One is rated IPX8, meaning it'll survive a dunking down to 2m for up to 60 minutes – so won't matter if you drop it in the shallow end at the lido, or take it into the tub with you for a long soak.
Not that you're likely to drop it in the first place. Sure, it's bigger than every other ereader, but that rubberised rear panel makes it easy to grip with one hand. The edges taper in at the front, too, which makes swiping the screen that little bit smoother.
It's bigger and heavier than most ereaders, of course. That makes it tougher to squeeze into a jacket pocket, but it'll still slip easily into the smallest of bags. At 230g, it's hardly a heavyweight either.
With 8GB of onboard storage, there's enough space for 6000 books – or enough reading material to get you through every bath time for the rest of your life.
Kindle vs Kobo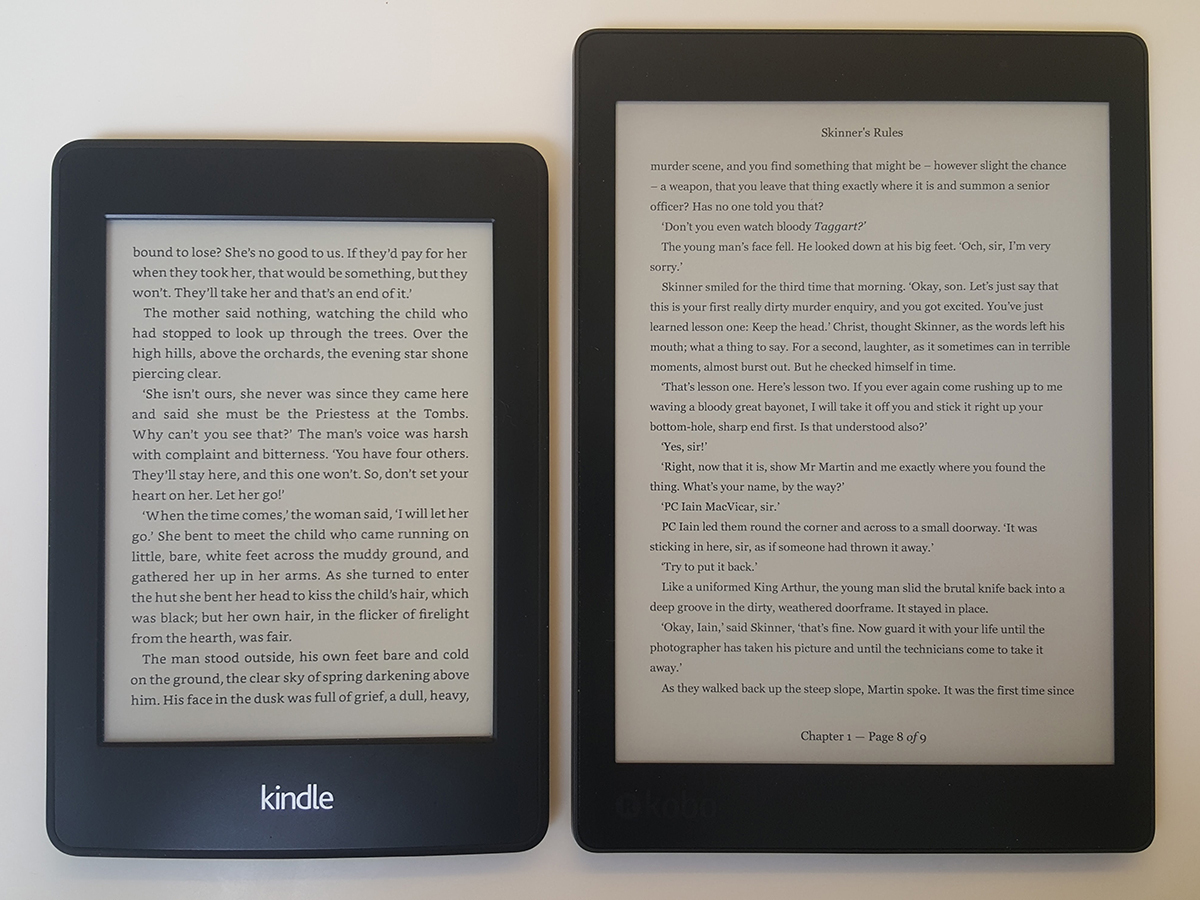 The bigger screen, waterproofing and upgraded lighting help the Aura One outperform any of Amazon's Kindles on paper – or on E Ink, for that matter.
Even if you splash out on Kobo's official cover, it's still £40 cheaper than the top-end Kindle Oasis. And that's more allergic to water than a Mogwai. The £170 Kindle Voyage has the ambient light sensor, but still lacks waterproofing, blue-light management and that bigger screen.
The big difference here isn't the hardware: if you buy a Kindle, you buy your books from Amazon.
Amazon has a huge selection and very competitive pricing, but you can't go elsewhere should it ever let you down. You're free to shop around anywhere that sells ePUB books on the Kobo – so practically anywhere except Amazon. It's nice to have that freedom, but in my experience Amazon's range and pricing is rarely, if ever, beaten.
Downloading books from your local library through the new OverDrive service and buying directly from niche publishers are nice little extras, though – even if you'll need to sync your device with a PC running Adobe's eBook software to actually get your purchases onto your e-reader.
Kobo Aura One Verdict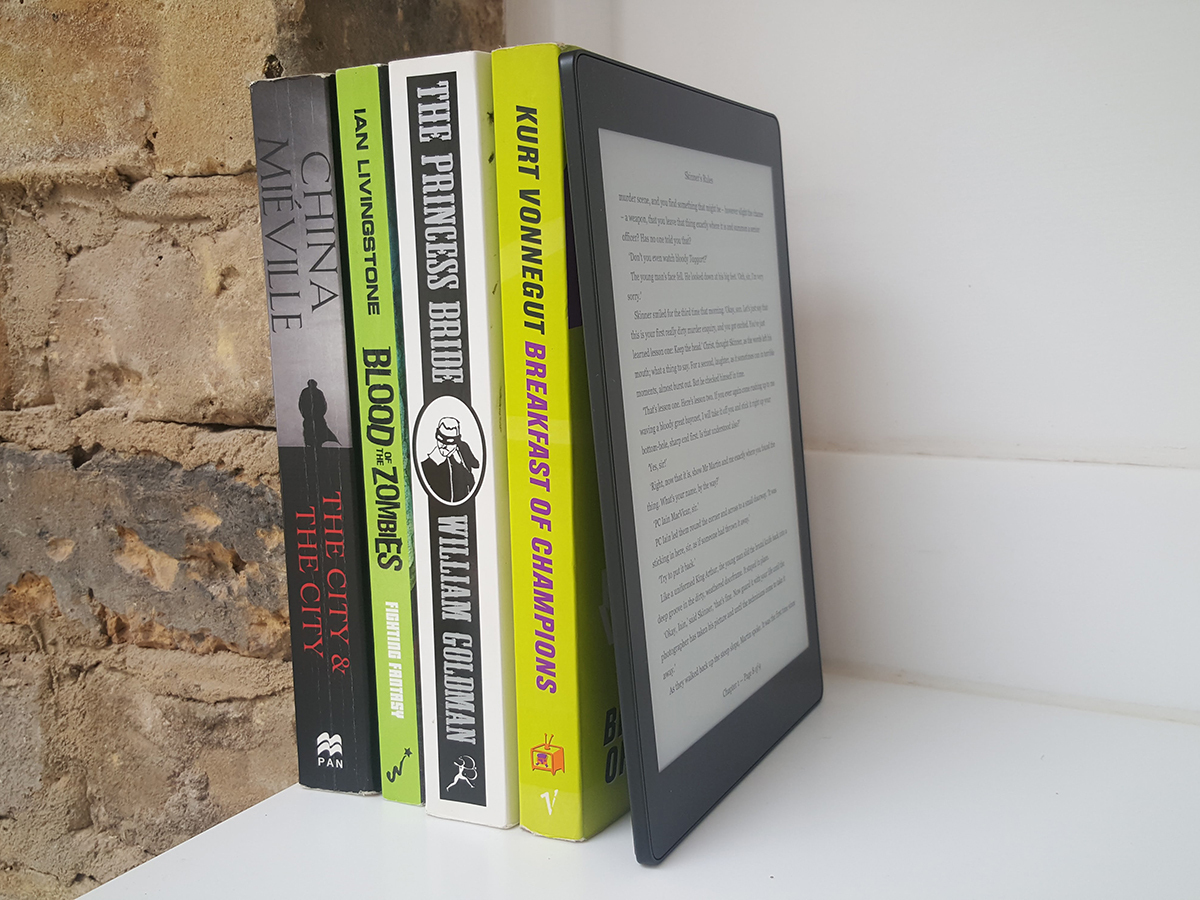 What is this heresy? The best ereader yet and it doesn't have an Amazon logo on the back?
It's true: the big screen, ambient light sensor and waterproofing nudge the Aura One ahead of anything Amazon (or Kobo itself) has released to date.
Funny, then, that the only issue is that it's not a Kindle. Anyone that's invested in Amazon's excellent service won't want to buy all their books again.
Still, if you're not a fan of the retail goliath, or if you really like your books to look like books onscreen, the Aura One is the ereader to buy.
Tech specs
| | |
| --- | --- |
| SCREEN | 7.8in, 300ppi E Ink |
| STORAGE | 8GB |
| CONNECTIVITY | Wi-Fi |
| BATTERY LIFE | Up to 4 weeks |
Stuff Says…
The best ereader yet and it's not a Kindle, which is arguably its only downside
Good Stuff
A screen as big as a paperback book
Clever lighting, which won't keep you up at night
Your new waterproof bathtime companion
Bad Stuff
You can't buy your books from Amazon
That bigger screen means more to lug around