Leica M11 Monochrom hands-on review: greyscale greatness
A street photographer's new best friend?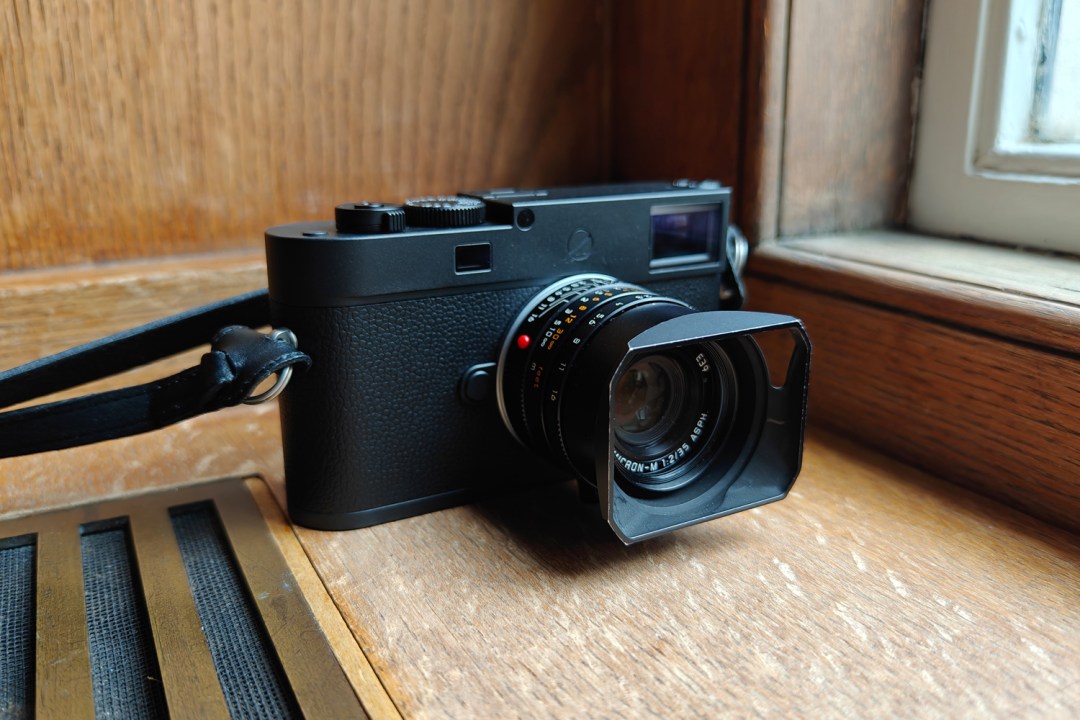 Colour. Pah! Who needs it? Not the Leica M11 Monochrom. This full-frame system camera eschews red, green and blue in favour of pure greyscale, which helps boost contrast and clarity in equal measure. It's a successor to the M10 Monochrom, which was a favourite among street and portrait photographers, and brings many of the modern touches introduced by the Leica M11 in 2022.
Not just anyone would consider dropping over eight grand on a camera that can't do colour, though. The fully manual controls are also relatively unforgiving on amateur snappers compared to the current crop of cams making up our best mirrorless cameras list. So who is the Monochrom for – and does it deliver pics that justify its price?
We took the M11 Monochrom on a test shoot around the streets of central London ahead of its official unveiling, to see how it copes in its natural environment.
Design & build: metal marvel
The Monochrom, like the regular M11 before it, is an absolute tank of a system camera. Made almost entirely from metal, with a mix of sharp angles and rounded corners, it cuts an imposing figure – and that's before you bolt one of Leica's M-Mount lenses onto the front. The firm's trademark build quality is on full display here, and it absolutely feels like a premium camera.
The top plate is made from aluminium now, which helps reduce weight compared to the now previous-generation M10 Monochrom by about 100g. The 2.3m-dot LCD display on the rear is protected by extra-tough sapphire glass, so should survive being slung at your side using a strap if you decide not to baby it in a camera bag.
It's more of an incognito camera than the standard M11, having lost its iconic "red dot" logo on the front and getting dark chrome plating around the optical viewfinder. All the metal parts have been painted in scratch-resistant black, while the leather covering the body is equally dark. Pair it with a black lens and you're looking at a camera that could easily have been sold in 1953, not 2023.
There's no battery door on the base, with the battery forming part of the outer surface and released by a small lever. Popping it out reveals the SD card slot, although you may not need one: the Monochrom has a substantial 256GB of internal memory, which can hold several thousand DNG RAW files before you'll need to back them up to a computer.
The battery now has an 1800mAh capacity, up from around 1100mAh on the M10 Monochrom, so you should be seeing up to 700 shots before you'll need to swap it out or recharge. USB-C charging is both modern and convenient.
Features: dial it in
Like most Leica cameras, the M11 Monochrom isn't exactly overflowing with buttons. The top plate is wonderfully minimal, with a power switch/shutter button combo, shutter speed and ISO dials and an accessory hot shoe being the main things of note. There are a few ways to put advanced features within easy reach, though. A function button has been moved from the front of the camera to the top plate, putting it closer to the shutter button, and the rear command dial can be also be pressed in for another customisable action.
It's a similar story at the rear, with a simple directional pad and three buttons flanking the 2.3m-dot LCD touchscreen. It's sharper than the outgoing model, and takes its interface from the SL2 and Q2 cameras. It's simple enough to navigate and comprehensive once you dig down into the menus.
The Monochrom is a manual focus rangefinder, so the optical viewfinder at the left side is crucial for judging focus distance (until you get proficient enough to eyeball your subjects, anyway). It's just as satisfying to use here as it is on other Leica cameras, bridging the gap between the analogue world of film cameras and today's digital alternatives.
Performance: shades of grey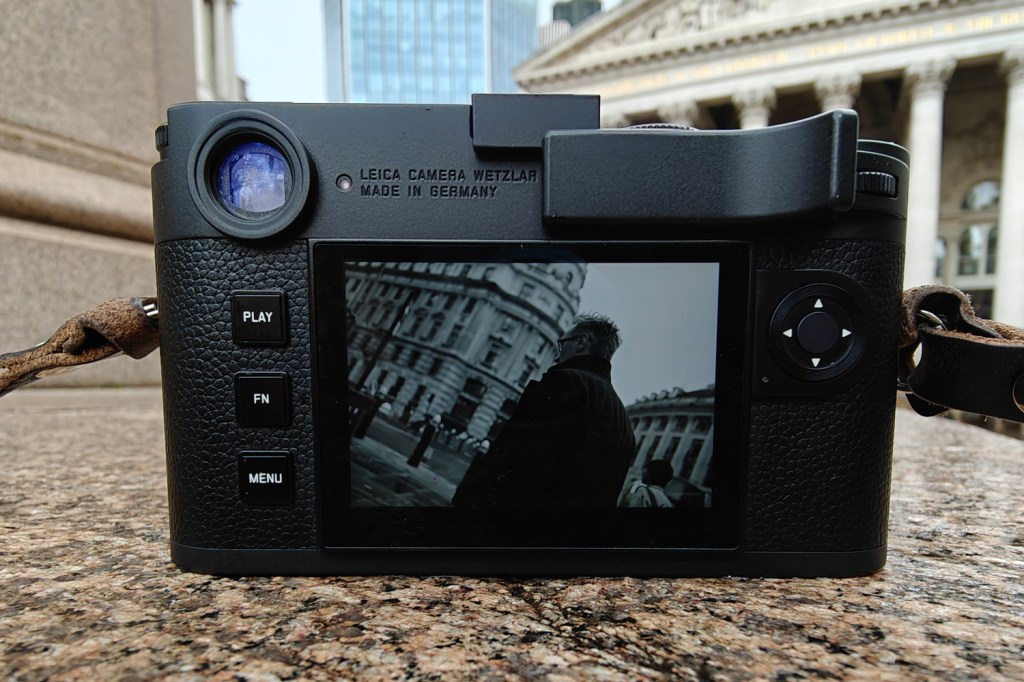 The M11 Monochrom isn't using any in-camera effects to produce its black and white images – the 60.3MP full-frame sensor simply has no colour filters to capture any colour data. With nothing to get between your subject and the underlying pixels, it means photos can be up to twice as sharp as a typical full-colour sensor.
You also get the choice of 60, 36 or 18MP shooting, with all three using the sensor's entire area. Pixel binning – using multiple smaller pixels to form one larger pixel – is common practice in the phone world, and it's put to equally convincing effect here, letting you shoot in low light without generating a whole lot of image noise. Combined with a frankly astonishing native ISO range of 125-200,000, there are practically no conditions where you won't be able to produce a usable shot.
The sample shots below were taken on a pre-release camera, have been resized from the original resolution, and edited in Adobe Lightroom.
While we didn't get an awful lot of time with it during our hands-on session, it's clear the Monochrom can deliver a simply astonishing amount of detail – and even shots you think you've butchered can often be rescued once you dig down into the RAW data.
You can leave shutter speed and ISO in automatic and get great results, with auto exposure being largely on point – although the freedom brought by black and white photography means a few turns of the dials can produce wonderfully atmospheric, high-contrast images. For sheer impact, it's hard to argue with what the M11 Monochrom is capable of.
Leica M11 Monochrom initial verdict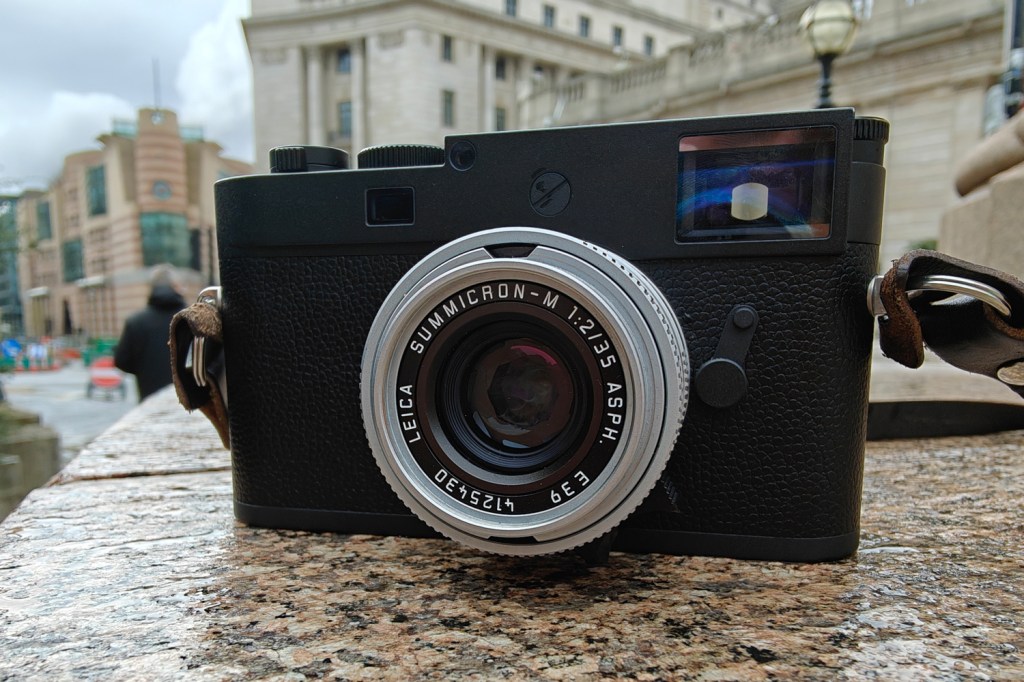 There's no denying the Leica M11 Monochrom is a niche camera. In fact it's a niche within a niche, given the full-colour M11 was already a serious investment. But it's wonderfully capable all the same. Street photographers and portrait specialists who care more about light and shadow than they do colour will appreciate the incredibly nuanced images it is able to capture.
It keeps the firm's trademark fully manual rangefinder approach, yet brings all the modern touches and generational improvements seen on the standard M11. Build quality is impeccable, and ergonomics have come a long way from the last-gen model.
You've got to have a firm grasp on focus distance, exposure and shutter speed to get good results, but that shouldn't pose any problems for dedicated Leica fans.
Leica M11 Monochrom technical specifications
| | |
| --- | --- |
| Sensor | 60.3MP monochrome BSI CMOS |
| Lens mount | Leica M mount |
| ISO range | ISO125-200,000 |
| Continuous shooting | 4.5fps |
| Screen | 2.95in LCD |
| Viewfinder | Rangefinder |
| Storage | 256GB on-board, SDXC UHS-II expansion |
| Connectivity | USB-C, Bluetooth, Wi-Fi |
| Dimensions | 139x80x38mm, 542g |