Leica Q2 review
Stunning? Yes. Seriously expensive? You bet.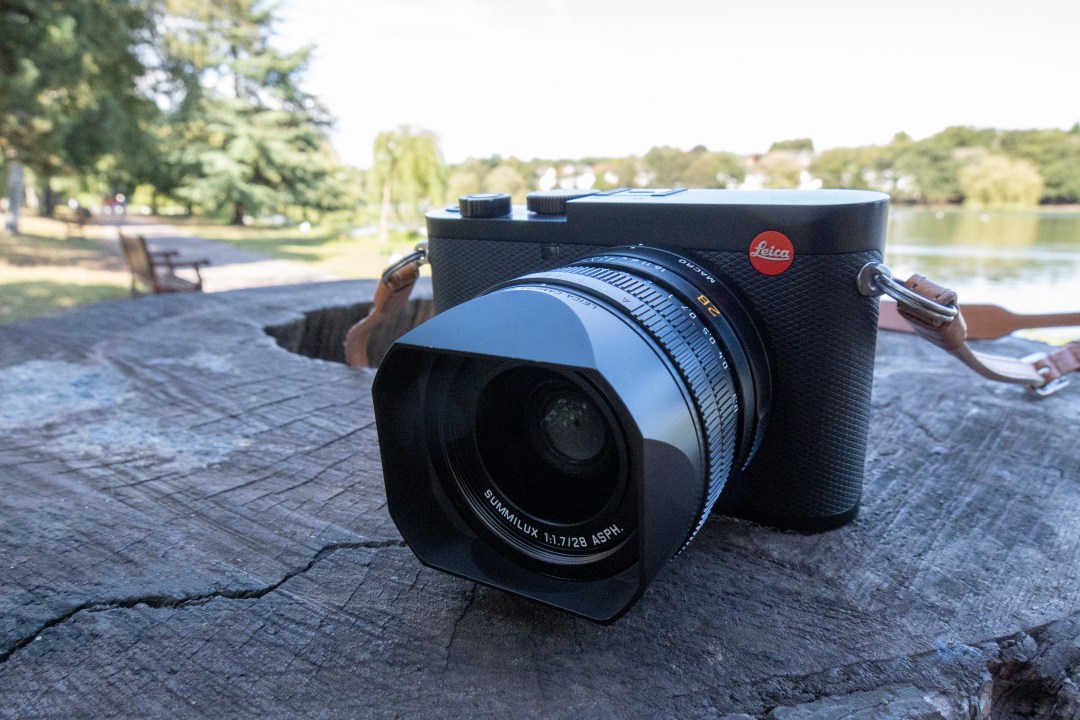 A luxury brand with a very long heritage, owning a Leica is often seen as the pinnacle of achievement for photography fans.
The little red dot is synonymous with quality, as well as telling the world that you really do take your photography seriously (and must have quite a wad of cash to back you up, too). Value for money is not the aim of the game here – by any means.
The Q2 will set you back around £4,375 – it's not exactly an impulse purchase. But if you're keen to know more… keep on reading.
The Q2 is the successor to the popular now four-year-old Leica Q. Technically it belongs in the compact camera genre as it features a fixed lens, but with a full-frame sensor and a large body, it's actually a bit of an anomaly.
Targeted squarely at street shooters, the Q2 is pitched as the ideal model for discreetness, sharpness and speed – everything you could probably want. So is it worth that outlay? We shall see…
Design: Cor blimey, it's a looker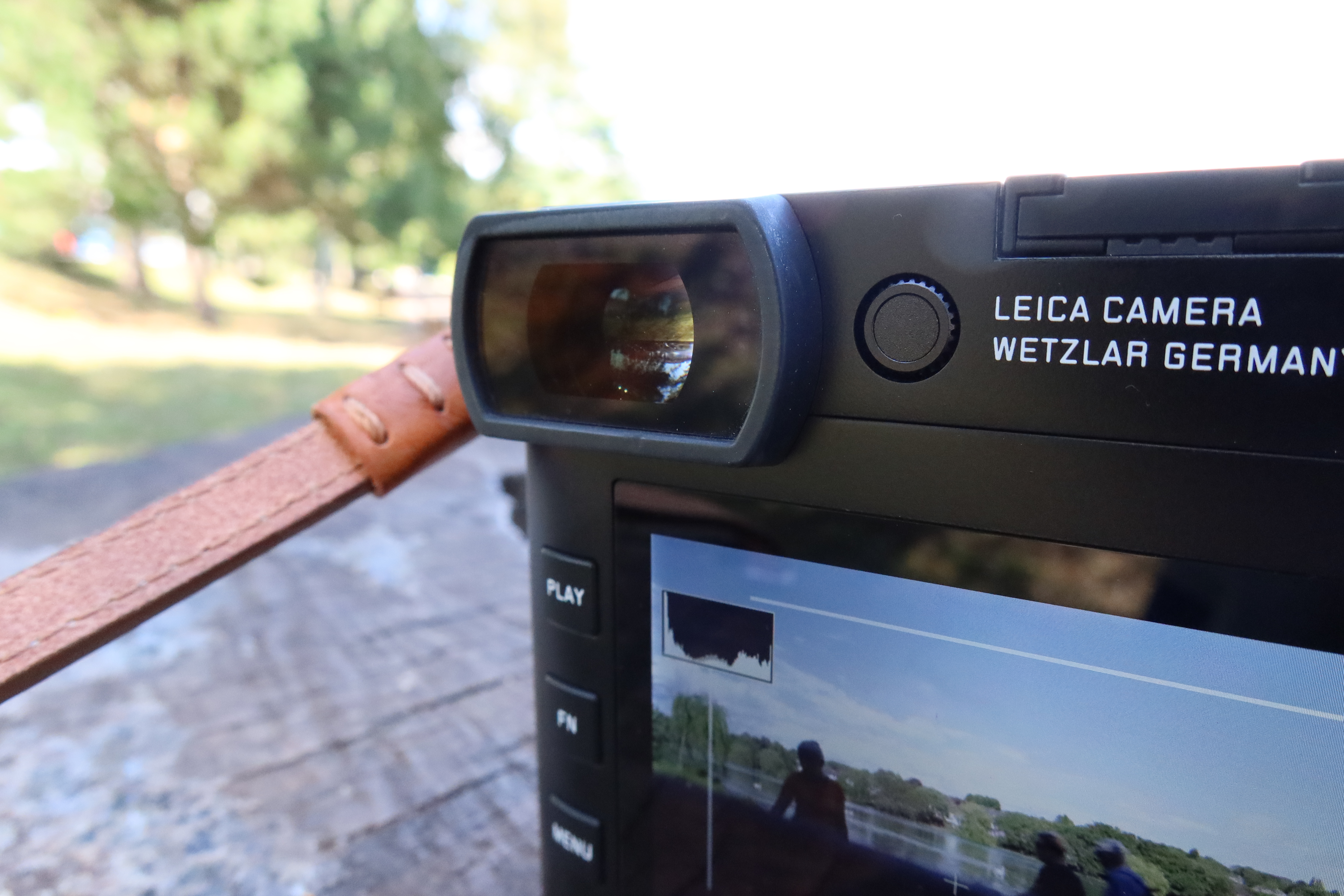 Compare the Q2 side-by-side with the original Q and you won't spot a world of change – most of the differences lie under the hood (see the Features section).
What you can always rely on with a Leica is that you'll be holding a thing of beauty in your hand. Yes, it might set you back the price of a small car – but – it'll certainly make you look the biz.
The gorgeous retro design is not just about looks though – it also makes the Q2 nice and simple to use. A few little tweaks have been made to make it even more streamlined than the original Q – for example, there's no longer a video record button on the top plate.
On the back of the camera, where you once would have found five buttons arranged in a line on the left hand side, there are now just three. You can customise controls to help you delve straight into the settings you're particularly fond of, while the key tenets of photography – such as aperture and shutter speed have their own dedicated dials (the former found on the 28mm lens itself).
As well as looking good, the Q2 also feels strong (and stable). OK you probably don't want to go bashing it around too much, but a great new feature for the Q2 is the addition of water resistance helps you to keep shooting street while standing in a pesky British downpour (we hear it occasionally rains in other countries, too).
For composing all your Cartier-Bresson inspired shots, you've got two choices – the inbuilt viewfinder or the rear screen. The viewfinder is a 3.68m-dot device which is very pleasant to use. It gives you a great and vibrant view of the scene and doesn't seem to suffer from noticeable lag. Although the same size and resolution as its predecessor's viewfinder, here on the Q2, magnification is enlarged and a newer OLED panel has been used to make the overall experience much nicer.
The screen, is a 3in, 1040k-dot fixed number – we'd perhaps like to see a tilting action here for those sly street shots, but it would detract from the clean lines of the Q2 so we can probably just about forgive it (maybe).
Features: Probably all you could ask for in a street-oriented model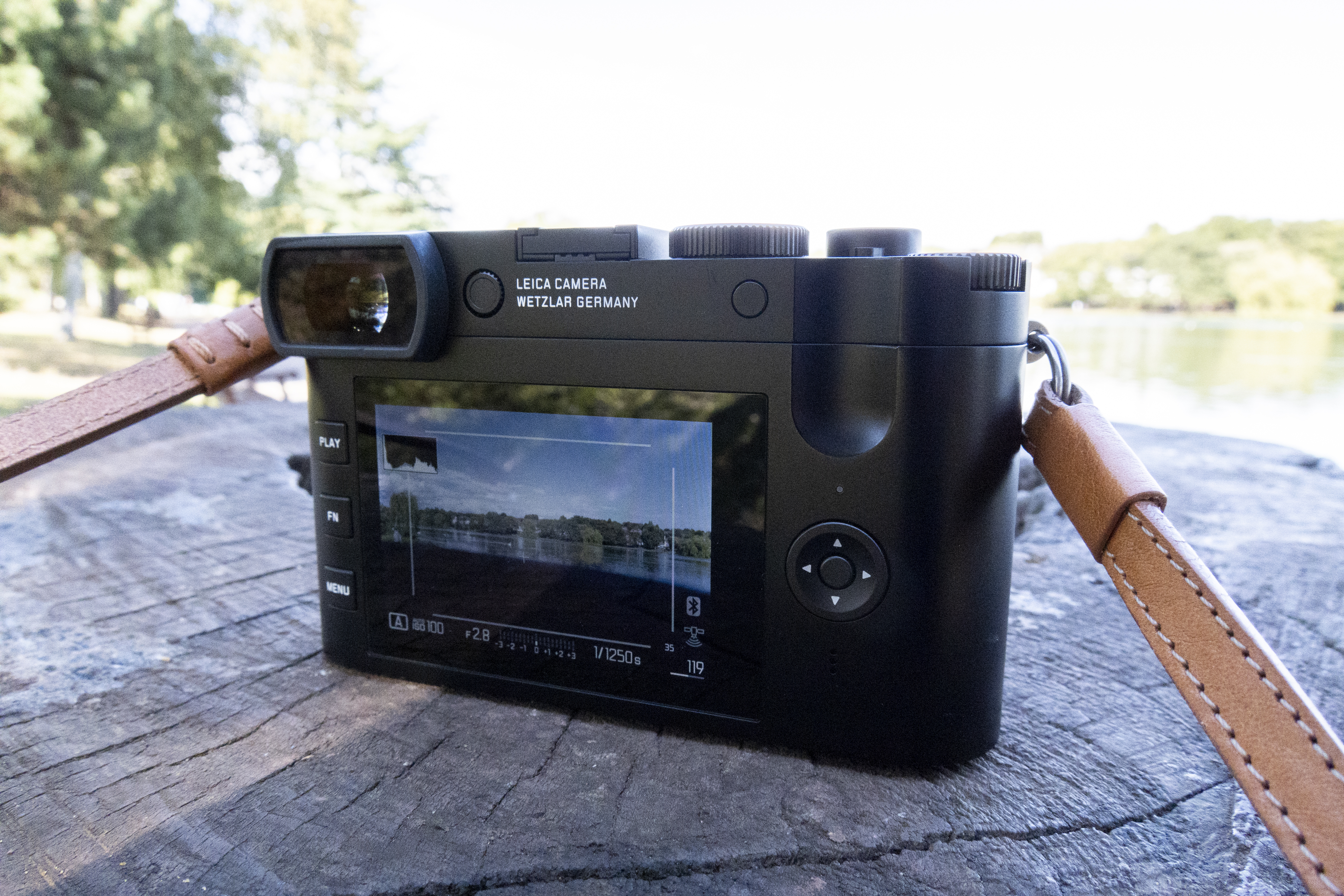 At the heart of the Q2 is a brand new 47.3 megapixel full-frame sensor. It's just about twice the resolution of its predecessor giving you a ton of extra detail to work with.
Although the Q2 has a fixed 28mm f/1.7 lens, thanks to that enlarged resolution, there are more digital crop options before, giving you the choice of 35mm, 50mm and 75mm if you need to get a bit closer (you could also crop in post-production in the comfort of your own home, if you like). 28mm is a natural choice for street, but it also works well for other types of photography such as landscape, architecture, and even environmental portraiture.
A Maestro II processor has been added which helps with a few of the new features, including 4K video recording, an expanded ISO range (50-50,000) plus up to 10fps shooting at full-resolution. This isn't really a camera designed for out-and-out videographers, but bumping up to 4K from Full HD feels like a necessity in 2019 and it's nice to have it if you need it.
Note that there's no way to add an external microphone or monitor audio output though. You can shoot at 10fps at full resolution. A camera with a 28mm lens might not seem like the obvious choice for action photography, but being able to shoot that quickly can have its advantages for street photography – especially if you're trying to react to a quickly unfolding scene.
Autofocusing comes via a contrast-based system, which Leica claims can lock onto the subject in just 0.15-seconds. I didn't get my stopwatch out to time it to that degree, but I will say that generally the Q2 grabs hold of the appropriate subject very quickly in most scenarios. It can be guilty of hunting in very low light, though.
A handy feature is the option to quickly switch to macro focusing, for those frame-filling shots and close-ups. You can also pop it into manual focusing very quickly if needs be, too. Other useful features which are worth mentioning include Bluetooth connectivity for quick pairing with a Leica FOTOs app, a single SD memory and slot and 350-shot battery life.
Image Quality: stunning detail from that high-resolution full-frame sensor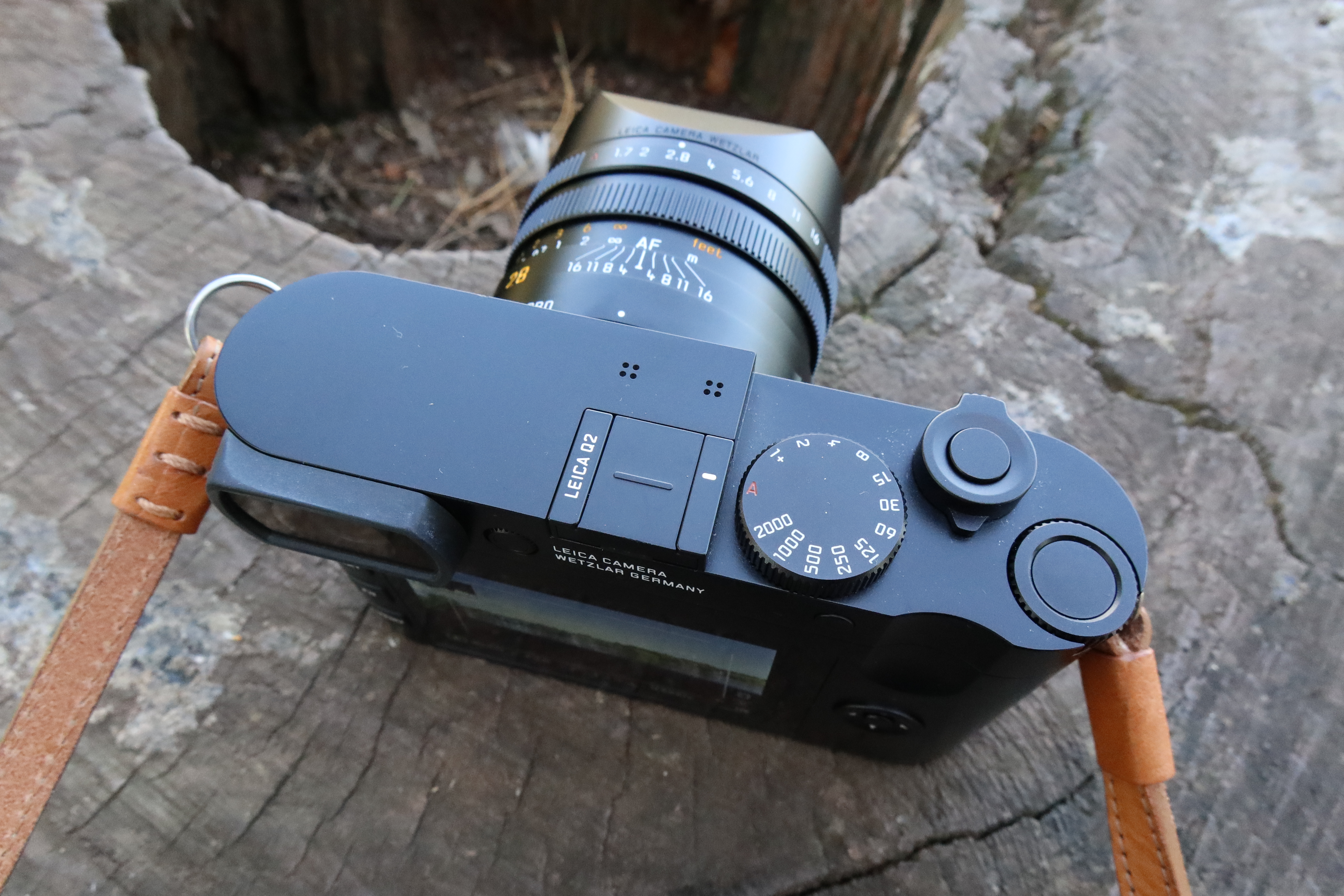 It'd be pretty disappointing if image quality was lacking from a Leica, much less a Leica with a £4,375 price tag. Fortunately for everyone involved, the Q2 puts in a great performance.
You might argue that it doesn't surpass any other full-frame model with a 28mm lens attached, but quite frankly when it comes to Leica, that's almost by-the-by. You get a heap of detail as you'd expect from a 47.3 megapixel sensor, but there is some softness to be noted in the corners when shooting at the maximum aperture of f/1.7.
You'll only likely see if it you pixel peep at 100%, but you'll need to stop down to f/4 for the ultimate edge-to-edge sharpness. On the whole, exposures are very well-balanced, but since the active AF point seems to have no effect on metering, switching to spot-metering can be needed if you're photographing in a fairly high-contrast situation.
Colours directly from the camera in the Q2's JPEGs are well-saturated without being the vibrant assault on your eyeballs that perhaps we have got used to from modern cameras. That means that on occasion the files look a little muted – but actually it's probably fairer to say that they're 'realistic'.
You can can always whack up the saturation slider in Photoshop if needs be. Speaking of Photoshop, the Q2 shoots DNG files, the universal raw format. With plenty of information captured in these, you can pull out missing details in shadows and highlights in most situations too. Low light shooting is something that the Q2 is well-suited for, mostly down to that f/1.7 maximum aperture of the 28mm lens.
You may find that you never really need to venture past ISO 3200 thanks to that, but if you do you'll find that ISO 6400 images are perfectly usable up to around A4 size.
Leica Q2 verdict
There's every likelihood that if you were actually in the market for a Leica camera, you wouldn't really care what a reviewer thinks.
I expect many of those reading this probably won't actually buy one – they just like reading about Leica, in the same way you might like to read about Ferraris and Rolexes.
That said, if you do happen to find yourself with the best part of £4,500 burning a hole in your pocket, you could do far worse than to spend it on the Leica Q2. It produces fantastic images and is a joy to use. There will always be just "something" about using a Leica that is hard to quantify but becomes immediately apparent as soon as you start using one.
The Leica Q2 also has the benefit of autofocus, something which its rangefinder series of M cameras doesn't have – think Leica quality without the unnecessary faff. There's a few things to tempt you to upgrade if you already shelled out for an original Leica – the huge bump in resolution being the main source of temptation.
4K video recording is very nice and all, but I can't see many buying this for vlogging. All in all, the Leica Q2 is a very expensive camera (of course it is), but it's also a very nice one.
There's loads to drool over and if money were no object we'd definitely be buying one – for those of us that live in the real world, it's probably not something we'll actually be buying… nice to dream though.
Tech specs
| | |
| --- | --- |
| Sensor | Full-frame 47.3 megapixel CMOS sensor |
| Processor | Maestro iI |
| ISO Range | 50-50,000 |
| Video | 4K |
| Screen | 3" TFT, 1040k-dot, touchscreen |
| Viewfinder | 3.68m-dot electronic viewfinder |
| Autofocus | contrast-based, 225-point AF system |
| Shutter speeds | 60s-1/2000 with mechanical shutter, 1s-1/40000 with electronic shutter |
| Burst rate | 10fps (full resolution) |
| Weight | 734g (with battery) |
| Dimensions | 130 x 80 x 91.9mm |
Stuff Says…
A gorgeous design and build, with equally gorgeous pictures to boot. But it's hard to justify the outlay for a camera like this unless you happen to be mega-wealthy. If you want something reasonably similar in operation and style, take a look at the Fujifilm X100F – available for a quarter of the price.
Good Stuff
full-frame sensor
Fantastic handling
4K video
Bad Stuff
very expensive
Very niche
Limited battery life