Lenovo Miix 320 hands-on review
Lenovo's made a proper budget hybrid - but is it any good?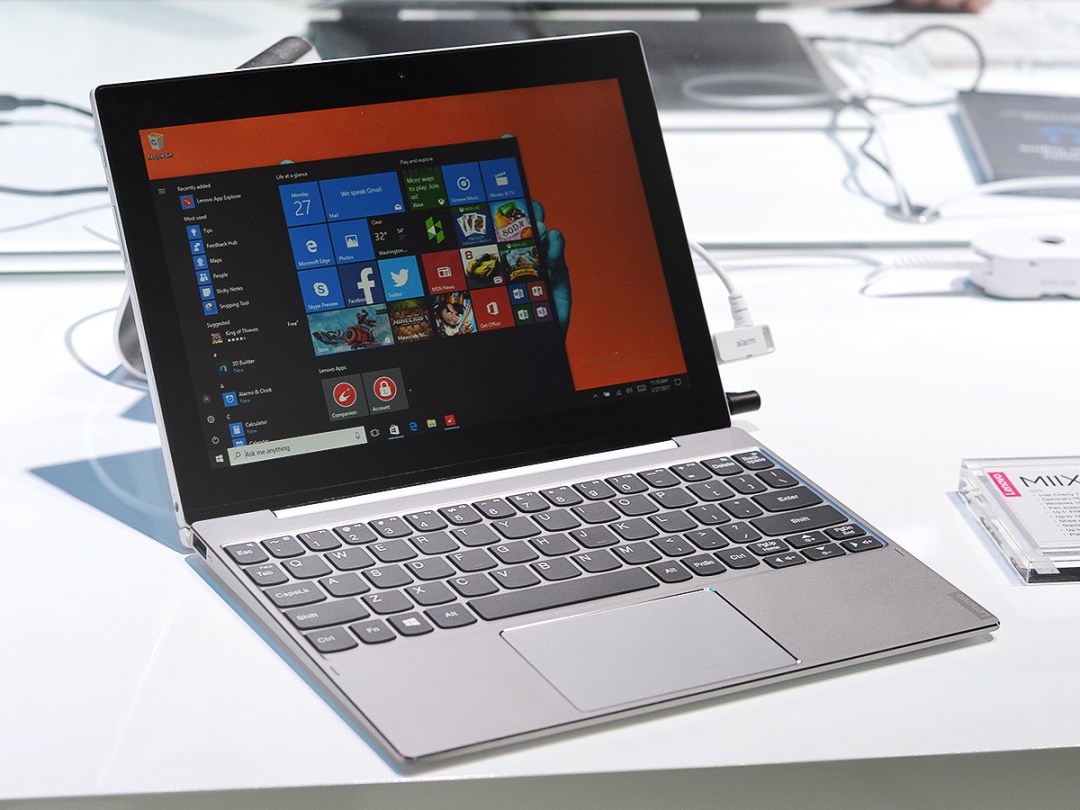 Can't decide between a laptop and a tablet? Alas, the first world has many such problems.
Thankfully, devices such as the 2-in-1 hybrid are here to eliminate the need for that choice, delivering the convenience of a tablet with the utility of a keyboard in one handy, transforming package.
Usually, though, they're priced to match. Not this Lenovo one: at US$199 it sits squarely in Chromebook territory – despite running Windows 10.
Is it any good, though? And can it compete with powerful tablet offerings at similar price points – like the strong, similar Microsoft Surface 3? We gave the Miix 320 a good poke at MWC 2017 in Barcelona to find out.
Lenovo Miix 320: built on a budget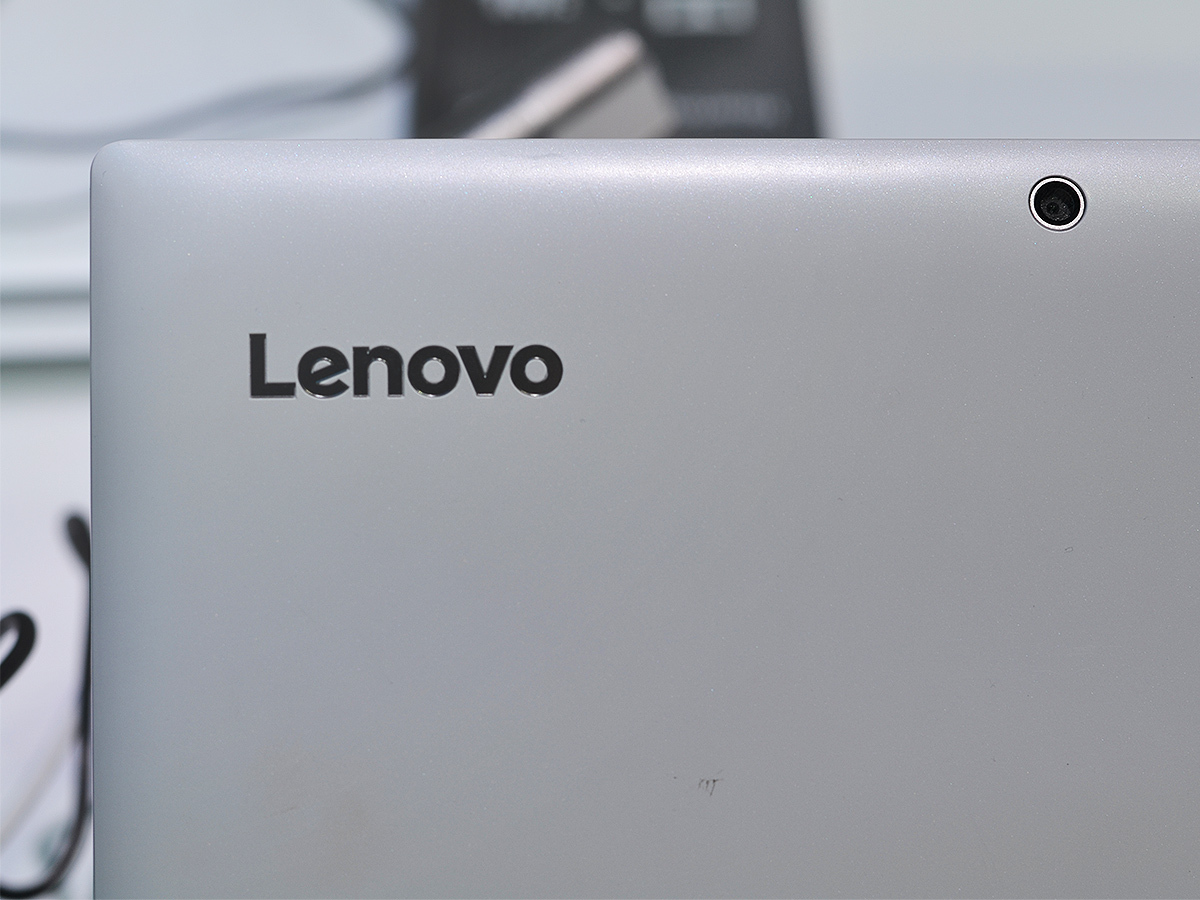 Scoop up the Miix 320 and there's no escaping that this is a budget machine: the shell is largely plastic and, pulling the screen from the keyboard base, there's a bit of flex in the whole unit that sets it below the metal-bodied convertibles of Dell and HP.
Still, it's a relatively slim machine – with a depth of 17.5mm – that feels like it's built to travel. While it might lack finesse (the bezel around the screen, for example, is huge), the Miix 320 feels like a machine you'd happily stick in your rucksack and not worry about.
Tug the tablet from the keyboard base and you'll get a 9mm-slim 10.1-inch screen. With a resolution of 1920 by 1200 it's good enough for everyday use, though it seemed to lack the pop and brightness of more expensive siblings and devices such as the iPad Pro, while the coating was both prone to smears and oddly resistive to finger movements. This was all under display conditions, though, so we'll need to test it in a real-world setting for a full impression.
As a combined device, the unit weighs in at a little more than 1KG which, while lighter than a Dell XPS 13, is significantly heavier than a 9.7-inch iPad Pro (which weighs in at just 444g), despite that plastic build.
All the same, at at US$199 is tough to complain too much about a bit of chunk on an otherwise durable-feeling – if uninspiring – machine that offers both physical keys and a touchscreen experience.
Lenovo Miix 320: Power to play with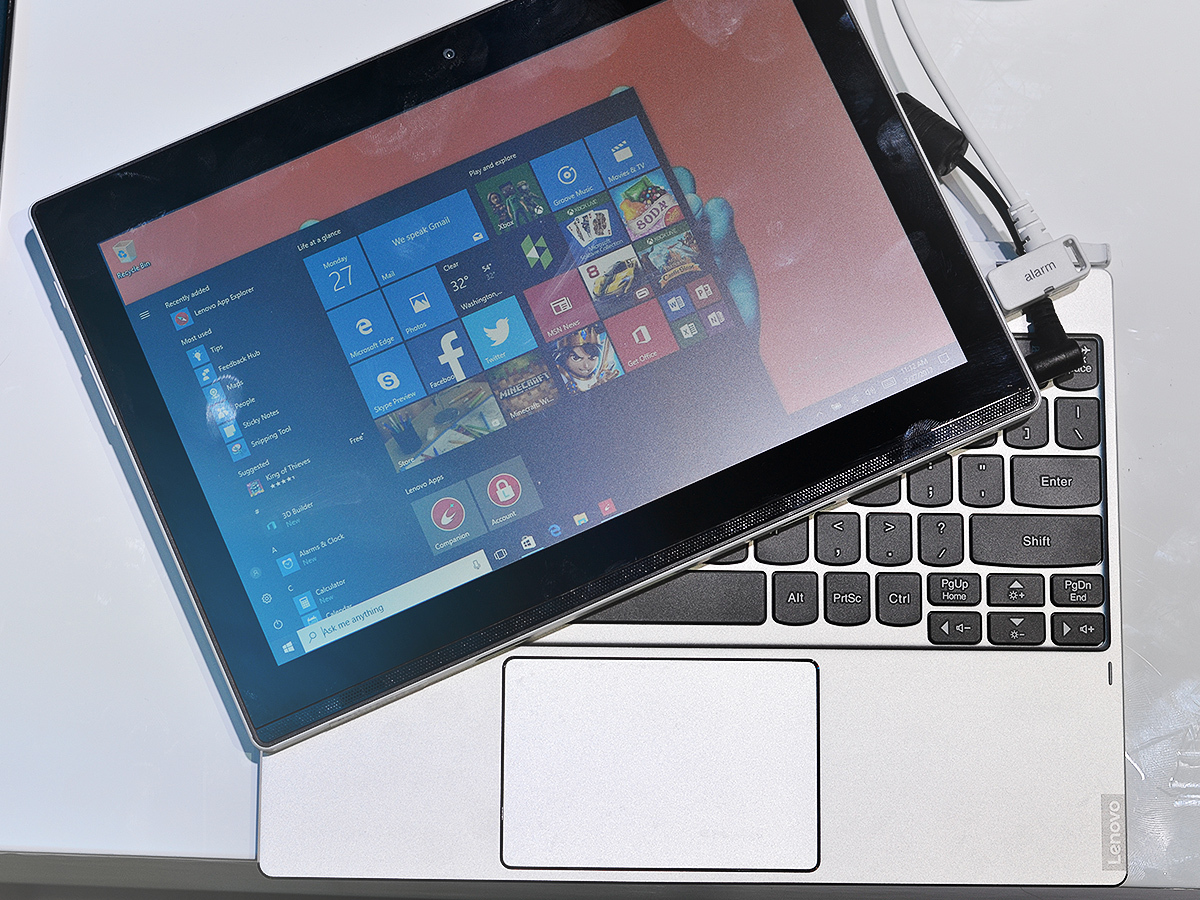 Get the Miix 320 running and you'll find mid-spec hardware that'll happily handle most everyday tasks.
An Intel Cherry Trail Atom chip – like the one found in the Surface 3 – takes charge behind the scenes and, paired with options of up to 4GB RAM things run relatively speedily.
Switching between apps rapidly can institute a little judder in the Windows 10 interface and things generally don't feel quite so fluid as with a more expensive machine but, for everyday browsing and media handling, early impressions suggest the Miix 320 will be more than capable.
With 128GB of eMMC storage, the 320 is unlikely to replace your laptop – but that's plenty of space for music, movies and a host of documents, if you're into that sort of thing. Admittedly, a little more storage would be welcome – particularly given 128GB capacities can now be found on the likes of the OnePlus 3T – but it's probably a case of keeping costs down.
As for battery performance, this isn't something we were able to test in the environment of the MWC convention centre because the Miix 320 was constantly connected to power; on-paper you'll get 10 hours of life out of a full charge – but only a full review will reveal the truth.
Lenovo Miix 320: Always connected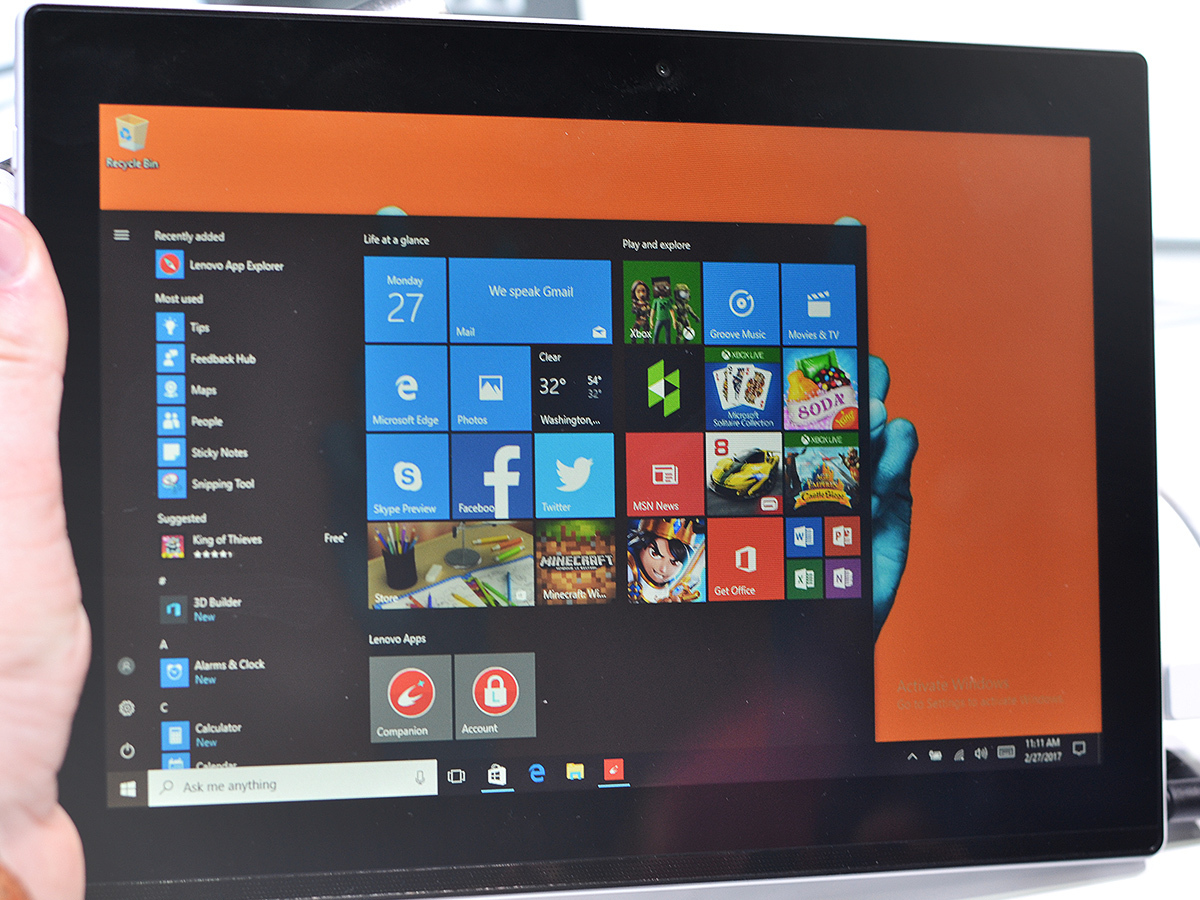 One of Lenovo's big sells for the Miix 320 is its ability to offer uninterrupted connectivity.
While that's unlikely to translate into a genuine, seamless connection, the presence of both Wi-Fi and LTE (as an option) on the 320 should make it attractive to those who need to be online all the time, such as business folk and the Netflix-addicted.
Of course, 4G will need a data plan which will likely hike the cost of the up-front U$199 slate to quite a lot more. That said, with such a low price, there's every chance we'll see the Miix 320 offered on data-only contracts.
We weren't able to test the reception and reliability of the Lenovo 2-in-1's 4G connection, but that plastic shell bodes well for a decent signal strength.
Lenovo Miix 320: Windows on the go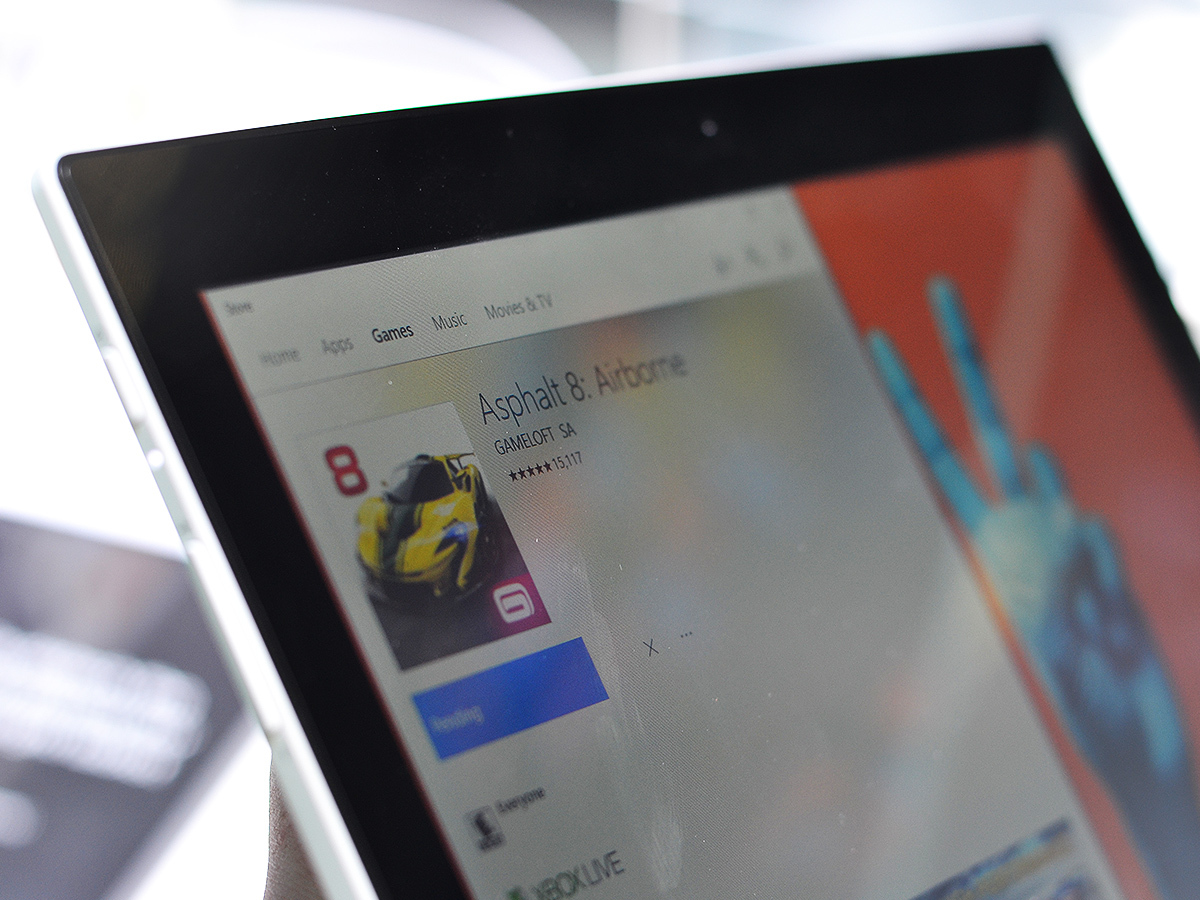 As for the OS, the Lenovo Miix 320 carries Windows 10 as standard. It's an operating system that works well on the 2-in-1, with the combination of keyboard controls and touchscreen inputs delivering a thoroughly usable interface for on-the-go computing.
Yes, there are jitters, with a little start menu lag, for example, when running several programs and downloading at the same time, but for the kind of basic activities you're likely to run on the 320, Windows 10 makes a lot of sense.
Admittedly, things can look a little cluttered on the 10.1-inch screen of the Miix 320, especially in tablet mode. While Windows 10 feels like it should be a more powerful, versatile system offering than the likes of iOS on an iPad Pro, at times we craved the simplicity of poking app icons, versus delving through the start menu.
Still, propped up with a keyboard the Miix 320 feels much closer to a mini-laptop than many of its budget tablet rivals – and a lot of that is thanks to Windows 10.
Lenovo Miix 320 initial verdict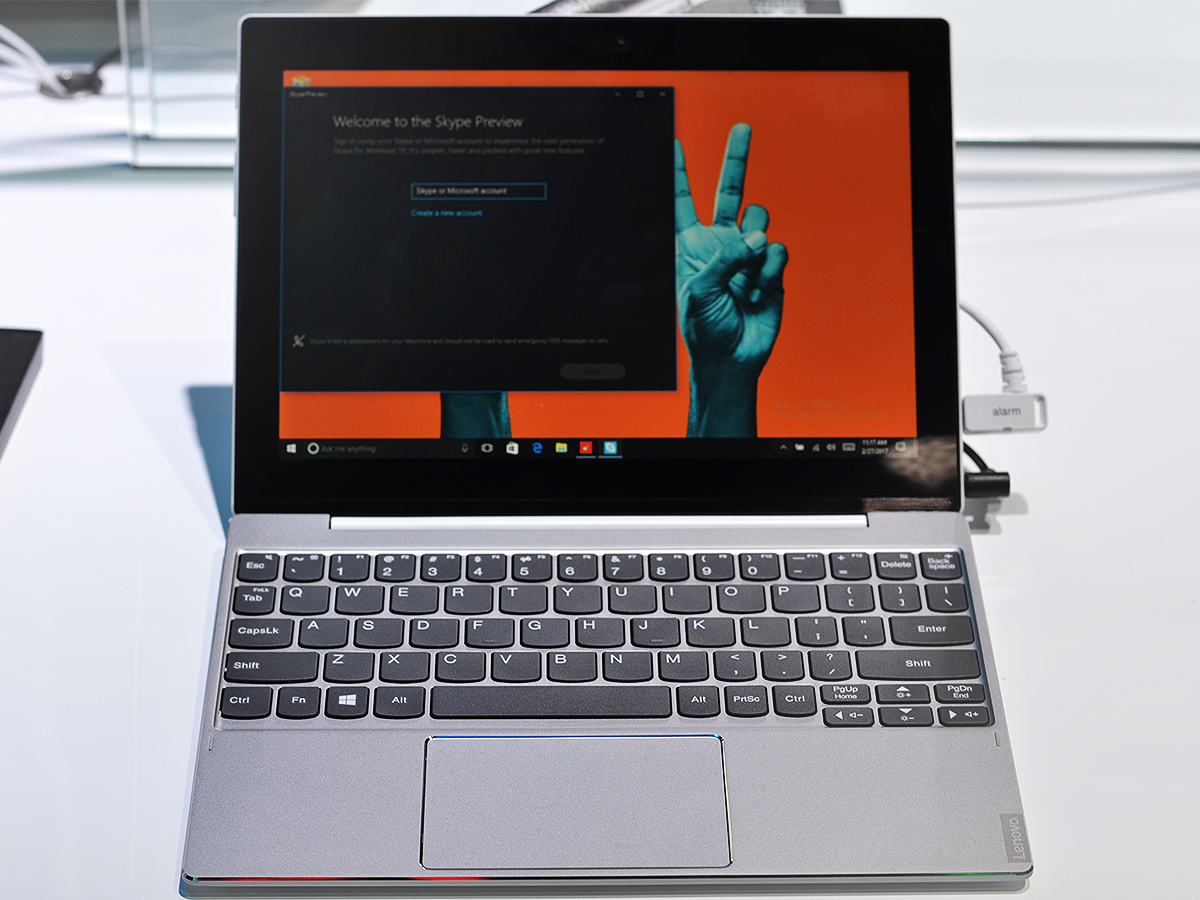 We didn't get too long to play with the Miix 320 and we'll need to spend a good week or so with the hybrid laptop to get a full impression of its capabilities and how it handles in day-to-day situations.
That said, it's clear even from a few hours spent poking it that the 320 is a machine built for those on a budget – and still able to deliver decent power.
Battery will be key to the success or failure of the 320. With relatively speedy specs, an uninspiring but usable screen and a plastic build that ought to be durable enough to survive most satchels, the big question has to be the daily longevity of its cell. Launching in March, that's something we'll only be able to test in a full review.
Still, even if that US$199 price tag translates directly into a £199 one in the UK, the Miix 320 already feels like it could be a solid second-laptop choice.