Lenovo Yoga 530 review
Can the Lenovo Yoga 530 bend over backwards to succeed?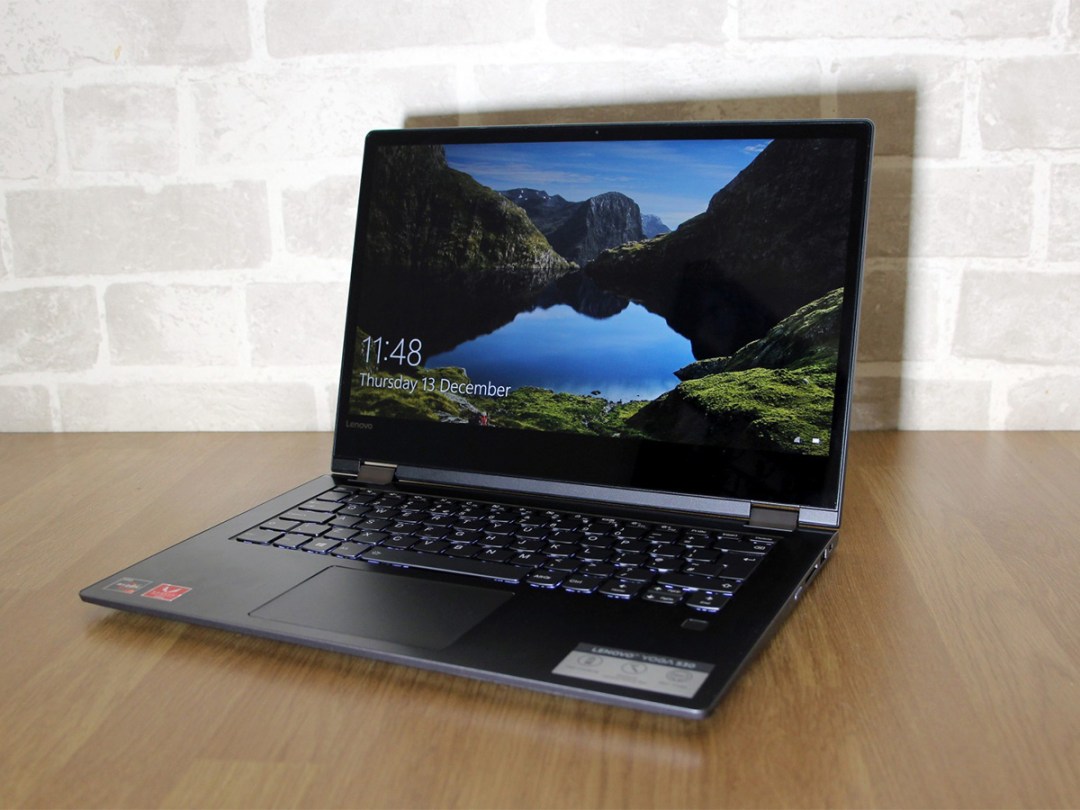 The Lenovo Yoga 530 is one of the more unusual convertible machines we've seen for some time thanks to its price and internals.
The cost, for starters, is a mid-range £699. That's pretty low for a high-end convertible machine from a brand like Lenovo – many of the firm's systems cost nearer to £1,000, and you'll find those kinds of prices elsewhere in the market too.
The lower price doesn't just mean that the Yoga 530 will be kinder to your wallet.
It also means that this machine sits alongside normal mid-range laptops – and next to devices like the Microsoft Surface Pro 6.
The internals are interesting, too. Intel's hardware usually dominates at the slim and light end of the market, but the Yoga 530 deploys AMD silicon.
It's a return to form for AMD, which had lost ground in the past because its chips were too hot, power-hungry and slow.
Design & Build: solid and sturdy
The Yoga 530 looks reasonable, but there's no escaping its mid-range price. The area around the keyboard is finished with a thin layer of aluminium, but the rest of the exterior is made from cheaper plastic.
The panels are dark and plain, with only a small Yoga logo on the lid.
Build quality is middling, too: there's a little too much give in the screen, and the metal around the keyboard has too much movement. It's not a terminal problem, but it's worth bearing in mind.
The understated Yoga tips the scales at 1.6kg and is nearly 18mm thick. That doesn't make it a heavyweight, but it makes it a little hefty compared to its flashier rivals.
If you're after a convertible that's leaner and more attractive, then the sleek Microsoft Surface Pro 6 fits the bill even with its keyboard case attached.
If you're content with a conventional laptop, then the Acer Swift 3 is all aluminium, and with the same dimensions as the Yoga. That machine will set you back £749.
Despite that, the Yoga is fine as a daily driver. Its dimensions aren't ruinous – it's still easy enough to slip this machine into a bag and barely notice its presence.
And, while the build quality could be better, it's sturdy enough for the commute and no worse than rivals.
The Yoga has solid versatility, too. The hinges are sturdy and smooth, which makes it easy to rotate the screen to tablet or tent modes for watching films or browsing news and recipes.
The port selection is fine – you get two full-size USB 3 connections and a Type-C port alongside an HDMI output and a card reader.
There's no Gigabit Ethernet, but that's less of a concern these days.
Screen & Sound: Dim light and basic sound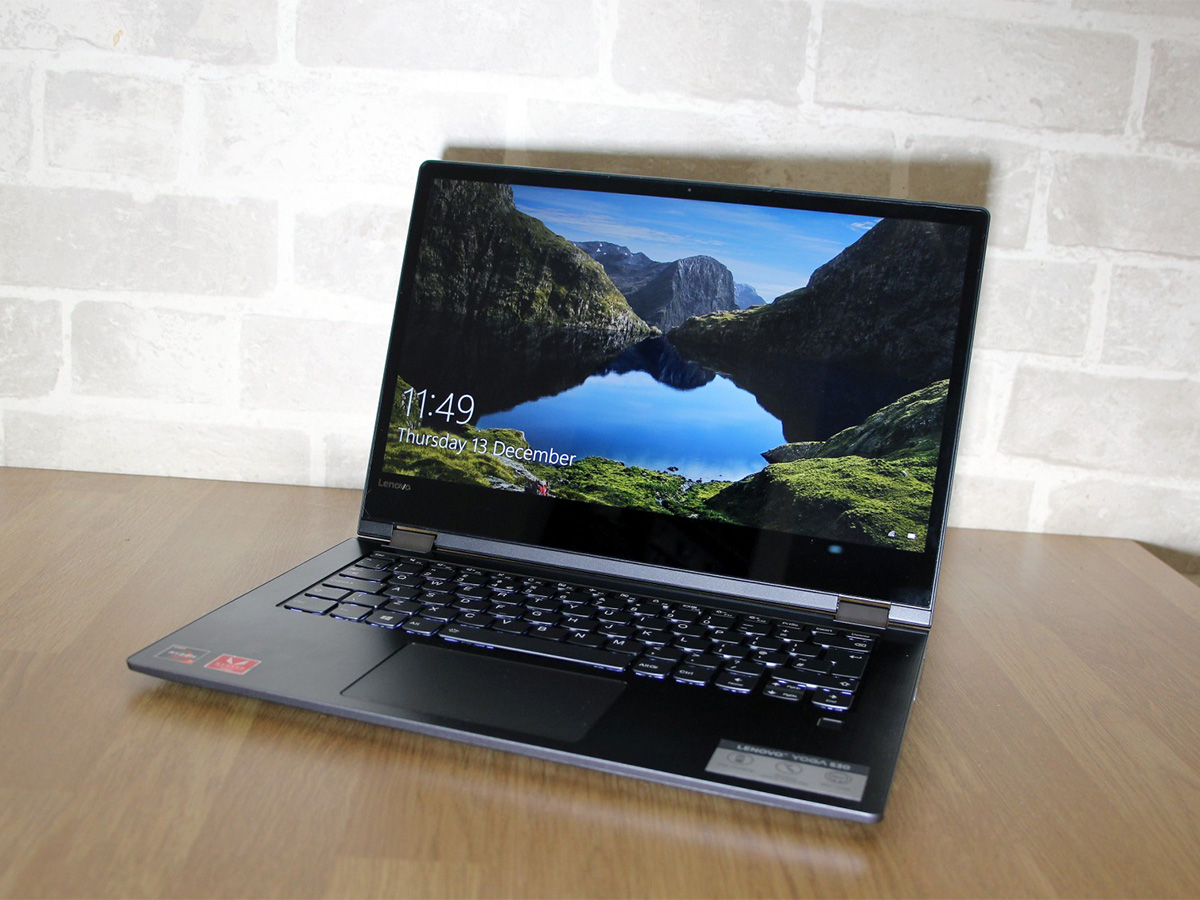 Sadly, though, this is the first area where the budget has taken a hit. A 1080p IPS touchscreen sounds good on paper, but it's disappointing in daily use.
The big issue is a lack of brightness. When tested with a colorimeter, the Yoga's screen delivered a brightness level of 218cd/m2 – an extremely low result. A score of 250cd/m2 is still only mediocre, and many laptops now routinely get beyond 300cd/m2.
The lack of brightness has a significant impact. While the screen is visible in most scenarios, it lacks punch and vibrancy. Try using the Yoga outdoors or under really bright lights, and you'll struggle – the screen will be washed-out at best and impossible to see at worst.
Colours are only average, too. The screen's colour accuracy is middling, and the panel only displays 58% of the entry-level sRGB colour gamut.
The Yoga's screen can't display the full gamut of colours, and it doesn't have much vibrancy.
It still has reasonable contrast, so it's still possible to enjoy games, movies and web content on this screen – but it's not going to turn heads and it won't make media look vibrant. If you're particularly concerned with screen quality, look elsewhere.
The Acer Aspire 3's panel isn't a touchscreen, but it is better. And the Microsoft Surface Pro has a higher resolution, better contrast and bolder colours.
The Yoga's speakers aren't particularly good, either – they lack volume and produced distorted tones during busy moments. These speakers are only good enough for basic media tasks.
Performance: Caught in the middle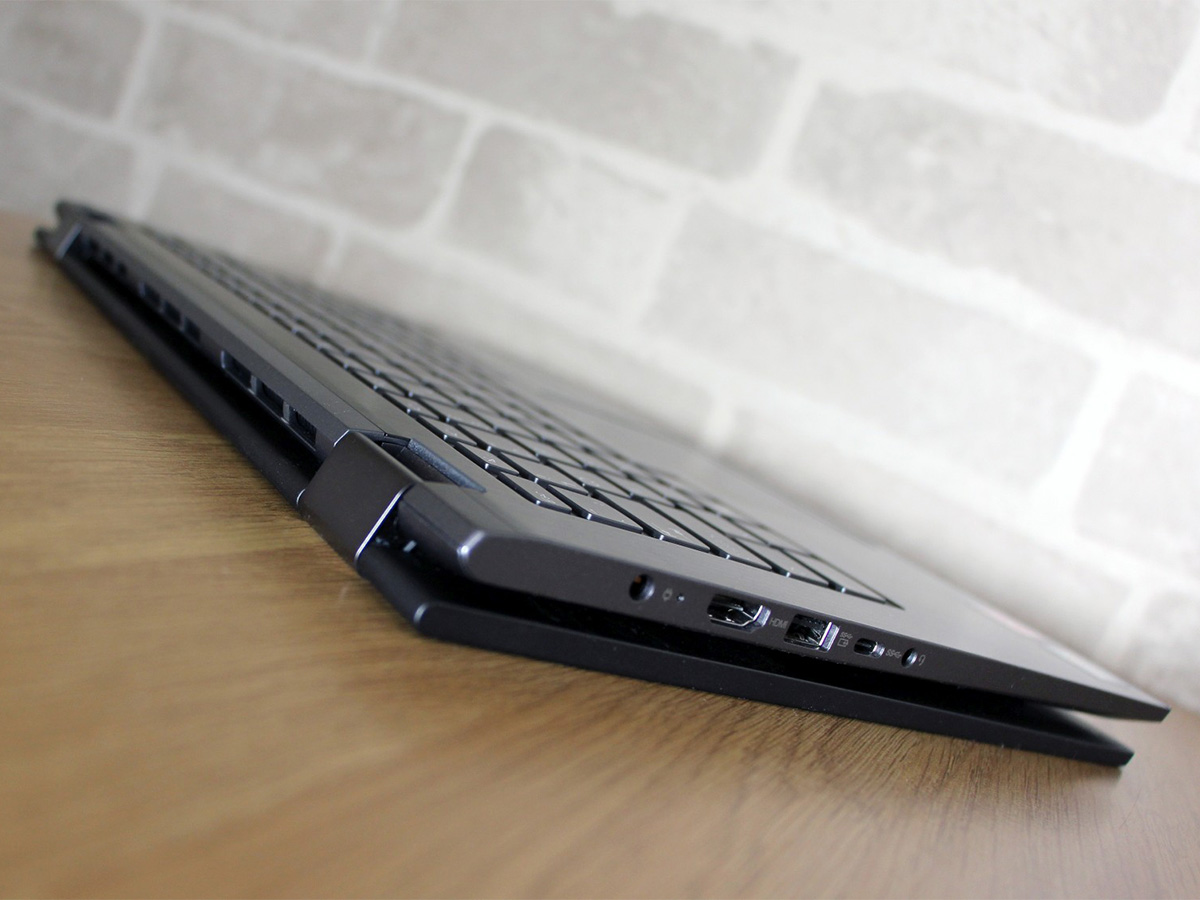 This version of the Yoga 530 is powered an AMD Ryzen 7 2700U – rather than more familiar Intel hardware.
The processing portion of the chip has four multi-threaded cores that peak at 3.8GHz. It's solid, but the Yoga's rivals include Intel Core i5 and Core i7 chips that are better when it comes to applications and multi-tasking. Benchmarks bore this out.
In the popular Geekbench single- and multi-core tests the Yoga scored 3,360 and 7,504 points.
They're reasonable scores, but a current-generation Core i5 chip – the ones used in the Acer and Microsoft machines – is around 800 points faster in the former test and nearly twice as quick in the latter. Core i7 parts will be faster and will have more cores.
Intel's chips have more pure application pace. However, the AMD hardware is not slow, and the Yoga never struggled with multi-tasking, web browsing and Office applications. It's perfectly acceptable as a general-purpose machine.
Pleasingly, the AMD chip's in-built Vega 10 graphics chip easily outpaces Intel's equivalents. The Vega core scored 1,856 in the 3D Mark Fire Strike test – twice as quick as Intel's Ultra HD 620 graphics.
Don't expect Vega to compete with low-end discrete cores like the Nvidia GeForce MX150 or GTX 1050, though. You'll find those in laptops at this price, and they're at least twice as quick as Vega 10.
The Vega's modest specification means it won't play top single-player games. However, it'll easily handle older games, casual titles and plenty of esports options.
Battery life is only middling. In an application test we got just over seven hours of longevity, but that will decline if you push the components.
The Yoga won't run out of juice quickly, but it won't handle a full day of work.
Keyboard & Touchpad: Comfortably quiet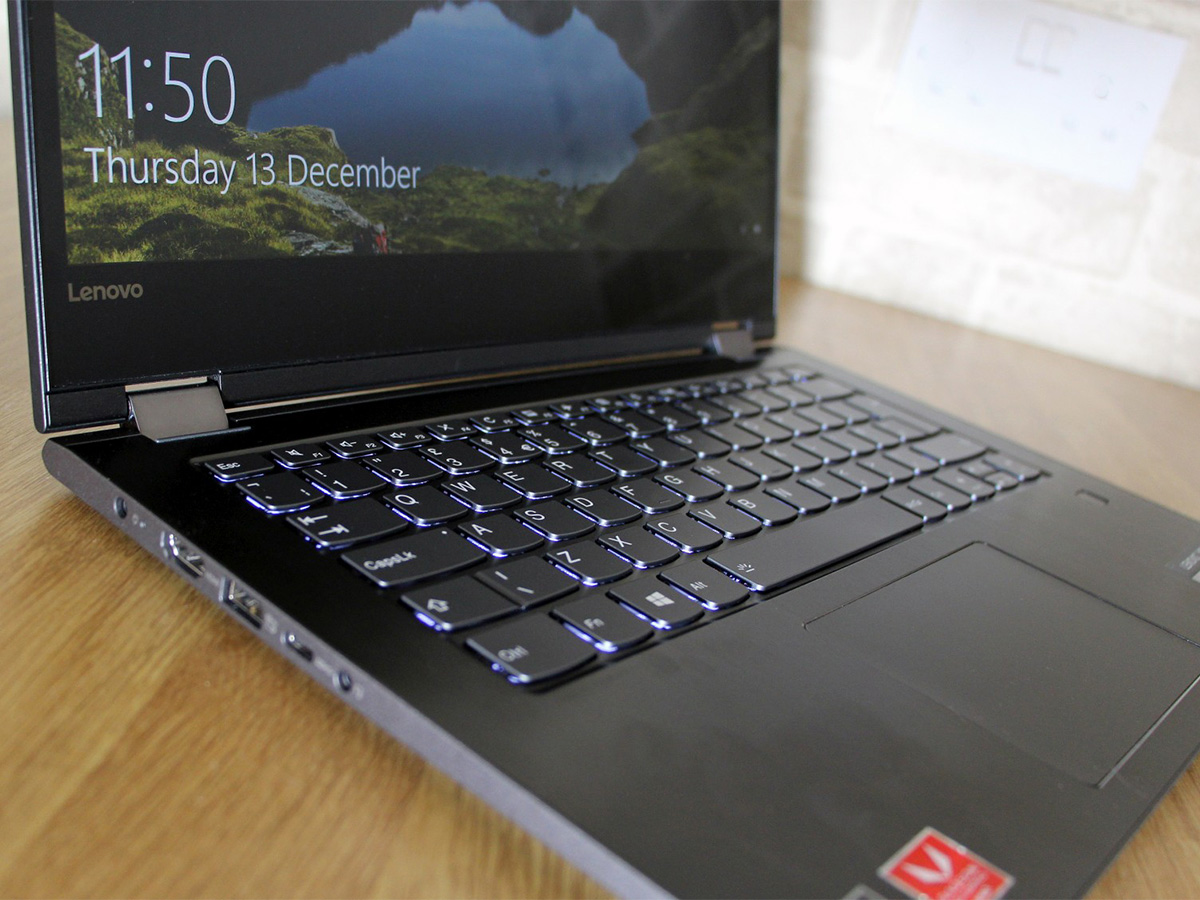 The Yoga is kitted out with normal chiclet keyboard. It's got slightly concave keys, and a white backlight with two levels of brightness – but there's no room for a numberpad.
The keys are quiet and comfortable, and they have a normal amount of travel – so it's easy to hammer through work on this machine with no major issues.
However, the keys don't have the crisp snap of the best work keyboards – so you may wish to look elsewhere if you're after something more clinical.
The trackpad is fine, with a large and accurate surface and two snappy in-built buttons. You also get a fingerprint reader on the right-hand side.
Lenovo Yoga 530 Verdict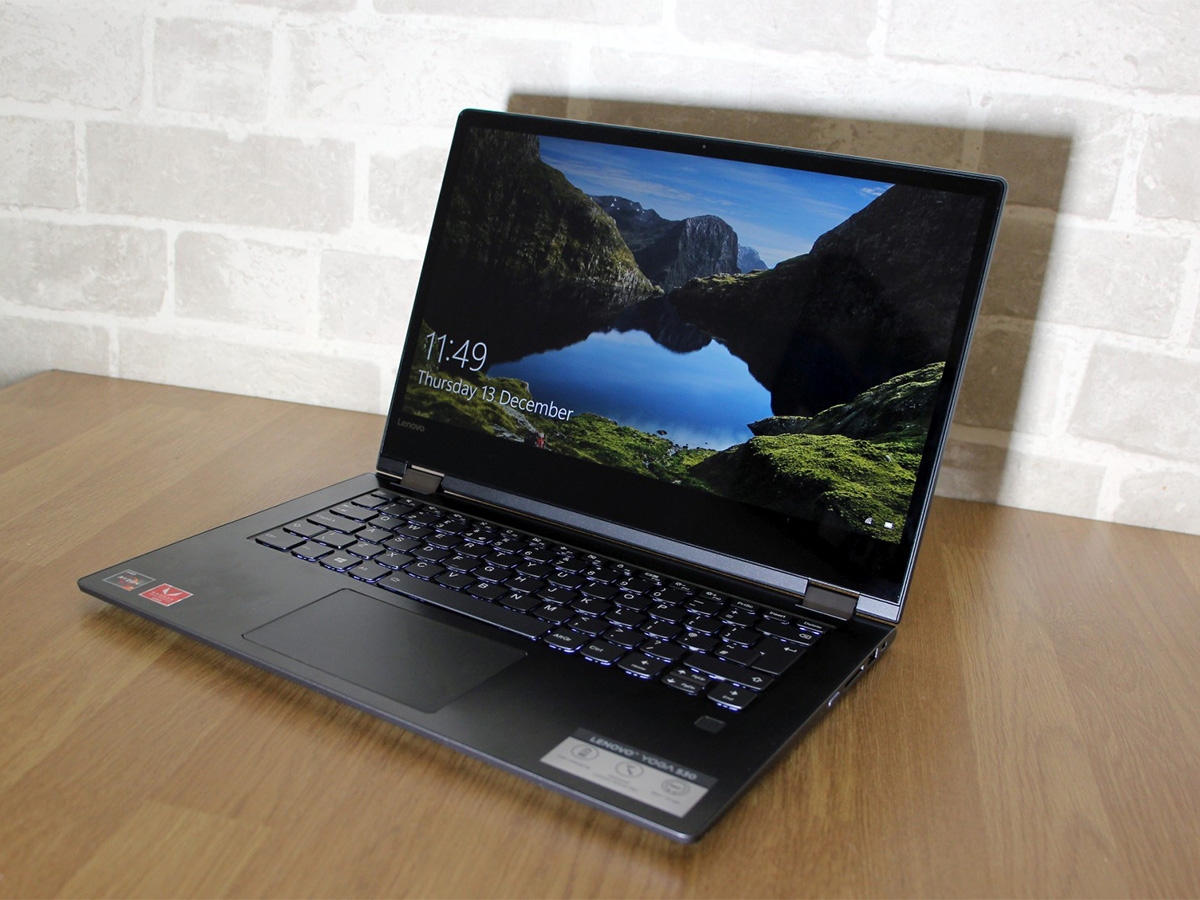 The Lenovo Yoga 530 is a capable and well-balanced convertible, but it has a couple of issues – and no areas where it truly stands out.
Its exterior design is fine as a laptop and a tablet, but it's a little bland and build quality could be better. The keyboard is acceptable, too, but it's a bit soft, and the screen is disappointing – and only capable of handling basic tasks.
On the inside, the AMD chip is fine for general-purpose computing and better than Intel's hardware for gaming, but battery life isn't brilliant.
The Lenovo Yoga 530 is a reasonable mid-range option for conventional computing – from media and work to web browsing and low-end gaming. However, be aware that rivals are better in some areas, especially when it comes to screen quality and application power.
Tech specs
| | |
| --- | --- |
| Screen | 14in, 1,920 x 1,080 |
| IPS touchscreen CPU | 2.2GHz AMD Ryzen 7 2700U |
| Memory | 8GB |
| GPU | AMD Radeon RX Vega 10 |
| Storage | 256GB Hynix SSD |
| Operating System | Windows 10 |
| Home Connectivity | 2 x USB 30, 1 x USB Type-C, 1 x HDMI, 1 x SD card reader, 2 x audio |
| Battery Life | 7 hours |
| Dimensions | 328 x 229 x 18mm, 1.6kg |
Stuff Says…
The Lenovo Yoga 530 has solid design and reasonable AMD-powered performance, but it doesn't stand out in any particular area and has a disappointing screen
Good Stuff
Reasonable processing power
Intel-beating GPU speeds
Smart
Comfortable keyboard, versatile exterior
Bad Stuff
Dull, disappointing screen
Underwhelming battery life
Intel has better CPU speed