LG OLED55C8PLA review
This LG OLED proves that brainier is better...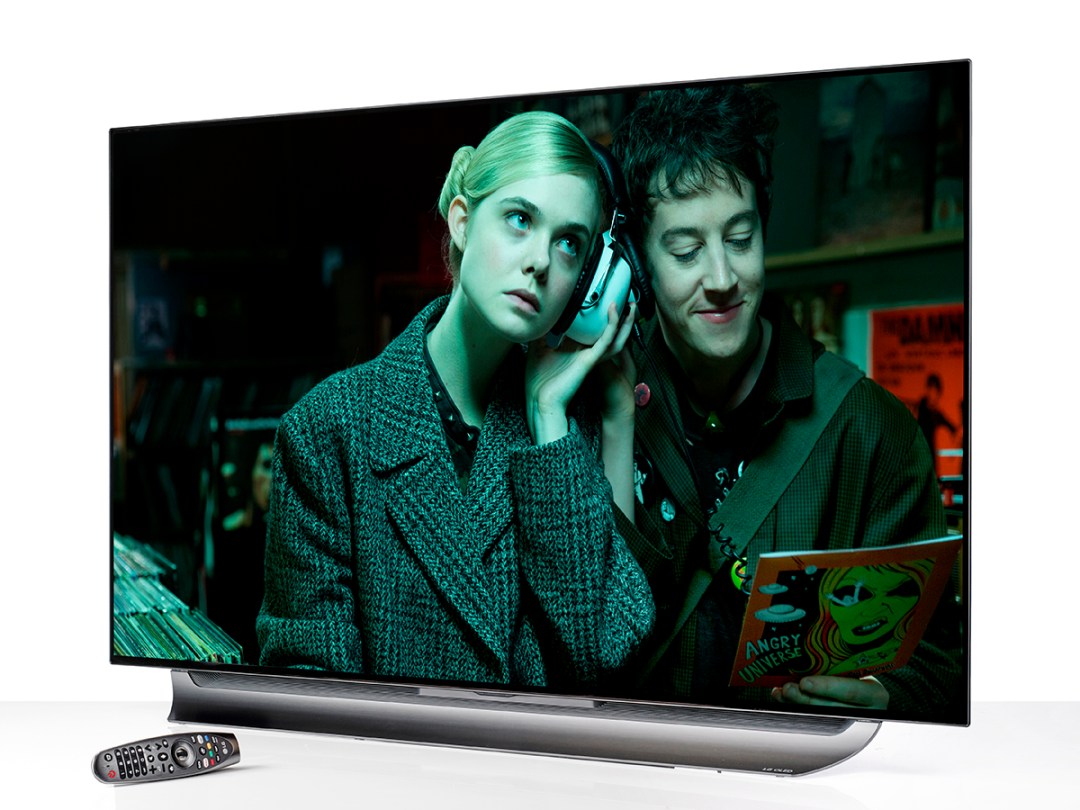 LG is the current king of TV Land, not simply because it makes some of the best tellies around, but also because it supplies all of the OLED panels for other manufacturer's models.
The superb Sony A1 and fabulous Philips 55POS9002; neither would exist without LG's hardware.
But the ceaseless churn of new TVs means even a lead as substantial as LG's can be overturned, particularly when you look at the strides being made by Samsung's QLEDs this year.
It's interesting, then, that the improvements LG's brought to its 2018 OLEDs are focused not on the panel itself, but on the processor that drives it.
It's a risky strategy, and one that's resulted in only relatively subtle improvements. But add them together and factor in the strength of its predecessor, and it's little wonder that the new C8, reviewed here in 55in form, is still a belter of a telly.
Features: engage brain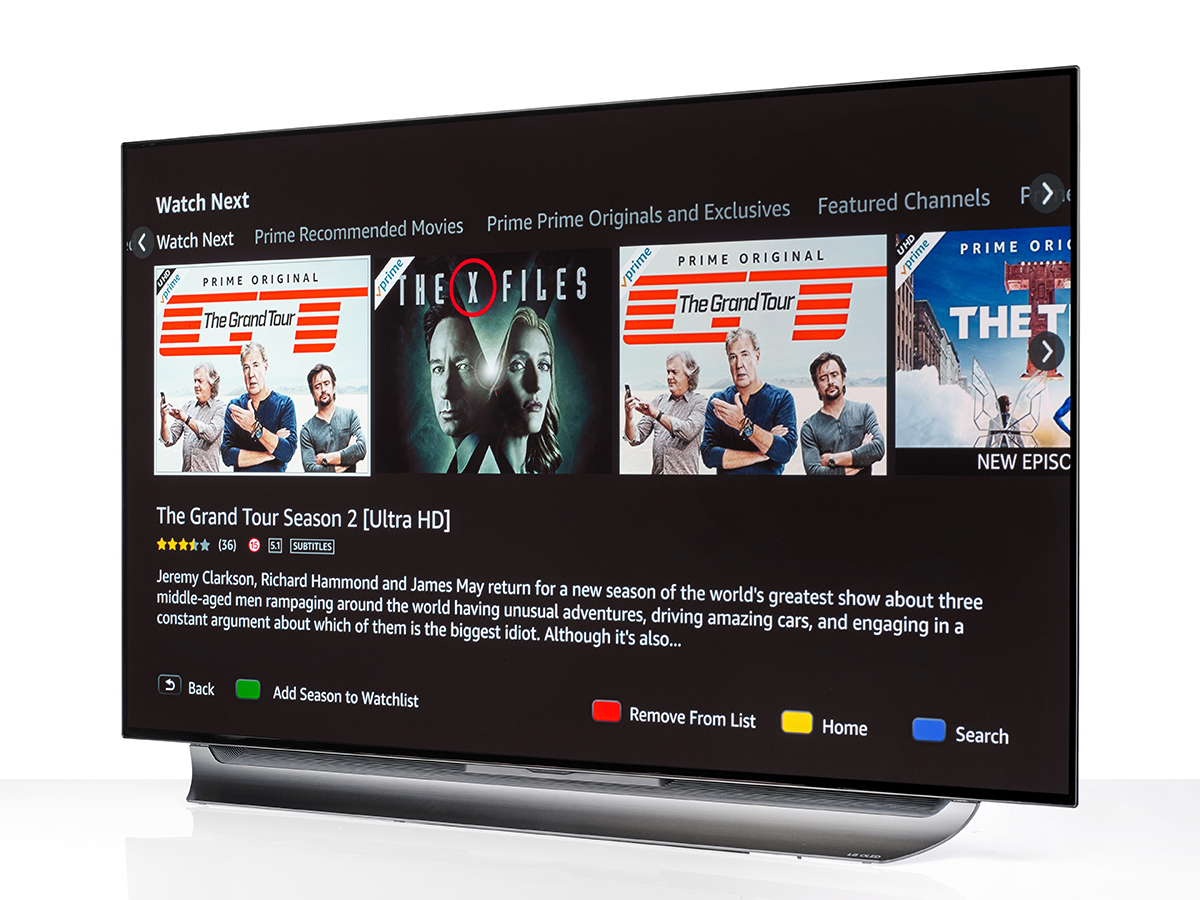 LG's 2017 OLED range consisted of five different models, each available at two sizes, but every one of them had the same picture performance – spending more money would get you a snazzier design and a speaker upgrade, but not an improved display.
This year things are almost, but not quite, the same. That's because this year's B-series model, the B8, does without the Alpha 9 processor that LG is pinning the majority of its 2018 hopes upon.
All of which means that if you want the best picture LG has to offer in the most affordable package possible, this TV is it. We've not yet reviewed the B8, and for all we know it could turn out to be the pick of the range, but the Alpha 9 certainly sounds on paper to be worth the extra £500 it commands.
A four-part noise-reduction system, frequency-based image-sharpening, object-based contrast enhancement and adaptive colour mapping are all on the menu. The TV can even apply dynamic metadata to HDR formats that natively carry only static metadata, resulting in features that LG calls HDR10 Pro and HLG Pro.
Every one of the company's 2018 OLEDs can also handle High Frame Rate (HFR) signals, although that's more of a feature for the future than something you're likely to be taking advantage of immediately.
Still, this is undeniably the sum of LG's most advanced picture processing, and that should be a cause for serious excitement.
Design: the height of fashion
There's only so much that can be done to make a TV look pretty; they are essentially big, flat slabs of screen after all.
LG should be applauded, then, for coming up with a design that's not only a big step up from the model it replaces, but actually stylish enough to attract comments from everyone who saw the TV during our test.
It's not really the super-slimness of the panel itself, either, as we're already quite accustomed to that. It's the elegance of the pedestal stand, which features a ribbed funnel beneath the speakers that looks rather like the wide grille of a sports car.
Those speakers and the TV's connections (four HDMIs, three USBs, aerial, satellite, optical and headphone) necessitate a protrusion on the back of the panel, making the TV 4.7cm at its thickest point, but this is currently the norm for all OLEDs except for LG's top of the range "Wallpaper" models.
Picture: a punchier OLED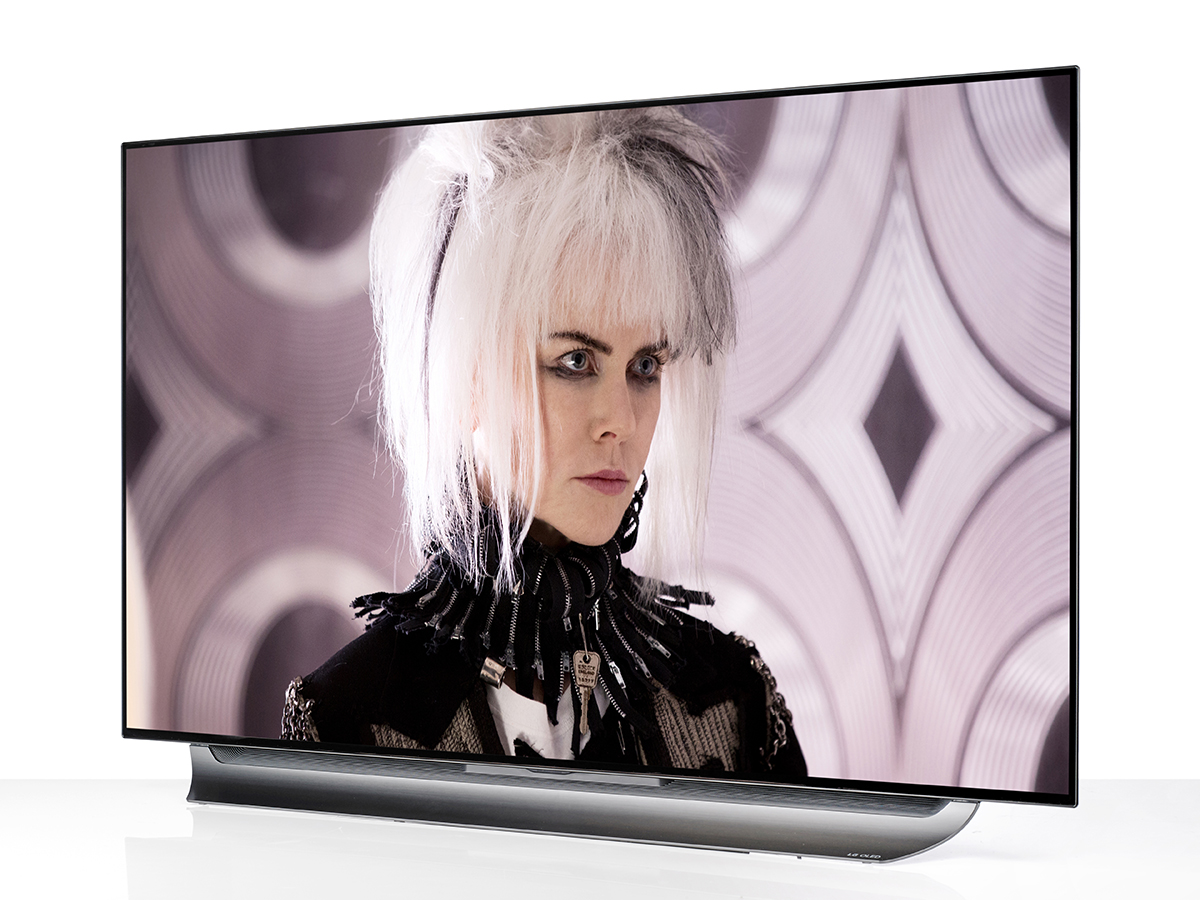 Given LG's focus on picture processing features for this year, it's interesting that so many of them need to be turned off to get the C8 looking its best.
As an example, the object-based contrast enhancement and adaptive colour features are both only activated when you select the Vivid mode but, having spent a lot of time using and tweaking this preset, I've had to conclude that it's rather rubbish.
Brightness at the expense of black depth and over-saturated colours mean we'd recommend you avoid Vivid mode altogether and instead use Cinema Home for HDR content and Standard for everything else.
You'll find some extra picture setting suggestions below. With so much of its picture processing turned off, the C8 presumably performs just like its predecessor, right? Wrong. This is a markedly sharper, more detailed and punchier picture than that offered by LG's 2017 OLEDs, even without Vivid mode active.
Play Planet Earth II on 4K Blu-ray and you get purer, brighter snow, more detail in the rocky mountains and fluffier, more three-dimensional clouds. Reds and oranges are rich and vibrant, the greens of the rainforest are vivid and lush, and the green and blue hues of the ocean surrounding an island are varied and enticing.
The Dynamic Tone Mapping is playing a part here, adding dynamic metadata to the HDR10 signal. Certainly there's a drop in punch and vibrancy with that setting switched off. But the LG C8, like last year's models, also supports true dynamic metadata via Dolby Vision, and in most cases this results in even greater contrast and colours.
The C8 still can't match Samsung's Q9FN QLED for brightness and vibrancy, but for an OLED it's exceptionally punchy – more so than the Sony A1 and Philips 55POS9002, in fact – and the way it combines that with subtlety and realism makes the feat all the more impressive.
The only real picture disappointment is the C8's motion processing. Any level of processing seems to add an element of unrealism or artefacting, so as far as we're concerned TruMotion is best switched off entirely, even though that results in a bit of judder and blur.
Sony has always done this sort of thing a lot better, and Samsung has taken a big step forward this year, so LG really needs to improve.
Where LG is still leaps and bounds ahead of all of its rivals is in upscaling. If you still watch a lot of DVDs and standard-def telly, the C8 will give you a better image than you'd previously have thought possible.
Consider that the TV is essentially inventing three-quarters of the picture, and the smoothness, detail and cleanliness of the image is downright miraculous. The TV works much of that same magic with 1080p signals, resulting in a supremely controlled picture.
It takes a more subtle, subdued approach than that of many rivals, but the depth and detail of its blacks, realism of its colours and crisply defined edges make for a really accomplished, natural performance.
Gamers have much to celebrate here, too. True, some may prefer the outright punch and ridiculously low input lag of the Samsung Q9FN, but the LG's black performance and focus on realism make it a great choice for the grittier style of the majority of recent blockbusters, from God of War to Far Gry 5, and its input lag of just 21.4ms means it's still superby fast.
I've bought one! Which picture settings should I go for?
As mentioned above, we recommend the Cinema Home mode for HDR content and Standard mode for pretty much everything else, and both of these presets require only a little tweaking to look their best.
For Cinema Home (which you should only adjust while you're feeding the TV an HDR signal) we suggest you up the Sharpness by around 10 points, move the Colour Temperature gauge to somewhere near the middle and turn off both of the noise reduction features.
There's no perfect TruMotion setting either, as we've discussed, so you'll want to experiment with that and make a selection based on personal preference.
To the Standard mode we suggest only very slight adjustments to the Contrast and Brightness, a Colour Temperature setting more towards the middle, and that the Super Resolution and noise reduction options be switched off.
Apply your preferred TruMotion setting here, too. Oh, and you'll want to turn off the set's Energy Saving mode.
Sound: not the upgrade we were hoping for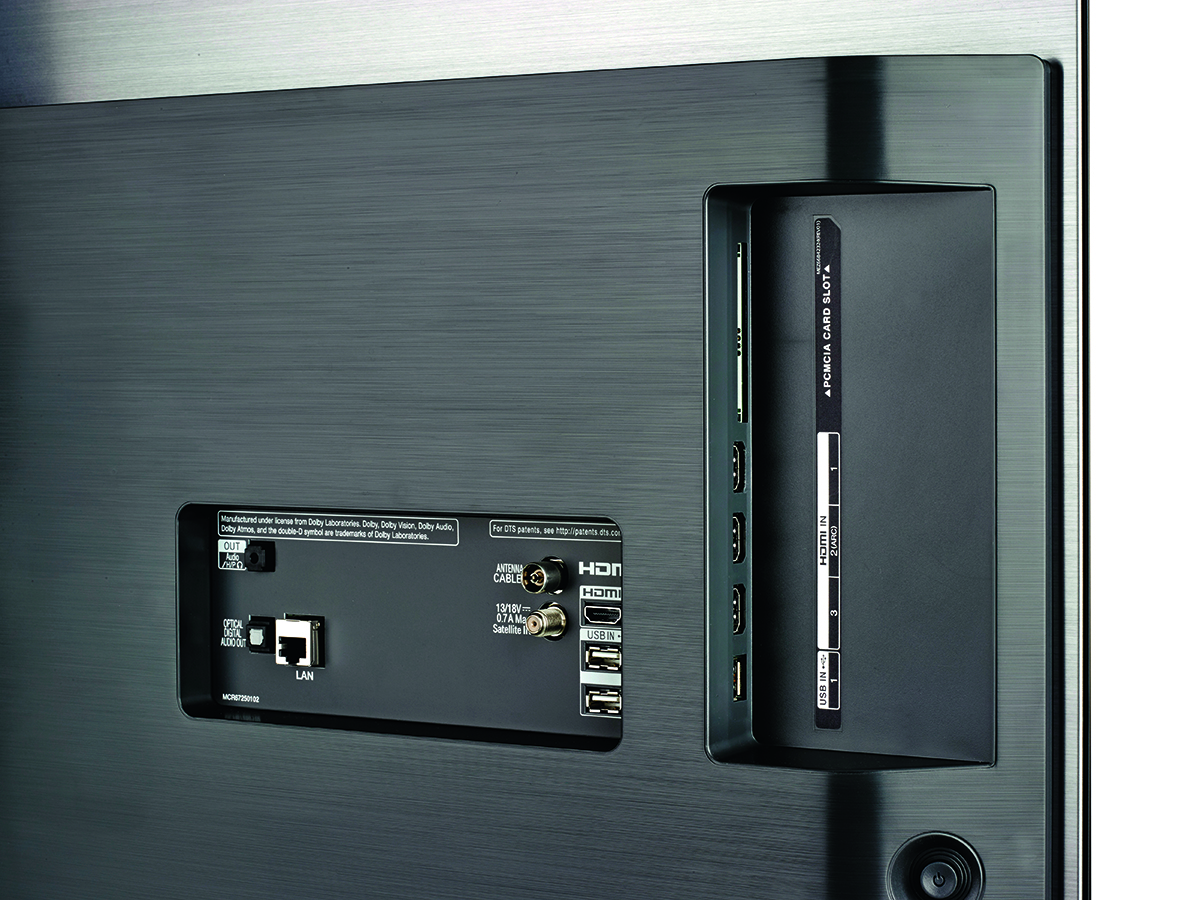 As with last year's models, LG's 2018 OLEDs all carry the Dolby Atmos logo, which might lead you to believe you'll be getting a rather cinematic sound. That really isn't the case.
Yes, there is an additional sense of spaciousness to the delivery, and that audio-funnelling maw does make everything sound a bit more direct than it did via the old C7. But it's a rather thin, bass-light delivery that, while perfectly adequate for everyday TV watching, doesn't have the muscle to do justice to a blockbuster film or game.
Both the Sony A1 and Samsung Q9FN sound better. But all of those TVs should really be partnered by a separate sound solution if you're at all serious about audio, and if that's the route you're going to go down perhaps it doesn't matter that the LG sounds a little weedy next to its main rivals.
Apps and usability: no changes necessary
webOS has barely changed for this year's TVs, but that's by no means a big problem. The customisable tab system is as pleasant as ever and the whole system is faster and more fluid on the C8 than it's ever been before.
LG already offered pretty much every significant app, so additions weren't really necessary. You get Netflix and Amazon in 4K HDR, of course, all of the catch-up services, on-demand movies from Google Play TV & Movies and Rakuten, and plenty more besides.
The Gallery feature, which essentially turns your TV into an art installation, makes a return with significantly more available pictures (46 compared to last year's 13). We can't see many buyers making more than very occasional use of Gallery, but it does look great in action.
The company's making lots of noise about its ThinQ AI, which combines with enhanced voice recognition to make controlling the TV with your voice smarter and more natural. It does work, and can certainly prove a useful shortcut to the odd picture setting ("turn on Game Mode", for example), but we haven't discovered a great many uses beyond that.
Siri on Apple TV has nothing to fear at this point.
LG OLED55C8PLA verdict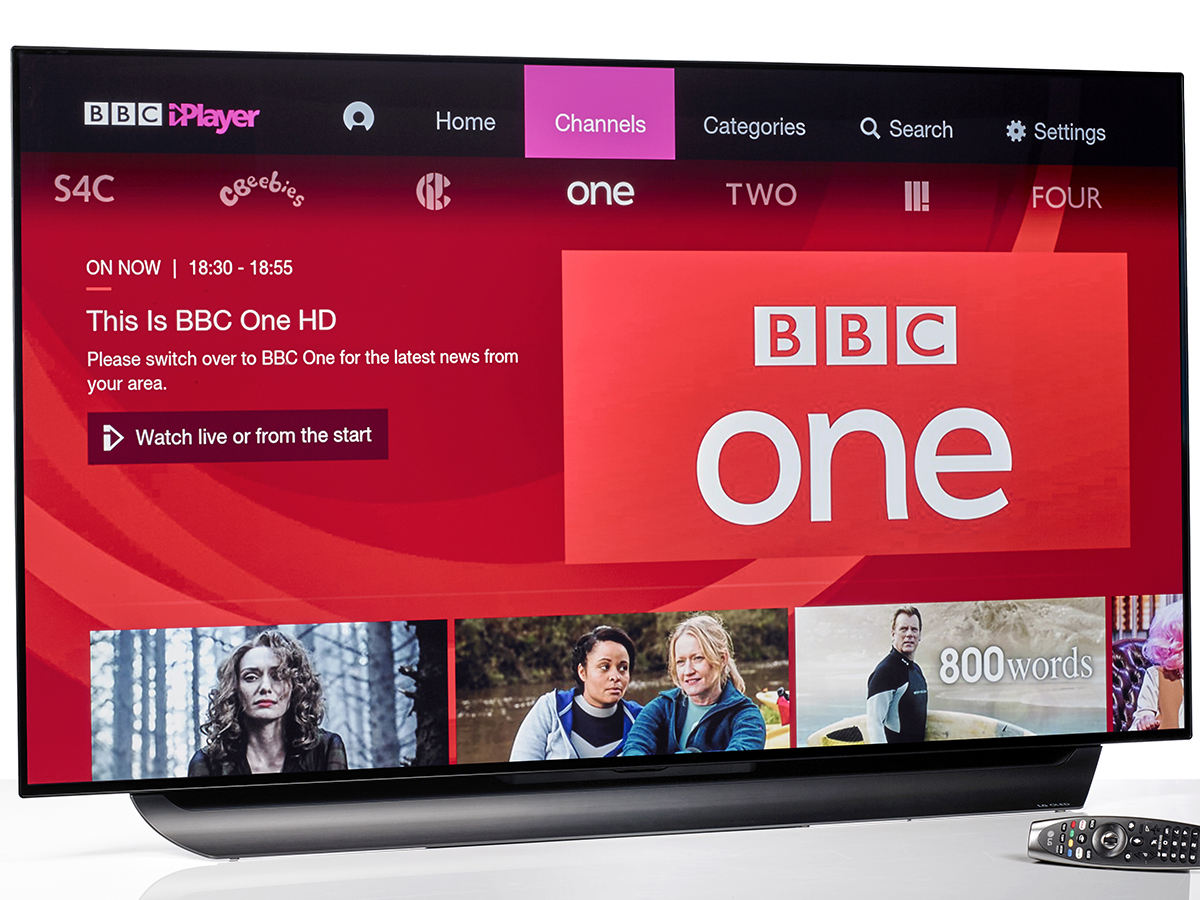 If you were hoping that the LG C8 would be a giant leap forward for OLED, you might be a little disappointed.
Instead, this is a TV full of individually small but collectively significant improvements. In short, the C8 is a little bit better than the TV it replaces in practically every way. And the TV it replaces was already a doozy.
There is a slight issue over price, though. At its just-launched price of £3000, the OLED55C8 is £500 more expensive than the now discounted Sony KD-55A1, and that's enough of a gap to swing things in Sony's favour.
The C8 is every bit the five-star telly, though, and with a slight drop in price could well turn out to be 2018's best.
Stuff Says…
Small, across-the-board improvements make this the best OLED yet
Good Stuff
The brightest and punchiest OLED has ever been
Brilliantly natural and subtle
Super-deep blacks now have more detail
Amazing upscaling
Super-stylish
Bad Stuff
Motion processing could be better
Mediocre sound for the money