LG OLED65E7V review
A TV so good you'll never want to stop watching it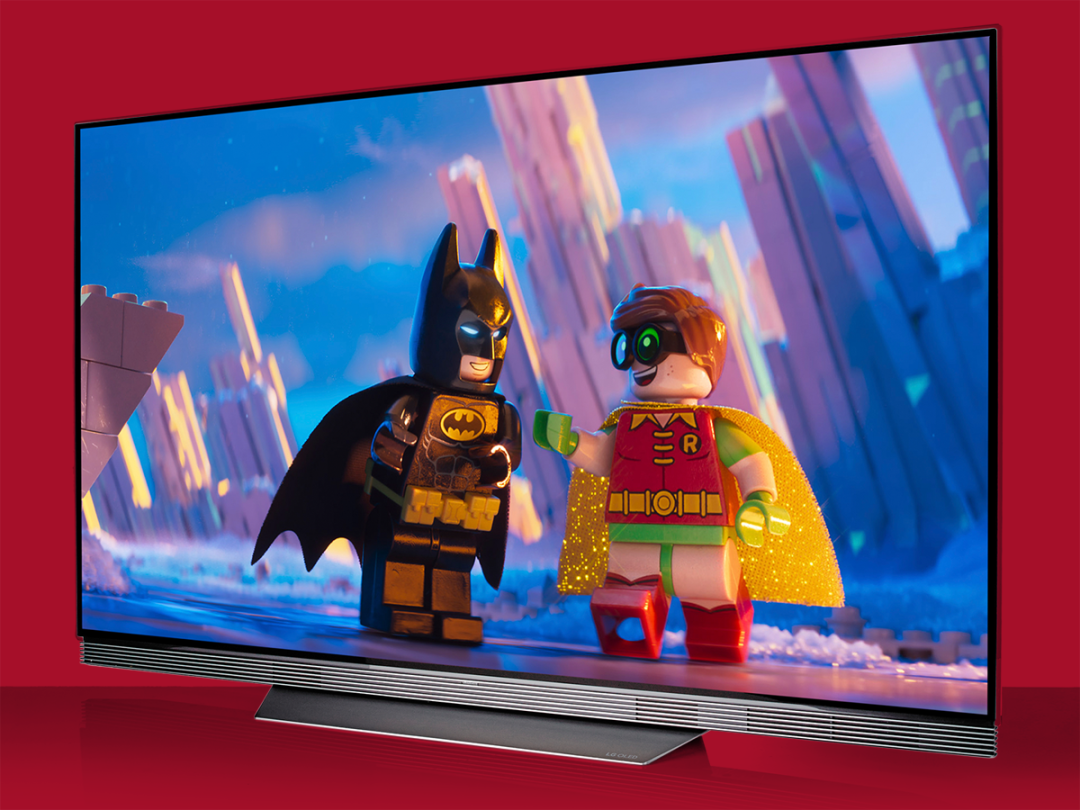 If you know anything about TV, then you'll know LG's OLEDs are a little bit good. In fact, they've been the most exciting thing to happen to telly for ages. At least until The Crystal Maze revival got announced.
This OLED65E7V sits slap-bang-in-the-middle of LG's line-up of new TVs for 2017. So while it's cheaper than the blockbuster W7 Wallpaper, it's still a pricey bit of kit. And because it has exactly the same panel and picture processing features and tech as all LG's other OLEDs for the year, that means it's an extremely impressive TV in its own right.
Trouble is, LG's not the only OLED maker in town anymore. Sony, Panasonic and Philips are all set to serve up those sweet, deep blacks and awesome contrasts levels with their own new OLEDs, while Samsung is forging its own course with QLED. Despite all this fresh competition, the E7 indicates LG isn't about to cede its crown anytime soon.
LG OLED65E7V design: a stone-cold stunner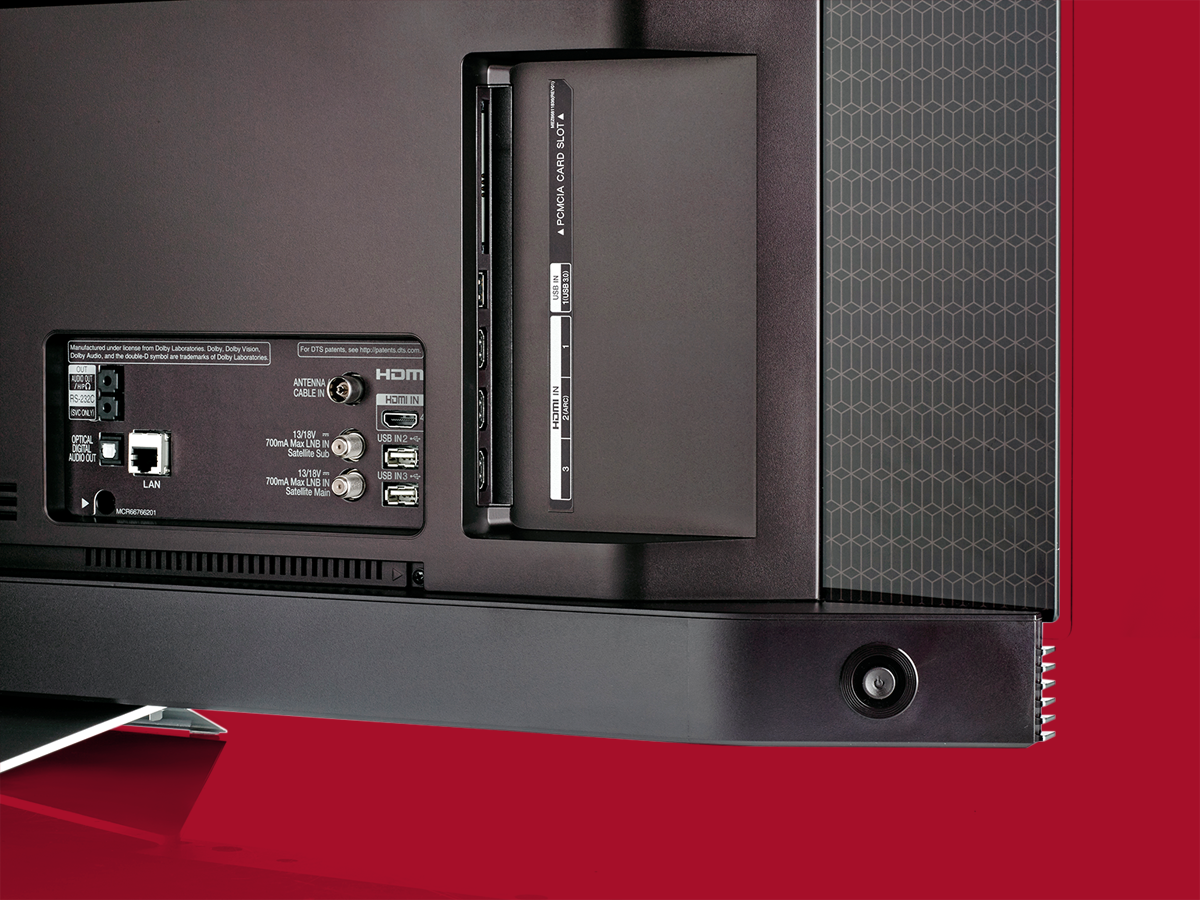 Since LG's five new OLED models, each available in two sizes, all have the same panel and tech, the idea is that you choose which LG OLED to buy based on its styling, its speaker solution and, of course, its price.
So while this 65in E7 isn't quite as thin as the 2.57mm Wallpaper OLED, it still cuts an amazingly slimline figure. The screen is surrounded by a thin black frame and the whole thing floats on a glass edge. This section of the TV is only around half a centimetre thick, but the screen itself is attached to a built-in Dolby Atmos-capable soundbar that should save you having to spend extra on superior audio for your telly. That means the set isn't super-slim all over, but the connections do have to go somewhere.
As with all of LG's OLEDs, the E7 is a stunning bit of kit that oozes class. Sony's picture frame stand for its A1 OLED range has a tad more wow factor, but you can't sit a soundbar in front of those TVs without blocking off a chunk of their screen.
So it's swings and roundabouts really, and this LG is more than impressive enough to have your most tenuous of acquaintances inviting themselves over whenever the footie is on.
LG OLED65E7V picture: awesome as ever
On to the important stuff then, and straight out of the box this OLED is a banger. You'll probably want to switch from the pre-selected Eco picture mode to Standard for most of your viewing, but few further tweaks are required unless you're a stickler for your own pictorial preferences. From 4K HDR to standard def, the E7 proves itself a trusty purveyor of top notch telly. And Jeremy Kyle.
For all daytime ITV's undoubted qualities, it's not the kind of output you want to test the E7 with. Marco Polo in 4K HDR? Now we're talking. It might not be classic television, but there are few better shows for making the most out of an OLED.
The lantern scene towards the end of the first episode plays right into its hands with an array of floating lights against a pitch black sky, and here the E7 is clearly an improvement on last year's sets. That's thanks to a 25% increase in peak brightness and a boost in detail. So not only do the lanterns stand out more brightly than ever against the entirely uniform blackness of the night sky, they also glow more naturally. It's a gorgeous scene to stare at, and one that really shows OLED's superiority over backlit LCD sets from Samsung and the like, which just can't achieve the same crisp blacks.
When it comes to High Dynamic Range (the telly tech that allows for awesome contrast), this E7 is future-proofed to the hilt. It supports all four major formats to have been announced so far – HDR10, Dolby Vision, Advanced HDR by Technicolor, Hybrid-Log Gamma – and that means you'll be sorted for both future seasons of Stranger Things and World Cup finals.
Even if you've got ridiculously fast broadband for 4K streaming, are the proud owner of a PS4 Pro and are signed up to either Sky Q or BT TV, you'll probably still end up watching a bucketload of full HD telly on the E7. As you'd expect, this LG has your back.
Play The Revenant on Blu-ray and the faces of the frontiersmen are rendered in all of their craggy, battered, weather-worn glory, and the landscape is stunningly presented whether viewed up-close in the forest scenes or enjoyed in one of the many beautiful vistas. Even standard-def stuff is passable, with an impressive clarity and control considering the amount of upscaling going on.
LG OLED65E7V sound: surprisingly good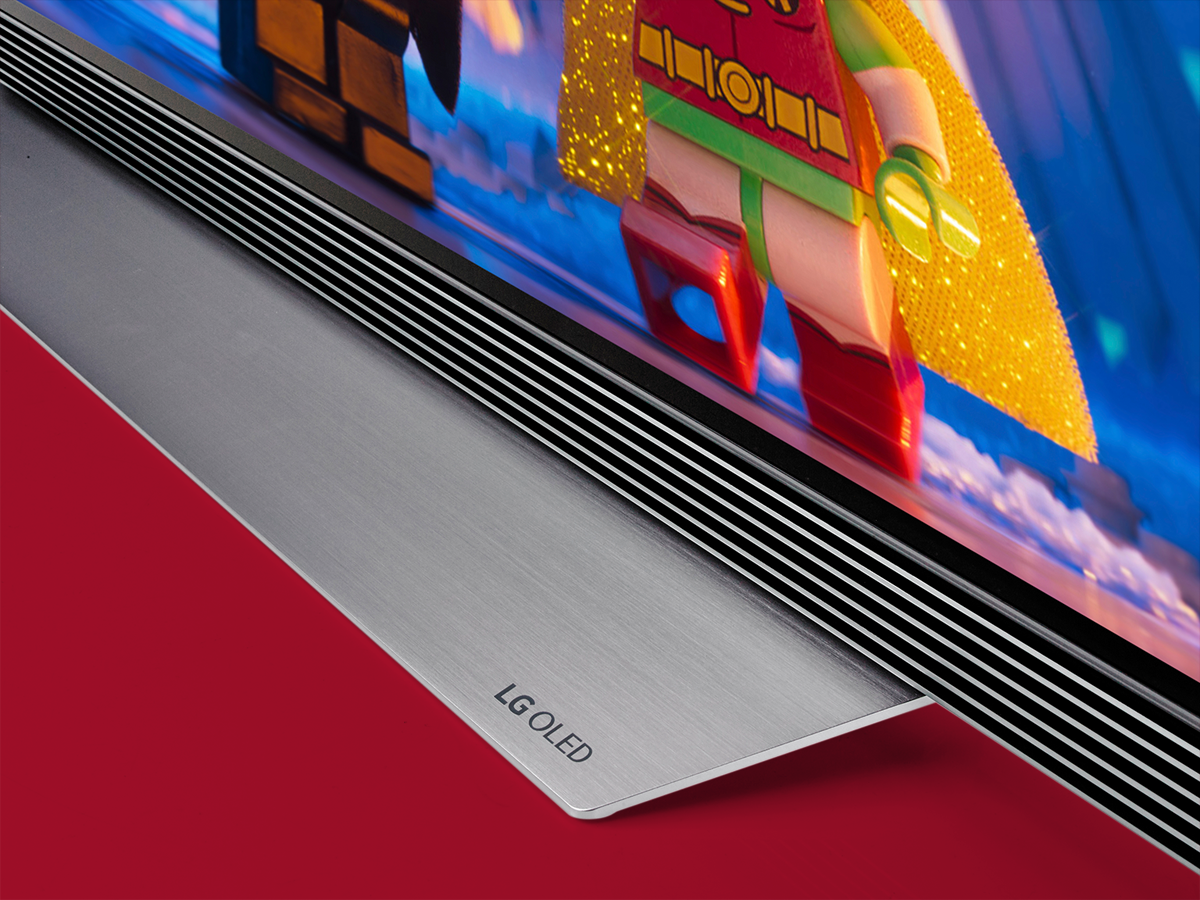 In theory, incorporating a soundbar into the E7's stand is a great call from LG. Most TVs these days are too thin to deliver a weighty enough audio performance. There's no point watching Mad Max: Fury Road in all its vicious glory if every shotgun blast sounds like a wet fart.
By giving this OLED a dedicated chunk of soundbar for itself, its delivery is significantly more convincing than that of many flatscreen TVs. It's a spacious, clear and solid sound by most standards. That said, we wouldn't get too carried away by its Dolby Atmos badge. Atmos is supposed to set a new standard for room-filling audio, putting you at the centre of a raucous Wembley stadium or superhero brawl, but the E7's setup at least is no alternative to a proper surround sound package.
Sorry, but if you really want the best possible audio to match your fancy new OLED you're still gonna need to spend extra.
LG OLED65E7V webOS 3.5: easy to use and stuffed with apps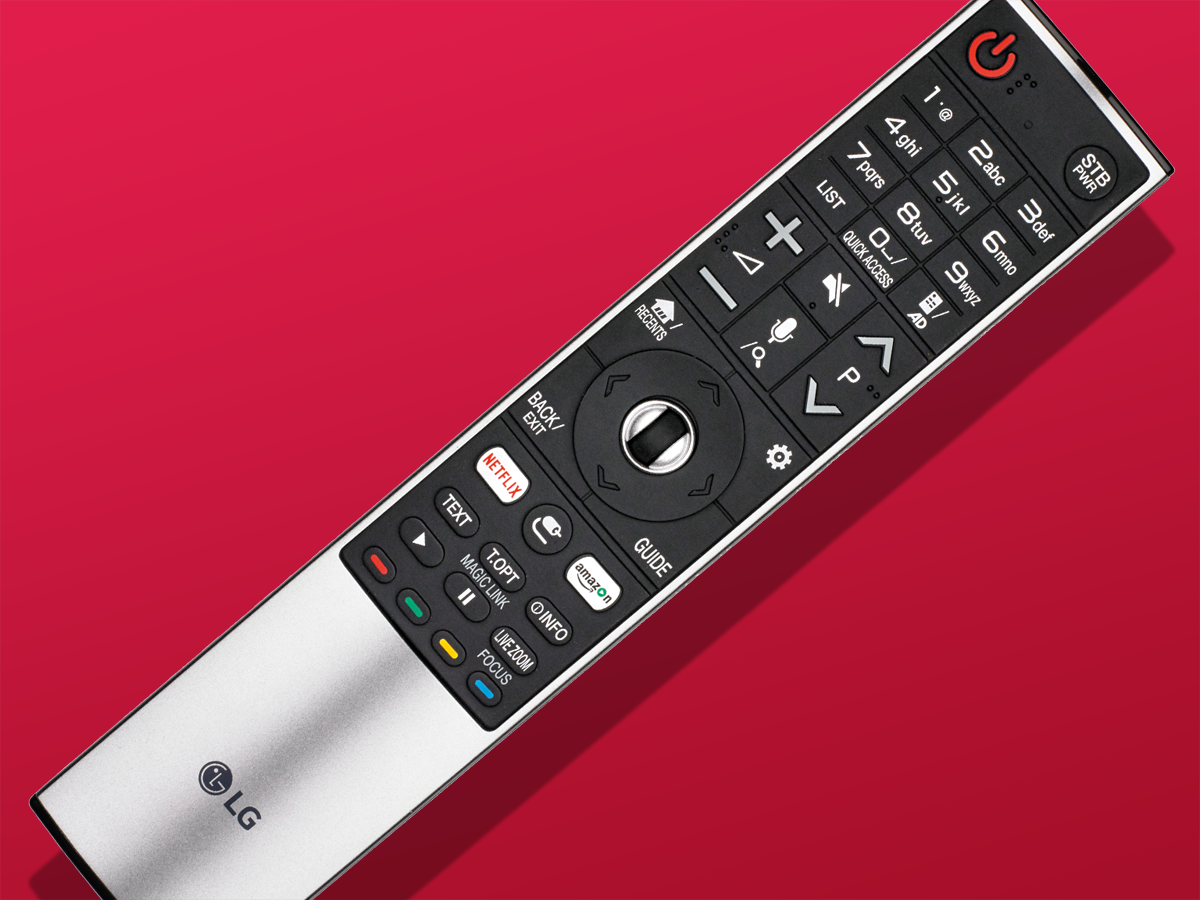 As with every other one of LG's 2017 smart TVs, the E7 is underpinned by the company's webOS 3.5 operating system. As the '.5' might suggest, this isn't a huge change from last year's version, but that's no great issue given that it's a clear and friendly system all-round. Sources, smart services and features all exist as colourful cards that can be rearranged, added and deleted as you see fit, and navigation is very snappy.
According to LG, this year's incarnation of the platform is 40% faster, so streaming the likes of of Netflix, Amazon Video, Now TV and catch up services via apps or Freeview Play is a cinch. You can even access Netflix and Amazon Video directly from this year's remote.
Speaking of which, the remote is an excellent clicker in general, combining the motion-sensing pointer skills of LG's existing Magic Remotes with a full suite of buttons in a smart and ergonomically sound size and shape. Basically, you can find what you want to watch with a minimum of fuss, and that's all that really matters.
LG OLED65E7V rivals: Samsung QLED and the rest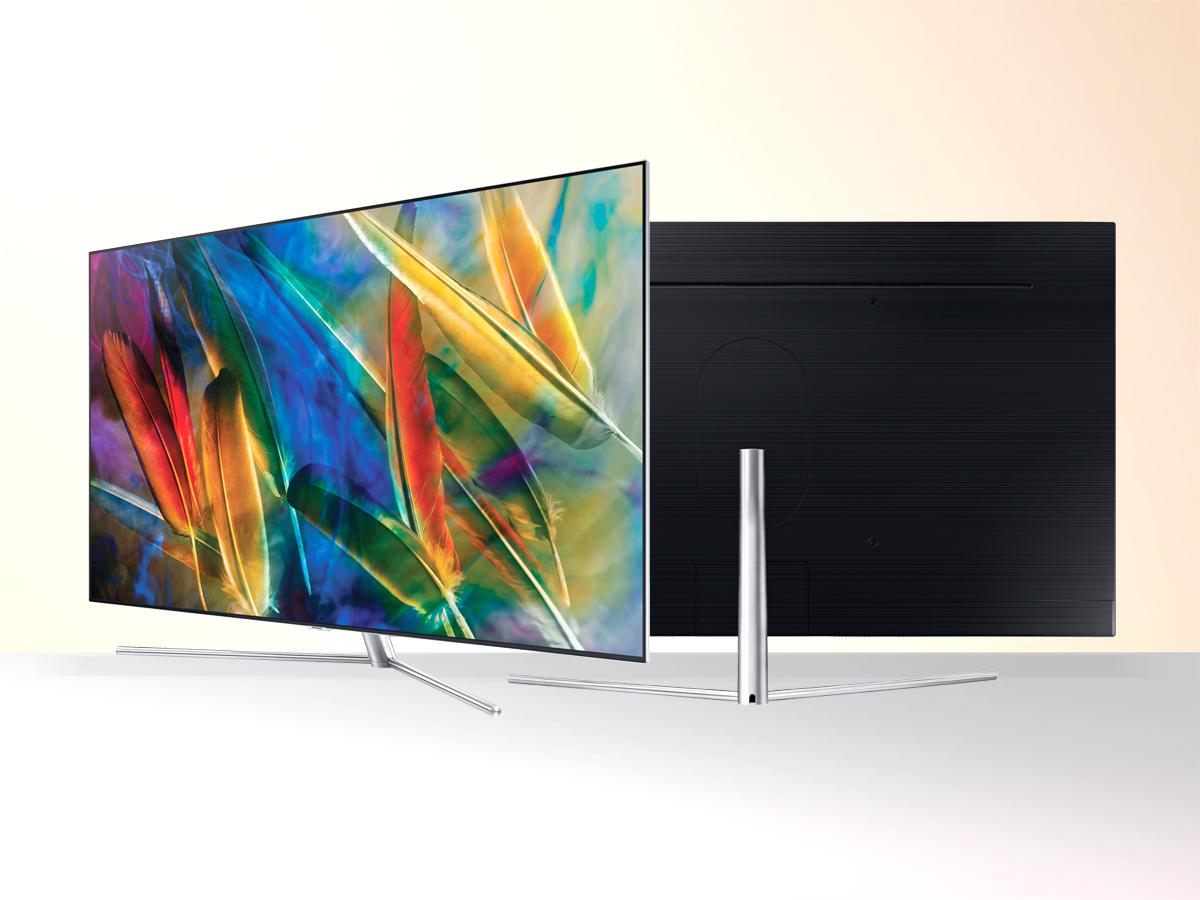 TVs are a tricky piece of tech to compare, as their performance tends to vary according to very fine margins such as their sizings, motion processing and the make-up of their panels. So while Sony, Panasonic and Philips are all releasing their own OLEDs for pretty much the first time this year, there's no guarantee that they'll come close to the performance of LG's own tellys. Especially since it's been running this particular show for about six years now.
Of this new crop, Sony's A1 OLED stands out by an absolute mile. Not only does Sony have an admiral pedigree in picture processing, but the A1's picture frame design and audio performance is totally unique. Instead of playing sound through a speaker system, it uses vibrations in its screen to recreate booming explosions and sweeping orchestral scenes. Sounds bonkers, right? Yes, and it's also totally brilliant.
We'll be reviewing the A1 OLED very soon, but what we've seen so far of it is extremely impressive. Also, the 65in A1 costs exactly the same amount as the LG E7 here, so they're pretty much like-for-like rivals.
That's not the case with Samsung's new QLED range of TVs, which still use older LCD panel tech. In a nutshell, this means QLED TVs are cheaper to buy than their OLED cousins and can produce a far greater peak brightness of 1500 nits. The downside? Contrast: since LCD TVs are backlit their blacks just aren't as deep or true as OLED tellys.
So although the QE49Q7F is still a five-star TV, you're probably better off spending less on a cheaper LCD set such as Sony's KD-49XE9005. Don't just take our word for it though, it's always worth heading down to your local electronics emporium to spot the difference yourself.
LG OLED65E7V verdict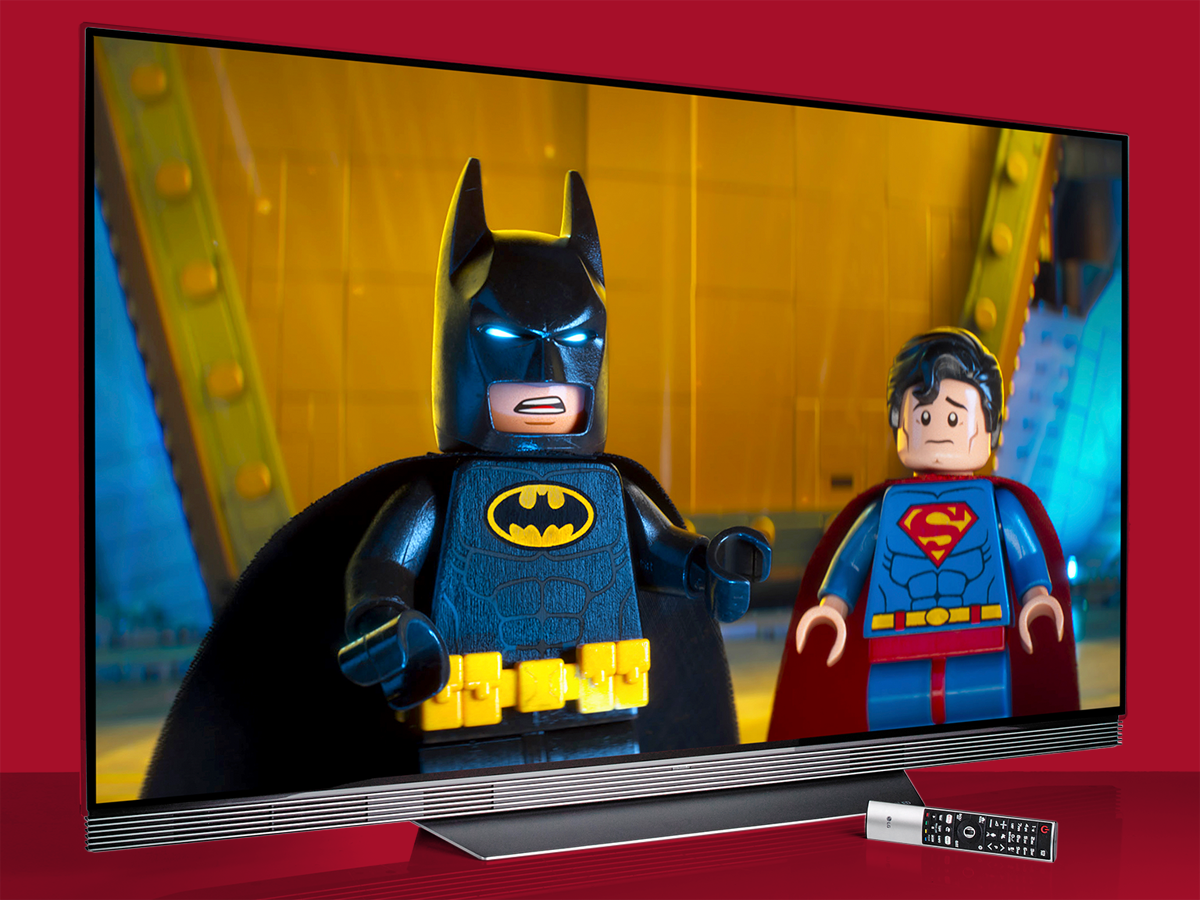 If you're absolutely sold on getting an LG OLED, then the E7 seems to hit that Goldilocks sweet spot. It's cheaper than the exorbitant W7 Wallpaper, while still serving up a triple treat of stylish design, awesome visuals and admirable sound. Essentially, you can buy this thing and not feel obliged to flesh it out with extra home cinema trappings. Sure, they'll make a difference, but they're not essential.
Got a surround sound system kicking around at home already? You'll probably be better off with the LG's cheaper soundbar-free B7 and C7 OLEDs.
For now, the E7 is the most impressive TV we've seen so far this year. It'll take a mighty fine OLED to knock this one off its perch.
Stuff Says…
Another knockout OLED from LG sets a high bar for TV in 2017
Good Stuff
Awesome OLED picture quality
Stunning slimline design
Built-in soundbar is good
Bad Stuff
Still need a separate system for best sound