LG Tone Free T90Q review: different, rather than better
No shortage of features for LG's latest in-ears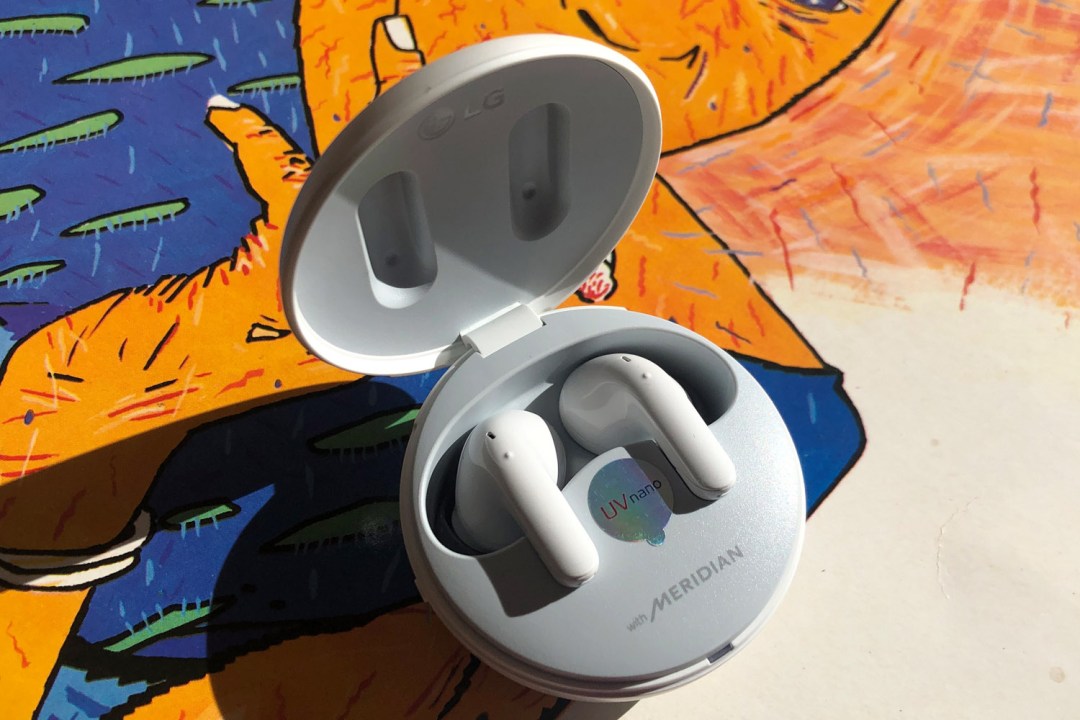 You can't argue with the reasoning behind the LG Tone Free T90Q. Differentiating one pair of true wireless earphones from another isn't easy – unless you decide to pile on the features to the point there's hardly space on the packaging to list them all. So for a chunky asking-price, LG will sell you a pair of true wireless earbuds with the biggest, most impressive specification around.
But while big, impressive spec is always better than little, unimpressive spec, it's not the be-all and end-all. Are the LG T90Q, in practice, any good?
Design and build: well I'll be white black
The LG Tone Free T90Q are available in black or white, and they're of the 'long stem' type originated by Apple and imitated by any number of brands ever since. As is the LG way they're properly built, from high-quality, glossy and actually quite tactile plastic, and thanks to three different sizes of medical-grade silicone eartips they'll fit pretty much any ear.
At 28x22x25mm and a touch over 5g, the earbuds themselves are small enough and light enough to wear for hours on end without difficulty. The charging case in which they travel (and charge, obviously) is an equally discreet and manageable 55x55x30mm and 39g – it'll fit easily in the palm of your hand or in even quite a snug pocket.
Features: all-around surround sound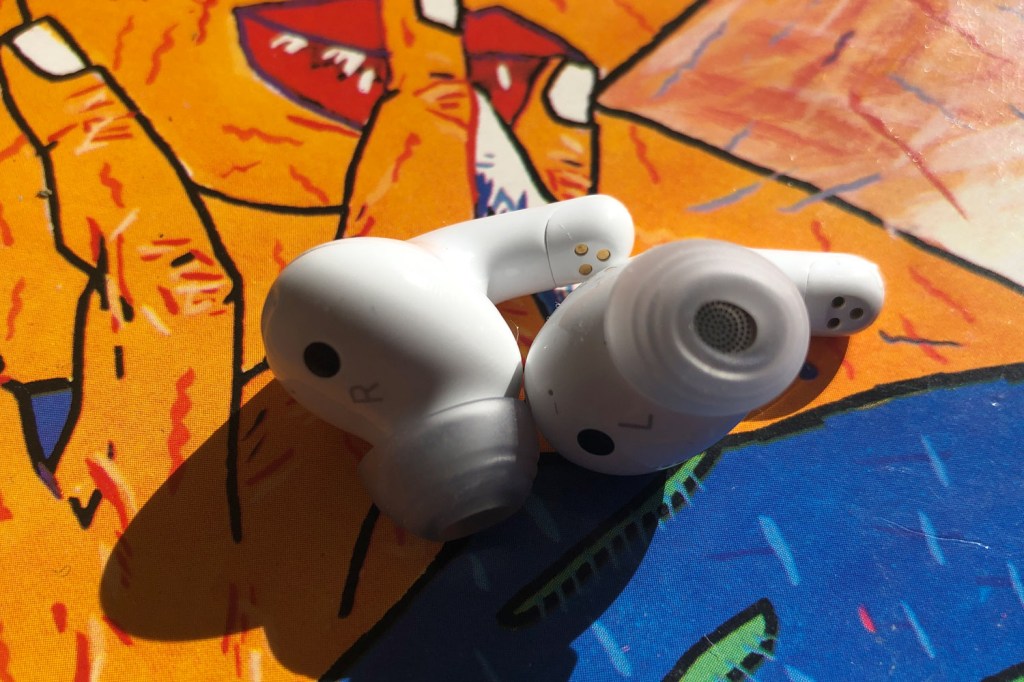 Strap in, people – here's where the T90Q stop being just another pair of true wireless earbuds and start looking a more singular proposition.
These are LG's first true wireless earbuds with Dolby Atmos spatial audio and Dolby head-tracking. They connect wirelessly via Bluetooth 5.3 and support the SBC, AAC and aptX Adaptive codecs. There are a number of EQ presets, all devised by UK hi-fi hero Meridian. Sound is delivered by a couple of oversized (11mm) full-range Graphene dynamic drivers.
There's adaptive active noise-cancellation, multi-point wireless connectivity, and the charging case can also function as a Bluetooth transmitter – so if you connect a source with a headphone output to the case's USB-C socket, that source becomes a wireless source. When the earbuds are shut in the case, its integrated UV-C lighting kills 99.9% of the bacteria on them inside five minutes. And when they're not, an IPX4 rating means they'll stand up to realistic amounts of moisture.
Battery life is a respectable nine hours with ANC off, dropping to more like five if it's switched on, and the case has a little over three full charges in it. A five-minute charge is good for an hour of action, and the T90Q are compatible with Qi-certified wireless charging plus fast charging too.
If that's not enough to be going on with, well, you're harder to impress than I am.
Interface: keep your hands to yourself
Just as with the headline specification, LG has rather gone to town with its 'Tone Free' control app. As well as the Meridian-curated EQ presets, the app features an eight-band equaliser, and you're able to save a couple of your custom settings. Here's where you can check out the Dolby Atmos-enabled Virtual Sound and Virtual Head-Tracking settings too, or decide on the sort of active noise-cancellation you'd like (on, when it adapts on the fly to your changing surroundings, off or ambient, which can be specified for conversation or listening).
What else? Well, it's also where you check for software updates, switch find my earbuds on or off (when it's on the 'buds will give a little chirp if you're trying to locate them), and have a look at the user manual. It's where you can run a quick test to make sure you've fitted the earbuds correctly into your ears. It's where you can rearrange the way the physical touch-controls on each earbud respond.
The app will even allow you to rearrange its long list of features so the stuff you use the most appears nearest the top of the page. Yet despite this arm-long list of functionality, the app is stable, reliable and simple to navigate. And the same can be said for the way the T90Q interact with your source player's native voice assistant – four mics per earbud handle call quality, ANC and your conversations with Google Assistant or Siri, and verbal instructions are acted on quickly and reliably.
Quick and reliable are not really words that apply to the touch controls here, though. The little bump that's home to the capacitive touch surface on each earbud is small, far from responsive and very easily confused. The app may allow you to customise the number of touches required to perform specific functions (play/pause, volume, select ANC, call controls and track skip are available), but it can't do anything to help you get what you think you've asked for.
Performance: the big sound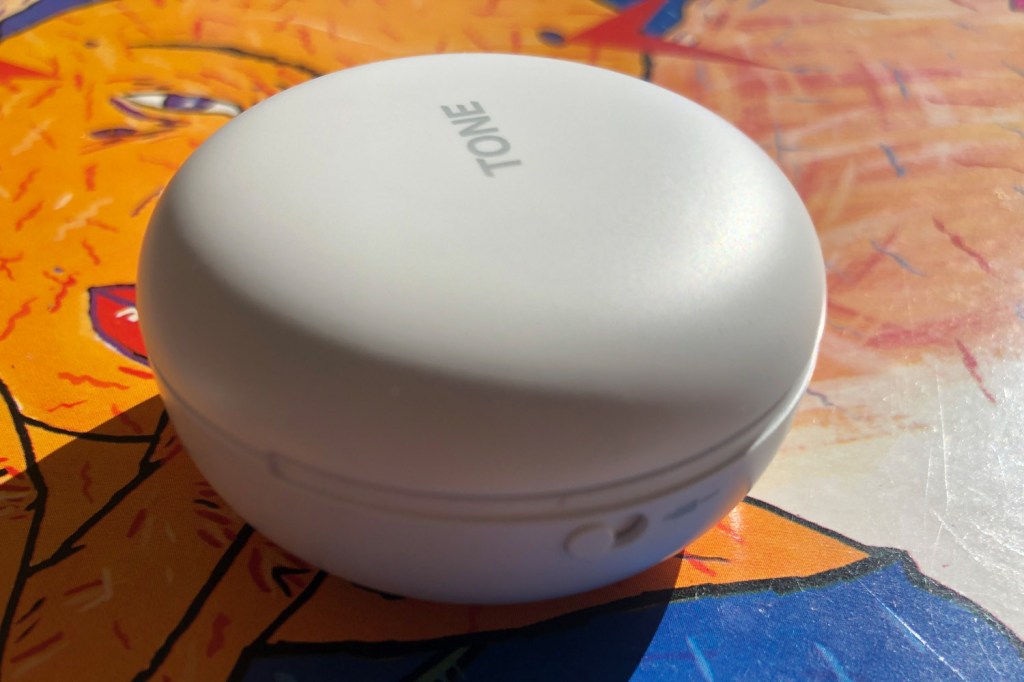 Listen to the LG Tone Free T90Q in stereo, and where the broad strokes are concerned they're about as enjoyable and engaging as any similarly priced alternative. The soundstage they create during a listen to a TIDAL stream of The Advisory Circle's Wait Hear Now is big and properly defined, so the recording sounds organised and natural. Detail levels are high, and because the LG transition so smoothly through the frequency range there's plenty of information available at every point. Low frequencies are deep and nicely textured, high–end stuff is crisp and straight-edged, and voices in the midrange are isolated enough to make their intentions plain but neatly integrated into the overall presentation.
This tonal fidelity can be quite radically altered using the EQ presets or the eight-band equaliser in the app, of course. If you like to boost the bass to the point that rhythms lose all definition, or shove the midrange perilously close to the front of the stage, or adjust treble response until it sounds like a headache, go right ahead. The Meridian-defined EQ settings are interesting in the short term, for sure, but ultimately they're 'different' rather than 'better'.
Switch from stereo to some Dolby Atmos spatial audio – Stormzy's Mel Made Me Do It in this instance – and the effect is undeniable. The presentation is massively spacious, and there's an authentic sensation of surround-sound in a 180-degree vertical-and-horizontal hemisphere that's quite startling at first. The sensation is strongly mix-dependent, of course, but when it's done properly (as it is for the Stormzy tune) the effect is undeniable. Certainly it's more convincing and worthwhile than the 'head-tracking' algorithm, which just seems – to me, at least – to be a head-operated 'balance' control.
No matter how you're listening, though, the LG don't have much in the way of either rhythmic or dynamic expression. There's not a lot of potency invested in the bigger dynamic shifts in a recording, and while they're not exactly wall-flowers the T90Q don't have all that naturalistic a grasp of rhythms either.
As far as active noise-cancellation is concerned, the LG are tricky to get excited about. Not only does the adaptive noise-cancellation prove a fair bit less effective than that of many alternative designs, but turning ANC 'on' alters the T90Q sonic signature more than a little – the sonic presentation becomes vaguer and less focused. And it's a similarly unsatisfactory story where call quality is concerned. It's just not very good – both ends of a conversation lack definition and intelligibility.
LG Tone Free T90Q Verdict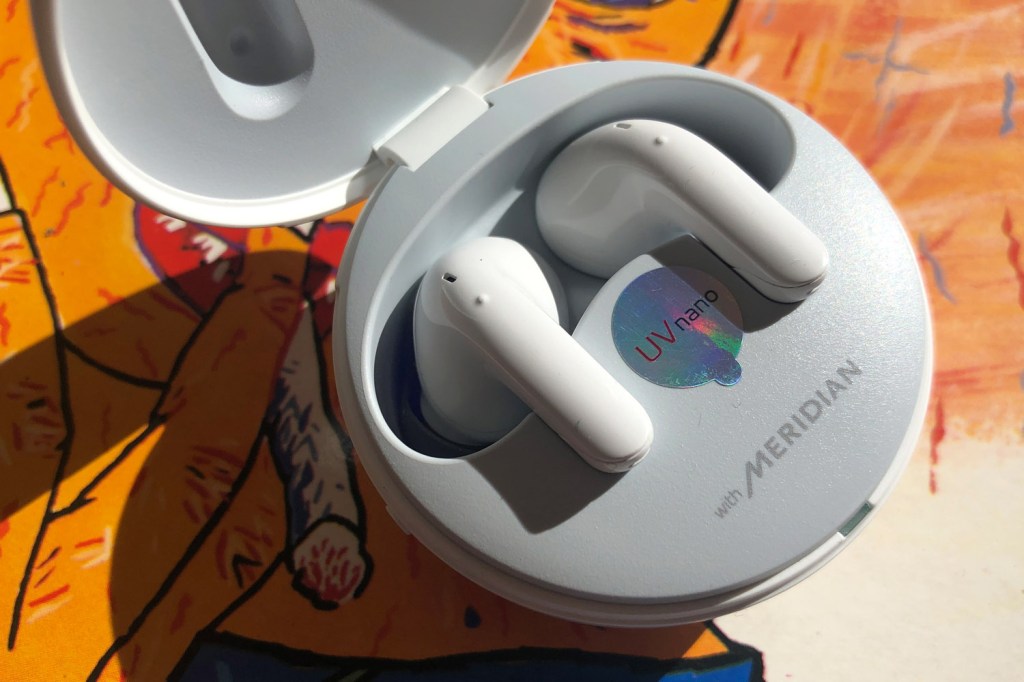 Yes, of course you're interested in Dolby Atmos sound delivered by a pair of bacteria-free true wireless earbuds – especially if they come with a full-on control app.
The T90Q sound pretty decent in many respects, too – but if you fancy proper noise-cancellation and predictable touch-control too, you're asking a bit much.
Stuff Says…
Really good when they're good, but in some ways the LG T90Q are weirdly off the pace
Good Stuff
Big, organised sound
Dolby Atmos among numerous spec highlights
Small, comfortable earbuds and charging case
Bad Stuff
Imperfect and distracting noise-cancellation
Iffy call quality
Hit-and-miss touch controls