LG V60 ThinQ 5G review
Nice but niche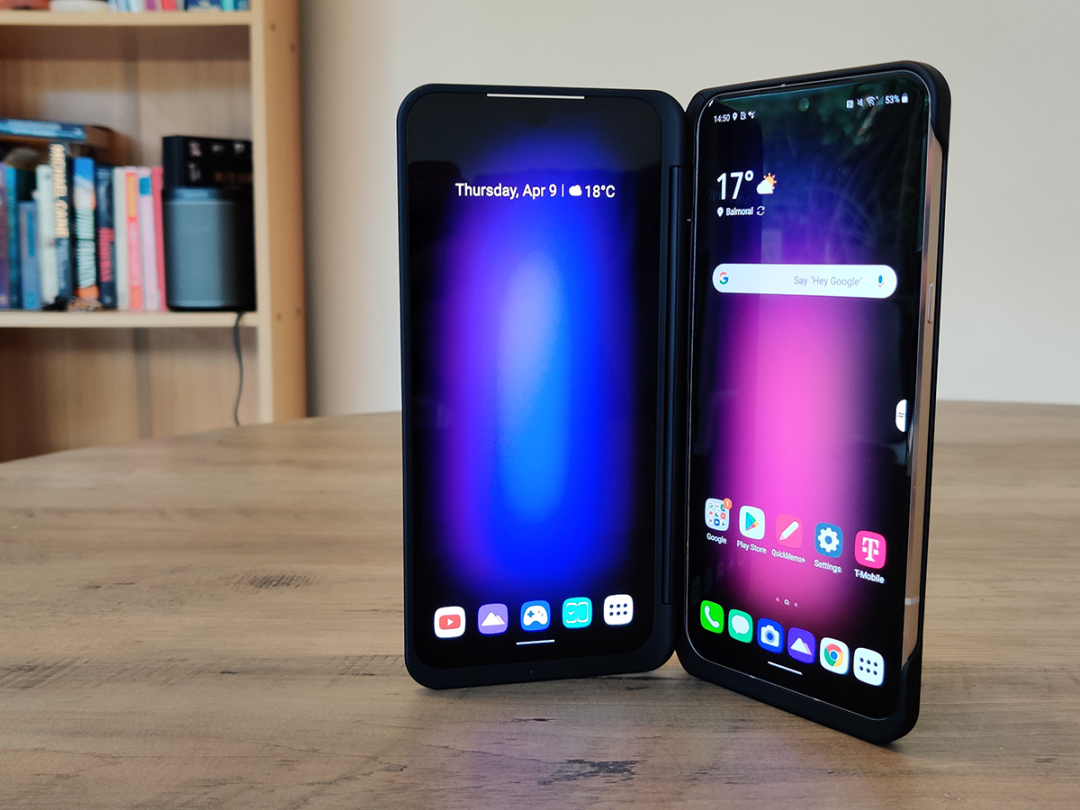 You'd be forgiven for thinking LG had stopped making Android flagships. The company no longer releases its best handsets globally, meaning they don't get the same column inches as fellow Korean billboard masters Samsung.
I'm here to tell you that's not fair, because despite its inconsistent availability, LG is still kicking out excellent smartphones, the latest of which is the outstanding V60 ThinQ 5G (from hereon in known as the V60, if you don't mind).
It's a big, bold phone with incredible battery life, a rare headphone jack and a case that doubles the screen real estate.
Sure, it's not for everyone, but if you're into its quirks there's no better phone out there. It's just a pain that for now, you can only buy this phone from US mobile operators T-Mobile, Verizon and AT&T, meaning it's a phone that you might not feel is worth the hassle.
Fingers crossed for its release in Europe, because the V60 is one seriously impressive smartphone. It costs $799 without the Dual Screen case or $899 with it from T-Mobile or AT&T, while Verizon offers the two for $950. Only Verizon offers multi-band 5G support in the US.
Design and build: Two for one
There are big phones and then there is the LG V60. It's one of the largest we've ever used and is even bigger than the Samsung Galaxy S20 Ultra, so if you have small hands and struggle with the size of phones anyway, the V60 might not be for you.
If you can deal with the size though, you'll be rewarded by an outstandingly crafted piece of hardware. The build quality here is top drawer with IP68 water and dust resistance and a heft to the phone that screams premium.
Gorilla Glass on front and back and an aluminium frame provides more grip than phones with curved screens and no bezels. The flat screen blends expertly into the frame with a classy bevelled ridge, while a headphone jack on the bottom edge means LG is one of the last smartphone makers to still include one on a high-end device.
There's a white model, but our blue review unit with gold trim is the colour we prefer and looks classily understated compared to some of the arguably tacky gradient finishes on phones like the Galaxy Note 10 Plus.
An optical in-screen fingerprint sensor works a treat, but there's no face unlock option whatsoever, something we missed.
Display: When to fold 'em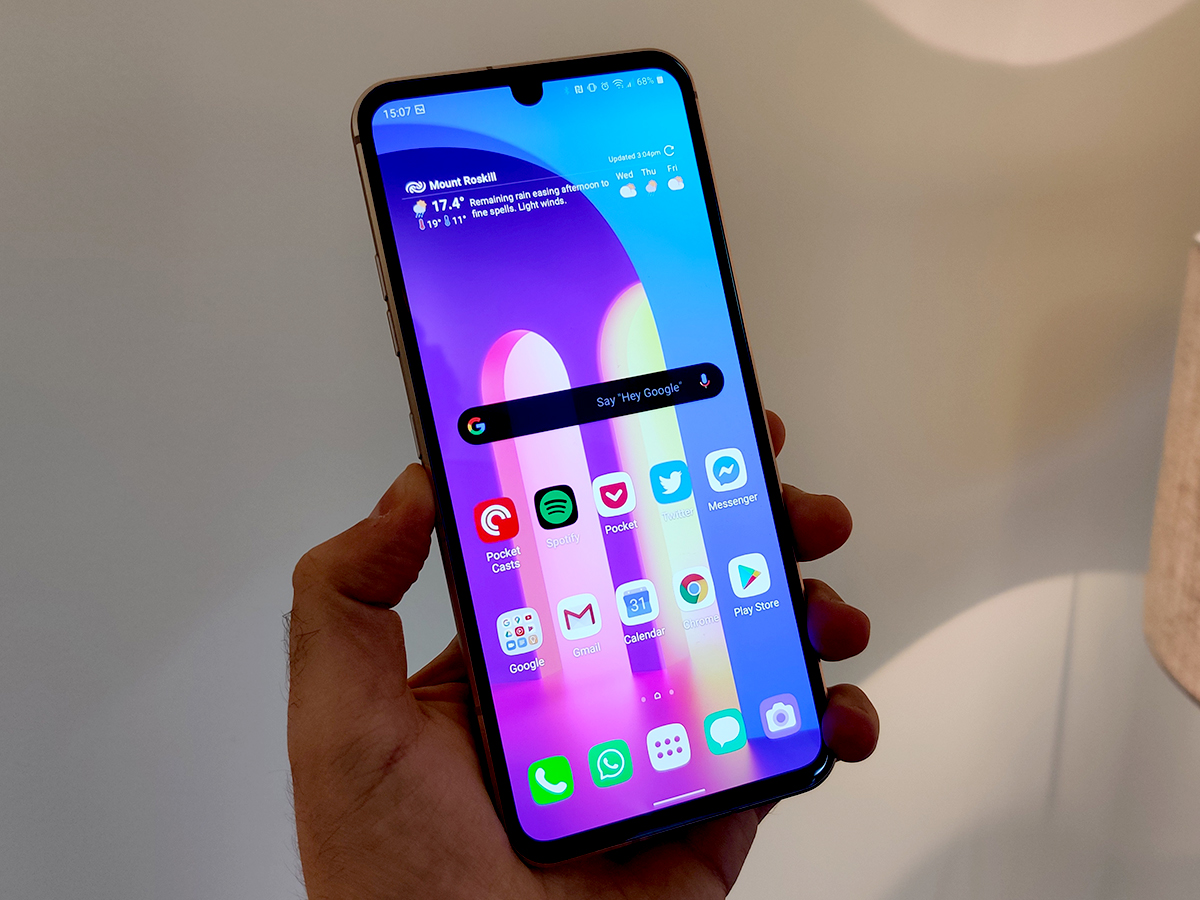 Pixel peepers will complain that the LG V60's display does not have a high refresh rate like some other phones in its price range.
The Google Pixel 4 and Huawei P40 Pro have 90Hz displays while the Galaxy S20 and OnePlus 8 Pro have 120Hz panels. The higher the rate, the smoother the display seems, particularly when scrolling through apps.
But the V60's 60Hz panel is so good that we don't mind. It is very well calibrated and has excellent brightness. Despite having used those other phones, we don't think it's a reason to not pick the V60 – particularly when it's cheaper than most of its rivals.
LG appears to have made the decision to keep costs down, also reflected in the 1080p resolution. It's an awesome screen, it's just not the sharpest on paper. If you're a specs nerd then this might bother you, but for most people it won't be an issue.
The V60 has a great display too. In fact, it has two great displays. Most purchases of the V60 come with a bundled Dual Screen case accessory that you clip the phone into and puts an identical (fake notch and all for symmetry) screen on the inside of the cover. It's weird but wonderful and turns the V60 into a phone like no other. There are two main advantages to the Dual Screen case, the most obvious being able to run two apps in portrait orientation next to each other. You can overload your brain with Instagram next to Twitter, or you can stream a YouTube video while keeping an eye on the news. It lets you do something no other phone can offer. It isn't great at being one giant folding screen like the Galaxy Fold thanks to the hulking great hinge. It's not meant to be one display, despite being able to stretch apps like Google Maps over both. LG's Game Launcher app turns one of the displays into a game pad, set up to play preinstalled games like Asphalt 9 as though you have a Nintendo 3DS. It makes playing some games much easier, and you can even make your own custom game pads for other mobile games. Not bad for a free accessory – it just won't fit in your skinny jeans pocket. Both displays even support Wacom stylus input much like you'd find on a Samsung Galaxy Note. I wasn't able to test this, but it's another string to the V60's bow. The outside of the case has a small window to preview notifications or check the time and protects both screens from harm when closed. You can even fast charge the phone while it's in the case thanks to a magnetic adapter that's in the box.
Performance: Zipping along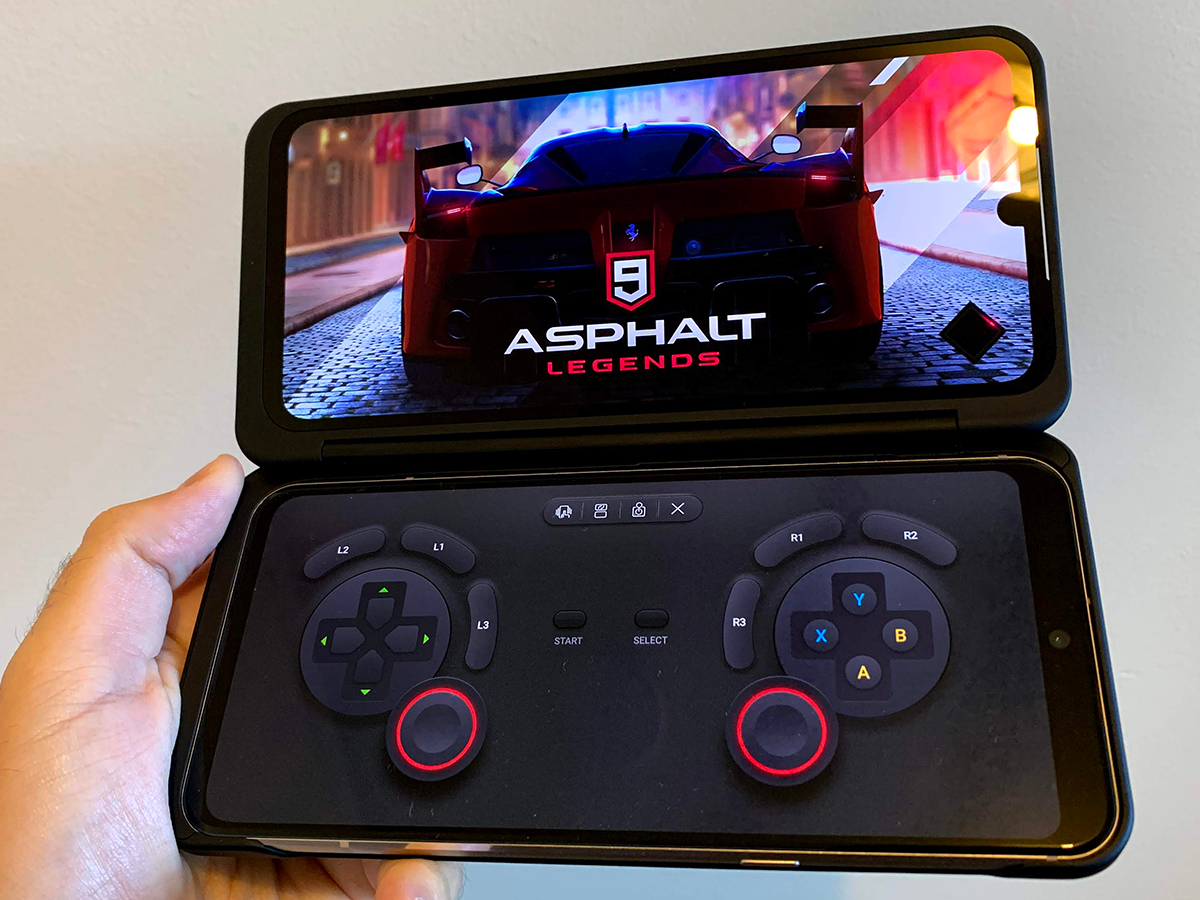 With the Qualcomm Snapdragon 865 chip, 128GB expandable storage and 8GB RAM the V60 is one of the best performing 5G phones available. It'll work with a 4G SIM if your area doesn't have 5G yet, and means you'll be ready for when that next generation network comes a-knocking.
The V60's large 5,000mAh battery is perhaps why the phone is so huge, but it pulls through with two days of juice no problem. We could not kill this phone in one day – it's impossible. There's wireless charging to help you top up, as well as the included 25W fast charger.
The Snapdragon 865 means the V60 is one of the fastest Android phones around. We had no problems with whatever we threw at the thing, and it performs just as well as the latest phones from any other Android manufacturer.
OnePlus phones might seem faster because of the slick software but the processing power of the V60 is just as good as anything else on the market, backed up by our benchmarking. But LG's software lets it down a little by feeling a tad unrefined.
It isn't as clean as Google's or OnePlus' and has some annoying quirks like not keeping your apps ordered alphabetically when you download new ones. There's nothing major to put us off recommending the phone, but it's worth noting LG's software updates have not been very timely in recent years. That said, we did get an April 2020 security update while reviewing the phone, so we can hope the company will improve this year. But if software updates are a concern, LG phones aren't the best in the business.
Our T-Mobile US review model came with a few bloatware apps preinstalled that are easy to ignore, but reports suggest the AT&T and Verizon models have way more. Audio: Hear ye, hear ye LG's ace in the hole is the headphone jack on the V60.
Not only is its mere presence a differentiator in 2020, LG continues to use a Quad-DAC (digital to analogue) component that makes all wired audio sound even better. The converted signal boosts even standard Spotify streams and through any half-decent headphones makes audio way better than through a regular headphone jack.
DACs on their own that sounds this good are niche peripherals that costs a couple of hundred quid, so to have one neatly nestled in your smartphone is a major selling point.
LG is the only company doing it, and there's even a built in FM radio that uses wired headphones as an antenna. The dual stereo speakers on the phone are also loud with well rounded sound, making the V60 a decent kitchen or bath podcast player but like any phone you'll want to reach for your headphones for those Netflix binges.
Cameras: Clear as day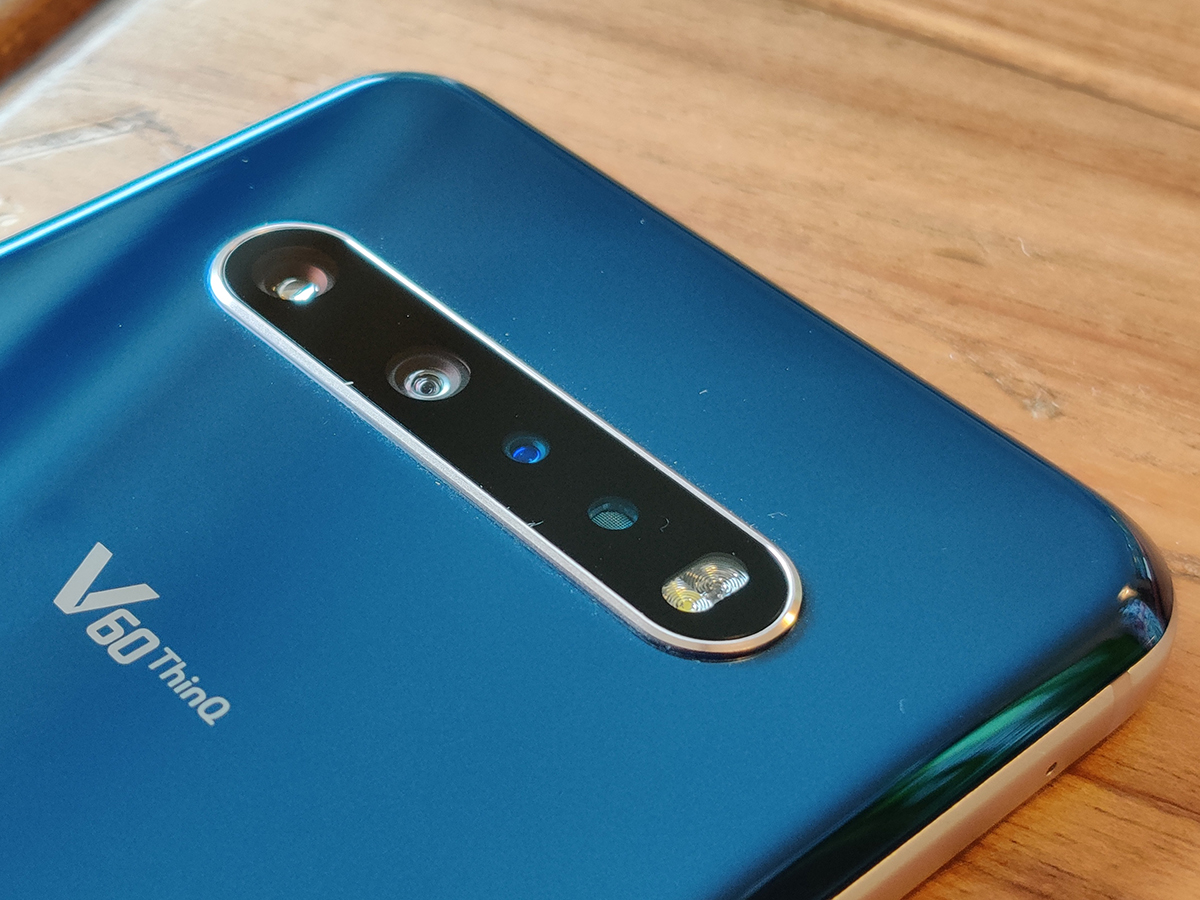 The cameras on the V60 aren't as good as those found on the iPhone 11 Pro or Google Pixel 4 when to comes to still images, but it's the best LG camera set up to date. The back looks like it has three cameras but there's actually only two. The other hole is a time of flight sensor for depth sensing that lets you take 3D style photos – but they are a gimmick that we soon forgot about.
The main 64Mp sensor with OIS uses clever pixel binning tech to produce very detailed 16Mp images, and the results are superb. Outdoor shots are true to life and are less saturated than something from a Samsung or Huawei phone.
The night mode improves low light snaps, but it's not the best in the business. The 13Mp ultrawide lens is great for capturing more of the scene, though the colour balance isn't as good as on the main lens.
With no telephoto for any kind of optical zoom you'll have to rely on digital zoom on the V60, and quality is pretty poor after about 2x – but we prefer an ultrawide to a telephoto any day.
If you want to zoom, you probably should get a proper camera. The V60 excels in manual photo and video settings and is the best Android phone for video hands down. The granular controls offered by LG's camera app are the best you can get, and mobile video creators will be spoiled by the options and excellent steadying software.
Add to that recording in up to 8K, and LG has quietly put out a phone with video that's nearly as consistently as good as what you can find on a modern iPhone. The main camera viewfinder even previews at 60fps rather than the usual 30fps and is a tiny touch that makes your photo framing super smooth and much better than any other phone out there. Bravo LG.
LG V60 ThinQ 5G verdict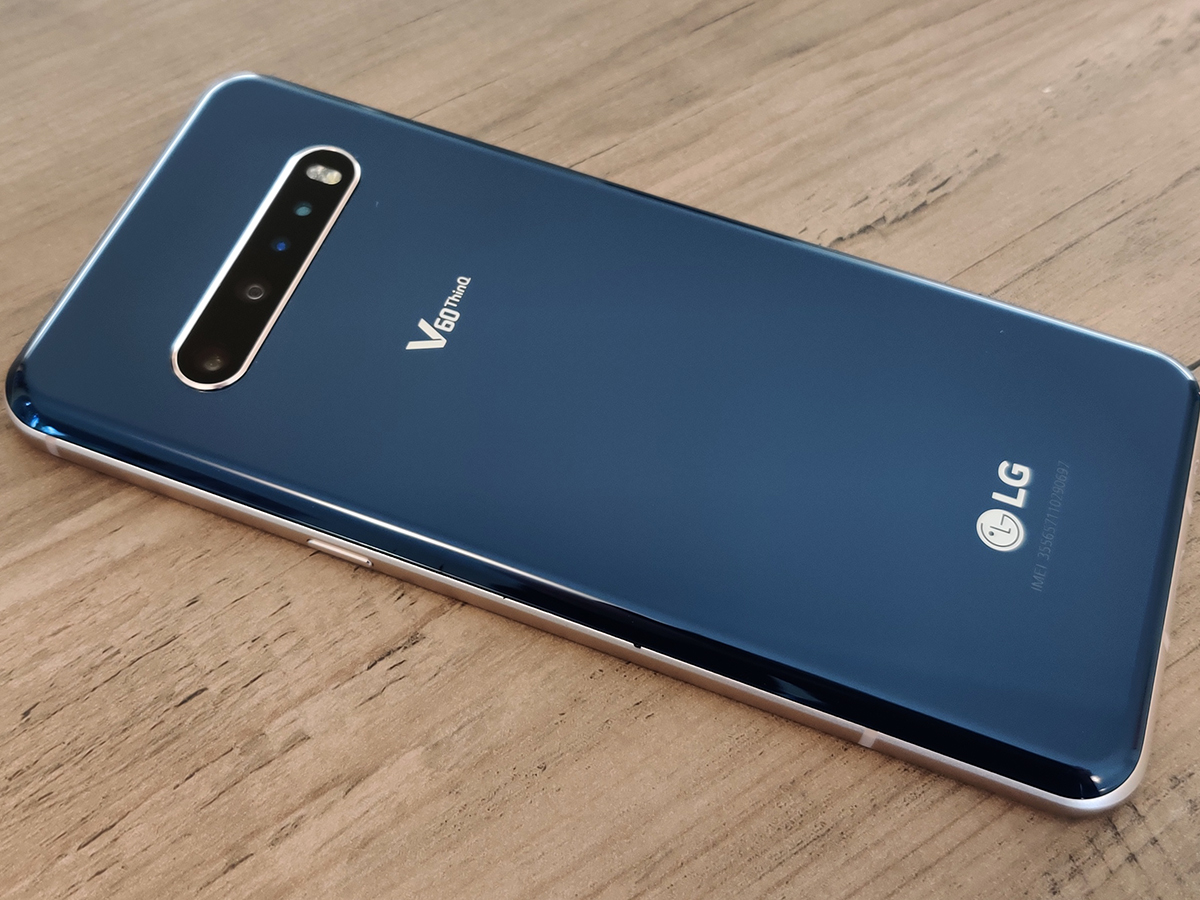 With a big, beautiful screen, 5G, a Quad-DAC headphone jack and best-in-class battery life, the V60 should be one of the phones of the year – as long as you like big phones that stick out the top of pockets.
The V60 is let down by the fact it's really hard to buy outside of the United States. LG hasn't announced an unlocked model either, meaning you can only buy through T-Mobile, Verizon and AT&T, and would have to get the phone unlocked yourself. It might be a faff too far for some.
Stuff Says…
The Dual Screen case is a niche accessory but the V60 itself is an excellently fast device with the best battery life you'll find on a 5G smartphone in 2020
Good Stuff
Top performance
Lovely display
Quad DAC in headphone jack
Two day battery life
Bad Stuff
Display only 60Hz
Software needs some love
Hard to buy outside of the USA