Lomography Diana Instant Square review
Is it hip to be square?
Lomography is back with a new instant film snapper, but can it take on the Polaroid OneStep 2?
Gone are the days when instant snaps were the domain of professional kidnappers and amateur pornographers – in the 21st century, it's all about the hipsters.
The Diana Instant Square is the latest in a series of products that lo-fi photo experts Lomography have crowdfunded on Kickstarter, and it's now available to everyone.
This isn't Lomography's first instant camera, but it is the the first with interchangeable lenses and a hot shoe mount. So far, so niche – but is it any good?
DESIGN: RETRO PERFECTION
For anyone that's familiar with Lomo's original 60s style Diana camera, the blue and black casing on this model will look mighty familiar. You can also get the Adriano Edition for £10 more, which includes brown leather panels, for some reason.
The textured black plastic on our model made the camera nice and grippy and we've managed to avoid any unplanned camera drops so far.
For a little extra help when lining up your selfies, both models also sport a slightly convexed mirror above the lens, so you can see a spoon-faced version of yourself posing as you snap.
Measuring 140 mm × 115 mm × 98 mm, the Diana Instant Square is a bit of a unit, but that makes it pleasingly sturdy to hold.
And while it's big, it's not heavy so it's easy to cart around in that hipster cotton tote bag that literally everyone who wants this camera will have.
SETUP: COULDN'T BE SIMPLER
Unlike analogue Diana cameras, this one needs some power to get that instant film moving, so you'll need to pop in four AAA batteries.
Then just flip the power switch to 'on' and you're ready to go. The on/off switch also has an mx setting for taking multiple exposures on the same frame.
The switch is a little flimsy for our liking – it's easy to accidentally switch it on and drain your batteries while the camera is in a bag.
Loading the film is a piece of cake – just pull down the switch on the camera back, and the film door will flip down like a drawbridge. Just make sure the yellow tag on the film cartridge is in the same spot as the yellow marker in the camera.
One final word of advice: make sure you take the lens cap off.
FEATURES: FLEXIBLE CONTROLS
The camera comes with a 75 mm kit lens, which can be easily removed by just twisting the barrel.
For close-ups and selfies, there's a 1-2m setting, for shots of your pals there's 2-4m and for landscapes and faraway things, there's a 4m-infinity setting. These are set by twisting the front of the lens – you will inevitably waste a lot of shots because you forgot to change it.
One of the camera's big draws is that you can get creative by swapping the lenses. While the camera and kit lens comes with a £89 price tag, £199 will get you the camera plus a set of extra lenses – including telephoto, fisheye and wide angle – plus a flash. And the good news for Lomo pros is that all existing Diana F+ lenses will also fit.
You can control the size of the aperture depending on the lighting conditions – choosing between "sunny" (f/32), "partly cloudy" (f/19), "cloudy" (f/11), and "pinhole" (f/150). Naturally, if you're based in the UK, you'll be using the cloudy setting a lot.
You can choose between the N (Normal) shutter speed of 1/100 and B (Bulb) which keeps letting in light as long as the hold the shutter release down.
The shutter release lever has a smooth action that makes it easy to hold the camera relatively still while snapping, but this does take a little practice before your photos stop resembling a drunken, blurry nightmare.
There's a hotshoe for attaching a flash and you'll find a couple of handy adapters in the box, which we used to attach an old, battered Diana flash with no problems.
There's also a nifty viewfinder that slots on to the top of the camera. Viewfinders on a lot of instant cameras can be incredibly lame but this one works well with the square film for framing shots.
FILM: SQUARE AND SHARP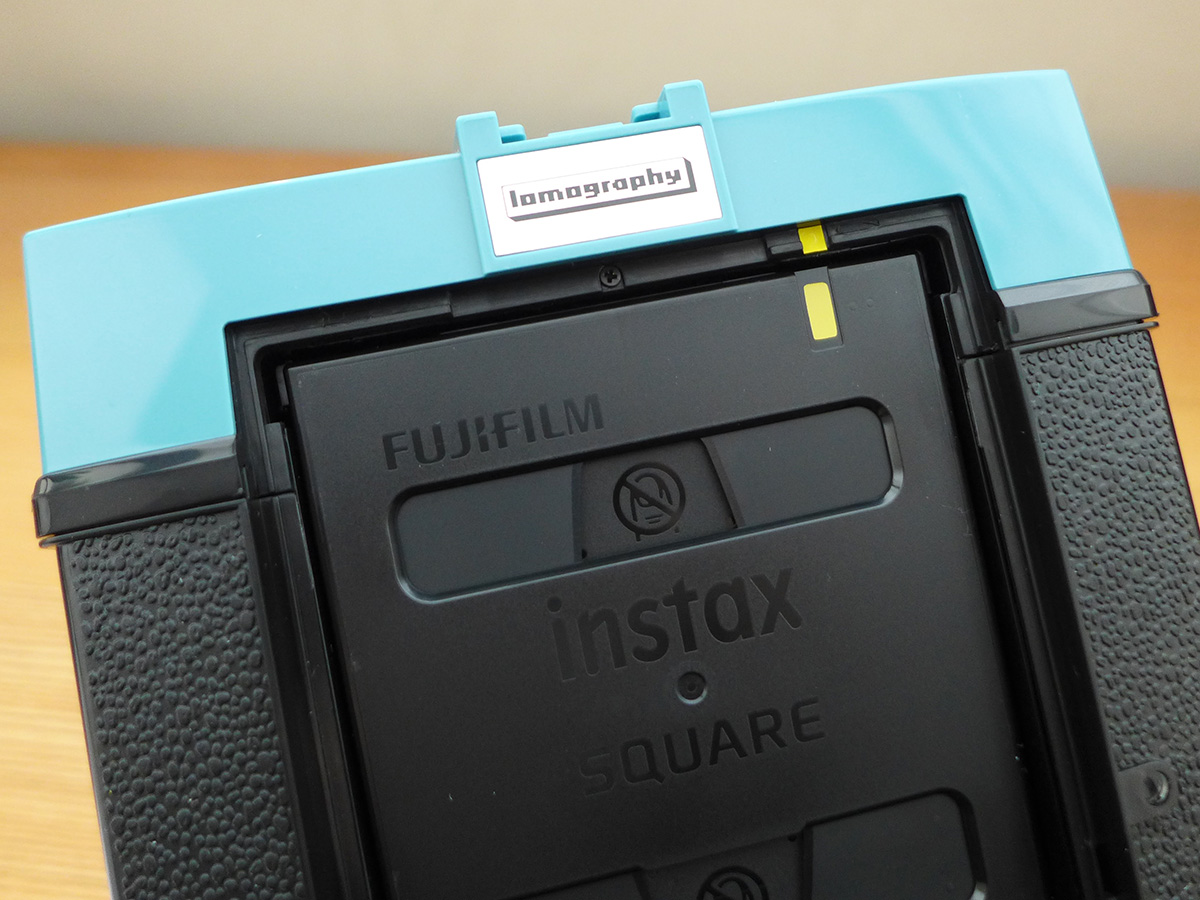 xThe Diana Instant Square takes Fujifilm Instax Square Film. You can pick up a pack of 20 for about £17 – that works out at 85p a shot, which isn't cheap if you're used to lavishly taking endless digital snaps.
However, it's still a better deal than Polaroid's square-shaped rival i-Type film, which is priced at around £15 for an eight-shot pack. You do the math(s).
While we loved last year's Lomo'Automat Instant, weirdly placed apostrophe and all, it only takes Fujifilm Instax Mini film which makes teeny tiny, credit-card snaps.
Instax Square film makes much more sense, with bigger, squarer shots that you don't need a magnifying glass to look at. They're also much better suited to whacking on Instagram. After all, it's all about the 'Gram these days.
PICTURES: BETTER THAN POLAROID
Within the white border, the actual picture size is 62mm square, which makes it slightly smaller than a Polaroid snap.
Pictures are rather soft, but let's face it, if you're using an instant camera, picture quality isn't really your top priority. Having said that, the combination of Lomo's vintage camera know-how and Instax film is a winning combination.
We didn't have much luck with the weather while we testing out the camera – the brighter the day, the better the results – but even on a gloomy winter's day, the snaps we took were still decent, if a little moody. The vignetting in the corners is pretty dramatic, which is good news for retro shutterbugs, as is the ability to take multiple exposures.
Overall, the results were much better than we've ever got from Polaroid film – the colours are punchier and the edges are more defined. Expect to waste a few shots while you're getting used to the vintage camera controls though.
Lomography Diana Instant Square VERDICT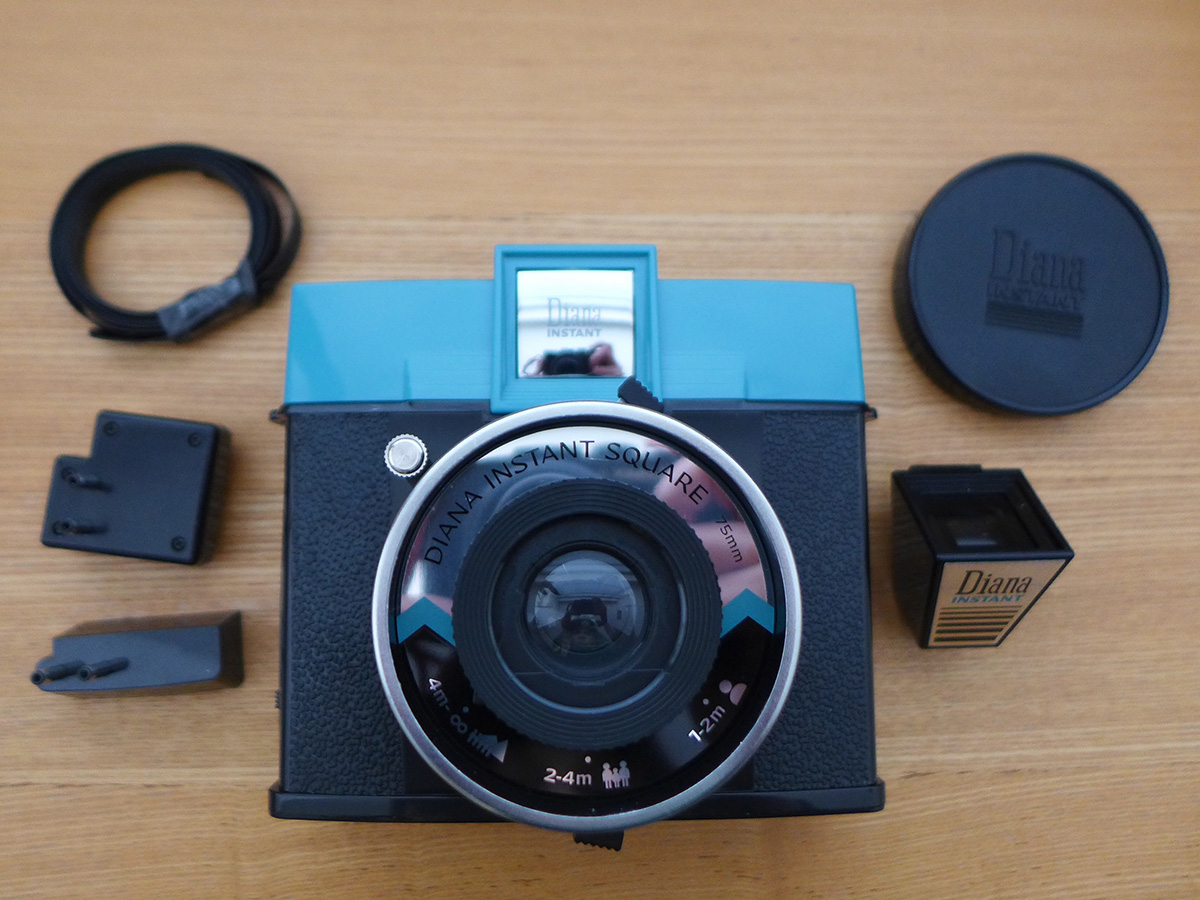 The Lomo Diana Instant Square gives you more control than the Polaroid OneStep 2, while the Instax film gives more consistent results compared to Polaroid film.
The vintage design is a bona fide design classic, brought up to date with Instagram-friendly square snaps.
Because you need to fiddle with the settings to get the best results, this isn't really a camera for documenting a night out on the sauce with your mates. A Fuji film Instax snapper is a better bet if that's your thing.
But for those who have the time to tinker and get creative, this is a great camera at a decent price and the option to add different lenses is also a winner.
This is a splendid lo-fi snapper that's simple enough for film photography noobs while still offering enough to keep veteran plastic camera botherers interested.
Stuff Says…
A great piece of retro wizardry, offering Instagram-friendly lo-fi snaps
Good Stuff
Retro design
Good results from Instax film
Additional lenses available
Bad Stuff
Flimsy on/off/MX switch
Film is expensive
Additional lenses cost extra