Medion Erazer Beast X30 review: superb power, resonable weight
Incredible power and a surprising price – what's the catch with Medion's latest powerhouse gaming laptop?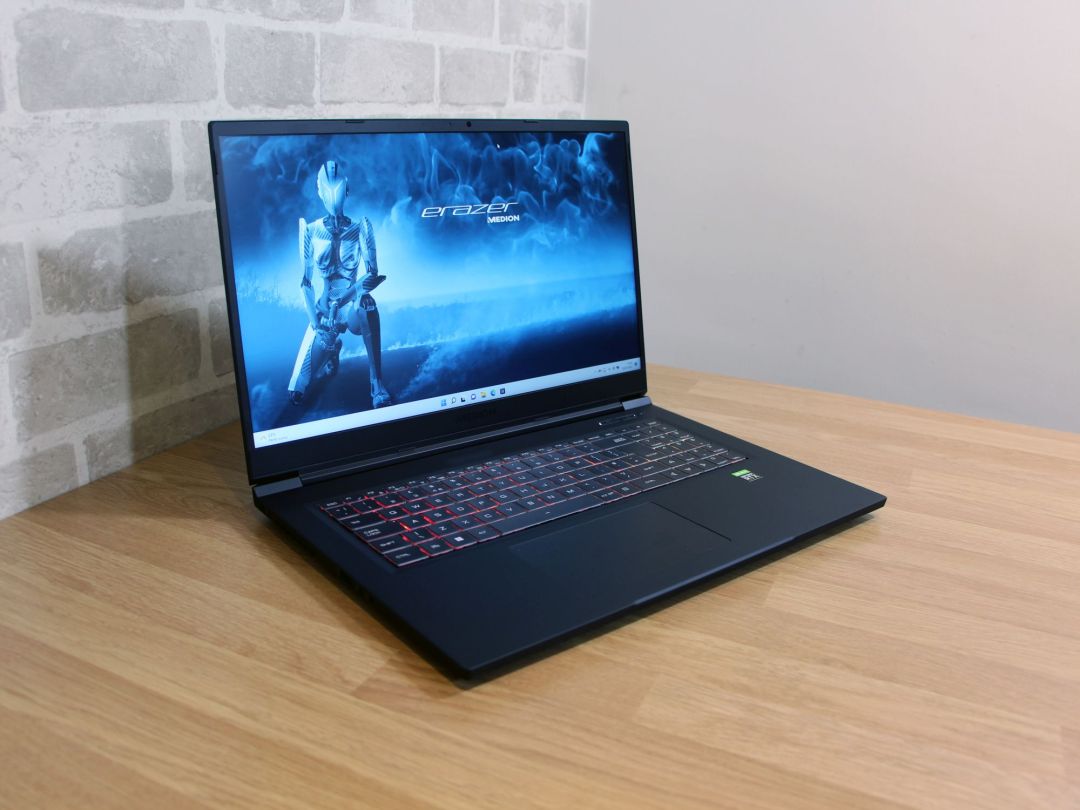 Medion might not be the first brand you'd consider for a gaming notebook, but the Erazer Beast X30 has a specification that's sure to attract attention.
The Nvidia GeForce RTX 3080 Ti is the world's most powerful laptop graphics card, for starters, and it's paired with one of the beefiest laptop processors that Intel has ever made. There's no power shortage on the inside, and the exterior serves up a 17.3in display with a rapid 240Hz refresh rate.
This laptop is a monster on paper, but you'll still have to pay £2699 to get your hands on this absolute unit – and it faces strong competition from rivals like the Alienware x17 and Razer Blade 17. And as we've already seen from their smaller versions in our best gaming laptops chart, those big-brand competitors are impressive.
Design and build: beast by name, not by nature
On the spec sheet the Medion sounds amazing, but it doesn't look bold when you heave the rig from its box. It's built from matte black magnesium-aluminium alloy, and the slick body omits the wild design you'll find on some laptops.
Indeed, turn off the RGB LEDs and the Beast looks more like a work laptop than a gaming notebook.
That's not necessarily a bad thing, because not everyone wants a flashy laptop like the monochromatic Alienware. That said, the Razer goes even further down this path, with slimmer screen bezels and an even slicker body.
Nevertheless, this is a good-looking laptop, and the Beast impresses elsewhere too. Build quality is solid, and we've got no qualms about slinging the Beast into a backpack. The 2.3kg weight undercuts the Alienware and Razer machines massively, too, and the Beast isn't much thicker than those rigs either.
On the left-hand edge of this robust, relatively light laptop you'll find a USB port, and on the right there are two more full-size USB connections and a microSD reader. The rear deploys an HDMI 2.0 output and a USB-C/Thunderbolt 4 socket, and above the display there's a Windows Hello webcam for facial sign-in. Internal connectivity is covered by 2.5Gbps Ethernet, dual-band Wi-Fi 6 and Bluetooth 5.2.
That'll sate most gamers, but both rivals have better USB connectivity and HDMI 2.1 outputs that can handle future-proofed scenarios, like 4K games at 120Hz and 8K titles at 60Hz. Razer's rig also adds an SD card slot.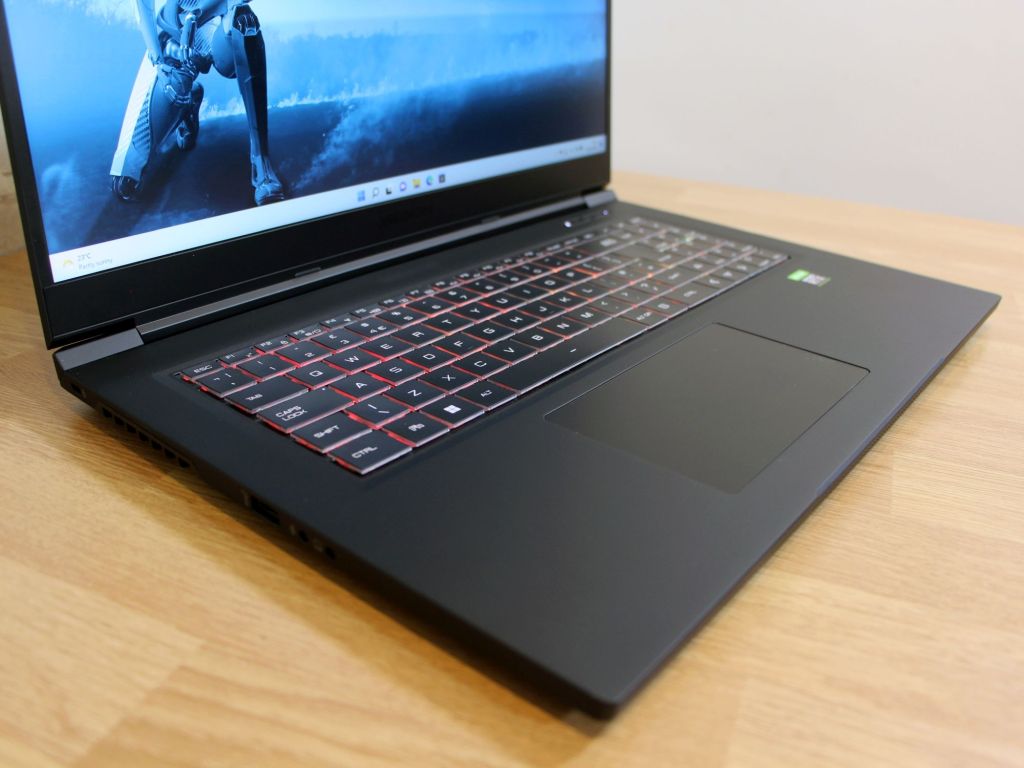 Performance: erasing the competition
The Medion might not attract attention on the outside, but its internals have plenty to say. The RTX 3080 Ti unleashes 16GB of dedicated memory and 7,424 processing cores, and its 175W power level is the peak for this GPU. The processor's spec is similarly muscular, with fourteen cores and a top Turbo pace of 5GHz.
Those core components are bolstered by 32GB of DDR5 memory and a 2TB SSD. If you want to play games on a laptop, you don't need much more.
Unsurprisingly, there's no shortage of gaming power. The Medion rattled through Assassin's Creed Valhalla at top graphics settings and at 2,560 x 1,440 with a butter-smooth framerate of 64fps, and it played Red Dead Redemption 2 at 68fps.
The Erazer will play any top-tier single-player game at the panel's native resolution – and it'll do it for years to come. It'll scythe through any esports situation, too.
There's no shortage of power from the processor. The Core i9-12900HK sliced through Geekbench's single- and multi-core tests with scores of 1,616 and 13,822, and they're stonking results – faster than any AMD laptop chip and enough for any content-creation scenario.
The Medion's gaming performance matches any rival, and it beats the Alienware and Razer rigs in processing benchmarks. And while the Erazer does produce fan noise when it hammers through games, it's no louder than other rigs and a headset will easily drown it out.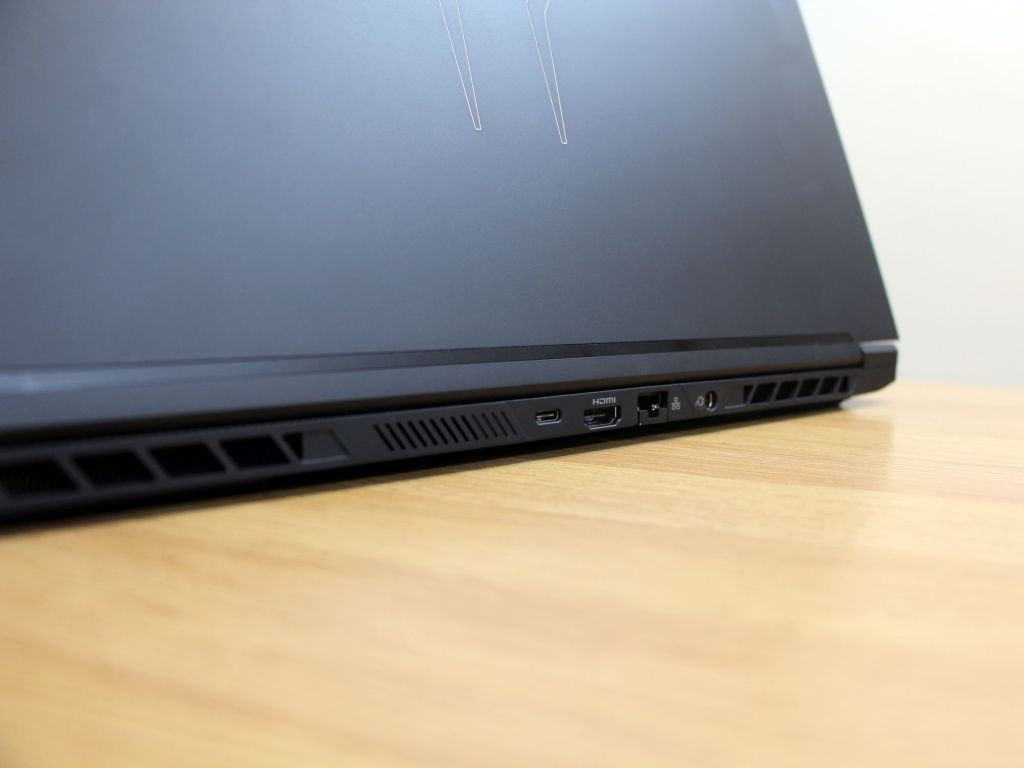 It's not all good news, though. The Medion's Turbo mode didn't improve gaming pace and only produced more fan noise. And, no matter the mode, the metal above the keyboard and the plastic underneath both became too hot to touch.
That excess heat isn't a big issue – you won't touch the metal above the keys, and 17.3in gaming notebooks stay rooted to desks rather than laps. But the Alienware and Razer are both better thermal performers.
And, as ever, don't expect good battery life: the Medion delivered ninety minutes of gaming longevity and three hours in workloads, so stick to the mains when you can.
Still, these foibles are forgivable when you consider that the £2699 Beast is relatively cheap when compared to its big-brand competitors. If you want to replicate this spec on the Alienware x17 it'll cost £2999, and Razer's equivalent costs £4099.
Medion also builds this rig with the Nvidia RTX 3080 Ti alongside a Core i7-12700H processor for £2499 – a smart way to save cash at the expense of only a little CPU power. The entry-level RTX 3070 Ti model only costs £1799, and that price massively undercuts the Alienware and Razer laptops.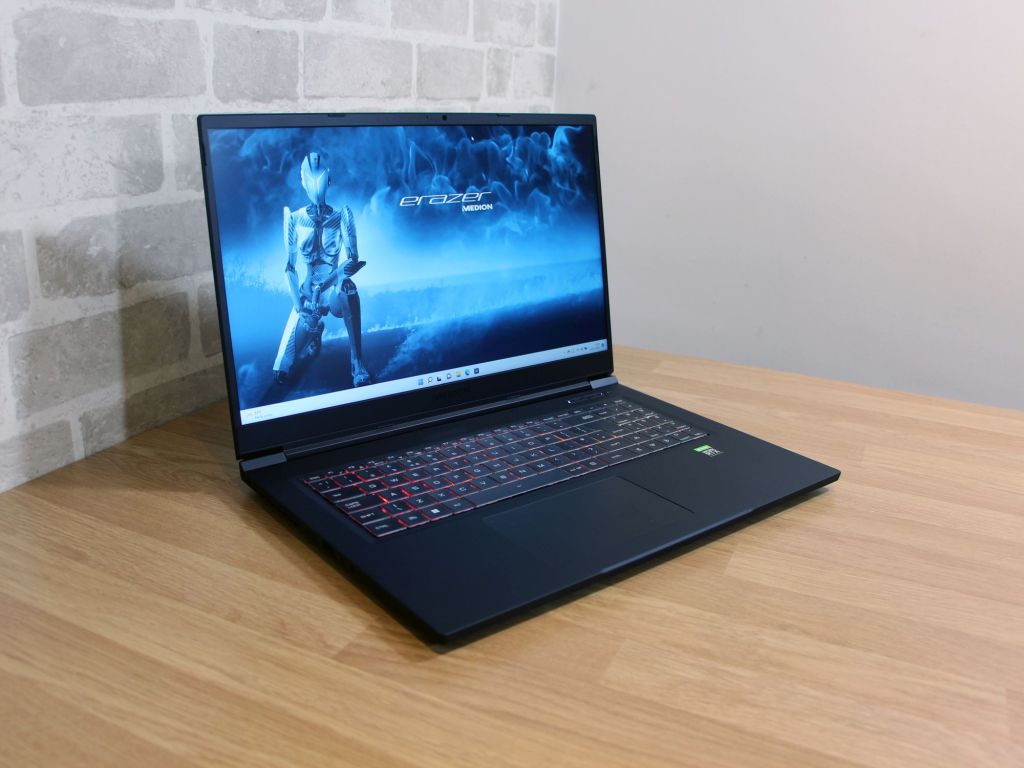 Screen and sound: panel beating
The 17.3in display has a crisp 2560×1440 resolution and a smooth 240Hz refresh rate – so it delivers silky-smooth gameplay in every mainstream scenario.
Quality levels are decent, too. The 1,206:1 contrast ratio provides solid gaming punch and good depth, and the delta E of 1.89 ensures great colour accuracy. There's no doubt about it: games look good here.
This panel competes well with its big-brand rivals. The Alienware has more vibrant colours, but its refresh rate doesn't rise beyond 165Hz and it's only sold in 1080p and 4K guises – you don't get the Medion's well-balanced middle ground specification. And while the Razer's 360Hz screens do a better job with esports, only top-tier players need that refresh rate and you'll have to pay £4099 to get your hands on a 360Hz Razer with the RTX 3080 Ti.
The speakers are no good: they're quiet, tinny and devoid of bass. Invest in a headset – you won't have to spend much to get better audio.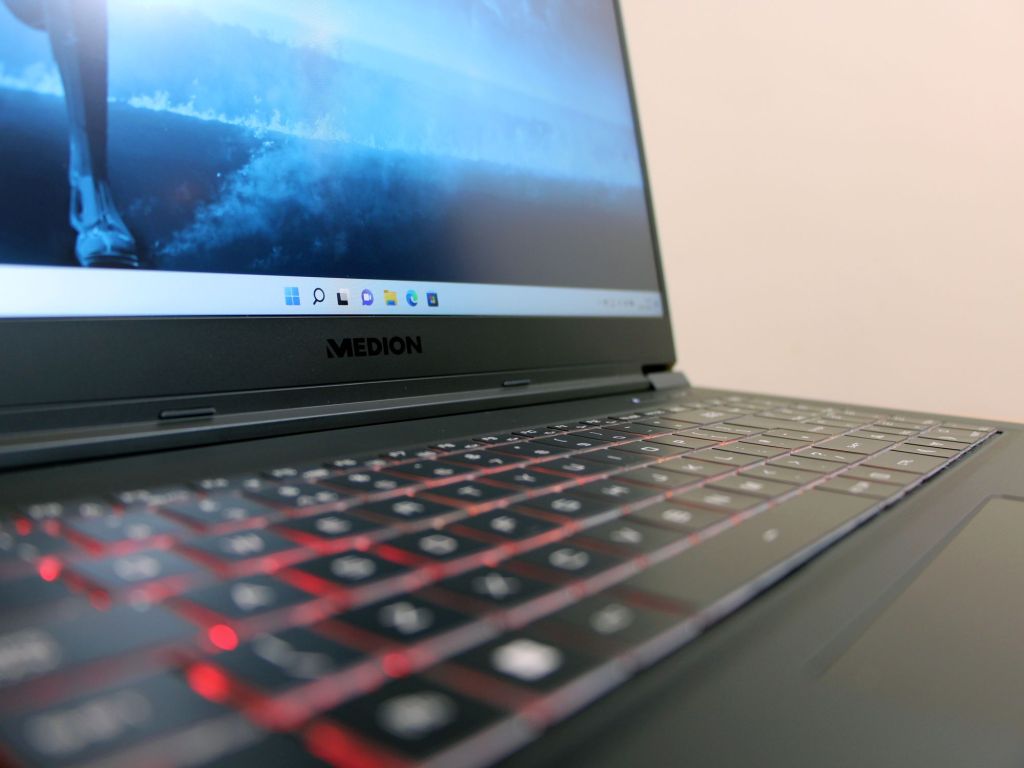 Keyboard and touchpad: RGB-minus
Medion's keyboard has large buttons, a numberpad and anti-ghosting alongside RGB LED backlighting, and the buttons are fast, pretty snappy, and comfortable. For all-day gaming it's easily good enough.
Good enough, though, isn't quite enough to compete. The Alienware and Razer units omit numberpads, but they offer faster and crisper typing – and the Alienware can be upgraded with a proper mechanical keyboard.
Both rigs have more versatile per-key RGB LED backlighting, while the Medion makes do with unsophisticated four-zone lights. And, as ever, the trackpad is fine, but anyone who wants to enjoy games should buy a USB mouse.
Verdict
There's no doubt that the Medion gets the big details right. Its RTX 3080 Ti GPU supplies stonking gaming power, the Core i9 processor is fast and versatile, and there's ample memory alongside a super-fast SSD. It'll play any game, run almost any productivity tool, and make everything look good on its QHD display.
Look beyond those core competencies, though, and the Erazer is middling. The keyboard is fine, but better typing hardware is available. The chassis is light and robust, but other rigs look better and offer improved connectivity. The speakers suck.
None of those are dealbreakers, though, especially when the Medion is so much cheaper than the competition – and that makes it a good deal if you're searching for huge gaming power on a budget.
Stuff Says…
It's a bit rough around the edges, but the Medion supplies superb power, a good screen and a light body
Good Stuff
Fearsome gaming and CPU power
Cheaper than the competition
Sleek, smart and robust exterior
A well-rounded QHD screen
Bad Stuff
Rivals have better keyboards
More features available elsewhere
Disappointing speakers
Tech specs
| | |
| --- | --- |
| Screen | 17.3in, 2,560 x 1,440 IPS |
| Processor | Intel Core i9-12900HK, 2.5GHz |
| Memory | 32GB |
| Graphics | Nvidia GeForce RTX 3080 Ti 16GB |
| Storage | 2TB |
| OS | Windows 11 |
| Battery life | Up to 3 hours |
| Connectivity | 802.11ax Wi-Fi 6, Bluetooth 5.2, 2.5Gbps Ethernet, 3 x USB 3.2, 1 x USB 3.2 Type-C/Thunderbolt 4, 1 x HDMI 2.0, 1 x microSD, 2 x audio |
| Dimensions | 395 x 262 x 23mm |
| Weight | 2.3kg |