Medion Erazer X6603 review
Gets your game on without Erazer-ing your bank balance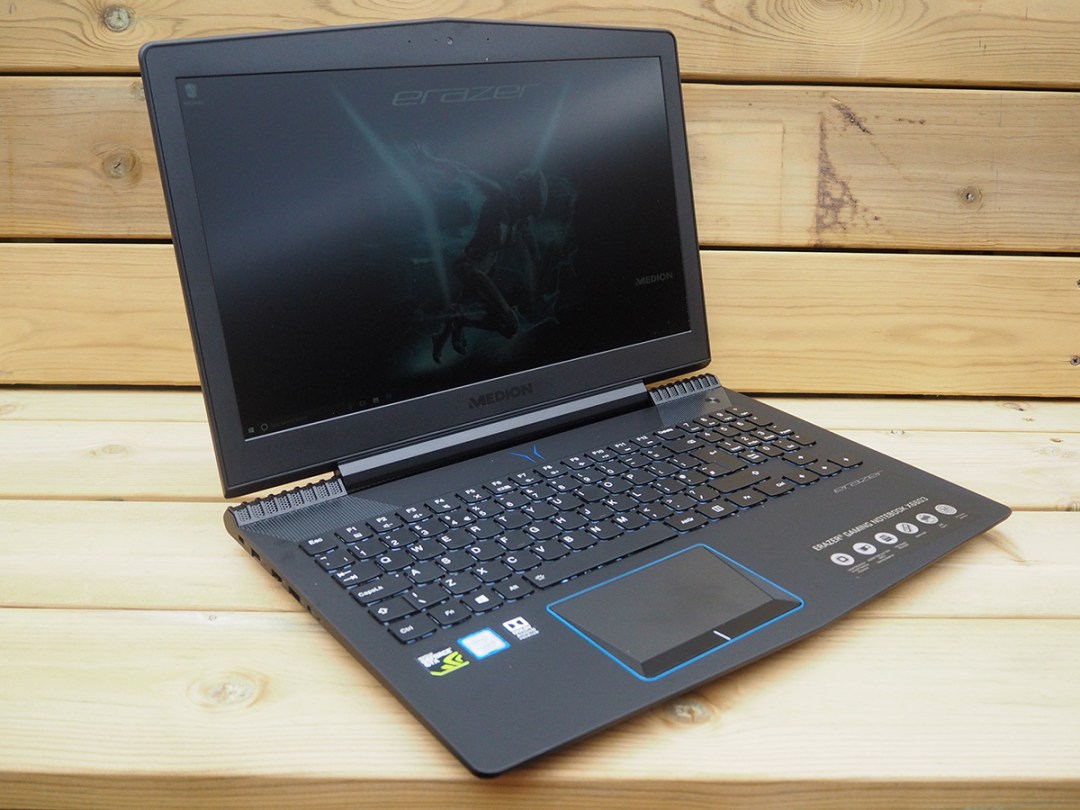 If you've got a serious gaming addiction that just can't be satiated at a desk, a laptop makes sense.
Sure, you'll probably pay more to get the same graphical grunt you'd get from a gaming PC, but have you ever tried balancing one of those on your knees – monitor and all? I didn't think so.
You won't need to take out a second mortgage to pick up Medion's Erazer X6603, though. It's packing a GPU purpose-built for playing at 1080p, but still leaves you with change from a grand.
Find that oh-so-enticing sweet spot between price and performance is no easy feat – so is there anything letting the side down behind that impressive spec sheet?
PERFORMANCE & BATTERY LIFE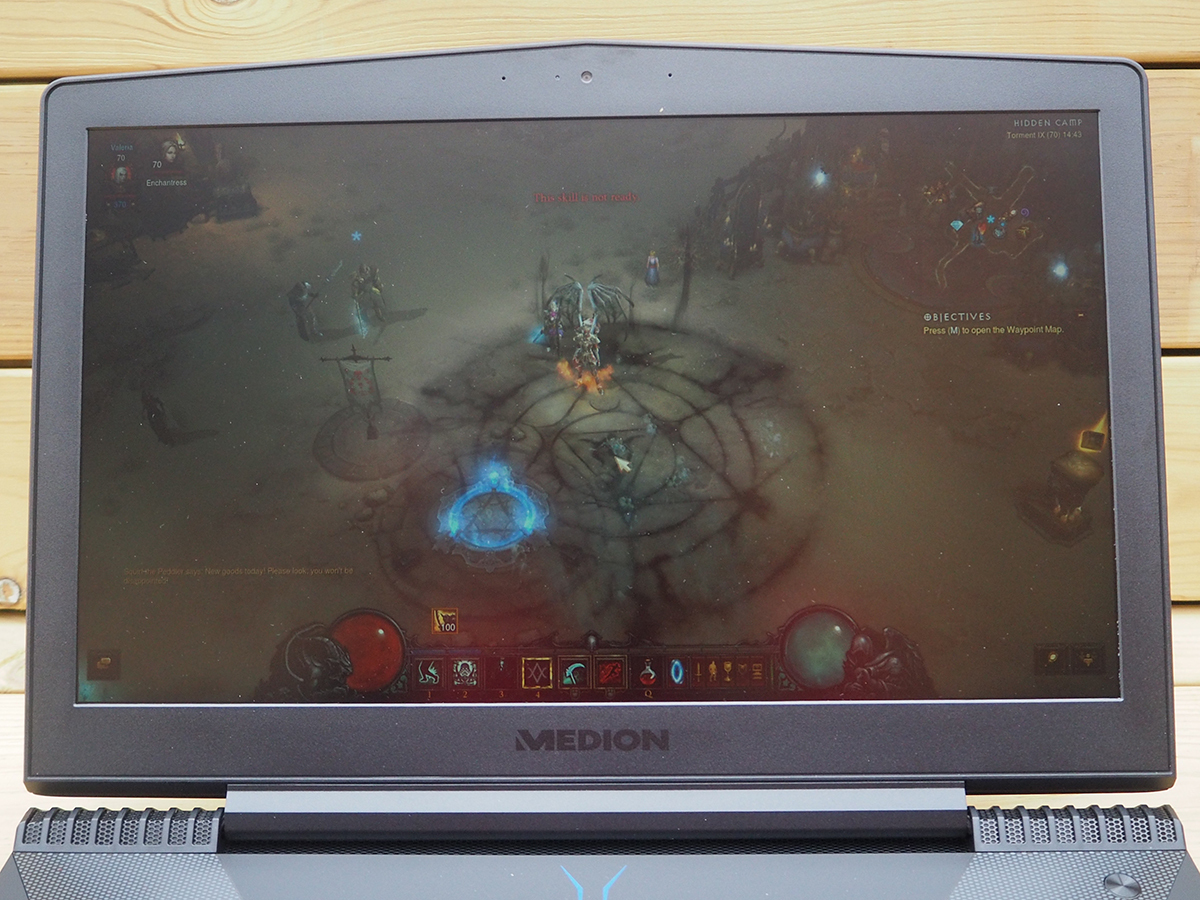 With Intel's latest Kaby Lake silicon under the hood, the X6603 is about as up-to-date as laptops get right now. The quad-core i5-7300HQ normally ticks along at 2.5GHz, but can Turbo Boost up to 3.5GHz when you need some extra muscle.
It's not going to break any benchmark records, but is easily powerful enough to run your run-of-the-mill Windows programs – or feed the GPU enough data to keep your games running at smooth frame rates. 8GB of RAM is really the minimum you'd expect, but is still plenty to run today's games without chugging.
The regular X6603 variant on sale here in the UK comes equipped with a 128GB SSD and 1TB hard disk. It's a great combo, with the speedy SSD dedicated to Windows (and a few of your favourite games) and the slower, more capacious hard disk ready to gobble up your multimedia files. You can step up to a 250GB SSD for £1099 – which also upgrades the CPU to a super-speedy Core i7 chip.
It's the Nvidia GeForce GTX 1050ti graphics chip that really stands out, though. It's ideally suited to gaming at 1080p, with enough power to run most of today's games at medium to high details. Really tough titles like the Witcher III can still send frame rates tumbling, but Blizzard's loot-em-up Diablo III plays perfectly with all the settings turned up. No, you're not going to be hooking it up to a 4K TV and playing at UHD resolutions, but on the laptop itself you'll be comfortably playing most games at 60fps.
All this power takes a toll on battery life, even when you're not pushing it to the max. Away from the mains, the X6603 can only manage a few hours on battery power – at best. Try anything intensive and you'll be out of juice in around two. That's a shame, as it's not a heavyweight and you could comfortably take it with you on the move.
DESIGN & BUILD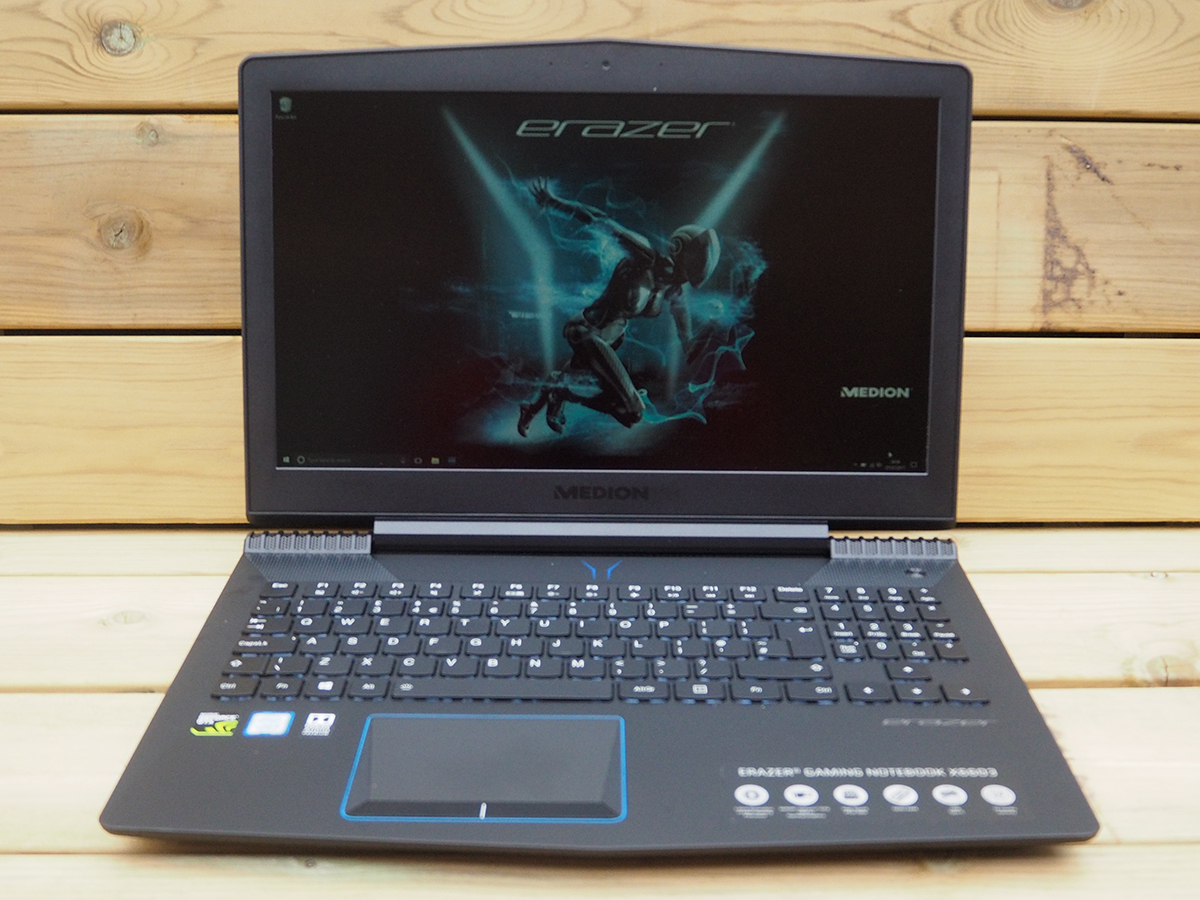 That's partly because the whole thing is made from lightweight plastic, which also helps keep the price down. Sure, it bends and flexes in a few telltale places, but a matte finish helps disguise any residual feelings of cheapness.
An etched logo on the lid adds a touch of class – even if it doesn't light up, which is almost par for the course in a gaming machine. That means it'll blend in when you whip it out in public though, unlike just about every other gaming laptop.
Around the sides, you get three USB ports, one USB-C, HDMI, Ethernet, an SD card reader and 3.5mm headphone port. Not a bad selection, especially if you plan on plugging in a mouse, keyboard and headset to really get your game on.
SCREEN & SOUND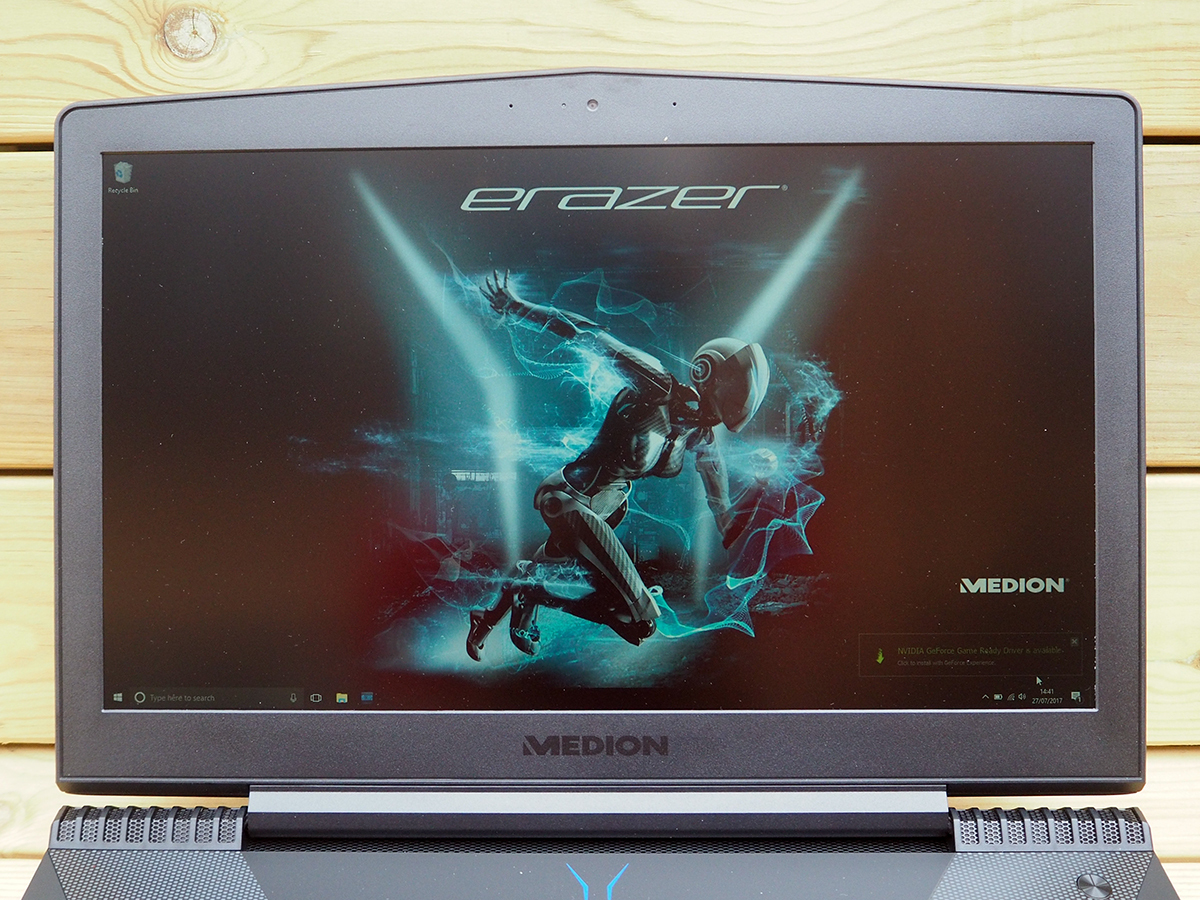 The 15.6in, Full HD screen is the Erazer's first real problem area – but not because of resolution. 1080p is right on the money for the graphics chip, which doesn't have to work overtime just to draw the Windows desktop.
The matte finish is great, too, cutting down on those annoying screen reflections. Brightness is only average, so you'll need to stay indoors to get the best image quality.
Contrast and colour, though? Both really fall short. Pictures and videos don't have anywhere near as much punch or vibrancy as you'd hope for, and it can make darker games a real nightmare to play.
At least the speakers do a decent enough job, even if they're definitely on the tinny side. They're loud enough to drown out the internal fans once they start spinning up after a bit of gaming, and are fine for catching up on TV shows or YouTube clips.
USABILITY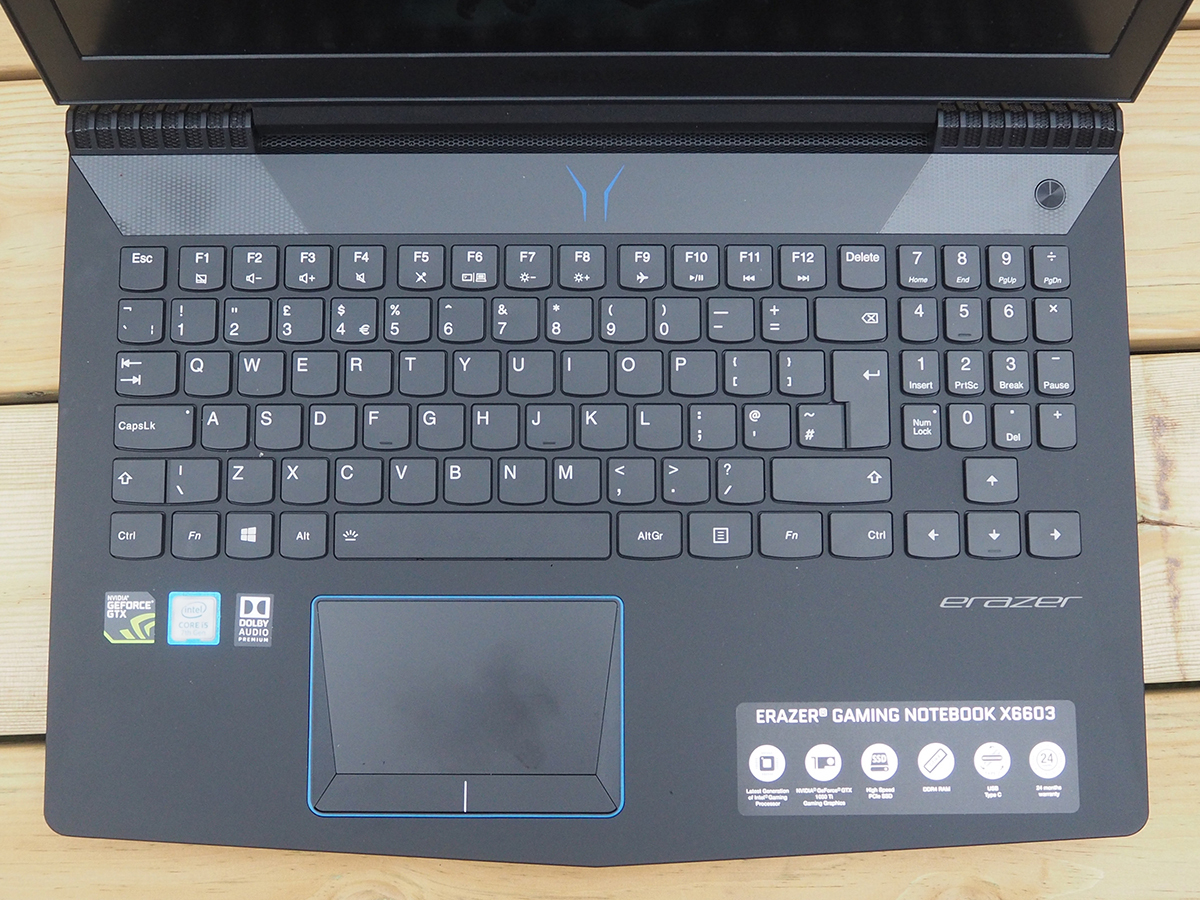 The full-size keyboard, complete with numberpad, is great for typing as well as gaming. The white backlight makes everything easy to read in the dark, and there's plenty of bounce to each key as you're rattling out emails.
The touchpad, though? It's a nightmare if you're determined to use the physical buttons underneath it. They would often fail to register a click, and are arkwardly angled away from you, so there's only a small area that actually recognises your prods and pokes.
The touchpad itself is a lot better, so if you stick to taps you'll be ok, but that kind of defeats the object of having those buttons there, doesn't it? Most gamers will plug in a mouse, anyway, but it's still annoying.
MEDION ERAZER X6603 VERDICT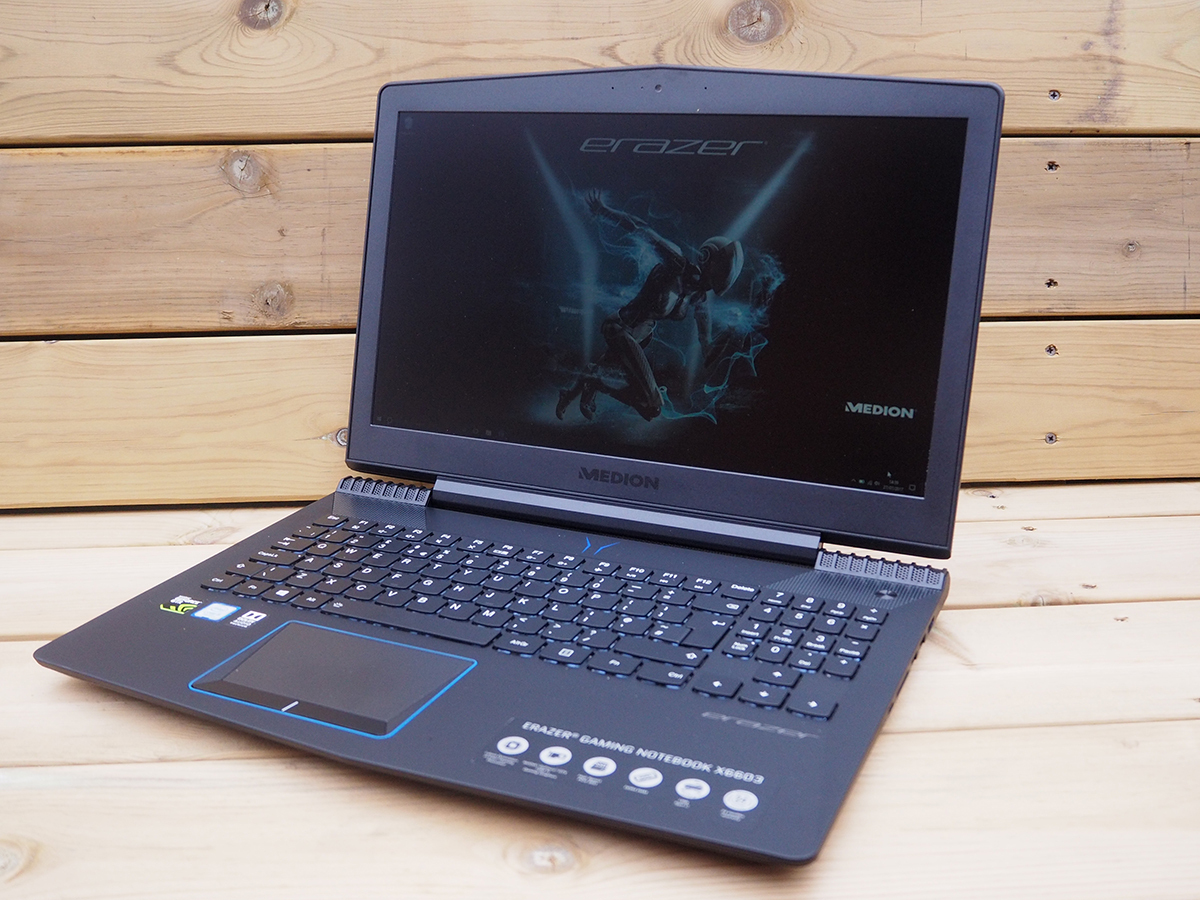 When something gets built to a budget, there's always going to be one or two areas that aren't quite up to scratch. That's what has happened here: the X6603 has plenty of power for gaming, but the screen is only average, and the battery is only good for three or four hours away from the mains, tops.
The thing is, you've still got to spend a lot more if you shop elsewhere: Acer, Dell and the like all have more powerful systems, but they all nudge over the £1000 mark. Only Lenovo's Legion Y520 comes close – and that's because under the blue LEDs, the Erazer is essentially the same machine. No surprise, really, seeing as Medion is owned by Lenovo.
No, it's not perfect. But look past the limitations and you'll still have a gaming laptop that's good for playing most titles at decent frame rates and detail settings. Good luck getting better than that for less cash.
The Medion Erazer X6603 is available in the UK from Argos, PC World, Curry's, Box, Buy IT, and direct through Medion.com
Tech specs
| | |
| --- | --- |
| SCREEN | 15.6in, 1920×1080 Full HD LCD |
| CPU | 2.5GHz 7th-gen Intel Core i5 7300HQ |
| MEMORY | 8GB RAM |
| STORAGE | 128GB SSD + 1TB hard disk |
| GPU | Nvidia GeForce GTX 1050ti |
| CONNECTIVITY | 1x USB-C, 2x USB3, 1x USB2, 3.5mm headphone port, HDMI, Ethernet, SD card reader |
| OPERATING SYSTEM | Windows 10 Home |
| DIMENSIONS | 265x380x26mm, 2.5kg |
Stuff Says…
Not quite as hardcore as the rest of the gaming laptop world, but still strikes a good balance between price and performance
Good Stuff
Plenty of 2D power
Full HD screen is sensible at this price
Ideal GPU for 1080p gaming
Bad Stuff
Still a bit on the chunky side
Battery life is unsurprisingly mediocre
Touchpad looks funky, but ain't easy to use