Microsoft Surface Go 2 review
The ideal work-from-home hybrid
The Microsoft Surface Go 2 is like a Nissan Figaro in tablet form. That curvy car is as basic as they come under the bonnet, but arguably cute as hell on the outside.
That sounds like an insult, but with the Windows 10 slate essentially a lightweight workhorse, the aesthetics, display, build quality, and feel of the keyboard are vitally important to its appeal. Just don't go expecting it to seamlessly replace your four-year-old performance laptop. It may well feel slower day-to-day, and is almost useless for editing video and large images, but it's a charmer nonetheless and may even be a better gaming tablet than an iPad.
Like with its Apple rival, however, expensive accessories are an issue. A £399 starting price is tasty, but don't forget the extra £100-130 for the must-have keyboard or £99 for a stylus to unlock the tablet's arty side. So how does the Surface Go 2 manage to set itself apart?
Design: Surface-level stuff matters
Microsoft's approach to tablet design starts to look a bit like Apple's if you step back far enough. They have different priorities, and use different materials, but there's a strict "zero crap" policy.
The Microsoft Surface Go 2 looks and feels just as well-made as the Surface Pro 7. Its case is magnesium alloy, just carved with cuter curves to match its identity as a tablet made for everyone. Friendly is the aim.
It is larger than the original Surface Go, but largely because the screen is significantly bigger this time around. It's 8.3mm thick, 24.5cm wide and weighs 544g.
This makes it thicker and heavier than the average 10in tablet, but a Surface Go 2 is quite a different prospect in other respects because it runs Windows 10, not Android. And it has a built-in kickstand just like the other Surface models.
The Surface Go 2 can stand up by itself without one of those awkward fold-over folio cases. At some point Microsoft will need to refresh the Surface series design completely, and get rid of the thick borders around the screen, but for now at least it gets a pass as one of the few remaining Windows tablets.
Keyboard: small but mighty?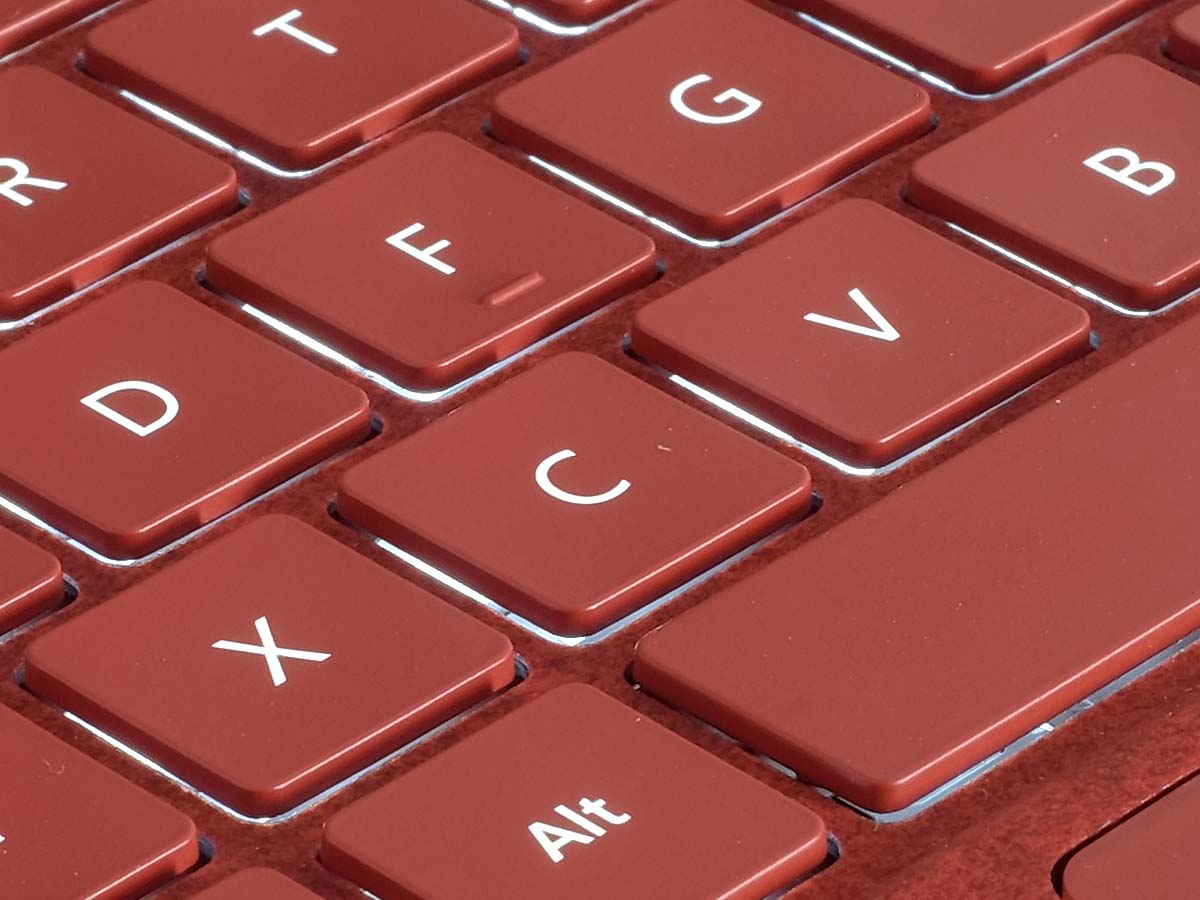 Buy a Microsoft Surface Go 2 on its own and you miss much of what makes it so useful. This thing needs Microsoft's Type Cover. Most images show the two together, but the keyboard base is almost always sold separately, and costs a hefty £100-130 depending on the style chosen.
Microsoft sent us a new-for-2020 version, decked out in red Alcantara, a synthetic suede and one of the very best fabrics for the job. Alcantara is tough, looks good and still has the softer touch of an alternative that would wear or get mucky more quickly.
This keyboard is steep, but worth it. The keys feel similar to those of a normal laptop, they have a backlight and the touchpad below them is glass rather than plastic. This offers the smooth finger glide of a £1000 laptop, just with a smaller surface to flick across.
Most £500-600 laptop have plastic pads, which simply aren't as nice. Does it turn the Microsoft Surface Go 2 into the perfect petite laptop-replacer? Not quite. While the keys feel good and magnets lift the board up to a type-friendly angle, it does flex a bit as you type and the keyboard is quite small.
It is great for the odd bit of work but we would not want to use it for a solid eight hours of work every day. That's the Surface Pro 7's job, as it has a full-size keyboard. Or the Surface Book 3, if you really want to splash out. Check out the Acer Swift 1 or Lenovo IdeaPad 5 if you want a budget all-day work machine. There's no replacement for a full-size keyboard.
Features: glossy extras you'll appreciate
However, those laptops miss out on the sheer gloss of the Surface Go 2, which goes far further than just the fancy magnesium exterior.
For example, the Go 2 has a better webcam than any traditional laptop at the price. It's a 5MP sensor: no great shakes by phone standards, but it's in a completely different league to most laptops for video calls. Your Zoom or Skype chats with this tablet will look clearer than those of most £1000 laptops.
The Microsoft Surface Go 2 also has a rather tasty screen. It's a 10.5-inch display, up from the 10 inches of the first Surface Go, and has a 1920 x 1280 pixel panel.
Once again, this is a significantly better screen than those found in most £500 laptops. Its contrast is higher, colours are richer and the backlight brighter.
The Microsoft Surface Go 2 is a high-quality hybrid in a whole bunch of areas that affect your day-to-day experience, even if its abilities are narrow in others. Microsoft's £99 Surface Pen is great too, with 4069 pressure levels, a metal barrel and support for tilt-sensing. It's designed to be a match for the Apple Pencil, and is such a match in a techy sense. However, the Pen is mis-matched with the entry-level Surface Go 2 reviewed here.
A £100 pro grade stylus does not make much sense when paired with a tablet that can barely run the software that justifies it. The more expensive m3 CPU Surface Go 2 is a better fit.
Performance: Stick to the easy jobs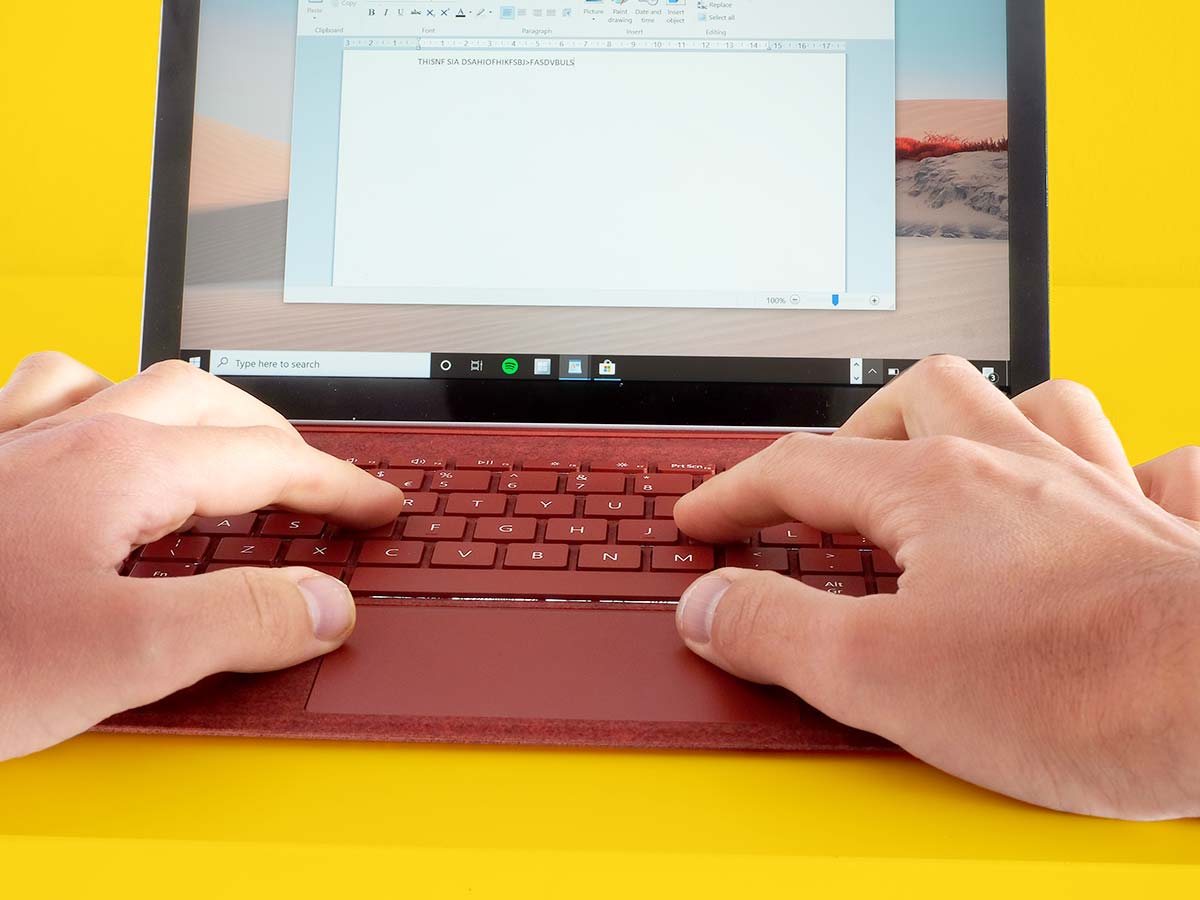 Now we come to the crunchy bit of judging the Microsoft Surface Go 2, the part where we determine if it's a good fit or pretty much useless for your needs.
Microsoft sent us one of the least powerful Surface Go 2s. And we're glad it did because these seem the most appealing when you shop around online. It has an Intel Pentium 4425Y processor, 8GB RAM and 128GB SSD storage, one rung up from the base version with 4GB RAM and 64GB storage.
Let's start with the bad news. Windows 10 does not feel as smooth and responsive as it does on a laptop with a Core i-series CPU. Little pauses when you load an app, bring up the Start menu, visit a complicated website or even click a text box tell you the Surface Go 2 is limited by the amount of power available. This is where your experience level comes in. Are you used to a fast work PC, or upgrading from a perhaps bland laptop with an SSD and decent CPU? Those pauses may well get on your nerves. However, apply a liberal pinch of patience and we think you'll get on with it just fine.
The Surface Go 2 falls apart much more clearly when you use a processor-taxing application. If you need to edit video, large images, want to try out music composition, or will load up spreadsheets with the footprint of a small country, this hybrid is not for you.
Intel Pentium and Celeron CPUs are much better than they were a few years ago, but still struggle as soon as you ask them to do anything beyond the basics. If you need real power, forget the fancy bits of the Surface Go 2 and buy yourself a normal laptop.
You can get an Asus Vivobook 14, Acer Swift 3 or Lenovo IdeaPad 5 for less cash than our Surface Go 2 with the Type Cover. And all have far more power. An iPad is a more consistent performer too
A surprise retro gaming hit?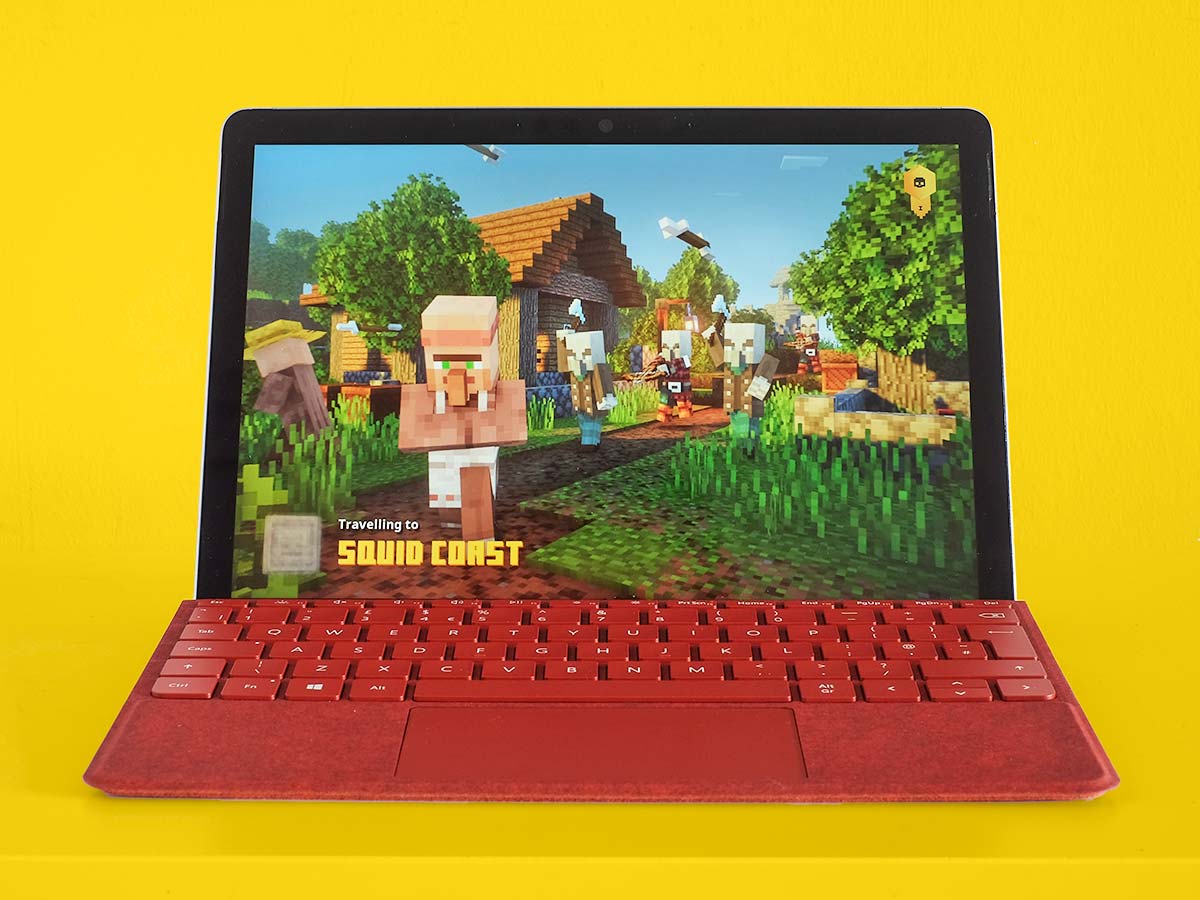 However, we were pleasantly surprised when we dug around to see what else the Microsoft Surface Go 2 can handle.
It is, surprisingly enough, not a bad choice for gaming, and even arguably beats an iPad if you look at it from the right angle and squint a bit. The Pentium 4425Y has a graphics chipset called the Intel HD615, low-end integrated hardware usually discounted as "rubbish" by anyone who talks, writes or reads about tech. But it lets the Surface Go 2 play lots of games an iPad can't.
We tried a bunch. Skyrim ran at 800p resolution well at Low graphics, and Medium is playable if you can stomach the odd obvious slow-down. Alien Isolation is dandy as long as you cut back most visual effects and lower the resolution, again, to 800p.
Legend of Grimrock 2 offers a fairly solid 30fps at Low visuals. Minecraft Dunegons sticks around 30fps until the scene gets busy, at Low graphics. Resident Evil 7 is playable if you use the interlaced rendering mode. And Xbox 360 classic Burnout Paradise feel great at max settings, full 1920 x 1280 resolution, as long as you leave the fancy lighting SSAO mode switched off.
Plug an Xbox One controller into the Surface Go 2 and it can become a nifty portable games console. A compromised one, sure, but still a lot of fun. Not all the games we tried ran well, of course. Subnautica's frame rates dipped into the teens too often even with the visuals as dimmed as they'll go. Fornite crashed a lot and kept failing to load textures. Metro 2033's frame rate was still all over the place even after pressing every visual switch we could find.
There's only so much you can wring out of an Intel Pentium processor, but there's more potential here than you may assume. The Surface Go 2's particular highlights add to the experience too. Flick out the kickstand, plug in a controller, and you can play AAA games from days gone by while in bed.
The stereo speakers aren't too bad either, with fairly refined sound if not the bass of an iPad Pro or a Samsung Galaxy Tab S6. Do bear in mind you'll need to fiddle with the graphics settings of almost any game you'll play. This is not the tap-and-go ride of an iPad. You'll also need to tweak the Surface Go 2 to unlock all it can do. It runs Windows 10 S as standard, a restricted version that only lets you install apps from the Windows store. To install other apps you need to take off the training wheels and switch to normal Windows 10. It's easy to do.
Battery Life: It's an all-day tablet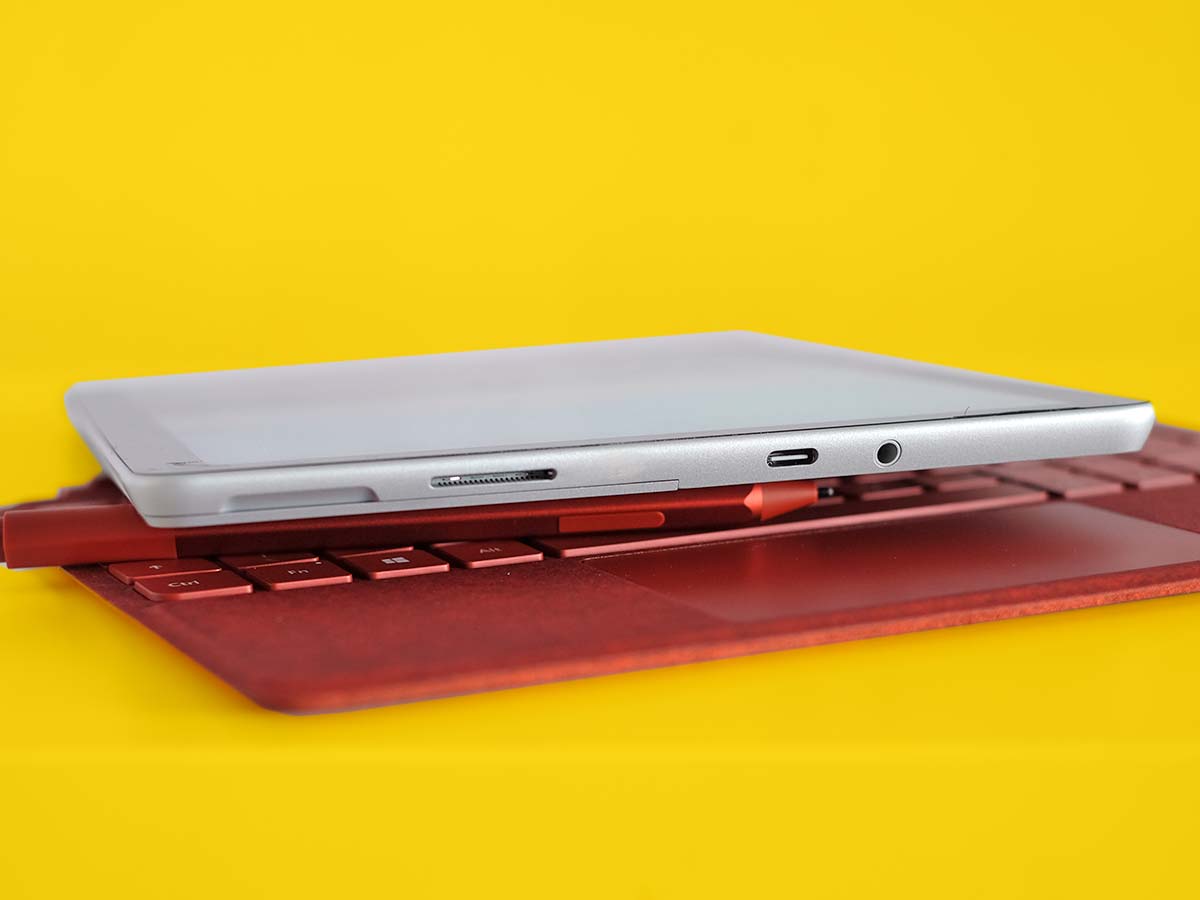 There's no huge tax on battery life caused by Windows 10, at least in this Pentium version of the Microsoft Surface Go 2.
It lasts eight hours 50 minutes when streaming YouTube video at the mid-level brightness you might use indoors. An iPad lasts longer, but we're not too far off Microsoft's own claim of 10-hour battery life.
The Go 2 also uses a nifty magnetic charger similar to Apple's old, and missed, MagSafe standard. It's designed to fall out before dragging the tablet off a table, handy for avoiding those scream-into-the-void moments when you drop a gadget and smash its screen.
Microsoft Surface Go 2 verdict
There aren't many hybrids like the Microsoft Surface Go 2, as most companies stopped making Windows tablets years ago.
The price is similar to that of an iPad, but with a little tweak you can try out any Windows 10 app you like. This tablet feels slower than an iPad, and is less easy to use. But with the Type Cover it turns into a neat, if cramped, mini laptop.
Windows laptops still have the potential to feel clunky, but this is a great buy if you want the familiarity of fully fledged Microsoft Office software. And despite the weak processor, the Surface Go 2 is surprisingly good way to play older games.
Who needs a Nintendo Switch? OK, we're still keeping the Switch.
Tech specs
| | |
| --- | --- |
| Screen | 10.5in PixelSense 1920 x 1280 |
| Processor | Intel Pentium 4425Y / 8th Gen Core m3 |
| RAM | 4GB / 8GB |
| OS | Windows 10 Home |
| Storage | 64GB / 128GB |
| Connectivity | Wi-Fi, NFC, Bluetooth 5.0, USB-C, 3.5mm, MicroSD |
| Speakers | 2W Dolby Audio |
| Cameras | 8MP rear, 5MP front |
| Battery | Up to 10 hours |
| Dimensions | 245x175x8.3mm, 544g |
Stuff Says…
Just enough power to perform and some must-have accessories make the Go 2 a genuine iPad rival
Good Stuff
Has the gloss affordable Windows laptops lack
Surprisingly good fun for gaming
Good camera for video chat
Solid battery life
Bad Stuff
Can only handle non-taxing apps well
Accessories are pricey