Microsoft Surface Pro 7 review
An expensive hybrid that works just as well as a "real" computer
The Surface Pro has become a bit of a laptop icon. It is the Windows hybrid to many, with a clever clip-on keyboard and a kickstand some say Apple needs to nick if it wants the iPad Pro to be a real laptop-replacer.
Microsoft has not really fiddled with the design much this time around. You get a USB-C port, finally, and one of Intel's 10th generation processors.
This may not be the most exciting upgrade but the higher-end Surface Pro 7s, like the one tested here, is a great entertainment machine. You get not just a good screen but Intel's new Iris Pro graphics chipsets can even tackle some surprisingly demanding games. Just about.
Design
Never used a Surface Pro before? It's a classic hybrid. The tablet part and keyboard are completely separate, and in most cases you have to buy the keyboard separately. You'll want to get one. A Surface isn't really complete without the Type Cover, as Microsoft calls it.
The "Signature" keyboard we have here costs a cool £150. Our starting price is really £900-950, not the £799 you might see online (tablet alone). And this particular spec costs £1449 just for the tablet.
All versions of the Surface Pro 7 have the same smart-looking design. The casing is magnesium alloy, and is one of the best-feeling pieces of tech made using this kind of metal. Magnesium tends to feel less cool and hard, less metallic, than aluminium, but this tablet has an almost soft-touch finish. It's downright stroke-able.
So is the Type Cover. The whole thing, bar the keys and touchpad, is covered in Alcantara, a fab synthetic suede used in some fancy headphones and some even fancier yachts. It's hard-wearing, but has the softer feel of fabric.
The hybrid factor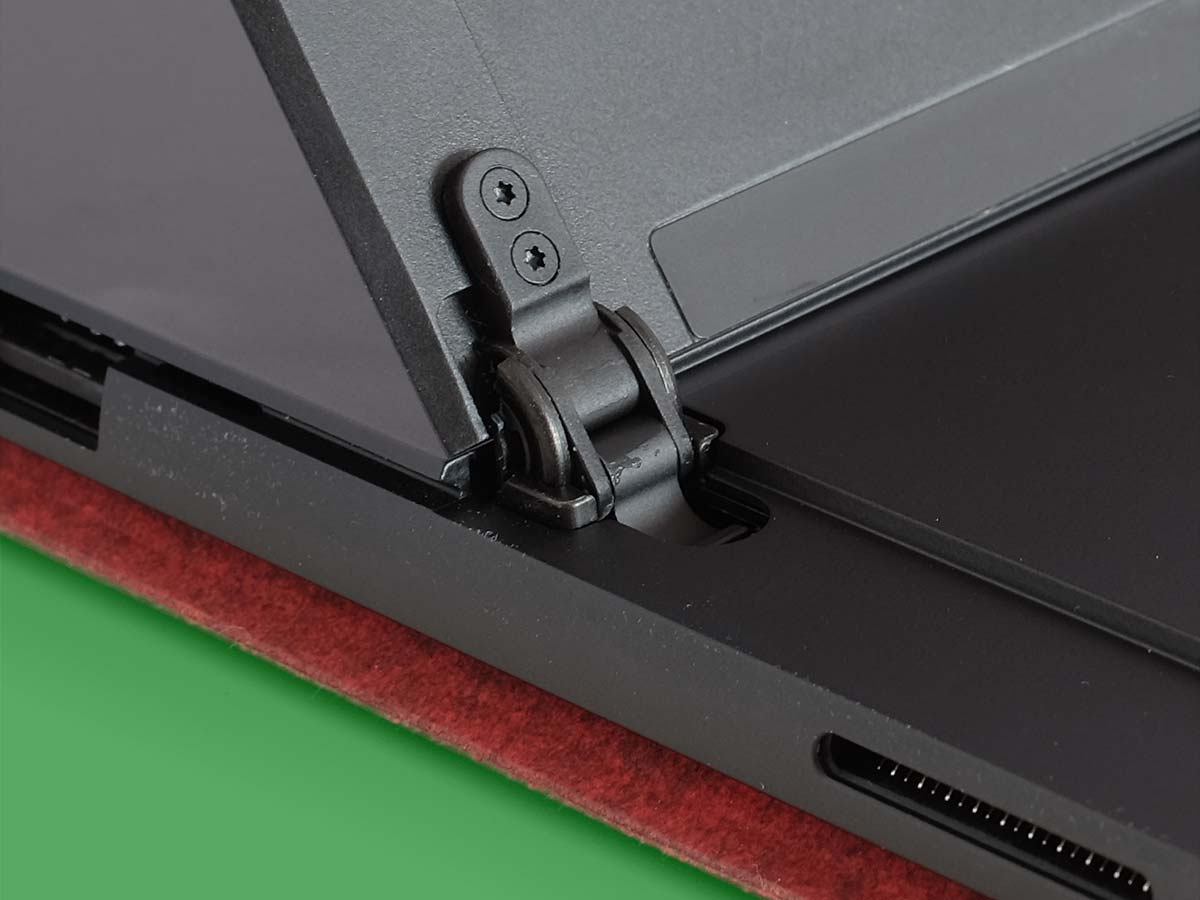 The use of magnets and the kickstand are what really come to define how the Surface Pro 7 operates.
Magnets keep the keyboard locked onto the screen, and a second team of magnets let the keyboard sit at a slight upward angle. It makes typing a bit more comfy.
The metal kickstand also keeps the Pro 7 upright away from the keyboard. It's a sturdy mechanism that can sit at any angle you like, from near enough straight up to almost flat. Still, having a 1mm-thick piece of aluminium resting on your knees doesn't match the comfort of a normal laptop. And if you have to work on a shallow table, make sure the kickstand doesn't rest too near the edge. If it goes over, it'll take the screen, and possibly the in-tact status of the screen glass, with it.
In most, less compromised, situations the Surface Pro 7 works like a dream. The keyboard is just about stiff enough to make typing feel like that of a "proper" laptop, and the keys themselves are excellent.
You get more travel here in a MacBook, more of the feedback that lets you type with confidence. No-one should want to type out a 2000 words essay on a touchscreen. The keyboard also has a backlight, which can be set at three different levels using one of the F-keys.
Even the trackpad is alarmingly good. Early versions of the Surface Pro keyboard had fairly small trackpads, but this one is large enough to look and feel just like, well, a normal pad. It's also a proper glass pad, not the plastic you'd expect to see in the average tablet accessory keyboard. Glass feels much smoother, much better.
The Signature Pro keyboard is expensive, yes. Absolutely. Sure. You can buy a Chromebook good enough for basic computer jobs for around the same price as the keyboard alone if you shop around online. But there are some pretty good excuses for the high cost.
There's no fingerprint scanner here, but Microsoft does make a Surface Pro keyboard with one.
Hardware changes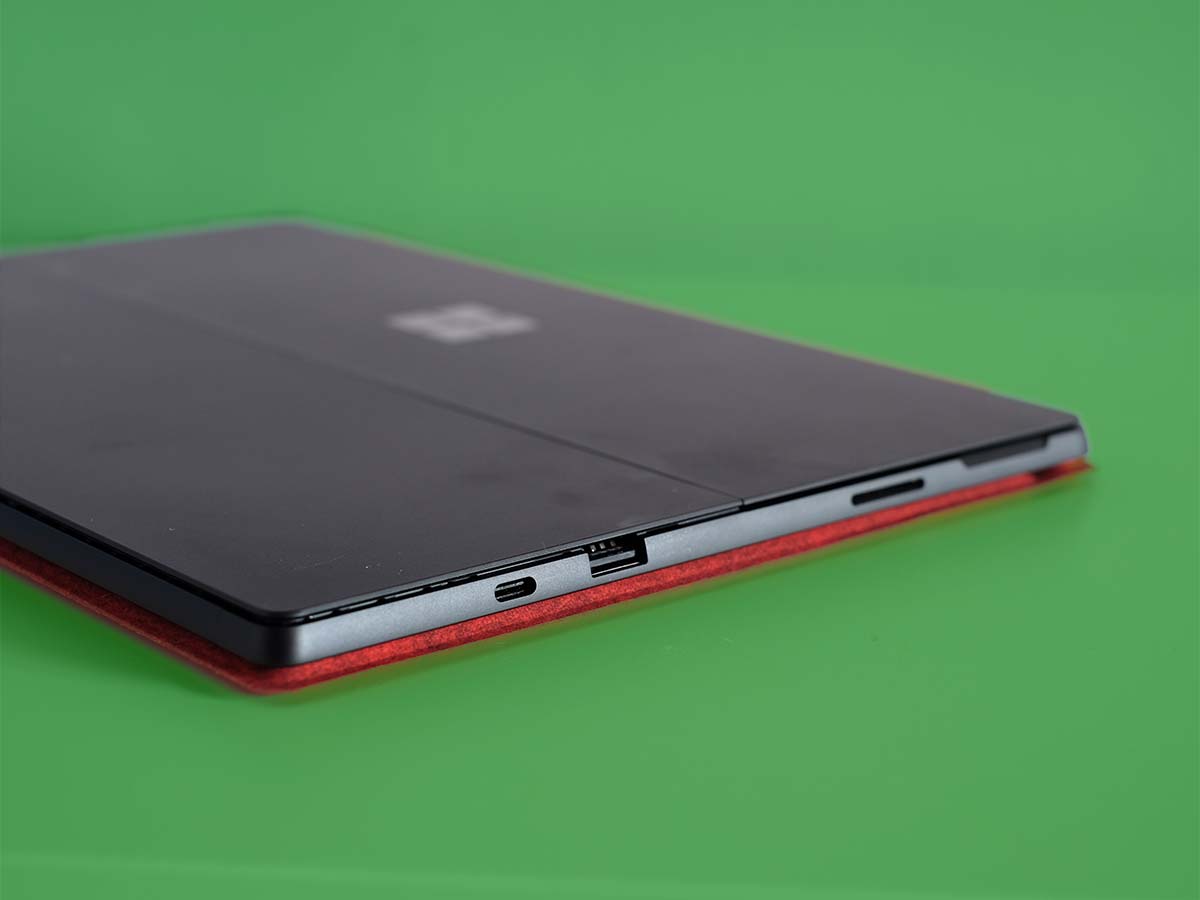 You get the sense Microsoft didn't think it needed to be too dynamic when designing the Surface Pro 7, as if it had already done enough in previous years to keep the design current. A USB-C port is really the only external hat tip to the tech progression seen elsewhere.
The Surface Pro 6 should really have had one too. This upgrade is overdue. It's not the fastest out there either, a USB 3.1 port rather than the four-times-faster Thunderbolt 3.0.
When we say "faster", we don't mean there will be lag if you plug in a mouse. This isn't 1991. It is bandwidth that changes significantly, which becomes an issue if you want to, say, plug in multiple high refresh rate 4K monitors. We can't imagine too many Surface Pro buyers actually doing this, but the price is high enough to make this a legit grumble.
Display
Microsoft has not changed the screen this time around. It's still a 12.3-inch IPS LCD screen that looks very sharp thanks to its high 2736 by 1824 pixel resolution.
Colour is excellent, and so are contrast and max brightness. A powerful backlight is important for a highly portable laptop like this, particularly as it has a glossy touchscreen.
The Surface Pro 7's screen shape seems much better suited to apps than entertainment, though. This is a 3:2 display, which leaves big borders when you watch widescreen video, and huge ones when you watch a cinema-ratio 2.35:1 movie.
It makes sense when you look a bit closer at the practical realities. A squat screen like this lets Microsoft use a display that feels big while you work, without making the Surface Pro 7 itself much wider than the keyboard.
That excuse is getting weaker every year, though. Just look at the Surface Pro 7's chunky screen borders and compare them to the skinny ones of the Dell XPS 13 or Surface Pro X. This hybrid already looks slightly dated on day one.
Performance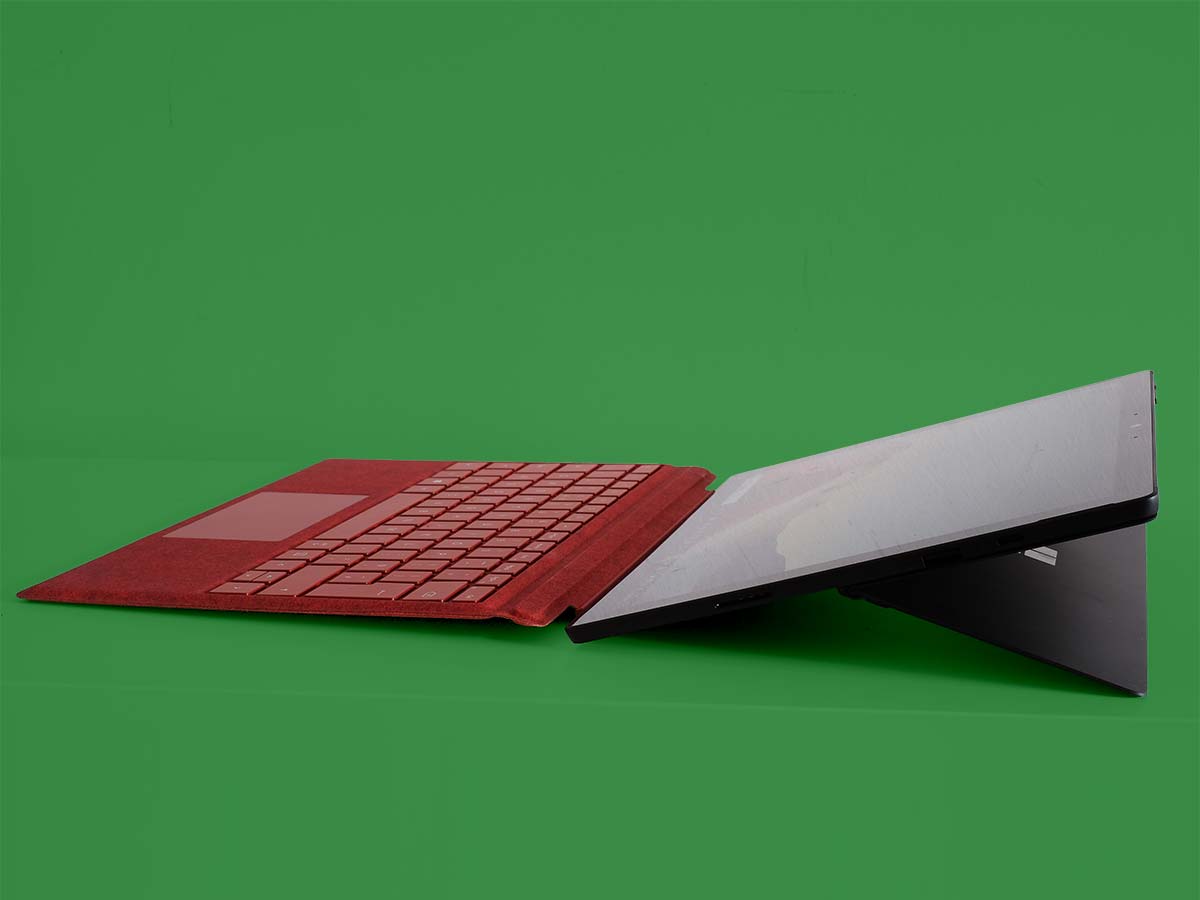 Don't think of this as Microsoft's MacBook Air, though, a line that until last year had hardware so dated it seemed to belong to a completely different era of computing. The Surface Pro 7 has the latest 10th Gen Intel Core series processors. Ours has the Core i7-1065G7, as seen in the £1599 version of the Dell XPS 13.
The "G7" bit on the end of the CPU name tells this Surface Pro 7 uses Intel's higher-end Iris Plus graphics. While this won't worry even decent low-end dedicated graphics cards like the Nvidia MX 250, seen in some cheaper slim and light laptops, Iris Plus does let a few important games flop over into "playable" territory. You could play Grand Theft Auto V on the Surface Pro 7. Skyrim runs very nicely at 1080p, Medium settings.
AMD's latest CPUs still have the edge for gaming performance, but the Iris Plus chipsets do make the more expensive versions of the Surface Pro 7 significantly better for games than the Surface Pro 6 was.
Battery life
There's no improvement for battery life this year, mind. And even Microsoft's own claims take a hit this time. It says the Surface Pro 7 will last up to 10.5 hours of normal use, down from 13.5 hours in the Pro 6.
We found the reality isn't that close to the claim either. Streaming video it lasts around 6.5 hours, which is too far from the 8-hour all-day use gold standard for our liking. The results were pretty similar when we kept an eye on the battery level during a day's work: again, expect it to last 6-6.5 hours if you browse the web and write stuff.
Why the difference in claim versus reality? Most laptop manufacturer battery figures are a way off, and Microsoft's aren't helped by its use of "idle" time in its calculations. That's right, for some of its 10.5 claimed hours the Surface Pro 7 is just sitting there with some browser windows open. When we check out at work for a bit, we're usually watching YouTube or reading some anxiety-inducing news stories, not sat glassy-eyed with drool pooling in our cheeks.
We'd like the Surface Pro 7 to last significantly longer. But we can also understand why it doesn't. This is a thin and light tablet with the same insides as a traditional slim laptop. Where is Microsoft meant to cram a 50% larger battery, exactly? But it's also why we still have a lot of love for the classic clamshell laptop.
Anything else?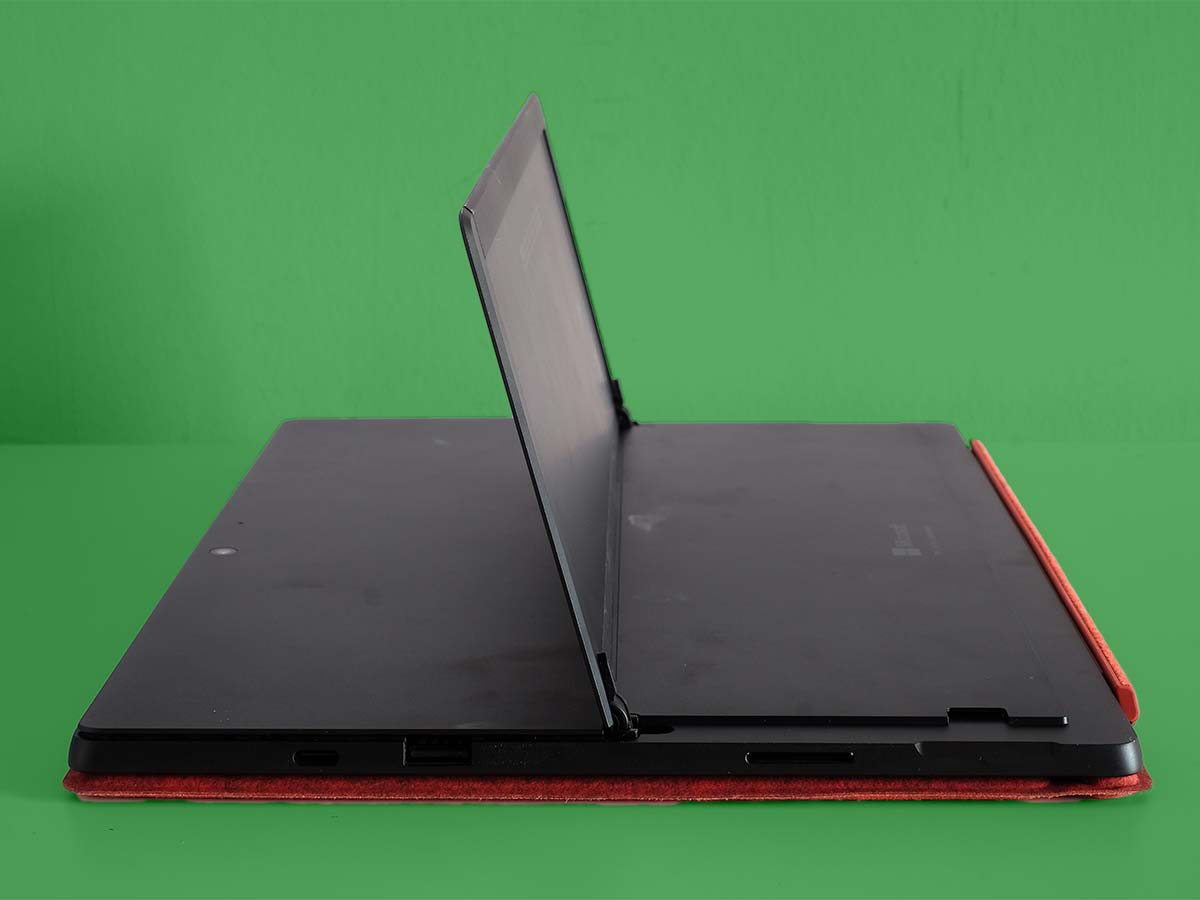 We just have a few Surface Pro 7 stragglers to deal with. It has stereo speakers that have a respectable half-teaspoon of bass for tablet units, and max volume is fine. However, when pushed our Surface Pro 7 creates some sensationally ugly-sounding mid-range distortion. It only comes from the right side, so you may have more luck.
There's also the stylus and mouse to consider. Microsoft has "done an Apple", asking a whopping £99.99 for the Surface Pen. But it has also filled it with tech, including tilt detection, 4,096 pressure levels and an eraser on the back. Microsoft also claims it's the fastest digital pen on the planet, although there was some latency to the doodling we did in Paint 3D, so you really need proper software to make the most of it.
And if you're really feeling weighed down by the cash in your pockets you can buy a £79.99 Surface Arc mouse. This is a slightly creepy wireless mouse with a skin-like back that can go from flat to bent with a flick of your fingers, letting it slip into a jacket pocket. It's more David Cronenberg than Jony Ive, though, and will probably cause a few nightmares during the little lie down we'll need to come to terms with spending £1499 on the tablet, £150 for the keyboard, £100 for the stylus and £80 for the alien mouse.
(Before Microsoft complains, we should say you may be able to save a few quid if you buy them altogether as a bundle)
Surface Pro 7 verdict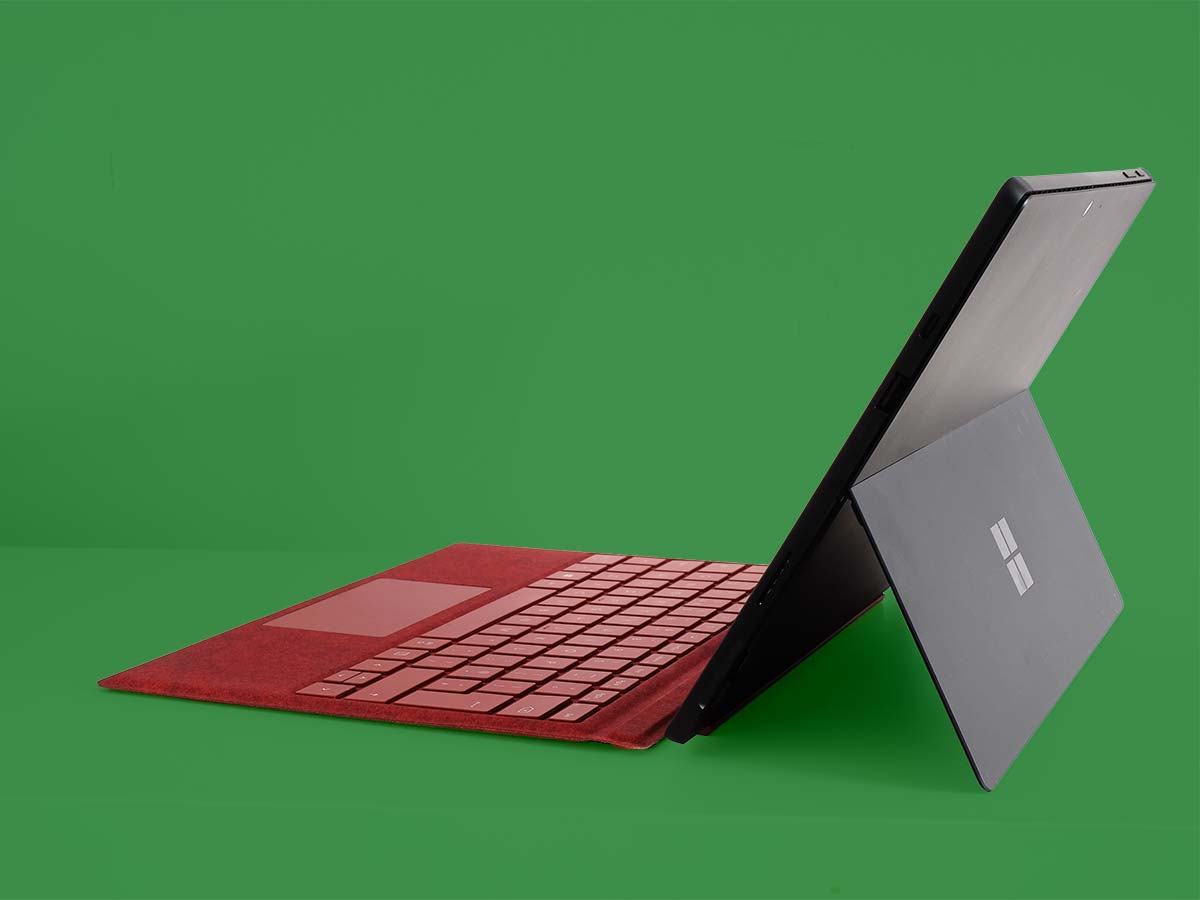 The Microsoft Surface Pro 7 is no revelation. It's a lot like the Pro 6. Aside from the no-brainer addition of a USB-C port, progress here is down to Intel's new chipsets, not any major Microsoft innovation.
But look at the more dynamic Surface Pro X and you may decide you will be happier with this more familiar hybrid. It has none of the compatibility issues of that model, the Type Cover keyboard design is a tried and tested hit and it isn't much less portable than an iPad Pro.
We'd like significantly longer battery life and a lower price would really start to tempt us away from a more conventional laptop. But this hybrid does work well as a "real" computer.
Tech specs
| | |
| --- | --- |
| Screen | 12.3in, 2736 x 1824 LCD |
| Size | 292 x 201 x 8.5mm |
| Storage | 256GB SSD |
| Weight | 790 g |
| CPU | 1.1GHz Intel Core i5-1035G4 (quad-core, 6MB cache, up to 3.7GHz boost) |
| Battery life | 10.5 hours |
| Ports | 1 x USB-C, 1 x USB-A |
| Camera | 8MP rear camera 5MP front camera |
Stuff Says…
It is similar to the last Surface Pro, but this is still one of the few tablet hybrids we'd be happy to work all day on. Just remember to bring the charger, as the battery won't last.
Good Stuff
Bold, sharp screen
Punchy 10th Gen Intel CPUs
Type Cover remains surprisingly good
Bad Stuff
Battery life is not great
Aspects of the design are ageing
Accessories are a bit pricey