Moto G 4G (2nd Gen) review
Motorola's budget barnstormer gets 4G and a bigger battery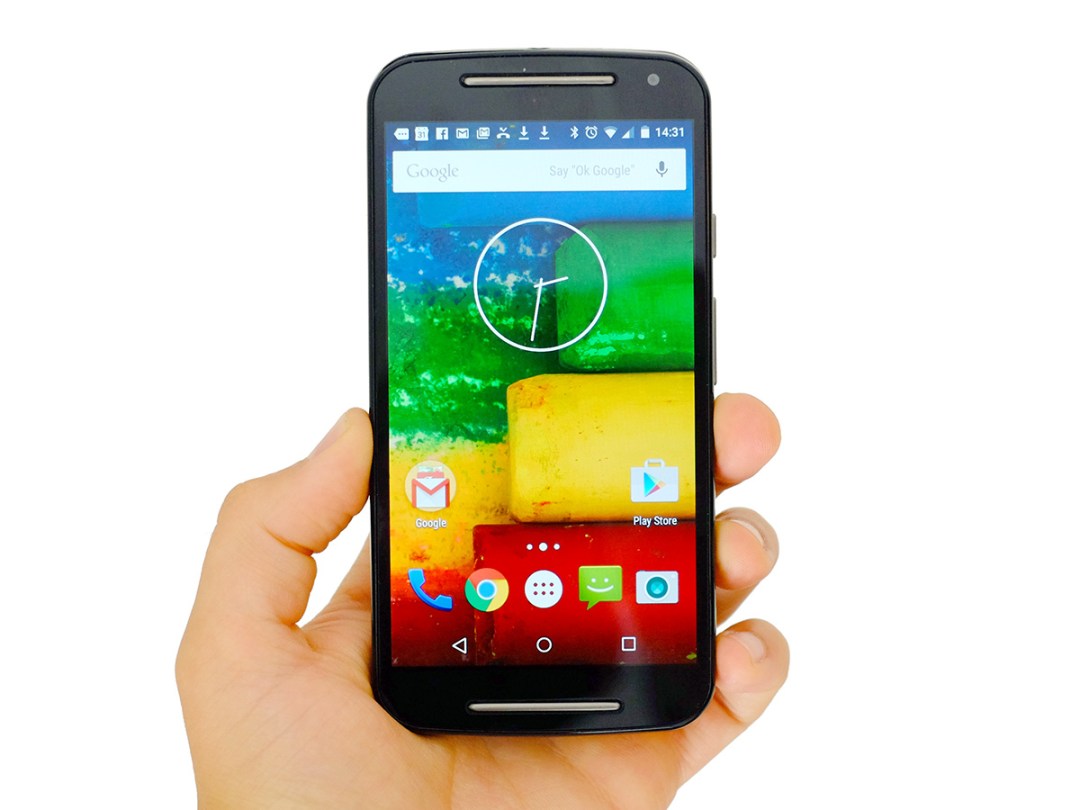 The Moto G is the phone that changed it all. When the first model arrived in 2013, it showed us that a brand-name handset costing around £140 could give you an Android experience not a million miles away from that of a £300-£500 flagship.
We were sold. And now Motorola has tweaked the formula with a 5in screen and 4G.
It's up to speed on hardware. The only worry now is that Android Lollipop actually leaves the phone feeling slower than the original did two years ago. You can't win 'em all.
Back in black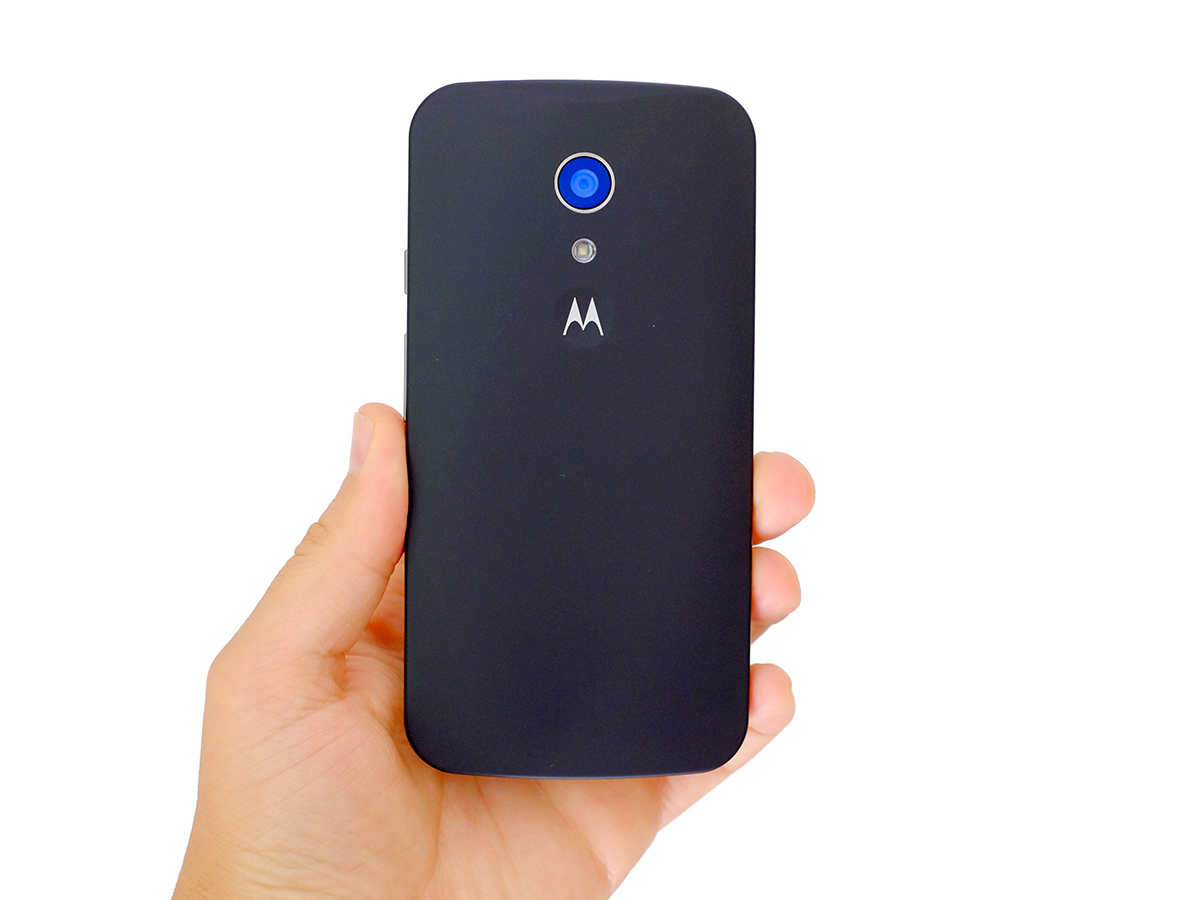 Part of what makes the Motorola Moto G formula so appealing is its apparent lack of ego and 'look at me' posturing. You get simple, fuss-free software and a pretty straightforward design here.
It comes in black or white, and it's low on flourishes and fancy bits. There's just the Moto logo on the back, the silvery bars on the front, and the little characteristic dimple on the rear to mark this out as a Moto phone.
It walks the line between pleasantly plain and boring well, but if anything I prefer the even more vanilla first-gen Moto G; now that really was a fuss-free phone.
This newer design is larger too. While its 5in screen isn't huge compared with many of 2015's smartphone behemoths, it's thicker than most at 11mm. But palm-filler or not, it feels good regardless, as the rear is smooth and curvy and has a finger-charming soft-touch finish.
The build quality here is a cut above what you'd get on a lot of cheap phones too. While the back is covered by a plastic shell, the rest of the Moto G frame is a solid chunk of plastic. No creakiness here, and the screen is swathed in good old Gorilla Glass 3 too. It's tough and pretty scratch-resistant.
Also unusual for a cheaper phone, the Moto G has stereo front speakers. Don't go expecting HTC One M9-grade audio goodness, as audio quality is still within the smartphone norm, but you do at least get respectable volume. It can spar with your kitchen extractor fan, and that's the modern benchmark to beat.
The 5in wonder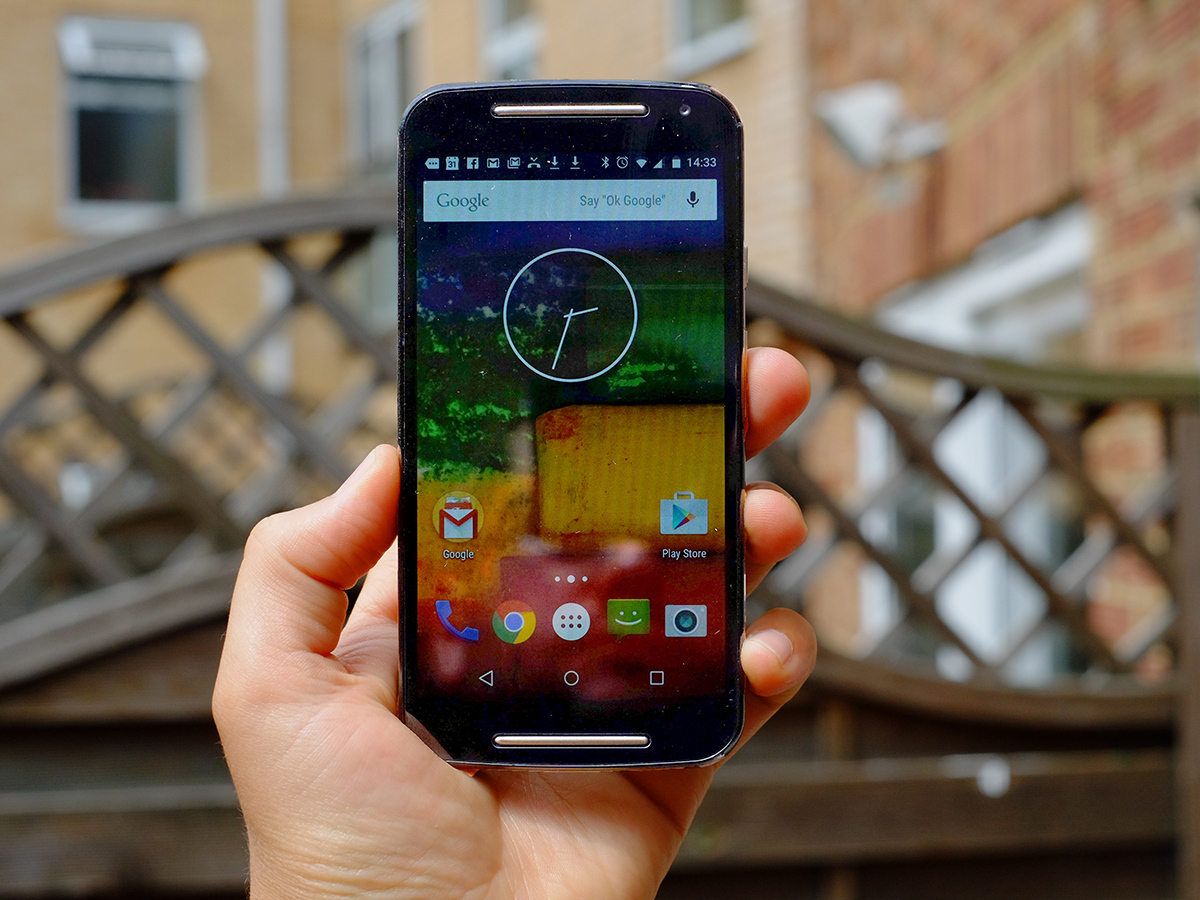 What really makes the Moto G stand out among budget rivals from the likes of Sony and Samsung, though, is its screen. As with previous models, you get 720p HD resolution. While not quite enough to get you absolutely pristine sharpness, it's close enough that, 90% of the time, you won't notice what slight pixellation there is.
Sure, I'd be complaining if this was a £300 phone, but given that it costs half that it's totally justified here.
It's the same with the display's colours. While you won't get the deepest, richest colour palette as you would on a Sony Xperia Z3+, the colour tone looks natural and the slightly warm white balance is very easy on the eyes.
This is an IPS LCD screen, so you get pretty good viewing angles, and outdoors visibility is also fine. While plenty of other phones have taken the Moto G's lead in offering a nice 720p screen – the Microsoft Lumia 640 and Honor Holly among them – we're not at a point where we can really expect much more for the cash.
Sure, the Vodafone Smart Ultra 6 gets you a bigger 1080p for even less cash (£125), but it's effectively subsidised by Vodafone, so it's not really a fair comparison.
Performance anxiety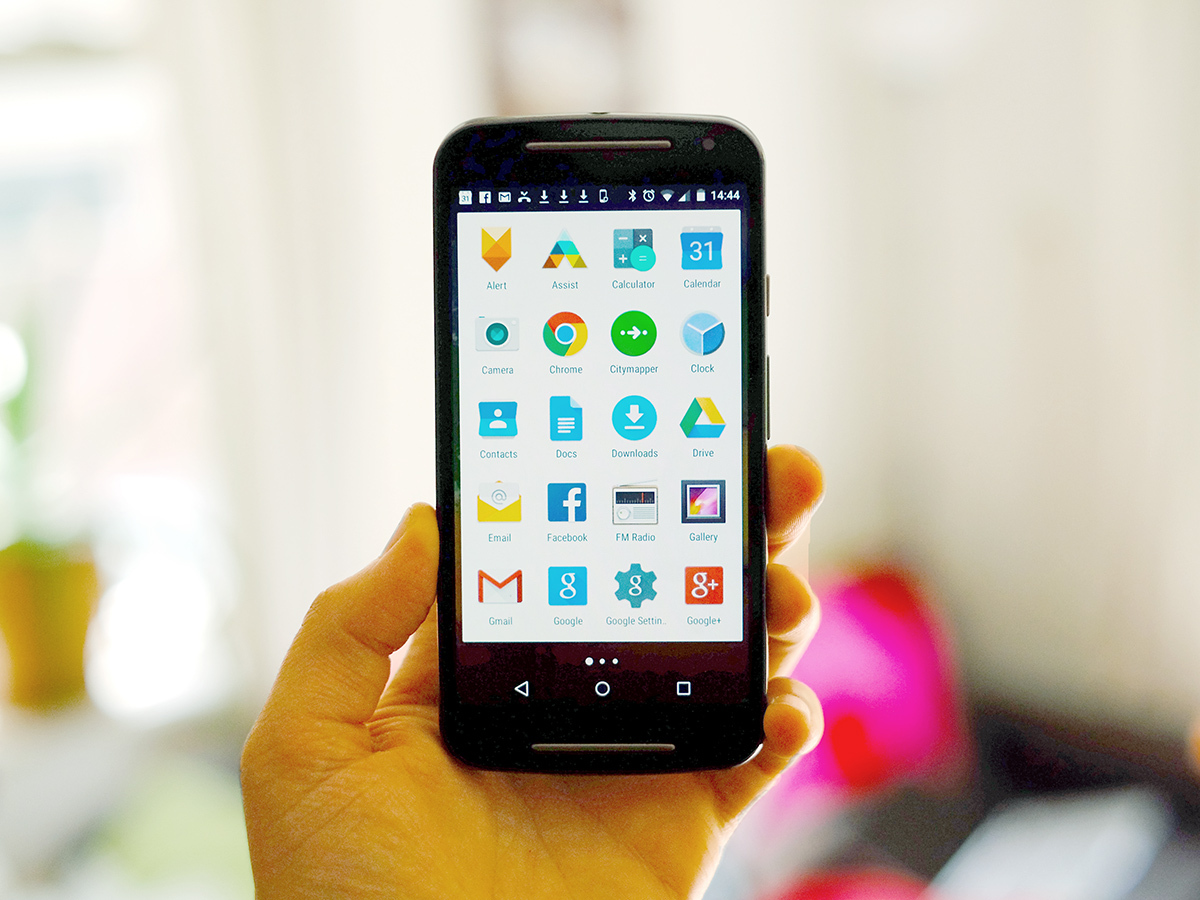 There's just one area where the Moto G lets itself down. And it may surprise.
It's performance. As with some other budget Android Lollipop phones, it's slow at times. This was never an issue when the Moto G had Android KitKat, but it is one now.
As before, gaming is just fine on the phone, and nor should you have any problems when you're midway through a single task. But moving between apps can cause issues: apps are often quite slow to load and even the homescreen can take a while to appear if you've been away for a bit. What do we mean by "quite slow"? Well it can take up to five seconds to load Chrome, for example. That'll quickly get annoying.
Who can we blame? Well, that Android 5.0 Lollipop is slower than 4.4 KitKat is no secret. It aims for a smooth feel rather than a snappy one.
However, a lot of this must be down to the way the Moto G handles its memory. It has 1GB RAM, which used to be virtually a guarantee of quick-fire performance. No longer, it seems.
Dying for a fix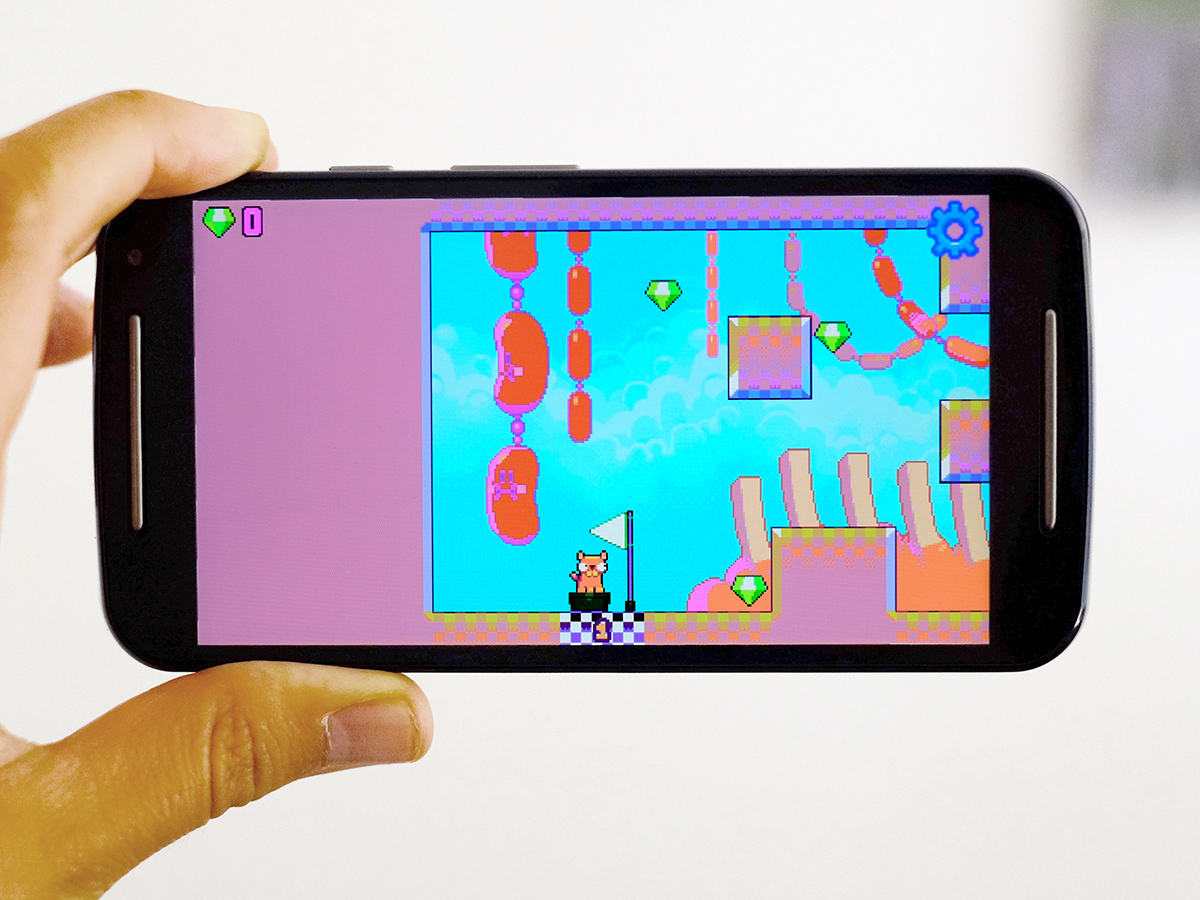 Motorola could theoretically fix this with a software update. And we hope it will, as the Moto G hasn't always been like this. I've tested two Moto G handsets for this review, and both suffer from slow load speeds of certain apps, with the aforementioned Chrome and WhatsApp being two of the worst cases.
While Motorola is reportedly going to update the Moto G with a slightly faster processor soon, it really isn't raw power that's the issue here. While the 1.2GHz Snapdragon 400 CPU isn't a beast, it has enough number-crunching power to handle pretty sweet-looking games without working itself into a sweaty, red-faced mess.
It's almost as though the Moto G is better at the hard stuff than the easy: this is a 5-star phone with some real 2-3 star performance issues. After a week or so with it, there were a good few times when the load lag really got me quite annoyed.
Slimline software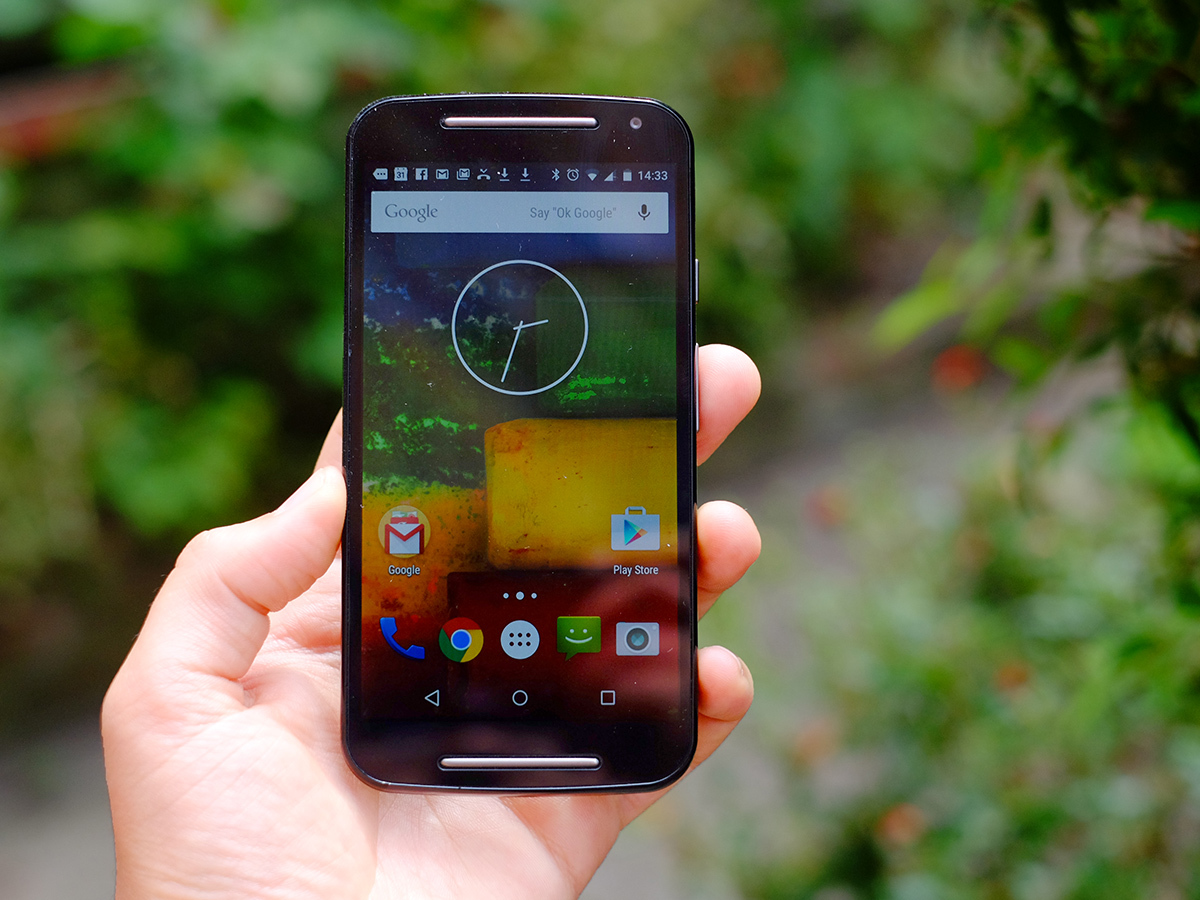 It's even more frustrating given that there's no software bloat to slow the Moto G down. Like its daddy, it uses a virtually untouched version of Android, with a few bonus apps and a Motorola camera program being the only serious changes.
The apps are good too – not the usual excuses to get you to spend more cash in naff third-party software stores. Motorola Migrate helps you move content from your old phone, Assist simplifies the setting up of features such as Do Not Disturb (which turns alerts off at certain times), and Alert is a handy phone-tracking app that is just the ticket if you want to get a phone for one of your kids. Or an other half you don't trust at all.
With a pretty tasteful apps menu, the only junk on the Moto G will be what you put there yourself. And on that front, there's a decent amount of space to fill, with a fair bit more than 2GB of the initial 8GB storage to play with, plus a microSD slot under the back cover.
Downloading apps, streaming media and so on is snappy too, thanks to the 4G mobile internet. This is another thing the Moto G has added since 2013.
Megapixel Weigh-In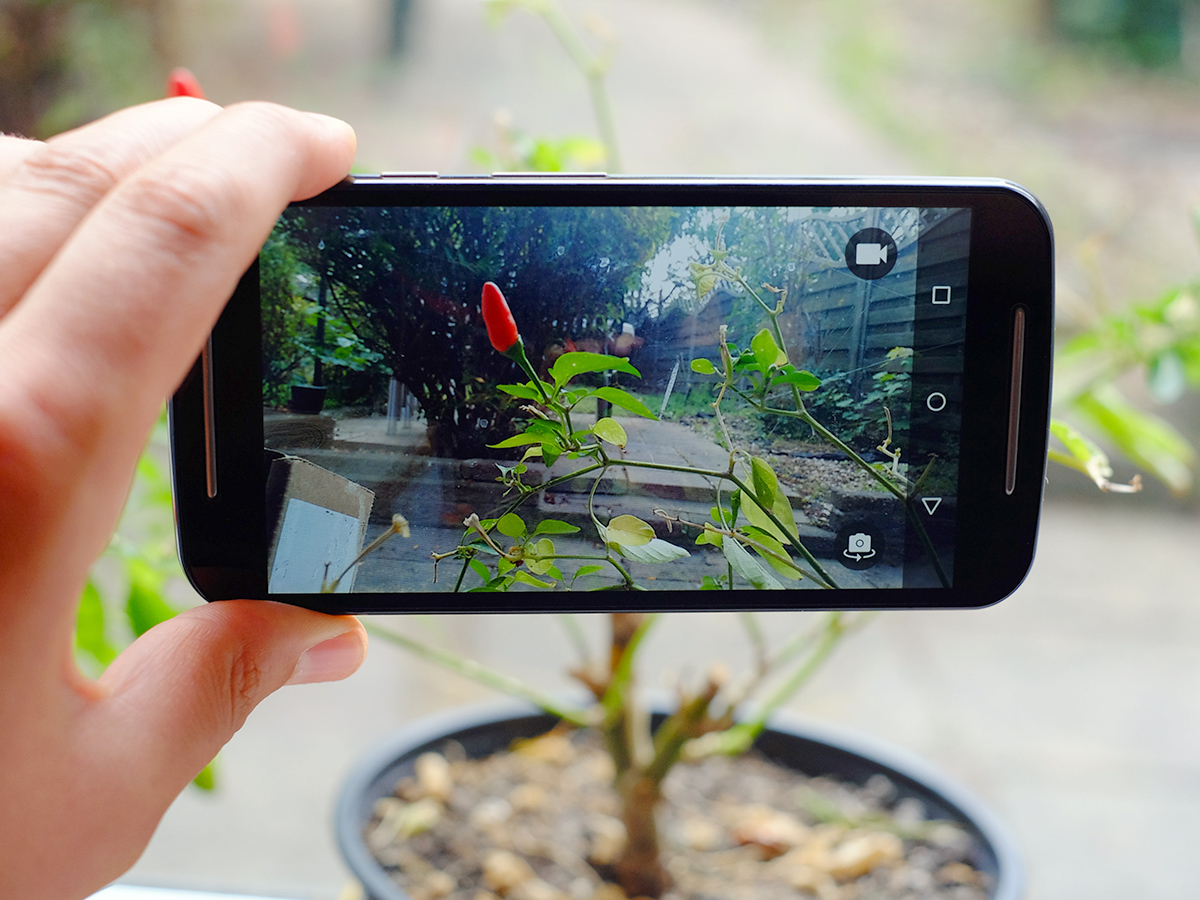 The other big improvement here is the camera. Where the very first Moto G had a pretty terrible 5MP rear effort, this 5in version has a much more impressive 8MP sensor.
Sure, plenty of cheap phones are starting to use 13MP cameras now, but with a bit of work you can squeeze some decent photos out of this one. It's built around the Sony IMX179 sensor used in the good old Nexus 5, plus an f/2.0 lens.
Decent sharpness means you can still get a fair bit of detail in good lighting, and with close-up shots you even get a bit of the arty shallow-depth-of-field look thanks to the wide aperture glass.
The HDR mode is pretty effective too, generally getting you a much more striking photo. They often won't look 100% natural, but it's better than having a weakling HDR mode.
While I think some of you may find the Motorola camera app a bit fiddly, with its rotary dial menu, it does have the handy Auto HDR function, letting it switch between HDR and non-HDR shooting as needed.
The Moto G camera is no smash, mind. In certain lighting conditions — general dodgy indoors light — the colours get a bit lifeless. And at the best of times they don't have the subtlety of a high-end phone camera.
The Moto G will do the job for casual everyday shooting, though. It doesn't suffer from any huge image quality-skewing issues that'll consistently muck up your shots without being your fault on some level. Video tops out at 720p quality, but there's slo-mo on offer too.
Oh, and you get a 2MP front camera. As with the rear one, it's nothing special but not disastrous either.
Milliampere upgrade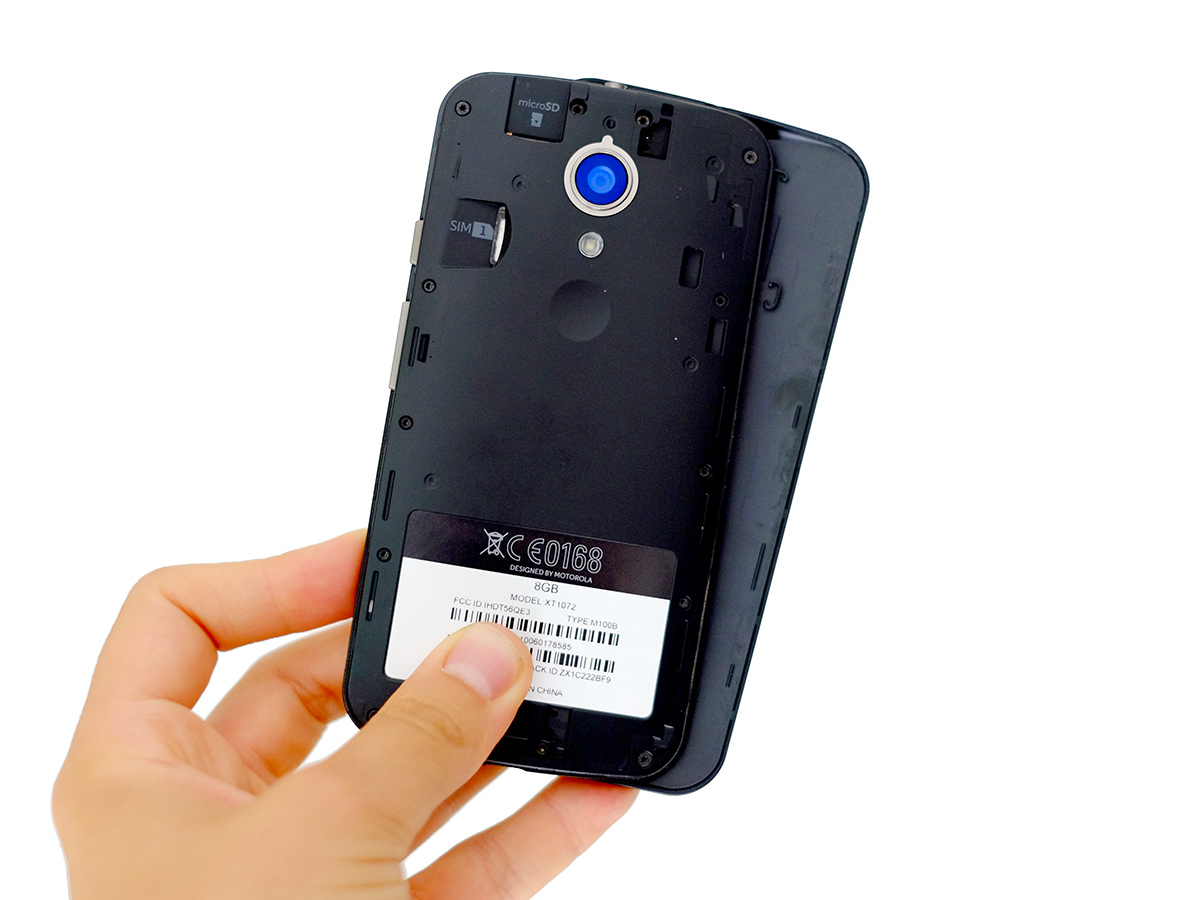 The non-4G Moto G got this camera setup when it switched to a 5in screen, something that happened quite a while ago. With that move came much worse battery life. But that has been fixed in this newer 4G version.
Inside there's now a 2390Ah battery instead of a 2070mAh one, and that's just the thing to power a 5in, 720p screen phone.
In fact, it gets you enough stamina that you can be pretty relaxed about charging. You still have to be pretty frugal to get two whole days' use out of the Moto G, but it won't be dead by bedtime unless you use it an awful lot. I've found I can generally get to midday on day two without me being too careful. This is actually just as good a reason to get the 4G version as 4G itself is.
Moto G 4G (2015) verdict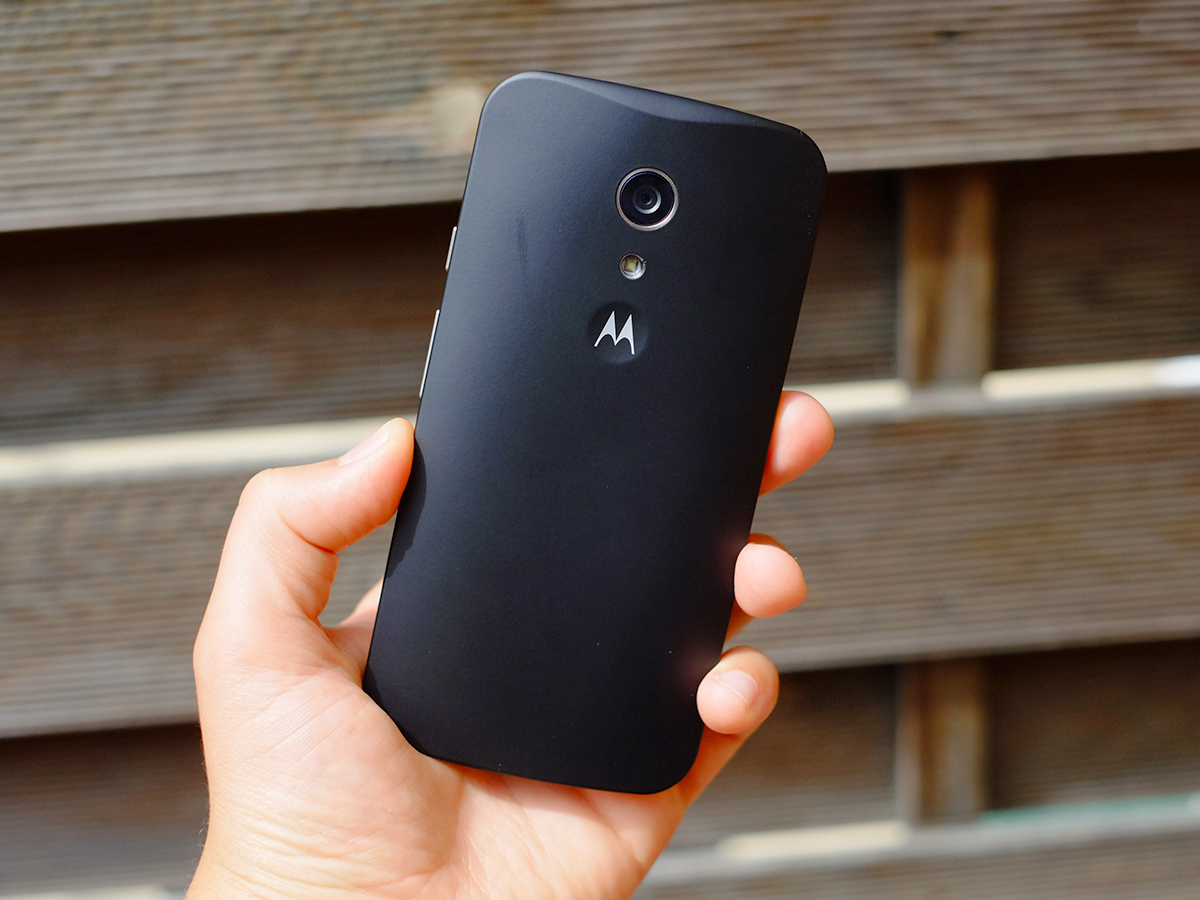 The 2015 Motorola Moto G 4G is a 5-star phone with a software problem. Most of what we've loved about the phone for the last two years is present and correct: good price, great screen and tasteful design mean it's not going to offend anyone, anywhere with its design and specs.
However, performance is let down by app load lag that just was not an issue before the series made the leap to Android Lollipop. Will it be fixed one day? We hope so, but bear in mind you'll need patience, either waiting for the upgrade or to deal with the load lag itself.
Aside from this, though, the Moto G is still a smash, if one that has plenty of competition. The Microsoft Lumia 640 offers a similar idea but with Windows Phone, while the Vodafone Smart Prime 6 is similar but way cheaper (but also locked to Vodafone).
Would we buy it? If we weren't on Vodafone and wanted Android, then yes. But we'd be happier once those software issues are sorted.
Tech specs
| | |
| --- | --- |
| OS | Android Lollipop |
| Screen | 5-inch 1280 x 720 IPS LCD display |
| Processor | Snapdragon 400 CPU |
| RAM | 1GB |
| Storage | 8GB (with microSD) |
| Cameras | 8MP rear, single-LED flash, 2MP front |
| Connectivity | Wi-Fi, Bluetooth 4.1 |
| Battery | 2390mAh |
| Dimensions | 141.5 x 70.7 x 11 mm |
| Weight | 155g |
Stuff Says…
It's the Moto G hardware we know and love, but its latest software spoils its performance
Good Stuff
Clear, natural-looking screen
Smooth design
Low-bloat software
Bad Stuff
Very slow app loads
CPU is slightly dated